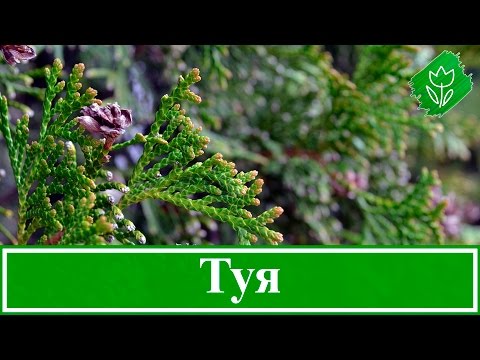 The thuja east is the only representative of a sort. In botanical reference books it is often called biota or flat vein. In its natural habitat, this plant can be found only on elevations, in a temperate zone with mild winters, the cultivars feel fine on flat surfaces. In addition, the thuja biota Oriental is not demanding on food and easily tolerates transplantation.
Thuja or flat veneer (Platycladus) belongs to the family of cypress (Cupressaceae). It grows in the forests of China, Japan and Korea.
It is a small evergreen, sometimes multi-stemmed tree, 5-10 m in height. In favorable conditions it reaches 15-18 m. Crown wide-point-like.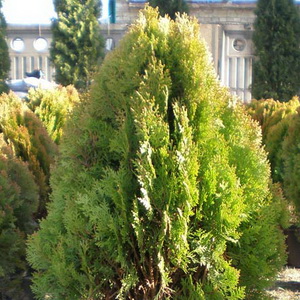 The branches are raised. When describing the eastern thuja, it is particularly worth noting its wide, flat branches (which gave the name to the plant). They are located vertically.
The needles of adult specimens are scaly, light green, tightly pressed against the branches. In the fall with the first frost acquires a protective brown color.
As seen in the photo, the cones near the eastern thuja are arranged in short branches and have an oblong-rounded shape: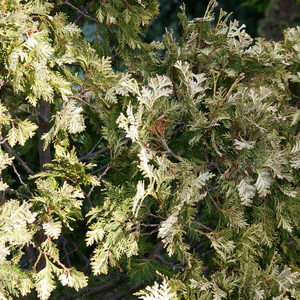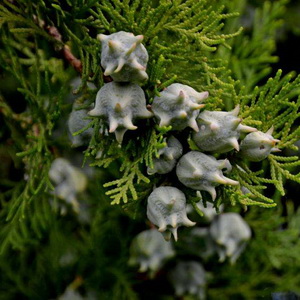 Young cones are covered with bluish-green frost. Wingless seeds ripen in the second year.
The natural form of the oriental flatworker is quite hardy and suffers only during extremely cold winters.
Growing Eastern Thuja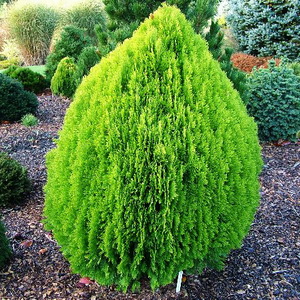 Ploskovetochnik - photophilous, but at the same time a shade-tolerant plant, and in the shade most varieties fully preserves decorativeness.
When grown in the southern regions, it prefers fertile loamy soils, but it needs well-drained and quickly freezing sandy loams for successful wintering in the northern gardens.
The flat vein is not demanding to nutrition, but if it grows on poor soils, additional feeding is necessary. Feed should be fed in the spring after the snow melts on the wet ground with a weakly concentrated complex mineral fertilizer. Make fresh manure and feces unacceptable. Adult specimens have a powerful, branched root system and practically do not need additional nutrition.
Transplant transfers easily. It is advisable to hold it in the spring or early summer. If you have a formed root ball, you can also replant it in summer and autumn. When planting an eastern thuja, a slight penetration of the root collar is not only possible, but also desirable, since this provokes the formation of additional roots. Large specimens are recommended to be transplanted only after preliminary preparation of the root coma, for which the roots are deeply incised, digging in the plant around the crown circumference.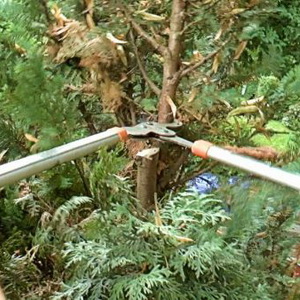 Pruning when caring for eastern biota, they do it repeatedly for 6-12 months before transplantation. After transplanting requires abundant watering.
The ploskovetochnik is drought-resistant, moreover, excessive moisture in the soil in winter is destructive for it.
Frost varieties are different. More resistant varieties close to the natural species, less - ericoid (juvenile) forms. With the onset of frost, the branches of plants grow brown, which is their natural defensive device. In order for the crown not to suffer from heavy wet snow, multilateral varieties need to be slightly tied up with a string. For valuable varietal forms, a light air-dry shelter is needed for the winter. The best option is the device of the hut - coniferous fir twigs are placed on a frame of wire or slats. In the spring for a uniform awakening of plants, abundant watering and spraying is recommended. This is especially useful after the frost winters, which greatly freeze the soil.
Ploskovetochnik has many excellent vysokodekorativnyh varieties, successfully grown in orchards regions with mild frost mild winters. In them it is widely used to create hedges and for curly hairstyle. But there have been no cases of successful cultivation of the flat vein in the gardens of the northern temperate zone of Russia.
Look at how beautiful is the Oriental flatbush on these photos: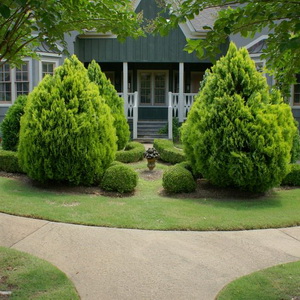 Breeding methods for eastern thuja
Seeds have a dormant, resting germ. To wake it up, cold stratification is required for 2-3 months at + 3 ... + 5 ° С. Seedlings always have juvenile needle needles, which can last for quite a long time. Sometimes plants aged 3-5 have both types of needles, both needle and flake.
Vegetative breeding methods are completely analogous to the methods developed for Tui. They are used for breeding varietal forms. The best of them are the division of multi-stemmed copies, horizontal layers for rooting the lower and creeping branches and the rooting of cut off shoots (grafting).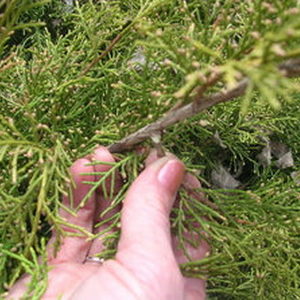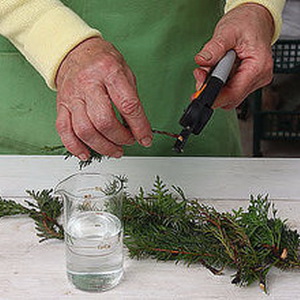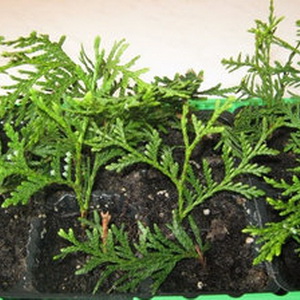 Cuttings. Especially well rooted cuttings from young varietal plants, especially if it is a cultivar with a densely compact and spherical shape of the crown. Extremely easy rooting cuttings, taken from plants with juvenile (needle) needles. Rooting can be carried out throughout the year, but spring and the first half of summer is preferable. It is undesirable to take actively growing shoots. The best cuttings are lateral growth sprigs of last year, taken with a piece of matured wood ("heel").
SIMILAR ARTICLES: