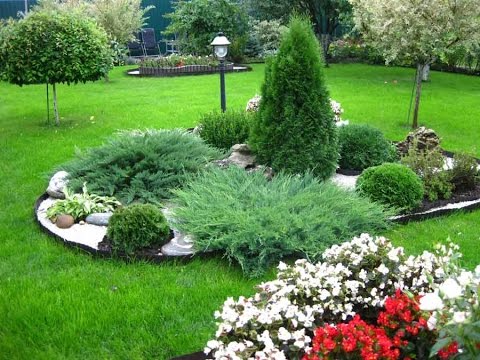 The main thing that should be noted when describing the microbiota is its compact size. This plant is ideal for growing in artificial rockeries, rock gardens and alpine-style hills. Where the endemic cross-paired microbiota grows, weeds simply do not survive - its thick vegetation simply does not allow uncultivated plants to break through.
Microbiota (Microbiota) belongs to the family of cypress (Cupressaceae). The genus is endemic to Sihote-Alin (mountains of Southeastern Siberia) and is represented by a single species of microbiota cross pair (M. decussate).
Microbiota cross-pair (microbiota decussata): photo, description and use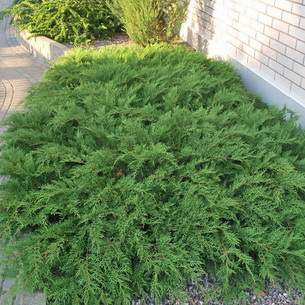 Microbiota is an ideal plant for landscape design. It is extremely beautiful and, despite the fact that it was first discovered only in 1921, is now widely distributed in the gardens of the entire northern temperate zone of the Earth. In compositions it is used as a ground cover plant for creating backgrounds in groups and for decorating slopes. It can be a good accent, planted on the terraces of large rocky gardens. But still, because of its large size, it is rarely planted in small private gardens.
These photos show the use of microbiota in landscape design: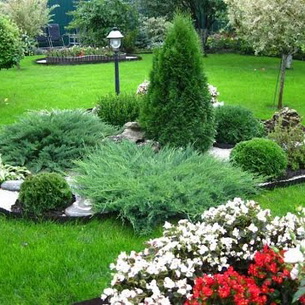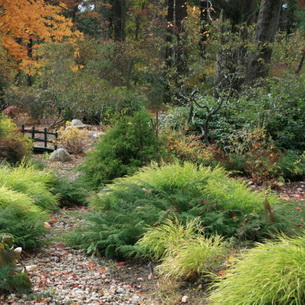 Cross-pair microbiota (Microbioxa decussate) on the rocky slopes forms extensive thickets. The crown of young plants is almost a ground cover; the branches of adult specimens are arranged in horizontal tiers, raising the curtain to a height up to 50. See the branches are openwork, thin, branched, flexible and resilient so that they do not break even when the bear comes on them.
As seen in the photo, the cross-branch microbiota branches reach a length of more than 2 m, and when closed, the plants form almost impassable thickets: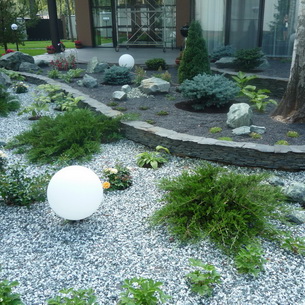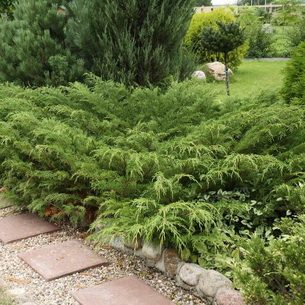 In places open to the sun, the microbiota grows rather slowly, and in the shading it grows annually by at least 15, see. Needles are green, small, scaly, and take on a brown shade for the winter. Unlike most coniferous plants, it contains combustible resinous substances, therefore there are fires in natural populations. The root system is highly branched, deep, but not compact, not forming a dense root ball.
The plant is monoecious, that is, it forms both male and female organs. Microstrobiles are noticeable by the fall. Cones are brown, horizontally spaced, rounded, small (3-6 mm long).
See the microbiota photo, the description of which is presented above: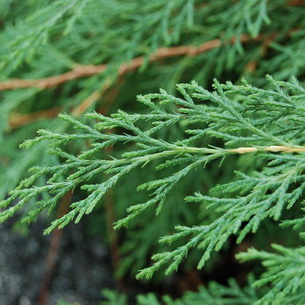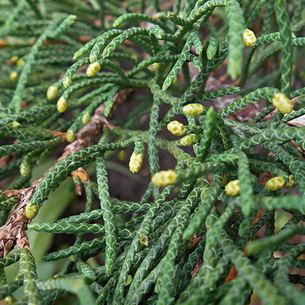 Planting and care when growing microbiota
The microbiota is absolutely frost-resistant and grows well in both open solar and shaded areas. Both in nature and in culture, it is drought-resistant and does not tolerate stagnant and groundwater.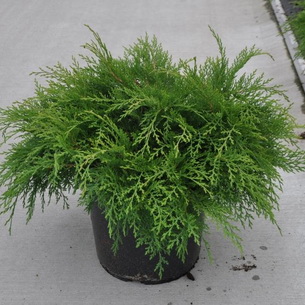 The planting of the microbiota crosshead is done on loose loamy or sandy soils. On heavy loams and in the sun develops poorly. Adult plants do not need to be fertilized; young ones can be fed in the spring after the snow melts with complex or combined mineral fertilizer of a weakened concentration on wet ground. When caring for the cross-fresh microbiota, fresh manure and feces are excluded. The microbiota does not form a dense root coma and therefore does not tolerate transplantation. Large adult specimens do not tolerate transplantation at all. It is possible to replant only in the spring before buds bloom, plants with actively growing shoots do not root. Container-grown specimens can be transplanted throughout the summer. Deepening of the root collar is possible.
When caring for a cross-pair microbiota after planting, both small and large branches can be cut throughout the year to restrain growth and give compactness; the plant tolerates this absolutely painlessly.
Reproduction of microbiota seeds and cuttings
The microbiota is able to bear fruit already on the 5-6 year after growing from seeds and on 3-4, when grown from cuttings or cuttings. It is advisable to use freshly harvested seeds. When stored under normal conditions, germination is lost through 1-2 of the year. Freshly harvested seeds are not capable of immediate germination, as their germ is in a dormant stage.
Podzimny sowing is most rational when in the fall, right after harvesting, seeds are sown in a ridge to a depth of 1,5-2 cm and mulched to a height of 1 cm, and cold stratification, in which 2-3 crops are kept warm for weeks, and then stored in a refrigerator or basement at + 3… + 5 ° С for 2-3 months. The germination of stratified seeds is no different from the germination of seeds of other conifers. Microbiota seedlings, unlike adult plants, easily tolerate transplantation.
The microbiota reproduces vegetatively very easily. The best breeding methods are horizontal cuttings and rooting of cut off shoots (grafting).
With horizontal layers, rooting takes place throughout the year. It is necessary to transfer the branch to its own roots gradually, gradually cutting the junction with the parent plant.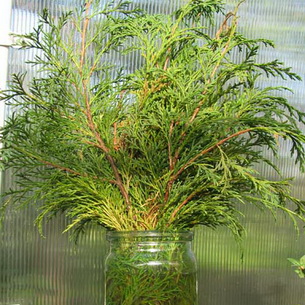 The cutting can be carried out throughout the year, but the first half of the summer is preferable.
It is best to take ripe lateral shoots for cuttings - twigs of the current or last year with a length of 10-15 cm, preferably with a "heel". It is not recommended to take actively growing shoots. Especially well rooted cuttings from young plants. Chopped cuttings are fixed in the substrate at an angle 60 ° -70 °, in any case not turning the back side of the branch up.
Spring and early summer cuttings can take root by the middle of summer, summer - only by the end of autumn. Well-rooted plants overwinter without shelter, poorly rooted must be covered with boxes or wire arcs, over which coniferous fir trees are laid.
SIMILAR ARTICLES: