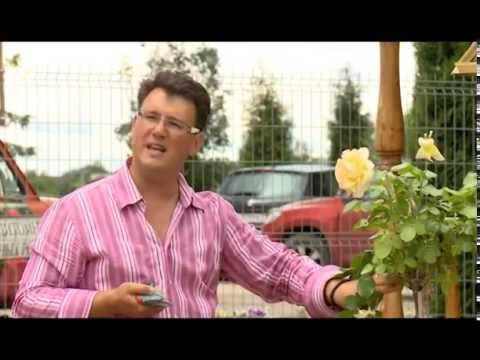 Representatives of standard roses are not an independent group - the cultivation of these prickly crops on a shtambe is used for different species of these plants in order to create a bright and at the same time elegant accent in the garden floristic composition. When pruning standard roses in spring and winter, they are guided by agrotechnical rules applicable to the grafted variety.
Despite the elite form, standard roses are not something out of the ordinary. These are varieties of various groups that are grafted not to the root neck of the stock, but to the shoot, the so-called shtambu, that is, to the trunk of a greater or lesser height.
If to shtambu instill miniature and climbing roses, they will retain the properties inherent in a particular group. Climbing roses as a standard in the description resemble cascading or "weeping".
The best varieties of standard roses of different colors
Below is a description of the best standard roses of different colors.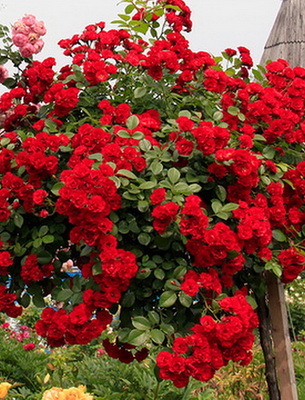 Standard roses "Ingrid Bergman» - hybrid tea with medium-sized (35 petals) dark red flowers medium size.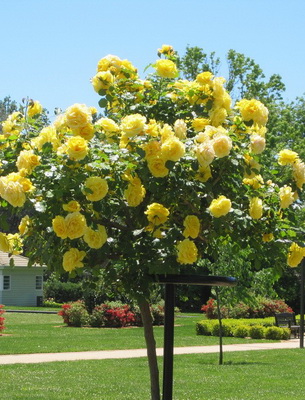 Standard roses "Freesia» - A rose from the group of floribunda with double bright golden-yellow flowers 6-8 diameter. See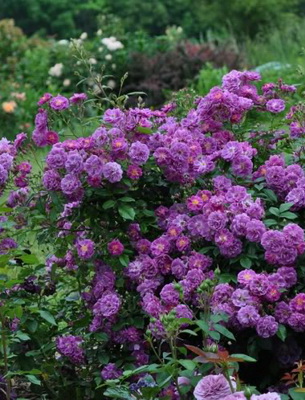 Standard roses "Cardinal de Richelieu» - variety from the group of shrubs. The flowers are terry, medium size, dark lilac, fragrant, clustered in brushes.
Standard roses "Lily Marleen» - buds of this hybrid tea rose almost black, blooming flowers are dark red, medium in size, have 25 petals.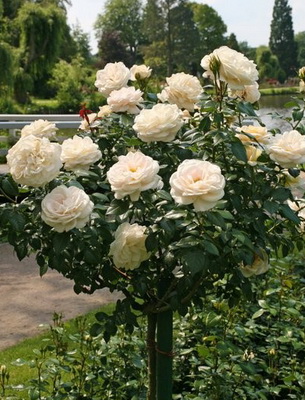 Standard roses "Lions Rose» - a rose from the group of floribunda with large cupped very double flowers. The color of the petals is creamy white, with a yellow-apricot middle.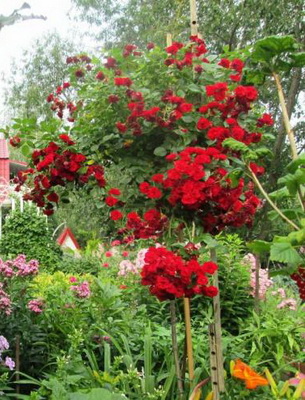 Standard roses "Lubecker rotsponn» - a rose from the Floribunda group with a goblet-shaped wine-red flowers.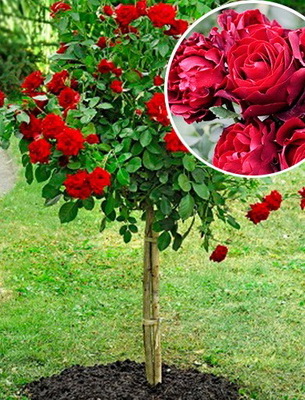 As seen in the photo, the flowers of these standard roses are gathered in large inflorescences.
Standard roses "Scarlet Queen Elizabeth» - A rose from the group of floribunda with orange-scarlet densely double flowers. The buds have the shape of hybrid tea roses, but the flowers are gathered in racemes.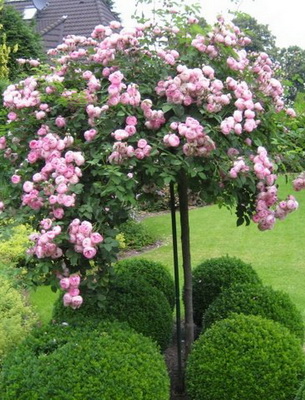 Standard roses "Flamingo» - Floribunda rose. The buds are very tall, pointed, light pink, located on single peduncles. Flowers pale pink, goblet, with a diameter up to 11 cm, terry.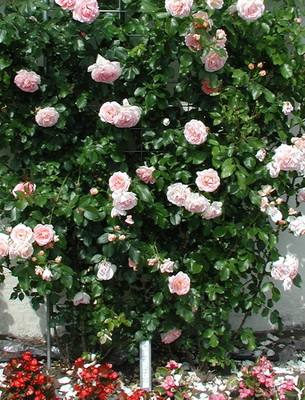 Standard roses "Pascali» - hybrid tea with creamy white medium-sized (35 petals) not very large flowers. The fragrance is weak. The leaves are green, very shiny.
These photos show some standard roses, described above: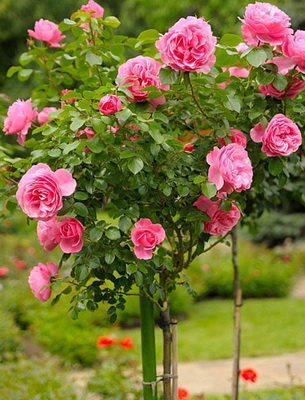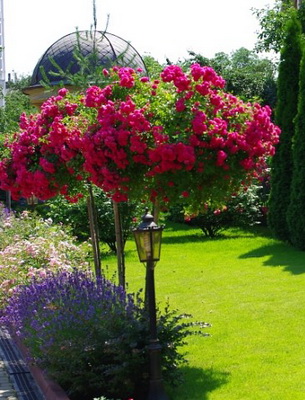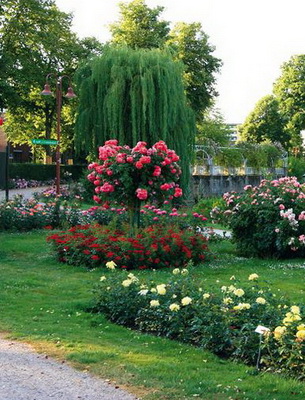 Pruning standard roses in spring and winter
The rules for spring pruning of standard roses are determined by a group of grafted varieties. These roses are different from the spray brightly defined and balanced silhouette of the crown. A long, thin stem can serve as a channel for supplying the plant with water and nutrients.
The branching of the bush should begin directly at the site of vaccination.
Hybrid tea and climbing varieties, grafted to the stem, cut up to 1-2 of the kidneys, that is, shorter than it is customary to do with their normal planting.
The crown shape of a standard rose is even more important than the shape of an ordinary rose bush. This means that the upper kidney must look up. This is the only way to achieve a fluffy, uniform crown of a plant, avoiding the interweaving of shoots or too dense middle.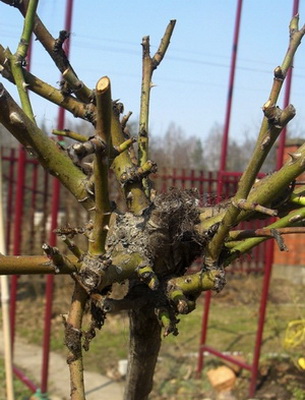 Even more care requires cascading weeping roses, in particular, once flowering varieties. Here it is necessary in principle to adhere to the rules of care that apply to climbing roses.
In order to achieve a weeping form of the crown, at first, and more often in the second year after planting, nothing is cut off at all. This is relatively simple if you are dealing with a Rambler group of roses that has soft shoots.
In other varieties, shoots will have to be tied and guided down. After modeling the crown you need to annually remove old shoots that grow above the graft. If necessary, the old shoot needs to be cut so that only one fresh side shoot remains on it.
Side shoots need to be shortened to 3-4 buds. Also have to cut too long shoots that reach to the ground.
Watch a video on how to trim a standard rose in spring and winter, where all the nuances of this agricultural practice are shown: