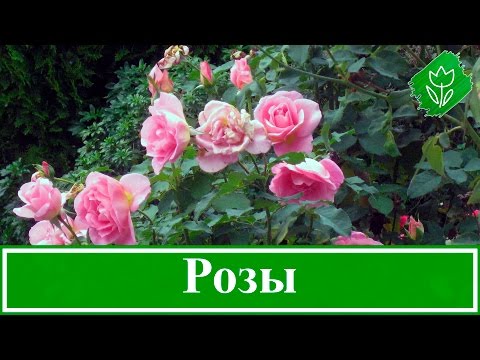 When choosing the best variety of spray roses, keep in mind that this group of crops is represented by both single-flowering plants and repairing forms (that is, those that bloom at least twice a year). Accordingly, the technique of pruning bush roses in autumn, summer and spring will vary depending on whether your bush is going to bloom a second time or not.
Outwardly, all varieties of spray roses are very similar to wild rose. The height of the bushes can reach 1-2 m. Therefore, they can be planted separately, in small groups in the form of a fence or in combination with other bush flowers. All other signs can vary greatly. For varieties of spray roses, the names of which are given below, are characterized by numerous varieties of color and size of the flower, various forms of stems, and the bushes themselves can be both slim and upright and spreading. As a rule, modern bush roses are repairable, but among them there are a number of very valuable once-flowering varieties.
In the first year, these varieties give long shoots, and flowers appear only the next year, on adventitious shoots. This allows you to grow the so-called spring varieties, the flowering of which can be admired in late April.
Эти сорта обильно цветут только раз в году, но не более, хотя иногда возможно и повторное цветение, весьма скудное по сравнению с основным. Иногда однократно цветущие розы предлагают отдельно — под названием «парковые и болотные розы».
In the modern classification system, many old varieties belong to the group of spray roses.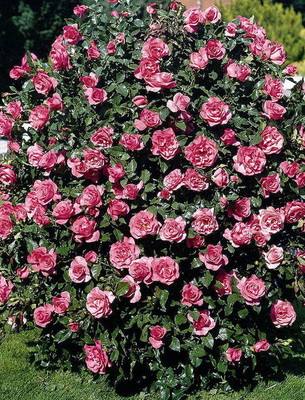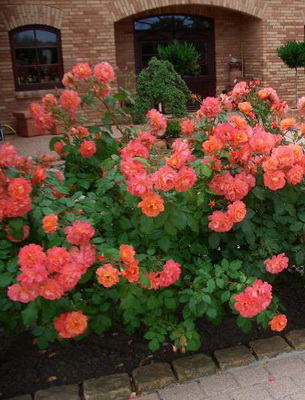 Remontant varieties develop the same way as roses hybrid tea or climbing group: The shoot is completely formed during the growing season, and a flower or inflorescence appears on its top. Shoots and flowers are formed in one year.
Below are photos and names of varieties of spray roses, awarded the quality mark ADR.
The best varieties of spray roses with the ADR quality mark
Shrub roses with an ADR quality mark include: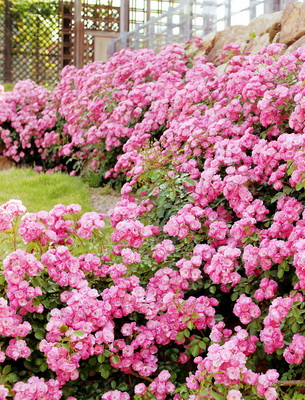 Sort "Angela"- Carmine pink color.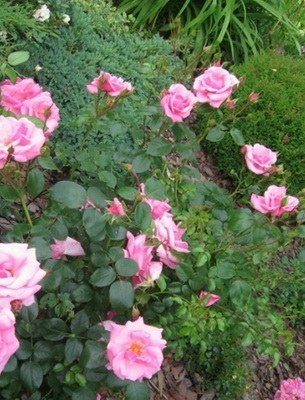 Sort "Armada"- color pink and light pink.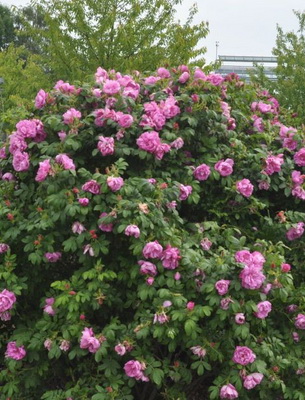 Sort "Baum's rokoko"- color light lilac and lilac-pink.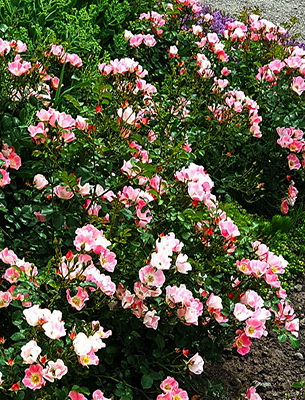 Sort "Bingo meidiland"- light pink color.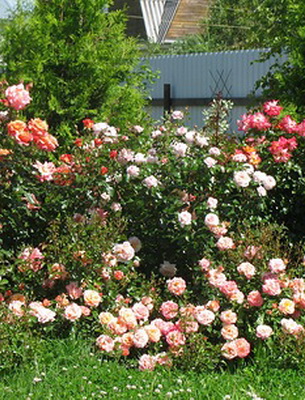 Sort "Bonanza"- color is golden yellow with copper color edge.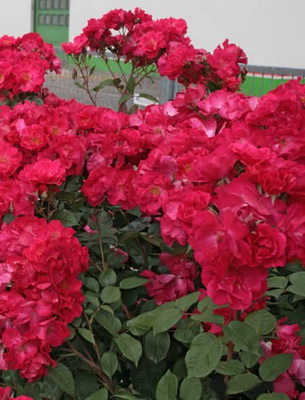 Sort "Burghausen"- the color is purple.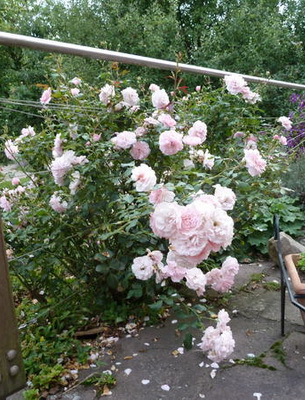 Sort "Dortmunder Kaisertiain"- light pink color.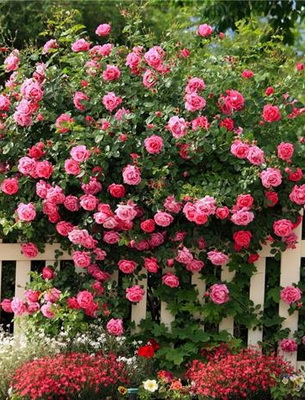 Sort "Felicitas"- dark pink color.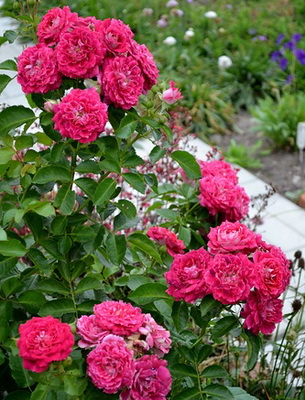 Sort "Gentano"- color is velvety red with a yellow eye.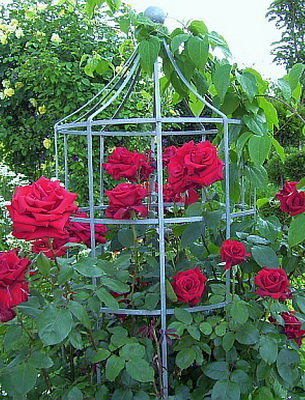 Sort "Grandhotel"- velvety purple color.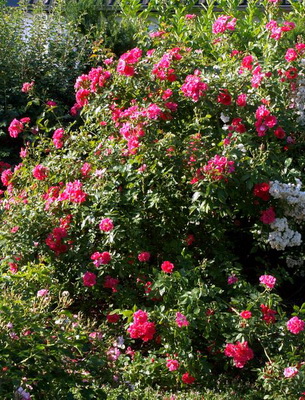 Sort "Hagenbecks tierpark"- dark pink color.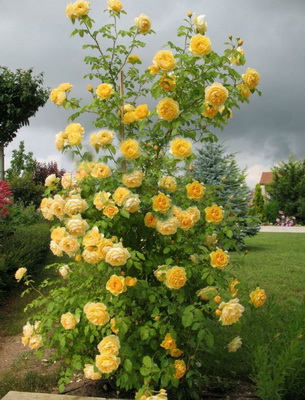 Sort "Lichtkonigin lucia"- intense lemon yellow color.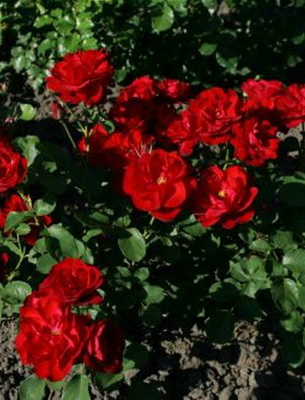 Sort "Pierette"- color violet-carmine-red.
Sort "Postillion"- yellow color.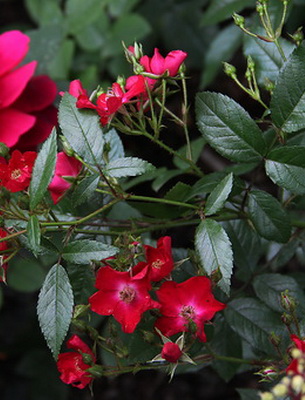 Sort "Richard Strauf"- color is reddish, white in the center.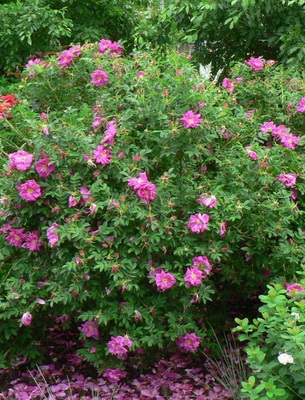 Rosa rugose variety "Rote apart"- color lilac-pink.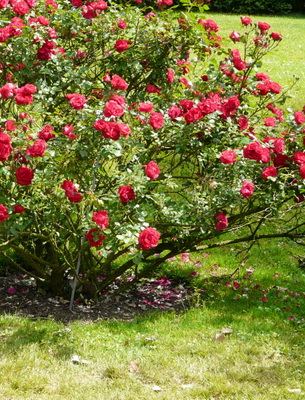 Sort "Rote woge"- bright magenta color.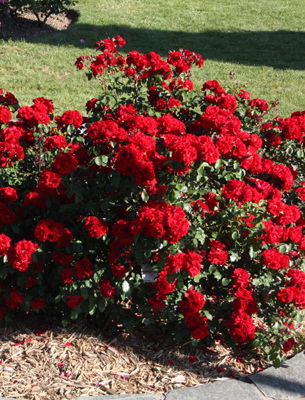 Sort "Roter korsar"- color is dark red.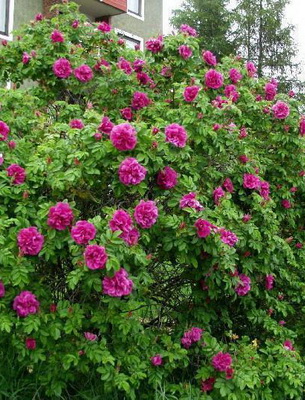 Sort "Rotes More"- color is light purple.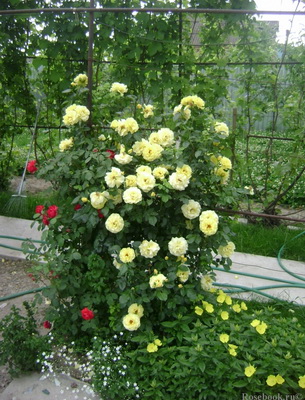 Sort "Rugelda"- color lemon yellow.
Sort "Tascaria"- color velvety red, with visually distinct stamens.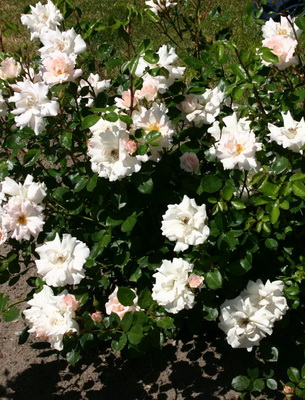 Sort "Vogelpark walsrode"- light pink color.
Sort "Westerland» - the color is orange-apricot, apricot.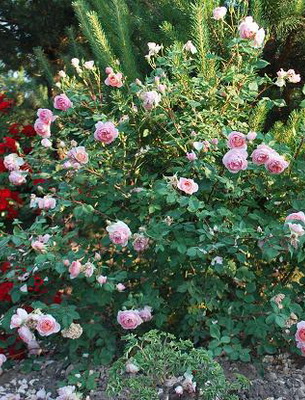 Sort "Windrose» - pink colour.
See how beautiful are the varieties of spray roses of different colors in these photos: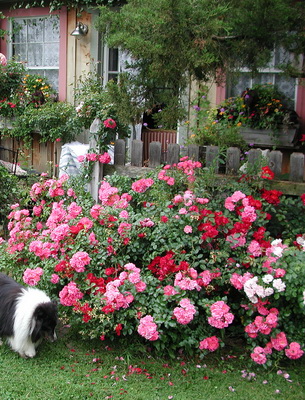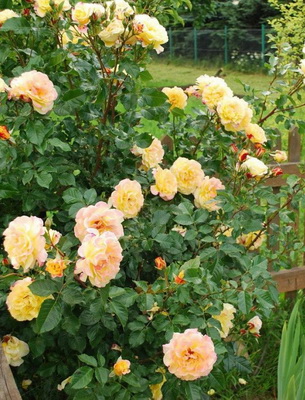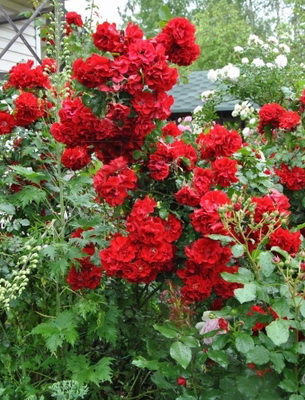 How to cut once flowering shrub roses for the winter
There is no particular border between climbing and shrub roses, in particular, the difference between the intensively growing varieties of these groups may be fuzzy. Variety varieties can not be enclosed in a strict framework; All classification rules serve solely as an aid to simplify the care of plants. All rules are simplifications into which all natural diversity cannot be squeezed.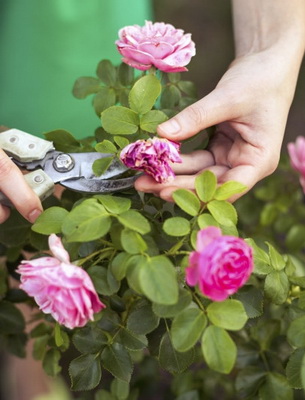 The plants in question offer an almost unlimited number of growth forms, sizes and shapes of flowers, openings of color. First of all, when pruning bush roses, it is important to take into account the differences between once and repeatedly flowering varieties. If neglected, incorrect pruning can significantly alter blooming properties.
Once flowering shrub roses are distinguished by the fact that in the first year after planting they do not bloom, but start up long shoots.
The following year, short shoots grow on long shoots, on the tops of which flowers appear. Most flowers are formed on two-year branches. Later, the flower mass thins.
Beginners who plant these plants for the first time always make an erroneous conclusion and a year after planting they do pruning shrub roses for the winter shorter so that they bloom properly. But thereby destroying all the conditions for flowering. Typically, pruning blooming roses once does not go beyond the standard framework described earlier: remove diseased, interfering or crossed branches, and everything else should be allowed to grow freely.
More intensive pruning concerns those in need of rehabilitation of old bushes, from which dead branches must be removed. To trim bush roses properly, old branches need to be shortened almost to the ground. As a rule, with old branches pruners can not cope. We'll have to pick up a hacksaw. Fresh shoots that grow closer to the ground, do not touch - they must grow, improve the bush and create the basis for many new flowers.
Another tip on pruning bush forms - short last year's shoots need to be cut to 2-3 of the kidneys; thus, they will have new flowers. If pruned immediately after the roses have bloomed, they can bloom again in the same year. True, the flowers will be small, and they will be weak.
Next, you will learn how to prune shrub roses for winter - that is, those that bloom several times a year.
Pruning autumn repair spray roses for the winter (with video)
There is no need to be afraid when pruning repairing spray roses. You can not destroy all possible chances of flowering plants during the year. Flowers appear on the tips of long shoots, as well as on adventitious shoots. Despite this, it is necessary to cut carefully.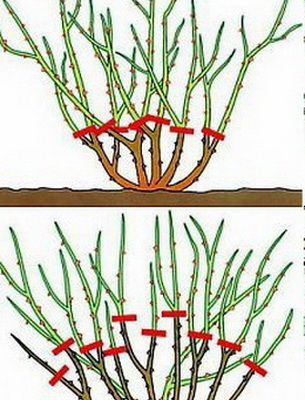 Peak beauty, these roses reach only a few years with the appropriate form of growth.
After sufficiently mild winters every few years, it is recommended to remove old branches from the ground in order to give the bush an opportunity to improve its health due to the growth of fresh shoots. To achieve thick foliage, trim the tops of the main stems to a third of their length.
Due to this, the remaining buds of the shoot will give a strong fresh shoots. Adventitious shoots of the main stems or weak shoots should be cut short, removing up to two-thirds of their length. Varieties whose foliage is thinning down, or bushes that lose their shape, should also be cut shorter.
And how to cut a shrub rose to restore the density of foliage varieties prone to thinning? You can try to restore it by cutting the shoots as short as possible. But, unfortunately, this method is not good for all roses.
Watch the video of how the pruning roses are cut for the winter to better understand how this agrotechnical technique is performed:
SIMILAR ARTICLES: