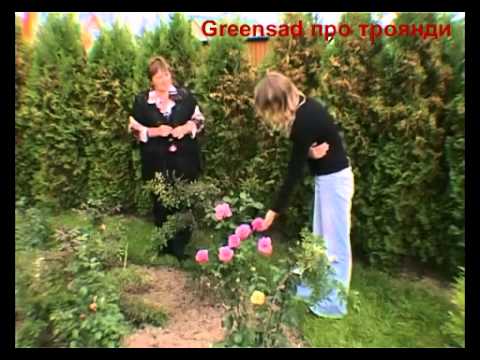 Hybrid tea roses rightly occupy a special place in the classification of these "royal" plants. It is these flowers that most often cut, as they have perfectly straight stems that are crowned with classic or terry buds. Among these "aristocrats" everyone can choose the plants of those colors that will become the main focus of an elegant bouquet. But for the flowers to be the same as in the photo in the catalogs, the bushes need to be properly cut.
Hybrid tea roses are associated with something special, aristocratic, inaccessible. Nevertheless, it is just a matter of perspective. The first thing that comes to mind to non-professionals when they hear the word "roses" is tea hybrid roses.
Everyone knows them as fresh flowers, which are presented one by one or in a bouquet. It appears a large double flower, usually on a long and straight stem. But the requirements for "aristocratic" appearance are constantly changing.
See how beautiful hybrid tea roses are in these photos: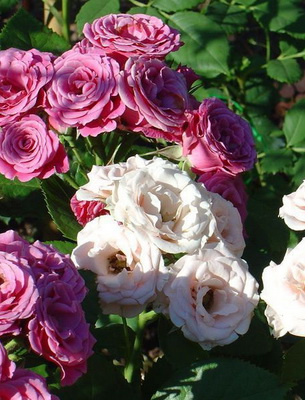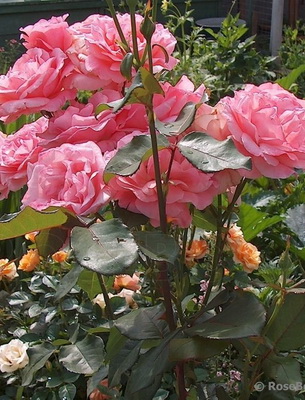 For a long time, the presence of a long, pointed bud on the shoot was in fashion. Then round-shaped terry flowers came into fashion again. The shape of fresh flowers on the shelves of flower shops often creates an erroneous idea that a flower of a certain variety can only look like this and no other way. But the truth is that this flower is the only one that grew after incision made by the adventitious buds. This is done with almost all the roses of the hybrid tea group.
Usually, several flower buds appear at the top of the shoot: one at the tip of the shoot is the apical, and around it are several accessory. If the adnexal buds are incised in time, then the flower from the apical bud will grow especially large. If the buds are not incised, several flowers will grow on the shoot. Previously, hybrid tea or garden roses were grown for the sake of several large flowers on a long, straight stalk, like cut roses. Such flowers look wonderful in a vase.
But as a decoration of the garden, they are no good. The landscape will be harsh and scanty.
Then you can see the photos and descriptions of the best varieties of hybrid tea roses, which received the sign of quality ADR.
Varieties of hybrid tea roses of different colors
The best hybrid tea varieties of roses with the ADR quality mark (name and color indication):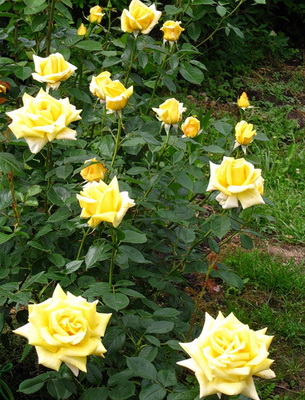 "Berolina" - yellow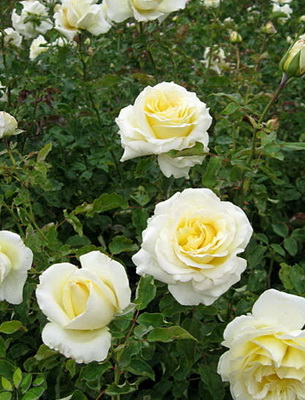 "Elina" - yellow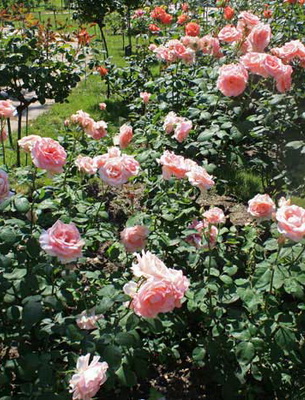 "Eliza" - silvery pink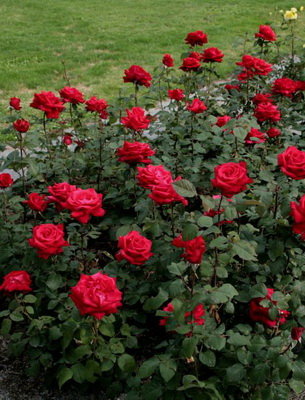 "Grande Amoge" - bright red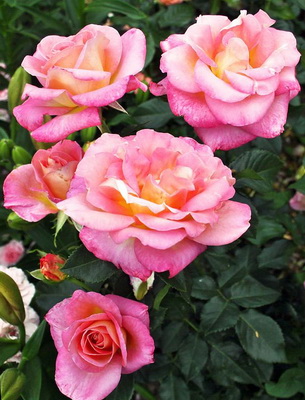 "Inspiration" - pink with yellow
Below is a description of the varieties of hybrid tea roses, the most popular among gardeners.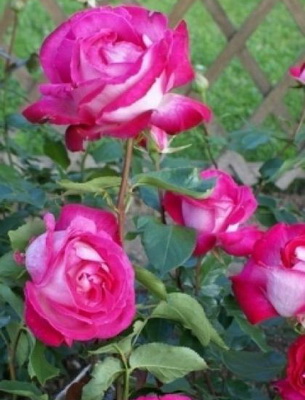 The variety of hybrid tea roses "Rose Gozhar" - a very famous variety. The flowers are large, double (up to 30 petals), two-colored.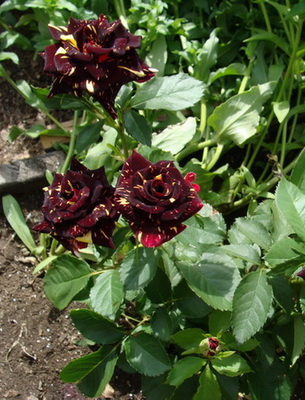 Variety of hybrid tea "Focus Pokus" - Flowers with calico: dark brown with bright yellow.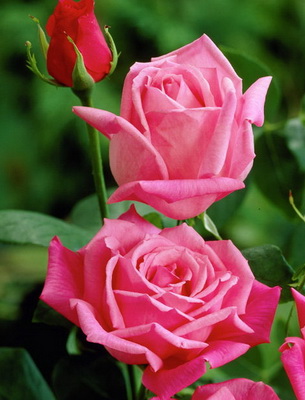 Variety of hybrid tea roses «Prima ballerina" - With fragrant cherry-pink double (up to 25 petals) flowers.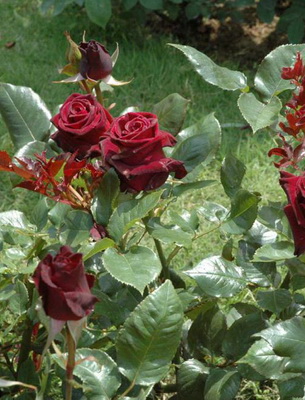 Variety of hybrid tea "Baccarat" - one of the best old varieties. Flowers solitary, cupped, densely double (up to 80 petals), up to 10 diameter, see. Petal color is orange-red. Shrubs 90-120 cm, shoots straight.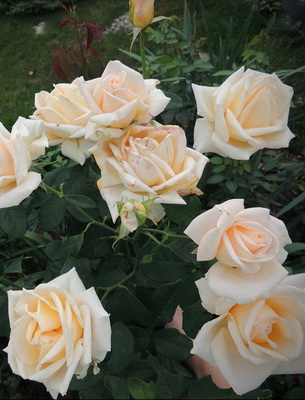 Variety of tea and hybrid roses "Versilia" - a rose with large beautiful buds. Flowers terry, thick cream, in full dissolution to 12, see the height of the bush to 150, see.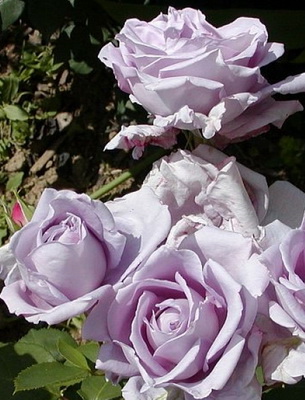 The variety of tea hybrid roses "Blue Moon" - the most popular of the "blue" roses (in fact, the color of the petals lilac). High buds, revealing, give large double (35 petals) flowers. The leaves are dark green, very shiny. Growth strength of the bush is moderate, height - 90 cm.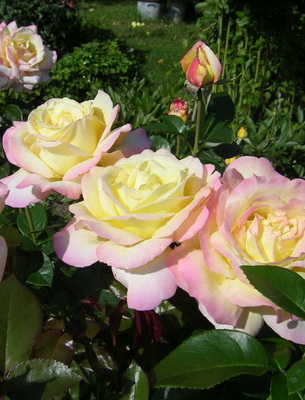 Variety of hybrid tea "Gloria Day" - one of the most popular roses in the world. The color of this hybrid tea is golden yellow with a pink edge in diameter to 15 cm composed of 45 petals.
Also popular varieties of hybrid tea roses are: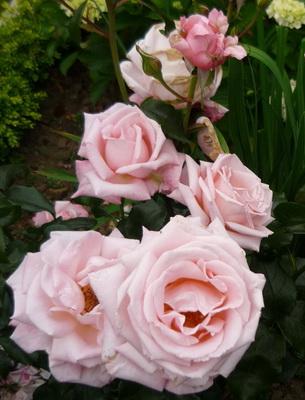 "New Zealand"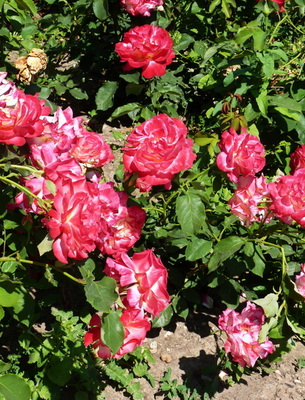 "Double Delight"
"Nicole"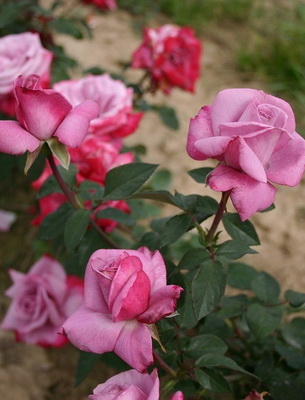 Paradise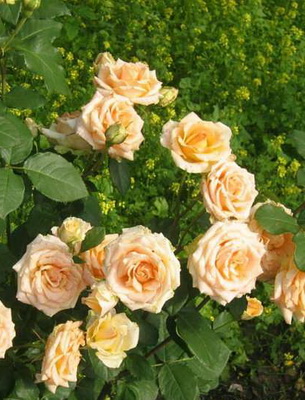 "Osiana"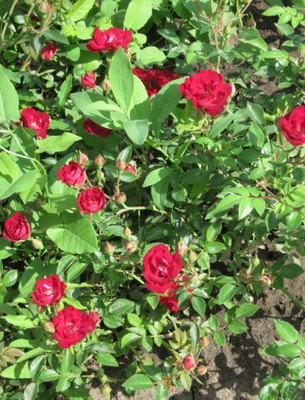 Red Velvet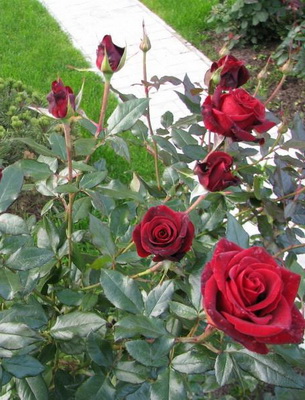 "Raffaella"
These photos show the most beautiful varieties of hybrid tea roses: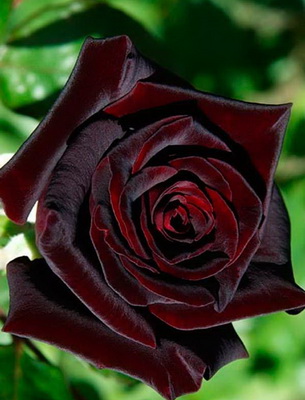 The next section of the article is about how to properly cut hybrid tea roses.
How to properly trim hybrid tea roses
Чайно-гибридные розы выращивают, прежде всего, ради крупных, эффектных цветков на длинных стеблях. Обычно это розы на срез. Именно это и является целью обрезки роз чайно-гибридной группы. Обрезайте их покороче, так, чтобы пазушных почек оставалось как можно меньше. Ростки будут очень мощными, а стебли — длинными. Здоровые свежие побеги образуются только на крепких ветках. Обрезать надо так, чтобы на побеге оставалось 5-6 почек.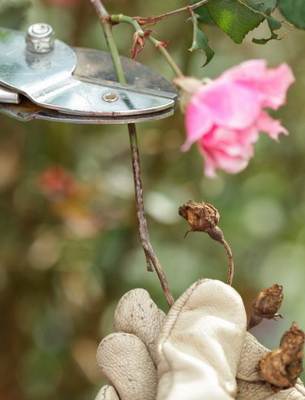 All shoots of one plant should be about equally high. It is good for maintaining balance, that is, equitable distribution of nutrients. If some shoots are longer, they will require power in the enhanced mode. Short shoots will receive less nutrition and will not grow actively.
Varieties that differ in active growth from nature and produce particularly strong shoots should be cut smaller. Crop shorter better those varieties whose growth is not particularly active.
And how to prune hybrid tea roses of fast-growing varieties such as Gloria Dei? They can be allowed to grow taller. To do this, shoots must be cut to a length of approximately 30-40 cm. The height of the bushes of these varieties can be compared with the height of bush roses.
In a small private flower garden, where there are few plants, the search for buds on each shoot and accurate pruning are not difficult. With a large number of rose bushes, this task is complicated.
First, you need to calculate the required length of the shoots, based on the number of axillary buds, and then cut by eye. Other shoots should be shortened to 10-15 centimeters.
Choose a healthy kidney looking out as the top. If you don't want a naturally naturally rosy rose bush to look even more powerful, then this rule can be circumvented without changing the characteristic morphology of the plant.
SIMILAR ARTICLES: