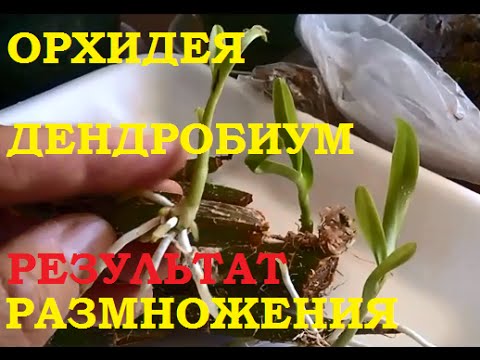 Orchids of the genus Dendrobium are difficult to confuse with other representatives of the Orchids. These flowers do not allow long flowering arrows - their flowers are located on short pedicels directly on the trunk. Among the varieties of dendrobium orchids are plants of standard size and their miniature "copies", the height of shoots which does not exceed 5-10 centimeters. This material presents a description of the species of dwarf specimens and gives tips on caring for them.
Dendrobium orchid species: Christie and Jenkins (with photo)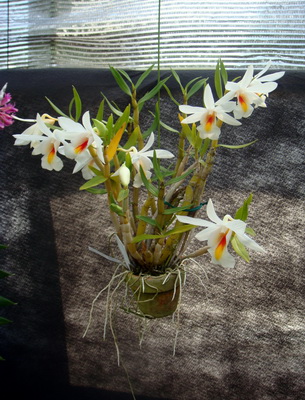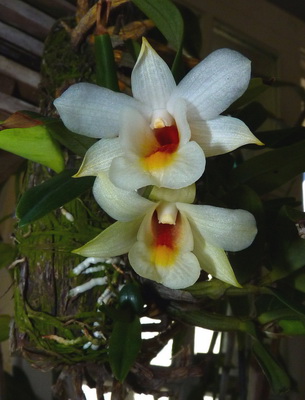 Dendrobium christyanum Rchb.f. - Dendrobium Christie.
Homeland - North Thailand, Vietnam and southwest China. It is found in the crowns of trees in cold forests at a height of about 1220 m above sea level. m. A miniature, very attractive epiphytic dendrobium, with shoots of length 8 — see 14.
Shoots are usually tapered at the bottom, 2 — 7-leaf. Peduncles short, developing in the upper part of both young and old leafless shoots from June to September. Each peduncle carries a single flower with a diameter of 5 cm.
As seen in the photo, the Dendrobium Christie orchid flower is white or cream, translucent, with well-marked veins: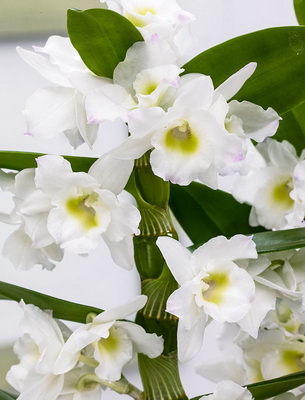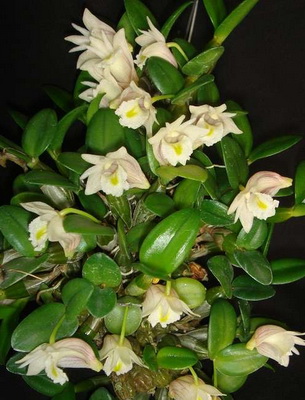 The lip is shaped like a violin, it is three-lobed, with a red-orange or orange-yellow central part. The flowering of this dendrobium orchid species can be observed throughout the year, but more often from mid-summer to mid-autumn. The flowers stay fresh around the 3 weeks, they usually have a faint but pleasant scent.
When caring for home, the Dendrobium Christie orchid in summer needs warm content, bright ambient light, high relative humidity and good ventilation. In the winter months it is necessary to reduce the temperature and watering, not leaving, however, the plant dry for too long. To solve the problem of winter daily watering, you can use morning spraying, after which the plant has time to dry completely by night.
As shown in the photo, when orchid care Dendrobium Christie needs additional lighting in winter, because in natural habitats the illumination in winter is higher than in summer: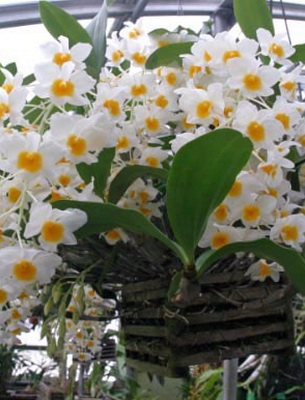 Flowering is stimulated by factors such as a dry rest period in winter, low winter night temperatures, or their sharp daily fluctuations.
It is preferable to contain a dendrobium Christie orchid in block culture at high relative air humidity (80%) with guaranteed daily spraying in summer and early autumn. It doesn't tolerate the transplant, so the plant can only be transplanted if absolutely necessary.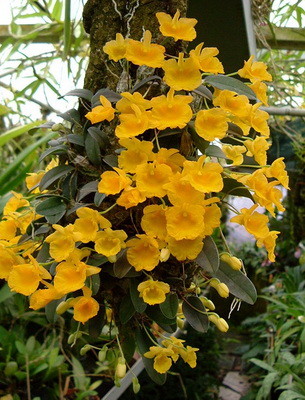 Dendrobium jenkinsii Wallieh ex Lindl. - Jenkins dendrobium.
Widely distributed in Indochina, it occurs at an altitude of 500 — 2000 m above sea level on the trunks and branches of deciduous trees, usually large clones that can grow in different directions — horizontally, up or down along the trunks of trees. Shoots length 3 — 5 cm, flattened, grooved, single-leaved, located at a slight angle to the substrate.
Pay attention to the photo - this orchid species The dendrobium short peduncle appears at the base of a single apical leaf and develops 1 — 2 golden-yellow flowers with a diameter of 3 cm: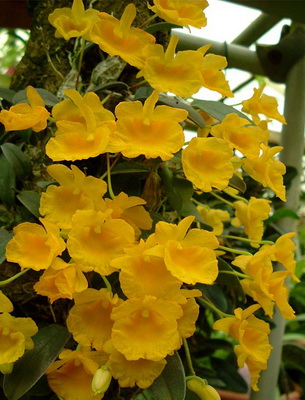 Lip broad, pubescent, golden yellow. It blooms in winter and spring, each flower stays fresh for about 3 weeks and has the smell of honey.
A plant of moderate content with a warm summer and a cool dry wintering. Flowering stimulates a cold and relatively dry winter rest period. Requires strong illumination.
For this species, a block culture is recommended, to which the plants adapt well. An important condition for the care of orchid dendrobium Jenkins - daily moisture in the summer, during the period of active growth.
Dendrobium is pretty and single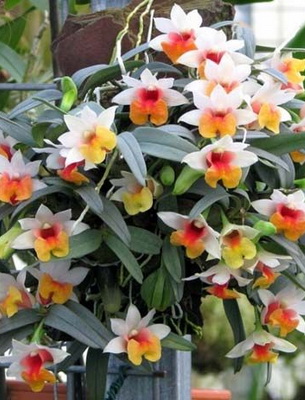 Dendrobium bellatulum rolfe - dendrobium pretty
Widely distributed in Southeast Asia. The species is found in northeastern India (Sikkim, Hashi Mountains), Burma, Thailand, Laos, Vietnam, and southwestern China (Yunnan and Mentze provinces). The main places of growth are open deciduous forests, at an altitude of 900 — 2100 m above sea level.
Look at the photo - this dendrobium orchid is a miniature epiphyte with black hairy shoots up to 10 cm long: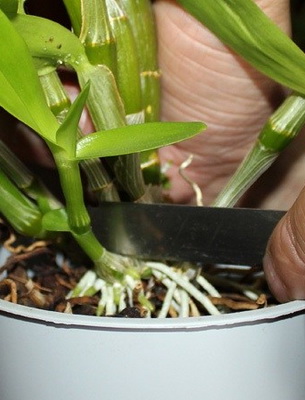 Peduncles are very short, flowers with a diameter of 3,8 — 4,6, see. Both young leafy and old, leafless pseudobulbs bloom. Usually the flower is single, but occasionally it can develop on 2 and even on 3 of a flower.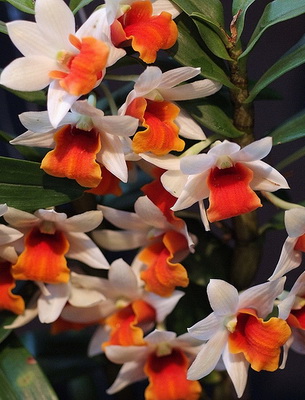 The flowers are fragrant, creamy-white with an orange-red lip. It blooms in autumn and spring, but sometimes it may bloom at other times of the year. Plant warm content with winter dormancy. Requires strong ambient light (35000 — 45000 lux).
In summer, it needs a warm content with a significant daily difference of day and night temperatures (7 — 9 ° С). In winter, the night temperature should be lowered to 8 — 9 ° С. The winter dry season falls in February and March.
The preferred cultivation method is block culture on a piece of tree fern. It is possible to grow D. bellatulum on a piece of bark with open roots only in the case of guaranteed daily moisture and high relative humidity in the summer.
Potting content requires the selection of a small pot, good drainage, and a porous aerated substrate. The best time for transplantation is the beginning of root growth in young shoots (spring), it does not tolerate the transplant.
These photos show the dendrobium orchid care methods at home: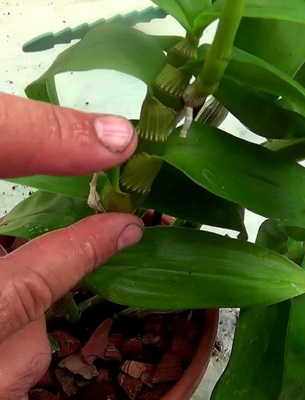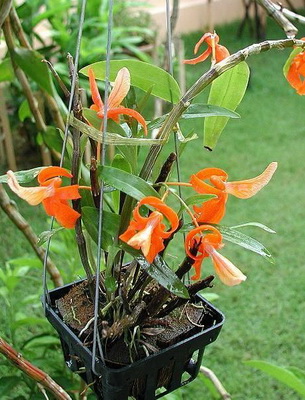 Dendrobium unicum seidenf. - Dendrobium is the only one.
Homeland - the north of Thailand, Laos and Vietnam. It grows on stones and shrubs in areas with low shrub vegetation (800 — 1500 m above sea level). Epiphytic or litofitny plant with shoots length 7 — 25.
When grown in humid conditions, when the relative humidity of the air is constantly kept at the level of 80 — 85%, in D. unicum, as a rule, long drooping shoots grow, while keeping them in drier conditions, short, upright shoots grow.
The plant is deciduous, and in the leafless state it is found most of the year and looks like a dense bunch of dead whitish shoots as thick as 1, see. The development of lateral 1 — 3 flowering inflorescences is observed only in the internodes dropping leaves.
As seen in the photo, in this orchid species the dendrobium flowers are bright orange, with a diameter of 3,5 — 5,0, see: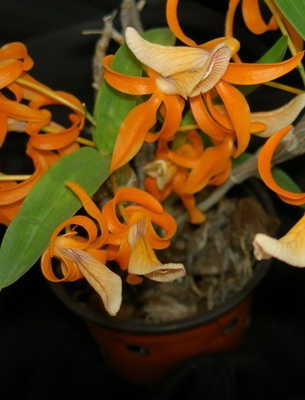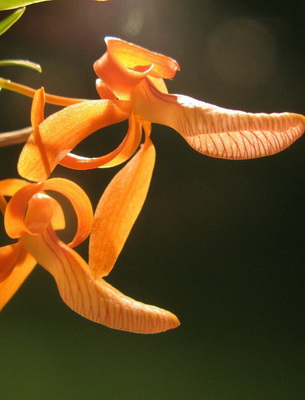 An interesting feature of the flowers Dendrobium unicum Seidenf. is the absence of twisting the ovary, causing the flower to remain an upside-down lip.
Petals and sepals elliptical-lanceolate, bright orange, fully open and curved back. The lip is long, pale yellow or cream with three white longitudinal keels in the middle.
Inside the lip is densely painted with parallel purple stripes that reach to its slightly wavy edges. Flowering can be observed from January to June, but most often the plants bloom in April-May. The flowers have the smell of tangerines.
At home, this dendrobium orchid requires moderately warm content (18 — 25 ° C) with cool wintering (10 — 12 ° C). In nature, when there is little or no rain (December, January, February), strong dew falls and the humidity remains high. Therefore, even spraying a plant needs periodic spraying.
Here you can see a selection of photos of Dendrobium orchids, the names of which species are given on this page: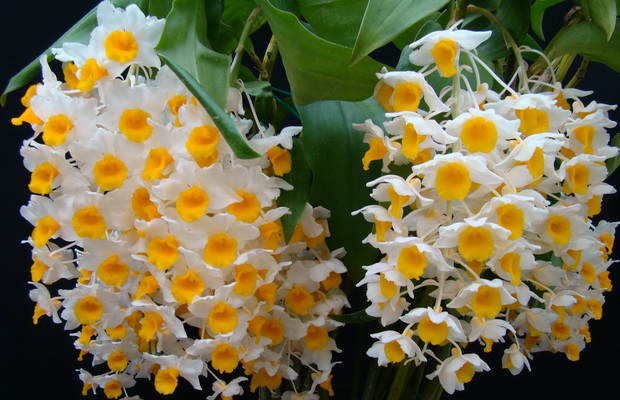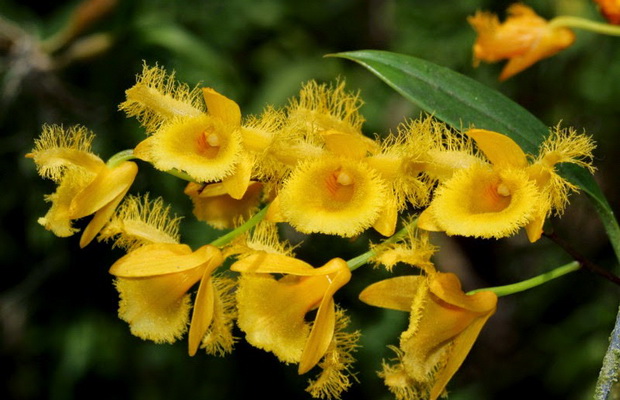 SIMILAR ARTICLES: