Modern growers love everything bright and versatile. These types of ornamental plantings include winged tunbergia flowers, which can be planted with equal success both indoors, and in areas in the yard or in the garden. Universal compositions are obtained with a mix of varieties and species. Flowers tubergia winged and growing from seed are discussed in detail in this article. Long, interlocking shoots and bright flowers with a variety of colors help to create a truly original, unique interior. In most Western countries, the plant is more known under the graceful name of Tunbergia Black-eyed Susanna - because of the black heart-holes in the very middle of each flower. Look at the photo flowers tunbergia - presents different types of home and garden: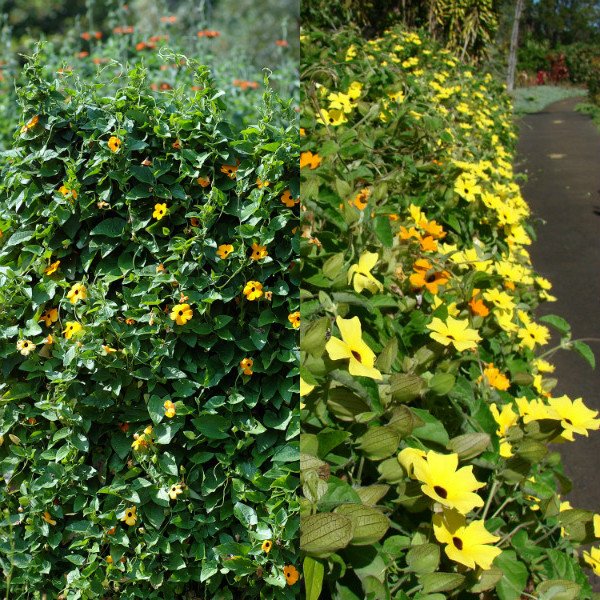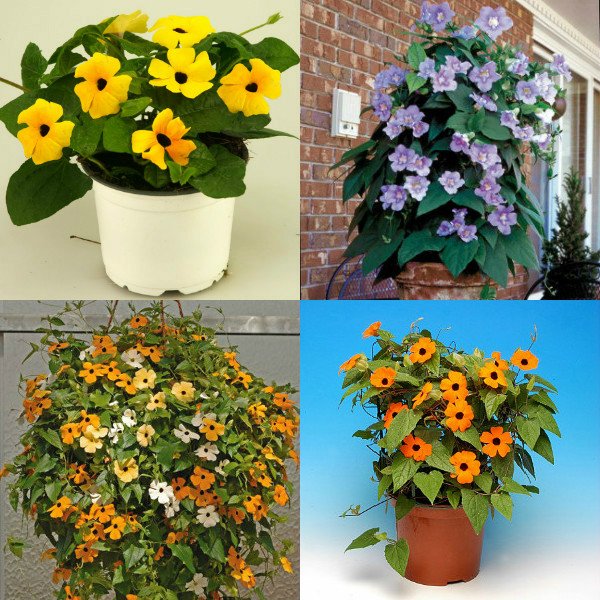 Rules for growing tunbergia from seed
Tunbergia in the northern regions with a harsh climate is annual in nature, and home conditions contribute to long-term livelihoods. The rules for growing tubergia from seed include a set of agronomic measures. Cultural floriculture has several forms of decorative flowering - lianoobraznuyu, upright, shrub. The leaves are egg-shaped and slightly pubescent, the flowers grow singly large in size or gather in bright, powerful inflorescences. The most popular method of breeding is the cultivation of tunbergia from seeds.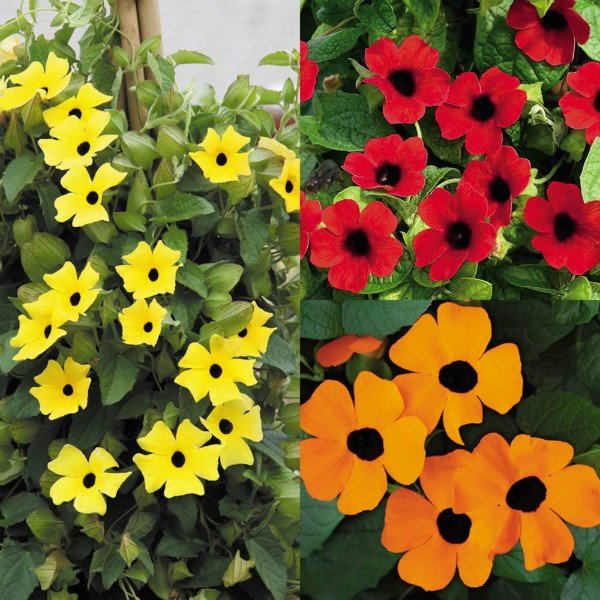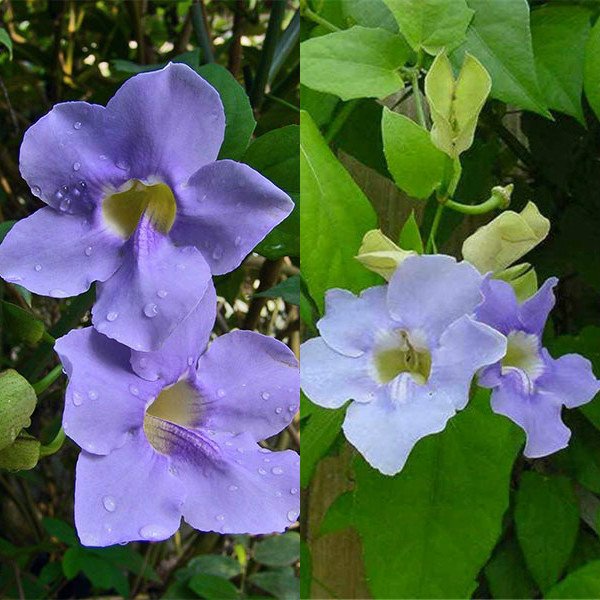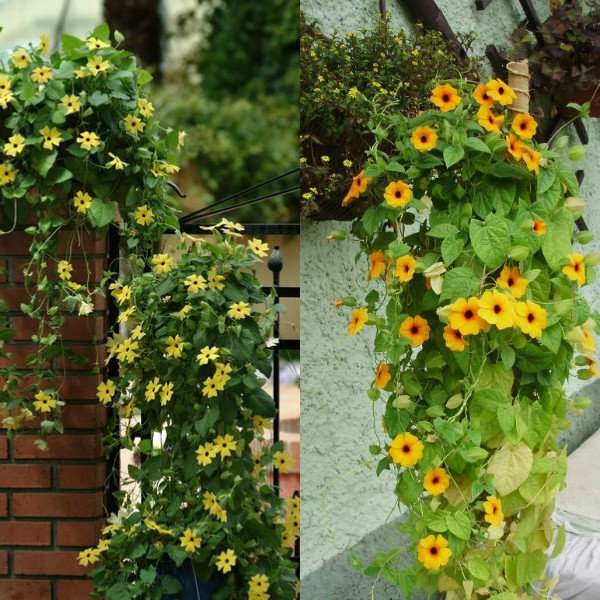 Seeds are sown at the end of winter - early spring, in prepared containers with soil of sand, earth and peat. You need to sprinkle the seeds with a bit of earth, then cover them with plastic or glass. If you do not overdry and re-moisten the soil when watering seeds, seedlings should appear in about a week. After the seedlings grow, the shelter is removed and the pick is carried out. As a result, the strongest young shoots remain. Pinching tops are done when the seedlings reach a height of 12-15.
With the first summer rays of the sun, the tunbergia can be planted in open ground (if you wish to grow flowers in the yard or in the garden), strictly observing the distance between the seedlings in 45-50, see. picturesque natural paintings.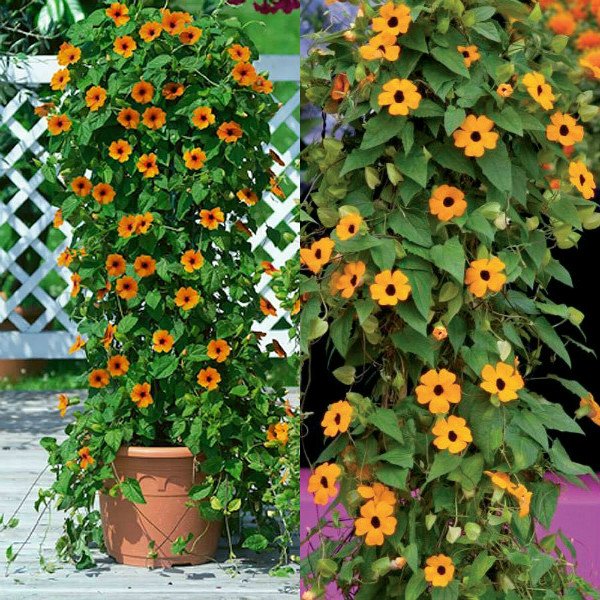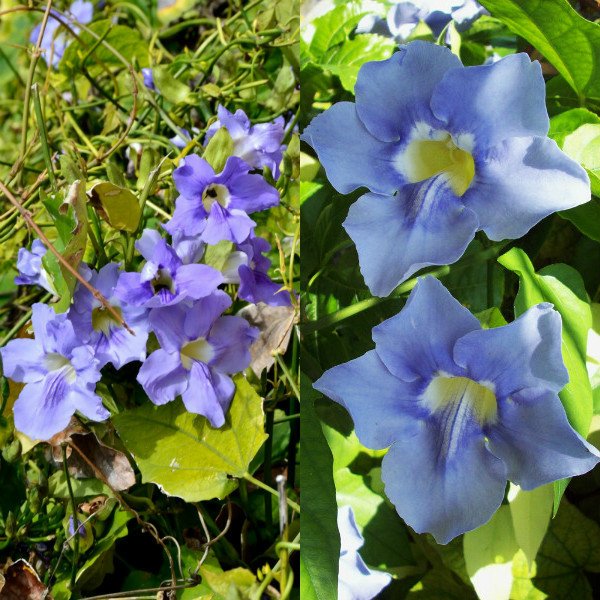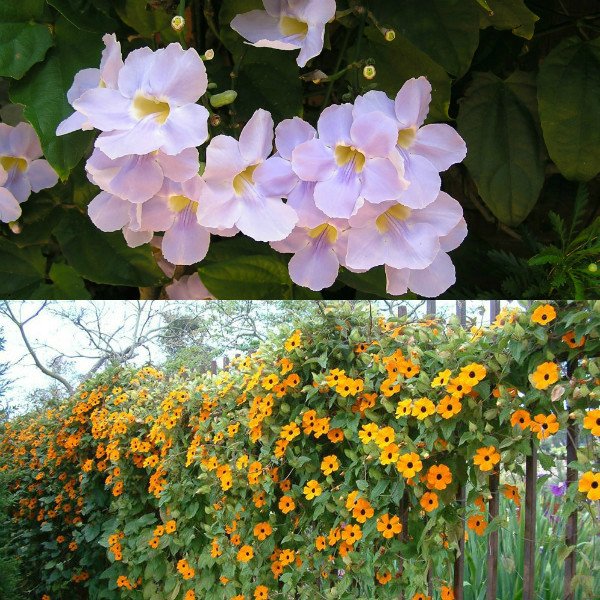 Ample decoration for every taste - care for tunbergia
Amplnaya decoration for an apartment and office for every taste can be easily grown with your own hands. It is possible to grow this confident ampelous plant on a window sill, on a balcony, on a terrace, or in outdoor conditions of a garden, yard, suburban area. Everywhere it will look elegant and will find a use for itself, framing the necessary parts of the interior. You can create any shape and type of support that a vine-like planting will accurately and aesthetically "bloom". But in order for the flower to grow properly and please its owners, it is necessary to provide high-quality care for the tubergia, which includes timely watering, loosening of the soil and fertilizing with mineral complexes.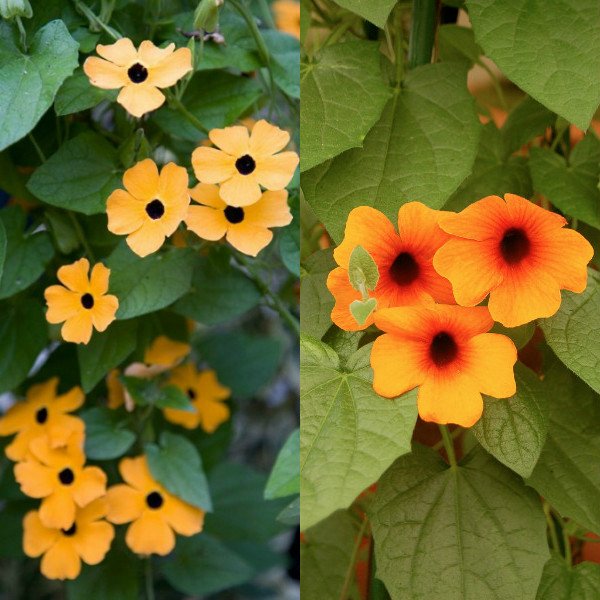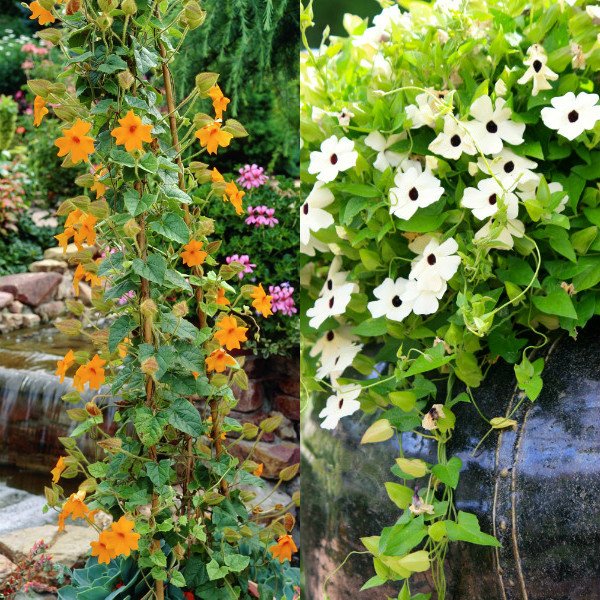 There are a number of rules and theses that should be followed when caring for this ornamental plant. It is important to know, for example, the following concepts:
It is advisable to grow decorative pets on the east or west side of the house so that the scorching rays of the sun in the first half of the day do not burn the light-loving and tender plant;
The optimum air temperature in summer and spring is from 20-ti to 25-ti degrees of heat, in autumn and winter the temperature should be no higher than 15-17-ti degrees;
Watering the plant must be abundant, constantly draining excess water, in winter it is necessary to water more moderately;
Periodically, but not too often, tunbergia should be sprayed;
Feed is made once every two weeks with the use of mineral complex fertilizers.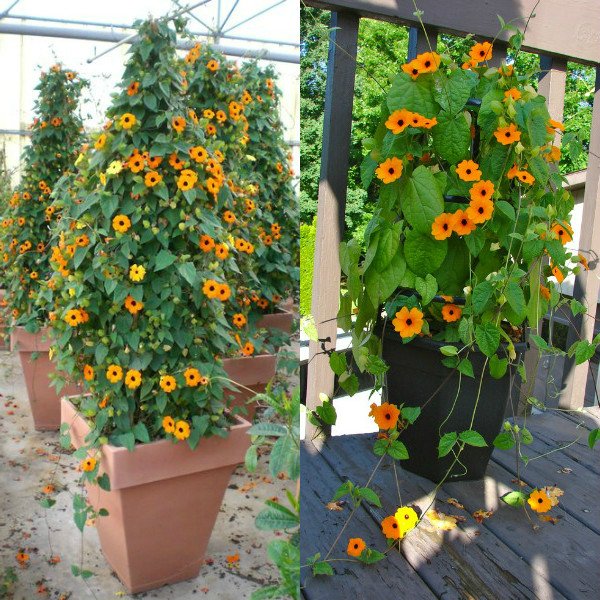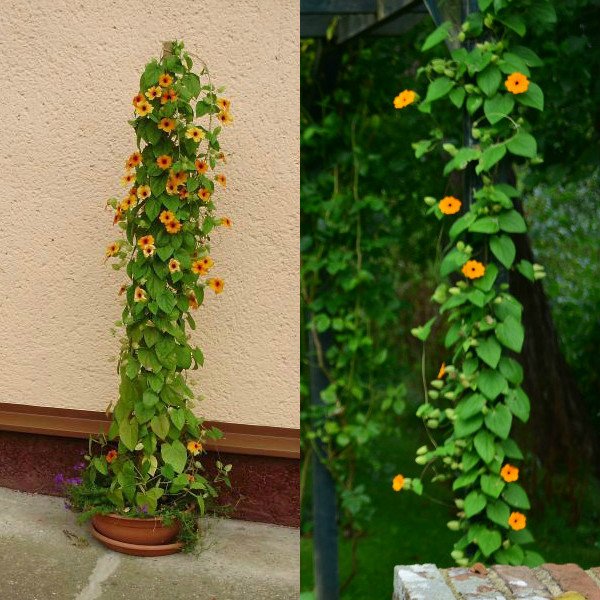 In winter, the plant is resting, so during this period it is not necessary to feed it. If the flower is located on a balcony or terrace, on cold days it should be protected from the strong and cold wind.
This plant can become anywhere a decent and original screen, a fence, an element of modern vertical gardening. Thus, it is possible to fully decorate an old tree, a courtyard arbor, an arch at the entrance or a separate part of the garden plot. In the absence of the support necessary for braiding, the vines will beautifully and attractively flow down. In such cases, use hanging pots for home decor or adjacent territory.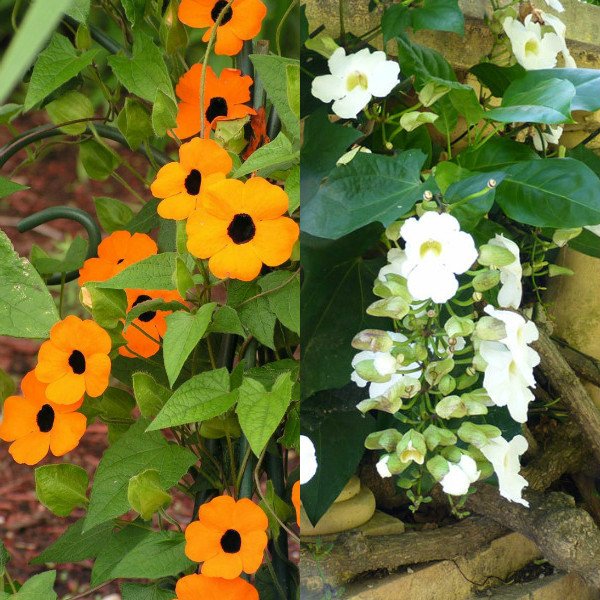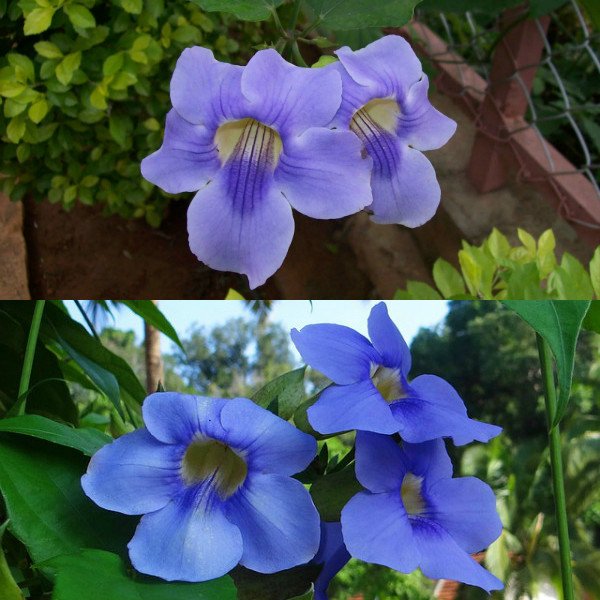 A variety of colorful flower types (with photos)
Like many other ornamental plantings, tunbergia is divided into different types and varieties - there are more than two hundred of them. A variety of colorful flower species allows you to create exquisite compositions for interior decoration. In a separate variety, various types of flower are distinguished, of which the most popular and demanded can be called:
A bright and attractive tunbergia winged - climbing plants, the height of which can reach 2-x meter mark. On elongated pedicels, cream (sometimes with a yellow-brown border) flowers bloom. They are 3-4 in size. See Leaves have an ovoid shape, with notches along the edges. This species loves a lot of light, but does not tolerate direct sunlight.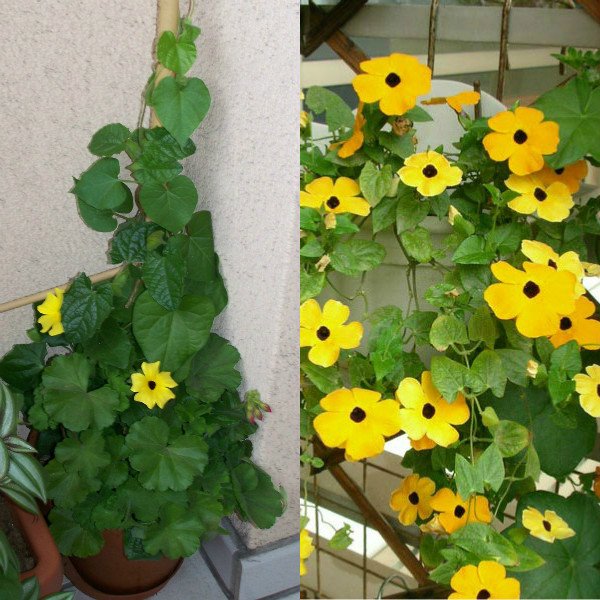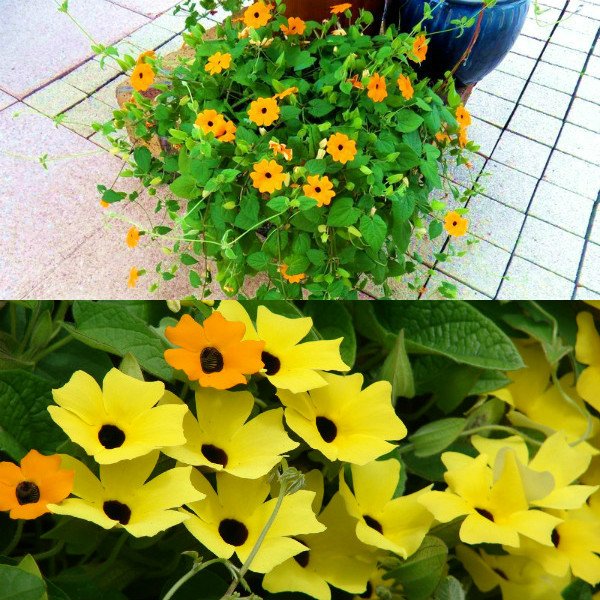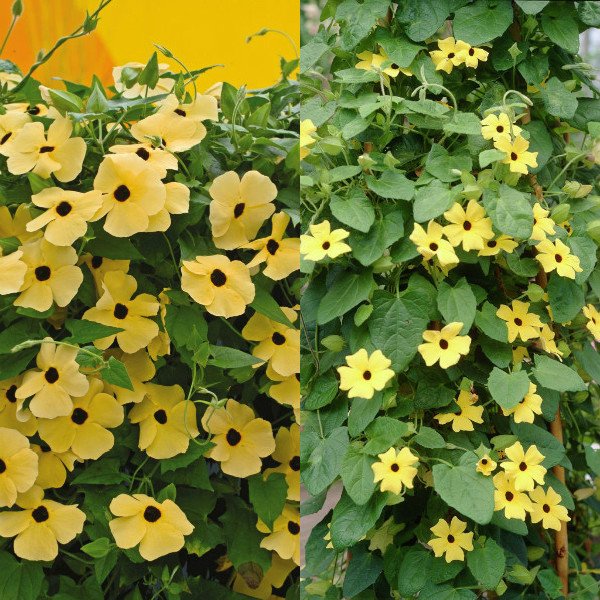 Powerful and beautiful large-flowered tunbergia is an evergreen, highly climbing. A small amount of palmate-dissected leaves grows on long shoots, so they look almost bare. Hanging fairly dense brush collected from large flowers, can be located and single. The colors are varied - from white to purple with different shades. To grow this type of prefer in apartments, winter gardens, greenhouses.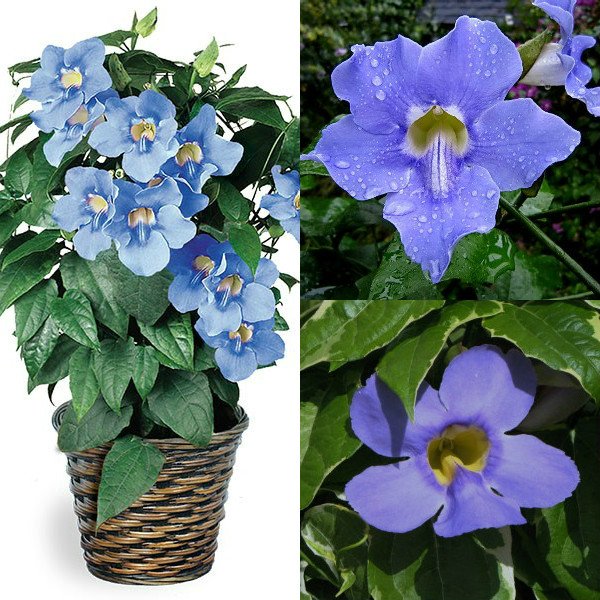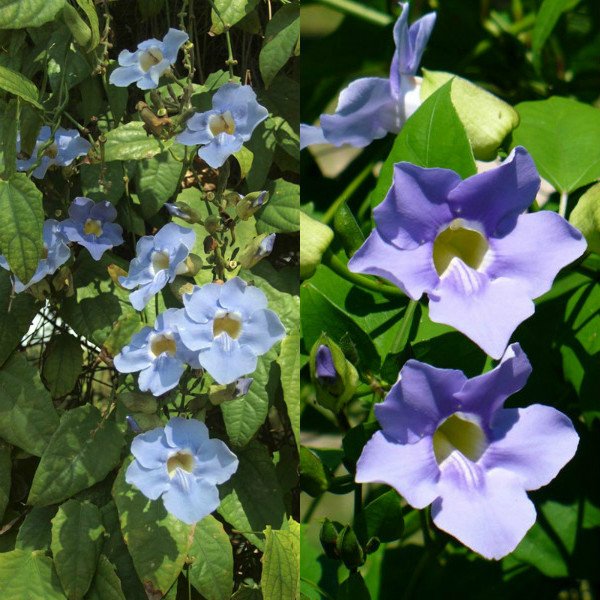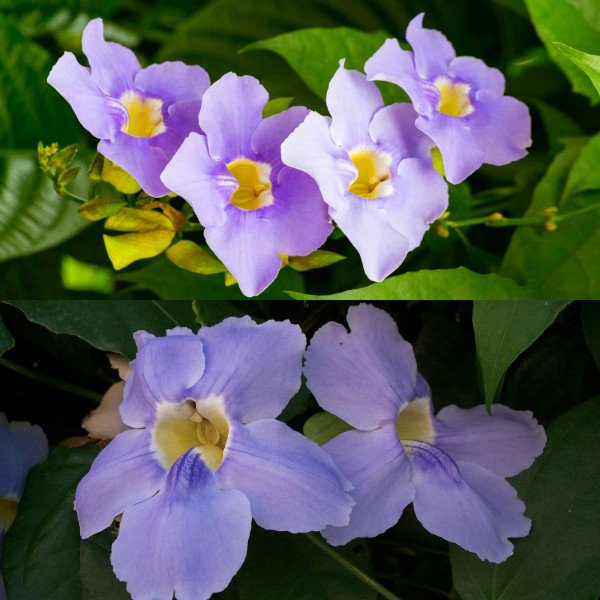 The main pests for plants are spider mites, aphids and whiteflies. If the signs of this living creature are found on the back of the leaves (feeling sticky), it is necessary to spray the plant with a solution of alcohol and soapy water as soon as possible. Due to the overmoistening of the soil, mold may appear on the flowers, and when the soil is overdried, the flowers and buds will begin to fall off. Look at the photo types of Tunbers: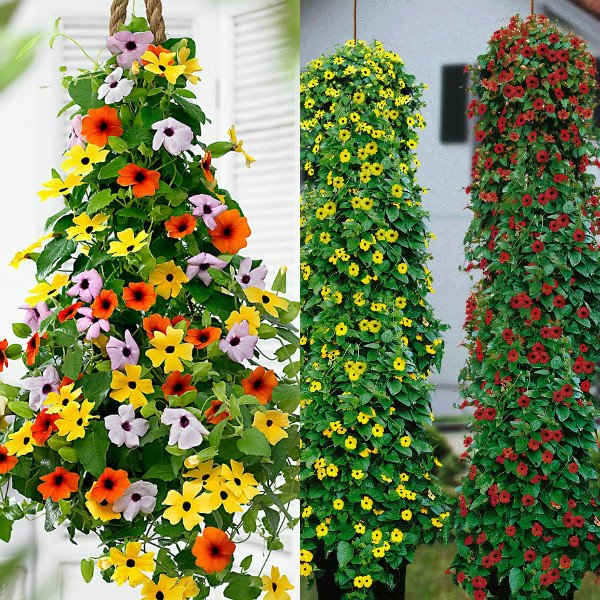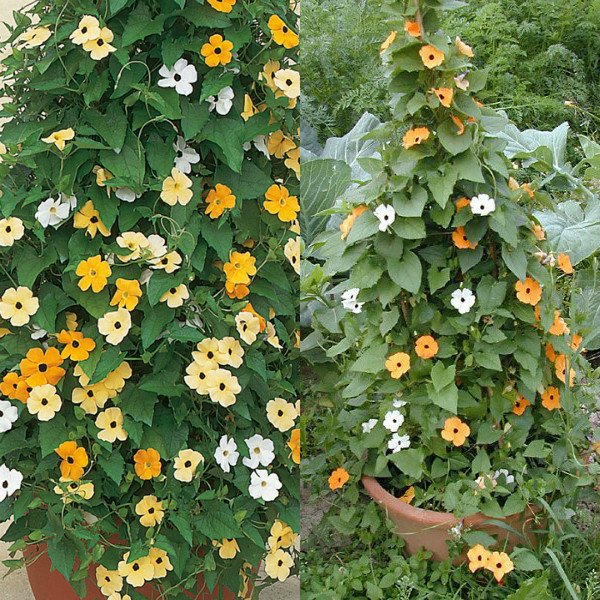 With a lack of light and nutrients foliage begins to thin. In this case, the plant must be rearranged to a more lighted place and during the flowering period it must be fed with complex fertilizer.