The "flower of retribution" that our gardeners easily grow at home is an inimitable nemesia, her photos will be presented further for the sophisticated views of our readers. Nemesia flowers are quite unpretentious and their proper planting, and most importantly, their care is practically no difficulty. But so many colors can bring it into landscape design, because the variety of shades of colors is so great that it is simply impossible to imagine. The cultivation of nemesia from seeds by seedlings is mainly practiced, for which they sow in the first decade of February. Look at the photo results, which are obtained from planting to departure: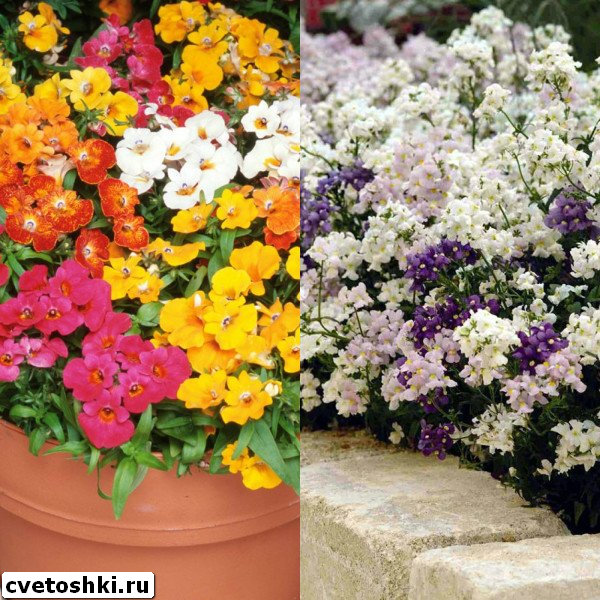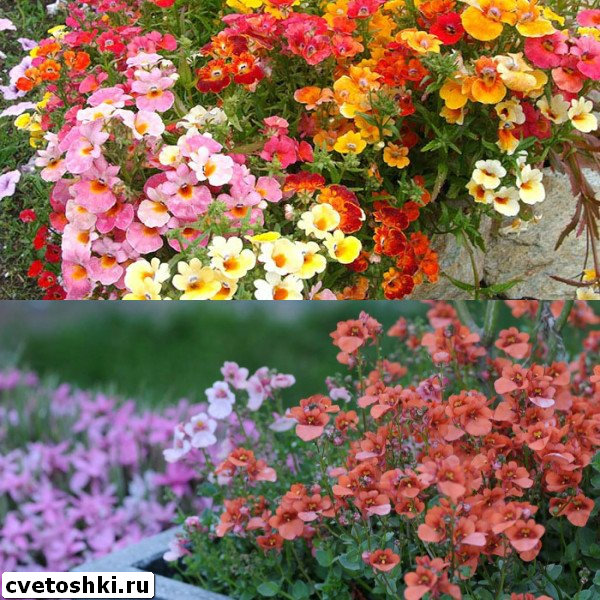 South Africa is considered the birthplace of nemesia, where such perennial or annual grass was discovered. More rarely, this plant can also be found as a shrub of the genus Norichnik. Currently, 50 has been discovered around the species of nemesia, which was thus named in honor of the Greek goddess of retribution Nemesis. But, despite the seemingly awesome origin of the name of this plant - it is quite friendly and easy to grow in areas in open ground conditions.
This plant can have linear or lanceolate toothed leaves located on a rather long stem oppositely. Branched, tetrahedral stems can be either standing or lowered, while reaching from 30 to 60 cm in length.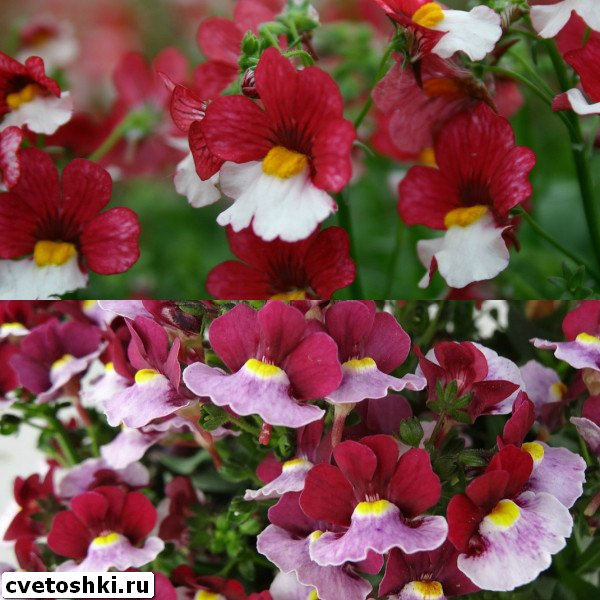 The flowers of nemesia are presented in a rather large variety of shades. However, they have a complex appearance and irregular shape and are formed in the leaf axils. At the tubular corolla, there are two limbs in the form of a lip: the first is the upper, has 4 lobes; the second is lower, has 2 lobes. After flowering, a fruit is formed - a box with very small seeds, which prevalence persists for 2 years. Nemesia blossoms in favorable conditions from the beginning of July to the first decade of autumn.
Most often in Russia, nemesia is grown as annual herb. But, it depends on the variety and type, as the growers say that some of them are not only cold-resistant, but can easily survive the frosts.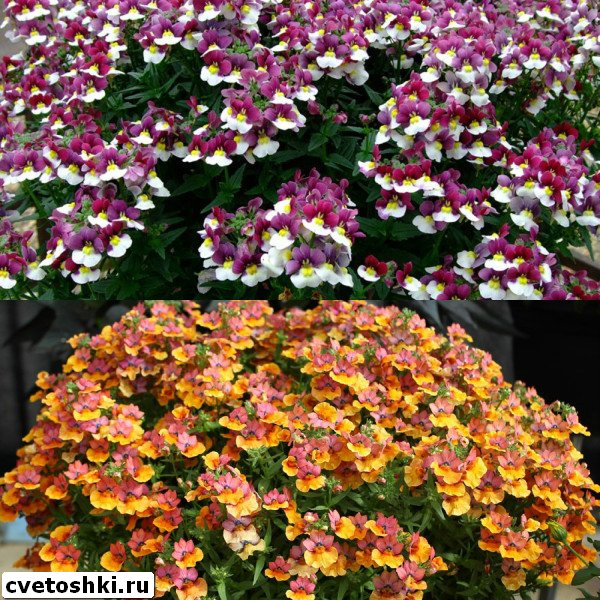 The most popular varieties of nemesia (with photo)
The most beautiful variety of nemesia, which is very popular both for cultivation in the garden and for decorating the balcony, is the "cardinal mantle", its photos are presented below. This plant is different from other varieties of unusual combination of inflorescences. They are usually bright scarlet and white-white, and the petals have a scarlet border. Looking at the "cardinal's mantle" I immediately recall Bulgakov's "cloak with a bloody underlay", this is what most often attracts gardeners to amateurs.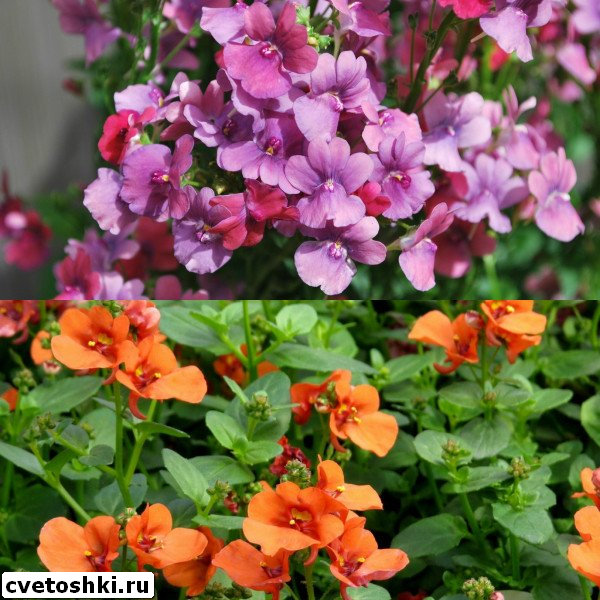 This kind of nemesia, like the "cardinal mantle", is 30 cm tall and has a rather branched stem. As for the care of him, it is not difficult, as the plant is quite unpretentious and easily tolerates cold, but you should make sure that the soil was always hydrated, that is, you may need frequent watering. By the way, this variety can be grown in open ground, for example, in a garden, or in a pot at home.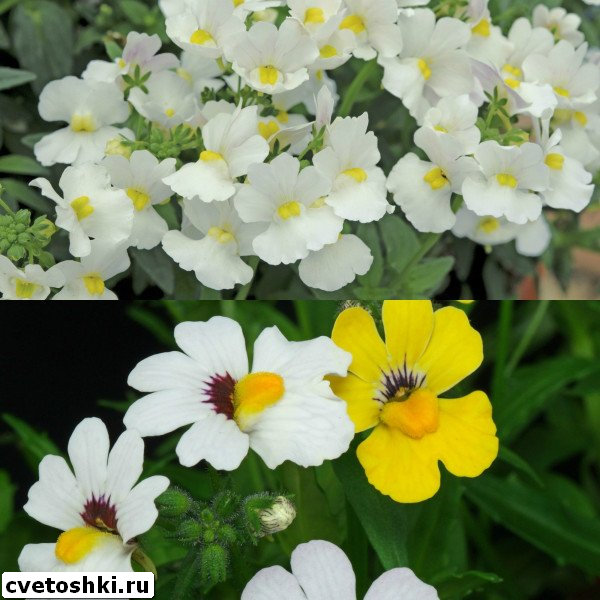 Often you can find seeds that are called "nemesia of the mantle of the king." In fact, this is the same plant, so just look at his photo below.
Nemesia, which flower growers call "carnival" is a mixture of flowers of different varieties. Such plants are grown as an annual plant in the open field. Perfect for decorating the garden or to use it for growing on borders or flower beds. Not bad will look in a special box, as a decoration of the balcony. So, you can look at the photo how beautifully the non-fancy carnival looks in neat flowerbeds and flowerpots.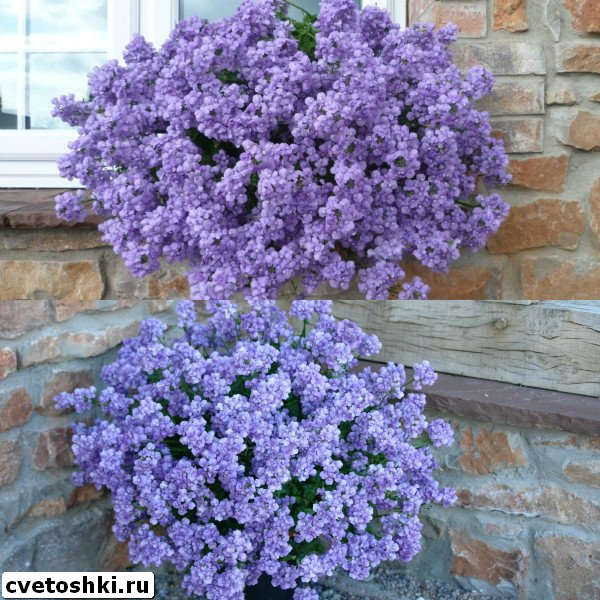 The plant can reach no more than 20-30 cm, while it has very branchy strong stems, on which sessile leaves are located opposite. Beautiful bloated flowers do not have spurs, unlike other varieties, but they also have irregular shapes and can reach 2,5 cm in diameter.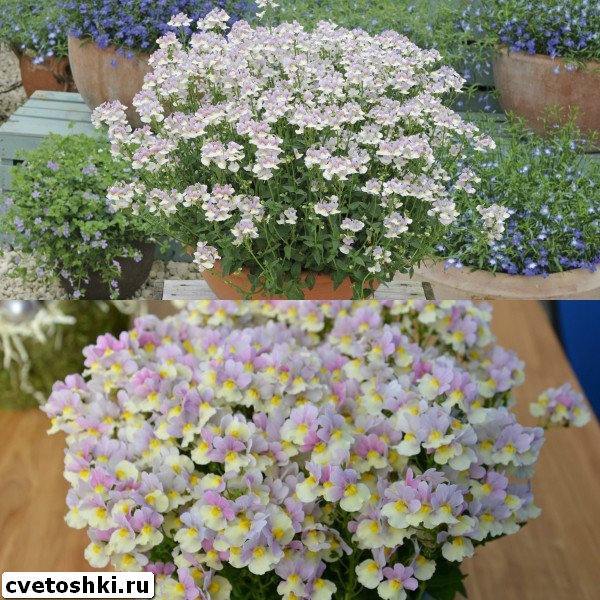 By law, the most popular variety of nemesia can be considered goitre, which can reach 60 cm growth. It blooms all summer, while the inflorescences have a very nice delicate color of different shades. Quite often, goitre nemesia is grown not only in the open field, but also in pots. They are very well tolerated by the cold, so they can easily be kept all summer in the open air, for example, on the balcony, as shown in the photo below.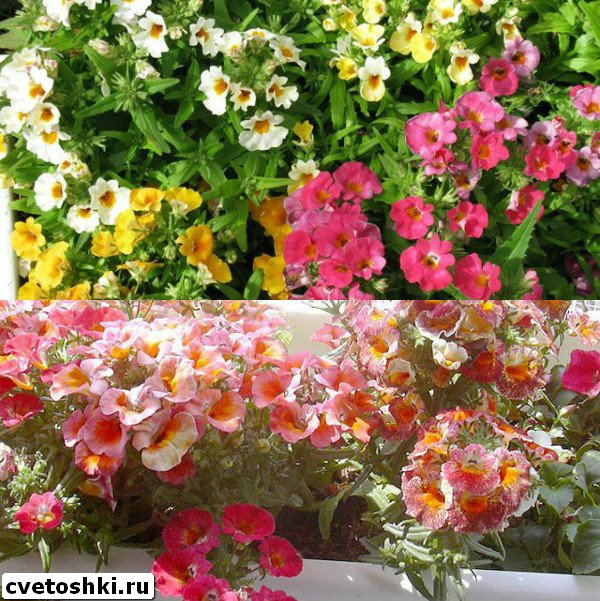 If you grow such a variety in the belts, where the winters are milder without frost, the goitre nemesia can grow as a perennial herb. Despite the fact that most of the colors of this variety have a height of 60 cm, there are more compact versions that do not exceed 30-40 cm.
With proper care, beautiful flowers of goiter-like nemesia will decorate the site and the balcony until the very first frost, that is, until October. At the same time, the inflorescences can have absolutely any interesting color. For example, it can be a plant with purple, pink, orange or a flower of another original shade.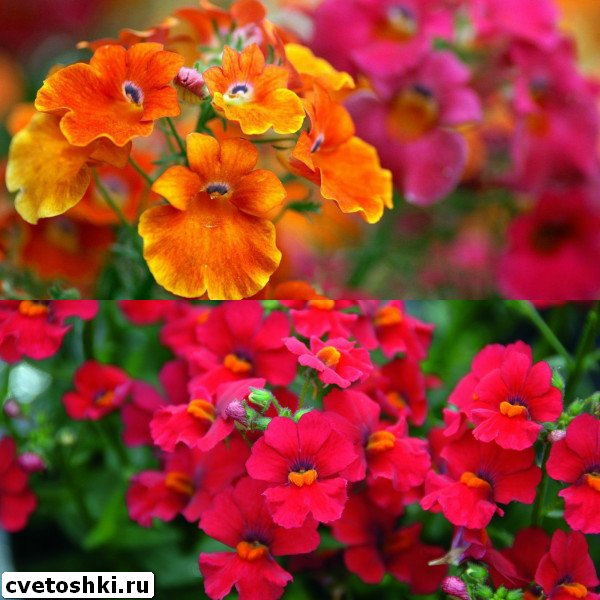 Quite bright flowering can be achieved by choosing a mixture of varieties of nemenzii "Triumph", but it is quite difficult to find in some flower shops, as it is rare. The fact is that "Triumph" has quite lush flowers that exceed the size of the inflorescences of other representatives. At the same time the plant itself reaches 15-20, see. Also, it is worth noting that it is an annual and blooms only in the period from June to August. For nemesia "Triumph" you need a sunny place, since it is rather light-loving. In the photo below you can see the beautiful representatives of this mixture of varieties.
Reproduction of nemesia seeds and growing seedlings for your plot
Such a beautiful flower, like nemesia, regardless of the variety, is propagated by seeds, which can be purchased in specialized stores. There are several nuances that must be observed in order for the plant to grow healthy and strong. The fact is that this kind of garden flowers has a taproot, which is not difficult to damage during transplantation, so it should be one, and if possible, it is better to plant the seeds in the ground immediately. The reproduction and cultivation of nemesia with seeds begins with the search for an answer to the question of when to sow it correctly. So, the best time for this is in 2017, from 10 to 22 in February. Let's see how to grow healthy seedlings for your plots and see photos of the finished results.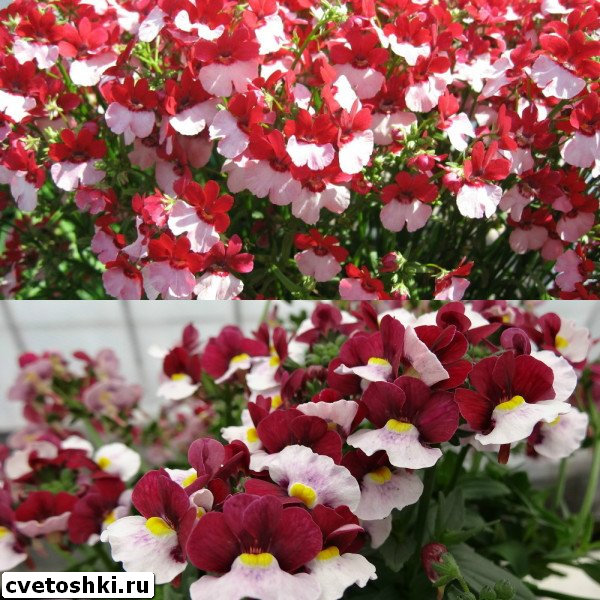 First of all, as mentioned earlier, special attention should be paid to the root system and to the fact that it should not be damaged. For this, the plants are seated in different pots. That is, you need to contrive and plant small, very light seeds in different vessels. But, you can use a little trick and a couple of improvised tools, which in the beginning of March are sure to be at hand.
In order to avoid the accuracy of nemesia, a small layer of snow can be laid on the ground. Since the soil must be very moist, almost muddy snow does not harm, but only draws the seeds to the desired depth when it melts. Also, in order not to damage the seeds, you can take a blunt pencil, wet its edge in water and carefully use it to lay out the seeds on the ground in the required order.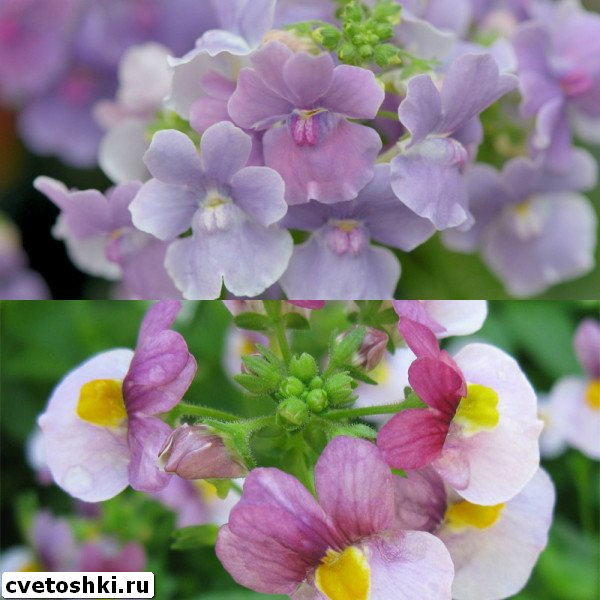 As for the soil, it should be special with a small amount of sand and humus. Such a mixture should be maximally loosened and moistened with plenty of water.
The first shoots, when planted in closed ground, will appear during the 1 week, if the seeds were sown directly into the soil in a flower bed, then usually the first shoots can be seen within 14 days. In order to avoid the death of nemesia, it is worth planting it in a flower garden, only after you make sure that this season there will be no more frosts. The temperature at which the first shoots can be seen already during the 1 week is at least 20 degrees.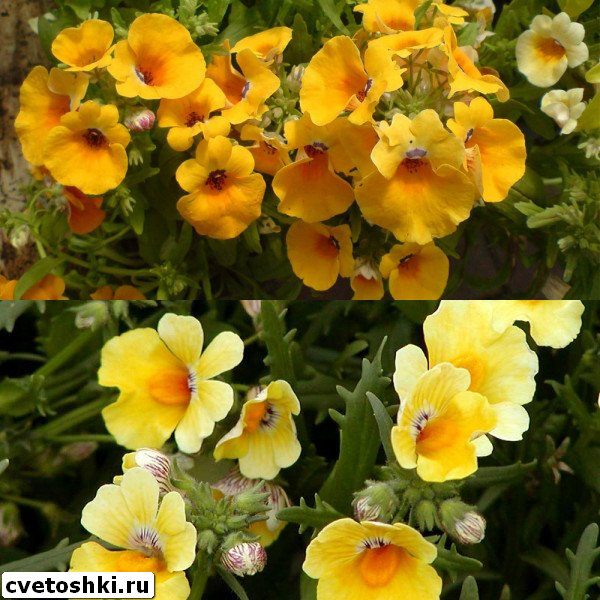 In order for a beautiful and healthy plant to grow, you only need to follow two very important rules of care: timely watering and lighting. At the initial stages of development, of course, it is better to spray nemesia from a spray bottle. As for lighting, you need a sunny place on which pots covered with glass or cling film are placed with a future ornamental plant to decorate a plot or balcony.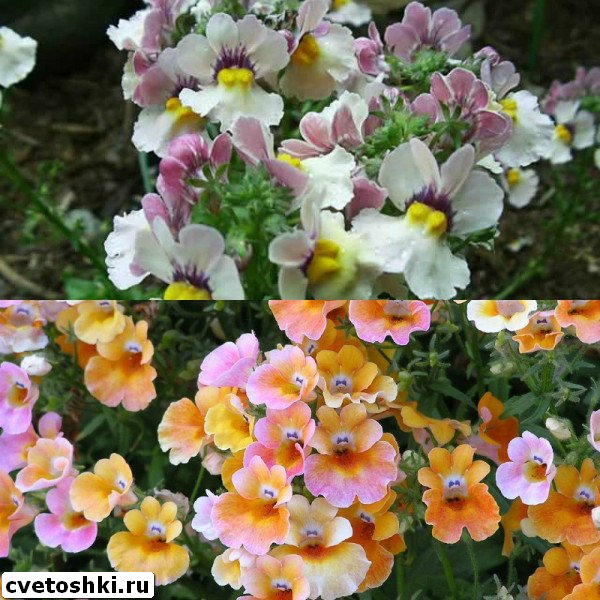 Nemesia care from development to bloom and photos of beautiful flowers
Nemesia is not a fastidious plant, but it also requires especially self-care, from very early development to flowering. Let's look at all the basic rules of care, so that this summer our flowers will please with a beautiful abundant flowering, as in the photo below.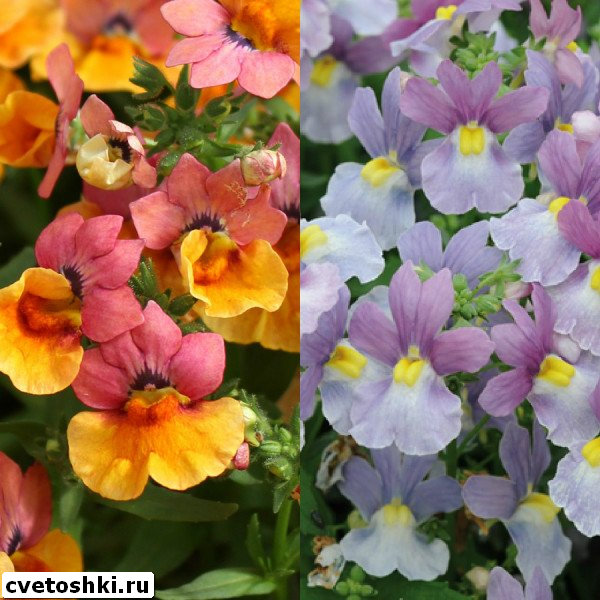 For a start, the whole period of the life of this flowering plant is worth remembering that it needs timely abundant watering. This is especially true of the hottest periods of summer. If the ground at the roots of the nemesia is completely dry, then it will simply wither.
Also, it is necessary to constantly ensure that the weeds do not settle near the flower. They can damage a very delicate root system, thereby permanently destroying beautiful garden decoration. Faded inflorescences should also be removed on time, as they will take power from the plant.
If nemesia suddenly stopped flowering in the middle of summer, you can mow shrubs, this contributes to the second wave of flowering, as the ovaries of the inflorescences form on the new shoots. In the photo below you can see what beautiful plants are obtained with proper and timely care of the bushes in your garden.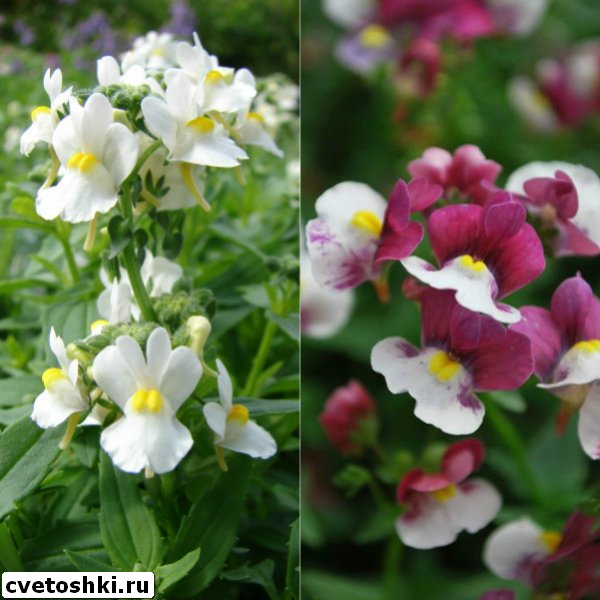 As for fertilizers, they must be present in the life cycle of the nemesia; 1 should be fed once every two weeks. A perfect mix of complex, which can be purchased at flower shops.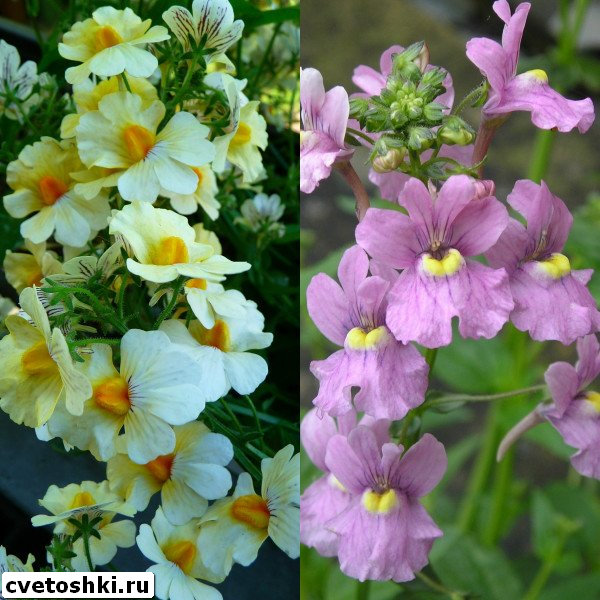 Rarely, but still spider mite can harm nemesia grown in open ground, so it must be treated with acaricides, but with proper and constant care is unlikely to happen such a disease.