A very popular garden plant, which could be seen even in the tidy gardens of our grandmothers - these are leftovers, they are so beautiful that they often become beloved by many gardeners. There are a great many options for this plant, many of the varieties are able to become an excellent decoration for the garden mistress. In this article, let's talk in as much detail as possible, find out the most popular varieties, see their photos and read about the rules of care and cultivation of this plant. Flowers of the flowers - perennial, but the quality depends on how well the planting and care was carried out when growing from seedlings to planting in the ground. Look at the photo flowers of various types of Levkoy and continue the story: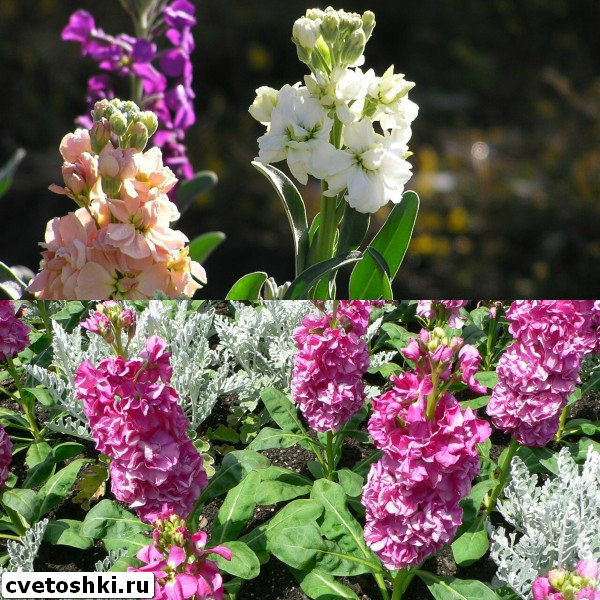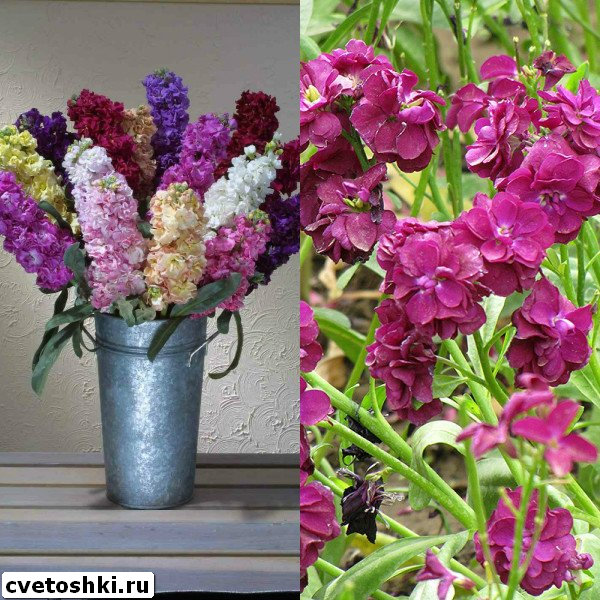 In fact, the name of such a plant as "Levkoy" has exclusively Russian origin. So it is called only within our country and Ukraine. This name was borrowed from the Greek language, in which the word "left" has the meaning - white violet. In fact, its scientific name "matiolli" has a historical origin. So, this plant was named after the outstanding botanist Pietro Andrea Matiolli. This name was given by another quite famous in science French botanist Charles Plume, who also, like Matiolly, was engaged in the description of rare flowers and plants.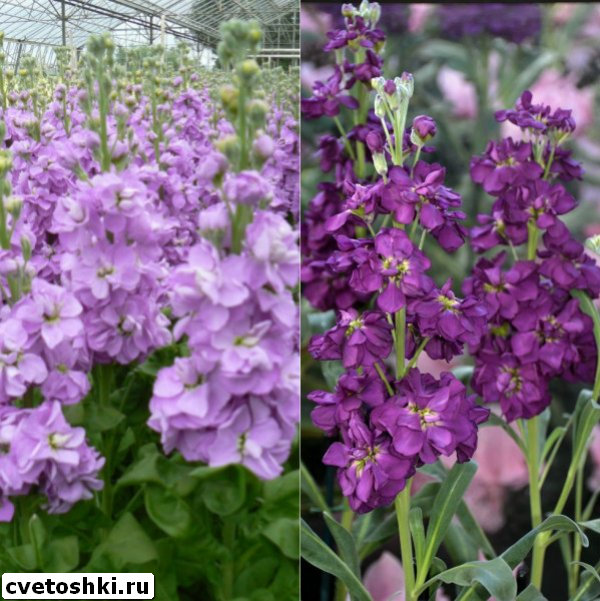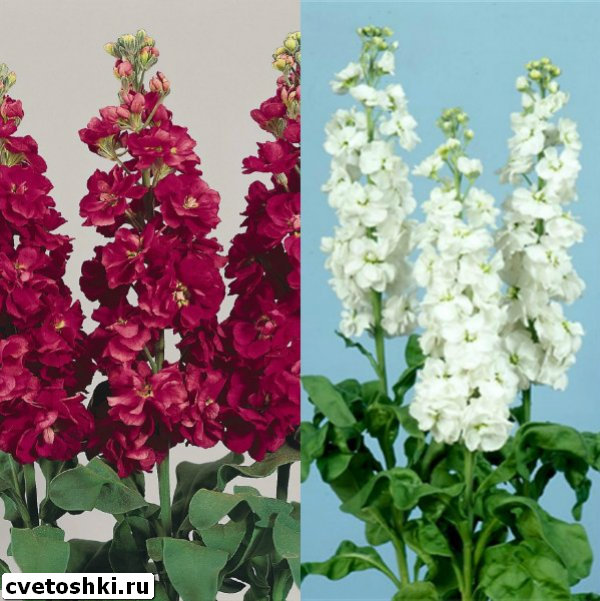 Botanical description of Levko and his photo
As for the botanical description, it can not be said that it can be said that this plant can be both annual and perennial, depending on the species, but let's talk about them a little later. Leucco has about 50 flower species that differ not only in viability, but even in height. Southern Europe is considered to be the birthplace of this plant, in the Mediterranean areas this plant can be found in wild form. In fact, this is not surprising, since it survives well in conditions with sufficient humidity of air and soil. But, in the area of ​​the Mediterranean, one can meet the Levkoy, which is distinguished by a nondescript view with rather fragrant flowers. The photo below shows just such a wild variety.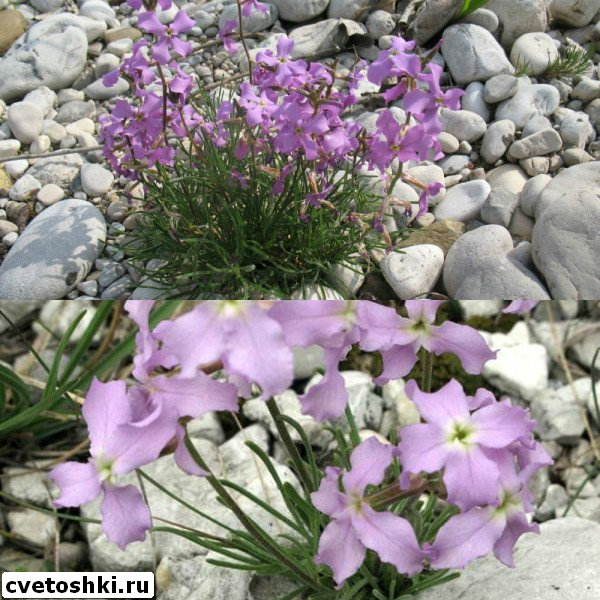 Some species and varieties of levkoy can be not only a herbaceous plant, but also shrubs with standing stems that can reach centimeters in height from 20 to 80. At the same time, the stems of the left branch are rather branchy, felt-omitted and bare. On them are leaves, they can be seen lanceolate, oblong, whole or toothed.
Flowers, depending on the type and variety of left-wing flowers, may also differ from each other in color. This plant is famous for the fact that its buds can have absolutely any color, but most often you can see the racemes or white spike-like inflorescences of white, pink, dirty yellow or purple hues, some of them are shown in the photo below.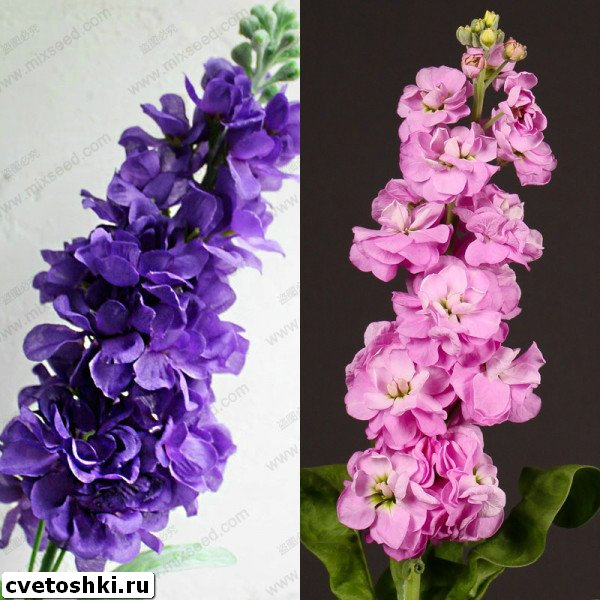 After the levkoy has faded, the fruit appears in the form of a pod, the narrow-winged seeds of which have a flat shape. They are very light and almost invisible. As it has been found out by botanists on 1 grams, it may be about 700 flower seeds.
Conditions are not as important for Levkoy as soil and air humidity. Thus, if you create good conditions for him, he may well take root in absolutely any area. But at the same time such a flower does not tolerate stagnant moisture in the soil and drought. The plant will take a particularly beautiful look, if it is planted on a warm place that is well lit by the sun, then it will be able to please the household with a beautiful color, as in the photo below.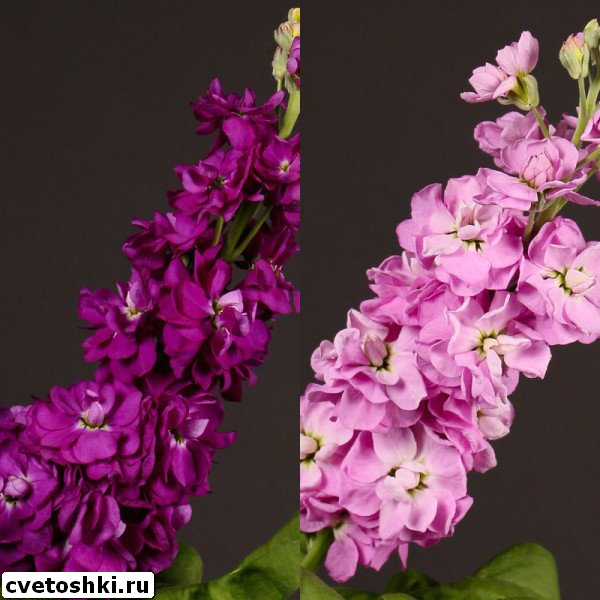 Popular varieties and types of levkoy (with photo)
Even despite the fact that Levkoy has gone out of fashion today and many gardeners are considered remnants of the past, when in favor was a classic and regular style, there are quite a few varieties of Levkoy who can compete with some fashionable plants. According to some landscape designers Levkoy perfect for those who miss the park style, popular in the last century. But, before talking about fashion this season varieties of this flower and look at it in the photo, let's see what types exist at all.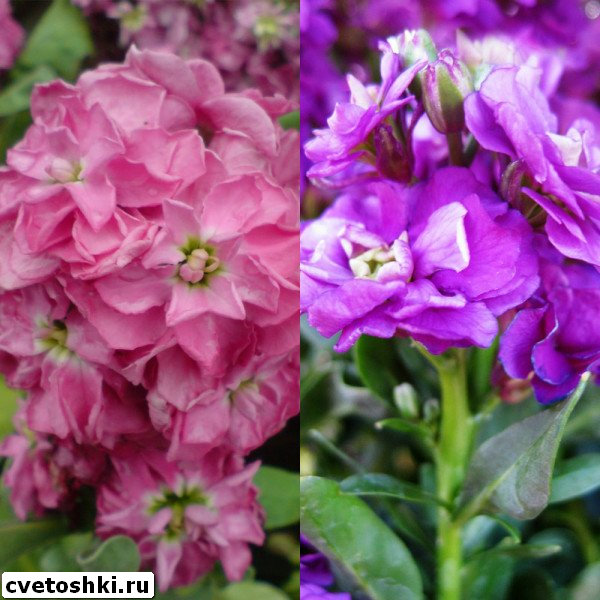 In fact, with respect to a left-handed, the division into species is quite simple. There are only three of them: summer (annual), winter and autumn. They differ in the duration of the development cycle.
With a fairly short vegetative period, left-wing annuals are very popular. They are usually planted in March or April, so the flowering can be observed in early summer, and closer to the fall will go the seeds that can be used to plant the plant next year.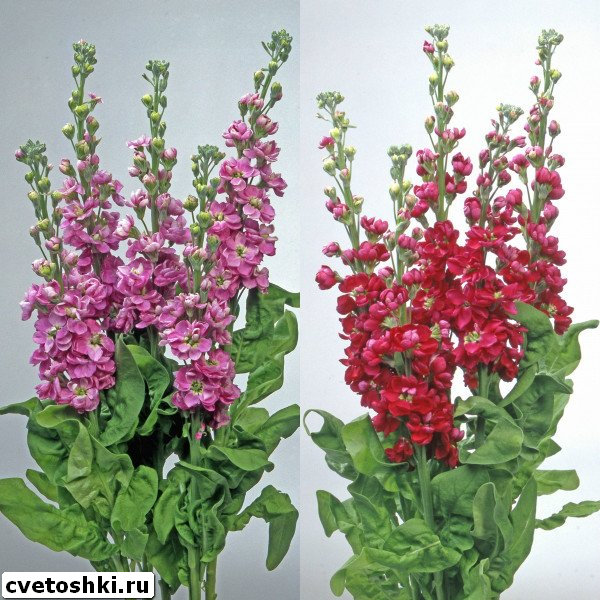 The winter view of the bay cattle boasts that it is a biennial plant and is intended for planting in closed ground (in a pot or cut). It must be sown in August, after which it will begin to bloom in early spring. If possible, you can land a winter levkoy in open ground in March or April, then in summer it will delight households with a beautiful color, as in the photo below.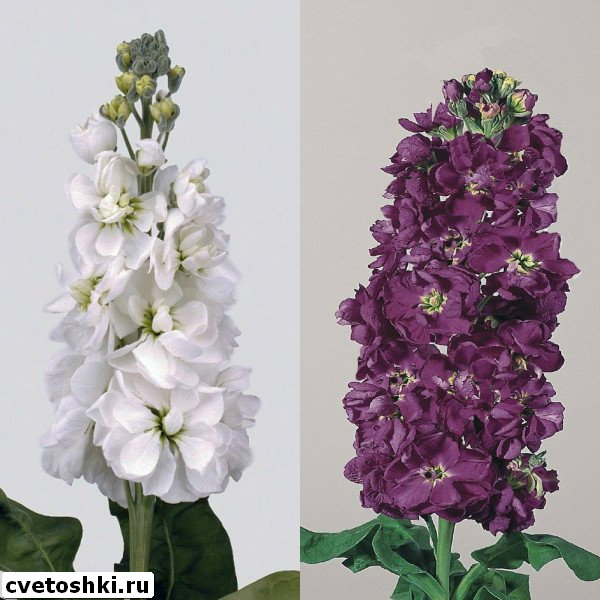 The hybrid of summer and winter levkoy, which is perfectly acclimatized under any conditions, except arid ones, is autumn. Such a plant is a perennial, as it has a very long growing season. Thus, if you plant summer and autumn Levkas at the same time, then the second will bloom only at the end of summer or in the fall. But he will bloom until the frost and as beautiful as in the photo below. By the way, many gardeners prefer to grow this leftist in greenhouses or in greenhouses, followed by transplanting in the open. The only thing is that it is worth waiting with the seeds, as they can be pleased with this plant only in the second year of its life.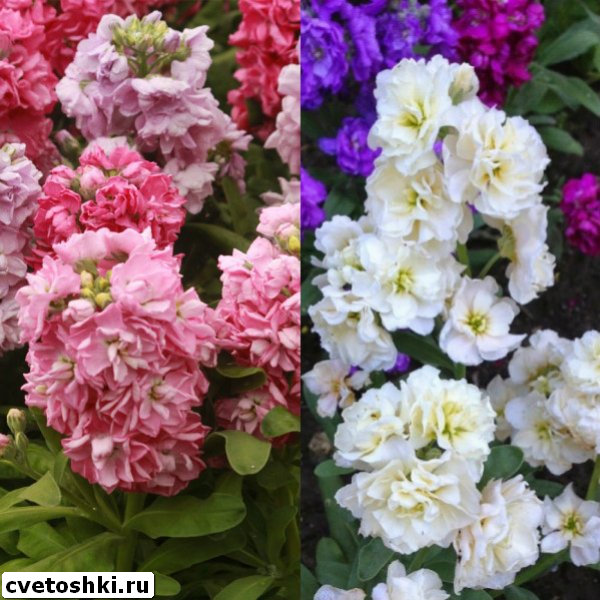 In addition to these species, there is another division of the left, which is also worth noting, since it can be useful for the garden. In fact, botanists divide this flower into species such as dwarf, short (or half-tall) and tall. Let's talk about them in more detail.
So, dwarf levkas are plants that can be both perennial and annual. Their height does not exceed 20-centimeters. Usually, this species is represented by such varieties as "snowflake", "Rose Teicher" with beautiful colors of purple and violet, "Ruby", "Pure golden", "Sapphire" and many others. Plants of this type are great for decorating the landscape of their site.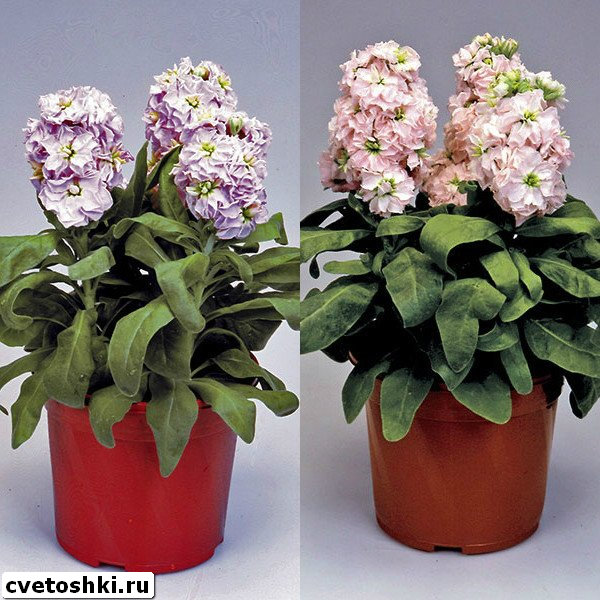 The semi-tall hawks can have a stalk length from 30 to 35. Their beautiful flowering usually occurs during 3-months. They also do not look bad in the garden and include varieties such as "Victoria", "Large-flowered", "Summer", "Giant", "Remontant" and others. Some of these plants can be called perennial, and they are perfect in order to grow them indoors or in cut.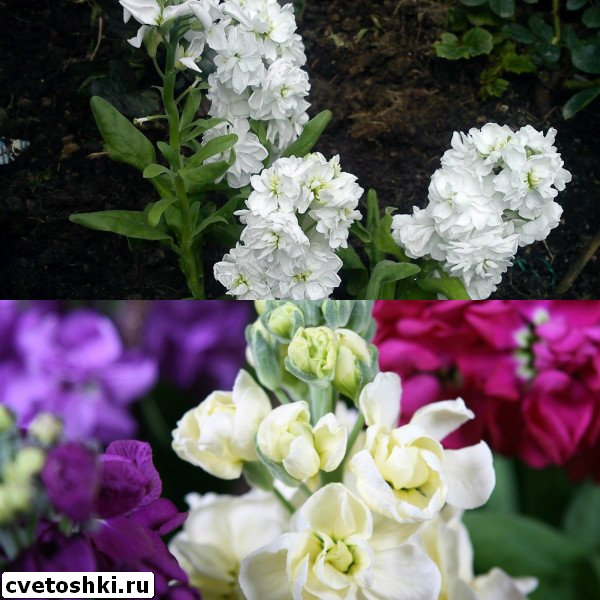 But, the best options for growing left-handed for cutting are flowers of tall species, the stem of which can reach from 60 to 80. Such plants include varieties that can be seen in the photo below, namely "giant tree", "distilled" , "Standard", "northern" and many others.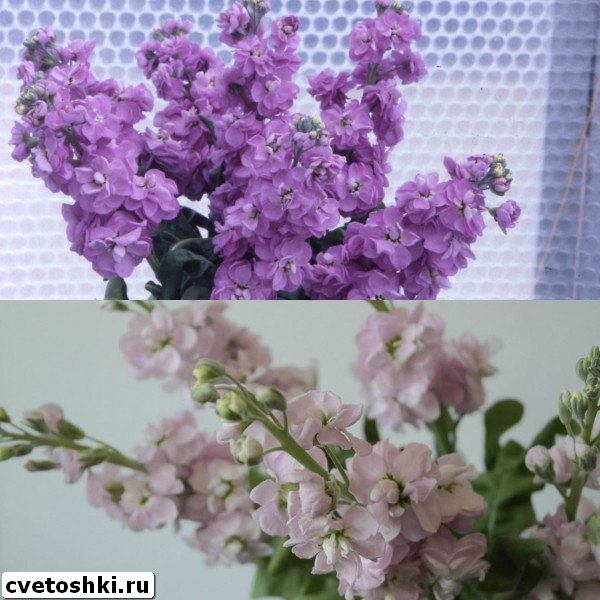 The nuances of growing, planting and grooming
As far as is known, the left one is a rather unpretentious plant, therefore it is not difficult to grow and plant it. But, it is worth remembering some of the nuances of caring for him, which will help to do it correctly and not harm his future favorite flower.
For a start, it is worth remembering that the summer (one-year) and winter (perennial) levkoy is only suitable for open ground. At the same time, autumn varieties can be fully grown in indoor conditions at home or, for example, in a greenhouse. Absolutely all varieties are easily grown from seeds, because in order for a plant to grow healthy, first you need to grow seedlings, prepare the soil, and only then plant seedlings in it, and let's do this further.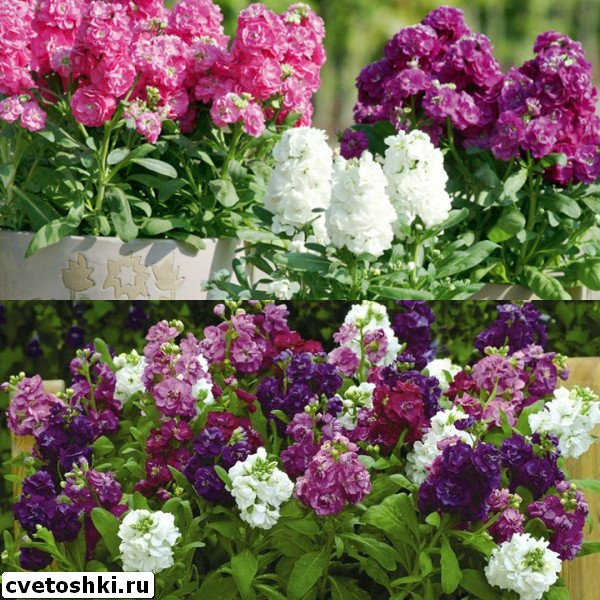 In order to grow on the land plot it is necessary to allocate a place for it, which is being prepared since autumn. At this time compost and humus is introduced. It should be per kg 7 per m2. You will also need a small amount of floral substrate and complex fertilizer, it should be no more than 3 tablespoons per m 2.
As for seedlings, for her, too, the earth must be prepared from the very fall. This will require river sand and turf, which are mixed in the 1 / 3 ratio. In no case should you add humus to the seedlings, since in this way the left leg may be prone to sore black legs.
In the second decade of March, it is worth doing seeds, only in this way Levkoy will delight with its flowering in summer. In that case, if you want to ensure that the plant blossoms without interruptions, the seeds should be sown at intervals of 10 days. To get healthy seedlings, prepare boxes filled with a moistened substrate. In it, make small grooves, about 1-2, see depth. When sowing, do not exceed the 3 cm that is allowed between the seeds and the 4 cm between the grooves. After the work done, the box is sprinkled with a small layer of sand, covered with a plate and on top of the glass. Seedlings should be kept in a room with a temperature not lower than 20 degrees. After sowing, the first shoots can be observed already after 1,5-2 weeks.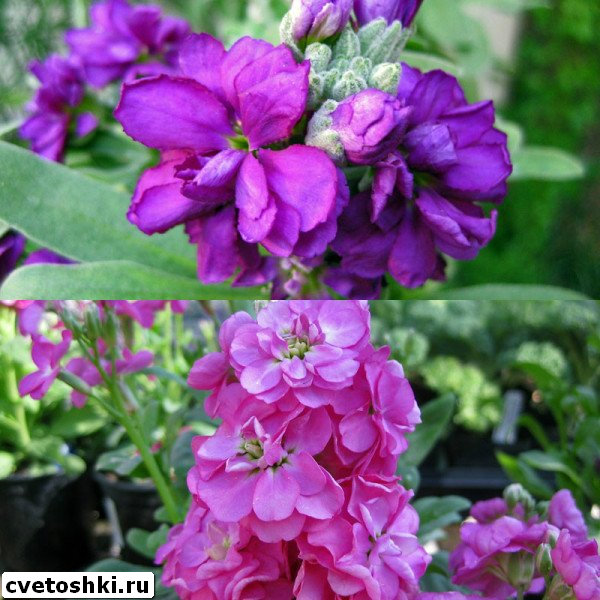 After the shoots appear, the box with them must be placed in a room with a temperature not higher than 14 degrees, otherwise the left wing will not bloom for a long time. Ventilate the room with the box, as this hardens the material and makes it more resistant to cold and draft.
You can plant Levka in open ground in the first half of May, hardened seedlings will easily transfer the cold no more than -5 degrees. If you decide to plant matiolla directly sowing seeds in the soil, then this can be done by the end of April.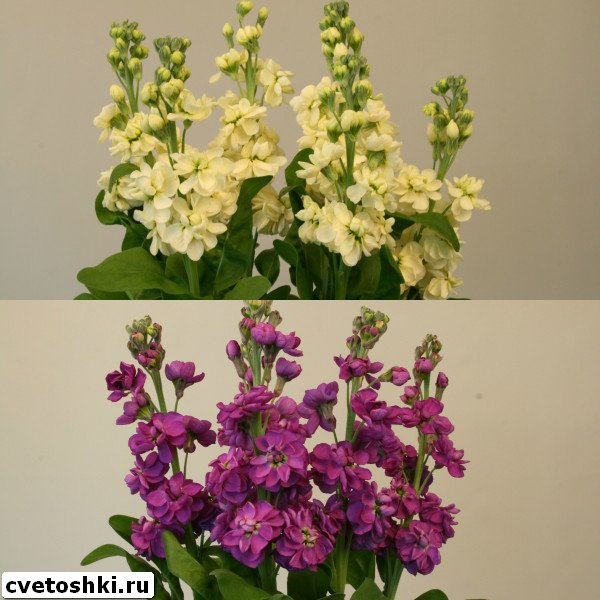 SIMILAR ARTICLES: