An annual or biennial flower, which is often used by gardeners to decorate the landscape design of a plot, is a cleoma, and this plant can often be seen in Russian gardens. This is due to the fact that it has rather remarkable characteristics and appearance, which can be assessed in the photo below. Today, let's talk in more detail about how the planting and care is carried out and how the cultivation of seeds differs. Cleome flowers, even in the photo, look very attractive, and in landscape design they are irreplaceable: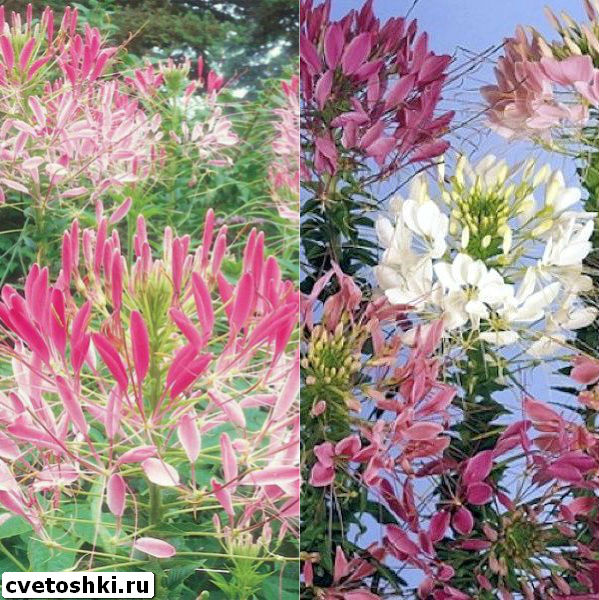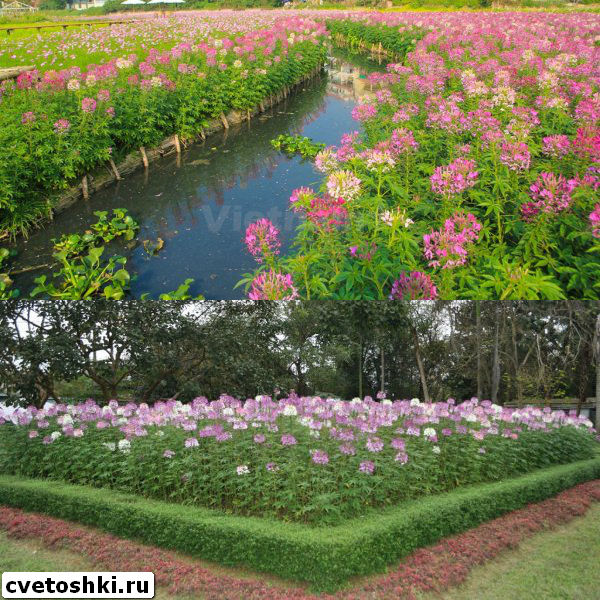 Botanical description of cleoma and photos of this plant
Perhaps we should start with a botanical description of this garden plant. Cleoma in various forms is found in almost all corners of the world, but mostly its abode is warm and temperate areas. In general, this plant can grow as a shrub or grass. Briefly, the glandular-lowered stems have a rather large branching, on which the leaves are arranged in a regular manner. The leaves themselves can have both fairly simple and complex structures, as in the photo below.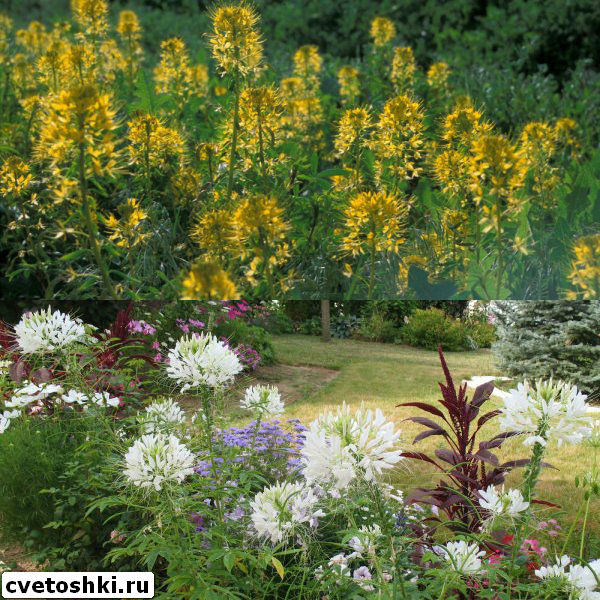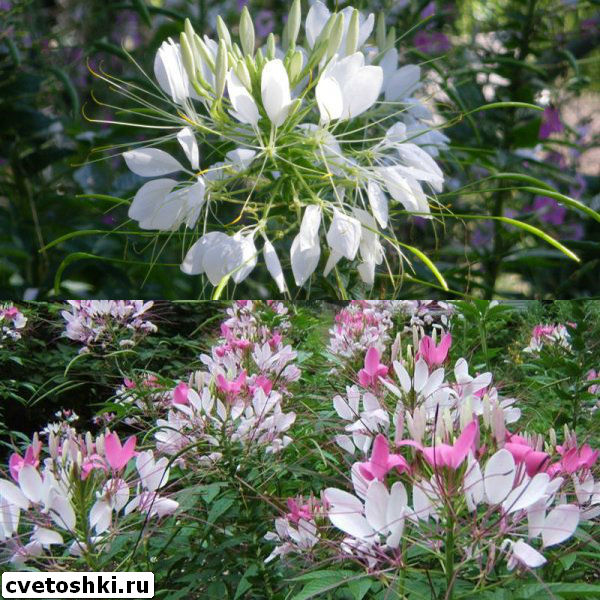 As for the flowers, they are located at the very top of the tassels and can have a bright color. For example, you can often see inflorescences of pink, yellow, white or pale-purple. According to Germans, the color of cleoma is very similar to champagne splashes, but not many people like such a plant, as it has a rather peculiar smell. But despite this, it does not look bad and adorns the courtyards and gardens. After the cleomer blooms, you can observe fruits that are a pod-shaped box, no longer than 3, see cm.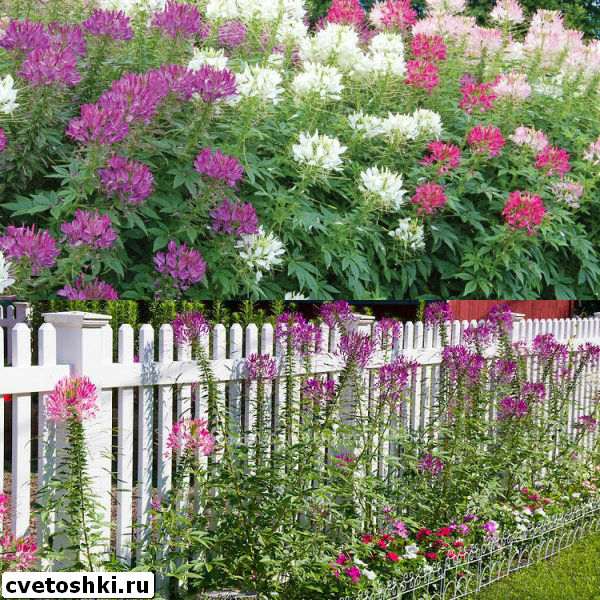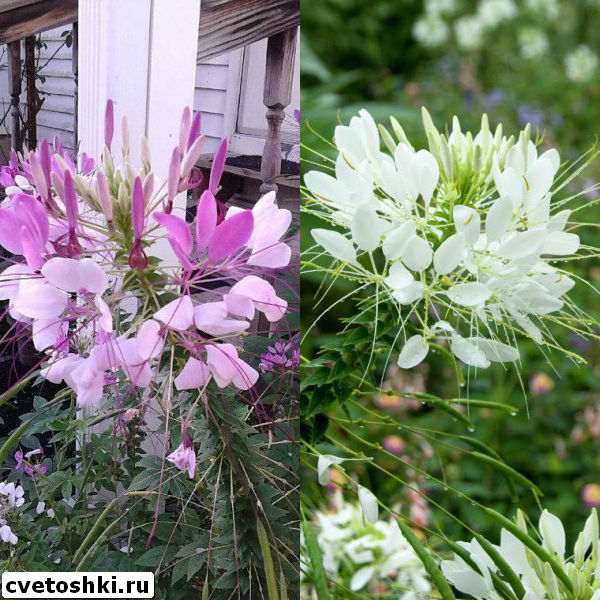 Germans often call such a flower "spider", all due to the fact that its inflorescence has a rather unusual shape - on one side there are long stamens and a pistil, and on the other side there are four petals. The plant blossoms in buds, the diameter of which can reach 20 cm, as in the photo below. At the same time, cleoma can become a real decoration of any garden, many even grow it in a group with fragrant tobacco and laureate, in such an ensemble a cleoma will be a solo plant.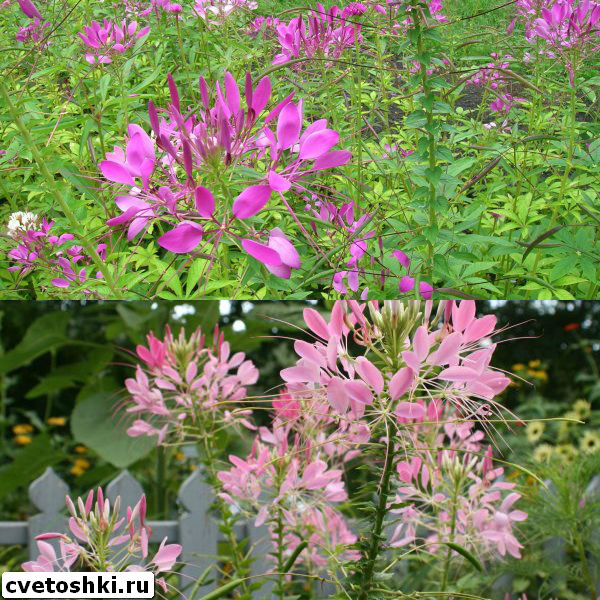 Popular types of cleoma in the photo and their description
Cleoma is a plant that includes about 170 species, but in the opinion of nerds there are actually more than 200. The most popular types of them are Hassler's Cleoma, since its trunk has thorns, in common use this plant is called prickly cleoma. This species was introduced into the culture and is not particularly different from the others. His homeland is South America, where these flowers grow in tropical conditions, but they will take root pretty well with any gardener lover with proper care. In the photo below you can see the flowers of the most popular today species of cleoma, and then try to make a small description of some of them.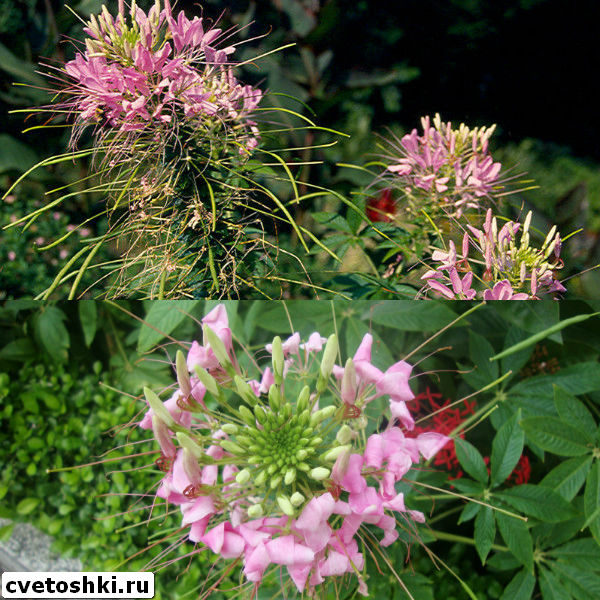 But, in fact, not everyone is aware of the fact that cleom is prickly and Hassler's cleom are two completely different species of this plant. They differ from each other only in different colors of inflorescences, which is why gardeners are often confused and are called one "prickly cleoma". It should be noted that in conditions where there are long and cold winters this flower can be grown for its garden only as an annual. Unlike tropical crops, such a plant will not exceed one meter in height, but it can often be seen as a hedge.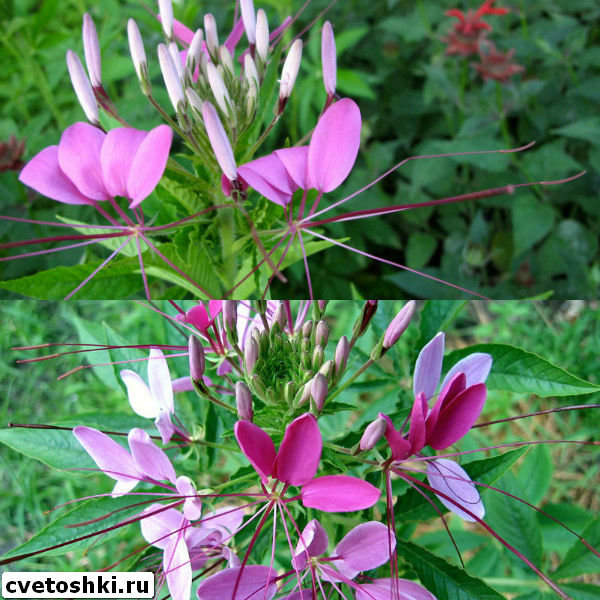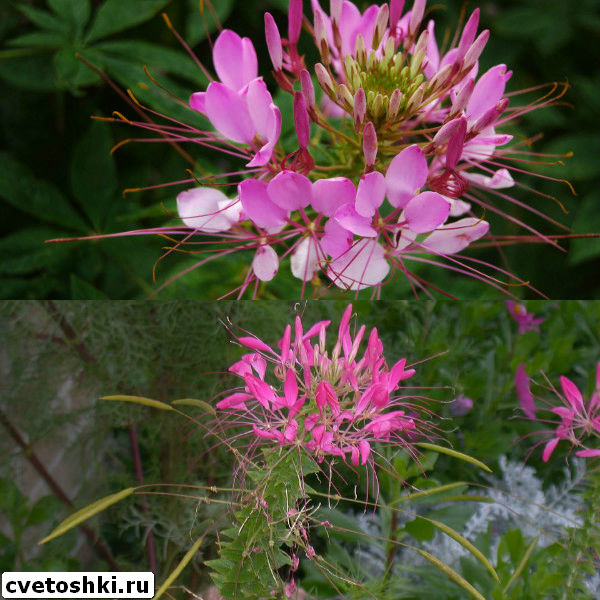 In general, all types of plants of a cleoma differ among themselves only by a shade of flowers with which they can please all summer long. So, for example, Helen Campbell's Cleome has a pleasant white bloom, Rozakenigin - pale pink, Golden Sparkler - yellow. The species of plants that are named Sparkler Lavenden and Violet Quinn have light purple flowers and inflorescences of an inky color - they look just magical and therefore be sure to look at their photos below.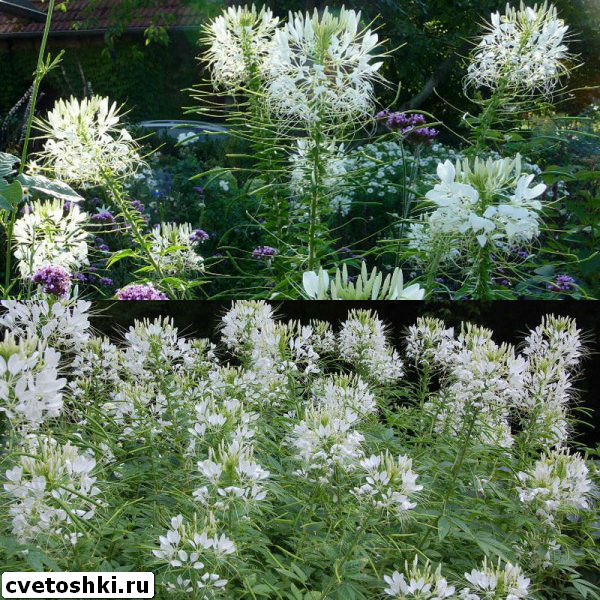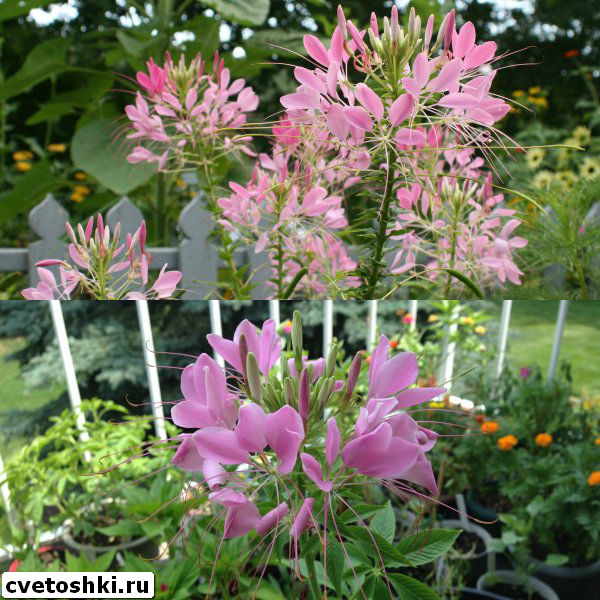 The most popular barb variety of cleoma is Cherry Queen or Cherry Queen, as it is commonly called in Russia. Its flowers have an incredibly original form and exude a very pleasant aroma. Plants of this variety can reach no more than 60 centimeters and can easily be grown from seeds for their garden or yard.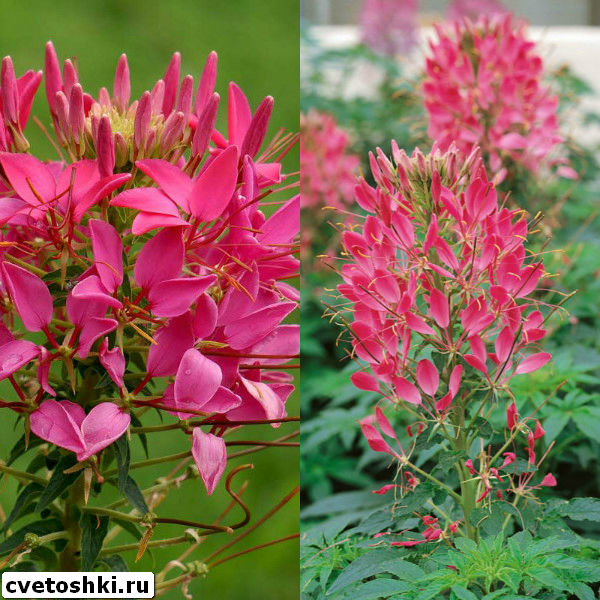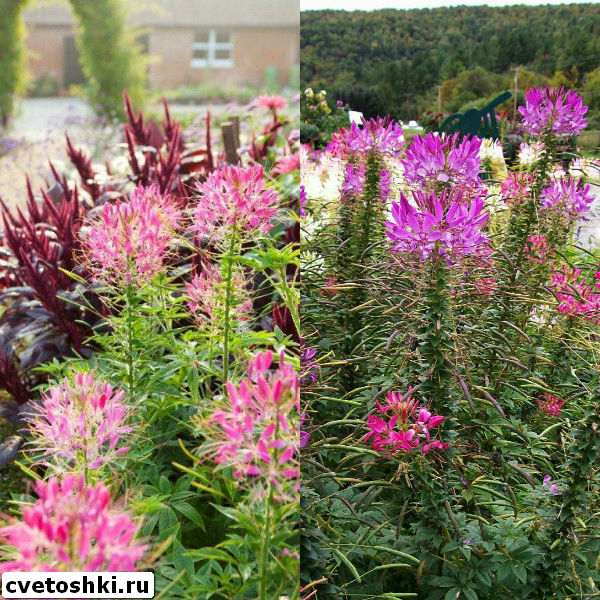 Another rather popular type is Hassler's Cleom, the most sought-after variety of which is the Champagne Spray flower. It can reach no more than 120 centimeters tall and have a pleasant pink shade flowers whose diameter reaches 3-4 cm, while the diameter of the inflorescences can be around 20 cm, they can be observed from the beginning of July until the frost. Quite often, cleoma can be used by gardeners as a hedge, as it can be quite tall.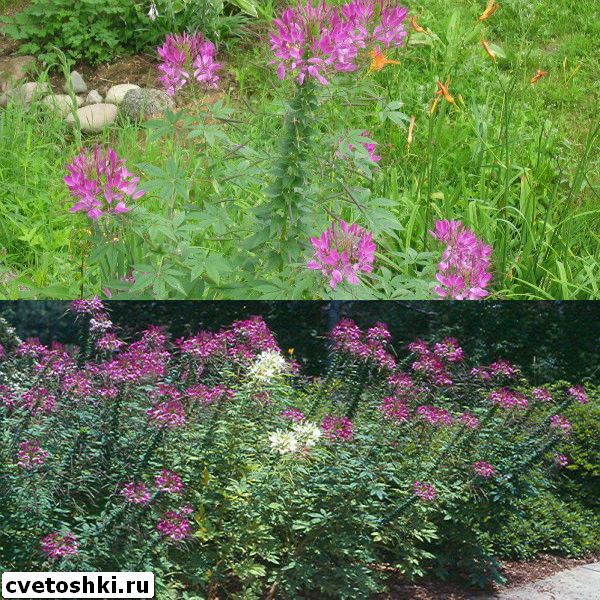 Cleoma Cherry Queen (Cherry Queen): interesting varieties in the photo
The plant that currently has just a huge number of interesting varieties bred by breeders is Cherry Queen Cleome or Cherry Queen, which can be seen in the photo below. This species was introduced to the crop in the 1817 year, and at the moment some of its varieties are quite common. Let's talk about some of them in more detail.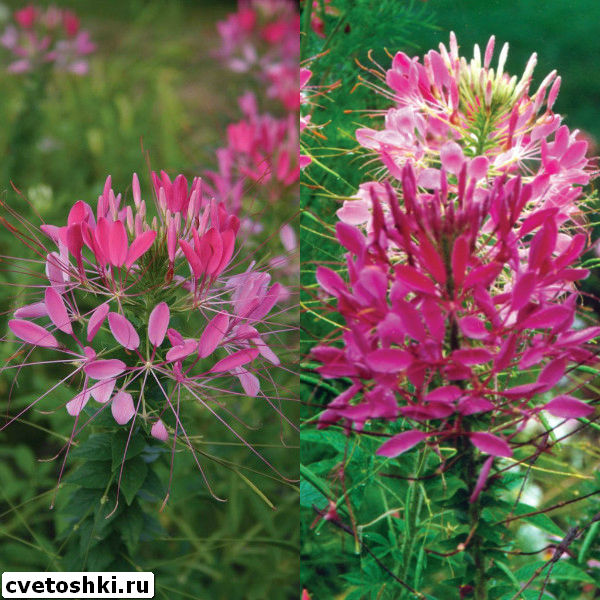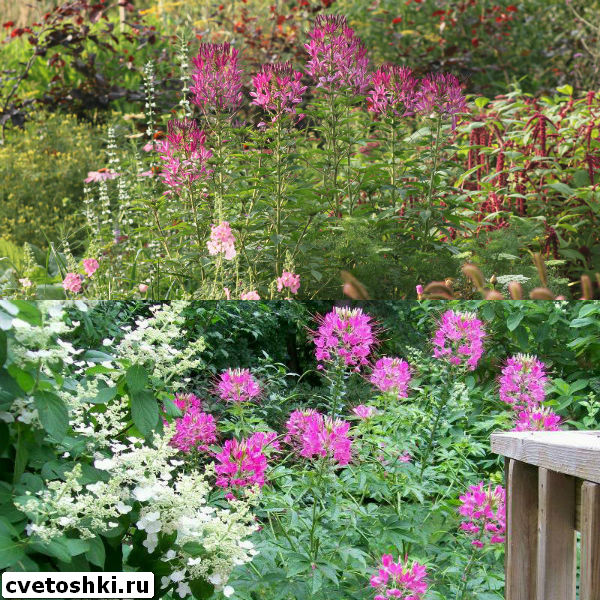 Cleomery cherry queen can reach no more than 60-cm in height, while the effectiveness of it gives an upright stalk without spines. The flowering of this variety is one of the longest - it can be observed from the beginning of July to mid-September.
Quite popular among gardeners is the Queen Cherry Queen Series. They may be white, pink or pale lilac. At the same time, the petals of the flower, unlike other varieties, are more fleshy, and the aroma is softer and more pleasant.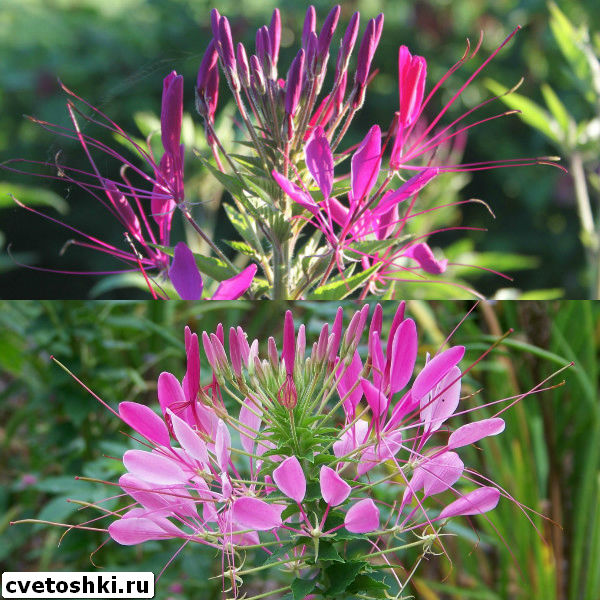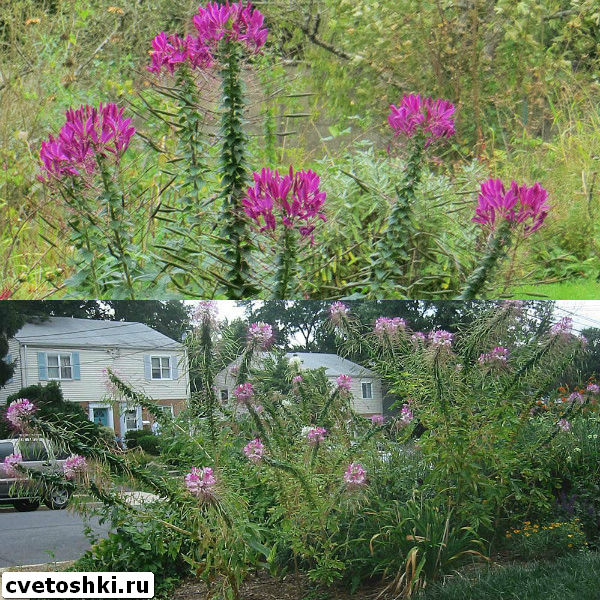 Regardless of what sort of this annual plant the gardener chooses it is worth knowing that it requires proper care, which we will discuss later. First of all, it is worthwhile to take care of the place where the cherry queen plume has a place well lit by the sun, on which it is best to plant it in late May-early June. Before planting a plant, it is necessary to create favorable conditions for it, for this purpose dolomite flour or wood ash is added to the landing site directly into the soil. This should be done in the following way: 1 or 2 a glass of ash or dolomite flour with rotting compost (4 kg per m2). Everything else that is associated with the care of this plant does not differ from the basic rules that apply to any other species and varieties.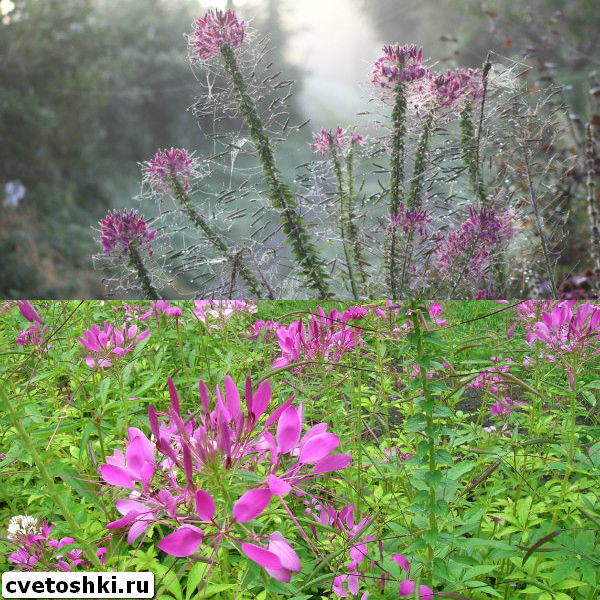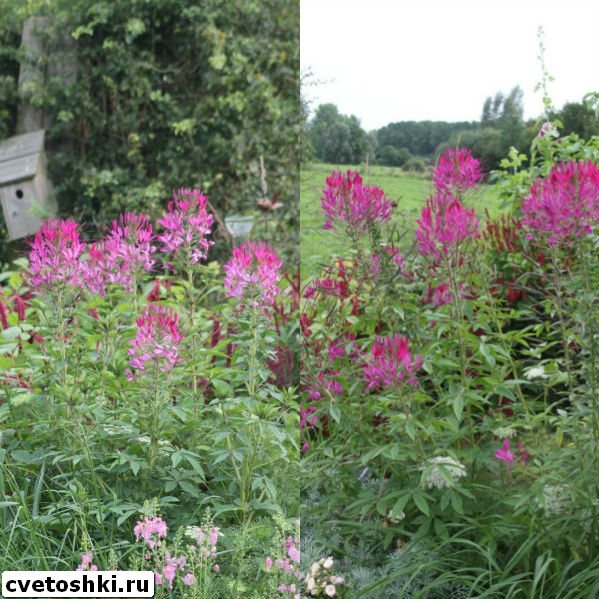 The basics of care and landing of a beautiful annual Cleome
Although it is believed that cleoma is a rather unpretentious plant, since it is at least rather drought-resistant and not fastidious even at home before planting, it is still worth knowing about some elements of the care and planting of such a plant. This is necessary in order for this annual plant to please the gardeners with its beautiful flowers, which, for example, can be seen in the photo below.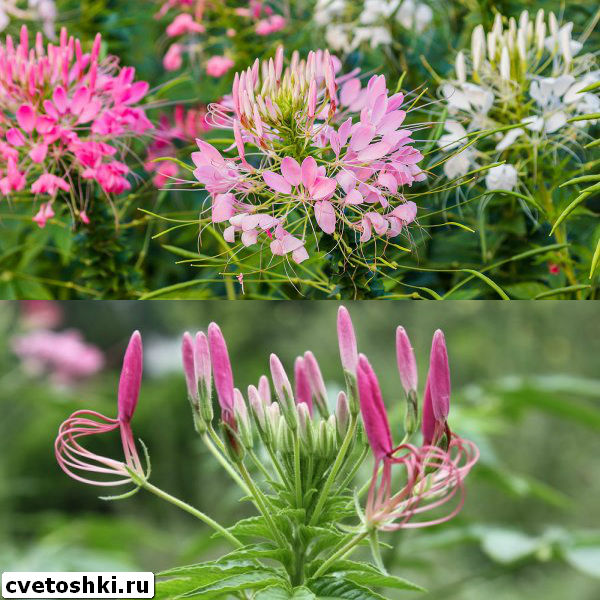 Care and planting is largely independent of the variety and type of cleoma, so it is not difficult to understand some of the nuances that you should definitely remember before planting in your garden. Practically all these annuals are well propagated by seeds, what should be done at home and only then planted in the prepared soil. During the flowering period, cleoma may well form viable seeds that can be used next year. Depending on when exactly the gardener wants to see a beautiful flowering planting should be done. In some cases, the seeds are immediately sown in the soil before winter or spring, but if you want to see the flowers early, you should first prepare the seedlings in containers at home.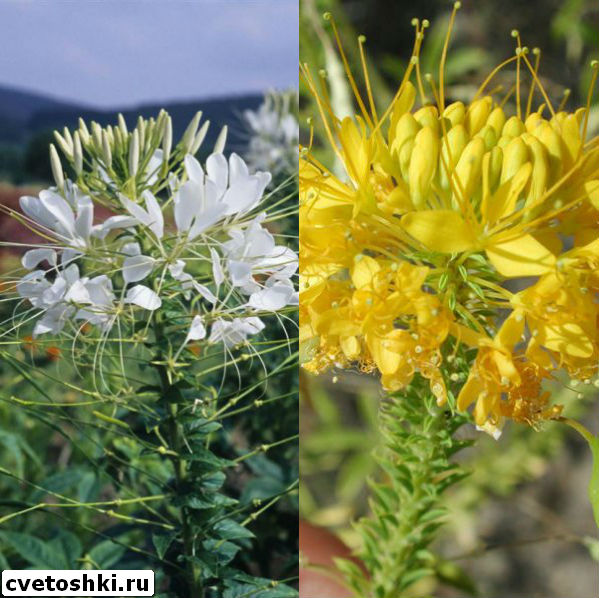 To prepare the seedlings need to sow the seeds in a specially prepared soil. Experts advise to use for this loose nutrient soil. Perfect mix of humus and land from the garden. After that, the container is covered with glass and an artificial light is created. After the 2-3 weeks have elapsed, shoots will appear that need to be soaked in phytoharmone, which can be anything. Seedlings should be watered very carefully, avoiding stagnation of water in the ground, as the shoots can react quite strongly to this. In some cases, it is better not to pour, than to pour water into a container with only germinated seeds, since the plant is more resistant to drought than to an excess of moisture.
In any case, the landing on open ground should be done as early as possible, since the root system only germinated with glue more easily tolerates transplanting. In addition, it is not quite friendly plants, regardless of the variety, so the pick is best done as soon as possible in different pots.
SIMILAR ARTICLES: