Among the family of daisies there are very exotic persons. Flowers gatsaniya (or as it is also called gazania), found in wild form on the sultry African continent. Accordingly, the culture quite easily transfers the scorching sun and the July heat with a long drought. This plant is ideal for gardening suburban areas, where their owners are able to achieve only on weekends once a week. When complying with agrotechnics, growing them from seed by sowing seedlings is not particularly difficult, even for novice gardeners. Proper planting and simple care in the future will create favorable conditions for active and prolonged flowering. Look at the photo of the varieties of gazanii and continue the conversation about the cultivation of this flower culture: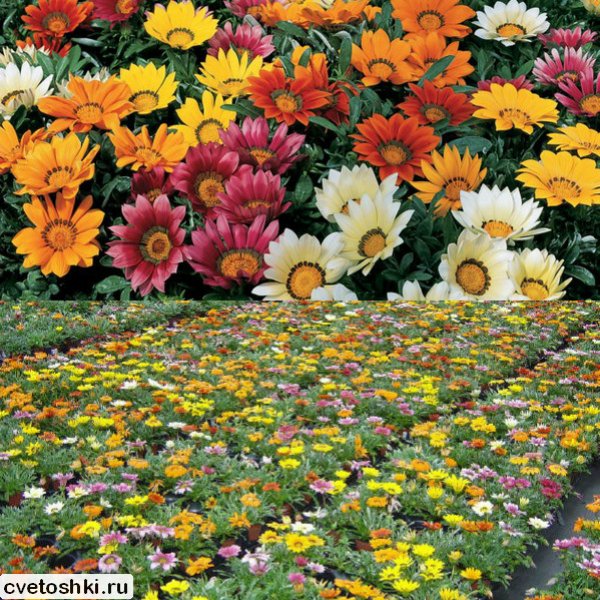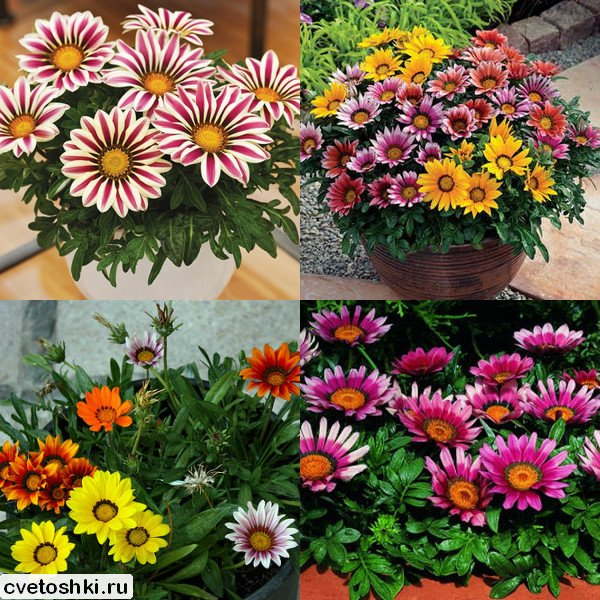 Brief description of culture and photos
First you need to make at least a superficial acquaintance with an African stranger. A brief description of gazania colors includes several important aspects:
Gazania is the Latin name of the species;
differs in low growth of bushes to 40 cm;
belongs to the compositae family;
the stem is covered with carved, densely planted foliage;
the color of the stems and leaves - rich green;
some varieties have silvery pubescence of all green parts, which gives greater decorativeness to the culture;
the bud consists of a middle in the form of a cushion and petals framing it;
range of color buds - from white to purple.
The flowering period is at the beginning of July - mid-October. You can often see flowering plants even after the first snow falls. This feature of the varieties with pubescence, which protects the vegetative parts from the cold. Look at the photo flowers gatsanii in various forms: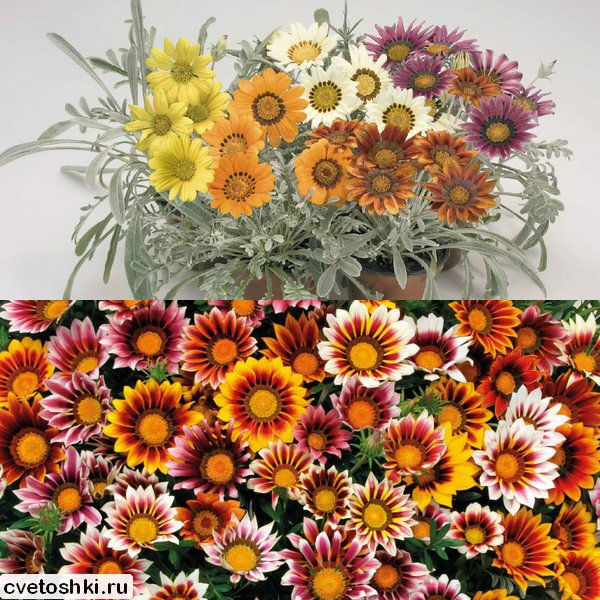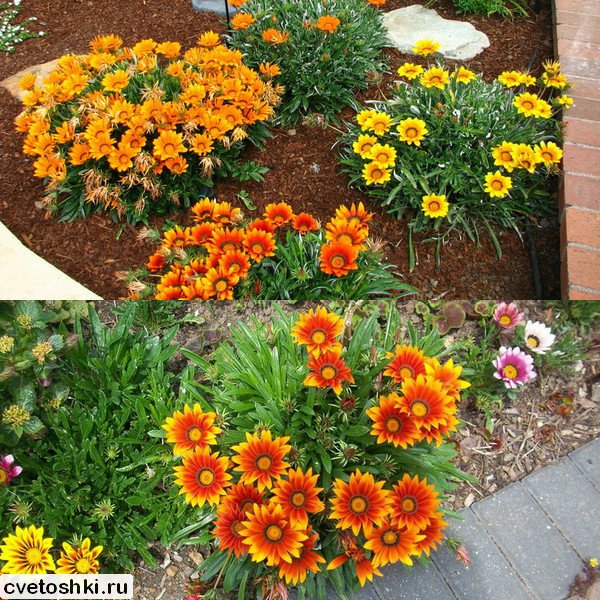 The flower is mainly cultivated as an annual, although in reality it is a perennial, which cannot be maintained in our climatic conditions. At least in the open field. Although favorite varieties can be transplanted in the fall in the pot and thus keep them at home until next spring.
Popular varieties gatsanii and their photos
The group of these plants is so extensive that at first it is divided into varieties and only then into varietal groups. Popular varieties of gazania are currently represented by more than 50 names. It's not very easy to choose among them suitable for your garden. Therefore, we will try to provide all possible assistance. The following are some varieties of gatsaniya, their descriptions and photos.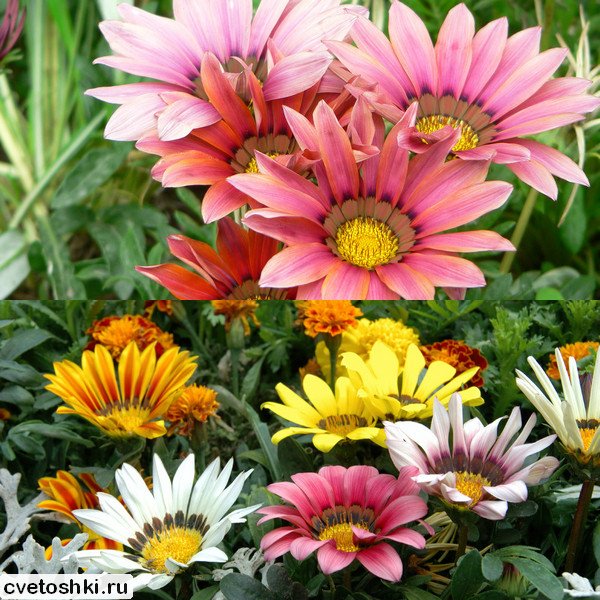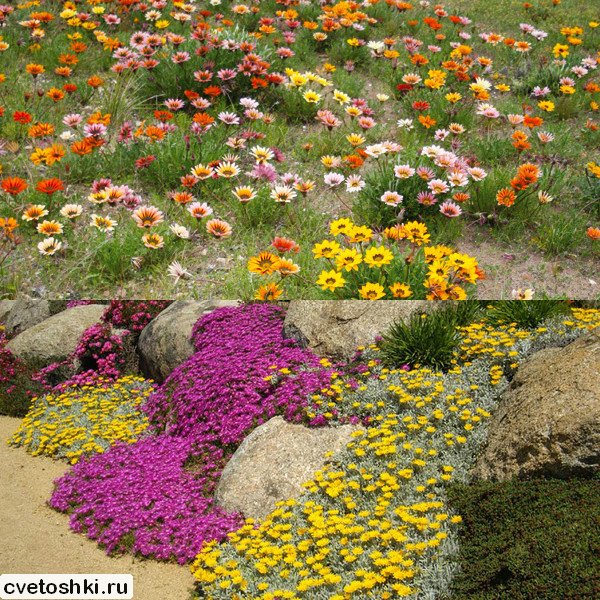 A special place in any garden is occupied by a snow-white gatsania, which delights the eye with the boiling whiteness of bud heads. Gazania nivea is used in the design of flowerbeds and borders. It is not demanding to care and has a long flowering period.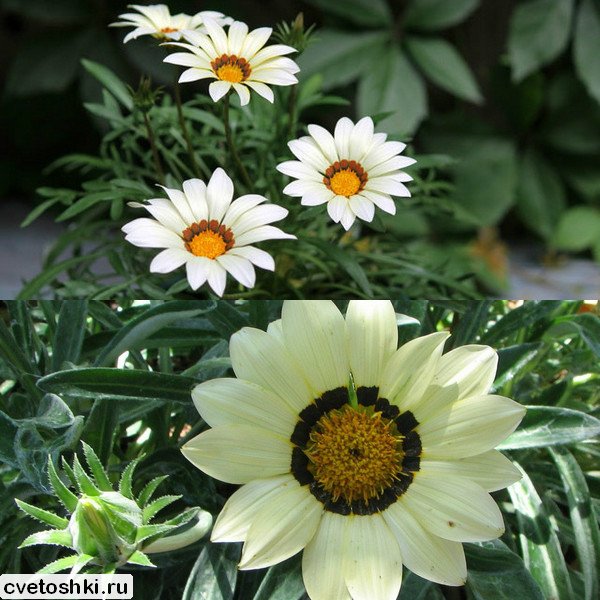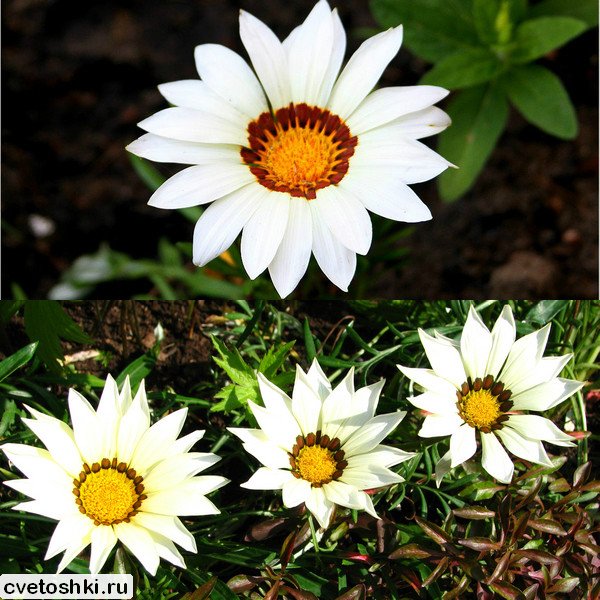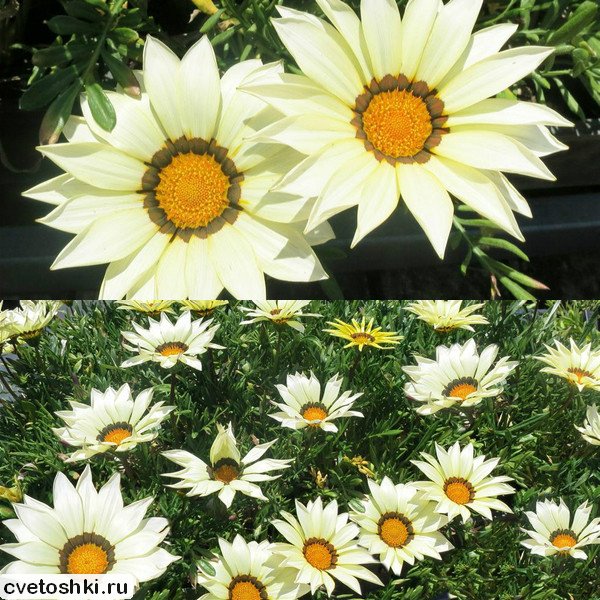 Single-flowered and pinnate forms are not too common. But the peacock gatsania is deservedly popular due to the specific color of the petals. Gazania pavonia is widespread in the cultural gardens of Europe. In Russia, the variety is quite rare, grown mainly from seed seedling method.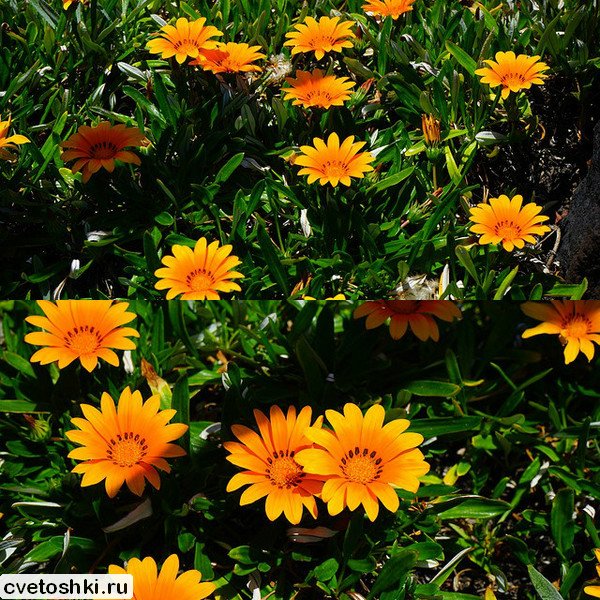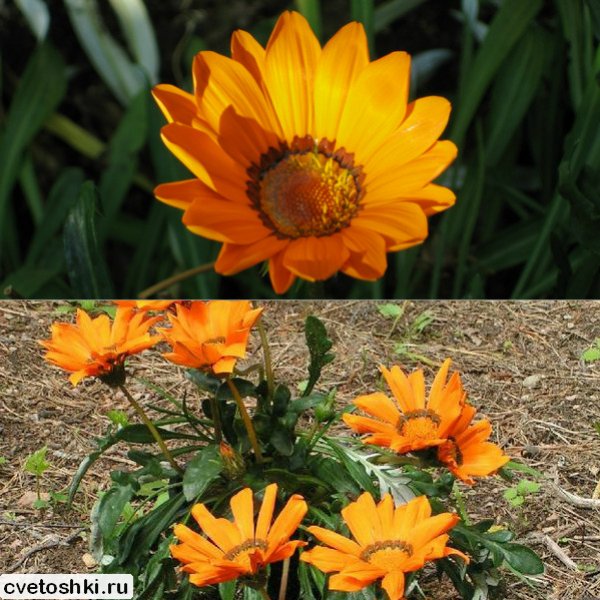 Hybrid varieties of gazania have terry complex buds of larger diameter in comparison with simple forms. Gazania x hybrida boasts several rows of beautifully folded tubular petals of white and yellow, red and purple flowers. Compactly assembled on the stem, a rosette of pubescent leaves is decorated with constantly updated inflorescences. Their diameter reaches 10, see. The height of bushes rarely exceeds 25, see. It is an excellent curb plant for decorating garden paths and radial circles of flower beds.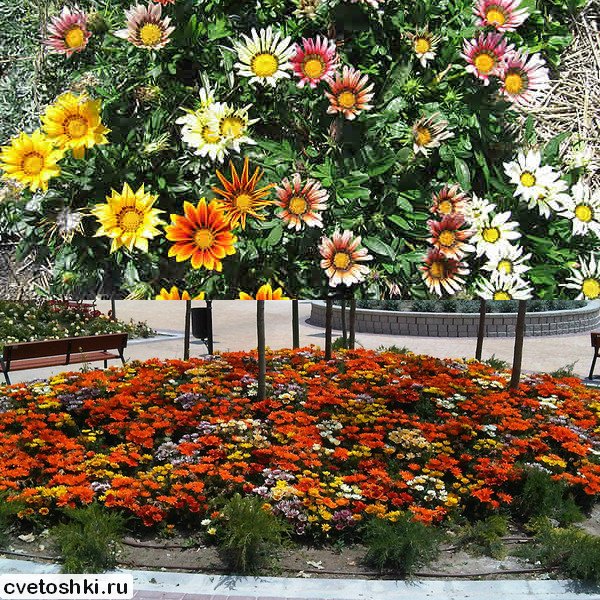 Among the varieties stand out species that have an unusual striped color of the petals. This creates the feeling of a rainbow reflected in each individual bud. Crimson and orange, lilac and white, yellow and purple are common. If you look at each individual flower, then in the middle there are yellow small tubes, around which brown or black tubes are arranged in a ring. Then attached petals of different colors.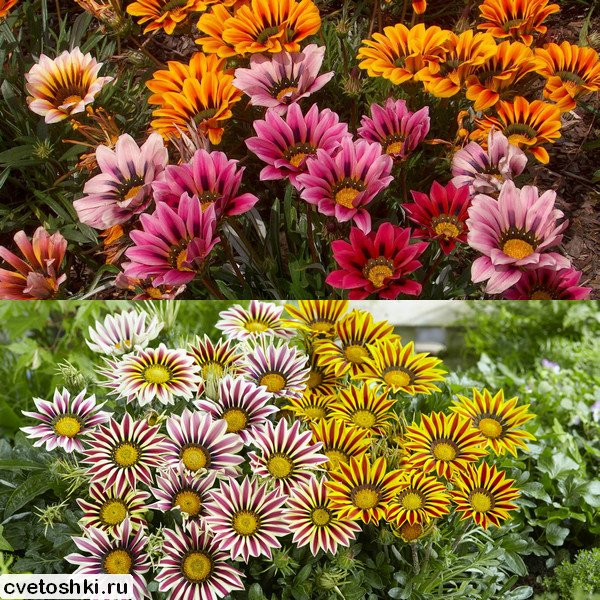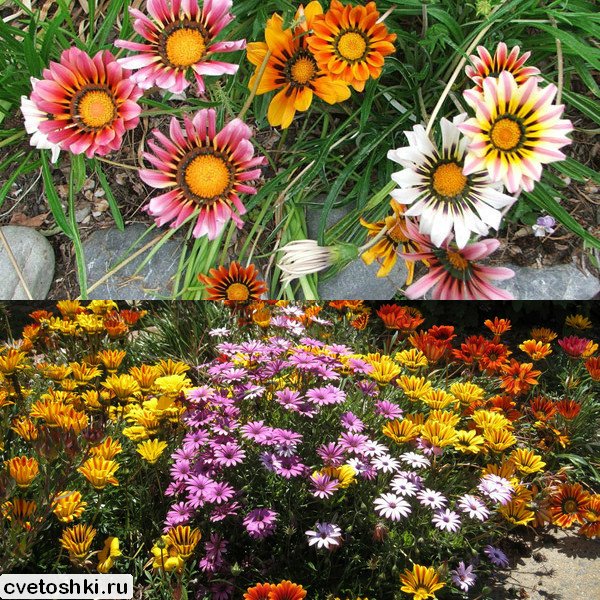 A feature of all varieties of gatsaniya is their reaction to the setting sun. Immediately after sunset, all the buds fold and unfold again only after the dawn of the morning. The only exception is the hybrid variety Talent - it blooms even at night. Buds frame bushes silver color with magnificent pubescence on green foliage and tables.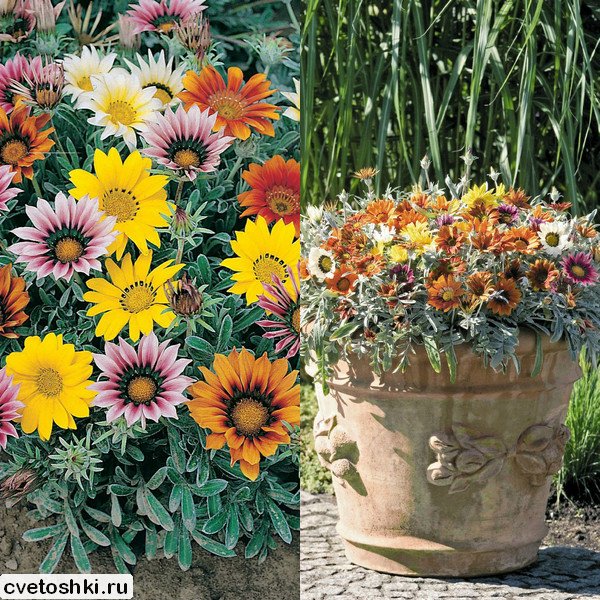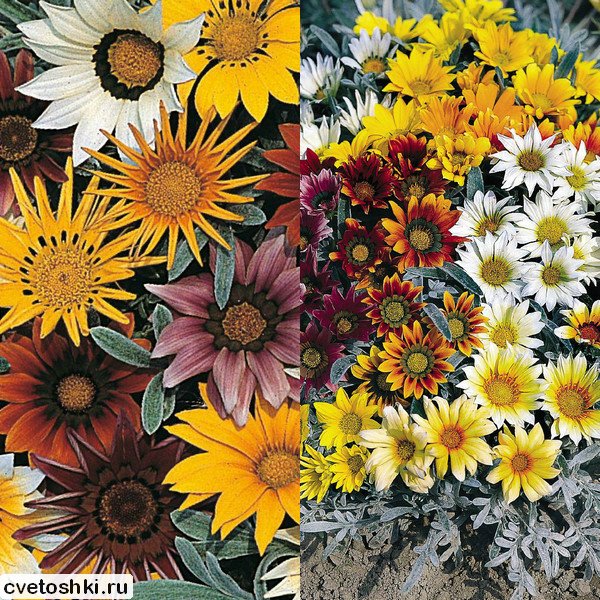 The process of growing gatsaniya from seeds: sowing seedlings and subsequent care
There are several ways of breeding this plant. However, asking for gatsaniya from seeds is the simplest and most popular variant of agrotechnics of culture. The process of sowing seedlings begins in mid-February and continues until the end of March. It is during these periods it is desirable to plant a gatsania for seedlings. At a later date, the active flowering period is significantly shortened. Although in the southern regions practiced direct seeding in the ground since mid-April. Sometimes these seedlings even overtake in the growth of their competitors grown seedling method. Proper subsequent care after landing in the ground ensures active growth and rapid onset of flowering.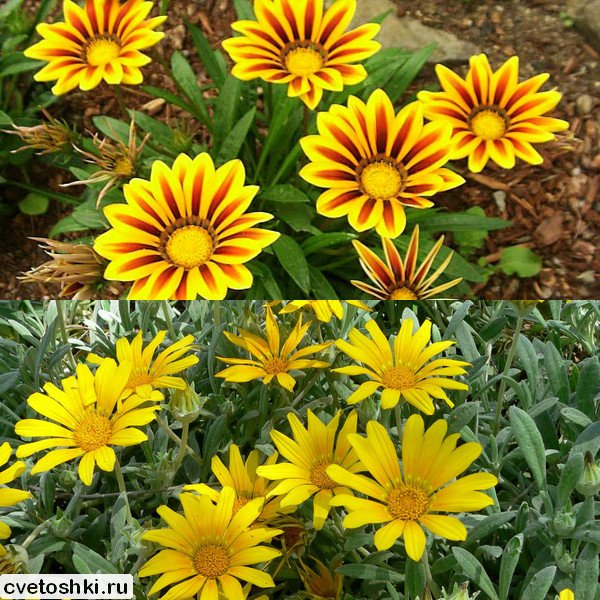 For growing gatsanii requires a light, well-structured soil that does not suffer from waterlogging. Lowland areas and marshy soil are absolutely not suitable for this crop.
Let's start with the gazania seedlings - we sow the seeds in mid-March. We prepare containers with a depth of up to 10, see. We fill them with light soil and make grooves with a depth of up to 5 mm. We spread out rather large seeds of a gatsania, sprinkle it with earth and water it with a spray bottle to soak the whole earthy coma. Then the container is hermetically closed with plastic wrap and set in a warm place. Shoots will appear after 2 weeks. At this point, it is important to immediately put the containers with seedlings on the sunniest window, otherwise the seedlings stretch out and may die. Watering seedlings carried out as the soil dries. As soon as the second pair of true leaves is grown, the seedlings will be dived into separate peat pots.
Before landing in the ground is required to conduct hardening. To do this, we begin to make seedlings in the open air every day adding to the "walk" on 30 minutes. On the first day, endure only for 30 minutes.
Planting gazanii in open ground is carried out at the end of May, in the event of a threat of lowering the ambient temperature, a temporary greenhouse shelter is required. A place is being prepared for transplanting where the soil should be dug up and organic fertilizers applied. Then we plant the gazania seedlings according to the scheme 15х15 in the holes dug in advance.
Subsequent care for gatsanii is regular watering, making root mineral dressings. The lack of watering and mineral dressings leads to the fact that the flowers become small, the foliage dries up and twists.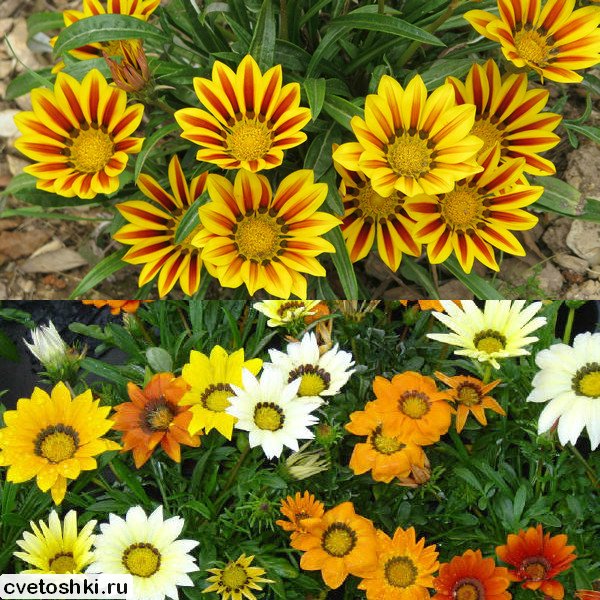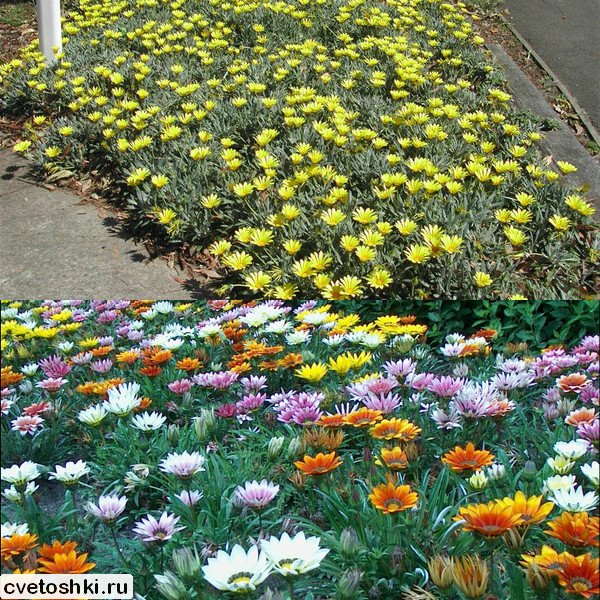 How to grow gatsanyu at home?
Yes, this crop can be successfully grown as a houseplant. And here there are two ways. The first is that the resulting seedlings are initially left in a pot or in a pot in room conditions. Although it is not prohibited to take them to fresh air either. The second way to grow gatsania at home is to transplant plants grown in open ground. The main thing to do is before the onset of autumn cold. When digging a plant, one should carefully wield a shovel to prevent damage to the root system. It is located at a depth of approximately 30 cm.
Another way - rooting cuttings obtained from an adult plant in the open field or at home. Gatsania rooted in water easily. After the appearance of the roots should be planting in a pot.
Rules care in the home are not much different from the open ground. This is the provision of a sufficient amount of sunlight, regular watering after the earth lump dries out, and the application of mineral complex fertilizers.
In winter, a decrease in temperature is necessary to ensure a period of rest. Reduced frequency and intensity of irrigation. Terminate mineral dressing. It is important to know that at home gatsanii requires cardinal pruning every spring. Only in this way can the intensity of flowering be maintained due to the formation of new side shoots. Trimming is carried out in early March. All shoots without exception are cut at a height of 5 cm from the ground level in the pot.
SIMILAR ARTICLES: