Astilbe is a genus of flowering plants that includes about 18 varieties. It hails from the mountain gorges and forests of Asia and North America. It is not necessary to dwell on one species when planting - we will tell you about a wide variety of astilbe. You can put them together in your garden - believe me, the picture will be unforgettable. Astilba varieties are widely distributed throughout Russia. These are Chinese and Japanese, pink and white varieties, astilba lendsa. This page presents their brief description and photos of representatives of varieties.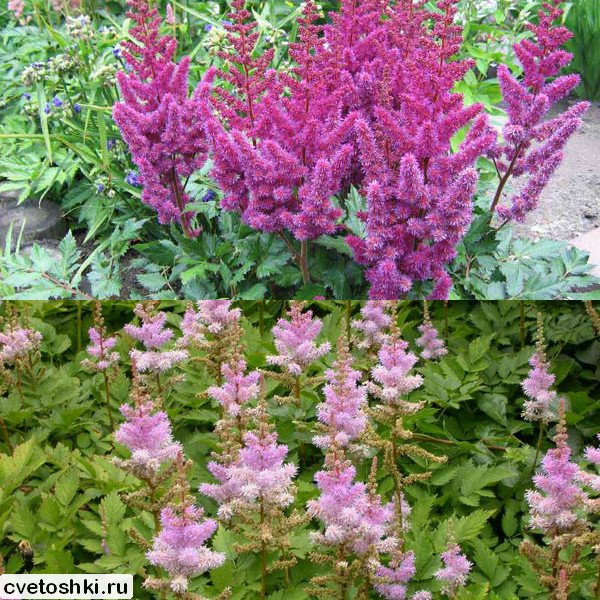 Chinese astilbe - bright purple flowers
Chinese astilbe is a herbaceous plant with alternately arranged, pinnate-complex leaves on thin purple stems. In the summer, the flowers of the plant become bright purple and embrace the bush - in this way it becomes like a long fluffy flower. The variety prefers full sun and planting in moist clay soils. Chinese astilbe first appeared in China, which of course can be understood from the name itself.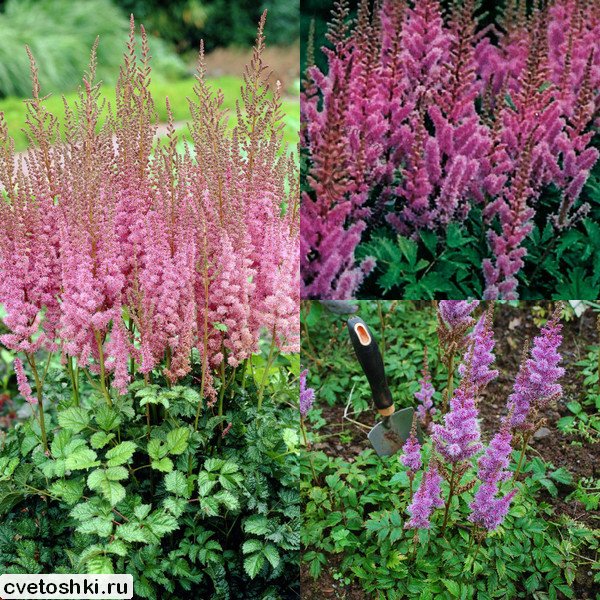 In nature, you can find Chinese astilba in heavily wooded and shaded areas, they also like moisture and water. If you want to maintain the beautiful appearance of your flower for a long time, then you should definitely observe all these conditions in your garden. Also this property makes them an ideal flower for growing near a pond or river. They are quite often used as a ground cover plant, but you can also use it as a border or a boarder on a private plot. The leaves are distinguished by a silver-green shade - they look gorgeous with bright petals of flowers that bloom in early or late spring.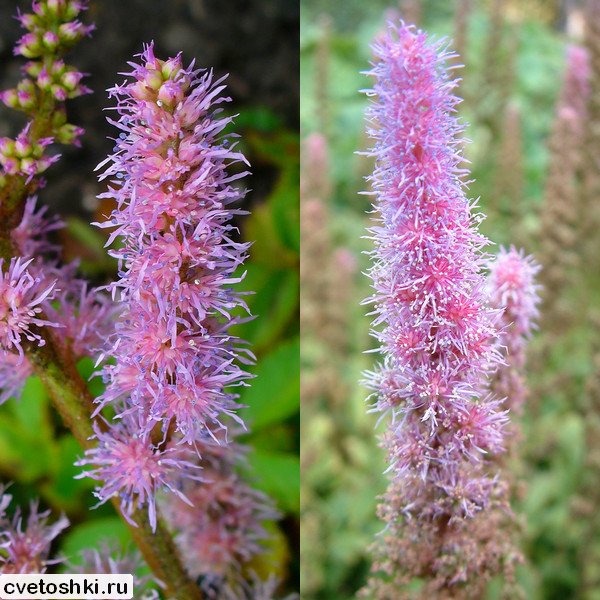 Chinese astilba will be a great addition to any yard and garden. They are very easy to grow, but there are a few rules that must be observed during the planting process and the growth of the plant.
If you plant a flower with seeds, then we recommend to start sowing them in a container or box with prepared soil: just do not bury the seedling very deep into the ground. From time to time, water the young seedlings until the first shoots appear, and then place the seed container in a sunny place (the sun needs a little flower a little, but every day). These plants love the shade and from the long stay under direct rays can wrinkle and even die.
When the seedling grows to 10 centimeters - you can begin to put it on the street for a few hours. After that, it is already possible to plant a flower in a permanent habitat - but it must be a place in the shade (for example, they can be planted under a tree or a spreading bush). When planting, do not forget to observe the distance between the bushes.
Astilba levingsa - inflorescences of red-ruby color
Astilbe lerens is a group of hybrid herbaceous, perennial plants. She has flowers from white to purple-red. Most varieties were produced by scientists from Germany and the Netherlands.
The first inflorescences of a red-ruby shade against the background of green leaves appear at the end of summer. The leaves are usually egg-shaped and reach lengths in 18 centimeters. The parameters of the bush itself are 90 centimeters high and 60 centimeters wide. A planted bush will not require much force from you - it is not demanding, so even an aspiring gardener can handle it.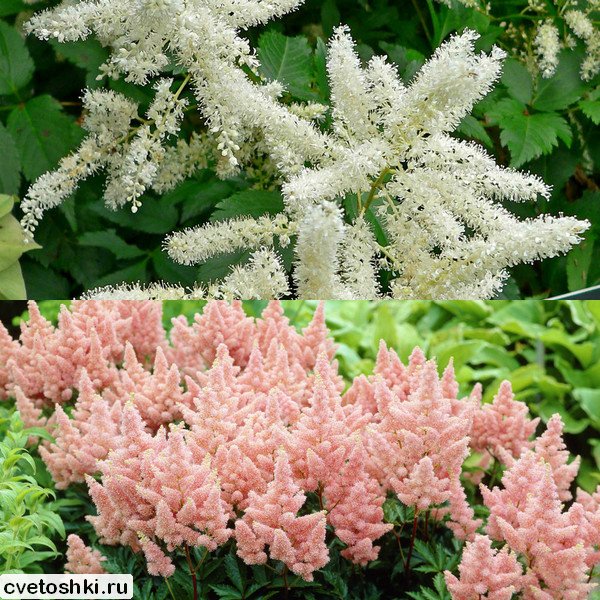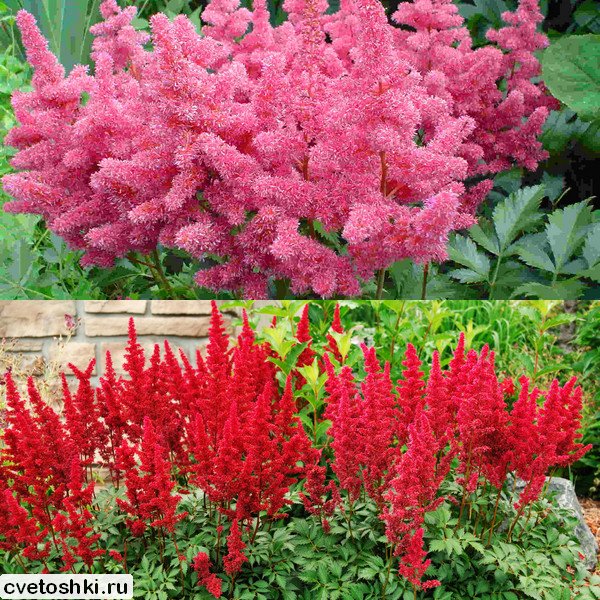 Astilbe gloria is one of the representatives of the species Astilbe lemons. It is characterized by soft pink inflorescences that will not leave anyone indifferent. Its height reaches 80 centimeters.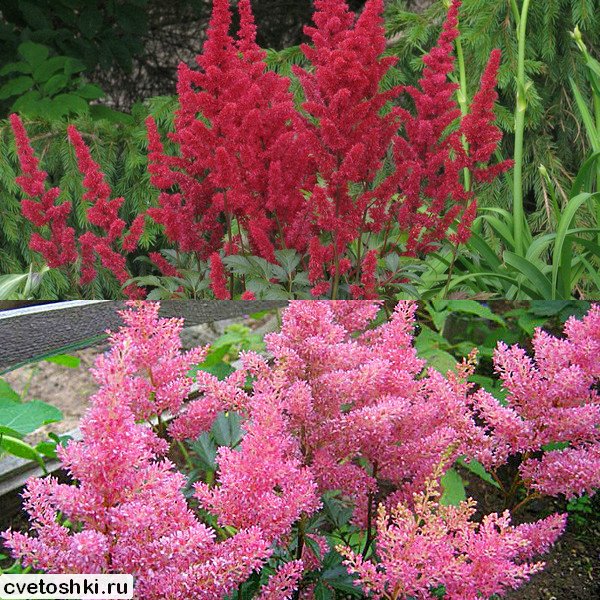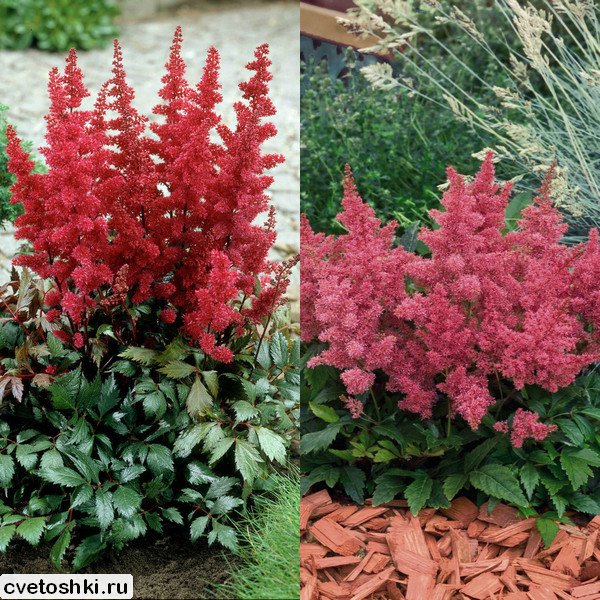 Japanese astilbe - rhombus inflorescences
Astilba is a Japanese hybrid flower with white petals and green leaves that bloom in early summer. Egg-shaped leaves reach a height 50 centimeters and have upright branching inflorescences. The flowers are very small, and together form a diamond-shaped inflorescence up to 30 centimeters.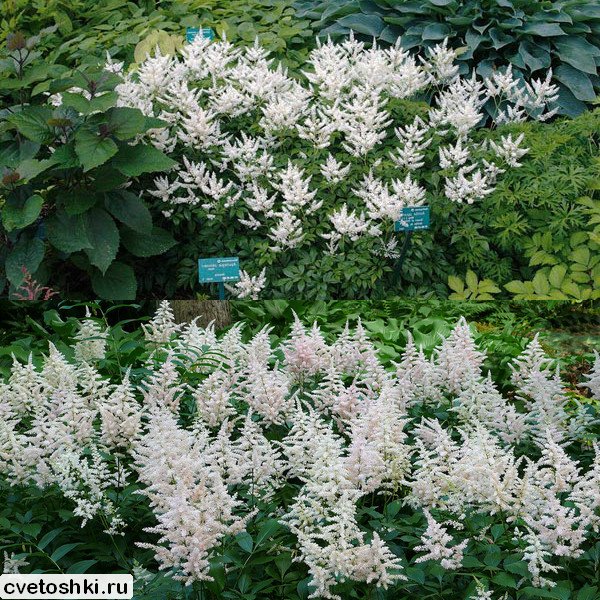 Like other species, she prefers to be in a shaded place - in the sun, of course, it will bloom more abundantly, but shorter. In addition, excessively long exposure to direct rays can lead to the destruction of the bush. Astilba does not tolerate long-term drought, so you need to take care of constant watering, it can even tolerate a slight stagnation of moisture in the root system. If you still put the plant in an open place, and you have bad soil - water it twice a day (morning and evening). This will give you the opportunity to save the plant and get beautiful flowers - as a result.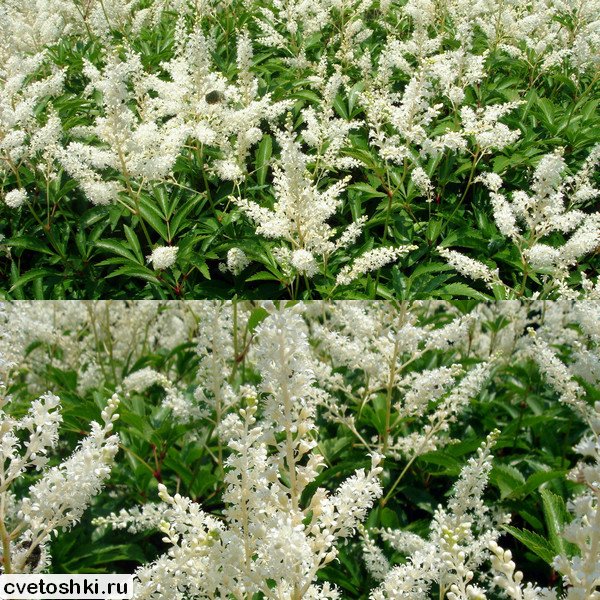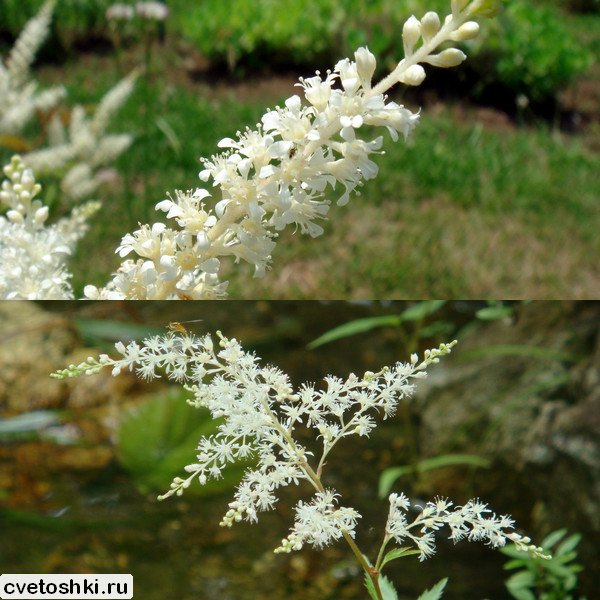 Do not forget about the mulch - it will not only save the soil from weeds, but also help to avoid overheating of the soil near the flower, loss of moisture and preserves the looseness of the earth. In addition, mulching allows you to prepare a bush for wintering and transfer it favorably.
The root system of astilba Japanese must get phosphorus and potassium - they can be replenished with the help of special fertilizers. Replace the bush once every 4-5 years.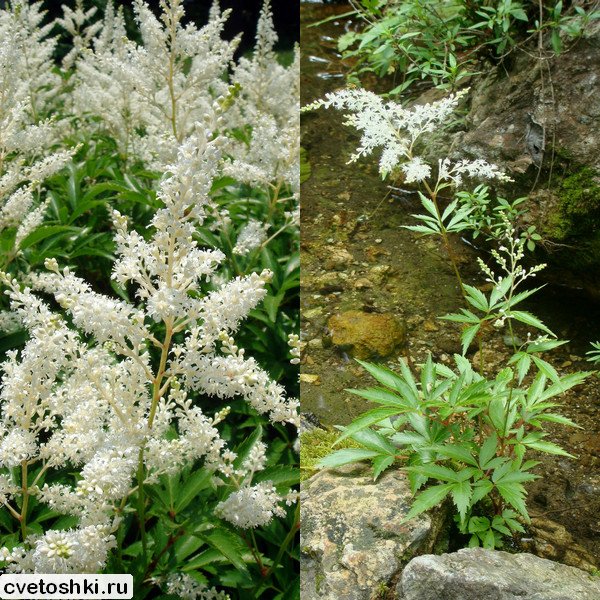 White Astilbe - small bush
White Astilbe has rhombus-shaped inflorescences that bloom in the middle of summer (may vary depending on weather conditions). White petals bloom very densely, forming a lush crown on the trunk and light green leaves. The bush itself is a small height - about 60-70 centimeters.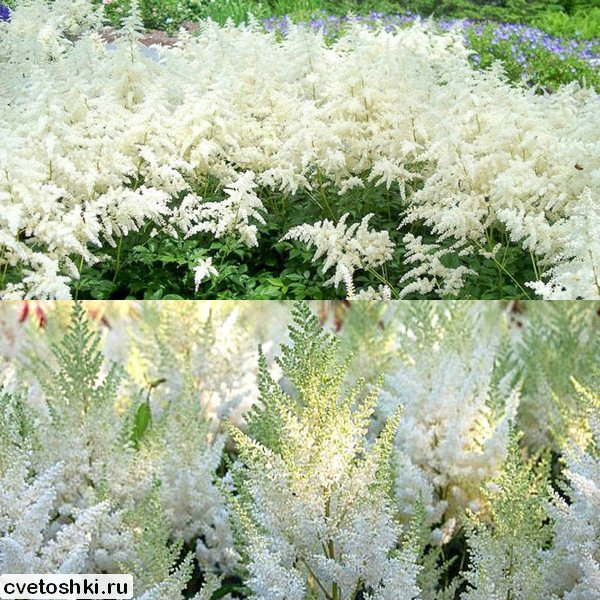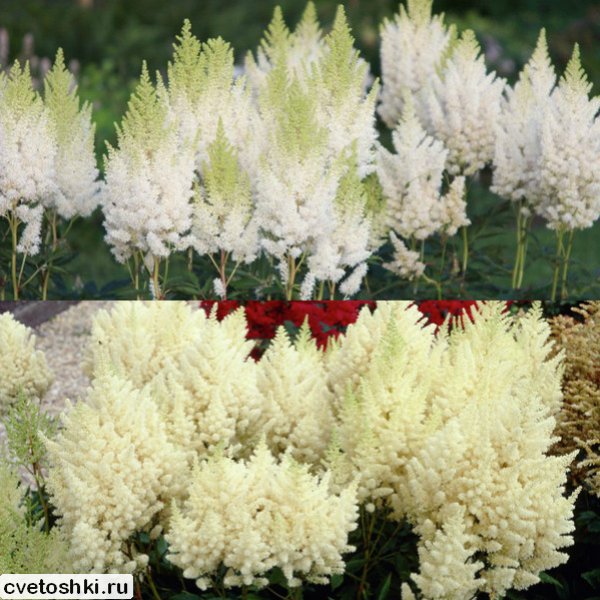 Astilba does not require special care. But do not forget to choose a shaded place for it on your site and provide a high level of humidity. It will become a truly royal decoration of a reservoir or stream, if they are suddenly present on your site. But they themselves look no less elegant. White astilbe will look elegant in a round dance of coniferous plants - it will emphasize their needles and exquisite appearance. you don't have to plant them alone - you can try to plant them in groups of three to five bushes.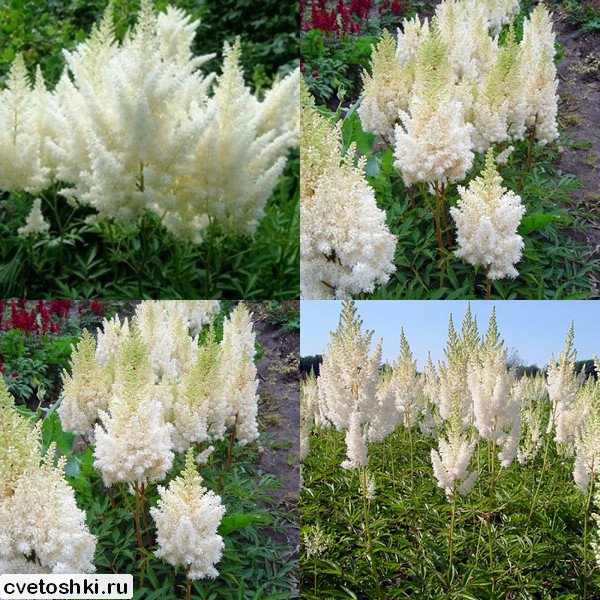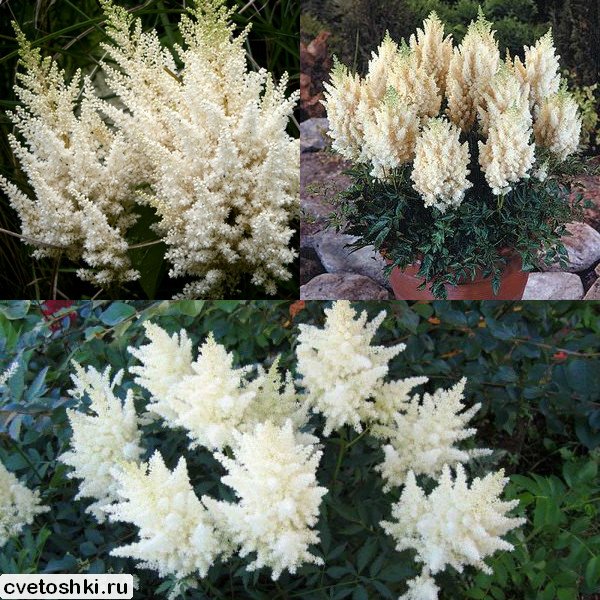 Pink Astilbe blooms from June
Pink astilbe is distinguished by rich pink flowers that form panicle inflorescence. The growth of the flower is also small from 50 to 70 centimeters, but the plant is resistant to frost. This variety blooms from June until the end of July. You can plant it at any time, but experts will unanimously recognize spring as the best time for this procedure. The flower is propagated with the help of seeds and cuttings, but in both cases it is desirable to first keep the plant in a greenhouse or greenhouse so that it grows stronger and the root formation process is activated.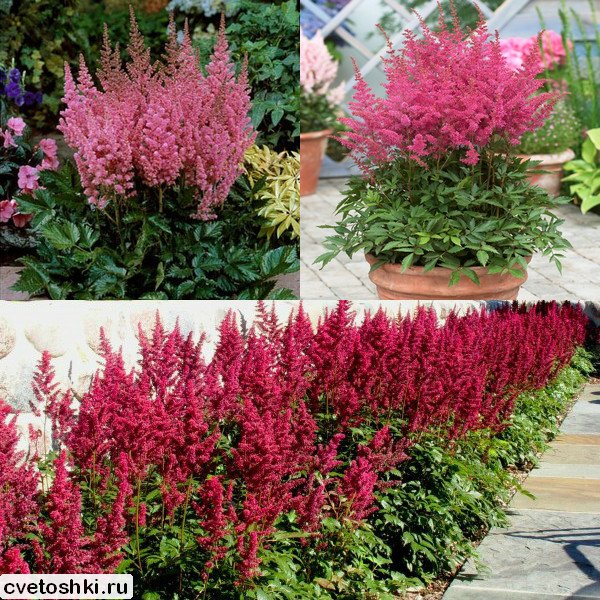 SIMILAR ARTICLES: