The characteristic of peonies, provided in botanical reference books, is based on their classification by color, flower shape, type of bush structure and species trait. The most extensive is the group of peonies, bred by crossing a milky-flowering species with medicinal, thin-leaved and Caucasian forms. Here you will learn what are peonies, and what are the distinctive signs of cultivars from different groups.
Keep in mind that in the popular literature and catalogs of firms-sellers you can find different systems of classification of varietal pions and priority signs for the adopted system, which may differ from scientific gradation.
What are the peonies by color, flower shape and origin
Until 60-70-x. the last century tact, priorities were either coloring or the shape of a flower.
When classifying peonies by color, the assortment is divided into 3 main groups: white, pink and red varieties. And what are the peonies in flower shape? Here, terry and non-terry species are distinguished or in more detail: terry, semi-double, with Japanese and anemone-shaped forms, as well as simple ones. Species peonies are always separated into a separate group. Both of these systems are found now.
Classification by species is based on the fact that the origin of a variety greatly influences its most important characteristics. Accordingly, the assortment of pions is now divided at the first level on the 3 type: grass, tree and intersectional hybrids - Ito-hybrids (hybrids between grassy and tree). At the second most significant level in grassy peonies, 3 most often distinguishes the main groups according to origin: from the P. milky flowering, interspecific hybrids and Species peonies.
These photos show what are the peonies in the modern classification: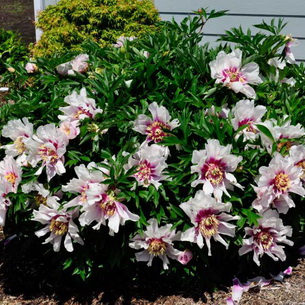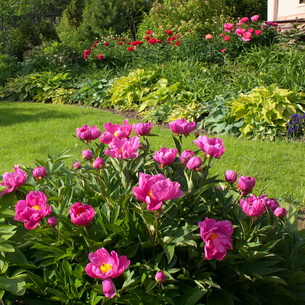 The pion assortment of the last decades has expanded significantly due to the emergence of varieties from groups of interspecific hybrids of grassy peonies and varieties from groups of intersectional hybrids between grassy and tree peonies (Ito-hybrids). Depending on the species origin, garden hybrids (interspecific and intersectional) have various distinguishing features: the color and shape of the flower, the timing of flowering, the height and shape of the bush and leaves, the period of life, resistance to diseases and external atmospheric influences (temperature and humidity), responsiveness to separate tricks of their care.
Therefore, it was quite logical to consider the most important distinctive feature of a modern variety to be its species: from which initial species it was obtained. Accordingly, the indicator of origin has become a priority in the modern garden classification, and the entire assortment is primarily divided by the basis of its species origin.
Table "The main comparative characteristics of pion groups according to the garden classification":
| | | | | | |
| --- | --- | --- | --- | --- | --- |
| Origin | Flower shape | color flower | Time flowering | Bush longevity | Shelter |
| Hybrids p. Medicinal and p. Foreign (G 1) | Terry, semi-double, Japanese, simple | White, pink, red, red with a hint of orange, coral | 7 Jun - 20 Jun | Usually 10-12 years | Do not need (in the middle lane) |
| Hybrids p. Thin-leaved (G2) | P growing | Deep dark red | 20 May - 10 June | At least 10 years | Dont need |
| Peony hybrids of Caucasian flora (GZ) | Simple, semi-double, terry | White, ivory, pink, light yellow with a contrasting spot in the center. Color combinations | After 20 May - until June 15 | At least 10 years | In the snowless frosty winters need |
| Species | Simple | White, light yellow, cream, lilac, pink, red | After 15 May - until mid-June | Different dates: from 10 to 30 and over years, depending on the type | Do not need, except p. Caucasian flora |
Peony varieties of milk flowers (with photos)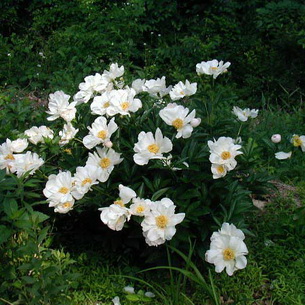 Varieties obtained from peony (P. lactiflora), Is the most numerous group, the most typical and familiar flowers to us. Usually large, densely double. But in this group there are also peonies with all other forms of flowers, most often with the Japanese (anemone-like) form. Blossoming time is late compared to other groups. Varieties from the peony of the lacticula are distinguished by their vitality and longevity. Further reduction of Lact. used in the description of varieties of this group.
Hybrid varieties are derived from interspecific hybridization of grassy peonies inside the Peony section. There are a lot of such combinations.
Speaking about the varieties of pions, there are three main groups: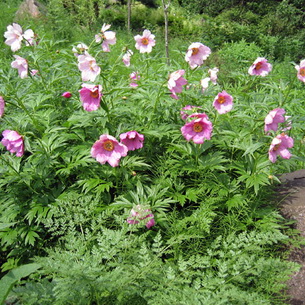 Hybrids between p. Lacticolor and p. Medicinal (combination P. lactiflora x P. officinalis or the reverse) or close p. Foreign (P. Peregrina).
The most common group of hybrids. Hybrids of this type are distinguished by attractive, clean, bright pink and red colors. Most of them are with simple and semi-terry flower shape, but available terry varieties are popular and appreciated. Begin to bloom and complete flowering approximately 1-2 weeks before varieties of the P. milactus. Usually in one place can grow successfully up to 10-15 years.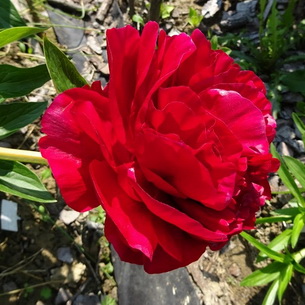 Hybrids from the p. Of the lacticolorum and the p. Of the thin-leaved (combination P.small size of the bush, openwork, unusual small-cut sheets Begin to bloom in our strip from the end of May - the very first numbers of June.
Hybrids from p. Lacticulum and peonies of the Caucasian species have attracted the earliest flowering dates, since the end of May. The flowers are simple and terry forms, with colors ranging from white and creamy yellow to pink.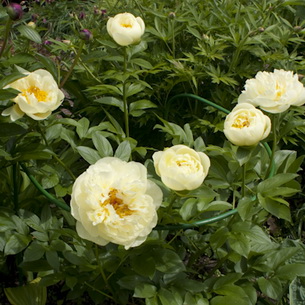 For example, the varieties of molokotsvetkovykh peonies Sania Boy, Ballerina - terry with a yellow color.
When describing hybrid pions, the following symbols are used:
Г1 - a hybrid of the item medicinal;
Г2 - a hybrid of the thin-leaved;
GZ is a hybrid of the Caucasian flora (usually from Vittman or P. Mlokosevich);
G - a hybrid of interspecific, without detailing the parent pair, or when it is not established, from a different combination or from combination with several species peonies without specific phenotypic traits.
Look at how beautiful the milky-flowered peony varieties are in these photos: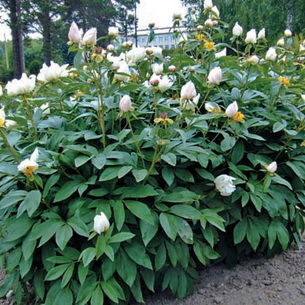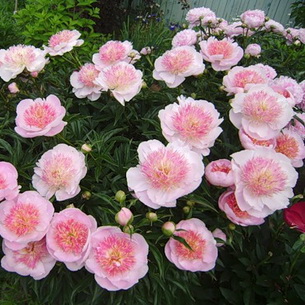 Species peonies - natural plants. Picturesque and varied.
Among the most popular in Russia: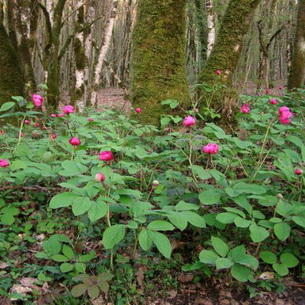 Early blooming species of peonies of the Caucasian flora - Caucasian peony (syn. N. Kawah)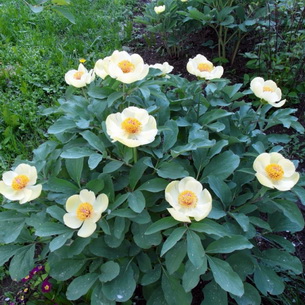 Peony Mlokosevich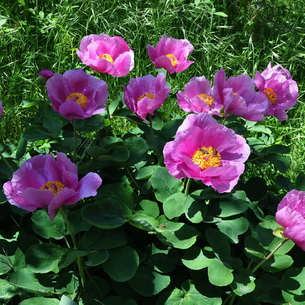 Crimean peony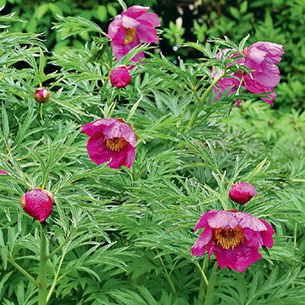 Peony Dodging - Marin Root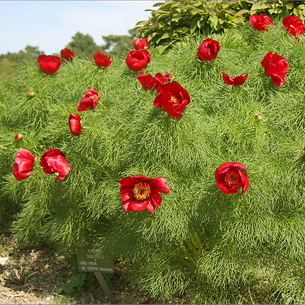 Peony finelygreen (P. tenuifolia) with unusual small-cut (fern) leaves.
Often in the same group in the catalogs include terry forms of the drug and the fine leaf, the history of the origin of which remains a mystery. Intersectional hybrids (Ito-hybrids) - the result of a cross between grass and tree peonies.
This group appeared in 70's. XXth century Varieties belonging to this group have phenotypic traits of those and others. Of particular interest are varieties with a steady yellow color, which is absent from grassy peonies. It is still not widespread and insufficiently studied. Although quite successfully cultivated in central Russia. They equally possess signs of both grassy and tree peonies.
Grassy Peony Flower Shapes
In the current assortment, 6 groups of pions are distinguished according to the shape of a flower: simple, semi-double, Japanese, anemone-shaped, double, and exotic.
Graduation of pions in the form of flowers is conditional. Many flowers in their development from blossoming to the onset of wilting significantly change their shape, while remaining attractive. In such cases, the description indicates the shape of the period most decorative of the flower.
Some varieties noticeably change the shape of their flowers depending on the specific climatic conditions of the year. Accordingly, the flowers of the same variety may look different in different climatic zones. For the latter reason, discrepancies in the description of foreign varieties with their appearance in our conditions are observed. Other varieties initially have characteristics of various forms and do not fit into our classification. In this case, the name "Terry" is used without further specification or the forms that the flower can take are indicated through the shooting gallery.
Table "The main characteristics of the forms of flowers of species and varieties of herbaceous peonies":
| | | | | |
| --- | --- | --- | --- | --- |
| Name | External petals | internal petals | Stamens | Pestle |
| Simple | 1 - 2 series, | None | There is. Fertile, except for some hybrids | There is. Knotted seeds, except for part of interspecific hybrids |
| Semi-double | 3-7 rows of large petals | Missing central | There is. Fertile, except for some hybrids | There is. Knotted seeds, except for part of interspecific hybrids |
| Japanese | 1 -2 row of petals | None | Transformed into staminodes | There is. Knotted seeds, except for part of interspecific hybrids |
| Anemone | 1 -2 row of large petals | Narrow, short petals - petalodia | Transformed into petalodias | Present, but inconspicuous. |
| Crown | 1-2 row of large petals | Tapered, curved up | Absent or subtle | Absent or subtle |
| Bombs | 1-2 row of large petals | Curved upwards and inwards, forming a tight ball | Usually absent or invisible | Usually absent or invisible |
| Hemispheric | 1 -2 row of large petals | Several already and adjacent to the outside, forming a hemisphere | Present and noticeable | Present and noticeable |
| Spherical | 1 -2 row of large petals | Several already and adjacent to the outside, forming a common ball | Absent or subtle | Usually absent or invisible |
| Rose-shaped | Large, differ little from subsequent | Smoothly decrease towards the center, forming a uniform form with the outside. | Usually absent | Usually absent |
| Exotic | Various shapes and color combinations | In the center are absent | Yes, fertile | Yes, fertile |
Non-double and semi-double peonies
Simple or non-curved shape (OL). Represents flowers with one or two rows of outer petals. All species peonies have this form. In simple flowers there are normally developed (in any case, externally) and noticeable reproductive organs: stamens and pistils. In varieties of intraspecific origin, these organs are usually fertile, that is, they have viable pollen, and when pistils are pollinated, they are able to set seeds. Most non-ternary forms of inter-specific hybrids have reproductive organs that are sterile — they do not tie seeds, although some are fergilous.
Varieties have a simple flower shape: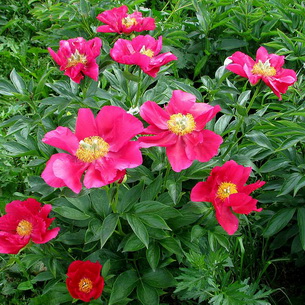 America and Athena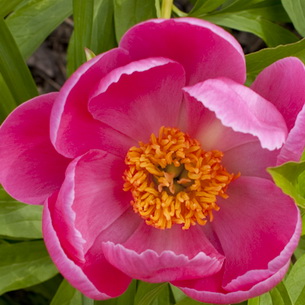 Great Lady and Don Pink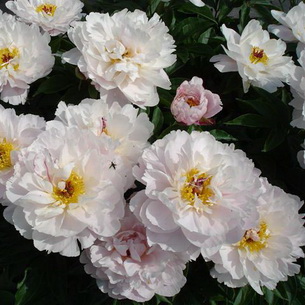 Zhanna Kaye and Katyusha Dubrova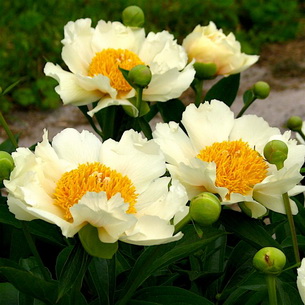 Claire de Lune and Crinkled Lines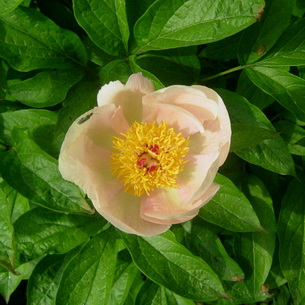 Moon Road and Matador Roub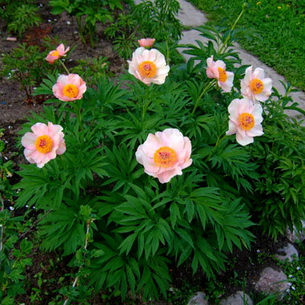 Nouzgay and Sea Shell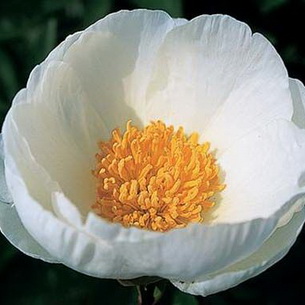 Snow Swan and Soft Apricot Kisses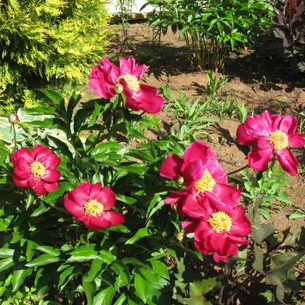 Flame and others
Semi-double shape (PM). Includes flowers with three - seven rows of petals. At the same time, the center remains open in the phase of full flower development. Reproductive organs are quite developed and decorative. Fertility of the reproductive organs of semi-double pions, similar to peonies with a simple flower shape, is primarily determined by the species origin of the variety.
Among the semi-double varieties can be identified: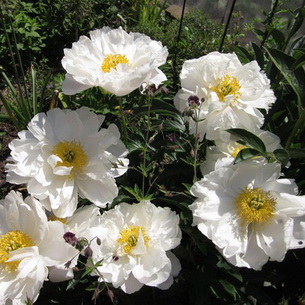 Miss America and Coral Magic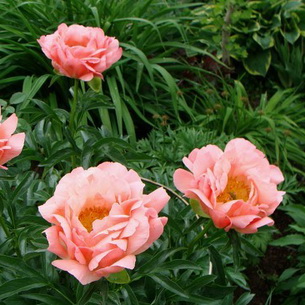 Coral Sunset and Coral Charm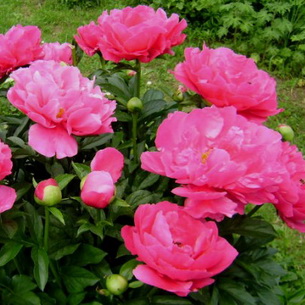 Lovely Rose and Paula Fey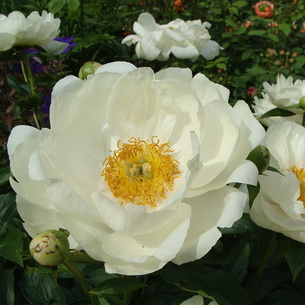 Prairie Moon and Red Red Rose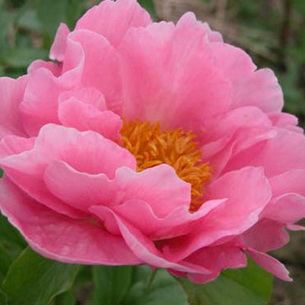 Salmon Glory and Helen Matthews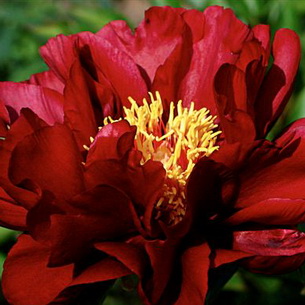 Chief Justice and Cytheria
Grades of Japanese and Anemone Peony Peonies (with photo)
Japanese form. The name corresponds to its historical origin: the first varieties of peonies, moltochnotsvetkovykh with such a flower shape were taken from Japan to Europe and under this name spread in the countries of the Western world. A Japanese-shaped peony flower has a rim of outer petals and a center filled with staminodes. Staminodes - initially stamens, transformed into very narrow and long reed petals. They still retain the original shape and color of stamens to a certain extent. The geometric form of the staminodes of Japanese herbaceous peonies is complex and diverse: there are corrugated (wavy) surfaces, jagged edges, bends and fractures in height.
In most varieties of Japanese peonies with white and light pink corollas, the staminodes have a yellow color. Flowers with dark pink and red corollas usually have complex staminodes: most of them have colors close to the corolla, and the edges and tips retain yellow stains - the memory of stamens.
Pistils, as a rule, are normally developed and able to set seeds. Multicolor with a pronounced contrast, complex and sophisticated form of staminodes, elegance and perfection give the Japanese flowers an unusual originality and charm.
The Japanese form of the flower are peony varieties: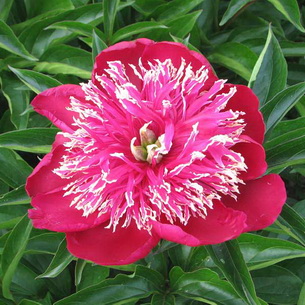 Barrington Bell and Gay Paris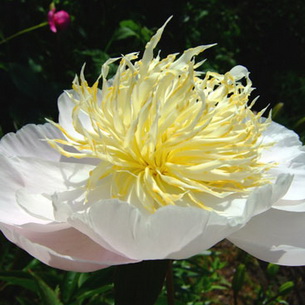 Dream Mist and Pearl Placer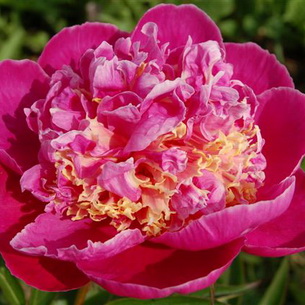 Golden Fleece and Bark Stubs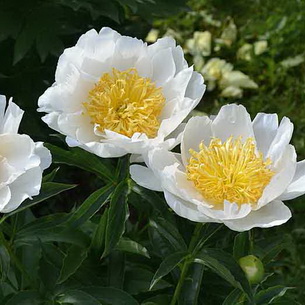 Kukeni Jishi and Lotus Queen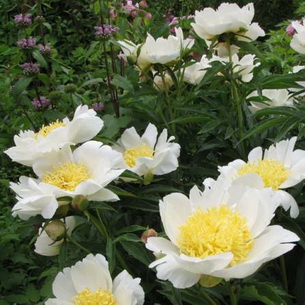 Mother's Heart and Mikhail Akimov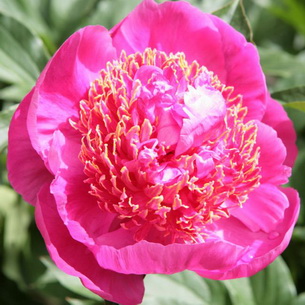 Neon and Touch of Class
This photo shows Japanese peonies of various varieties: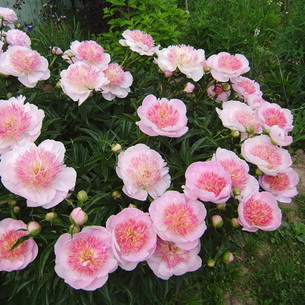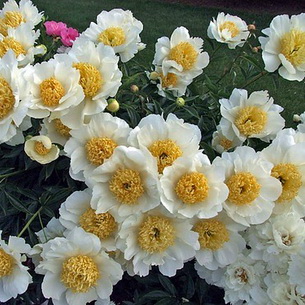 Anemonovidny form. The flower has a rim of one or two rows of outer petals, as in the varieties with simple and Japanese forms. The stamens are transformed into petalodias — petals shortened and significantly smaller than the petals of the corolla. Petalodia are much wider and larger than staminodes in Japanese flowers. In form, they resemble much more the petals of the corolla, but more often they retain to some extent the yellow stains from stamens, although not in all varieties.
Anemonovidnye flowers of peonies, light and elegant, very decorative. However, they did not have a large spread for quite a while. Only recently, interest in them has grown. In a number of publications in our country and abroad in most catalogs, anemone-shaped varieties do not distinguish a separate group, but are classified as Japanese or terry, depending on the degree of development and color of the petalodies.
Representatives of anemone peony varieties: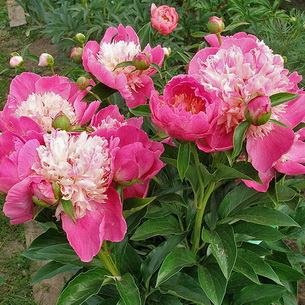 Ama No Soda and Velma Atkinson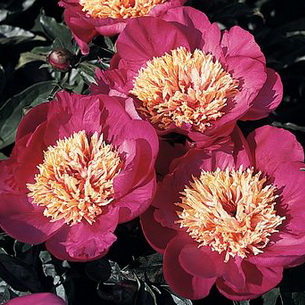 Capen Gray and Coral Queen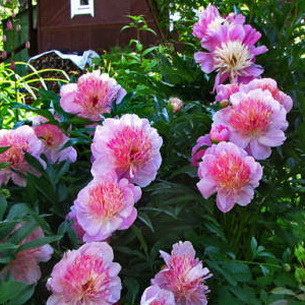 Kuril Islands and White Cap
Terry peonies and their varieties (with photo)
The volume of the flower of terry peonies is completely or mostly filled with petals, which create the main decorative effect. If the reproductive organs are preserved, they are mostly covered with petals: Terry peonies continue to be the undisputed leaders among peonies, most in demand in the market and among amateur florist.
Terry shape depending on the silhouette of the flower and the size of the petals are often endowed with additional characteristics, highlighting its varieties: Terry rose-like (MR).
As can be seen in the photo, the flower of the terry rose-shaped peony consists entirely of even and large petals, symmetrically occupying the entire volume: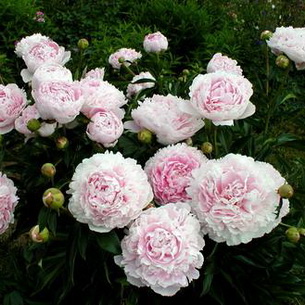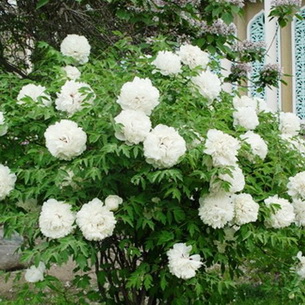 The transition from external to central lobes is inconspicuous or subtle. Silhouette (contour) - smooth and continuous. The whole flower, therefore, has a solid form.
For a century and a half, rose-shaped varieties - representatives of the classical style - remain the most popular and in demand. Their advantages are pomp and festivity, resistance in cutting and the ability for long-term storage and transportation. Sometimes, among the rose-shaped ones, varieties with a closed center — a bud in the center — are noted. Often in foreign publications, especially in the United States, instead of the term "rose-like", the term "completely double" is used.
To terry rose-shaped peonies include varieties: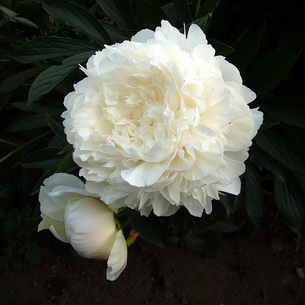 Iceberg and Bessie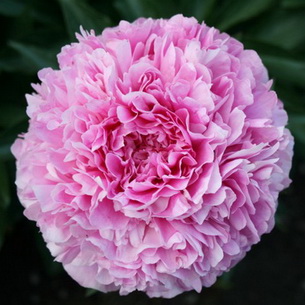 Varenka and Henry Bokstos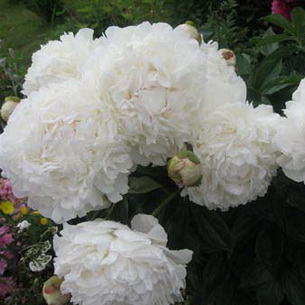 Gladys Hodson and Joseph Christie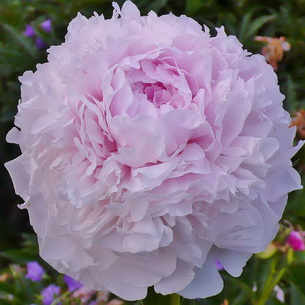 Jeannot and Carl Clem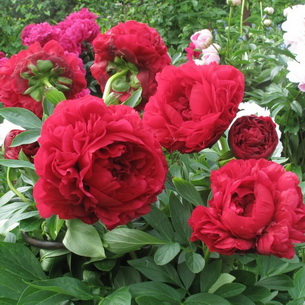 Carol and Mai Love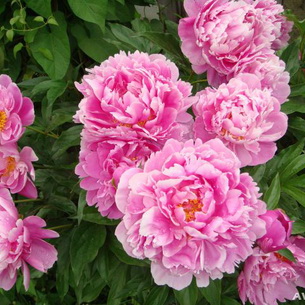 Moscow and Premiere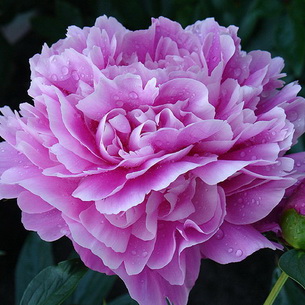 Rain Deluxe and Sarah Bernard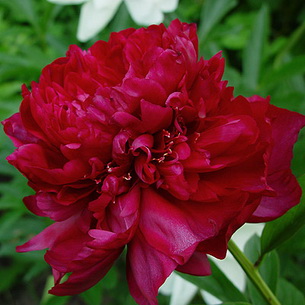 Sakhalin and Silver Doverhead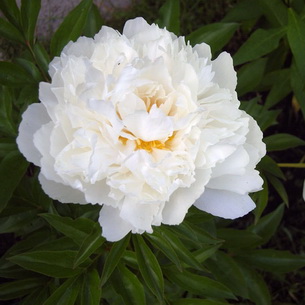 Elsa Sass and Ann Cousins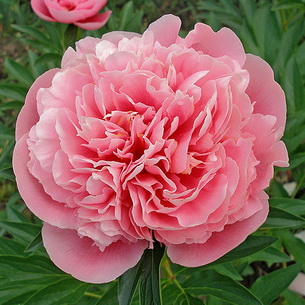 Etched Salmon and Jubilee
See how decorative varieties of terry peonies in these photos: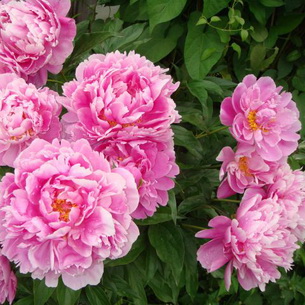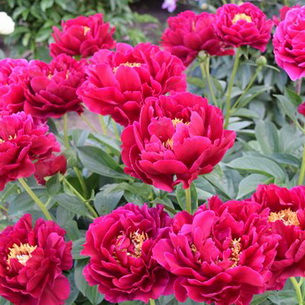 Spherical and hemispherical varieties of terry peonies
In flowers of spherical and hemispherical type, outer petals are large and wide. The remaining petals are less wide and large. Among themselves, these forms differ in the ratio of the width and height of the flower. In spherical width and height are approximately equal, and the stamens, if any, are covered with petals and imperceptible. In the hemispherical, the width considerably exceeds the height, and the stamens, if any, are clearly visible. At the same time, both in the former and in the latter, there is no visible gap between the outer and the remaining petals, as in the case of crown-like and bomb-shaped ones. In general, the general silhouette of the flower is close to spherical or hemispherical shape.
Varieties terry spherical believe: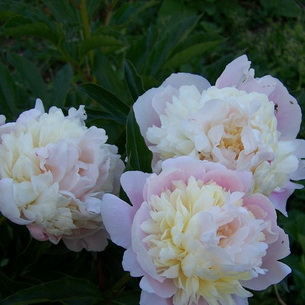 Blush Queen and Glory Alleluia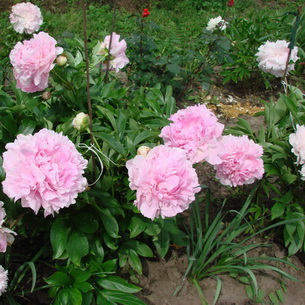 Graciella and Dresden Pink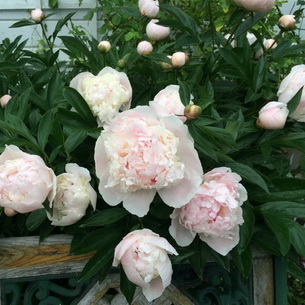 Madame de Verneuille and the Memory of Paustovsky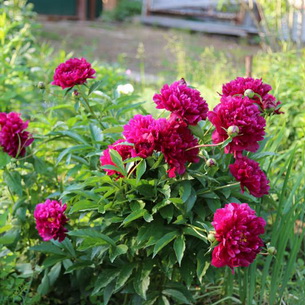 Pink Jazz
Hemispheric: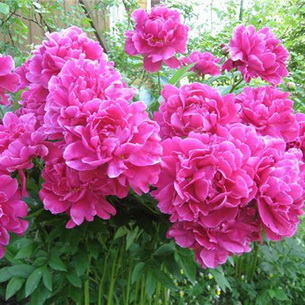 Zé Mity Mo and Kansas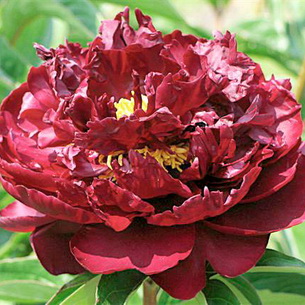 Martian and Red Comit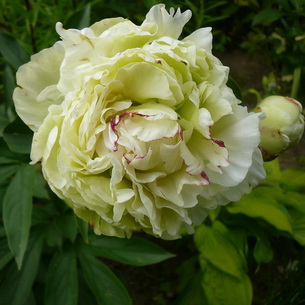 New Era and Ophelia
The exotic shape is distinguished by its unusual appearance and the combined coloring of the petals. These completely new in form and color varieties of pions are usually called dahlia, or chrysanthemum, or cactus, and even margaritte.
In the terminology of the firm "Clem" selling these varieties, they are referred to Cactus Dahlia Style.
Varieties of this type are descended from p. Lacticulum - (Lact.). They are created by US breeders. The exotic petals are completely different: thin and rolled into a tube, twisted, with cut or jagged edges. This is a clear contradiction with the terminology of the Klem company, since petals among dahlias and chrysanthemums completely different and often garden forms of those and others are classified precisely by the form of petals. The concept of "exotic" is more acceptable, because it can combine these various forms of flowers. The color of exotic is heterogeneous: often irregular, with stripes in the center and edges, with spots, sometimes dramatically changing during flowering.
Exotic varieties include: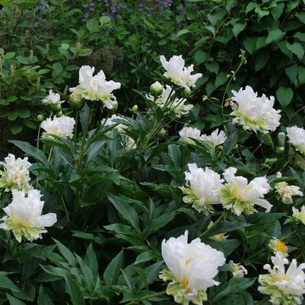 Green Lotus and Green Halo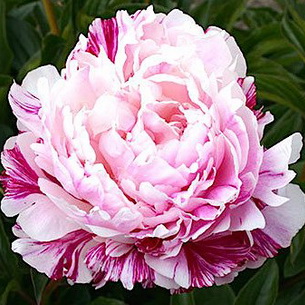 Candy Stripe and Lois Kelsey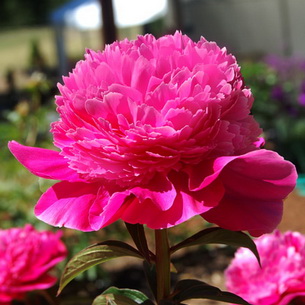 Pink Salute and Pink Spinners
Koronchatye and bombovye varieties terry peonies (with photos)
Terry crown (MK). Flowers have one or two rows of large outer petals. The petals of the middle and center are considerably already external. They are usually bent up, rising above the outside, and form a "crown",
This form is clear and characteristic gap in the volume and silhouette of the flower. Usually crown flowers open easily, even when cut in bud stage.
Characteristic representatives of terry crown peonies are: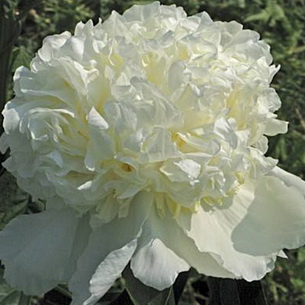 White Sail and Golden Bracelet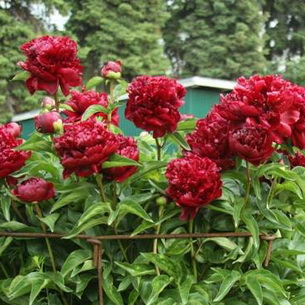 Diane Parks and Duchesse de Nemours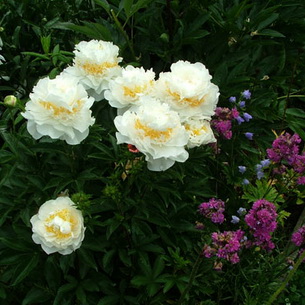 Cheddar Surprise
Terry bombs. External petals, large and wide, bent to the sides and located close to the horizontal position, have the shape of a bowl. The petals of the middle and center, much larger and numerous than those of the crown, are bent upwards and toward the center and form a ball. In general, the form of terry bombed peonies is a ball (of medium and central petals) lying on the bowl of outer petals. The name given to this form by Americans, where varieties with a similar form are very popular and must be distinguished in descriptions of varieties. Multicolored varieties are especially appreciated. However, for us in Russia this analogy between the flower and the bomb seems surprising, things are absolutely incompatible.
Examples of terry bombed peonies: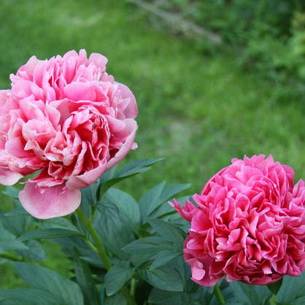 Glowing Raspberry Rose and Command Performance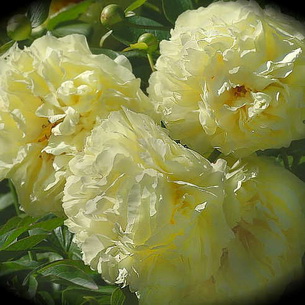 Lemon Chiffon and Monsieur Jules Allie
Raspbery Sande and Pink Lemonade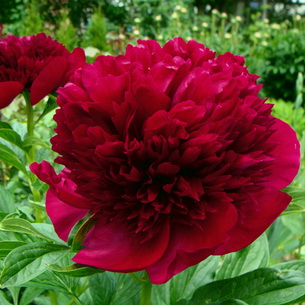 Red Grace and Red Charm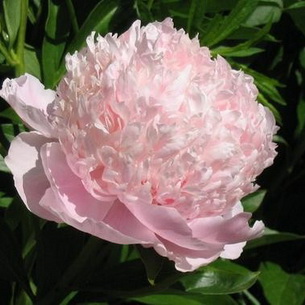 Sweet-16 and Top Brass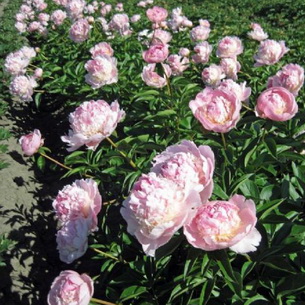 Angel Chicks
Here you can see photos of the best peonies of bombed varieties: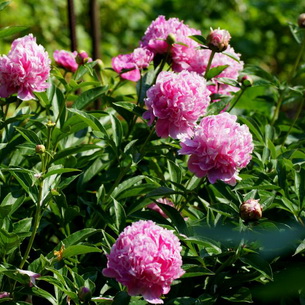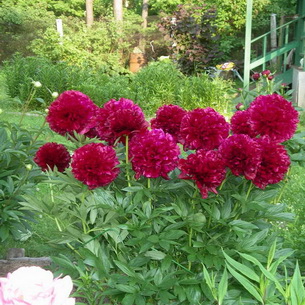 Phases and time of development of pions of different groups
Peonies successfully grow in all of Russia, except for areas with permafrost and southern subtropical areas without a cold winter period. This is due to the development cycle of the plant. The growth time of pions from sprout appearance to full height is 28-55 days, depending on the variety. Smaller values ​​are late blooming (Sarah Bernard variety), because their shoots appear on the surface much later - in early May and grow at more favorable high temperature levels.
Table "Phases and time of development of different groups of pions":
Peony Development Phase
Approximate period
The appearance of sprouts
25.03-03.04 (hybrids Г2 and ГЗ, species peonies),

01.04-8.04 (ГХNUMX hybrids),

05.04-16.04 (Lact.)

Shoot growth
20.04- 22.05
Beginning of budding
7.05-22.05
The beginning of flowering varieties and hybrids
1 6.05 (some species)

20.05 (ГХNUMX and ГЗ hybrids),

05.06 (ГХNUMX hybrids),

12.06 (Early Lact.),

17.06 (Medium Lact.)

25.06 (Late Lact.)

Growth of storing roots and accumulation of nutrients in them
7.07-23.10
Regrowth of suction roots
20.08-15.10
Preparation and transition to winter rest
15.10-27.11
Winter rest
November-March
Winter rest consists of physiological and subsequent forced rest.
Physiological rest is a natural state of deep rest, which in most plants lasts from autumn to the end of January - beginning of February. American scientists characterize the physiological rest for pions with a period with a lower temperature level no higher than 25-45 ° F (-4 .... + 7,7 ° C) depending on the varieties and their origin and the duration of 480-900 days (20-38 days). Some foreign catalogs for different varieties recommend the boundaries of their cultivation - the level of the 5-8-th climatic zone (Clem publishes in each catalog a climatic map of US regions). In our lane, the transition to a state of physiological rest occurs when the temperature of the soil drops to 2-3 ° С. The physiological rest phase is shorter for plants from warm edges. So it is with our hybrids with southern species parents: it is shorter than that of the moltochnotsvetkovye. Physiological rest - a complete suspension of plant growth, regardless of external fluctuations in temperature. If the processes and pass, then only internal, without external manifestations.
Forced rest is a period that acts after a period of physiological rest, when plant growth is restrained by low temperatures. In our zone, a period of forced rest exists for most varieties and hybrids. During this period, with warming, plant growth begins immediately. In the suburbs there is only one exception - peony Maryin root. Physiological rest in P. Marin has a root (and its hybrid Novost Altai) - significantly longer than that of varietal pions. Therefore, in spring it grows later than the rest. It is interesting that there have been cases when, in the fall, in some years, its buds sprout above the surface, as in some hybrids. Riddle!
How to choose a peony variety?
Peony - long-lived, in one place can grow more than 50 years. Therefore, the choice should be taken very responsibly.
Before choosing a peony variety, you should definitely find out its pedigree: from which natural species it originated, to which garden group it belongs. This will help you choose the right agricultural techniques. For the initial assessment of a variety, you can use the description of varieties placed in my book: it contains basic data on most varieties that are found in our country.
Concluding the topic of choice, I repeat once again that the choice of variety is the main strategic task. Once again, weigh all your specific goals and aesthetic preferences. What colors and shapes do you like? Does the scent of peonies matter to you? Flowering time?
The extraordinary variety of flower forms has recently been replenished with exotic. From peonies with simple and semi-terry forms, suitable for gardens in a natural style, to thick-rose rose-shaped - just perfect for regular compositions. Japanese, anemone-like, and now exotic forms of flowers bring Oriental motifs and refinement to the garden. Varieties with light flowers, simple, Japanese semi-double and exotic forms, usually do not need support in the flowering period.
A wide range of colors of the modern assortment is able to satisfy any fantasy. Traditional colors: white, pink and red. Pink and red varieties of peonies Lact. have a light purple tint. Among the hybrids of the medicinal peony, there are purely red and pink ones, and they have recently been added varieties with a very spectacular coral color. Many peonies are two-colored or even multi-colored, almost all Japanese, anemone-shaped and exotic. Many change color during flowering, while remaining attractive throughout its period. A combination of white with yellow and yellow-colored varieties is gaining popularity among terry.
To select the grade of peonies, use only catalogs of firms or owners of collections with a stable reputation.
Avoid catalogs and lists of varieties, replete with superlative adjectives, exclamation marks and other similar author's remarks obscuring the essence of the matter.
At exhibitions in Russia are usually presented exhibits brought directly from the gardens. If you choose all the varieties one by one, they will bloom at the same time. In order to have peonies with different flowering periods, one must visit the exhibition several times or use information from serious sources.
Peonies on the stand demonstrate the exhibition (sometimes the highest possible) quality of a flower and nothing more. The remaining properties of the variety (vitality, abundance, decorativeness of the bush) remain unknown, so it is good to have with you a serious reference material describing the varieties - a practical exhibition guide. It is useful to verify the conformity of the exhibit of his name - no one is insured from confusion.
A large range of flowering times. The flowering of one bush continues 5-12 days, depending on weather conditions. However, there are techniques for extending or shifting the timing of flowering of one bush:
removal of the central bud. Then the flowers from the side buds will bloom later on 3-5 days;
landing peony in a relatively shaded place or snow retention at the landing site;
winter shelter over peonies being late 1-1,5 weeks.
But these methods can change the flowering time only 3-5 days.
With the right selection of 15-20 varieties or species with different flowering periods, you can continuously receive, during 45-55 days, a flowering peony garden.
The most common varieties of peony Lact., In the middle lane bloom in the period of June 15 - July 5. For flowering from 5 to 25 June, hybrids of medicinal peony are suitable, and for mid-May - early June - hybrids of fine-leaved peony. Caucasian peony hybrids obtained from Caucasian peonies (P., Wittman and P. Mlokosevich), white and cream colors, bloom from mid-May to June 10. Before the others, from the middle of May, species peonies are blooming - large-leaved n., Deviating n. (Maryin root).
During the flowering period, pions are self-sufficient and do not need a "retinue". The bush is effective in a solitary planting or in a group of its own kind. But peonies are good not only during flowering. The crimson tops of the shoots appear from the ground in early April. In mid-May, the color of the bush becomes tender, green. Gradually, he acquires a typical, "adult" appearance. Stems become thick, erect (usually in hybrids) or thinner and curving, in most cases requiring support (more often in the flowers). The height of most varieties - 60-100 cm, lower for thin-leaf peonies and its hybrids - 25-60 cm.
Leaf color can be from brilliant dark green to matte with a bluish tinge (p. Mlokosevich). The leaves can have whole plates or dissected, up to the fern form of a thin-leaved peony and its hybrids. In some modern varieties, leaf color is yellow from the first half of summer to August. In the fall, the leaves of many lactifloral peonies (often red and with a Japanese flower shape) turn yellow, pink, red and crimson.
Peonies are attractive not only in appearance. All their varieties have an aroma. But the smells of various pions differ significantly from each other in strength and tone. Most catalogs and descriptions produce varieties that have a pleasant, "sweet" aroma that resembles the smell of rosehip (rose). This aroma is inherent in some terry peony varieties of dairy-flowering, white and pink colors and is more common in nineteenth-century varieties of French selection. Breeders of the 20th century did not consider getting a pleasant odor a priority, and such aroma is less common in the varieties created by them. This fragrance - "sweet" - sometimes referred to as "pion".
For those who are serious about the subtleties in the field of odors, the opinion of the famous expert N. Ya. Ippolitova, distinguished 16 of different aromas from peonies: rose, lily of the valley, jasmine, carnation, chrysanthemum, lilac, mint, lime, lemon, apple, honey, vanilla, coffee, coffee with milk, fresh milk, fresh hay. And besides these 16 flavors, still spicy, bitter, sweet, sour, warm, not counting the sharp odors.
How many peonies bloom: the timing of flowering of different varieties
Studying the data of foreign catalogs or nurseries from other climatic zones, it is important to realize that in our zone, not only the timing of pion blossoms, but also the quality of flowers (shape and color), and even the height of a plant can change. You can learn about how many peonies of different species and varieties bloom from the table below.
Table "Terms of flowering of certain species and varieties of peonies":
15.05-5.06
20.05 - 10.06
7.06 - 20.06
17.06 - 28.06
26.06 - 5.07
Peony lactifloral, P. Wicha, P. hybrid, P. Mlokosevich, P. Maryin root, P. thin-leaved
Athena, Ballerina, Moon Road, Nouszhey,
Airlie Scout
Tiny Tim, Ophelia, Airlie Debreck, Herald
P. Medicinal Rubra Plen, Paula Fey, Chervonny Oksamit,
Blaze, Coral Fay,
Coral Sunset, Red Grace, Flame, Maxim Festival, Iceberg, Kevin, Marietta Sisson, Tell Star
Sarah Bernard,
Kansas, Carl Clem, Paul M. Wilde, Mrs. F.D. Roosevelt, Dr. Ji. X. Neely, Neon, Lotus Queen Hybrids: Coral Charm Henry Boxstox, Carol, Old Feyful
A.E. Candred, Gladys Hodson, Alber Cruss, Lady Keith, Svetlana Sedova, Hansina Brand, Ann Cousins, Elsa Sass
SIMILAR ARTICLES: