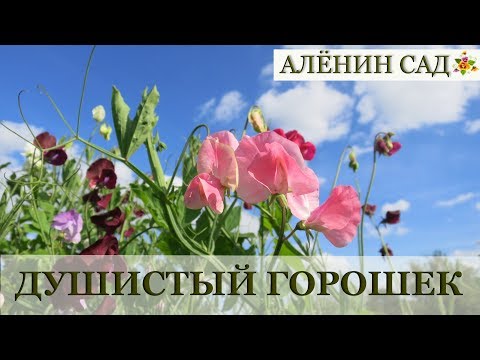 The plant sweet peas appeared thanks to the selection. An employee of the Scottish nursery, G. Ekfort, derived this one-year-old liana by crossing several nondescript but very fragrant flowers, as a result of which he obtained an excellent culture, distinguished by its decorativeness and magnificent smell.
In this breeding work is not over, in subsequent years, many amazing varieties were bred.
This is an annual plant with high-climbing stems, height 150-200 cm, has a rapid growth, unusually abundant and long flowering, retains the ability to bloom even after the first frost, with a large variety of colors and a wonderful smell of flowers.
As seen in the photo, the flowers of sweet pea flowers have delicate shades - from pure white to dark red and from light blue to dark blue: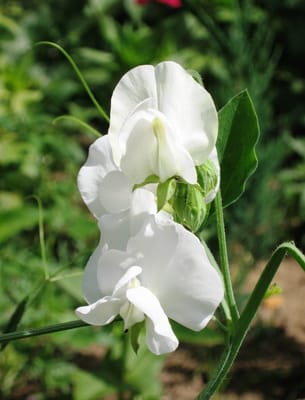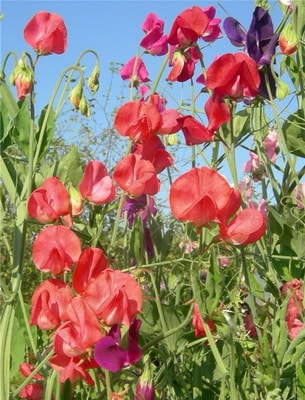 There are even plants with orange flowers.
The inflorescence is a brush, can have from 3 to 16 large flowers with a diameter up to 6 cm, but at the same time no more than 6-7 flowers can bloom. The peduncle in many-flowered varieties reaches 50 cm.
The longevity of fragrant flowers, the tenderness of their colors provided this plant with one of the first places among fragrant-smelling flowers going for cutting. The flowers are held in the water 5-6 days.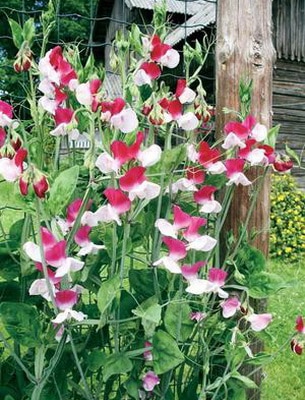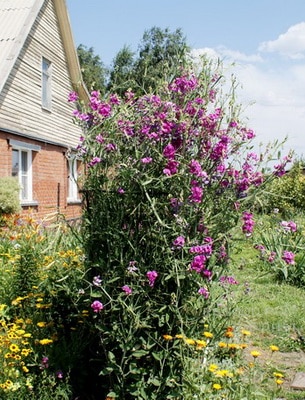 Detailed information about the agrotechnology of care when growing sweet peas and about the most popular varieties This plant you will receive in this material.
Agrotechnics cultivation of sweet peas
When growing sweet peas for decorative purposes, the poles of the plant are placed with a distance 40 cm from each other. To obtain a cut of flowers, peas are sown in rows or two-line ribbons. Between rows 1 m, and in rows between plants 20-25, see
Experienced flower growers practice repeated summer crops and, with daily careful cutting of flowers, harvest the crop until late autumn.
Peas like a sunny and wet place. It grows best on fertile soils with regular and abundant watering. Mulching helps to keep moisture in the soil clean, not subjected to any treatment with straw or sawdust.
Very hot, dry and closed areas for sweet peas are not suitable.
The cultivation of one-year sweet pea is done by sowing in open ground or through seedlings. Shoots tolerate frosts to -5 ° C, and hardened seedlings to -3 ... -4 ° C.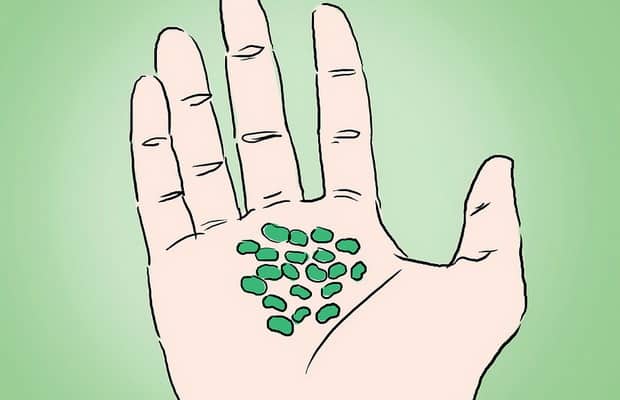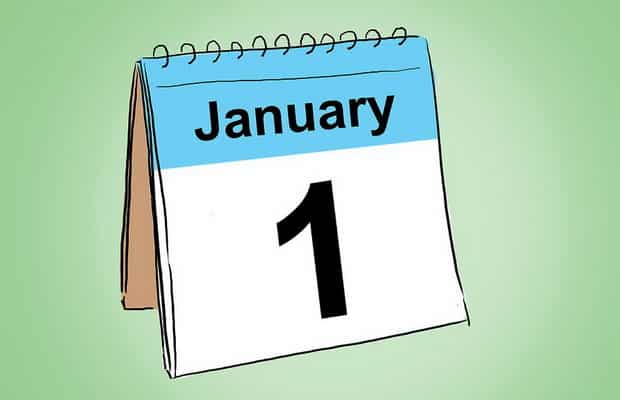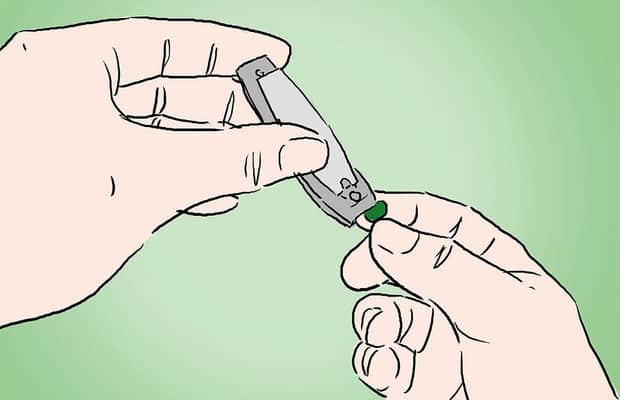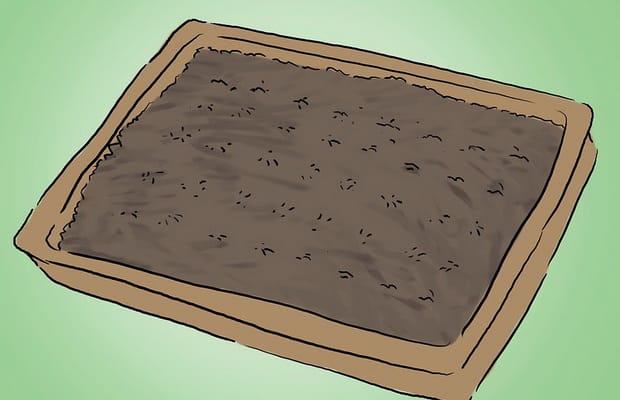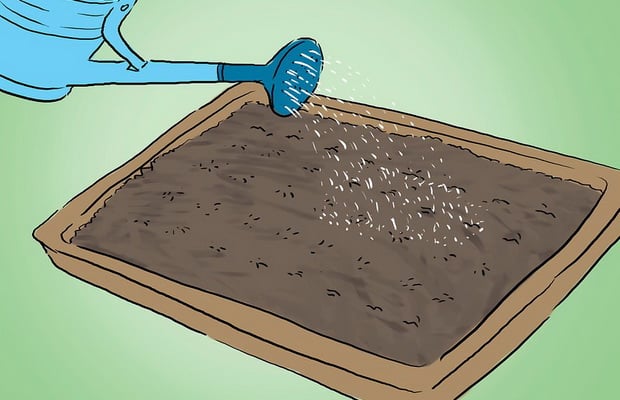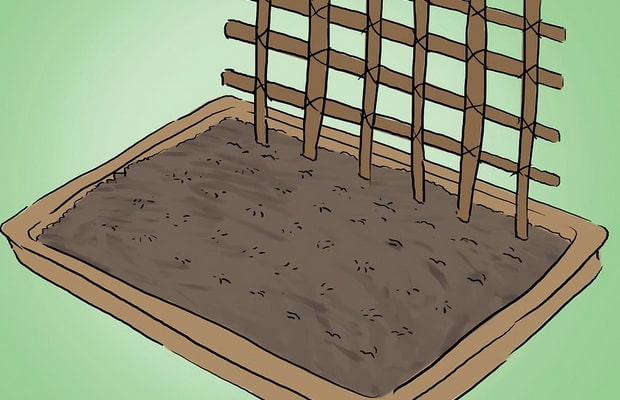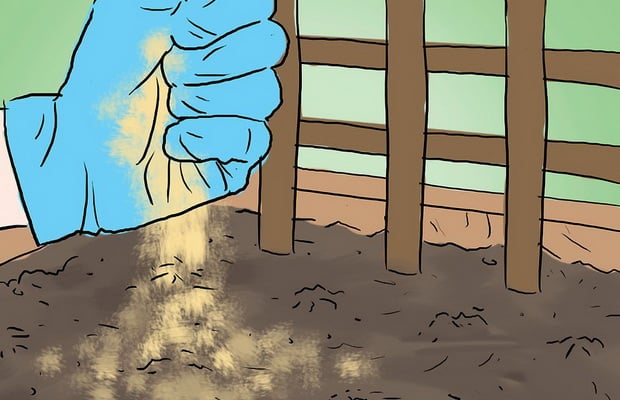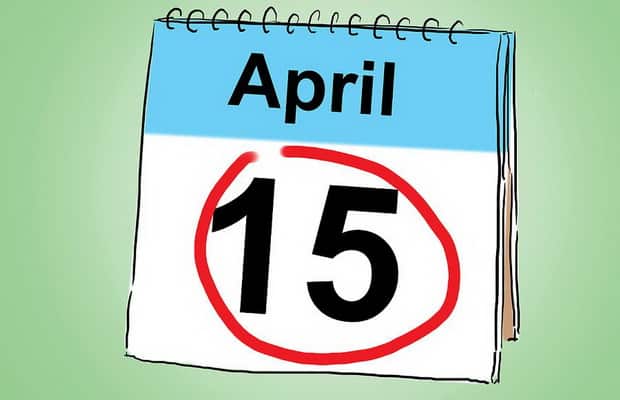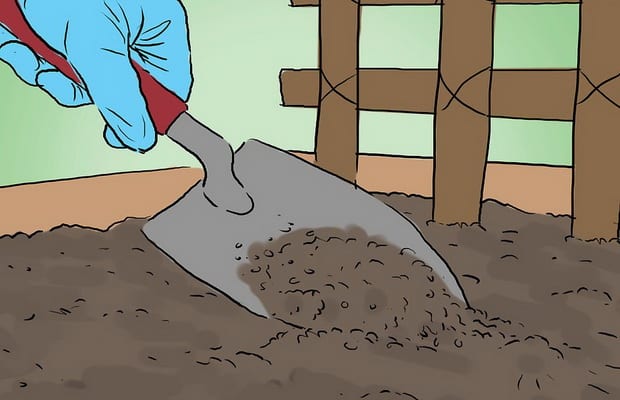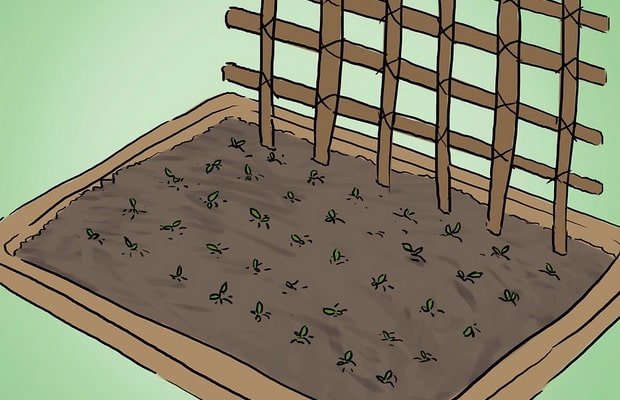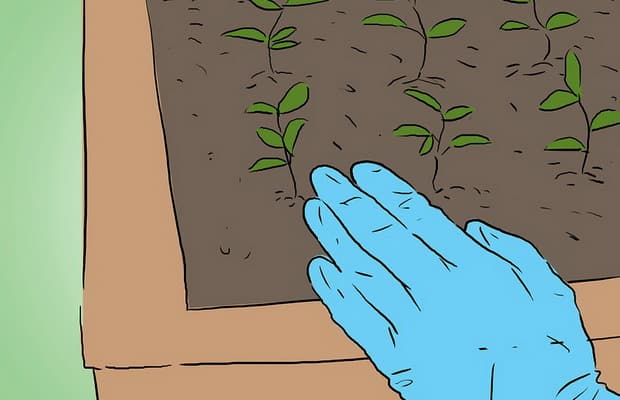 The seeds of the peas with a very dense shell, because of what they sprout long and unfriendly. To accelerate germination, they are soaked in hot (up to 70 ° C) water for 1-1,5 hours, and then washed in cold running water.
The seeds are germinated in sawdust, sand, or a damp cloth at + 20 ... + 24 ° С 2-4 of the day. The tilted seeds of the annual sweet pea for further cultivation are planted in a permanent place or in pots for seedlings. Shoots appear in 6-12 days.
Seeds of most varieties have a gray-brown or brown-brown color. Their germination persists for four years. Some varieties of seeds are very light, cream. Such seeds for the cultivation of sweet peas should be sown dry, not soaking. When soaking, they will die.
Young plants of sweet peas grow slowly and do not branch for a long time. Therefore, they need to pinch over the 2-3-m sheet, what causes branching.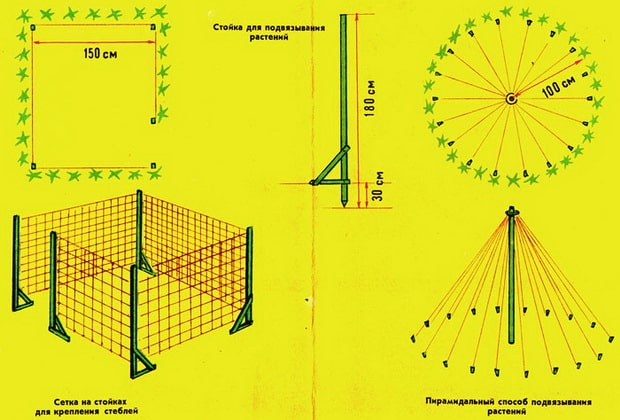 You need to tie up the plants as soon as possible, otherwise the stems lie down, intertwine and easily break when you try to unravel them. Stems should be slightly directed to the support, so that they can freely cling to the antennae.
Plants require abundant watering, since with a lack of moisture, the buds fall off, the flowering time is sharply reduced and the flowers become smaller.
Feed the seedlings with nitrogen (carbamide), and adult plants - a full complex fertilizer.
Top dressing during the growing season with organic and mineral fertilizers contribute to the development of large flowers on long stems.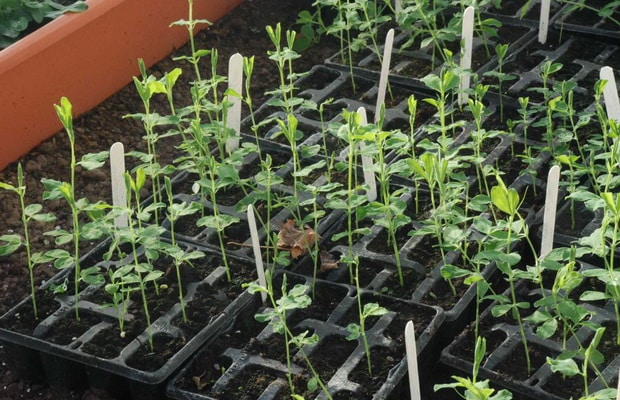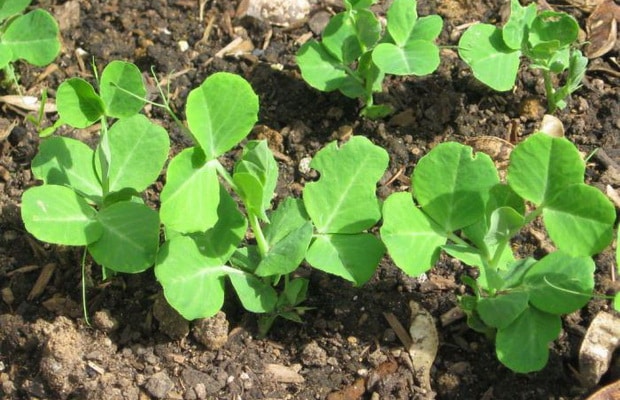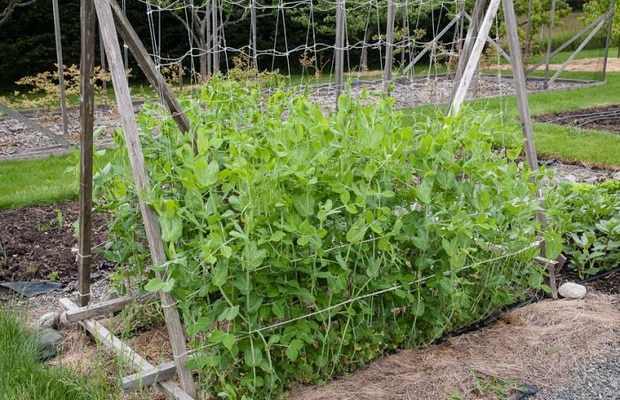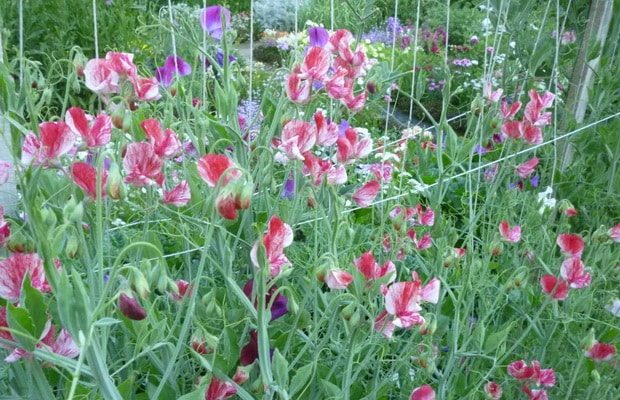 Sweet peas bloom in early July, sometimes even in late June.
Regular cutting of flowering inflorescences together with peduncles contributes to the lengthening of the flowering period, which lasts until frost. No wonder he is also called the "king of the Letniki" for such a long flowering.
In the flower decoration of the garden plot, sweet peas are planted closer to the places of rest.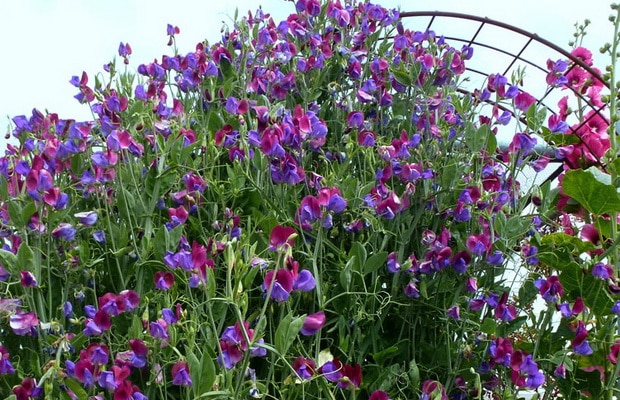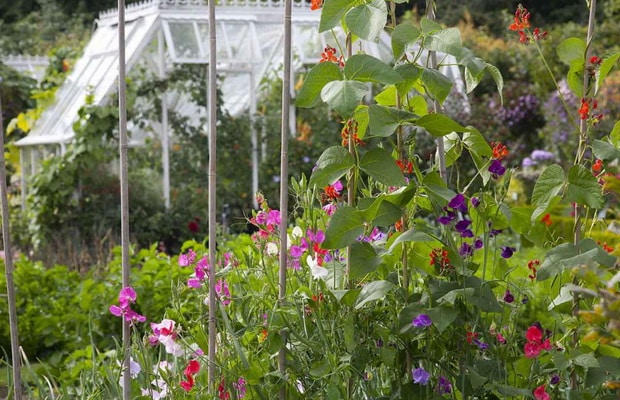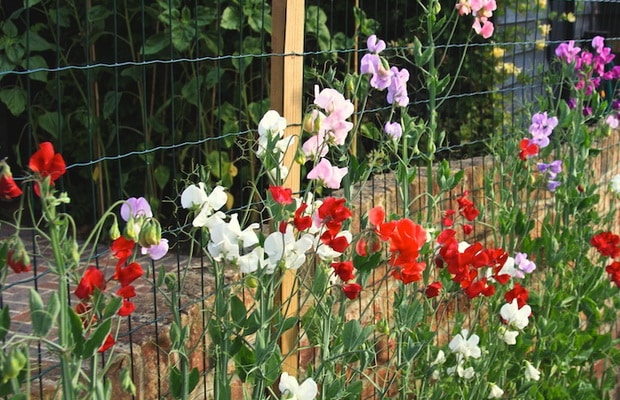 It is widely used to decorate terraces, verandas, it is decorated with supporting walls, arbors, and gratings. Especially good peas grows on balconies, in window boxes, on the southeast side of houses.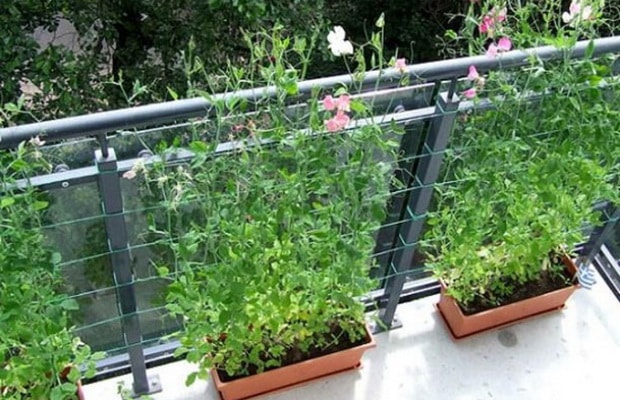 On a sunny balcony, the peas will bloom from July until autumn, if you regularly take care of it.
Know that it will not grow in shallow boxes, the capacity is needed with a depth of at least 30.
The pea has a powerful, branched root system that provides fast growth, strong branching and continuous flowering of plants.
Everyone loves this plant for amazing flowers of bright and tender colors, the refined form of which resembles moths, for its wonderful aroma and simplicity of cultivation.
Popular varieties of annual sweet pea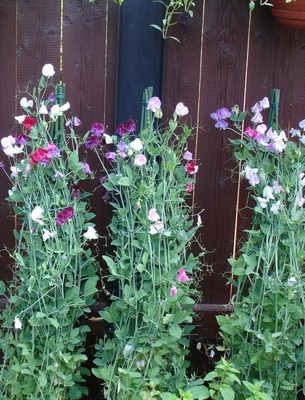 The most popular varieties of sweet peas garden group Kazbertson-Floribunda.
They are characterized by beautiful in shape large flowers, collected in brushes on 5-7 pcs. on long, up to 40 cm, peduncles.
Sail wide, with a wavy edge, often bent back. Height about 160 cm, multi-stem plant.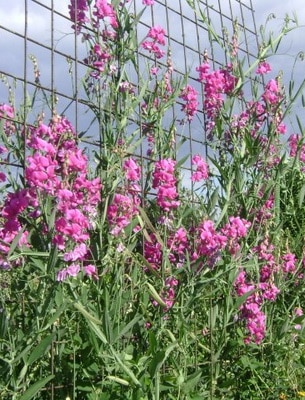 Up to 12 large plants have plants on a strong peduncle varieties "Galaxy"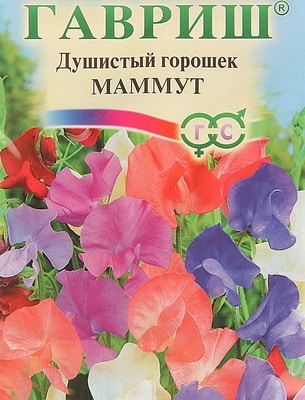 Sort "Mammut" different early flowering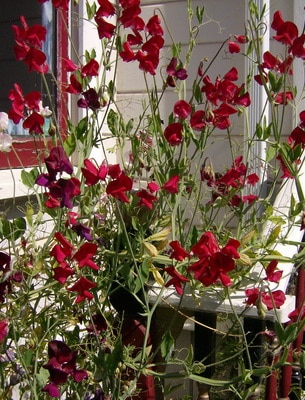 Variety "Multiflora Giganteya" - very early flowering and at the same time forms on one flower stalk 6-7 flowers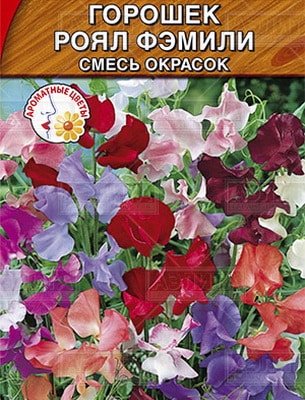 Plants varieties "Royal Family" medium flowering period, with good growth conditions on one peduncle blooms up to eight large flowers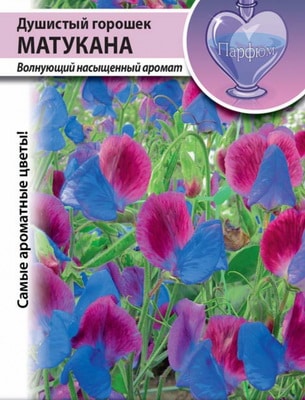 "Matukana"
The saturated color of the inflorescences of this sweet pea in combination with the wonderful aroma is a worthy decoration of your balcony or garden. Good cut. The length of the shoots to 2 m, flowering period: July-August.
"Spencer"
This is a mixture of tall, large-flowered varieties. Climbing strong, well leafy stems up to 2 m long. Peduncles durable, elastic, 25-45 cm long.
The flowers are large, 5-6 in a brush, with a delicate pleasant aroma. Sail the flower with a wavy edge. It blooms from late June to frost. Used for vertical gardening and cutting.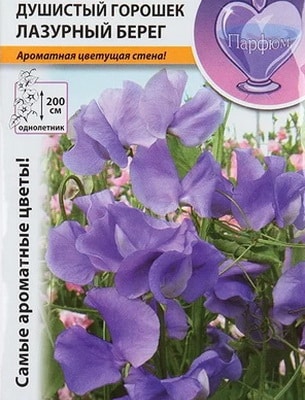 "Cote d'Azur"
Fresh aroma combined with blue color of flowers will create a sincere atmosphere in the garden. This is one of the best varieties of sweet peas for framing gazebos. In a cut will add a charm and tenderness to a bouquet.
Of particular interest are perennial creepers - fast-growing climbing plants with flowers of the butterfly form, on long peduncles.
Blooms profusely and continuously from July to September. Perennial species of sweet peas look like annuals, only have a large number of flowers in the brush (8-10 pcs.). The main difference is that they are cowardly.
It reaches a height of 2 m, likes a sunny location, propagates by dividing the bushes and winters with a light cover.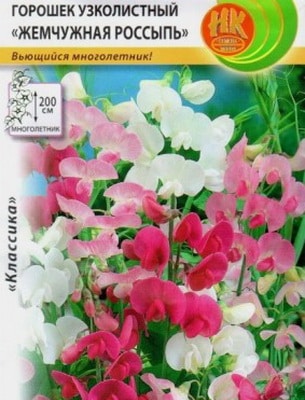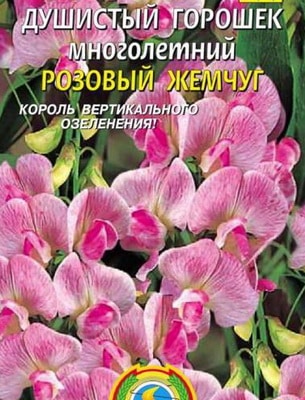 For the cultivation of sweet peas as flowering hedges, wall decorations, gazebos created a special mixture of flourishing perennials varieties "Pearl placer"and "Pink Pearl" with large, delicate colored flowers in luxurious tassels.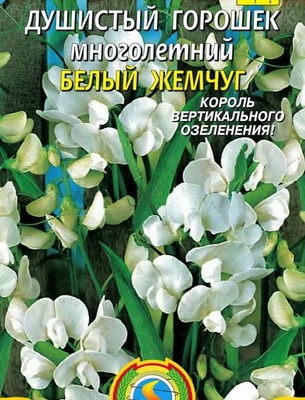 "White pearls"
Cold-resistant peas are suitable for vertical gardening, for cutting into small bunches. Plants up to 1,8 m with one pair of oblong-oval, bottom whitish leaves.
The flowers are large white color collected on 3-10 pieces in loose racemes. Blooms profusely and continuously.
See how different varieties of sweet peas look on these photos: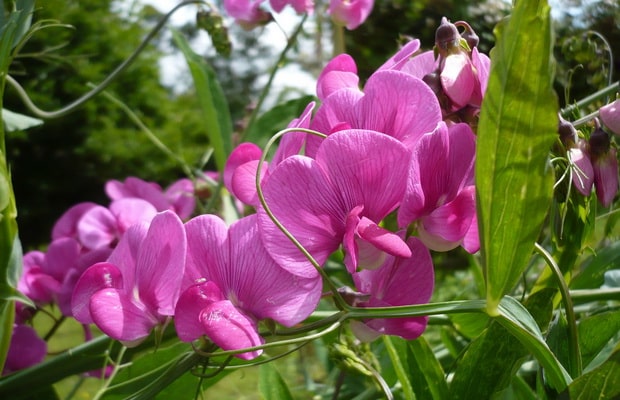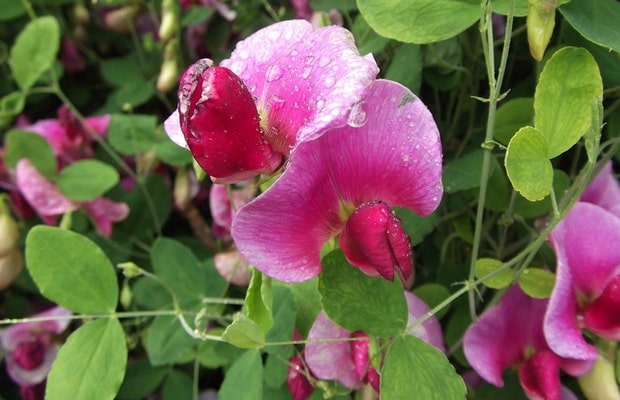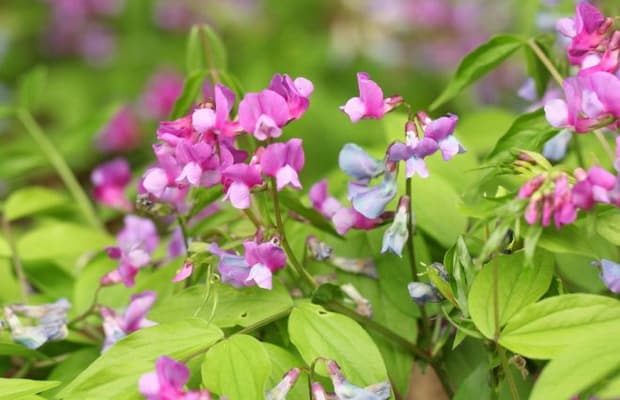 SIMILAR ARTICLES: