Perennial flower cultures have a particular unpretentiousness to the growing conditions and do not require much effort in the course of caring for them. Korean chrysanthemum is widespread among flower growers - it is used in complex plantings, for decorating borders and rabatok. Perennial beauty will be provided if you select the appropriate varieties with a variety of color buds and different stem height. The cultivation of Korean chrysanthemum from seeds by seedlings is mainly used, so you can get abundant and prolonged flowering in the first year of planting. It is also permissible to sow a flower directly into the prepared soil at the beginning of May with the subsequent thinning of the seedlings. This article describes all the intricacies of agrotechnology: from planting seeds to the subsequent care of plants in open ground.
See the Korean chrysanthemum varieties in the photo on this page: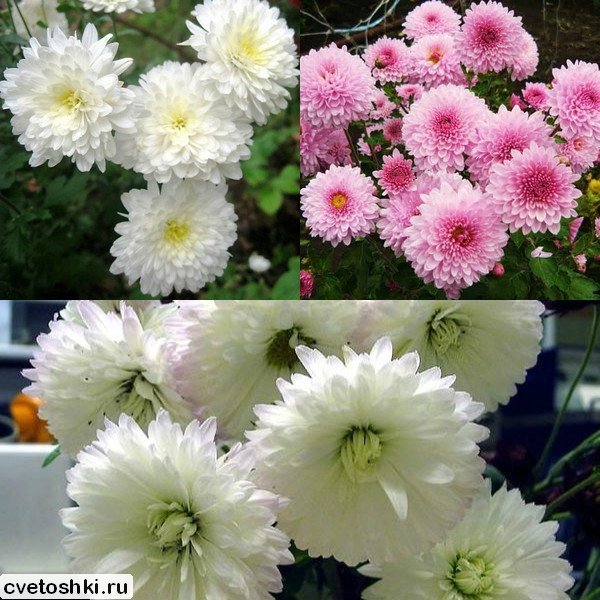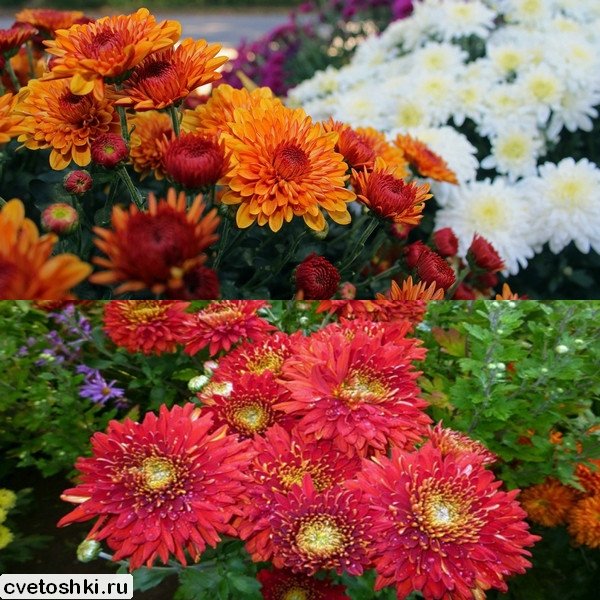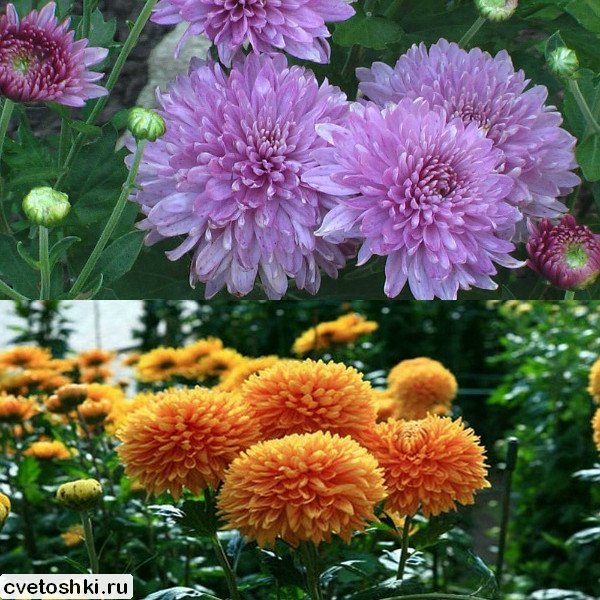 Botanical description of Korean chrysanthemums and their photos
All varieties and species are artificially derived hybrids. Botanical description of the culture:
stem height ranges from 40 cm to 1 meter;
pinnate leaves with color ranging from light green to rich marsh;
stem straight, without additional pubescence;
the diameter of the buds reaches 20 cm, depending on the variety;
subdivided into tall, sredneroslye and curb forms;
Coloring buds includes the entire spectrum of the rainbow.
There is both a tubular and reed structure of petals of buds. For successful growth does not require special conditions. It winters beautifully in all regions of central Russia. In Siberia and in the Urals, it may require additional shelter for the winter (if the winter has little snow).
Before you choose the appropriate Korean chrysanthemums, look at their photos, this will help determine the selection of varietal groups: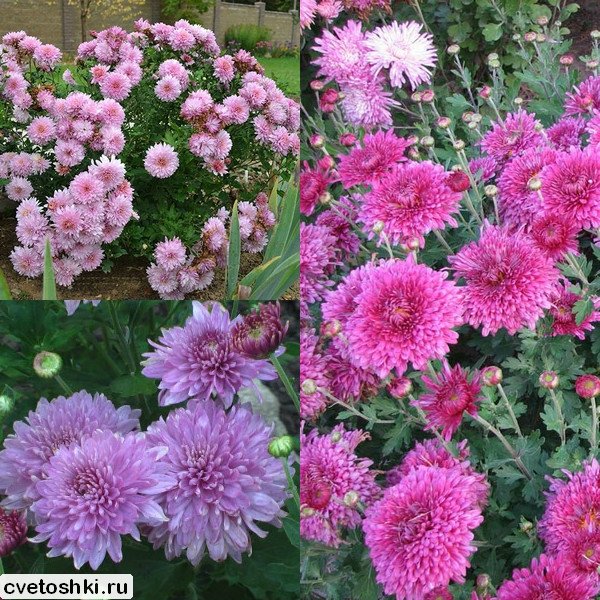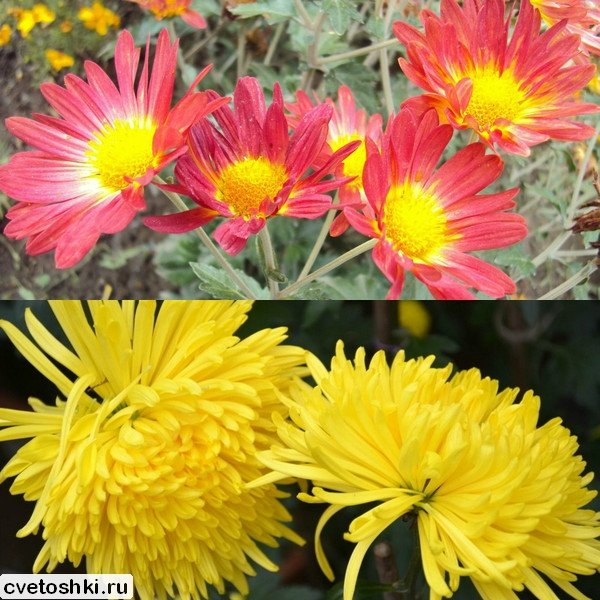 Spherical, terry and other varieties of Korean chrysanthemum
Spherical Korean chrysanthemum is the most favorite plant of all gardeners without exception. Many grow it even in room conditions, where it does not require special care and pleases with an abundance of large buds throughout the year. This is a terry Korean dwarf shaped chrysanthemum with a stem height of not more than 52. Suitable for pottery and balcony crops, can be used for gardening pavements, paths and curb groups.
Considering other varieties of Korean chrysanthemum, first of all it is necessary to distinguish the division into groups according to the size of the buds. The first ones are small-flowered species, in which inflorescences consisting of 6-10 individual heads are attractive. The second group - large-flowered Korean chrysanthemums with a bud diameter up to 25, see. Another subdivision is carried out according to the type of structure of the petals and the method of collecting them in a bud. The most colorful terry and spherical Korean chrysanthemums, you can see the photos below: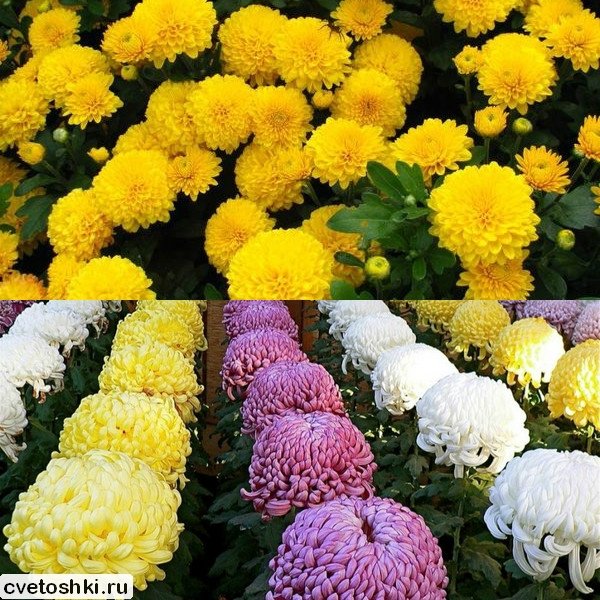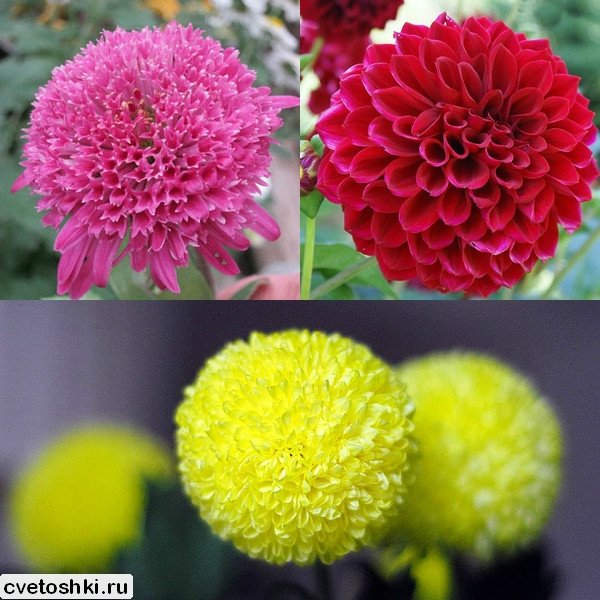 The second most popular among lovers of making bouquet compositions are multi-row small-flowered varieties. They are distinguished by tall stem growth and look great in any bouquet. Long retain their freshness after cutting: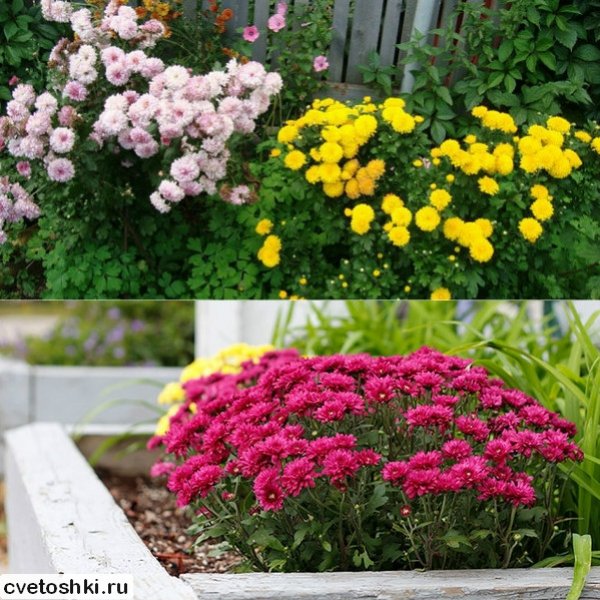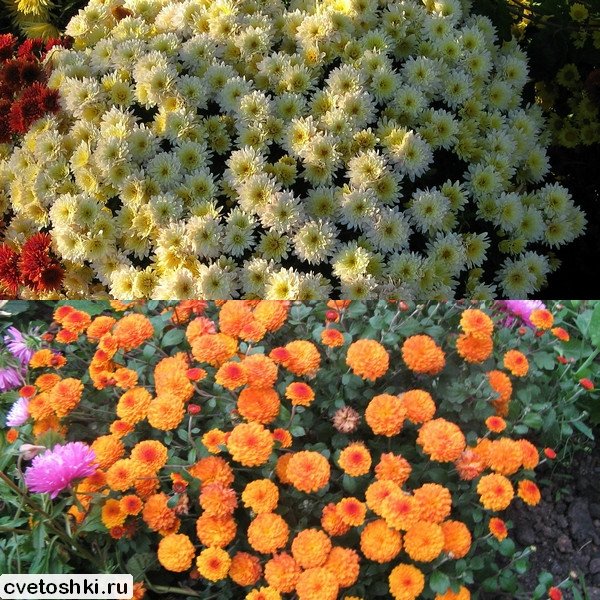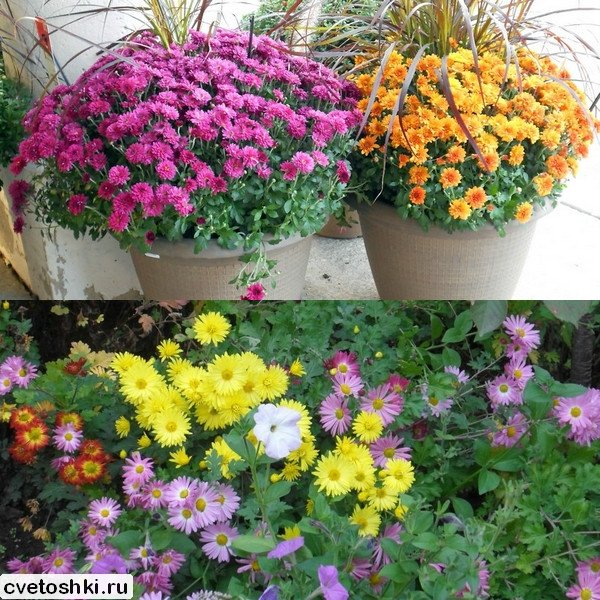 Anemone-shaped and pompon forms attract attention by the unusual formation of buds. See similar Korean chrysanthemums in the photo below: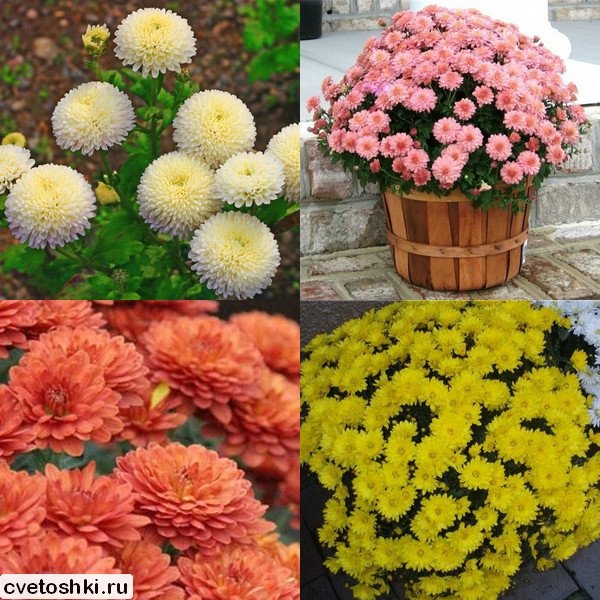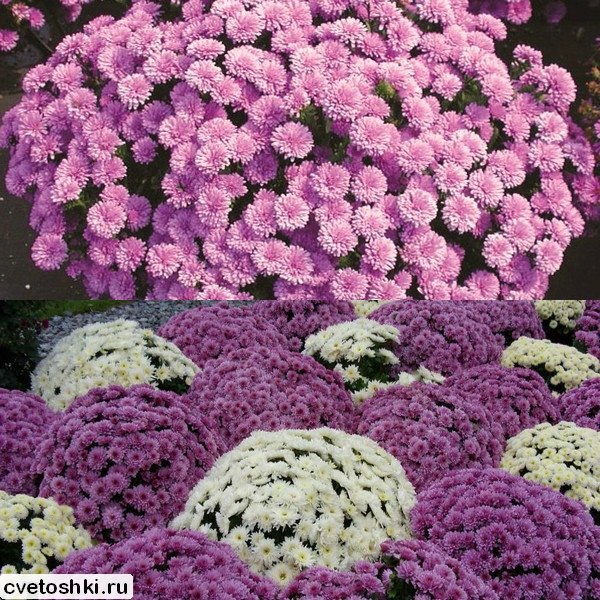 The undersized or curb forms of Korean chrysanthemums include varieties with stem height up to 30. They do not require nip or pruning to form a bush form. Perfectly branched and bloom profusely for a long period of time. Srednerosly Korean chrysanthemums with stem height to 50 cm are used in group plantings in flowerbeds, and for cutting into bouquets, it is better to grow tall varieties. With stem length over 100, see
Among the curb varieties can be distinguished "Malchish-Kibalchish" and "Evening lights" with a variety of color petals buds in the form of chamomile. And for those who like to decorate a flower bed, you can recommend "Amber" and "Althold" with original large-sized yellow inflorescences. "Orange Sunset", "Bacon", "Umka" and "Pearl" - tall varieties with a variety of color buds.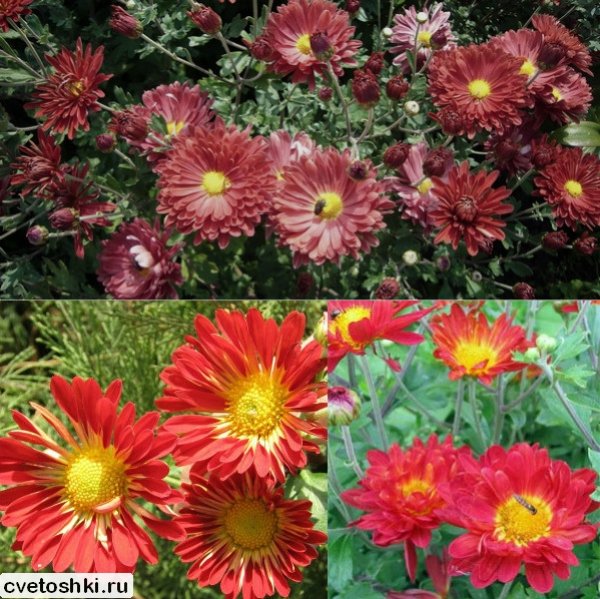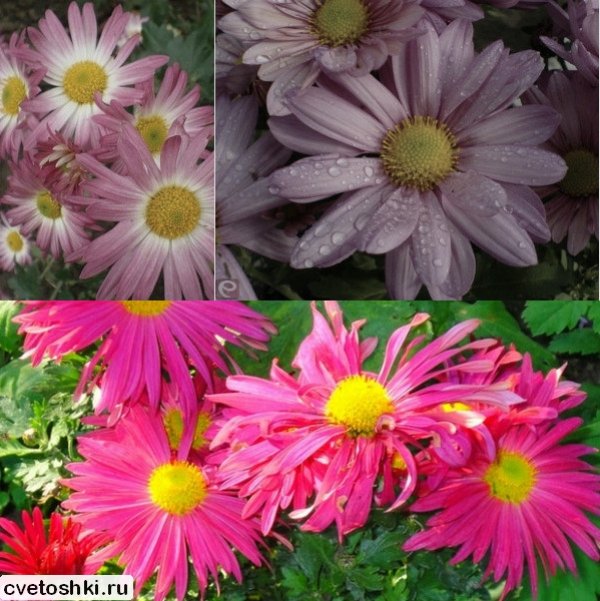 Growing Korean Chrysanthemum from Seed (Planting and Care)
You can get this unpretentious perennial beauty on your plot with the help of previously grown seedlings. When buying seeds should pay attention to their number and germination. They germinate quite difficult, the first shoots may appear after 4 weeks. Growing Korean chrysanthemum seeds begins with the selection of varieties. Then you should prepare the ground. To do this, take the 2 part of the sod land and on the 1 part of the fine sand and humus. Everything is mixed and spilled with solutions of disinfecting and fungicidal agents. It would be nice to calcine the soil in the oven at 220 degrees Celsius for 2 hours. Then cool and decompose in containers. At the bottom of the pots for growing Korean chrysanthemums from the seeds must be laid drainage. These can be small river stones or broken bricks. It is not recommended to use seed husks and eggshell for these purposes because of the high risk of bacterial infections and rot. The carried-out landing and the subsequent leaving we will describe further.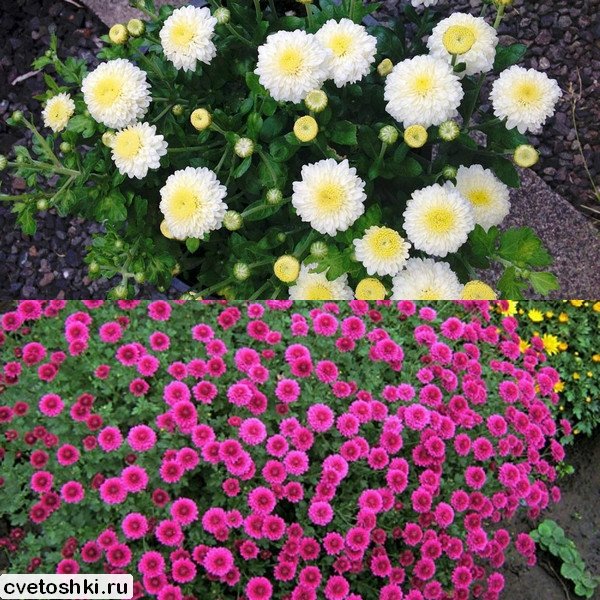 So, the planting of Korean chrysanthemum seeds for seedlings is carried out in the first half of February. Seeds are buried to a depth of 5 mm. Then the surface is watered and the container is covered with a plastic bag to reduce the amount of moisture evaporation. The temperature for germination is 25 degrees.
After germination, the plastic bag is removed and the initial care of the seedlings begins. It includes regular watering with warm water. Then, after the appearance of two true leaves, a picking is carried out - each seedling is planted in a separate peat cup. A second transplant may be required if the stem is strongly drawn out in dim light.
During the cultivation of Korean chrysanthemum from seed to seedlings, 2 fertilizing with fertilizers is necessary. They are held 7-10 days after the picking and transfer to a larger pot.
Landing on a permanent place of growth in open ground is possible after the threat of recurrent frosts on the soil has passed. Requires humus-rich soil with a loose structure. Nutritious humus and a small amount (1 Art. Spoon) of complex mineral fertilizer are placed on the bottom of the prepared well. After planting, pour water abundantly and grind the soil. In the first 5 days, partial shading of the planted Korean chrysanthemum is required.
Subsequent maintenance is regular watering, mineral fertilization and soil loosening. Plants can successfully grow and bloom in the same place over 3's years. Then re-landing is required.
Tall varieties require regular pinching to form a shrub. Also, pinch off extra shoots - these stimulate the growth of larger buds. In the regions of risky farming for the winter, Korean chrysanthemums take shelter in coniferous fir trees.
Practiced storage of excavated bushes in the basement. Low-growing varieties can be transplanted for wintering in pots. Thus, you can save varietal characteristics and extend the life of the bush.
Reproduction is practiced by grafting. To do this, during the pruning of the bush, shoots of equal length are cut and put into the water. Literally during the week they give powerful roots. After that, they can be planted immediately in open ground. It must be remembered that pruning and pinching should be done no later than 30 days before the onset of abundant flowering. In the autumn, planting Korean chrysanthemums is not recommended. Usually such landings do not tolerate winter and freeze out completely.