With the help of such original, delicate-smelling flowers, you can decorate a garden plot, yard flower beds, room rooms, balconies or terraces. For many ordinary people bright freesia is the best option for home gardening - flowers can bloom at any time of year, depending on the period of planting bulbs. It is fragrant flower for garden and home easy to grow. When cut, colorful flowers can stand for about 10 days, while maintaining a confident look and durability of their fragrance. And although this type of ornamental plantings is very popular among many other varieties, caring for them requires certain knowledge and skills. Planting in the ground is not very different from growing at home, and the result is always amazing. See freesia flowers in the photo, illustrating the richness of shades: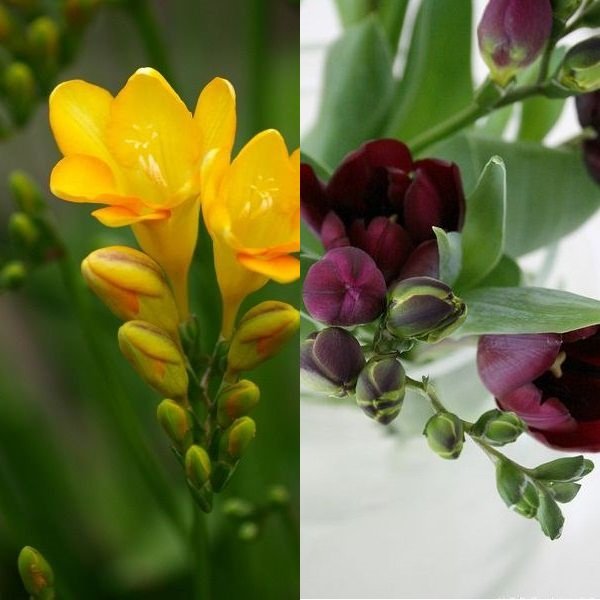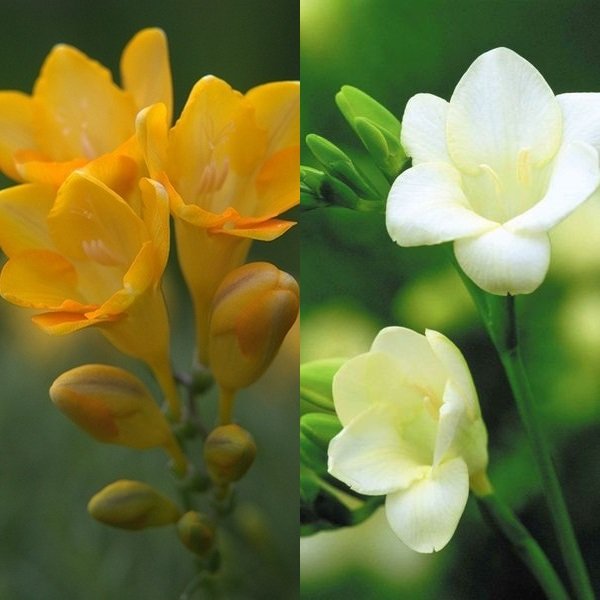 Beautiful scenery in the fresh air - planting freesia in the ground
Pretentious, original flowers are able to create a picturesque picture on the site or in the yard. When planting freesia in the ground, you must be guided by certain rules that will help grow entire meadows and flower beds of this colorful flora. Getting a beautiful landscape in the fresh air is quite simple. Planting freesia in open ground is not particularly difficult.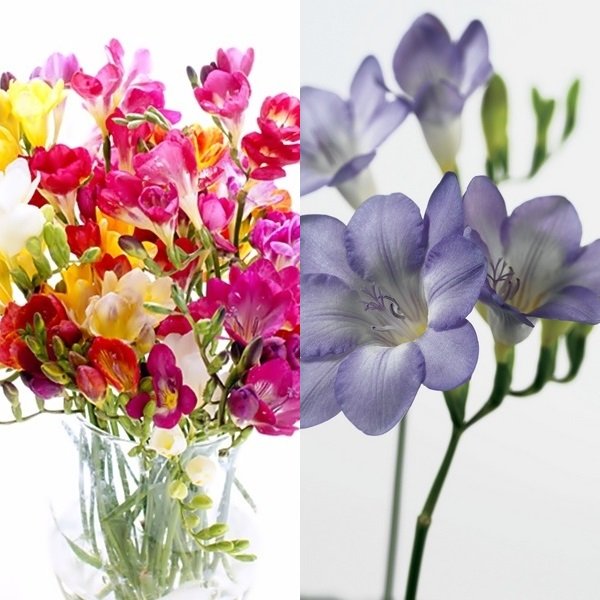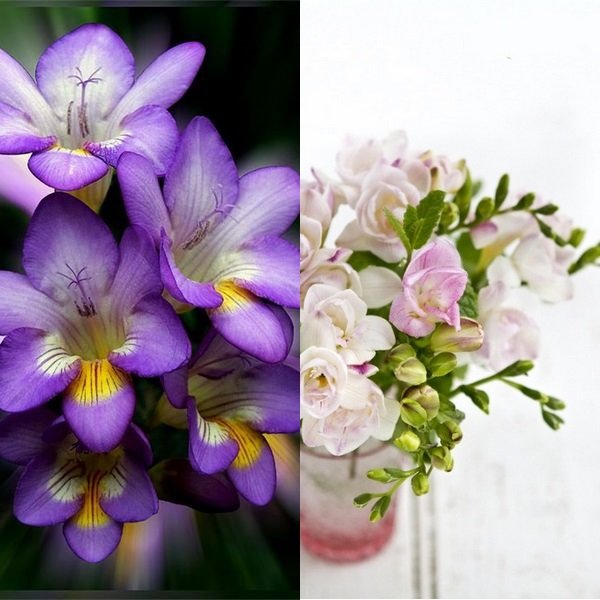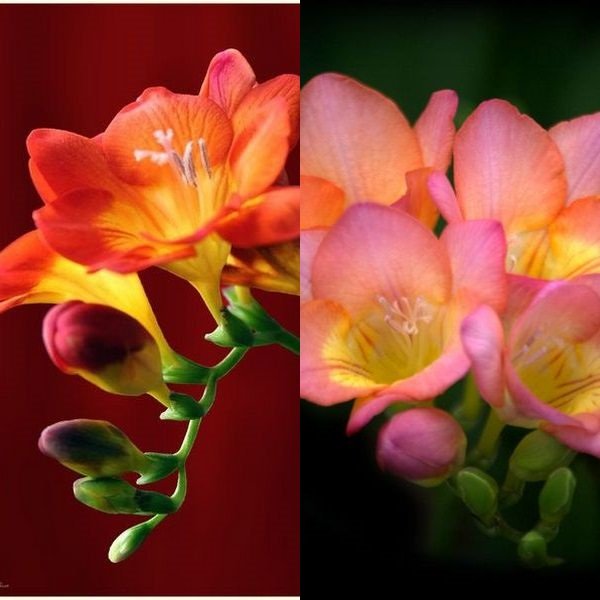 The landing site should be slightly shaded, well protected from wind and drafts. Direct disembarkation is carried out not earlier than the end of May, when the probability of resumption of frosts is minimized. The earth during this period should warm up to 10-13 degrees.
Proper cultivation of freesia in the open field and care for it - the process is not too time consuming, if you do everything confidently and in stages. For about half an hour, the bulbs are kept in a weak solution of potassium permanganate before planting. On a wetted area with nutritious, loose soil, grids or pegs are set for subsequent garters. Then the bulbs are driven in at different depths - this mainly depends on the type of soil: for heavy soil, the depth can be about 6 cm, for medium - 8-10 cm, for light - up to 12, see Similar landing conditions for freesia floral elements in the greenhouse or greenhouse.
Using two grams of saltpeter, diluted with one liter of water, it is recommended to feed the young shoots. And already adult plants can be fertilized twice with summer with potassium salt and a solution of superphosphate. Salt is diluted in an amount of approximately 20 g per 10 liters of water, and superphosphate in the ratio of 20-30 g to the same volume of water. Freesia blooms for one and a half months, equally original, representing a single picture or as part of other representatives of decorative plantations.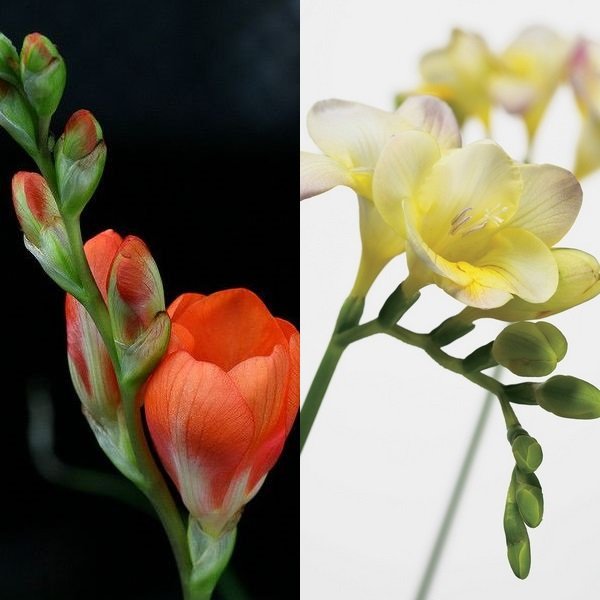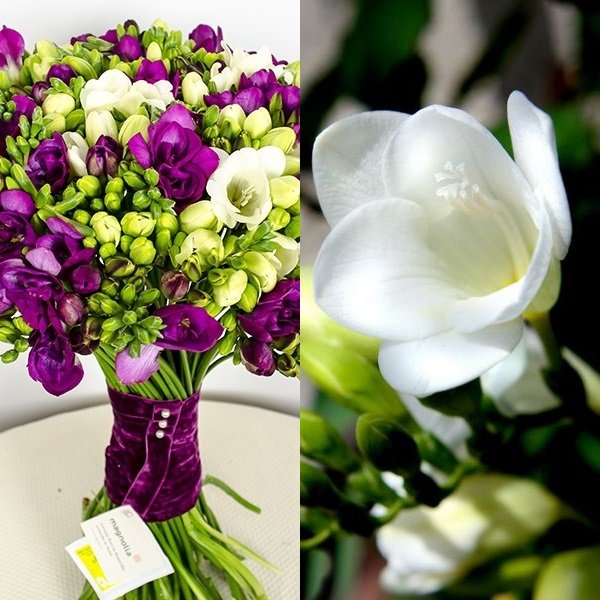 Confident care for a freesia at home (with photo)
Potted room conditions are suitable for growing decorative flowers, and confident care of a freesia at home does not require much effort. Bright green leaves with pointed ends add attractiveness to flower compositions, and the height of a green pet in an apartment can be up to fifty centimeters. The colors of terry, semi-double and non-double colors can be very different - from snow-white to confidently purple. The most common are exactly white freesia and colorful, unsurpassed red freesia.
Look at the photo of home-grown freesia flowers: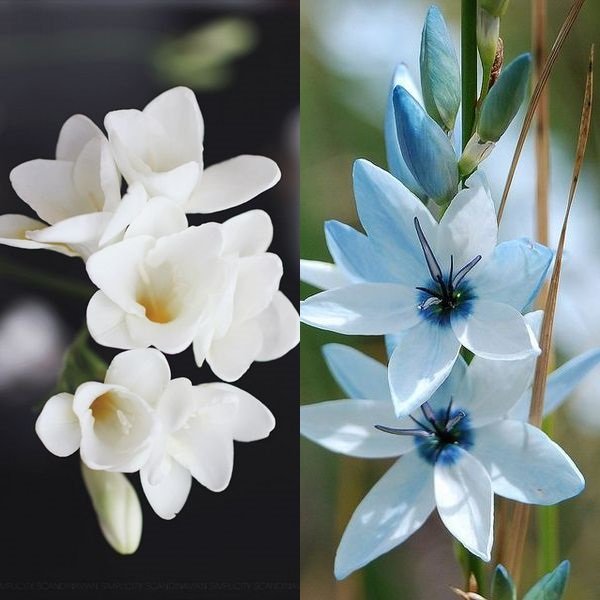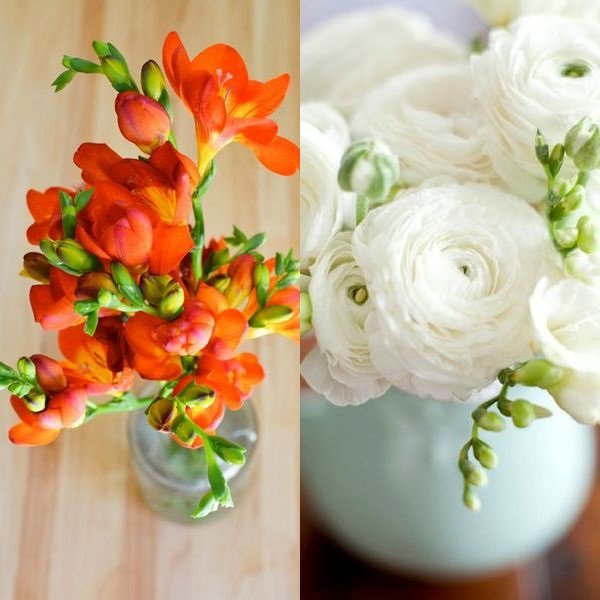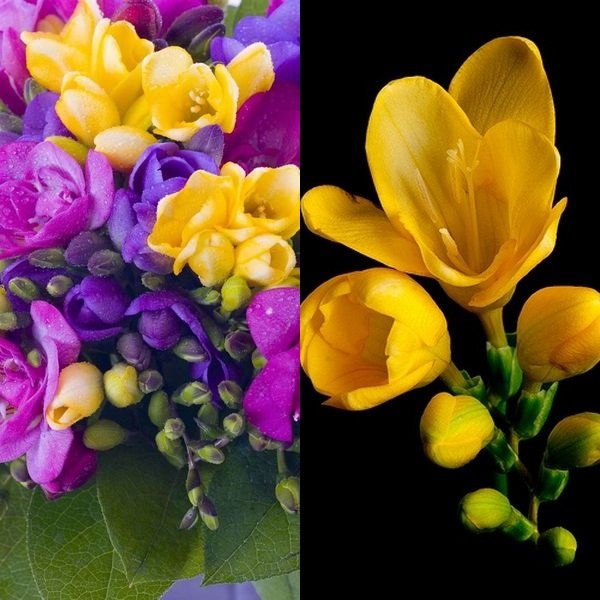 Proper care provides the opportunity for active growth and abundant color of the decorative representative of the flora. The basic rules for the maintenance of this exotic plant are the following criteria:
The temperature should range from 20 to 25 degrees of heat for young shoots. Older individuals are kept in temperature conditions with heat indicators from 15 to 18 degrees.
Lighting can be quite bright, without shading. The location of the flower on the south side of the house, with intense light during the 12-hour interval, is considered desirable. Artificial backlighting is created using fluorescent lamps, which is especially important in winter.
Watering during the germination of bulbs should be moderate, the rest of the time - abundant. It is especially necessary to produce watering during flowering.
Humidity should be average, in hot time the flower needs regular spraying.
Soil the plant needs nutritious and loose. The best option would be a mixture of peat, river sand and sod land in the ratio 2: 1: 0,5. The second option - leaf soil, humus and peat in equal shares. You can buy ready-made substrate for the subspecies leafy bulbous.
Feed every two weeks can be done with a weak solution of mineral fertilizers. Fertilizers can be started to make immediately after the appearance of the first shoots. Active growth, budding and flowering time require additional feeding with mineral complex preparations. They are usually made in accordance with the instructions.
Propagation is carried out with the help of seeds, corms or tuber buds.
After completion of the flowering pores, the dry peduncle is cut off, and watering is reduced. The bulbs are kept in the ground in good light conditions, a fairly warm temperature, sparse irrigation. The dormant period is completed in approximately two to three months, after which new bulbs are formed. It is worth remembering that unlike many others ornamental plants bulbs freesia in the refrigerator can not be stored.
Unique and diverse freesia flower
In the Iris family there are 19 species of freesia flowers, each of which is distinguished by individual hybrid varieties and has undeniable advantages. The unique and diverse in petal color of the freesia flower adorns many areas. Breeders and botanists are working on the cultivation of the following species.
Among the newly cultivated varieties can be distinguished tall Juno with large double flowers, 80-centimeter Sunny Beach with inflorescences of non-double flowers in 8-10 pieces, tall half-double Cinderella. Sustained peduncle and 10-flowering inflorescences are distinguished by tall Lada, and by a pleasant weak aroma and early blooming periods - tall original Chaika.
Freesia, a beautiful plant with double large flowers and a pronounced unobtrusive aroma, enjoys special attention. Attractive, amazingly shaped flowers are abundantly covered with upright, compact shrubs. Flowering continues throughout the season, and the bright golden yellow color remains powerful and intense throughout this time. Even in the photo, the color of the freesia of this species can be transmitted in all its colorful and sophisticated.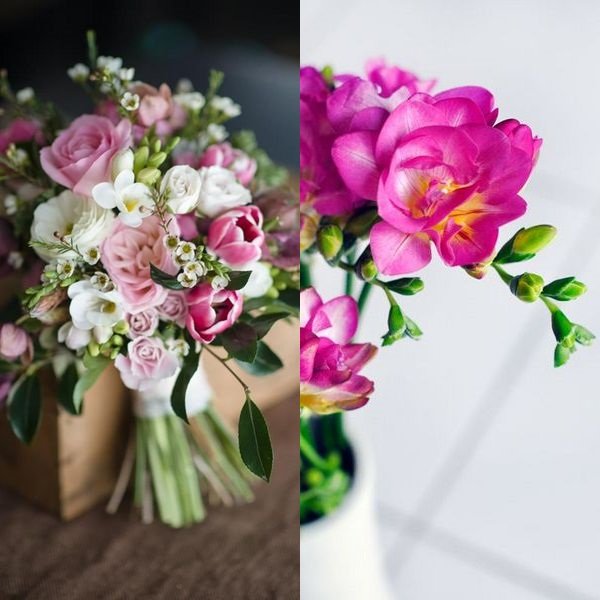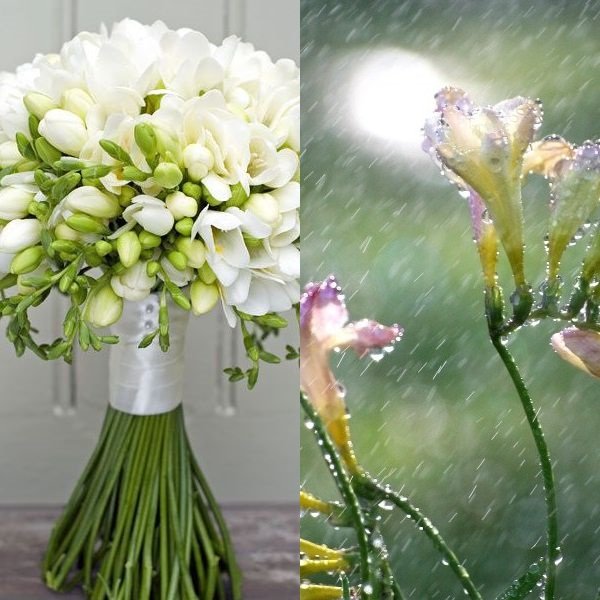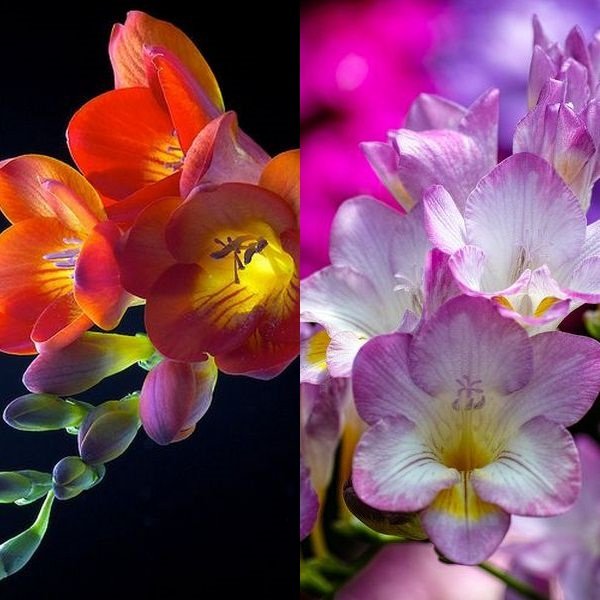 Pests and diseases
Diseases and pests can prevent colorful buds from blossoming. A freesia cluster growing in open ground or in pots may be subject to bacterial, fungal, and viral diseases. They, like various physiological abnormalities, can cause over-moisture of the soil, improper storage conditions of the bulbs, non-observance of the parameters of air humidity and temperature. No less dangerous for flowers are black leaf spot, gray rot, fusarium.
An unpleasant and destructive variegated virus for green pets is most often transmitted through tools when cutting flowers. For this reason, experienced growers recommend disinfecting the tools used. The black spot on which the leaves are exposed indicates a lack of phosphorus and potassium, as well as excessive moisture in the soil.
At low temperatures and sudden temperature changes on the buds and leaves, you can notice a fluffy gray bloom. Excessive irrigation and increased air humidity can also contribute to botrytis or gray mold.
Unfavorable conditions at the very beginning of sprout development can cause a clear deformation of freesia. The result is the absence of petals, stamens or pistils. Dangerous for the development and life of the flower are representatives of aphids, spider mites, thrips.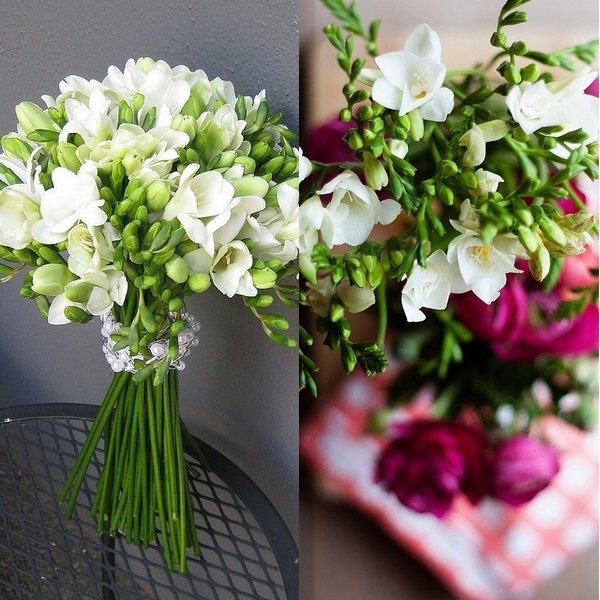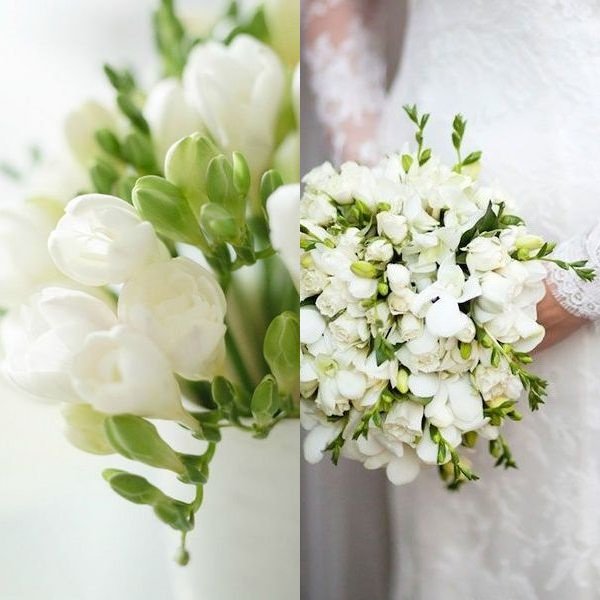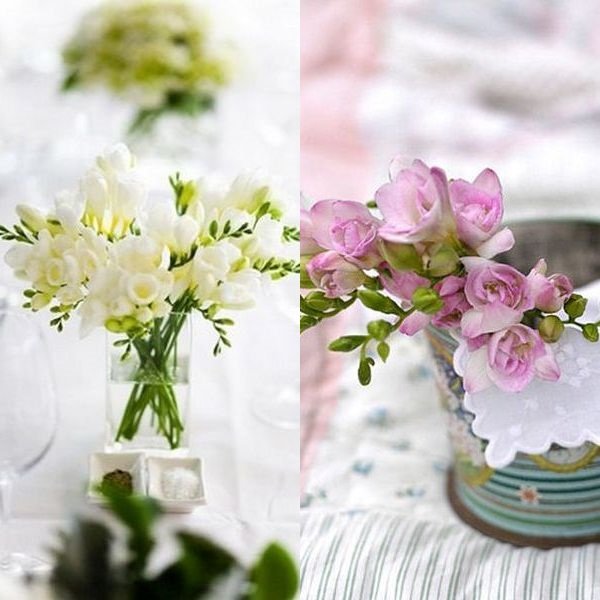 Rest period of pink freesia and other species
Regardless of whether the pink freesia is grown in your home or any other type of decorative plant decoration, you should take care of the tubers separately during the rest period. This can begin to do with yellowing and gradual death of the leaves. This also applies to other species.
After carefully digging the tubers, they should be kept in a well-ventilated room for 10-15 days at a temperature not lower than 25-28 degrees of heat. Humidity should be low.
Then, peeled from the old scales, sorted and dried tubers are sent to storage. Disinfection in a weak solution of potassium permanganate is often recommended. As a result, they can be stored up to 4-s months in rooms with air humidity of approximately 70% and temperature indicators - 25-30 degrees with a plus. Before direct planting, the tubers should be put in storage in a cooler place.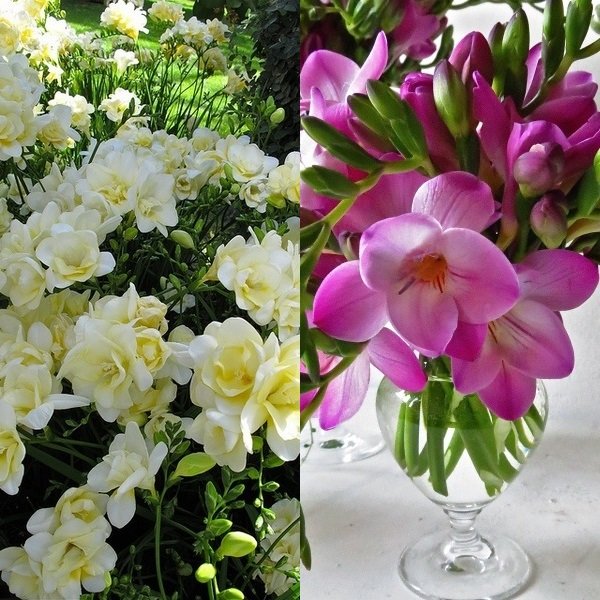 SIMILAR ARTICLES: