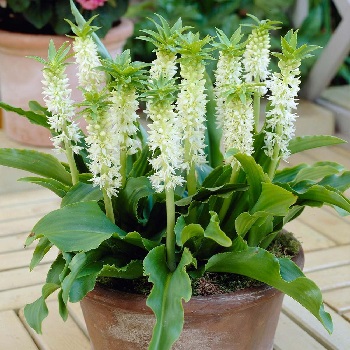 Lilies have proven themselves gardeners, as unpretentious, heat-loving plants, growing well on light soils in the gardens of many regions of the country. One of the genus Asparagus is distinguished by the uniqueness of its flowering - dense dense inflorescences with small buds. This is a pineapple lily, in scientific circles more commonly known as eucomis or eucomis, its long racemes are presented in the photo in this issue, so that readers can appreciate the plant and its garden species for dignity.
Proper reproduction will allow you to form an exotic corner in the garden, and competent planting and care will preserve beauty throughout the summer.
TABLE OF ARTICLE:
The genus eukomis (eukomis) belongs to the Asparagaceae family, although in other sources it is often referred to as Hyacinth plants, due to its small similarity. Pineapple lily received its scientific name in 1788 from the French botanist Charles Louis Perier de Bruthel, who considered that the word translated from ancient Greek as "beautiful hair" is appropriate for this species. In the people, eukomis is simply called "pineapple palm" due to the interesting structure of the inflorescences. In the photo below you can see that the tip of the brush has a shovel of green leaves, which are the bracts of the buds.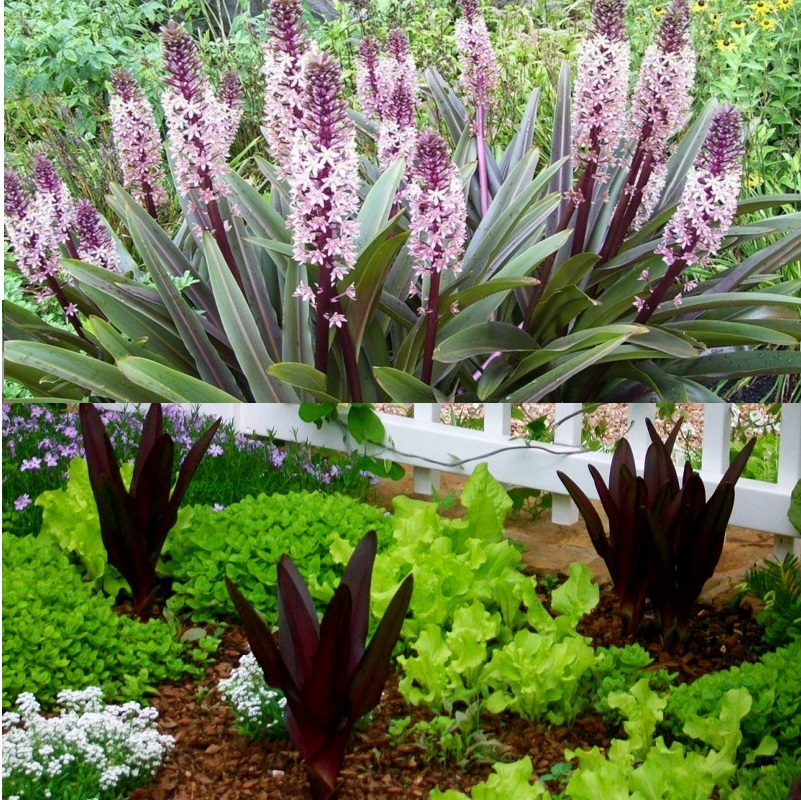 A perennial bulbous plant is a herb that can grow from 30 to 100. See the genus includes all 14 known species, with only 4 ornamental flowering plants being used as a garden crop. Large distribution in the wild can be seen in the subtropics and tropical forests of South America, some representatives are often found in areas of southern Africa.

The pineapple lily has a large onion, on average its diameter in the section is 5-8 cm, it does not depend on the size of the plant itself. Representatives of eucomis differ from other genera by a very powerful, rapidly developing root system, which should be taken into account when planting a plant as a container culture at home. From a brilliant ovoid bulb, very large ribbon- or belt-like leaves are formed, collected in the rosette. To the touch they have a soft, smooth surface. Numerous sheet plates with an uneven wavy edge, less often at the base may have several brown spots. When planting in a pot should take into account the impressive size of the leaves - up to 60 cm in length.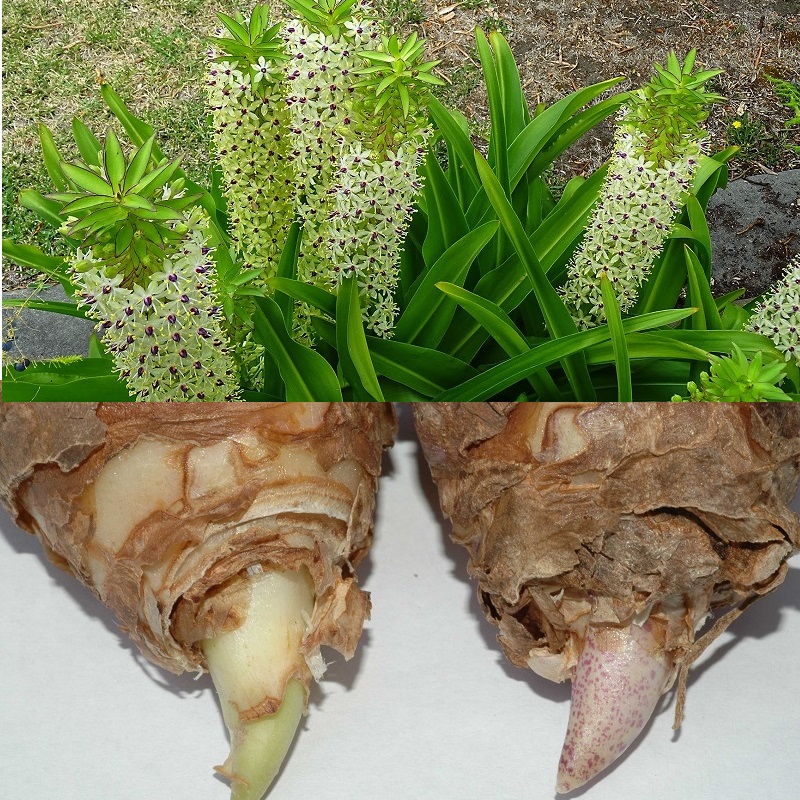 From the middle of the bulb in the beginning of summer a powerful cylindrical peduncle is formed - an arrow. It is a very resilient stem, reaching a maximum 1 meter in height. It produces small flowers, similar to asterisks, gathered in dense racemes up to 30 cm. Buds can have a white or cream shade with green, purple or purple shade. There are species and hybrids that have several shades, for example, Bicolor. The perianths are divided into 6 parts, fused to the base, they do not fall off during flowering. At the top of the inflorescence a "cap" of green bracts is formed, they can often be confused with leaves. They make the pineapple lily look like an exotic fruit, which can be seen in the photo below. Most types of flowering occur in the warm season - the beginning of June and the end of July, there are representatives who are able to maintain decorativeness until September.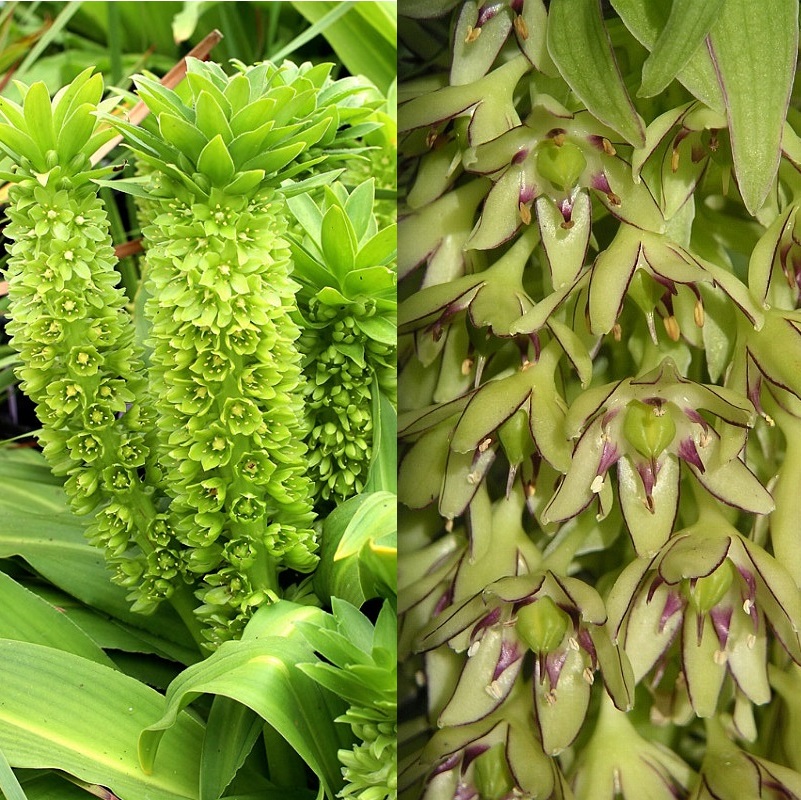 After flowering, a round ovary consisting of three ribs is formed. After, you can see the fruits of the "box" with a lot of seeds inside a black or dark brown color. Seeds are harvested for further reproduction, with proper sowing and comfortable conditions, pineapple lily grown from such planting material will bloom on 3 year of life.

Garden species of pineapple lily and their photos
Among all known types of pineapple lilies, garden ornamental crops are very popular. They are easy to grow in their own area, knowing that the eucomis is a heat-loving plant and the severe frosts characteristic of some regions can destroy them during the period of hibernation. But, about the nuances of plant care and planting in open ground, let's talk a little later, but for now we'll learn about garden types of pineapple lilies and see her photo.
The most common in the southern regions - eucomis bicolor (eucomis bicolor). This is a tall plant up to 60 cm with an elastic peduncle covered with small stellate buds. The roots form powerful leaves and an elastic arrow up to 50 cm in height. The flowers are collected in spectacular racemes up to 30-35 cm. At the top there is a cap of contrasting green bracts. A distinctive feature of the species Bicolor, is that its flowers have a purple border. Bicolor pineapple lily blooms in mid-summer. When growing this species in open ground, you should be aware that the minimum temperature of its content is + 10 degrees. If the mark of mercury has dropped to this value, then it's time to remove the Bicolor bulbs for the winter in a cool room.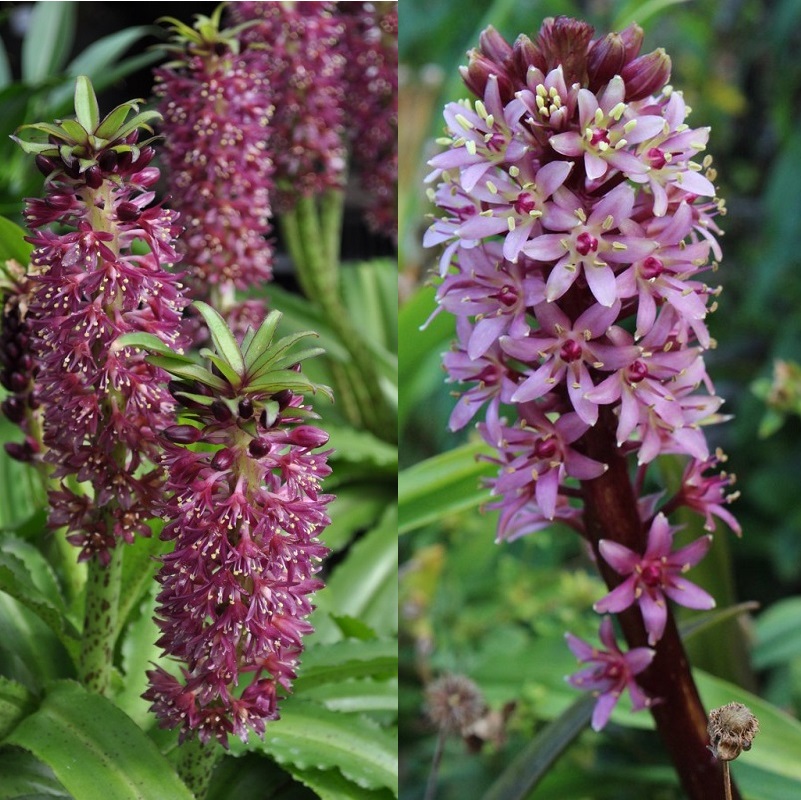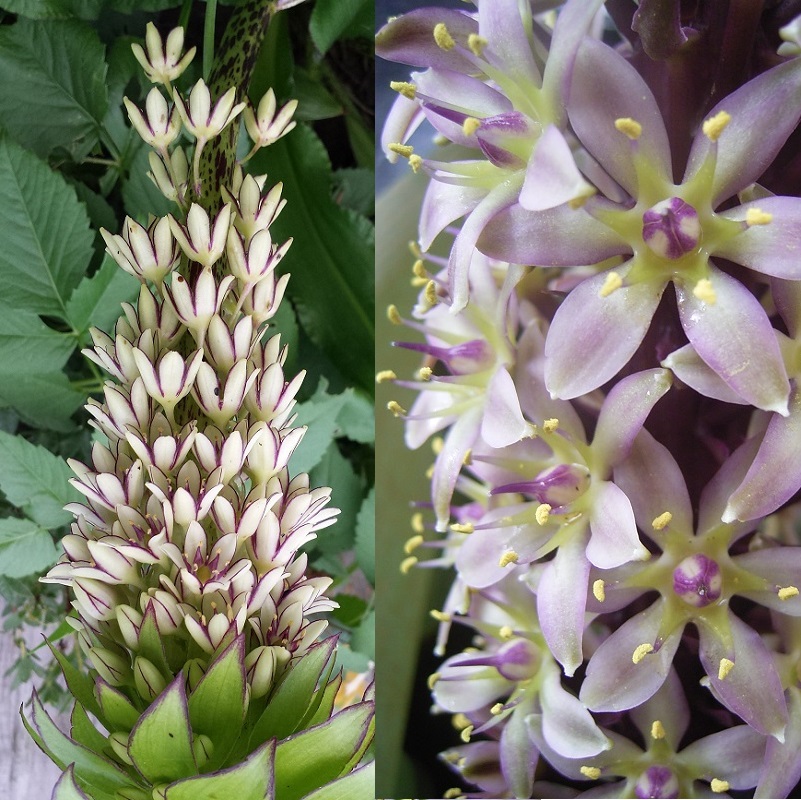 The species of eucomis Comosa (crested) is also quite a popular garden culture in some parts of Russia. His homeland is considered to be the southern part of America, because the cultivation of a plant is possible only in regions with a warm climate. In height, the pineapple lily of this species reaches 80-100 cm. On the powerful arrow spike there are many star-shaped flowers of pale green color. Flowering can be observed at the end of summer, it lasts until the first cold weather (temperature drops below + 10 degrees). The photo below shows one of the brightest representatives of the entire species of crested eucomis.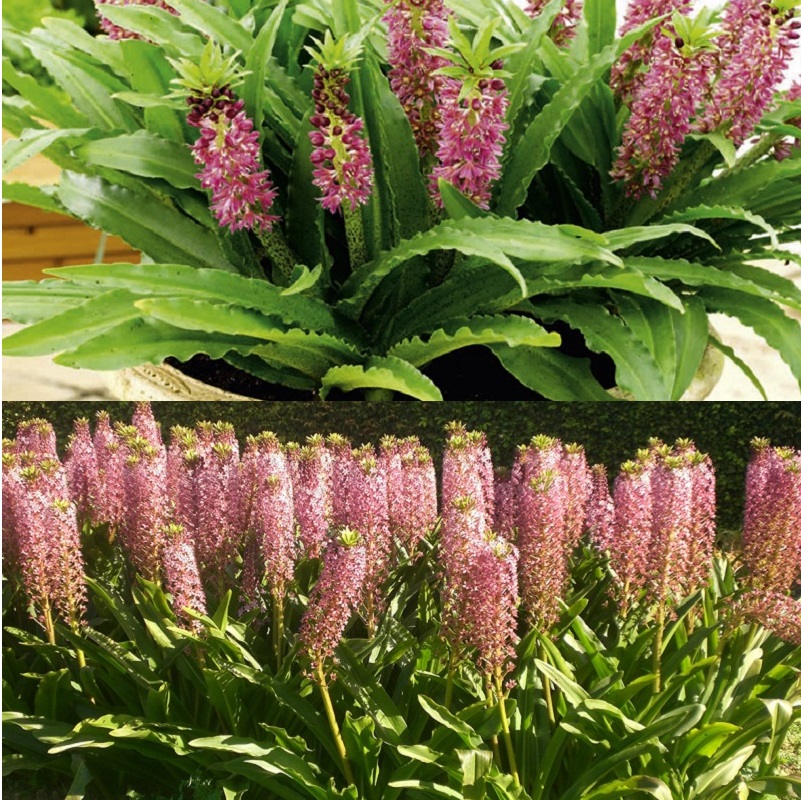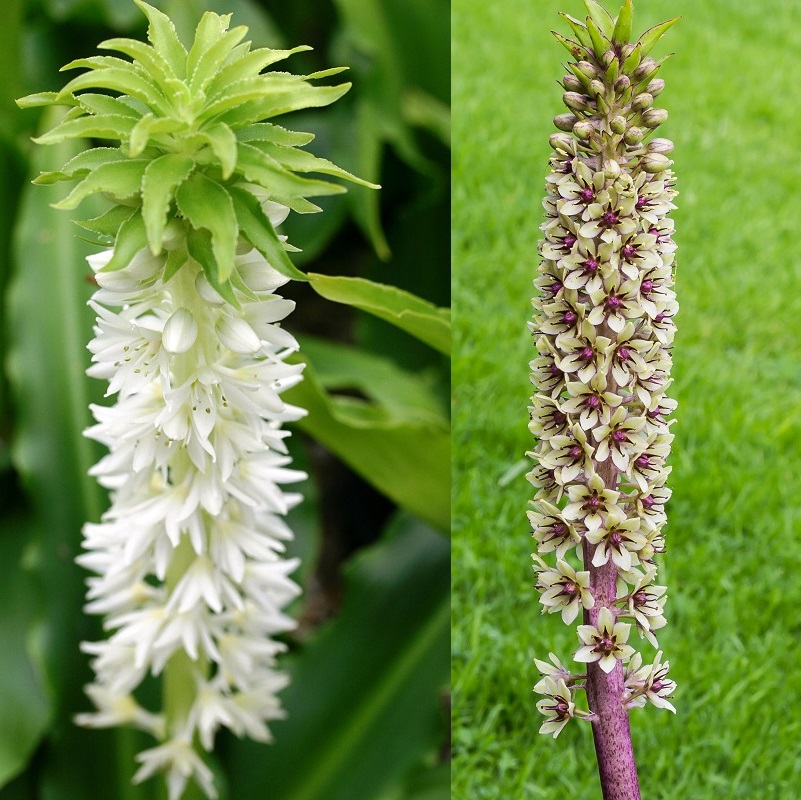 In the subtropical climate of South Africa, you can find another decorative type of eucomis, pallidiflora. It is often used in our country as a decoration for a garden. In America, this species is recognized as one of the best and listed in the list of the most beautiful garden crops. In height, pineapple lily has average values ​​- 45-70 cm, but this does not prevent to be very effective for it during the growing season. The plant blooms with pale green buds, gathered in dense inflorescences. This kind of more than others visually resembles pineapple, see this in the photo below.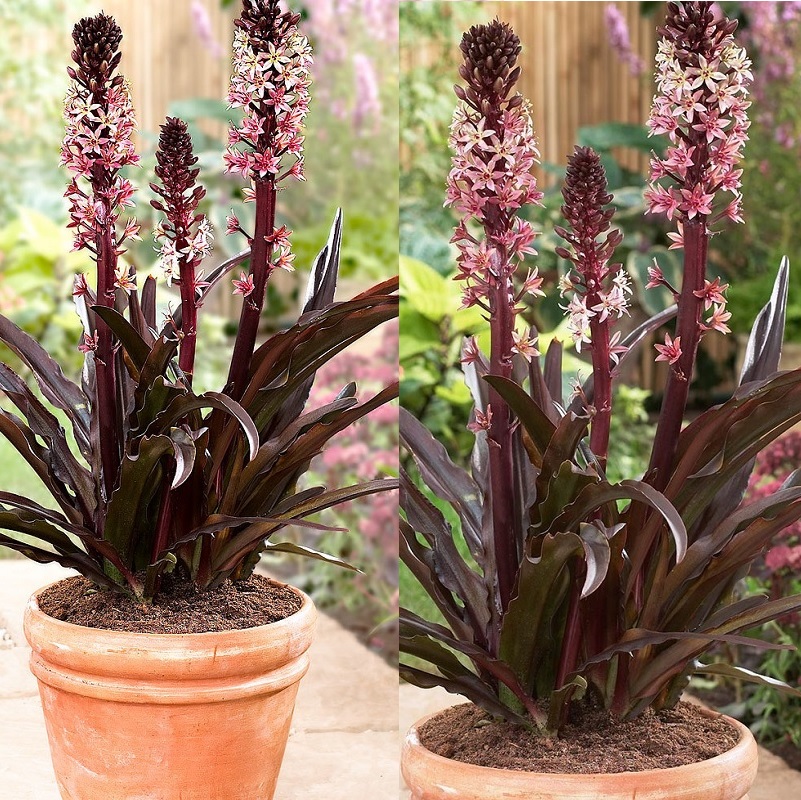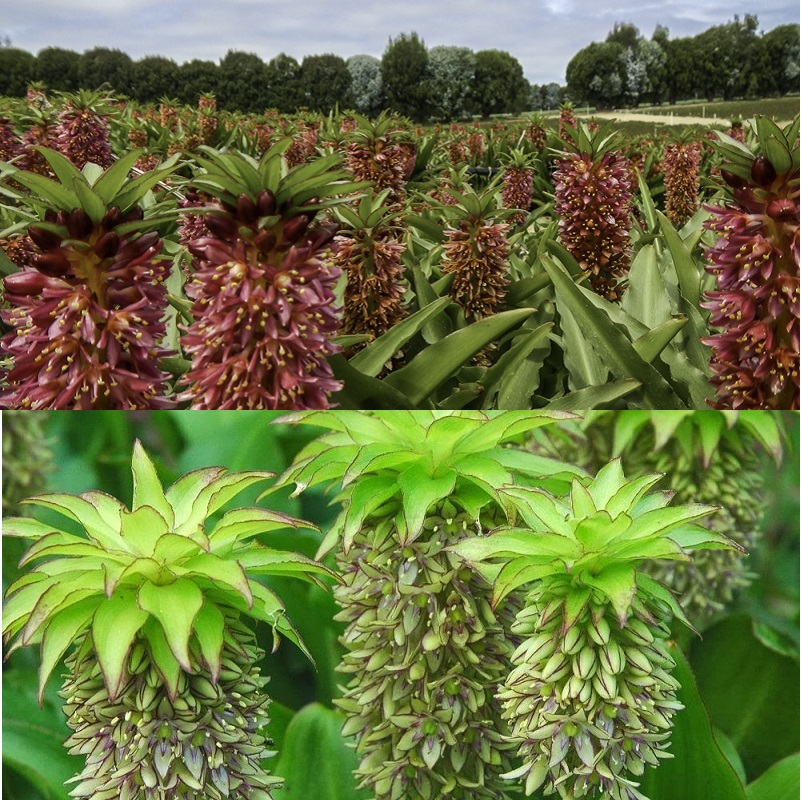 Very popular in our country is the autumn eucomis or, in a scientific way, eucomis autumnails. This plant is of dwarf size, reaching a maximum height in 30, see. Perennial during the flowering period, produces a peduncle with buds very similar to candles. It differs from other species in the relatively large size of the bulb - on average, 8-11, see. The inflorescence is very dense, in one it can be found from 120 flowers of pale yellow color with a green tint. The flowering period lasts from mid to late summer, rarely until September. This is a great view for cultivation in the open field in regions with small frosts in winter.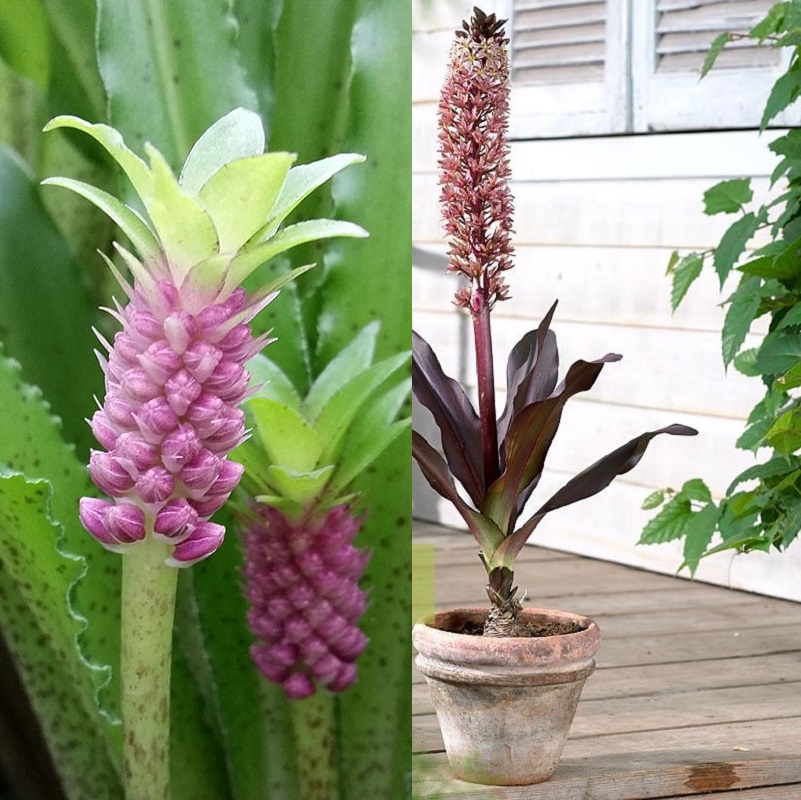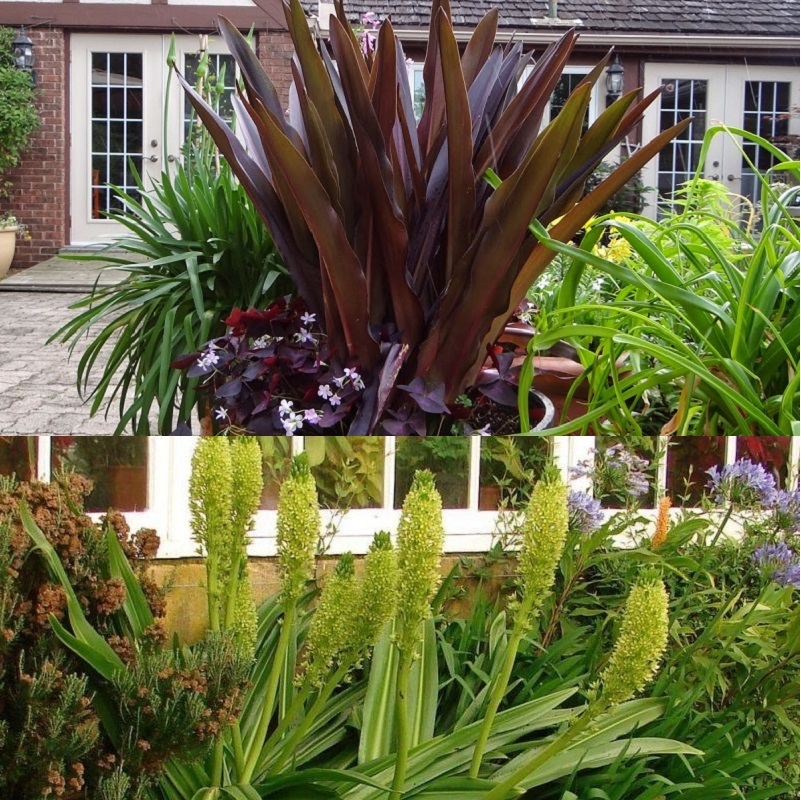 Reproduction and planting pineapple lilies in open ground
Almost all garden types of pineapple lilies, gardeners prefer to grow in the open field. In room conditions, as a container culture, the plant blooms only with sufficient lighting and good temperature conditions, which is quite difficult to ensure in some regions. Therefore, in pots with the earth it is preferable only to leave for wintering the eukomis, and closer to the summer, transplant to open ground, for example, in a garden or a garden. But, before that, depending on the method of reproduction: seeds or bulbs, you need to know some of the nuances.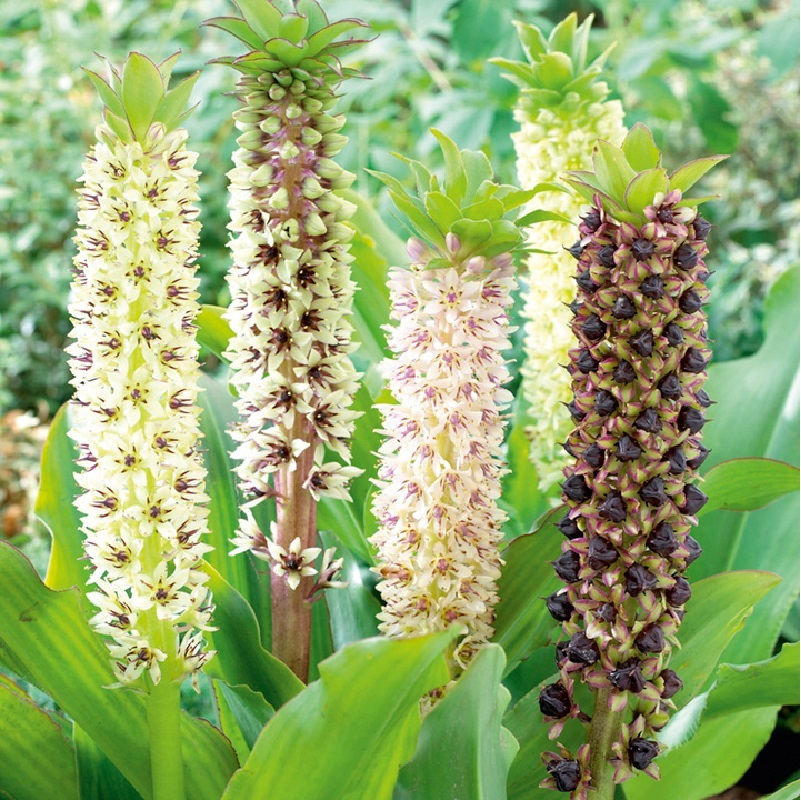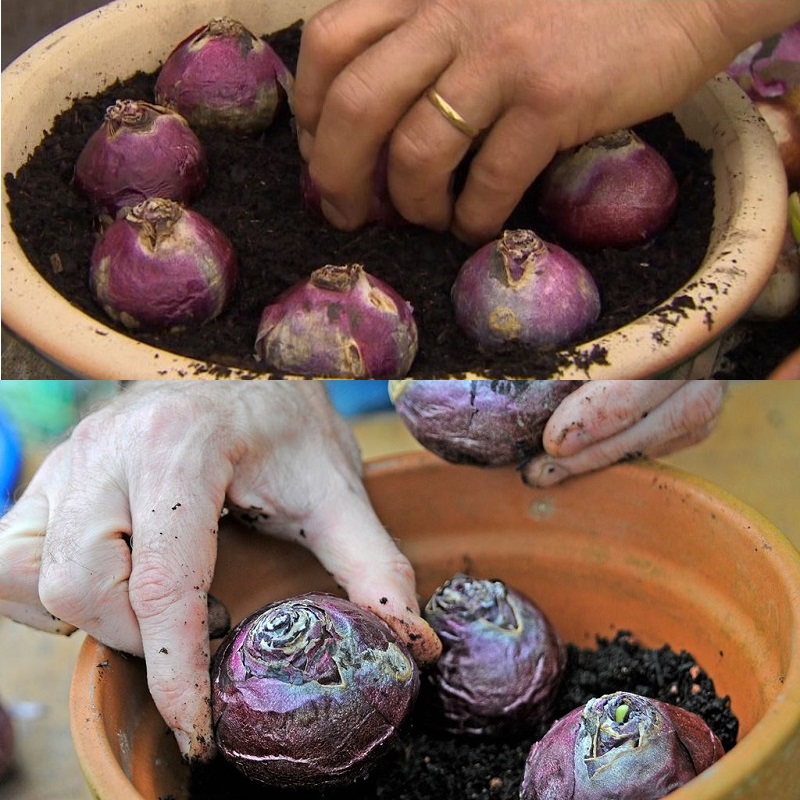 The easiest way to grow eukomis from bulbs purchased in specialized stores. Some gardeners prefer to pick them themselves from an already grown plant in the garden. Planting material is formed in the period of rapid flowering in the parent bulb. They are harvested by sprinkling with charcoal to prevent the spores from entering the rhizome. After collecting, you can begin to seat the material or store it in a well-ventilated, dry place.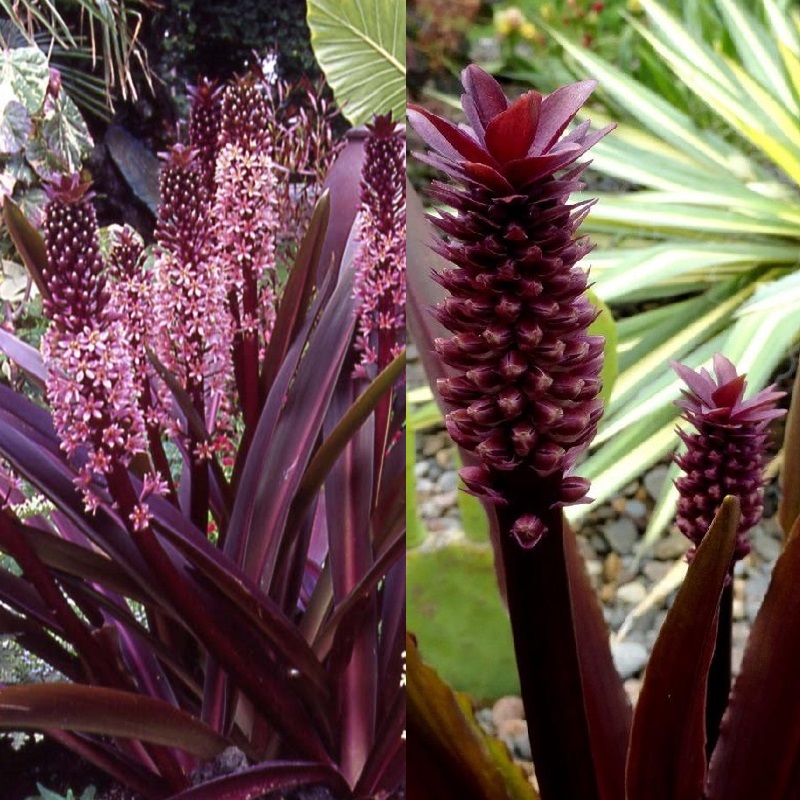 For planting pineapple lilies will require light, well-drained soil with a high content of humus. To make the ground light, river sand is added to it. To sprout the bulb before planting in open ground, you can take a container (for each bulb - separate) with the soil from the vegetable garden, or with a soil mixture prepared independently: equal parts of river sand, humus and turf. The tanks should have good drainage, for this we make holes in the bottom and line a thin layer of pebbles or broken bricks.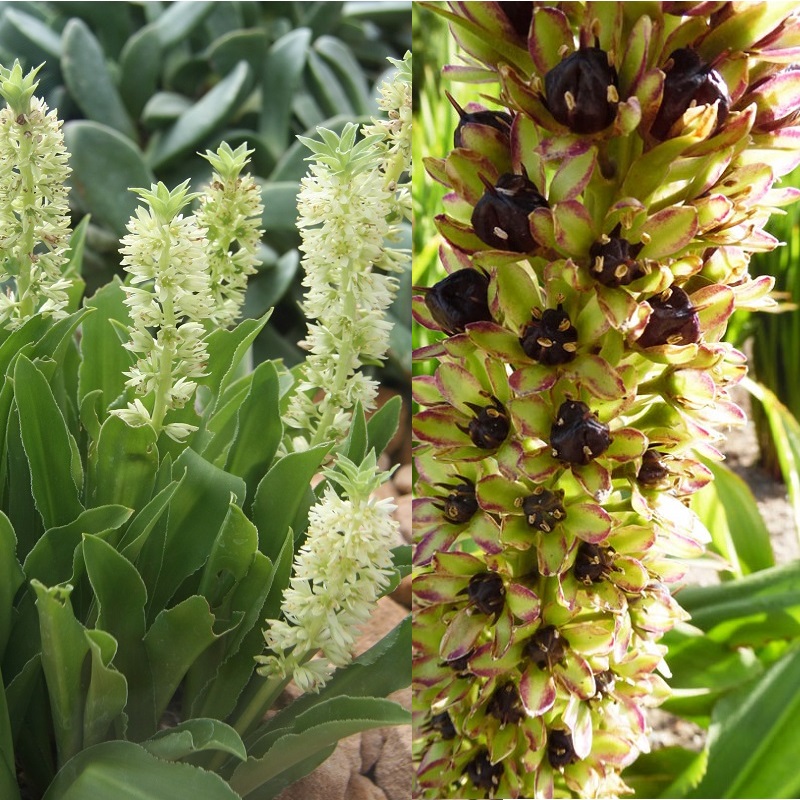 After preparing the soil, the bulb is placed so that its tip remains at ground level. This is best done from the beginning of March to the end of April. Time before landing in open ground will be enough for full development and adaptation.
When the bulb is planted and until the rosette of leaves appears, minimum watering should be observed, as there is a risk of fungus in the young root system. When extending the peduncle, we increase the amount of moisture and the frequency of its introduction.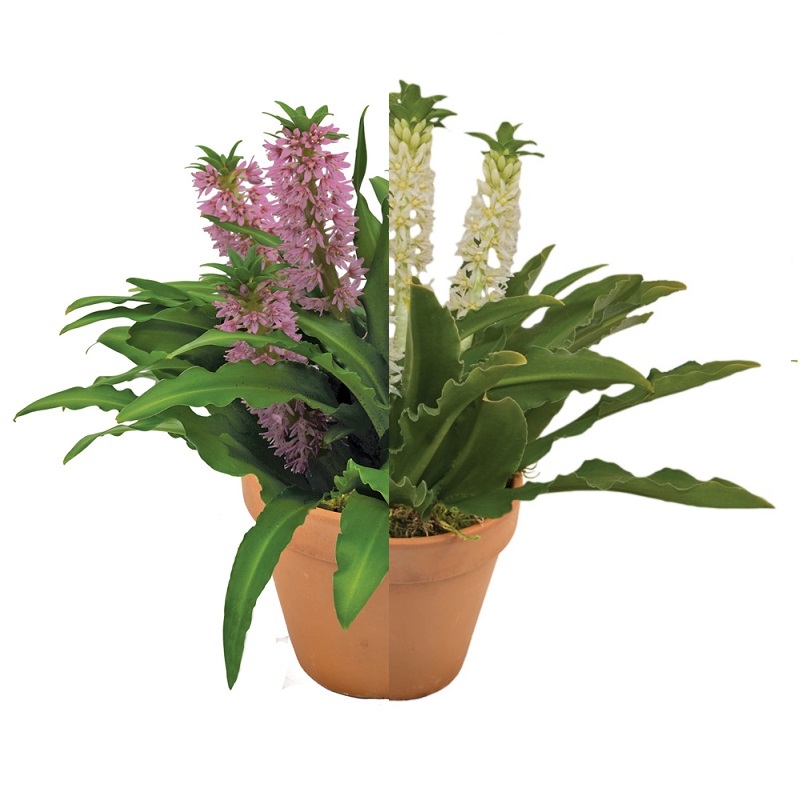 Before transplanting the plant should adapt slightly to external conditions. In the middle of May we begin to make pots in the fresh air to the garden, gradually increasing the time spent. Only after the soil warms up, the eukomis can be transplanted to a permanent place in the front garden. To transplant the bulb in the open ground, you need to shake out carefully from the pot and clean the rhizome of the old soil. In light drained soil, the plant will begin to grow rapidly.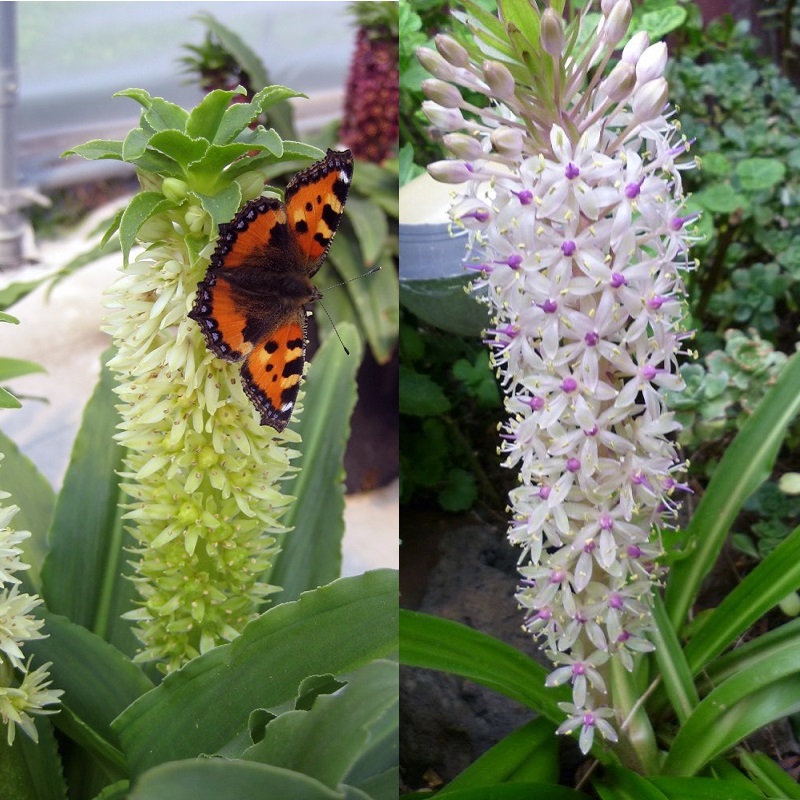 In the southern regions, eukomis can be planted with bulbs in open ground without prior germination. It is important to observe the distance in 15 cm between landings. For residents of regions with strong frosts, it is recommended to grow some time lilies in large pots, which will not hamper the development of a powerful root system.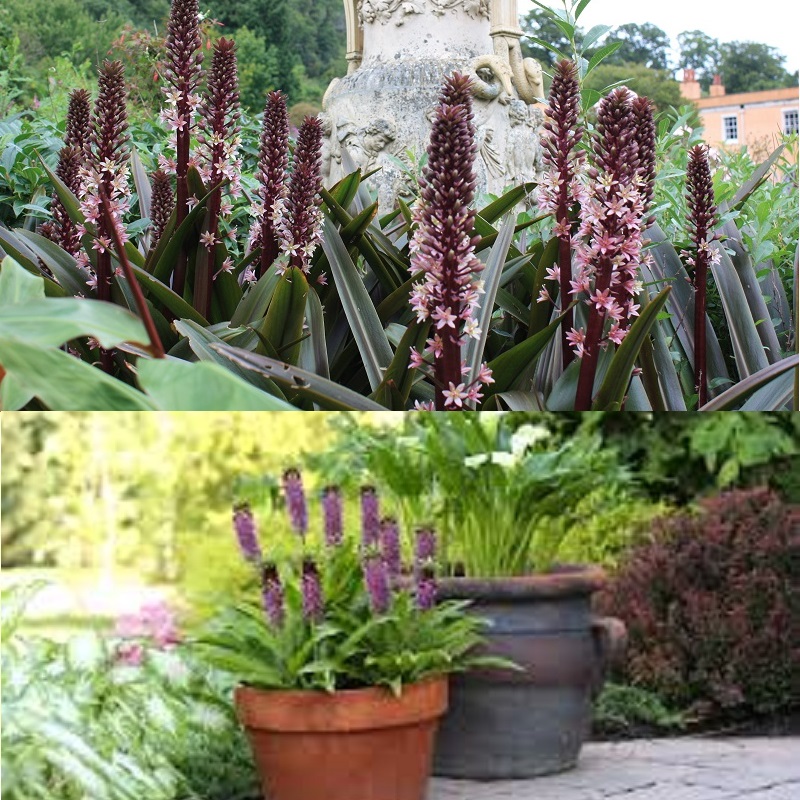 Seed propagation is often used to obtain a pineapple lily that differs in inflorescences from the parent plant. Sow the seeds immediately after harvest, as they quickly lose their germination percentage. Evkomis flourishes, grown from such planting material only 3 year of life.

Caring for exotic lily eukomis
Undemanding pineapple lilies love gardeners who know some rules for the care of exotic plants. They will please them with excellent summer flowering. For a long time of popularity as a garden crop, eukomis has established itself as an unpretentious, but very light and heat-loving plant. Most species lack frost resistance, so their bulbs need to be dug out every year and removed for winter storage. Lily does not tolerate gusts of cold winds and drafts. This worsens flowering, so some gardeners grow it in pots, and in summer they take it out to fresh air to the garden or to the balcony. In the southern regions of the lily wintering in the open ground, under a spruce or sawdust.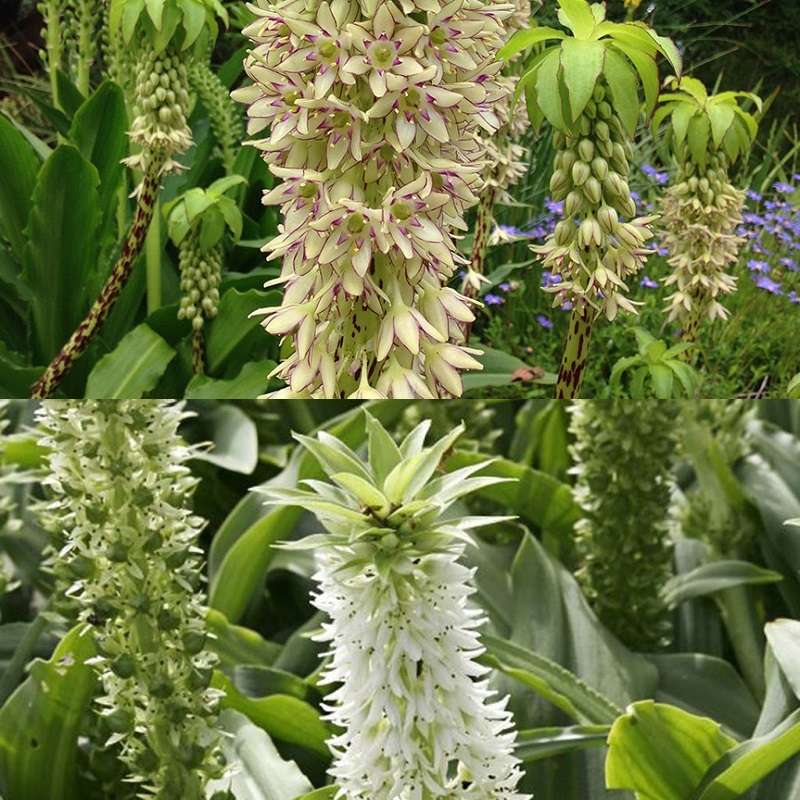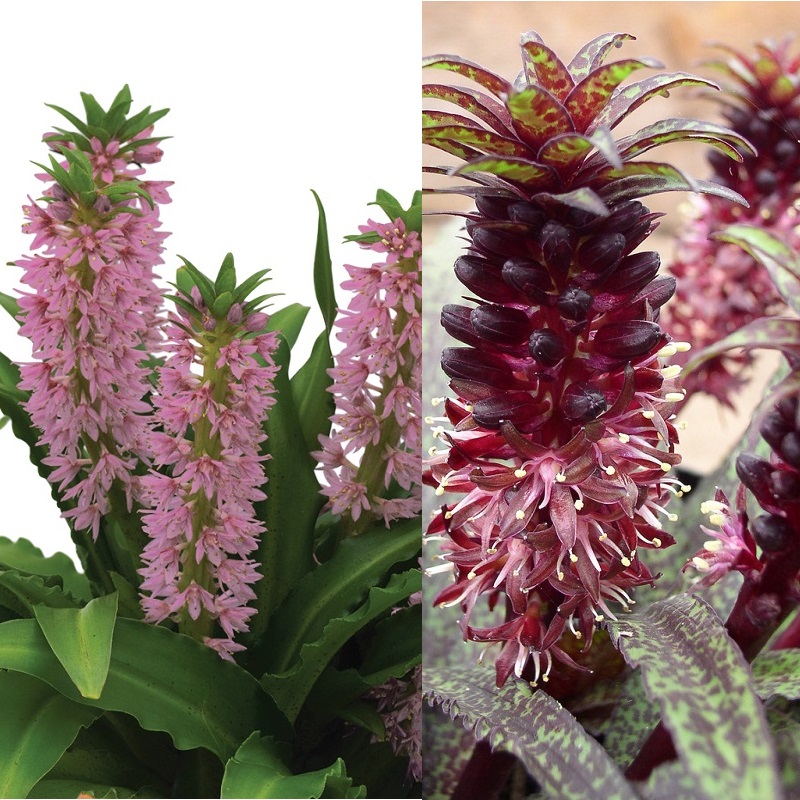 Caring for an exotic lily begins with the fact that it requires bright lighting. If you grow eukomis in open ground, then the place should be well lit. Shade and partial shade will affect flowering adversely.
After planting, observe minimum watering. When a rosette of leaves appears, it gradually increases. During the period of active flowering watering is needed abundant, in the heat and moisturize the air. After flowering, the introduction of moisture is gradually reduced, by the time when all the leaves turn yellow - watering completely stops.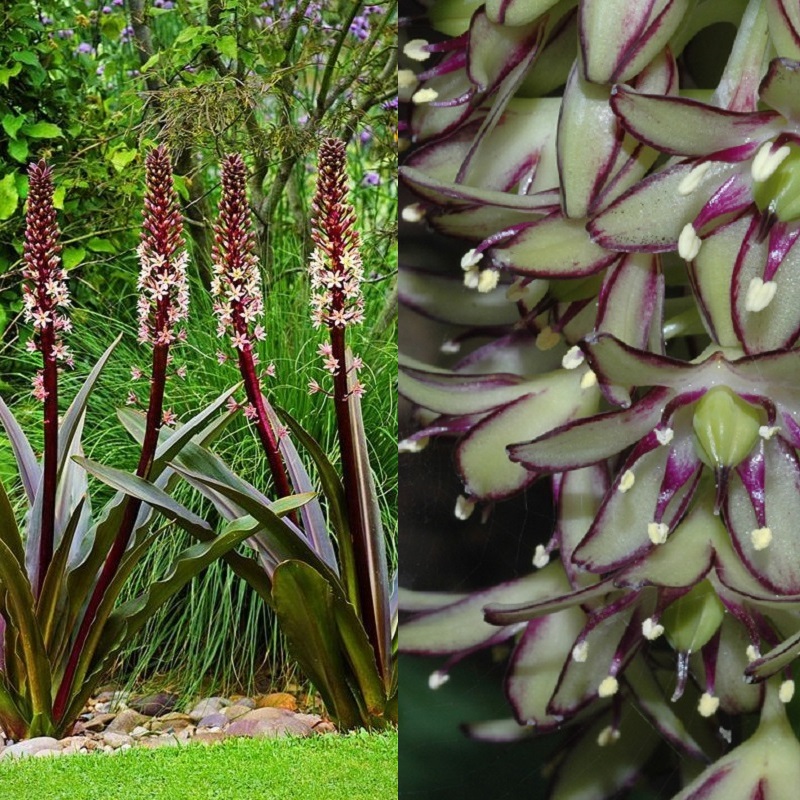 For pineapple lilies useful regular feeding complex fertilizers without nitrogen. This should be done at least 1 times in 2 weeks with mineral water-soluble preparations. Nitrogen evkomis not tolerate, as it can cause a number of diseases of the bulbs of the plant.
For home grown container crops, an annual transfer to a new pot with full soil replacement is required. For garden species, bulbs are harvested for winter storage. In autumn, when the leaves turn yellow, they are dug out, then washed, disinfected with a light solution of manganese and cleaned, packed in paper or rag bags in a cool, dry room. For storage bulbs In winter, the vegetable compartment in the refrigerator will do. For wintering pineapple lily, a simple pot with soil mixture is also suitable - perennials are stored in it at room temperature, and when it is warm and warming up, transplant the soil into open ground.
SIMILAR ARTICLES: