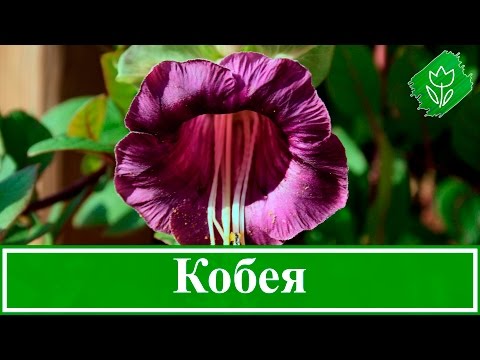 Kobeya is one of the blooming vines, which are often used for vertical gardening. In the summer, the flowers of this plant resemble purple-blue bells, and in the fall they acquire a red-purple hue.
When planting and caring for Kobe in open ground, you can place plants not only at the arches or pillars, but also against the walls, as with their tendrils these vines can grow over long distances.
All annual climbing and climbing plants are characterized by intensive growth. They are able for a couple of months to form a thick veil with decorative foliage and colorful flowers around the recreation areas, games, tables under the open sky.
Most often for this purpose they use sweet peas, various types of morning glory, kobeyu, less often they grow asarina, cardiospermum, eckremocarpus, rhodochiton.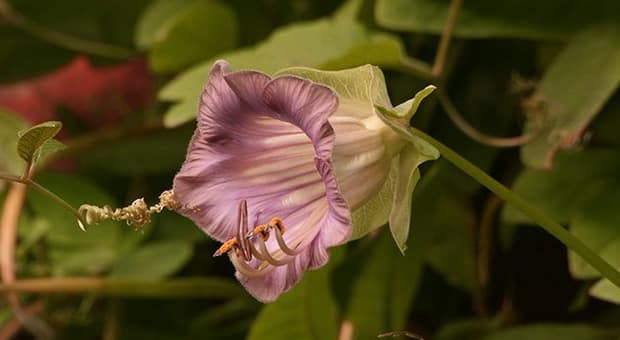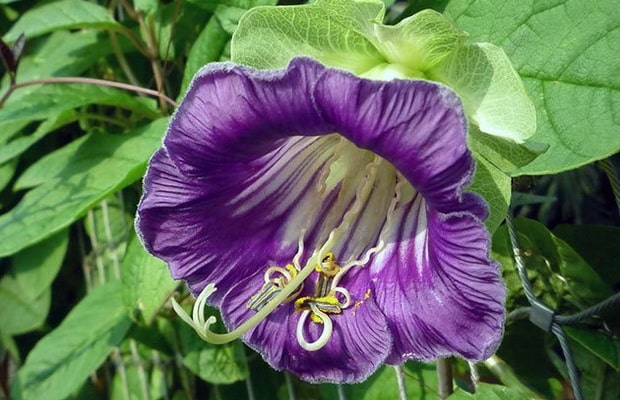 On this page you will learn about the features of growing and caring for Kobeya - a beautiful flowering vine.
What does kobei look like and how it is grown
The plant is originally from Central America, where it is often used as a perennial. In the middle lane is an annual.
Kobe climbing with tenacious or climbing stems, pinnate-complex leaves, large bell-shaped white-green, white-yellow, purple flowers, from which protruding upward stamens and pistils are most widespread. Blossoms continuously from July to October. Reaches a height of 4-5 m and more.
The color of the flowers during the summer varies from white to purple. Autumn leaves turn red.
See what Kobe Liana looks like in these photos: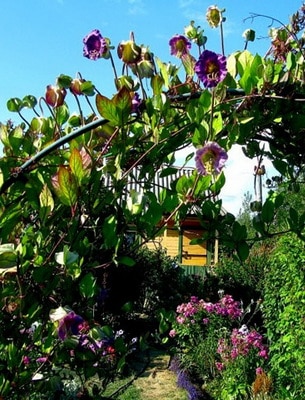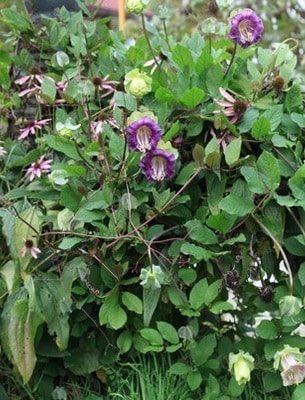 For early flowering, kobey is grown through seedlings by sowing seeds into pots. Planted in open ground in May, without damaging the roots. It is safer to have seedlings in peat pots. In the process of growing it 2-3 times pinch to bush.
This culture prefers sunny places, but protected from the wind, nutritious loose soil, regular fertilizing and abundant watering. Can be grown in partial shade. Landing distance - 50 cm.
As shown in the photo, when growing cob shoots, while they are not yet intertwined with each other, it is necessary to tie them to supports: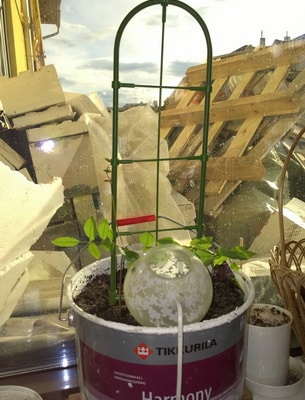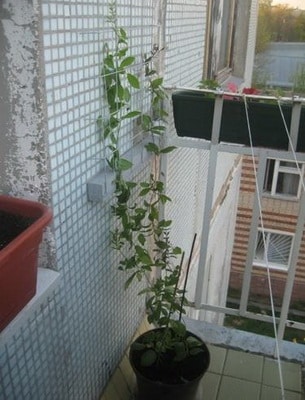 Liana climbs the walls with the help of her antennae. In the ground, the plant is used for one summer. After the first autumn frosts, Kobe roots can be dug and stored in the basement.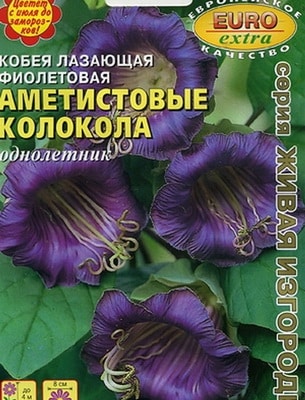 The most commonly grown varieties are Kobei "Amethyst bells".
Spectacular plant up to 4 m. Flowers in diameter up to 8 cm, bell-shaped, from light to dark purple. It blooms from July to frost.
And also varieties Pearl Rhapsody with numerous white gramophone bells on the background of beautiful, carved leaves.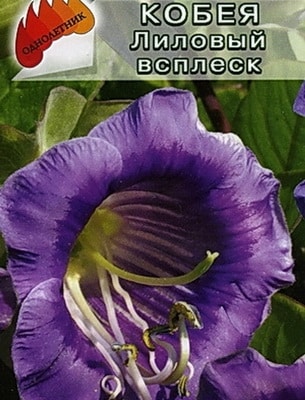 "Purple splash purple" - flowers are blue-violet, bell-shaped, 7-8 cm in diameter, with long stamens and pistil.
In the winter gardens, this climbing plant grows strongly in a short time, planting large spaces. In the open field, Kobei is used to decorate facades, porches, trellis, gazebos, fences, balconies, walls of buildings, garden vases and flowerpots.
How kobei is planted and cared for is shown in these photos: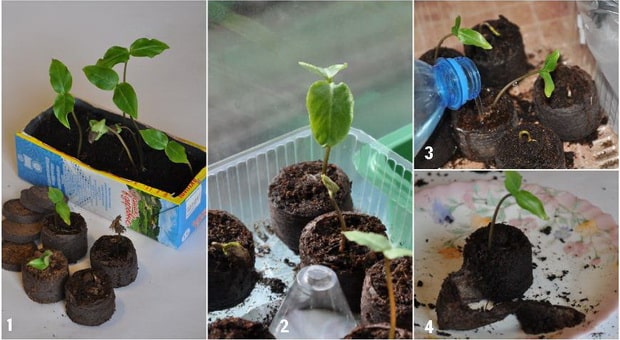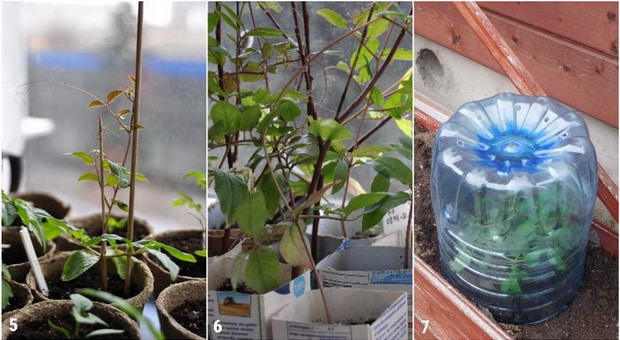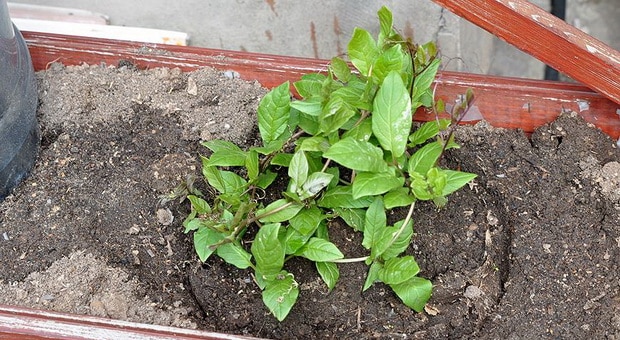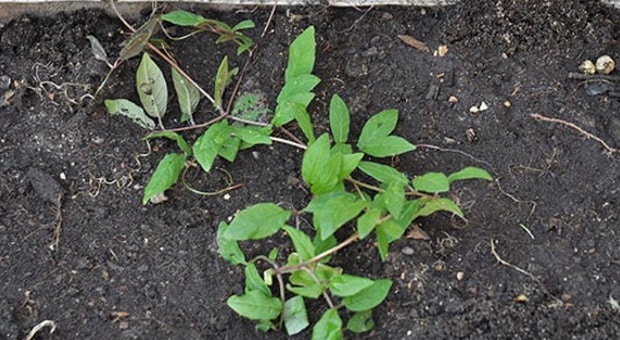 similar articles: