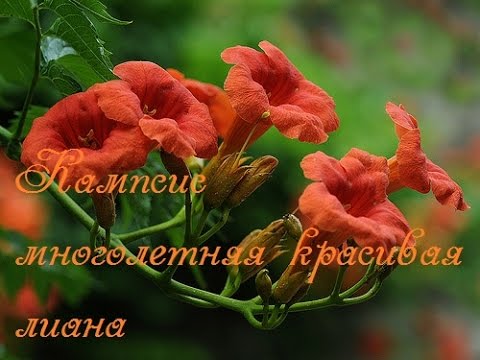 The name of the blooming crown liana comes from the Greek word kamptein, which translates as "bend" or "twist". Indeed, its long shoots, without the absence of an additional horizontal support, twist among themselves, forming fancy branchy thickets. The main advantage of liana Kampsis - the duration of its flowering.
This is a perennial deciduous, vigorous, very ornamental plant. Homeland creepers is Southeast America. In the middle lane, it is distributed mainly in the southern regions, where it blooms and winters well. Depending on the type and variety of its carmine-red, orange or yellow bell-shaped flowers adorn fences and walls, balconies and arches.
You can see the photo of the creeper lump, a description of the plant, and tips on growing it in the summer cottage on this page.
Description of creeper kampsis
With the help of aerial roots, a perennial vine climbs up to 10 m. It easily clings to supports such as pergolas and trellis. If planted for landscaping facades, then horizontally stretch the wire or cords, which become an additional support for long drooping shoots.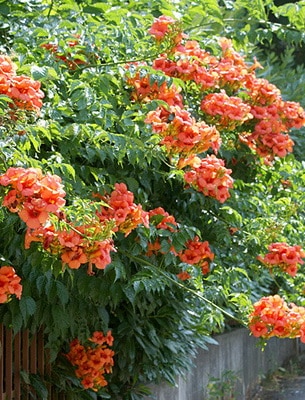 Kampsis flowers are large, 6-9 cm long. The rim with a bend 4-5 cm wide, brighter on the outside. Leaves are pinnate, up to 40 cm long, beautiful, coarsely serrate-toothed along the edge, dark green above, naked, lighter below.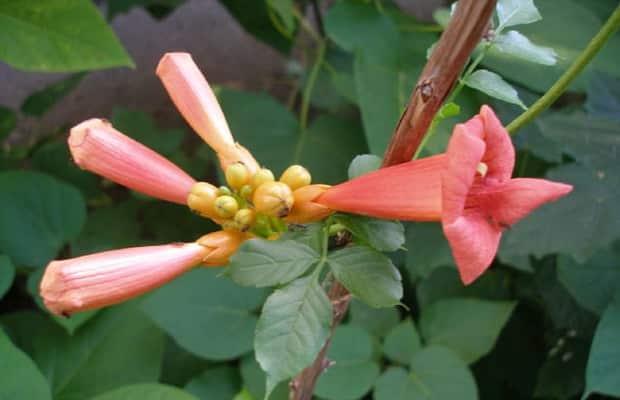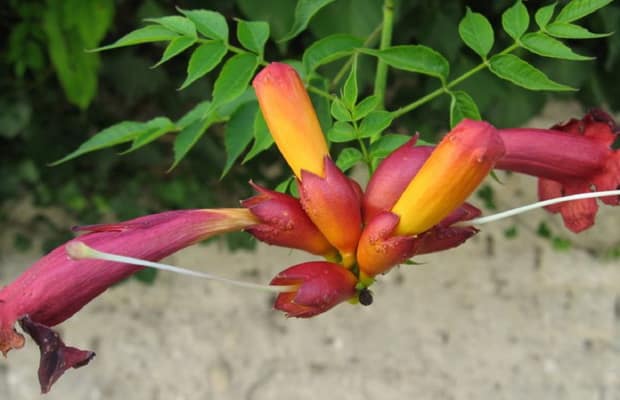 At Kampsis, the shoots themselves are decorative. They are smooth, brownish-yellow, naked, with light large spots and faint lentils.
Liana blooms profusely and continuously - from early July to September.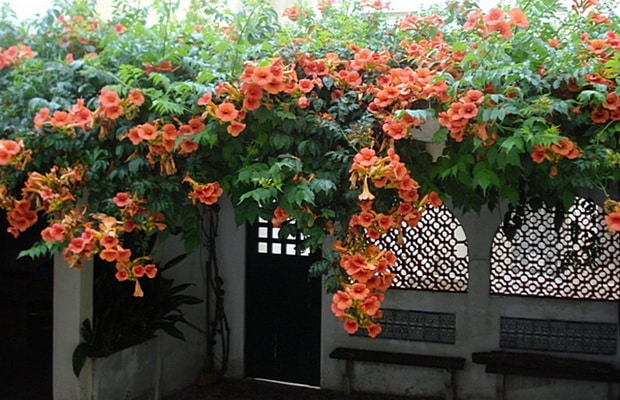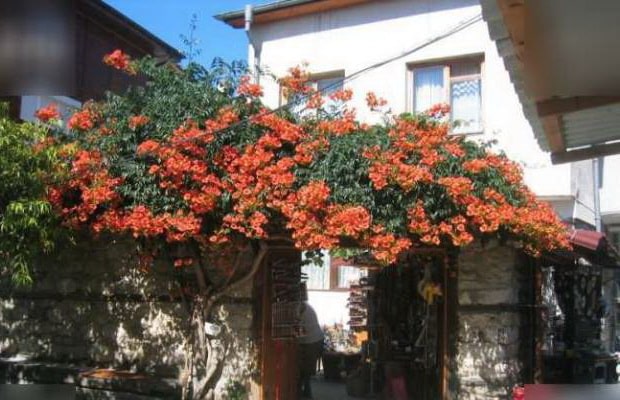 Since the kampsis revives the buds in different ways — on perennial, biennial, and three-year-old wood — the time when the flowers appear is not the same. Therefore, on a single copy, you can see the buds and flowers, and even seeds.
There are several types of Kampsis: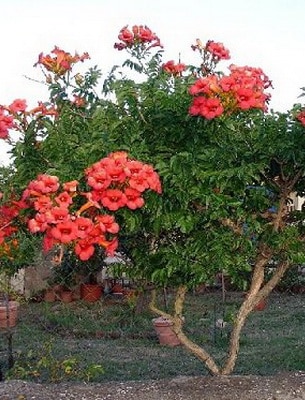 Large-flowered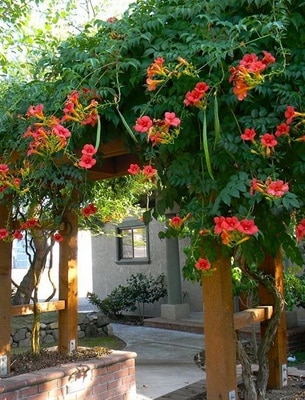 North American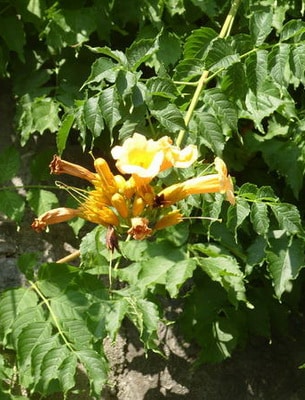 Tagliba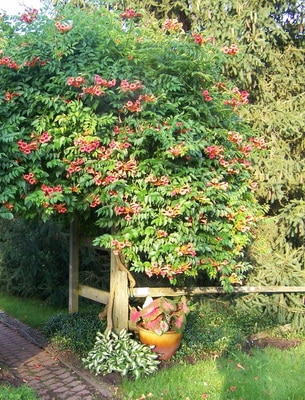 Rooting
Differing in the sizes of flowers and a tonality of their coloring. But the most common is the campsis rooting, more frost-resistant, growing without shelter to the city of Voronezh, which is its northern border.
How to grow Kampsis
For planting kampsis creepers choose sunny places. It is undemanding to soils; at a young age it prefers loose and moisture-intensive areas.
Neither is the exacting kampsis for fertilizers. But it is noticed that when phosphorus-potassium fertilizers are applied at the end of summer according to 40-50 g for 1, the bush increases its frost resistance.
When caring for Kampsis, it is necessary to take into account such a biological characteristic of it as an unusually high sparing capacity. It helps the plant to recover after frosting in harsh winters.
Campsis can also be grown as a shrub by conducting its annual pruning. His flowers are formed on the shoots of the current year and by June they are all covered with buds.
Kampsis propagates mainly by offspring, layering and cuttings. To obtain a large amount of planting material, you can use seeds.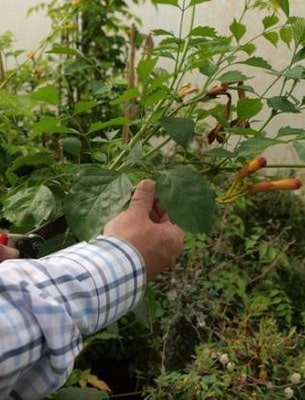 They ripen in a bivalve capsule through 1-2 a month after flowering. The boxes are stored all winter. Seeds are sown in spring to a depth of 1,5-2. See Shoots appear after 1-1,5 months.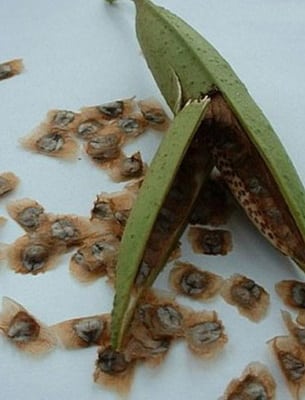 From seedlings Kampsis blooms only after 5-6 years. But from the offspring flowering plants can be obtained in the second year. Kampsis is planted in early autumn (early October) or in spring (March, April).
With proper planting and care, the vine climber practically does not respond to diseases. True, the ends of the shoots and the buds are often inhabited by aphids. For more abundant flowering last year's growth in the spring is shortened to three buds.
In central Russia, Kampsis is better known as pot culture.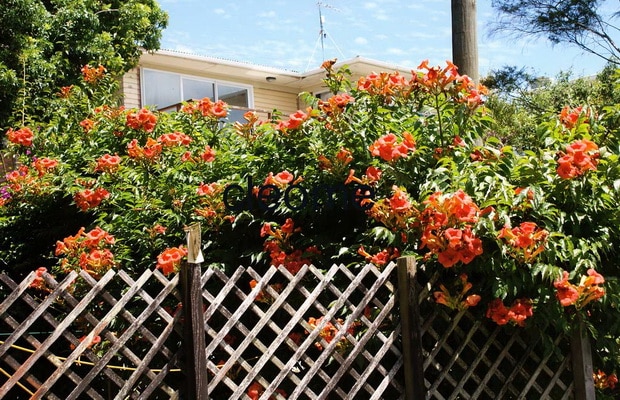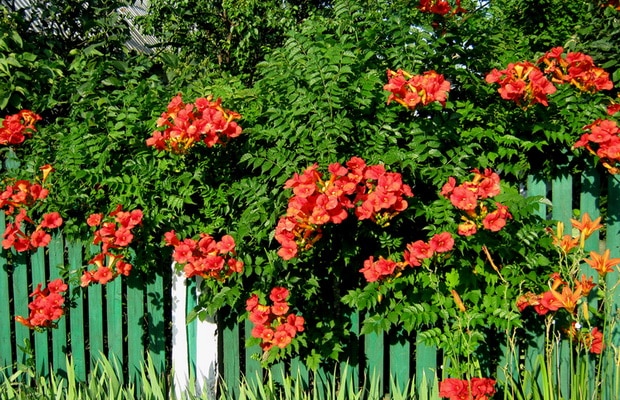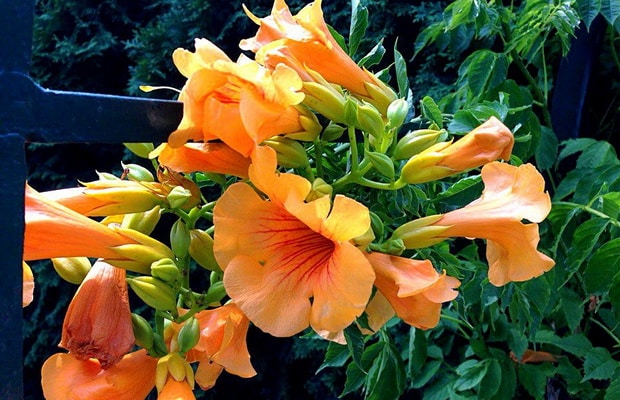 SIMILAR ARTICLES: