The flower bindweed is a genus from 200 representatives of flowering plants of the family Vynukkovye with a large spread throughout the world. It winds along the ground and the fence, and indeed for any things that occur in its path, the flower is a funnel-shaped formation of petals. You can use the flower for the most exquisite interiors as a green ornament and shading large-flowered representatives of the flora. It has medium-green leaves in the shape of an arrow, pink flowers and strong roots. The article talks about how to grow a plant at home. The room bindweed in the photo is presented in various variations: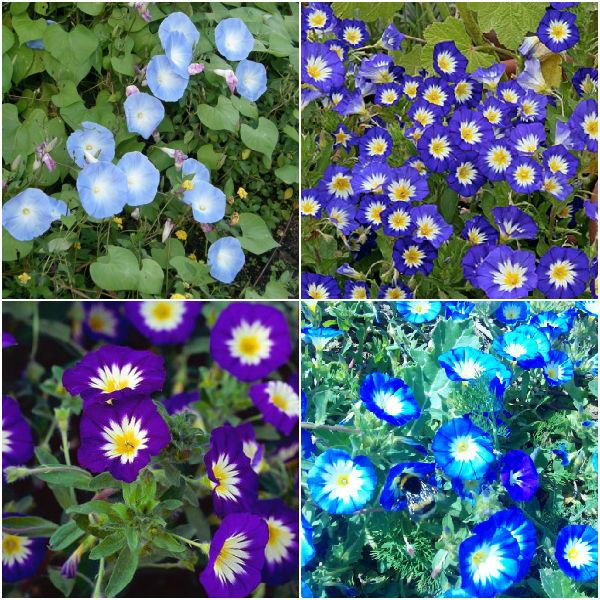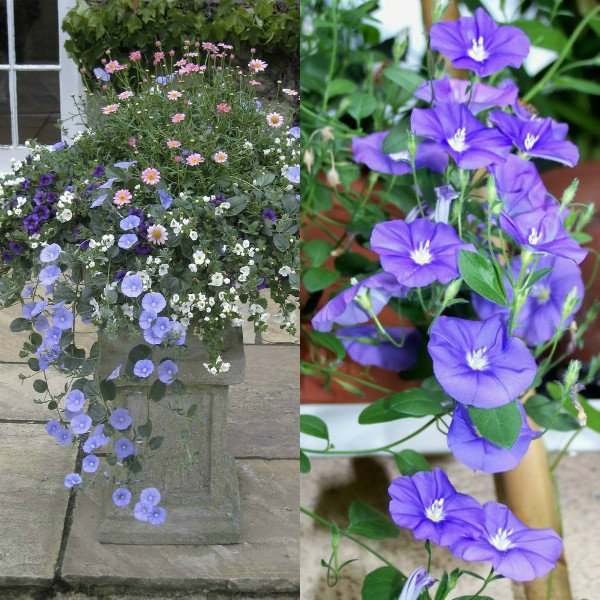 Bindweed flower in the photo
These are annual or perennial grassy lianas whose shoots and woody shrubs can reach up to 3 meters in height. The leaves are arranged spirally, the flowers are tubular, mostly white and pink, but in some varieties there are also blue, violet, purple and yellow petals. Look at the flower of bindweed in the photo, which shows a variety of varieties and types: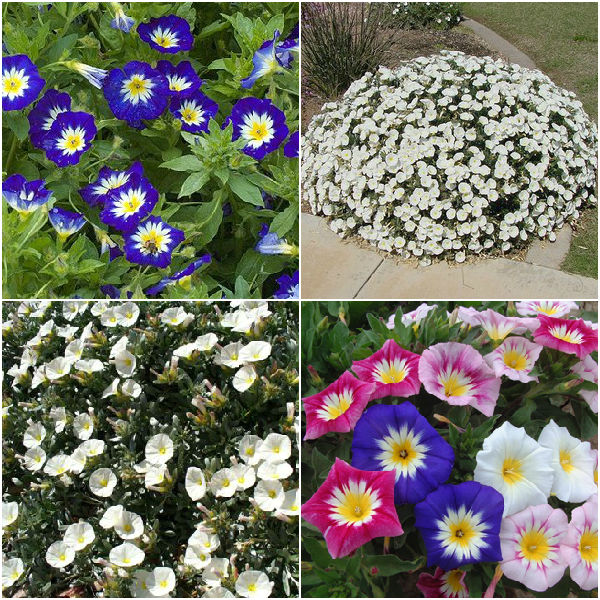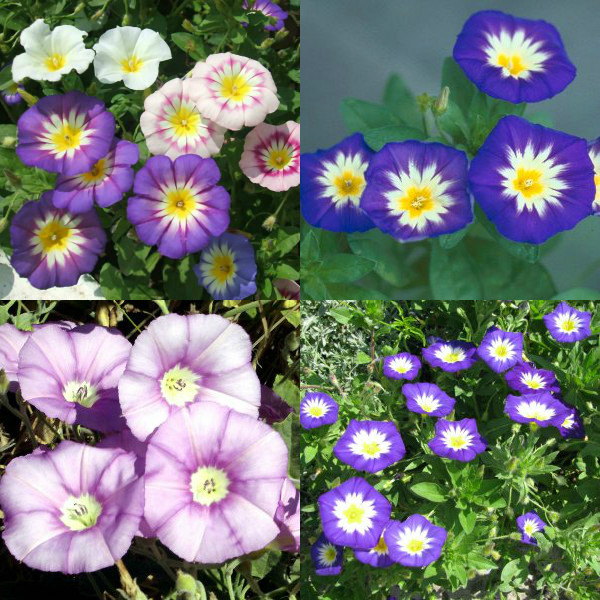 Bindweed propagates by seeds and roots. Seeds obtained from the flower box remain viable for up to 30 years in the soil and 2-3 of the year in clear. In open soil, it most often grows like a weed, so to get rid of it you need to thoroughly clean up all the roots of plants. Even a small particle of it is enough for a small family to grow.
Indoor and Home Flowers Bindweed
As an ornamental plant, only two subspecies are used. These are indoor and home flowers of the bindweed, allowing you to elegantly decorate apartments and offices.
Convolvulus tricolor or Convolvulus tricolor or small - is short-term or medium-term annual plant with a single flower on a long stalk. This flowering plant comes from the Mediterranean basin, is especially common in the south, but is sometimes seen in other areas with a similar climate. In Spain, it can be found on the Balearic Islands and in Andalusia, especially its many in the Costa del Sol.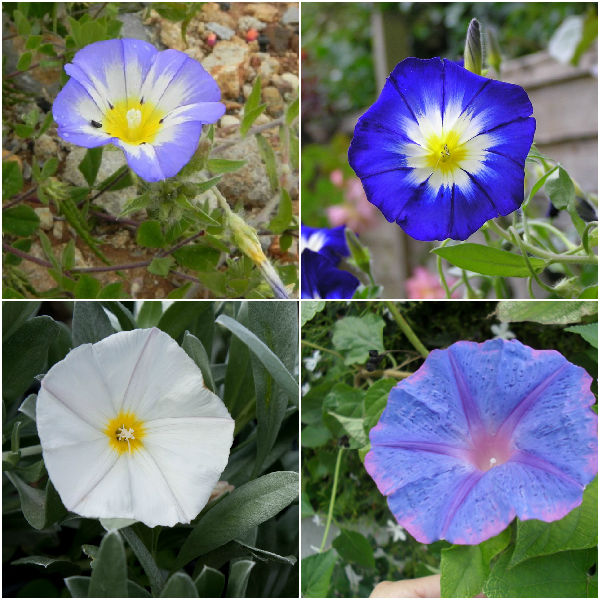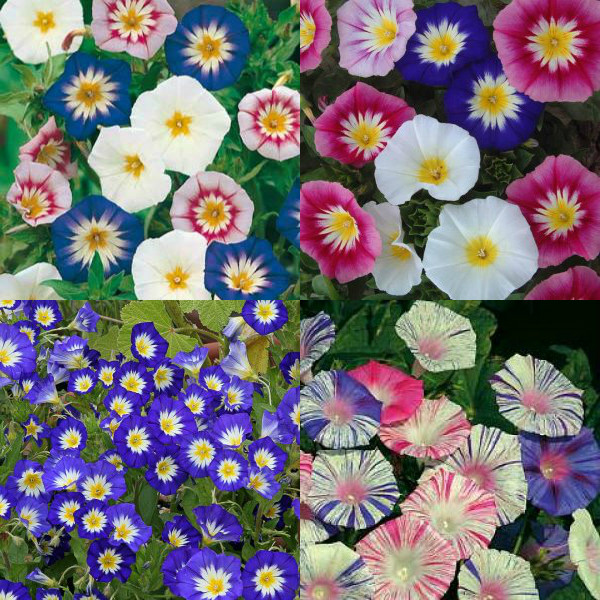 The indoor flower consists of three funnel-shaped flowers three centimeters wide with a blue, white and yellow center. This subspecies is distributed in the natural environment on cultivated land, in dry open habitats, sandy places and near roads. Usually tricolor is grown for decorative purposes. Includes varieties of red flag and blue stern flag. In landscape design it is used in rabatka and mixborders, and at home it is most often grown in pots on the balcony. As we have said, all varieties of bindweed grow very quickly, so it is very convenient to use as a groundcover.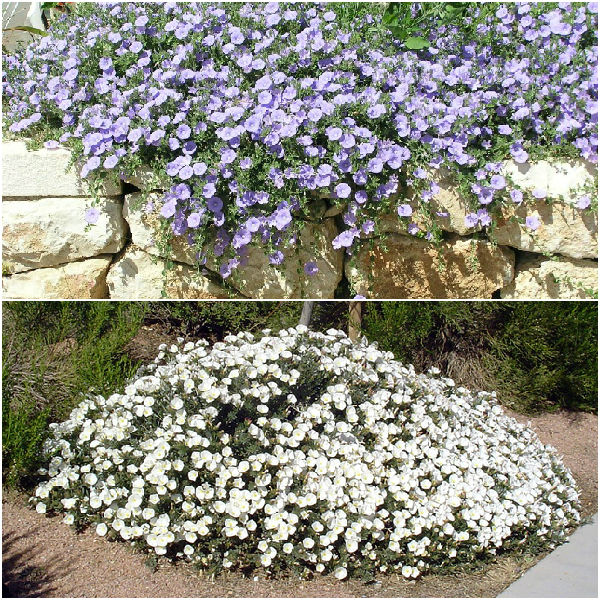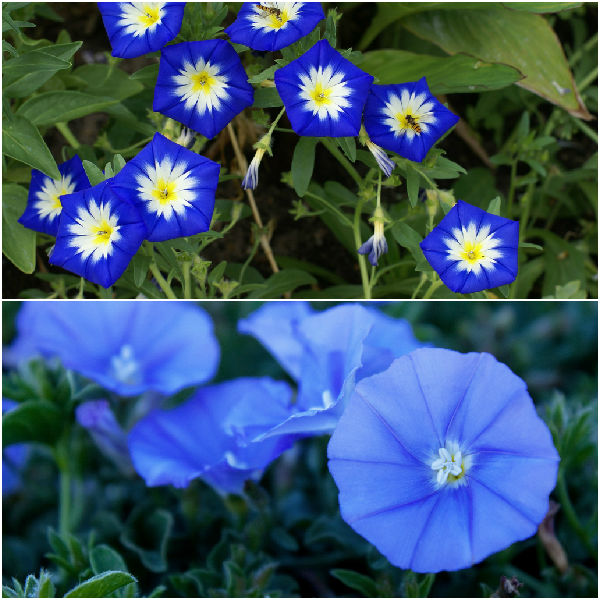 Shoots of plants reach half a meter in height. The flowering period is from July to August, but its flowers are short-lived. After one day, he falls, but a new one immediately forms in its place. In the flowers there are boxes with seeds of 3 mm each.
The second decorative view is Convolvulus sabatius or Moorish bindweed (or Sabat). It is a species of flowering plants of the Vynukovye family. He comes from Italy and North Africa, it is often grown specially. This woody plant-trailing reaches 20 centimeters in height and has slightly dipped leaves. The shade of a flower can vary from delicate blue to deep purple. Quite often it occurs with a brighter center 2-2,5 centimeter in diameter.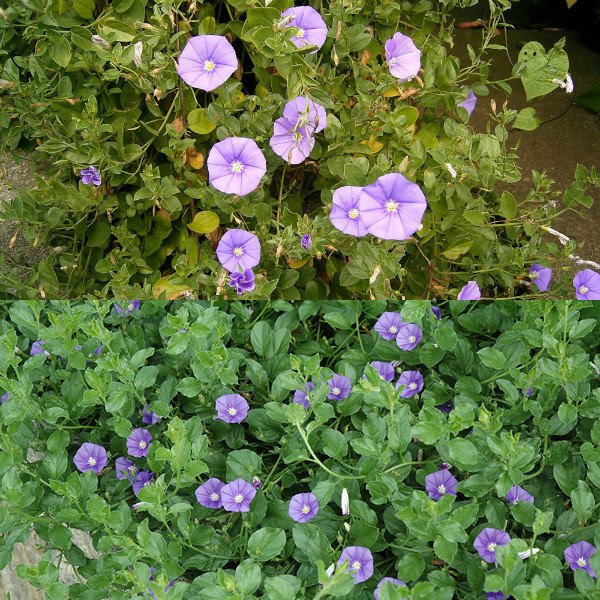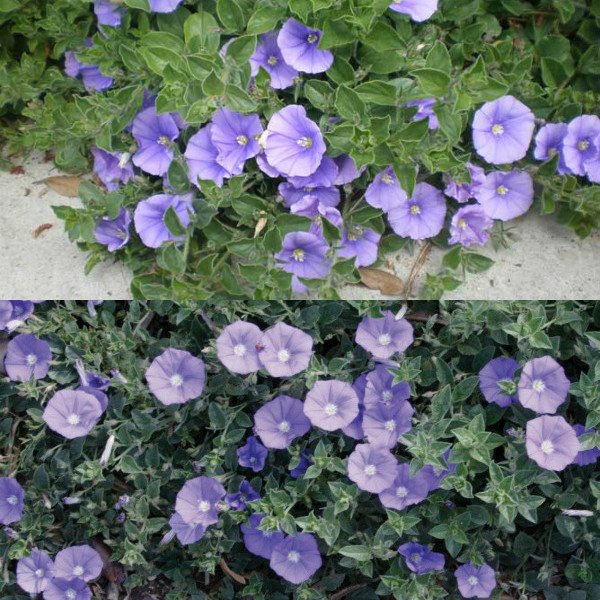 This species is often sold under the synonym Convolvulus mauritanicus. The plant, though long-term, but it is better to care for it as an annual in a colder climate. It will be very convenient for plants grown on the windowsill and in the balcony boxes. The flower prefers sunny places with good drainage layer. Timely pruning provides new growth and more lush and bright bloom. The bindweed flowering period is from July to September, and the bindweed of this species blooms rather abundantly. The flower is unpretentious and will not require you to carefully care, so it is so fond of growing on balconies as an ampelous plant. In combination with other colors, it creates a unique look for your balcony.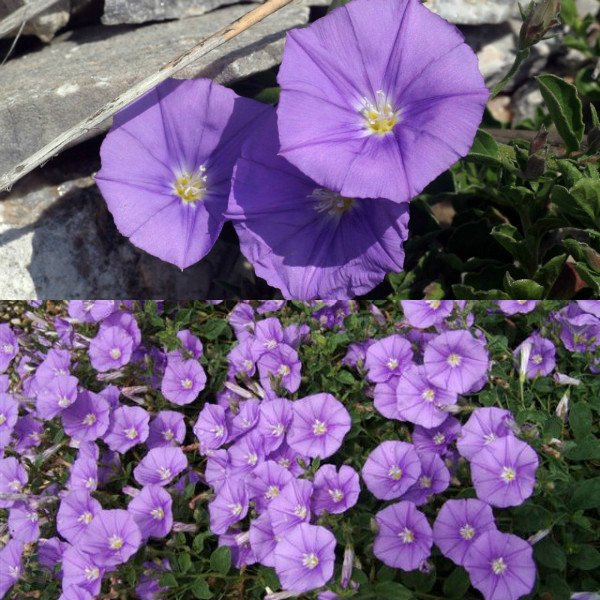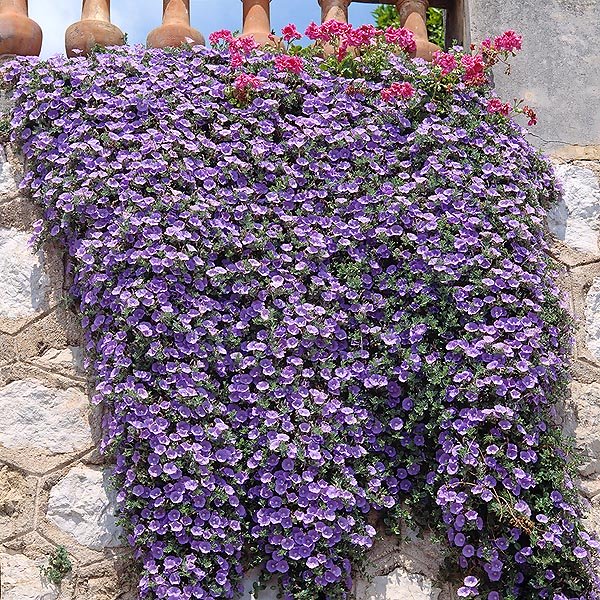 Growing indoors
As we have said, bindweeds are unpretentious and can grow even on poor soil, but it is only desirable that this be a sunny place. Growing under room conditions can begin with planting seeds or layering. In late April - early May, the seeds can be planted directly on the open ground, and if you want to prepare seedlings, then it is better to do this in March. For this in a container with pre-prepared soil or better in peat pots. It is necessary to plant only after the threat of frost has finally passed, so that the plant does not die in cold weather (some types of heat-loving).
It is very important to water the bushes in time, because with a lack of moisture, they immediately throw off their buds. During growth and development it is necessary to regularly feed the bindweed with potash and phosphate fertilizers - 1 times in 2 weeks will be quite enough. You can also use nitrogen fertilizers for better foliage growth, but this will be at the expense of flowering. If you chose the convolvulus, it is also necessary to establish a support for the trunk.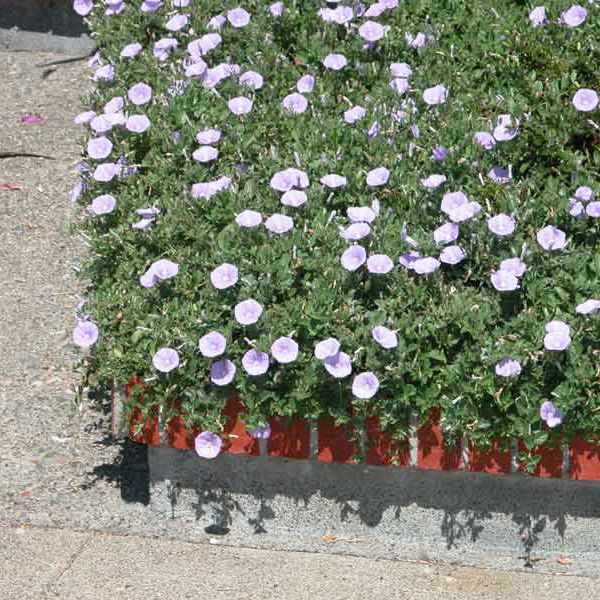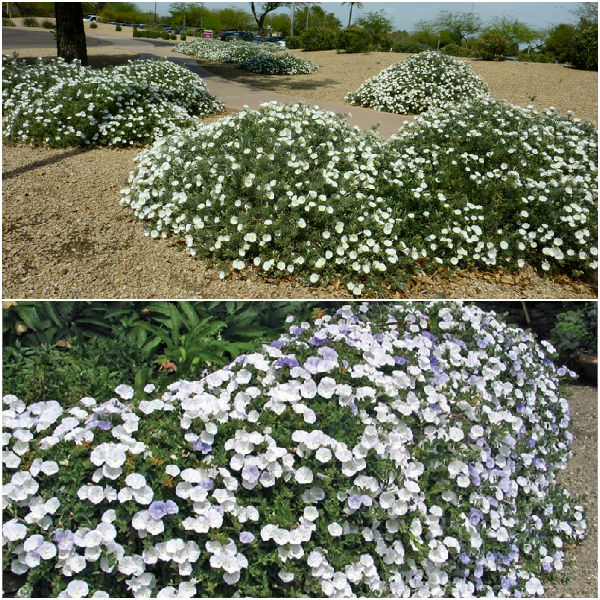 On window sills and balconies bindweed planted on the south and south-east side in boxes with enough land. With timely watering and a sufficient amount of top dressing, the plant develops very quickly and blooms profusely from mid-summer to early autumn.