Beautiful flowering plants in the interior create coziness and comfort. They purify the air and fill it with unusual flavors that elevate mood. Potted flowers are divided into groups. Azistasia requires minimal care at home, it is an unpretentious plant, pleasing the eye with an abundance of buds. It belongs to the Acanthaceae family, which is widespread in nature in the tropical regions of South America, Southeast Asia and Oceania. Acanthus have the ability to lush prolonged flowering, beginning in early spring and continuing throughout the summer. Azistasia is variegated and beautiful with its rapid growth - these two types can most often be found in the interior design of apartments and offices. They are not demanding to the growing conditions, it is enough to maintain the temperature in the summer in the 25 degrees region, and in the winter within 15 - 18 ° C.
Look at the photos of azistasia flowers in different phases of their development, then we will talk about the rules and intricacies of caring for them at home: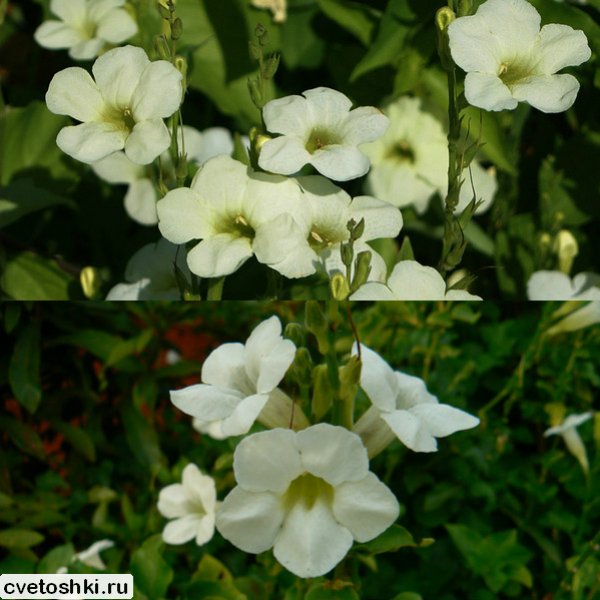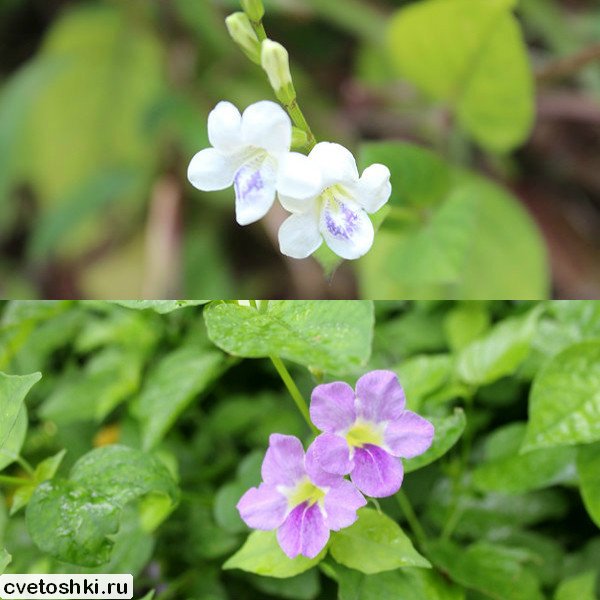 Choosing varieties and types for home floriculture
In nature, the genus azistasia includes approximately 20 species growing in the form of herbaceous plants and shrubs with different height of shoots. Choose varieties for home floriculture, depending on their decorative abilities. The proposed species - azistasia beautiful and variegated, with optimal characteristics. The first variety has magnificent lilac buds, which are arranged in the form of brushes on powerful green shoots. Asystasia bella or macaia is an evergreen mid-page with a slight upward trend in central branching shoots. The leaf has an oval shape with a jagged edge, rich green color. Buds are collected in racemes up to 15 cm. They resemble lilac during flowering. Depending on the species may have a white, pink and lilac color. Look at the photo beautiful azistasia during flowering: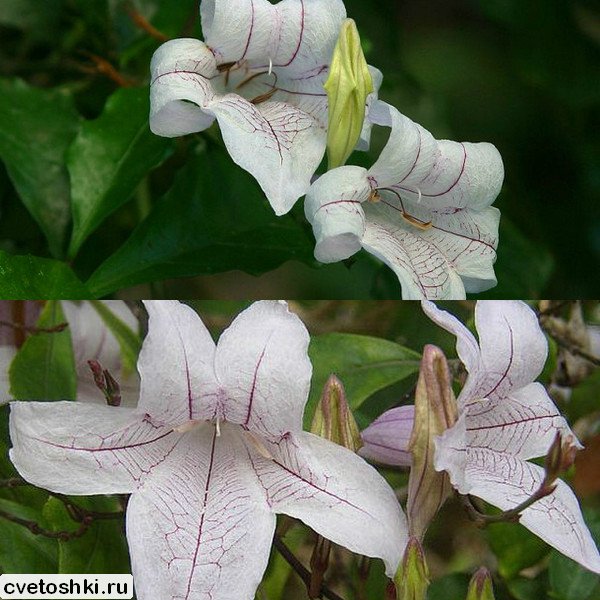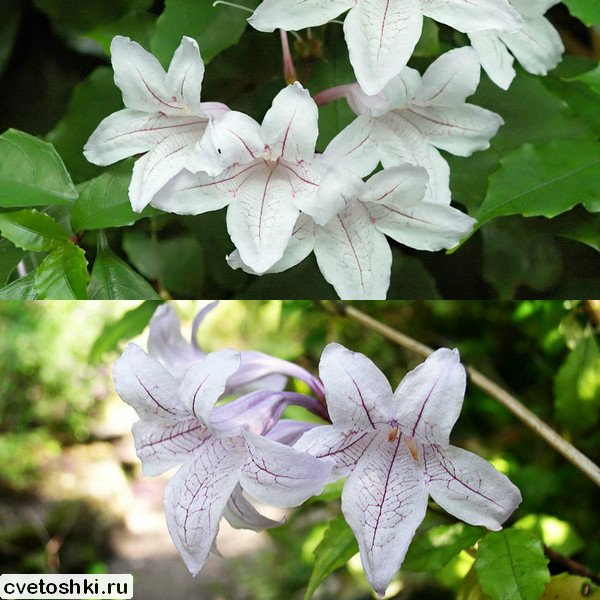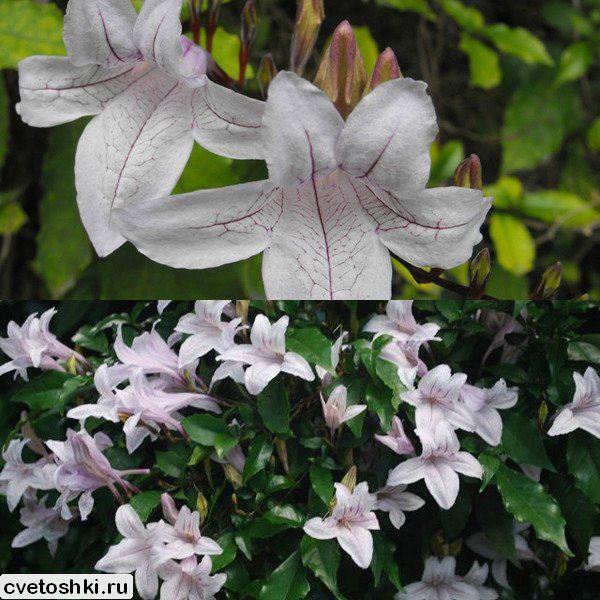 Azistasia gangetic or gangetic (Asystasia gangetica) is mainly cultivated as a shrub in gardens in areas with a hot tropical climate. At home, requires a large amount of planting pot (from 15 liters). It blooms for a long time, about 7 months, throwing out graceful clusters of inflorescences up to 30 cm. Prevail violet and blue colors of buds. The deciduous mass has a lot of useful properties and can be used in food as a salad.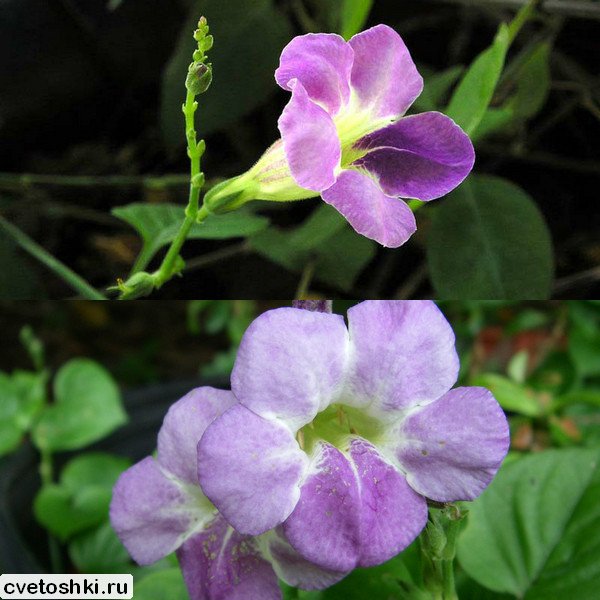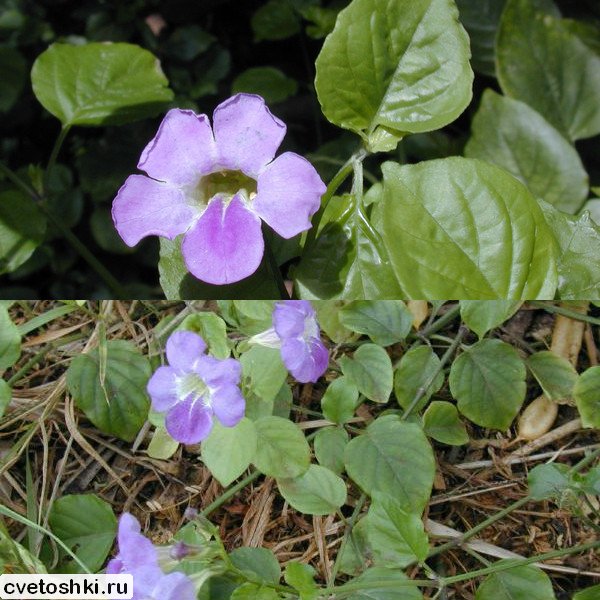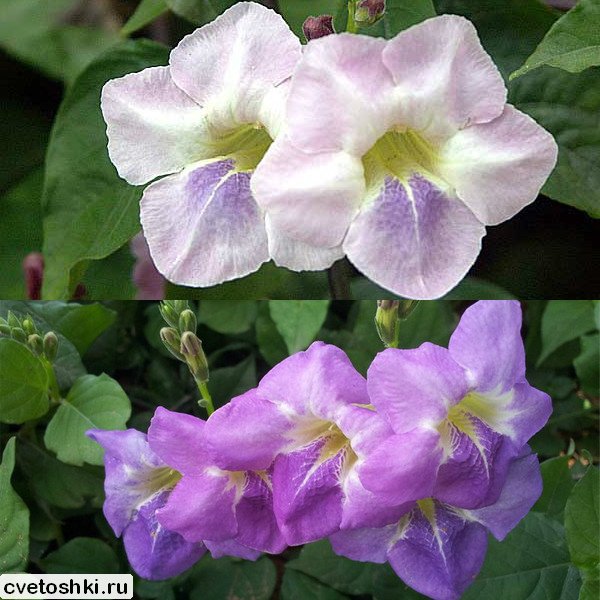 Azistasia variegate possesses attractive variegated oval-shaped leaves with pointed edges. It grows rapidly, giving a growth of cuttings annually to 35, see. It blooms from March to November, the inflorescences are mostly white. Although common and coloring forms of tricolor buds.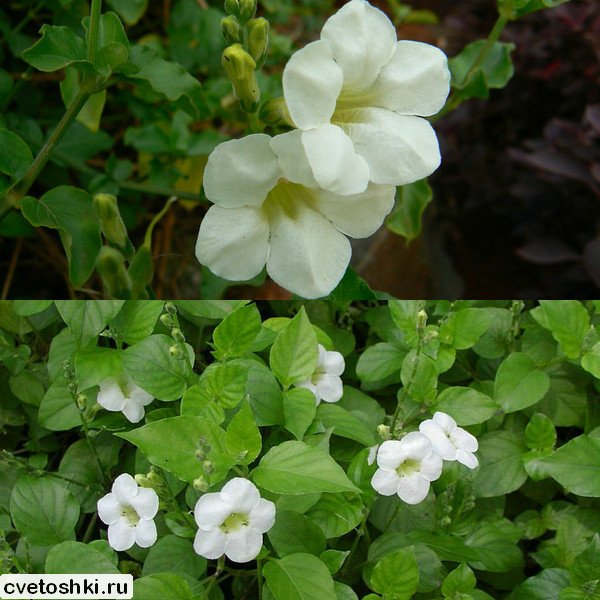 Cultivation of azystasia: care, reproduction, planting
Cultivating any variety requires proper care. Growing azistasia at home does not require any special knowledge and adaptations. When choosing a place preference is given to the northern and eastern windows. Also, the shrub can feel great indoors, next to the well-lit southern windows. Direct sunlight bears badly, burns may occur. Proper care of azistasia at home allows for a year and a half to grow a strong and beautiful shrub with a height of crown to 1 meter. How is breeding and planting - let's look further, but for now look at the photo: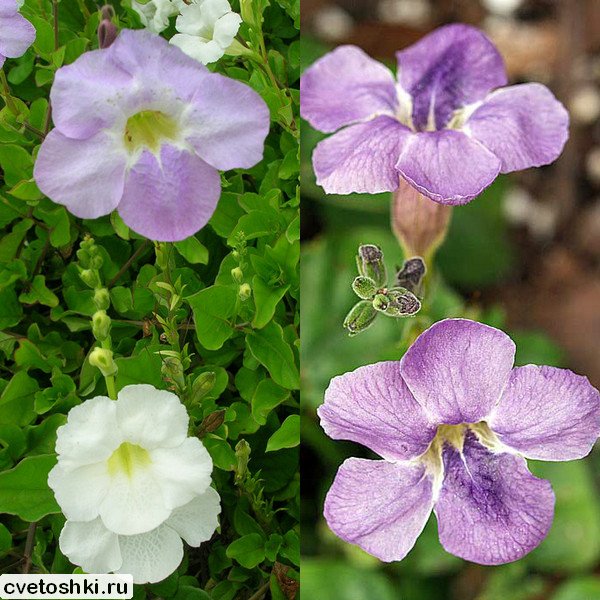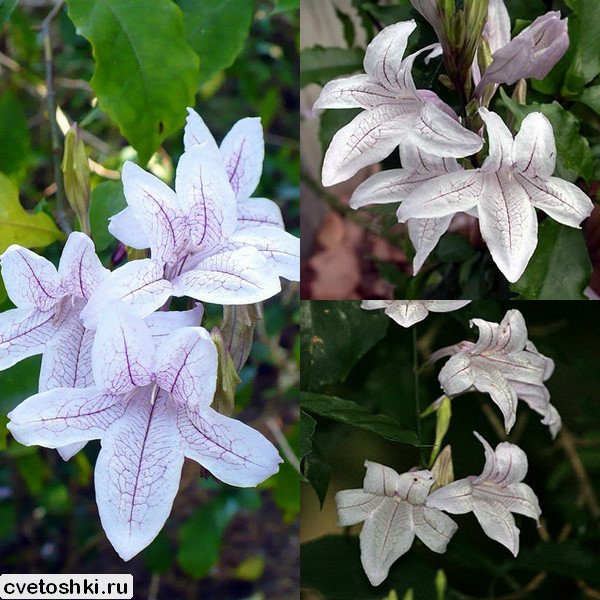 The reproduction of azistasia in natural conditions occurs mainly by scattering seeds. During the period of ripening and complete drying, the box of each bud breaks and small seeds fly out of it. The radius of their distribution can reach 15 meters. At home for breeding using the method of sowing seeds and grafting.
Planting seed aestasia is carried out in early February. Seeds are evenly distributed over the surface of the moistened soil and are not covered with earth. They need sunlight to germinate. Capacity with plantings covered with glass or film. The first shoots may appear after 20 days. Then a pick is taken in the phase of the appearance of the second pair of true leaves.
Reproduction of azystasia cuttings is a process associated with pruning crown. It takes place annually in early spring until the flower buds wake up. By trimming, you can create the shape of the crown, which will optimally fit into the design of the room. Traditionally all old branches and shoots that prevent others from developing are removed. Rooting of cuttings is carried out in the form of with the addition of growth stimulants ("Kornivin", "Succinic acid"). After the roots appear, they are planted in light, structured soil. The first obrazk is held at the moment when the shoots reach the length in 50, see.
The soil for planting azistasia at home should be rich in humus and at the same time have a light structure that does not trap moisture. The ideal ratio: 2 parts of sod land, and 1 parts of sand and humus. You can also add mineral fertilizers at the rate of 1 matchbox for 5 liters of finished soil. A layer of expanded clay or any other drainage material is placed on the bottom of the landing tank. Before planting, the soil is ignited and boiled with boiling water with the addition of potassium permanganate.
Home care for azistasia includes regular application of complex mineral fertilizers - this contributes to rapid and long-term flowering. It is necessary to begin top dressing in the beginning of March and to finish in the end of November. After this comes a period of rest. It is necessary to lower the temperature of the content to 18 degrees of heat and reduce the amount of watering.
SIMILAR ARTICLES: