Clematis in the garden are not only excellent background plants, but also the basis for beautiful floral compositions.
The use of clematis in the landscape design of the suburban area allows you to organize a "flowering conveyor", because picking up the varieties of these tree-like vines that dissolve their petals at different times, the garden will play with amazing colors from spring to late autumn.
Until recently, clematis from the group of large-flowered hybrids, which were traditionally used only as climbing vines, plaiting vertical surfaces and constructions, were generally known in the gardens of the middle band, very few people heard about princes.
Today, planting material for clematis for landscaping a garden is quite affordable, the range is replenished every year by dozens of varieties, both known and popular since the end of the 19th century, and ultramodern. In some private collections there are tens and hundreds of varieties. If you wish, you can have beautiful blooming clematis in the garden from May to frost.
Clematis for background or single planting in the garden at the cottage (with photo)
Clematis traditionally decorate trellis and grates, arches and pergolas, gazebos and facades of houses at the cottage. They are more often decorated with large-flowered clematis, which are the most popular and widespread in gardens.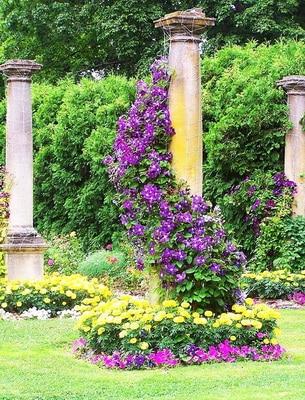 When choosing varieties for a background planting, it is necessary to take into account to a large extent the brightness, abundance and duration of flowering, since the refinement of the flower shape, doubleness, corrugation of the edges of the sepals, the subtle color tones will not be particularly visible.
The following varieties are perfect for a juicy color spot: 'Abundance' (vit.), 'Birjuzinka', 'Comtesse de Bouchaud', 'Ernest Markham', 'Ethica (vit.)', 'Etoile Violette' (vit.), 'HF Young', 'Jackmanii', ' Jubileinyi 70 ',' Kardinal Wyszinsky ',' Kiew '(vit.),' Kosmiczeskaja Melodija ',' Luther Burbank ',' Margot Koster '(vit.),' Polish Spirit '(vit.),' Romantika '(vit .), 'Ryytel,' Star of India ',' The President ',' Tuczka '(vit.),' Victoria ',' Ville de Lyon ',' Viola '(vit.).
Look at the photos of how beautiful clematis are grown in the garden in the country: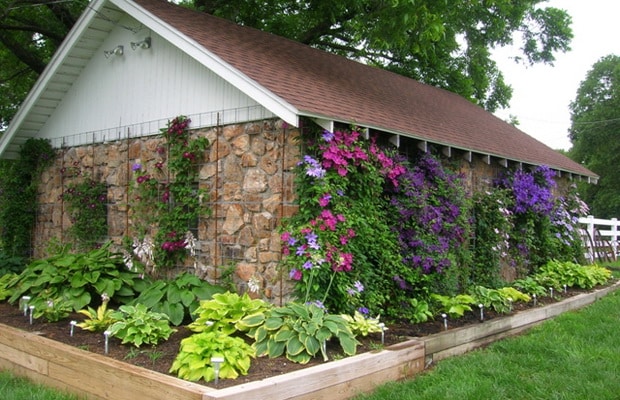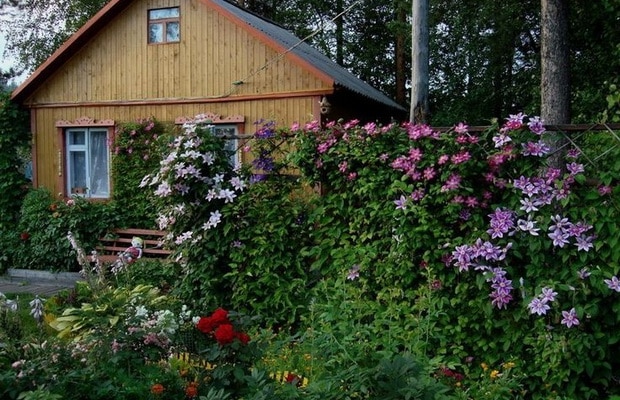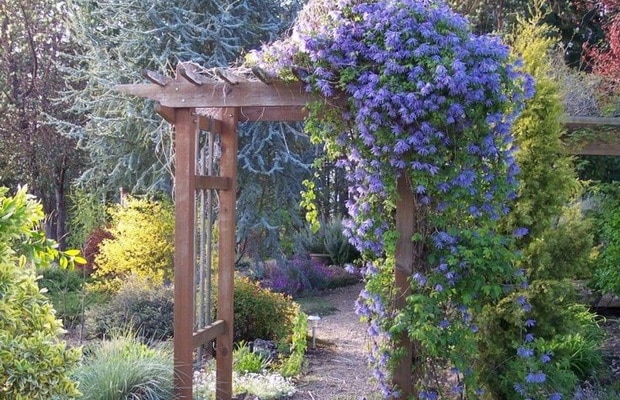 Now it is very fashionable to place clematis on a plot in a solitary (single) planting or in a small group on a lawn. In this case, just pay attention to the shape, color, size of the flower - the original quality of the variety, and sometimes its inherent flavor.
For these purposes, beautiful solo pillars are usually used in the form of an umbrella, pyramid or stela, or a small trellis. Since such a structure is always in sight (often in winter), it should naturally fit into the surrounding landscape.
The support must necessarily correspond to the grade of clematis chosen by you in terms of height, speed of its growth, resistance to wind and rain. So, for example, contrasting and dark varieties of clematis in garden design, which lose when placed on a dark support, and vice versa, look more striking on the light construction.
If the support is much lower than the height of clematis, its long shoots may be confused and untidy to fall apart, which will adversely affect flowering and the overall decorative effect of the object.
As shown in the photo, when placing clematis in the landscape design of the suburban area, you can pick up quite a few varieties that will fit any design in height and other parameters: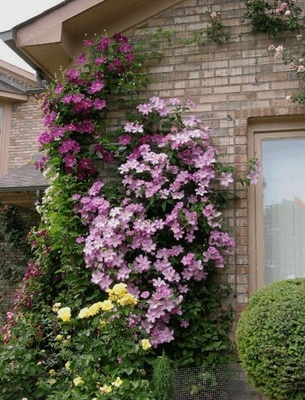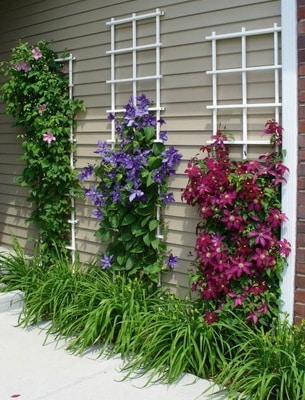 Especially attractive tapeworms are obtained with a successful combination of two or three (but not more) varieties of clematis. When planting is very important to choose such varieties that are in perfect harmony with each other, and in no case do not argue with each other.
For example, one - with large bright or contrasting flowers, the other - with medium or small and dark or bright flowers. If both varieties are extremely expressive, harmony will not work.
So, the old garden form of clematis purple 'Purpurea Plena Elegans' with small, densely double-colored, pink-purple flowers ideally combined with large-flowered hybrids of light colors, such as 'Bees Jubilee', 'Capitaine Truilleaux', 'Carnaby', 'Harmony', 'Nelly Moser'.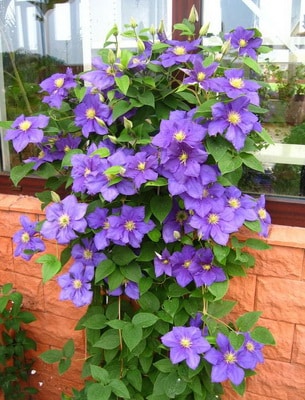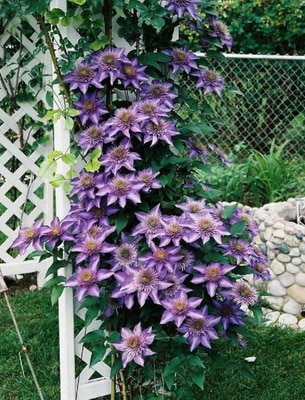 Varieties with large expressive blue flowers 'Fujimusume', 'GornojeOzero', 'Hakuookan' can be excellently complemented by small-flowered varieties Sea Spray, Cote d'Azur, Jouiniana.
In the solitary planting on the lawn next to a beautiful support, you can plant clematis in a group with roses when setting up a garden: high grades - with climbing and climbing roses, varieties of medium height, for example, with David Austin roses.
Roses and clematis in general are ideally combined and at the same time do not have a negative effect on each other. Therefore, when placing them together it is worthwhile to take care only that they are harmoniously combined in shape and color, size and fullness of the flower.
Look at the photo - when combining clematis in a garden with roses, arches, steles and pyramids will surely be better supports: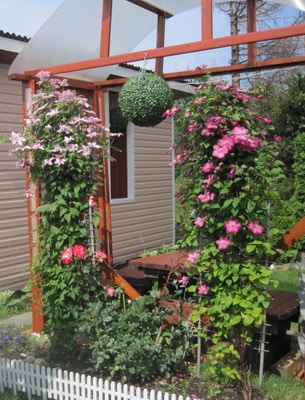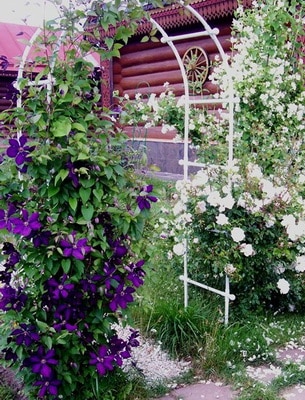 Ideal partners for roses in garden design will be clematis varieties from the Integrifolia group: 'Aljonushka', 'Arabella', 'Durandii', 'Hendersonii', 'Juuli'; from the Vititsella group: 'Alba Luxuriens', 'Abundance', 'Betty Corning', 'Entel', 'Little Nell', 'Mary Rose', 'Minuet', 'Purpurea Plena Elegans'.
Recently, clematis and roses (first of all park ones) can be observed more and more in a joint planting in hedges and backstage. Usually in such groups are used types and varieties of clematiswho do not need annual pruning.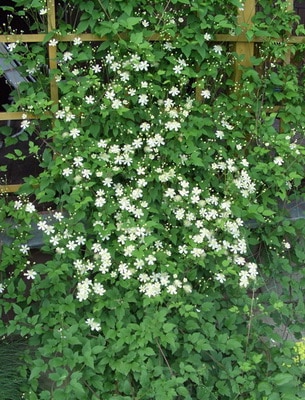 First of all, these are princes, clematis from the group Orientalis (Tangutik), in warmer areas - clematis mountain, vine-growing, variety 'Fargesioides'.
These photos show clematis in garden design: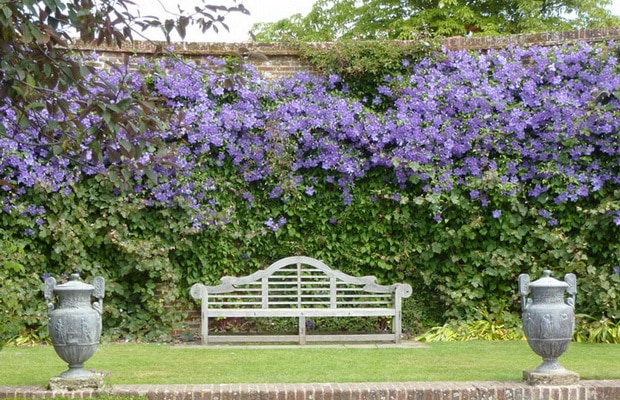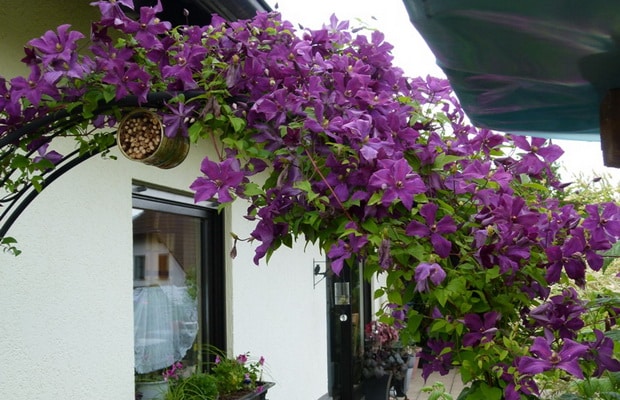 From the medium and large-flowered varieties of the Vititsella group and in general all clematis that belong to the third group of pruning (Large-flowered hybrids, Small-flowered hybrids, Texensis, Integrifolia) are perfect
Such clematis at the end of the season are simply cut to the base, and long, dry whips are cut out of the hedge by parts. The structure of the scenes in addition to clematis and roses can be deciduous shrubs such as forcing, honeysuckle, viburnum, lilac и Chubushnik, ActSheffardia.
As can be seen in the photo, the combination of clematis in the country with other lianas is very interesting. girl grapes, Amur and Kuanye grapes, winding honeysuckles, Telman and others, stalked hydrangea, lemongrass, highlander Alberta: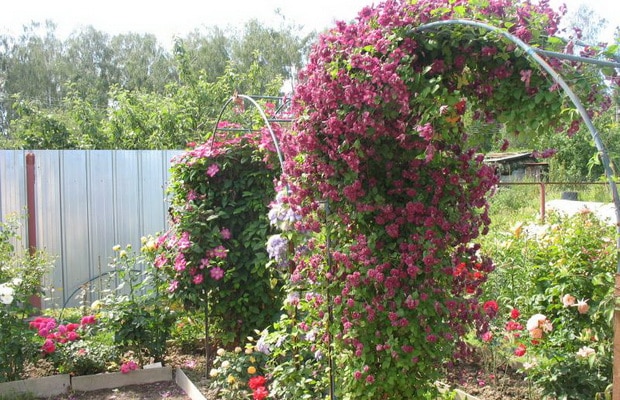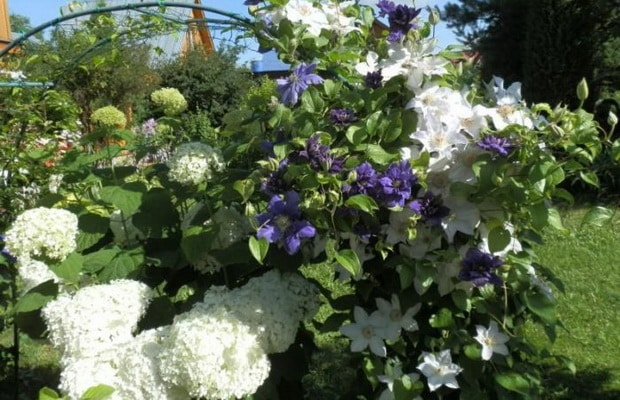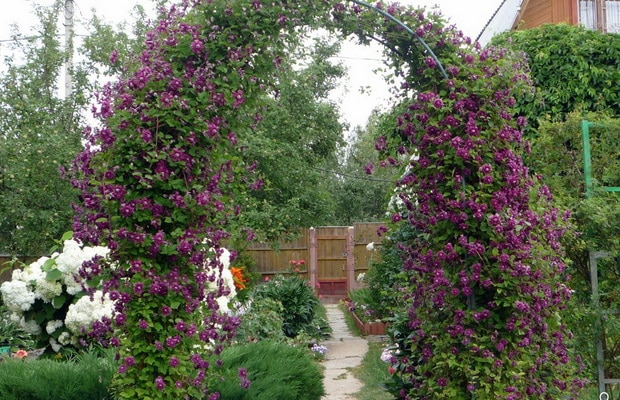 The most spectacular combinations are obtained with princes and small-flowered clematis vine-growing, brown, burning, direct, Manchu, Maksimovic; grade 'Fargesioides'; group of varieties Jouiniana: 'Mrs. Robert Brydon 'and' Praecox '; varieties of the Integrifolia group: 'Durandii', 'Petit Faucon', 'Rouguchi'; hybrids: 'Odoriba', 'Kaiu' and others.
How beautiful to plant ground cover clematis on the site (with photo)
More recently, clematis in the suburban areas began to be cultivated as a ground cover culture in combination with coniferous and decorative foliage shrubs, in the classic stony and now fashionable gravel gardens.
Usually in such compositions, numerous varieties of the Integrifoli group are more often used.I - 'Alba', 'Rosea', 'Blauer Aihat', 'Olgae', 'Pangborne Pink'. Also fine in any decorative group on the background of the stone small and medium flowered varieties of the Vititsell group - 'Ingrid Biedenkopf,' Kermesina ',' Venosa Violacea '.
Ideal groundcover culture, especially for location in the shade, proved themselves princes. In spring, they awaken early and already in the beginning of May they are fully clothed with beautiful and healthy foliage, which remains on the plant until frost.
An elegant bloom adorns such a carpet in May-June, and later fluffy seedlings with a silvery sheen stand out against the background of leaf mosaic.
Pay attention to the photo - clematis in landscape design can effectively decorate the trunk of an old tree or a fully dried tree: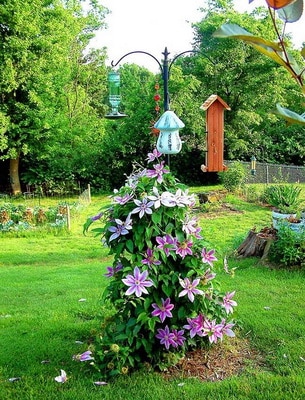 Princes, some other small-flowered species and hybrids are ideally suited for this, for example: mountain, vineyard, Manchu, 'Fargesioides'.
Large-flowered clematis also perfectly correspond to this goal, especially fast-growing and abundantly flowering varieties from the Vititsell garden group or hybrid forms of the third group of pruning.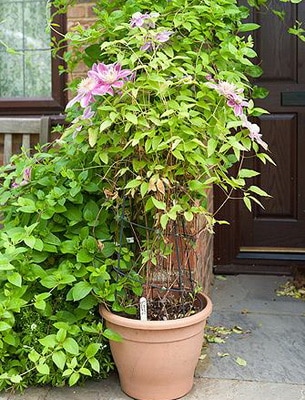 Recently, clematis increasingly cultivated in containers. This allows you to dynamically place them in the garden space, change the compositional accents, use them on balconies and verandas.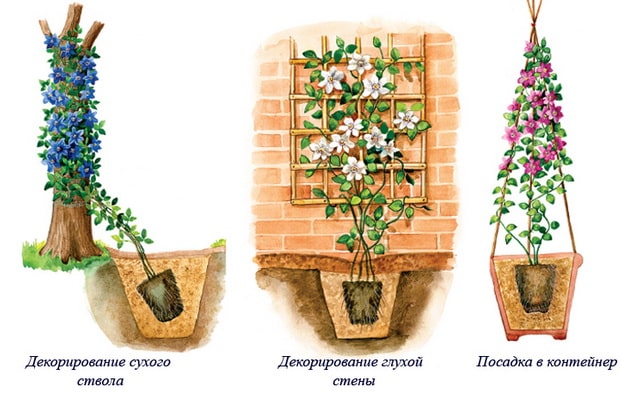 In ceramic vases with a volume of at least 30 l, clematis can winter well, but the vases themselves can get damaged (cracks) in winter. Therefore, it is wiser to use containers made of wood, plastic or other materials not subject to winter breakage to the garden.
These photos show how you can beautifully plant ground covering clematis in the area: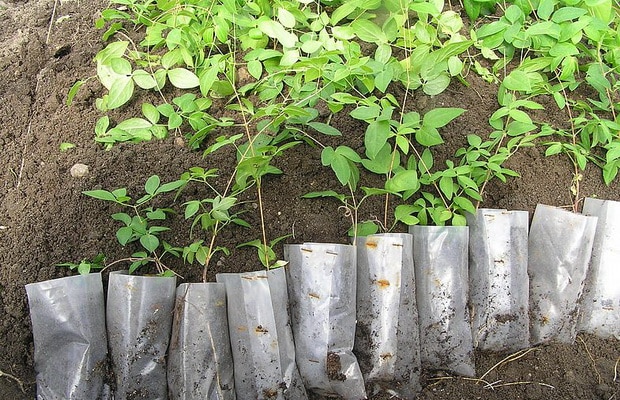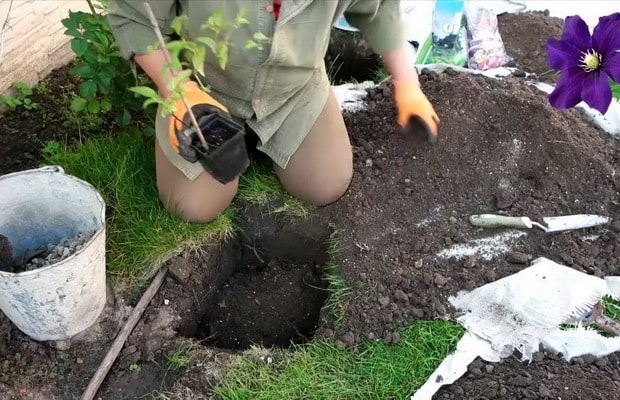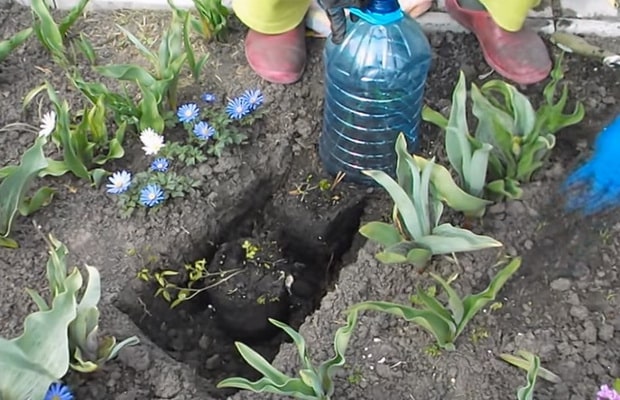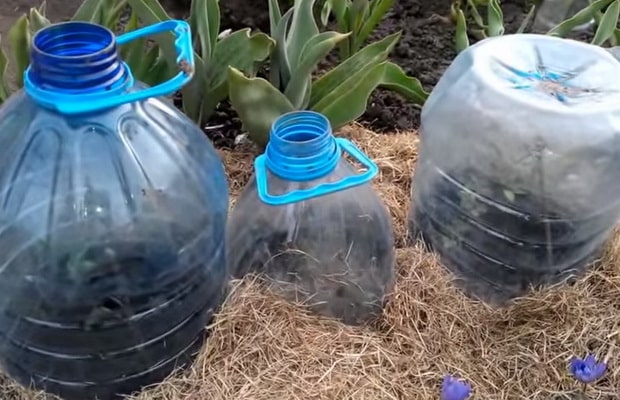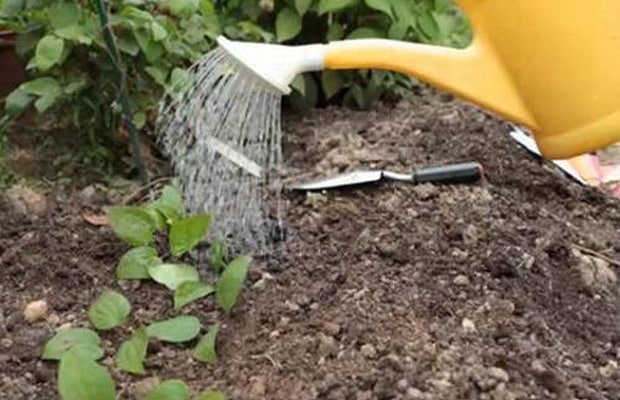 How to create a "flowering conveyor" of clematis in the garden
Most flower growers recognize only large-flowered hybrids. This is understandable: in landscape design clematis with flowers the size of a saucer look very impressive, they will leave few people indifferent.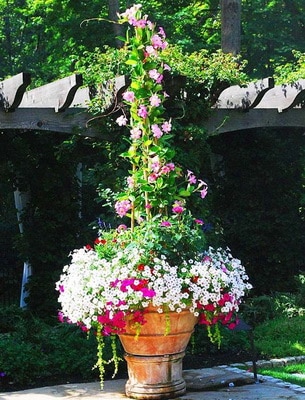 Of the existence of any other clematis, many amateur gardeners often simply do not know. However, today on sale you can find small-flowered hybrids possessing a special charm, natural species and, finally, princesses.
Unusual at first glance, these clematis make it possible to create original combinations, and most importantly, a "flowering conveyor" in the garden - from May to frost.
A season of blooming clematis various princes. The earliest of them bloom in the first decade of May. The latest bloom in June, so that the total period of flowering princes stretches for two months.
At the end of May the clematis of the straight bloom and its purpurea form 'Purpurea'. Flowering continues until the end of June, and sometimes depending on the weather ends in mid-July.
See photos of what clematis looks like. 'Purpurea' Location on: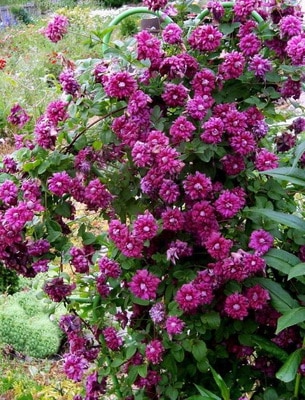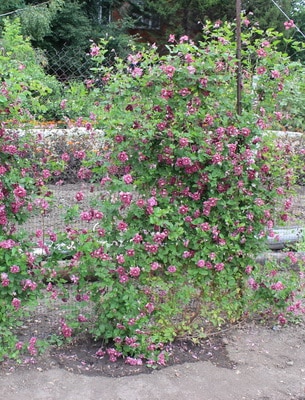 In June, large-flowered clematis blooms on overwintered shoots. The beginning of flowering is highly dependent on the weather. But the nutritional value of the soil, and the presence or absence of irrigation, as well as the level of light, can also affect the timing of the onset of flowering and its duration.
In mid-June, the blooming clematis varieties, the vine-growing and Manchurian clematis usually bloom. In the second half of June, almost all varieties of large-flowered hybrids bloom on the shoots of the current year, clematis violet and its varieties and hybrids.
In early July, blooming varieties of clematis Texas and fragrant clematis burning. Usually in June - July there is a peak of blooming of clematis in the garden - most species and all large-flowered hybrids bloom.
This photo shows blooming clematis in garden design: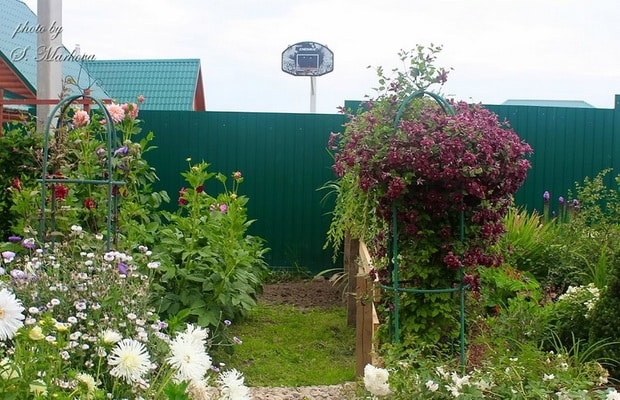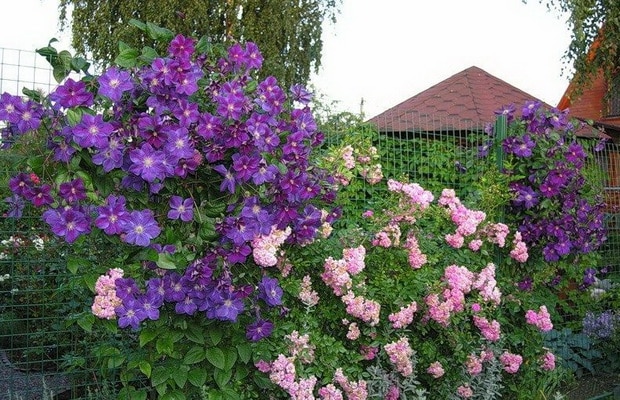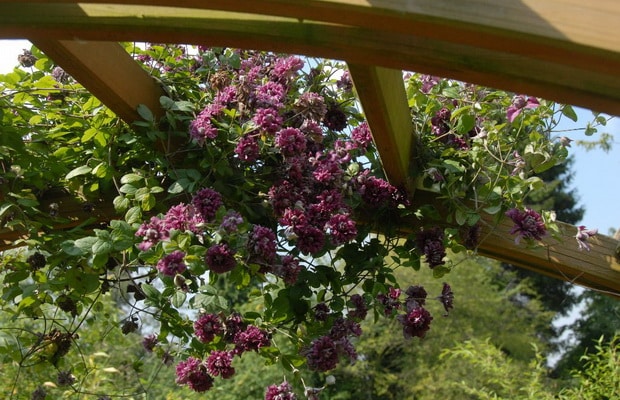 In August, large-flowered hybrids bloom profusely on the shoots of the current year (II c. Pruning) and continue to bloom large-flowered hybrids (III c. Pruning). And in early September, under favorable weather conditions princes bloom again.
In temperate climates, this flowering in its abundance cannot be compared with the first wave, and yet even the individual flowers of the princes, with their intricate shape inherent to them, bring a special charm to the garden.
With dry and warm September, some large-flowered hybrids, Clematis of Tangut continue to actively bloom. Knowing the modern range of clematis, you can create a fantastically beautiful blooming "flowering conveyor" from May to steady cold.
Here you can see photos of the beautiful design of the cottage with clematis: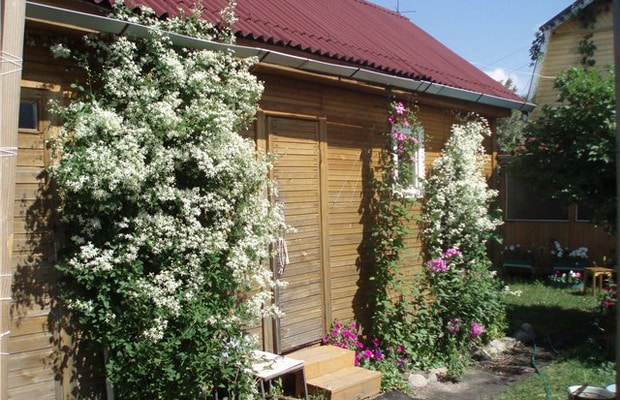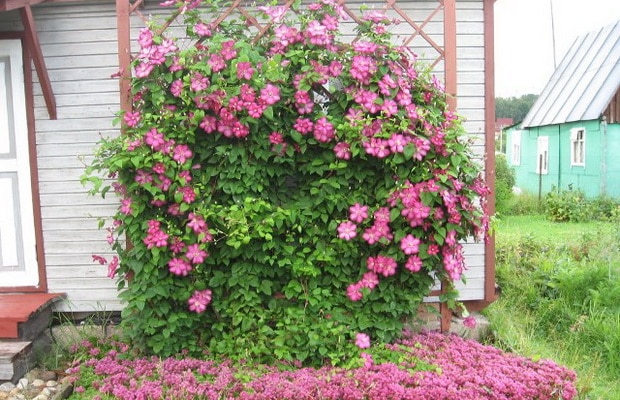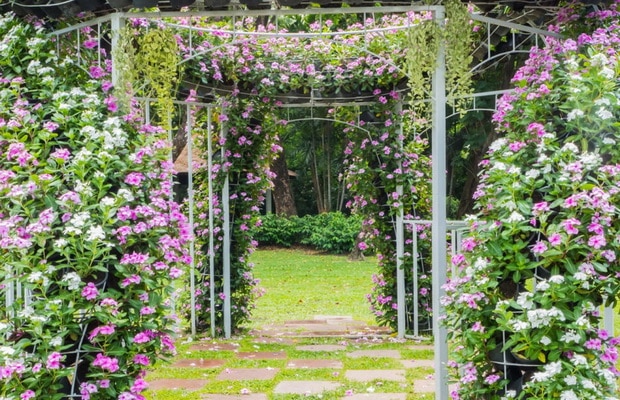 The combination of clematis in the landscape with other plants
Clematis in the landscape of the suburban area are increasingly planted in shrub borders in combination with other garden plants, and especially with roses. With roses, it is preferable to plant clematis from the Integrifolia group.
They do not have the ability to cling to the surrounding plants, but can confidently hold between the branches of neighboring plants.
As a rule, their flowers are small and always elegant in shape, often in the form of an inverted bell, of different colors - blue, pink or white with numerous shades.
As seen in the photo, such clematis in the landscape design of the garden perfectly complement the composition with curly roses, but do not come into conflict with them for leadership in the group: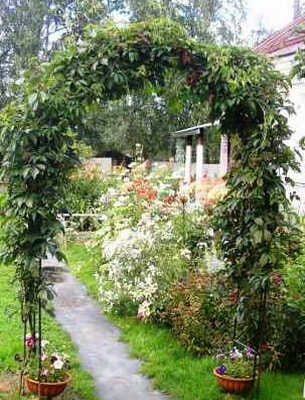 Clematis can effectively add planting other vinessuch as girlish grapes, a variety of curly honeysuckle, hops, lemongrass and Actinide. It is more expedient to use in our climate either princes who do not need to be removed from a support, or species or varietal clematis belonging to the third pruning group.
In the fall, clematis shoots are cut off at the base of the shrub completely and removed from the group in parts, while the branches of honeysuckle or grapes remain on the support.
Beautiful clematis design of the garden is shown in these photos: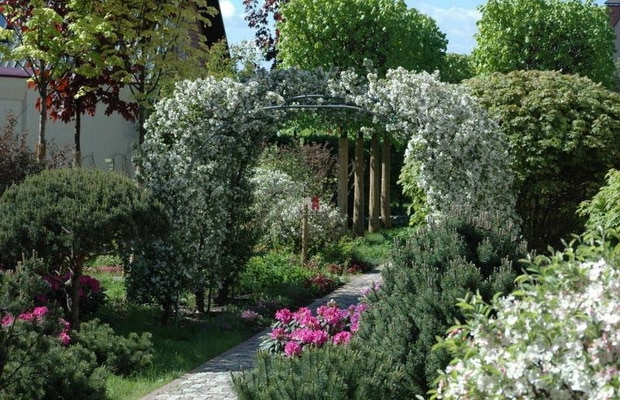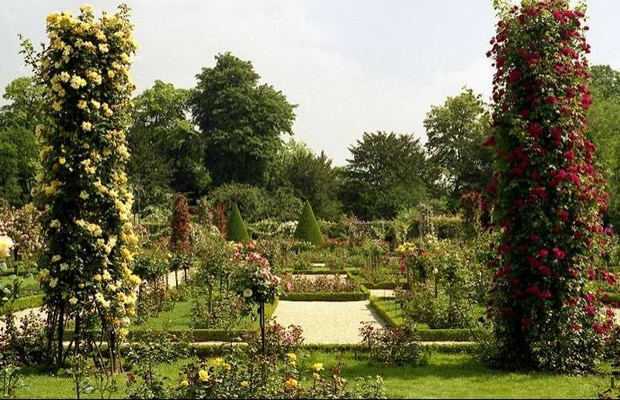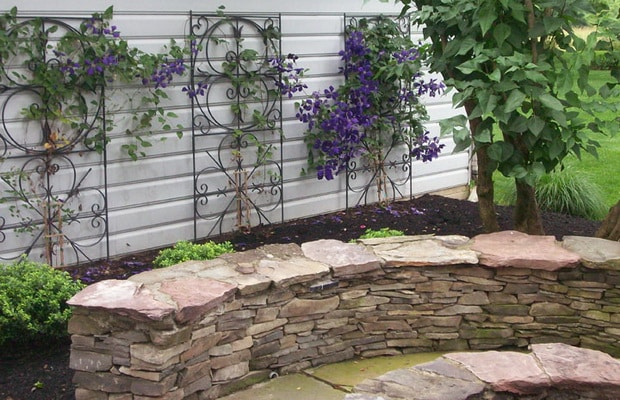 Clematis are harmoniously combined with conifers. Their beautiful flowers are unusually attractive and original colors, graceful leaves always win, settling against a background of green, gray-blue and blue needles.
The magnificence of clematis and at the same time their inherent fragility are best emphasized by the rigor and consistency of evergreen conifers.
How beautiful clematis can be planted in a garden is described in this video: