A colorful sky above your head in ampelous flowers can be arranged both on your own balcony and in the garden. Calibrachoa flowers (a type of petunias) are best suited for this, their growing from seeds does not require much experience from the florist. Pre-planting for seedlings is carried out in advance, so with poor germination there is an opportunity to repeat the sowing. Calibrachoa requires increased maintenance during the flowering period, which consists in the regular application of complex mineral fertilizers. This is the only way to ensure active flowering and rich color of buds. Look at the photo caliberraha flowers in a state of rapid flowering: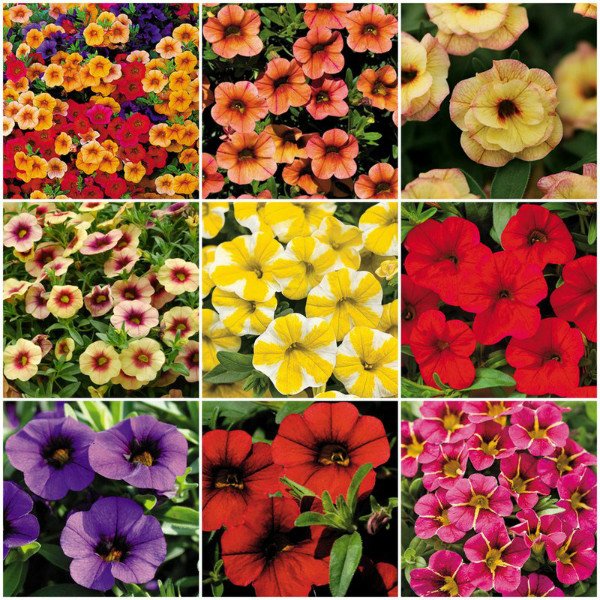 There are thousands of plant species in the world. And every year they are becoming more and more, thanks to the efforts of breeders. As they say, scientific progress does not stand still, and this also applies to colors.
Speaking of gauge, you can highlight its characteristics:
This is an annual plant;
Calibrahoaya and petunia are very similar and can often be confused with each other;
Green leaves and bright flowers are very small, which is the difference from petunias;
Predominantly grown in hanging pots.
The genus Calibrachoa became known to the world at the beginning of the 19 century. And at the beginning of the 20 century the first species appeared that began to grow at home.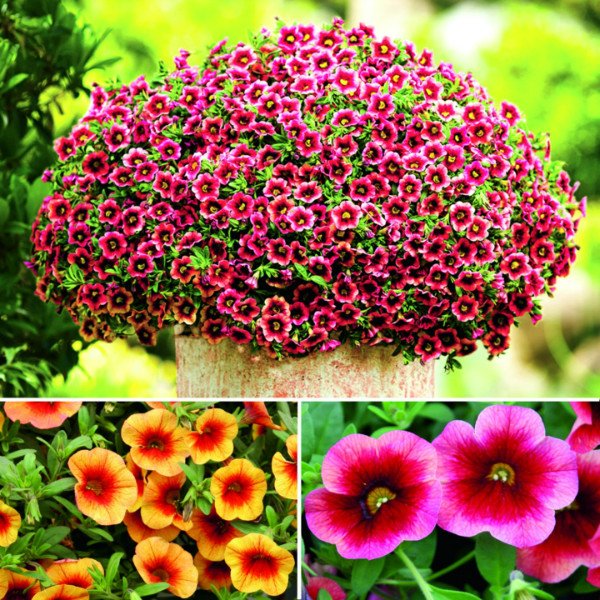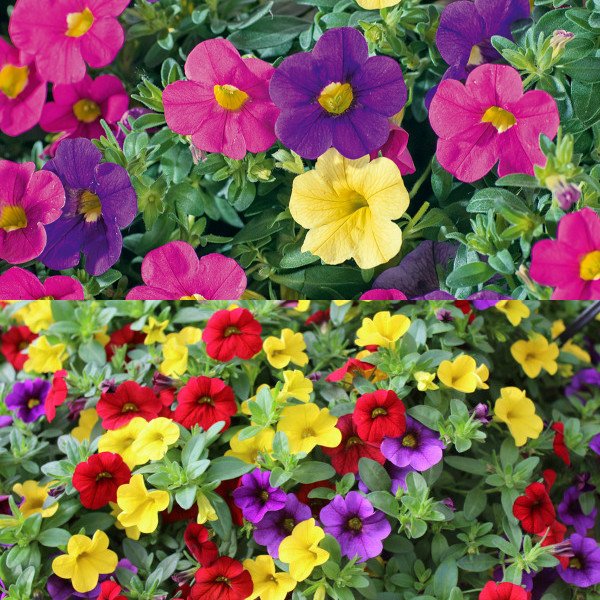 How to care for flowers at home
As mentioned above, our beauty is very similar to petunia, but there are differences by which these two types can be distinguished. First, the stems are very different: they are more branched in calibrahoa and lignificantly woody. Due to this property ampelous shoots are formed, which can hang from any pot or flowerpots more than 1,5 m. Secondly, petunias have much more, both the leaves and the flowers themselves. Yes, they are identical in form and often, therefore, they are confused. And thirdly, all the greens in Calibrachoa are covered with hairs that protect it from harmful insects. How to care for flowers caliberoha at home - consider next.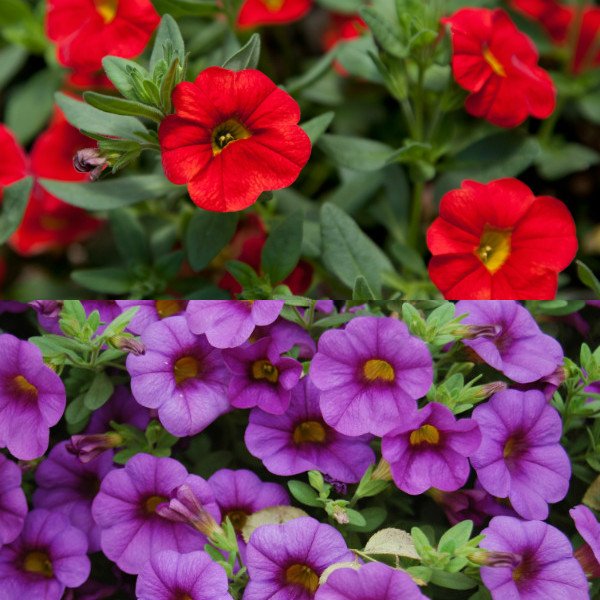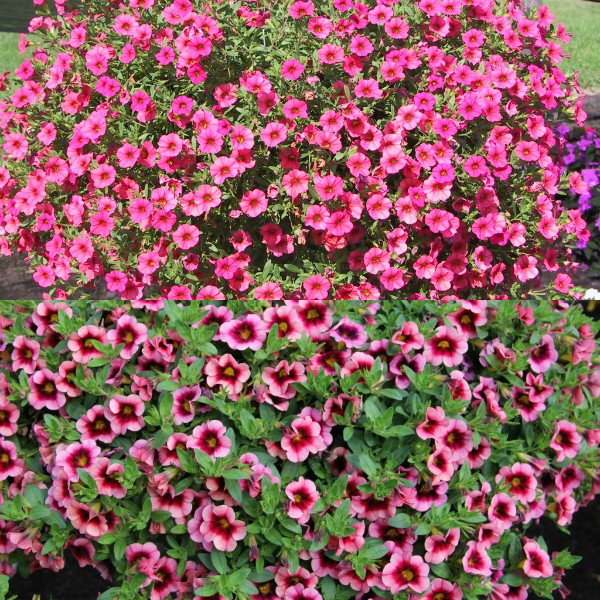 It is preferable to plant the plant in well-lit places. Likes warm and very bad weather windy. It is good to place flowers in the summer on verandas or window sills. Wide bushes only emphasize the beauty and elegance of the house. In decorative terms, significantly exceeds petunia with its density. It is not recommended to plant on the north side, and if there is no other option, then artificial ultraviolet is necessary for healthy growth.
People often ask if the care of a calicraa is difficult? No, not complicated. Of course, there are some nuances, but they are insignificant. It is important to know that such flowers are planted exclusively in hanging pots or special balcony boxes. Only in this way can its full potential be revealed. The soil should be prepared in advance. It must be fertile, consisting of several components, such as humus, peat, rotten leaves and sand. There are no exact proportions, but the main condition exists: the soil must absorb moisture well and be loose.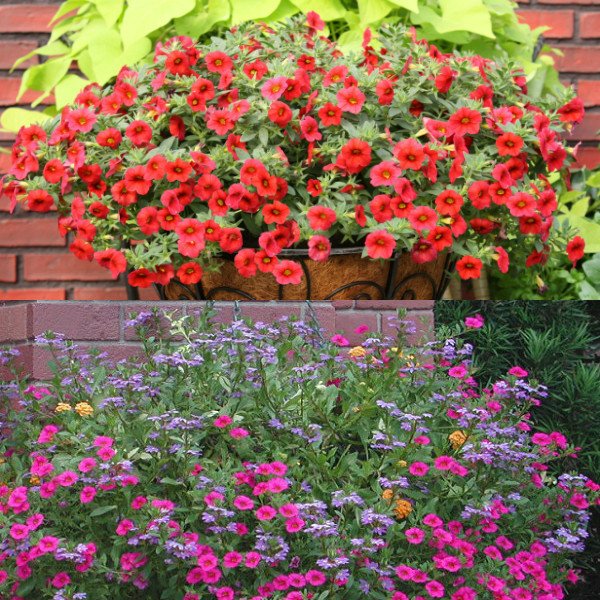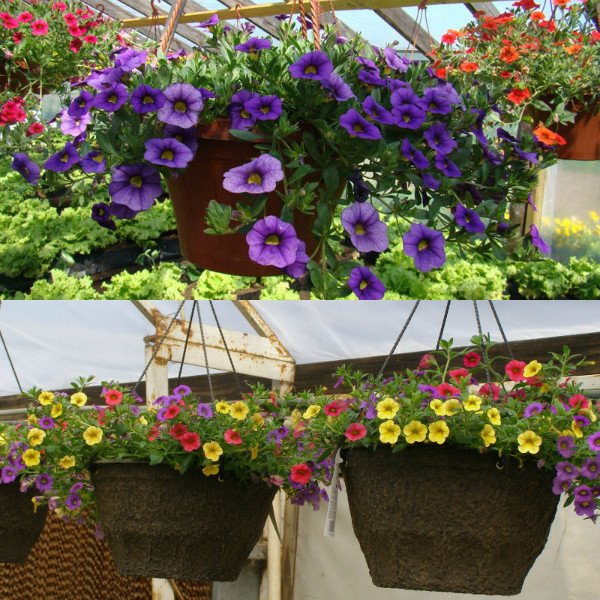 In heavy rains the plant easily perishes - heavy drops, strong wind can easily break the thin petals and leaves. In order to avoid damage, plants in the rain must be either removed from the street or covered well. With regard to watering, then here, too, should be approached with caution - you should pour some water under the flowers and leaves, avoiding their damage.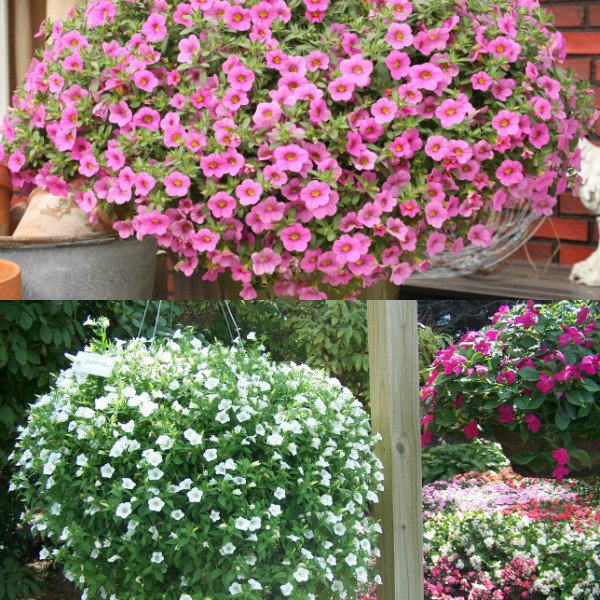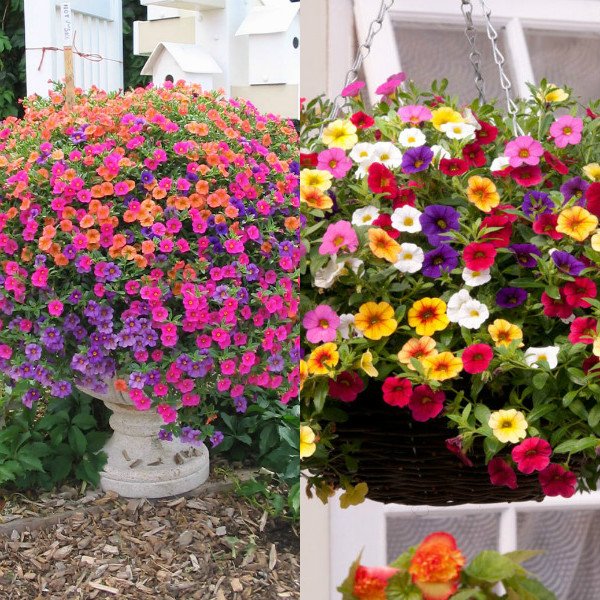 How and when to plant flowers caliberraha?
There are several answers to this question. There is nothing difficult in planting a caliber. But let us analyze in detail how and when to plant flowers of calibrachoa to their place of permanent residence. As mentioned above - you need to prepare the nutrient soil in advance. If the substrate is too high in acidity, then it is recommended to add lime to it. Dosage should not exceed 10-20 g per 10 capacity. Before filling the tank with earth, a drainage layer of at least 5 cm should be placed on the bottom.
Plants are planted in prepared containers, and very densely. On 1, m2 is planted to 70 colors. In the hot summer, the plant must not only be watered, but also sprayed with leaves and inflorescences, at least 3 times in a week.
Regarding fertilizers, it is necessary to emphasize what combines root dressing and not root. The second is to spray the leaves with special liquids with mineral supplements that promote healthy growth and protection.
Young gardeners often ask the question: "When to sow caliberraha?". The most suitable time for this will be the end of summer or early autumn. About what ways you can grow a plant and which one is better, let's talk further.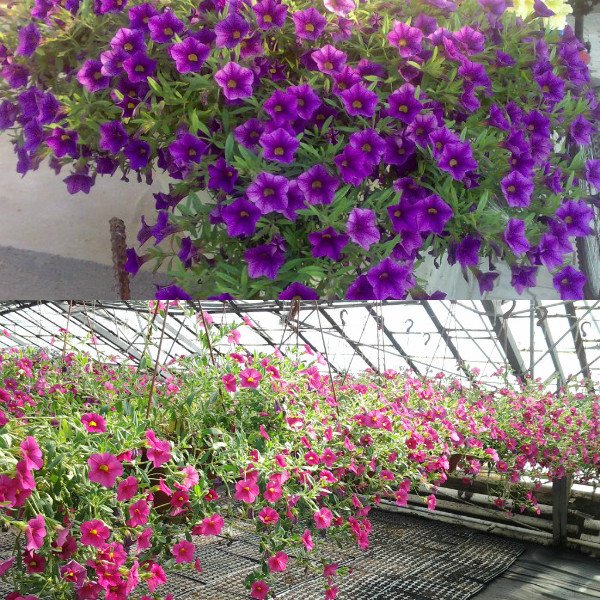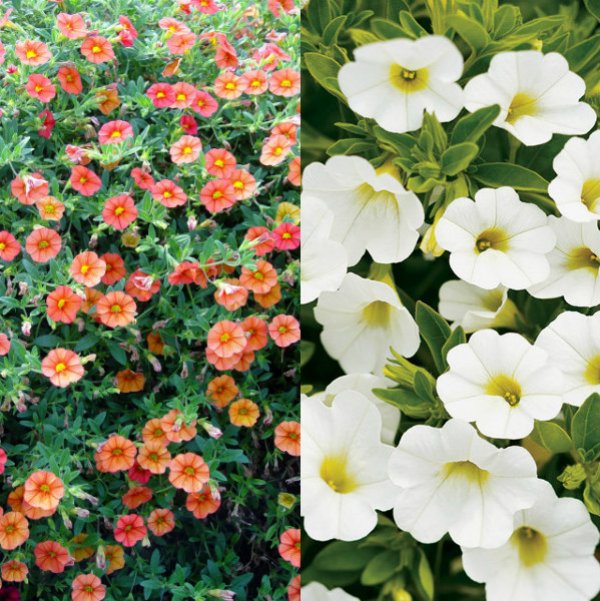 Cuttings or seeds? That is the question!
Indeed, in what way is it best to grow calrachoa? Cuttings or seeds to choose for breeding - that is the main question for each grower. Cuttings require more thorough care than seeds. However, from the seeds do not get such strong plants as from cuttings. This is because the seeds do not produce such flowers as we would like. In the overwhelming majority of cases, wild species are obtained, which were obtained from hybrids of mother plants. In addition, it will be difficult to achieve healthy flowering and a pleasant size. Often, smaller analogs are obtained. By the way, the very first variety that is grown from seeds was calarachoa cablum.
But with growing from cuttings, everything is much better. And about how this process does not break, tell step by step:
At the end of the summer, it is necessary to cut off the upper cuttings, on which there will be 5 or 6 leaves. Also, you can cut in the beginning of autumn;
All the lower leaflets need to be torn off, and the remaining stem with the upper leaves to land in the ground;
In order for calarahoa flowers to take root, they are placed in greenhouses, which can easily be made from ordinary plastic cups. The flower needs air, so you need to air it once a day;
In order for the flower to start growing quickly, it is necessary to provide increased humidity in the greenhouse;
After the plant is well rooted, you can remove greenhouses and already enjoy the small plant, which now requires careful care.
Choose, of course, a gardener, grow Calibrahoa from seed or by cutting. The first method is much more painful, but the result is more desirable. In the end, who would not want to grow something beautiful out of a small grain? For growing seedlings, it is advisable to choose F1 hybrids. They are characterized by a high percentage of germination and perfectly preserve the properties of the parent plant.
A few words about the care. Rooted cuttings need to be sprayed with water a couple of times a day. At the same time it is necessary to monitor the soil moisture. It is necessary to preserve the moisture in it while not making it raw, otherwise all the work down the drain. If you notice a mold that appears suddenly - water and spray less your flower. When the roots are in length under 2 cm, you can already be transplanted into small pots, the width of which will be no more than 5 cm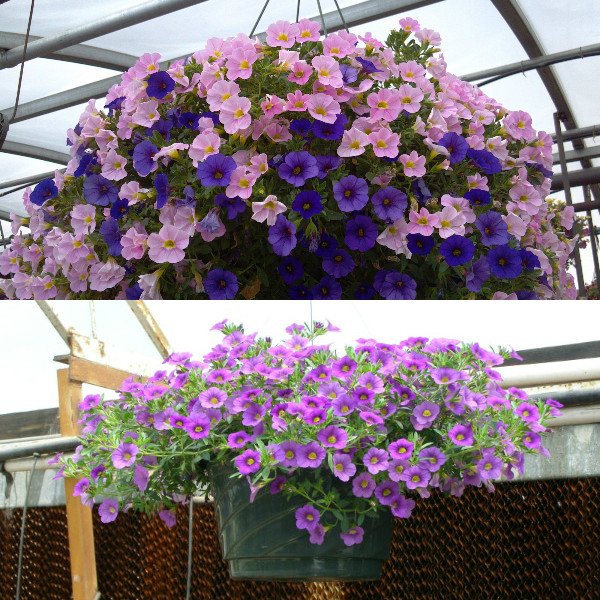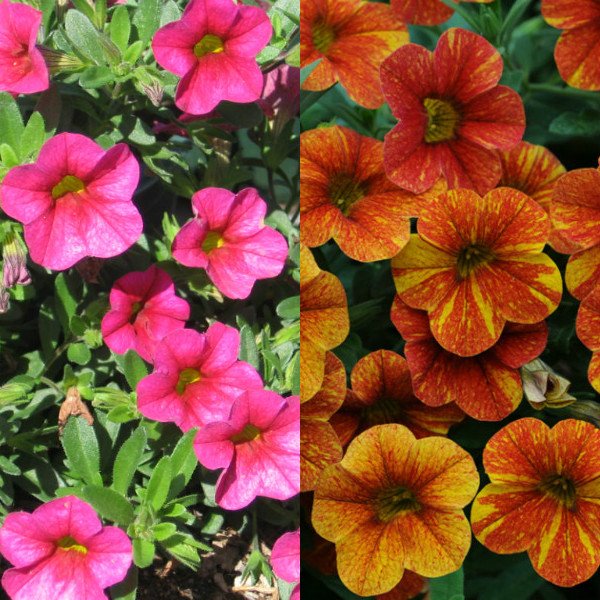 Cold and snow. How to save a flower at this time?
You need to work hard to ensure that your bushes survive the winter. Cold and snow are detrimental to any flora that blooms in summer. How to save the flower calibrahoa in this difficult time? Often, in winter they retain those varieties that are very rare and do not give seeds for further reproduction. To maintain your own variety, you need to adhere to the optimum temperature, which will not exceed 15 degrees. Humidity should also be moderate. Good places where the plant will winter properly are balconies on the south side of the building, window sills, and loggias. It is necessary to bring plants from the street into the room before the start of frosts. The ideal period is October, early November. Rotted stems and dry leaves must be pruned beforehand.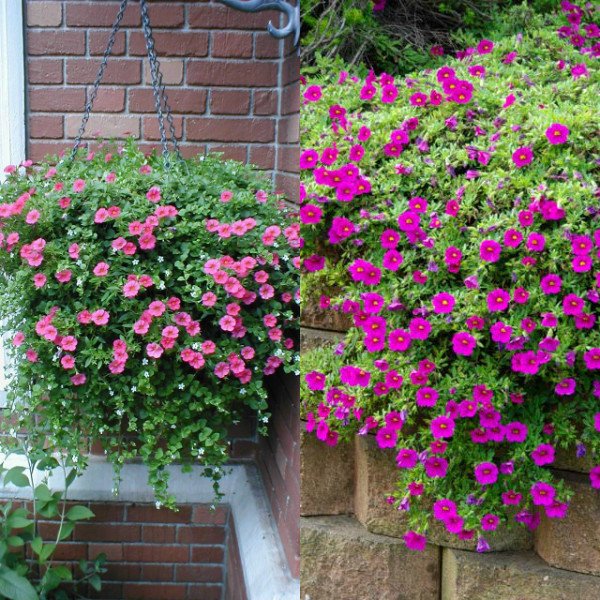 So, discuss the basics of caring for flowers in the winter:
Watering rare, no more than three times a month;
Stop any fertilizing with mineral fertilizers;
Necessary to provide significant humidity;
If there is not enough sunlight, it is necessary to use lamps;
Air temperature should not be lower than 0 and higher than 15 degrees.
If you follow these simple rules, then in February it will be possible to rejoice at the burgeoning calicraa. At this time, you can water more often, as well as lure nutrient fertilizer.
After overwintering, the surviving bushes are set at their usual places. However, do not think that the second year will bloom better young. Still, grafting is the best way to enjoy the smell and beauty of flowers all year round.
Following the instructions, the question of how to maintain a calicracho in winter will no longer arise. Even caliberraha such as the cablum mix can easily survive in the most difficult conditions, despite their capriciousness during cultivation.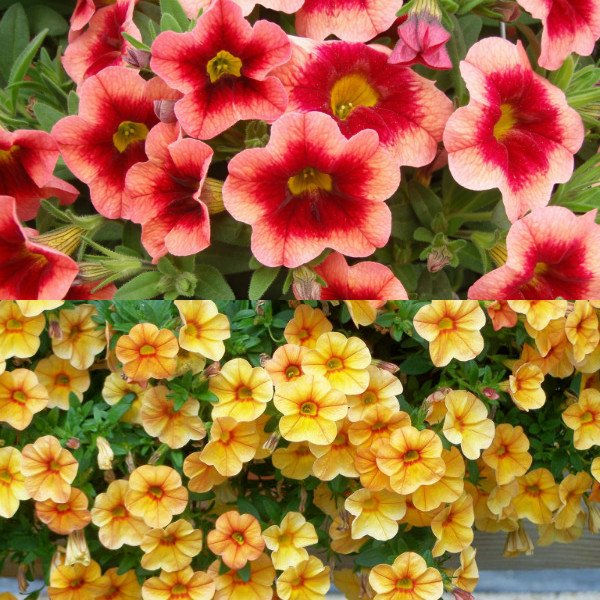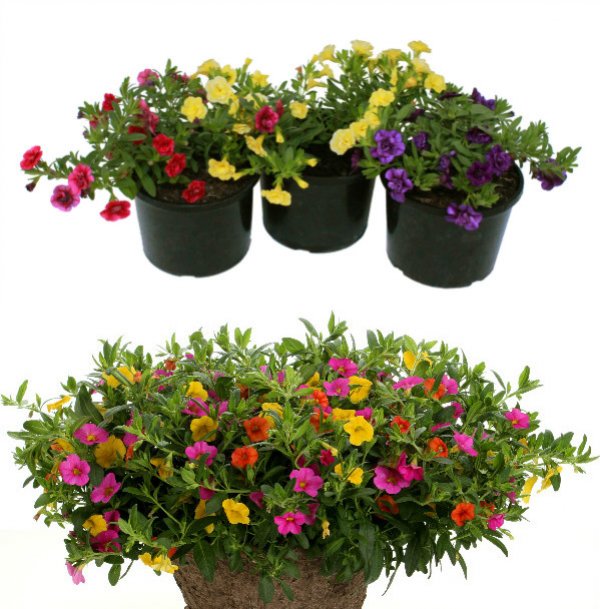 Decorative value: how to decorate the house?
The decorative value of calibrahoa is that these are very interesting flowers. If you properly care for them, you get a beautiful hanging bush. A large number of boxes on the veranda will emphasize and decorate the design of any home. And the hanging pots look very cute. After all, if you look at the photo caliberraha, then you can see the little flowers that you want to protect. It is enough to know how to properly decorate a house with them and you can even turn a modest apartment into a tropical paradise. Lush seedlings can be admired throughout the year, and the smell of spring will always delight with its freshness.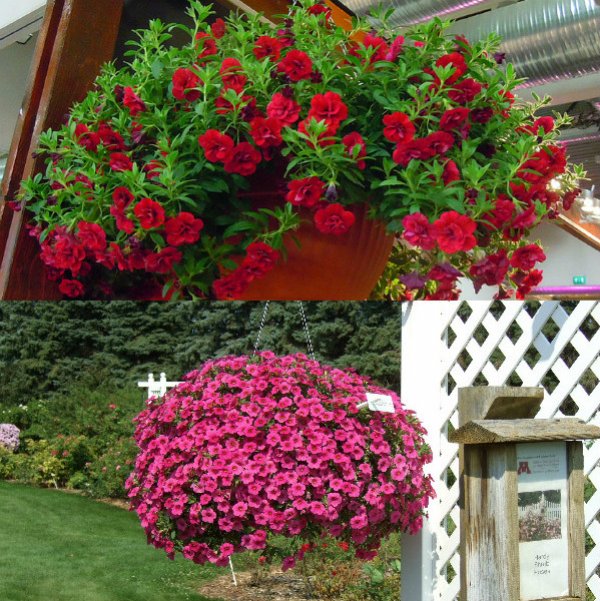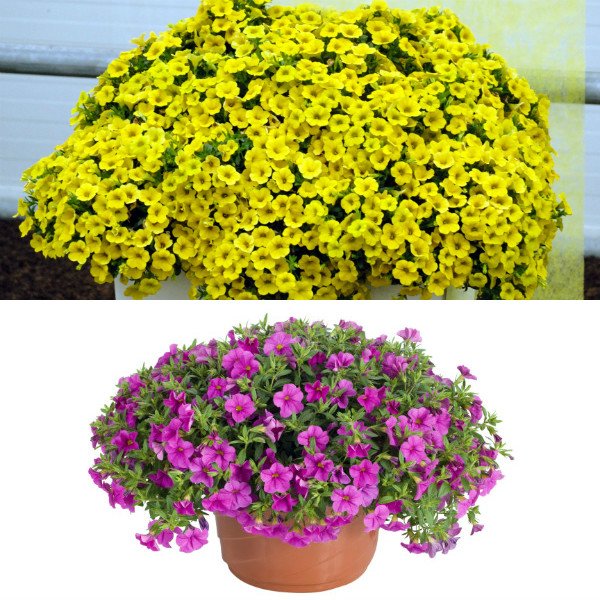 Decorative of this plant is great. And although our people are even more prone to growing petunias, a close sister of Calibrahoa, we believe that this flower will be more common in the apartments and houses of our compatriots.
SIMILAR ARTICLES: