Decorating landscape design with unusual plant colors is a winning option. Such forms of flora form an excellent background for colorful flowering plants. Silver Cineraria looks spectacular both in the design of flowerbeds, and when decorating rock gardens and alpine slides. The most common varieties are marine and seaside, characterized by unpretentiousness to growing conditions, giving a rapid growth of green mass. Proper planting and consistent care for the plant on the garden plot are described in the proposed article. Look at the silver cineraria in the photo, illustrating the richness of plant use options: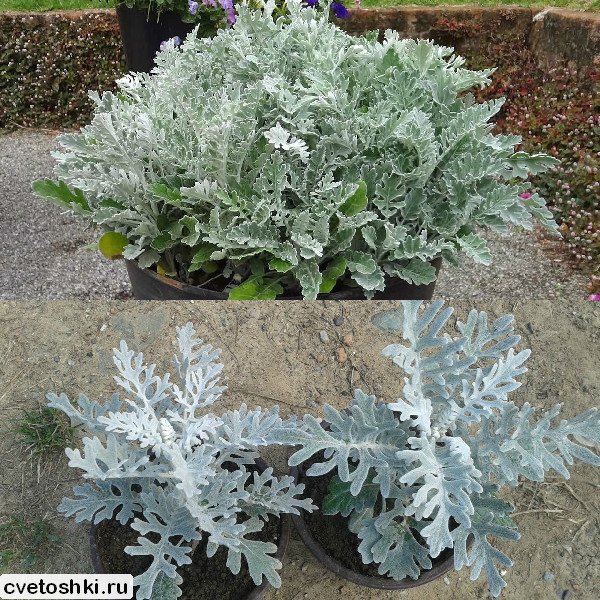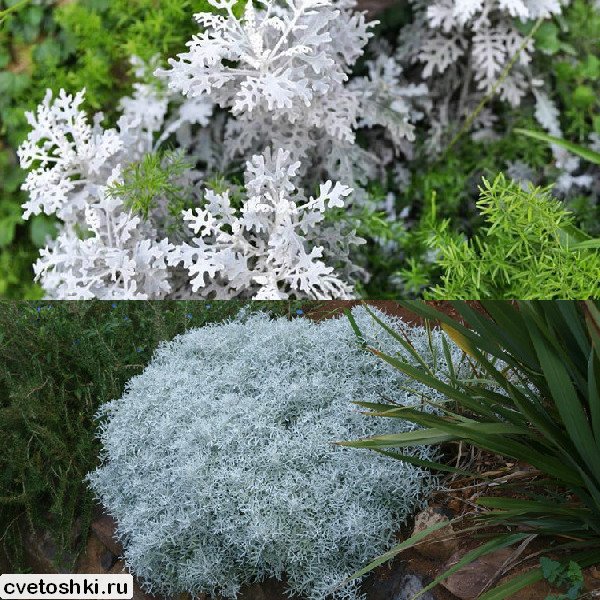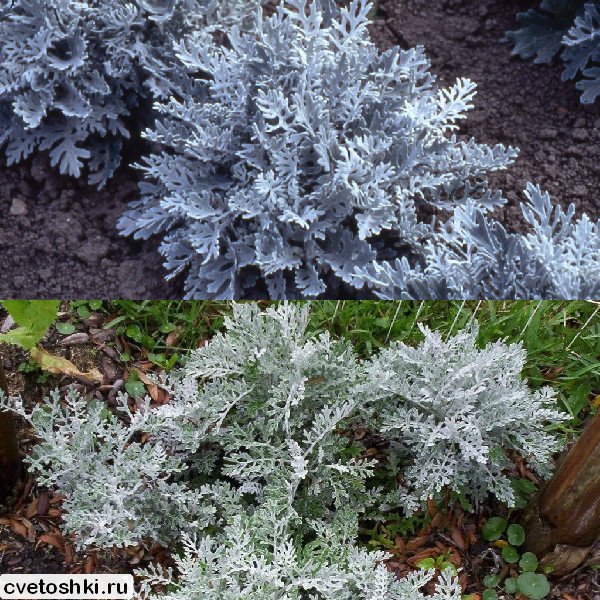 Familiarity with silver tsineraria and plant photos
Getting started with a brief description of culture. You can encounter silver tsineraria in nature in regions with a warm and humid climate. This culture is demanding on soil structure and its moisture level. It is a grassy shrub, framed by deciduous mass with strong pubescence. Other botanical names include Ashen Baptismal and Primorye Jacobi. Homelands are the Mediterranean regions. The leaves are pinnate, dissected, have a pleasant velvety surface. With the help of petioles, they are collected in a sufficiently dense rosette, which, as it grows, takes the form of a bush with a semi-ruined structure. The main color is silver, there are varieties with bright patches of green.
Look at the photo of silver cineraria in various group plantings in the garden: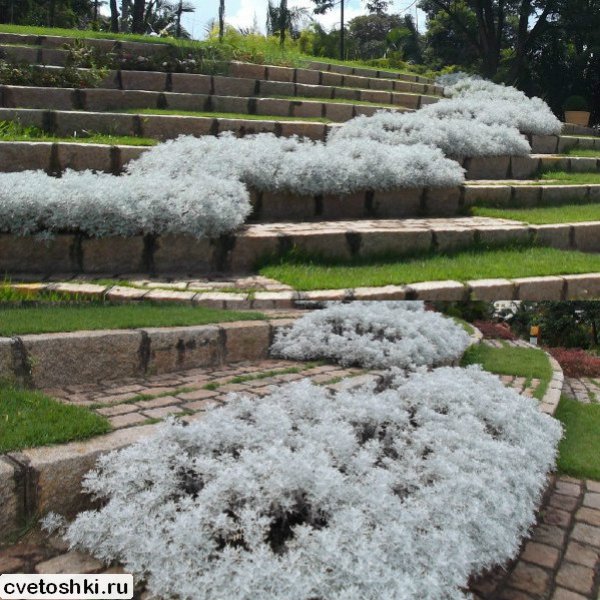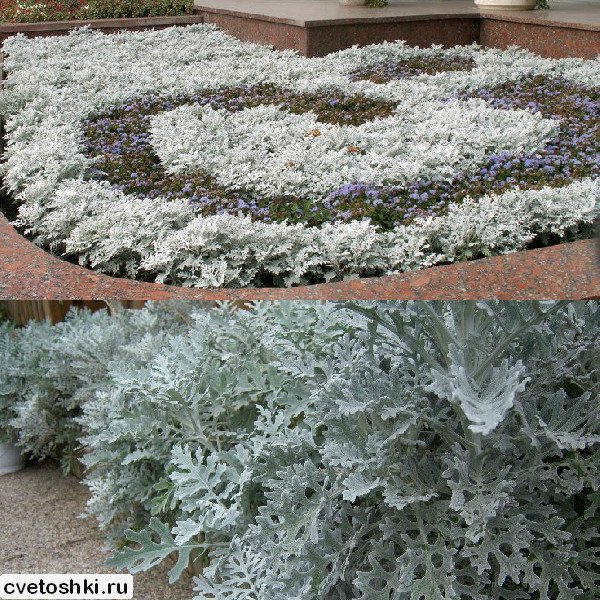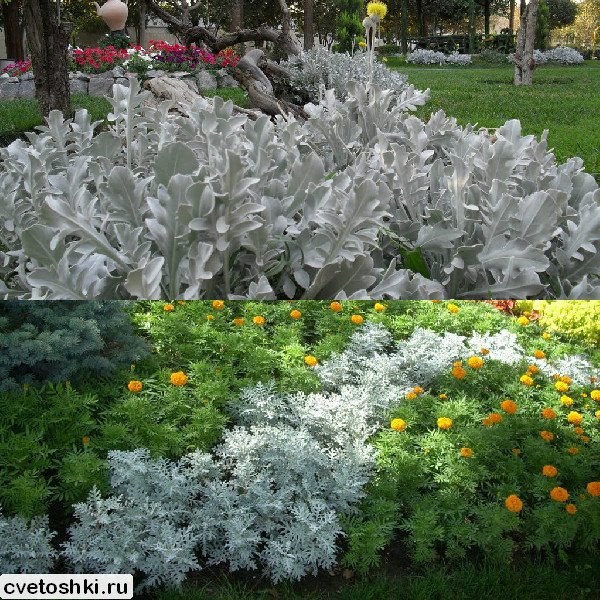 The groundsel ashy is suitable for growing at home as a decorative leafy crop. It blooms in room conditions rarely, but it has a rather attractive appearance due to an unusual deciduous mass. In the open ground around the middle of summer gives inflorescences such as asterovy, but with smaller buds. The structure of the flower is simple. The main color is yellow. Any aesthetic value inflorescences do not differ.
The shrub reaches a height of one season in 30 - see 40. At home it is grown as a perennial crop. Easily shaped by regular pruning. Two varieties are common: Cirrus for single plantings and Silver Dust, in addition to them even more 50 varieties are known.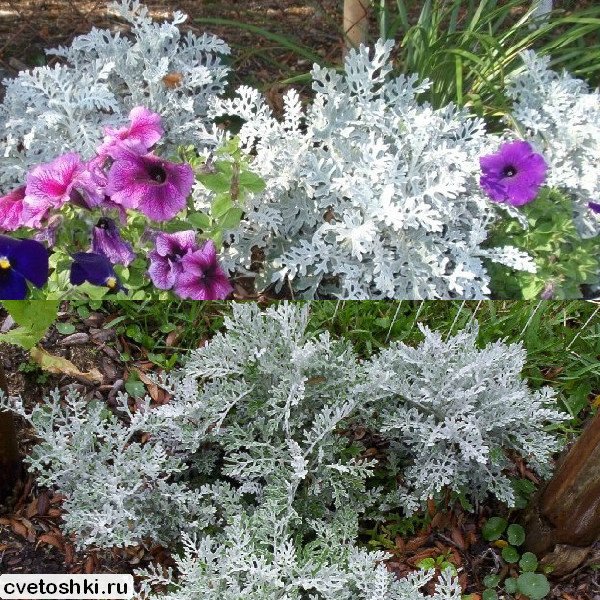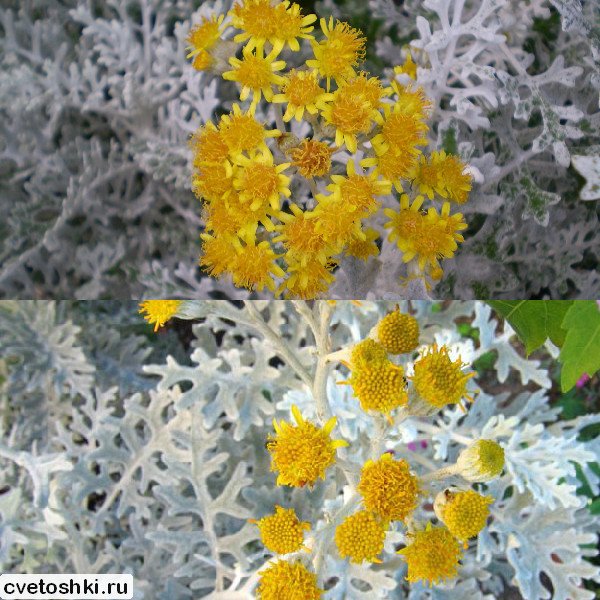 Planting silver cineraria and caring for it
The main method of reproduction - seed. Sowing is carried out through the seedling phase. Planting of silver cineraria is carried out in mid-February in nutrient-rich soil. For its composition is suitable compost or humus, mixed with sand and sod land. Sowing is carried out on a compacted surface of the earth. Seeds do not sprinkle and are not embedded in the soil. After sowing, careful drip irrigation is required, pre-moistening of the soil to medium humidity. Then the container is covered with polyethylene or glass. Shoots appear after 10-12 days. Germination is approximately 70%. Pre-stratification, soaking and other preparation is not required. Subsequent care of the seedlings consists in timely picking, feeding and regular loosening. Caring for her is not difficult and not even very experienced gardeners.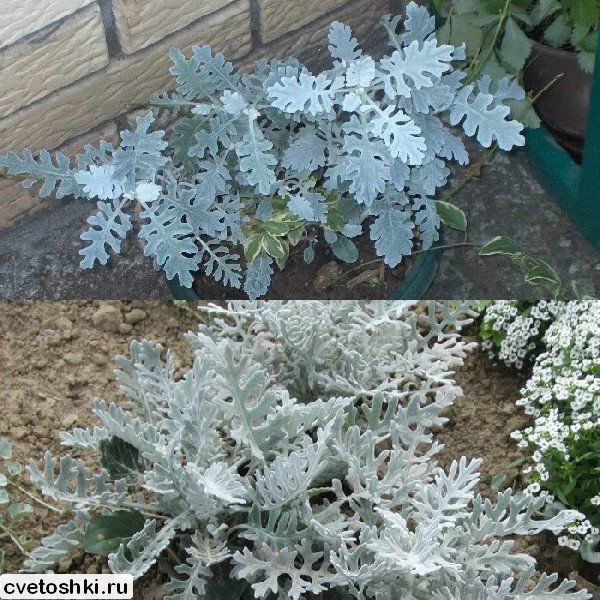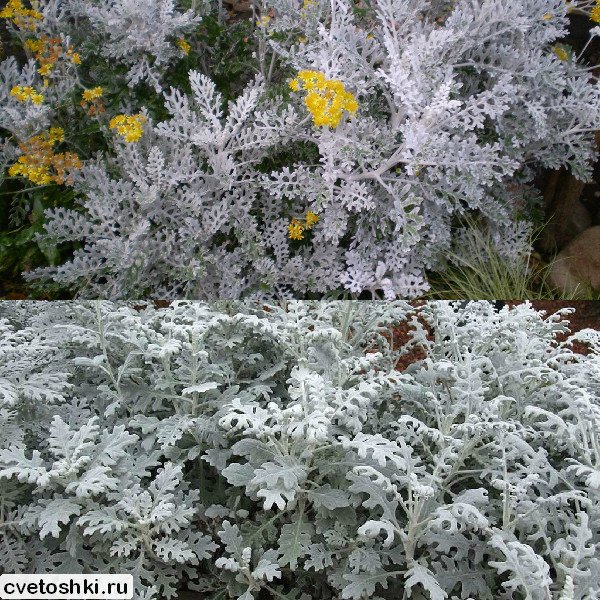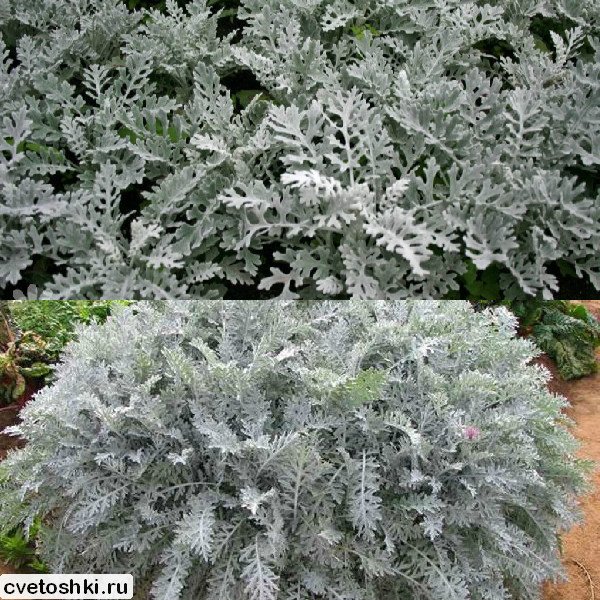 Primary picking is carried out in the development phase of two true leaves. Pinch the central root. For planting taken plastic containers 200 ml in volume. After picking, seedlings pritenyut for the first three days. Then requires a shift to a well-lit place.
Top dressing is done 10 days after picking. Subsequent fertilization is every 10 days. They need to be combined with irrigation, which is required when drying the top layer of soil.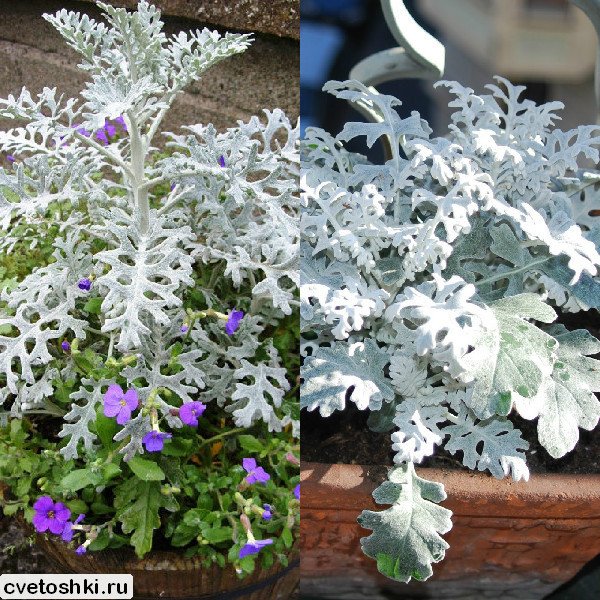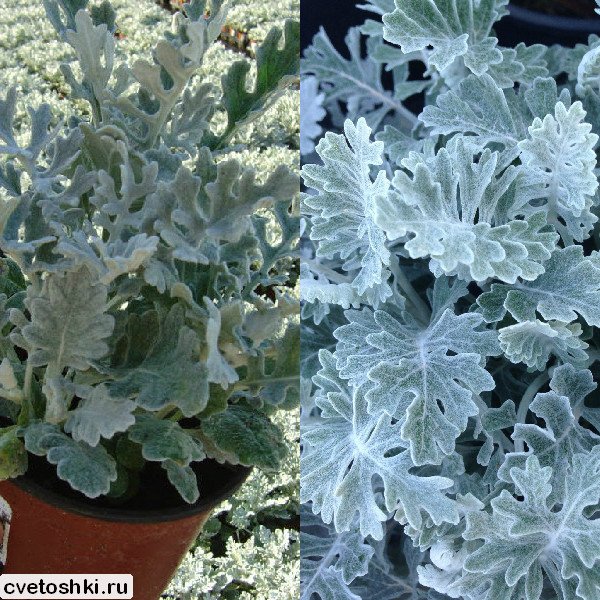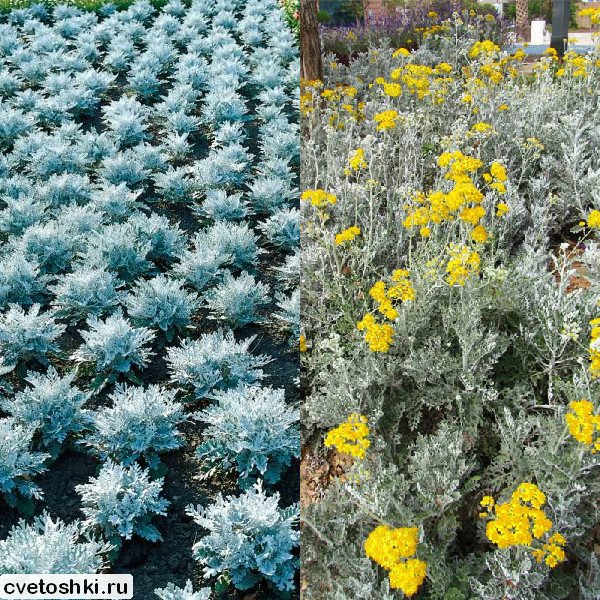 Landing in the ground is carried out in the second half of May, when a stable positive average daily temperature is established. The soil should warm up to 10 degrees Celsius by this time. Landing pattern: 20-15, see. Before planting, wells are prepared with depths down to 30. They contain compost mixed with 20 and superphosphate and nitrogen. This is the norm for 1 plant. Everything mixes with the ground and is disembarking. It is advisable not to disturb the root system. Then the plant is abundantly watered and covered with a plastic container for 5-7 days. During this period, adaptation to new conditions occurs and the protective cover can be removed.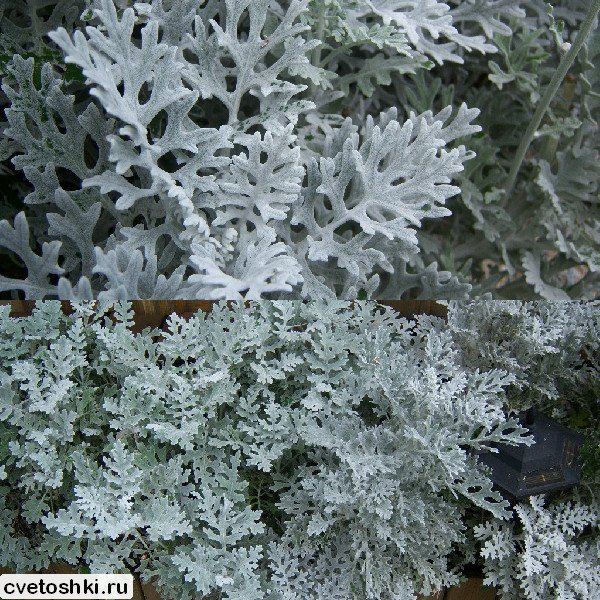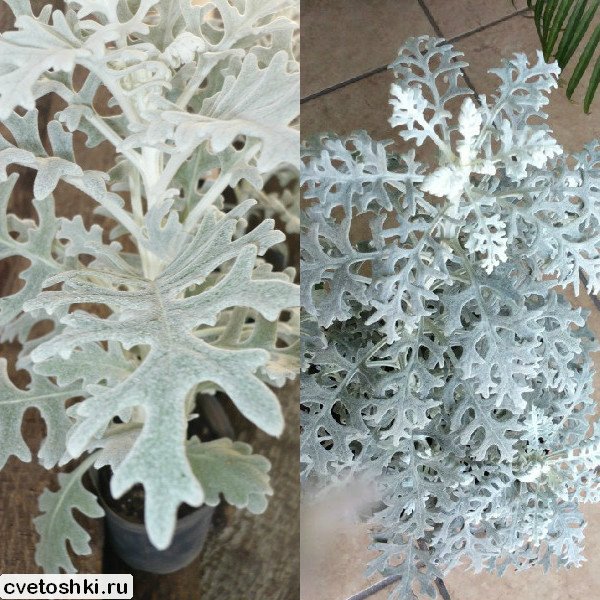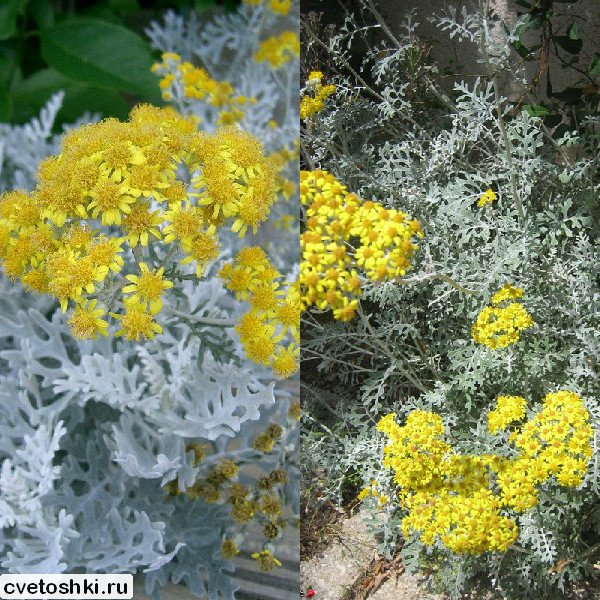 Further care of silver zineraria is regular pruning, mineral fertilizer application in liquid form. Also requires 1 once a week to loosen the soil to a depth of 5, see. After removing the weeds, mulching is necessary. As mulch you can use fresh cut grass or rotted sawdust. Feeding is performed 1 once a week. Alternate mullein solutions and complex mineral fertilizers intended for green, leaf and ornamental crops alternate.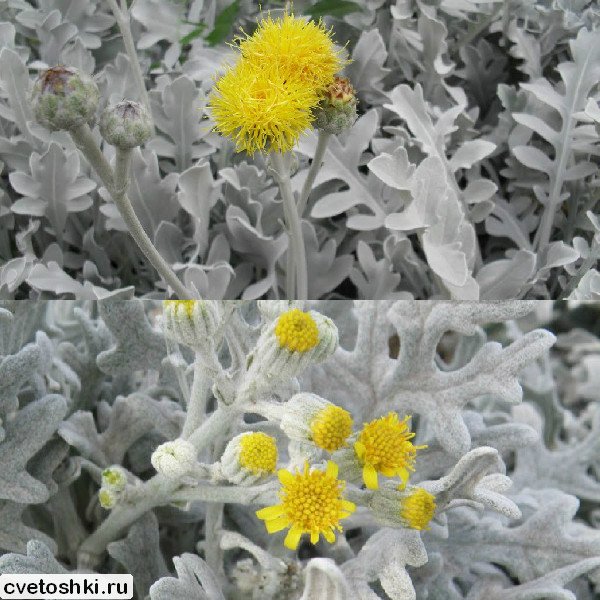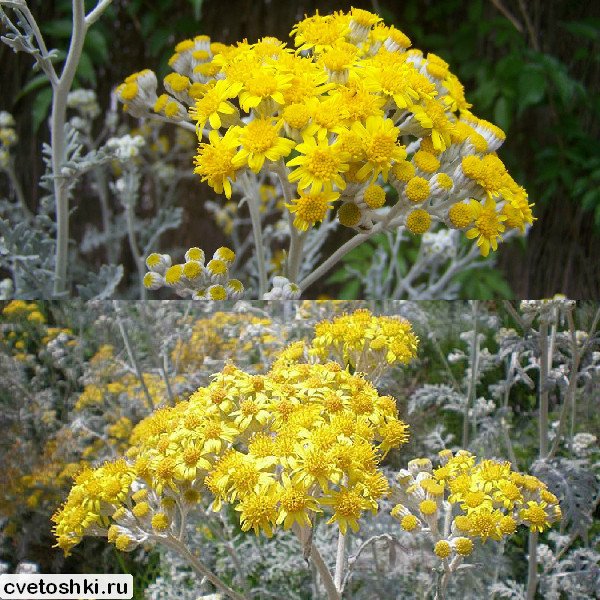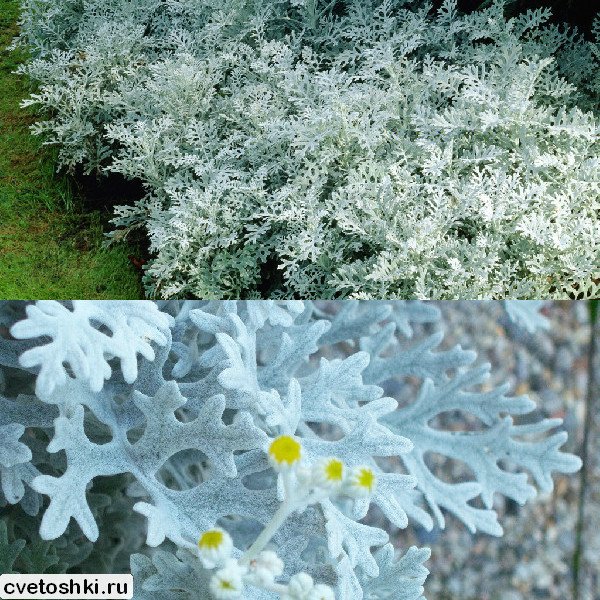 When the peduncles appear, they should be removed immediately. If this is not done, the plant begins to lose the lower tiers of the foliage, all forces rush to distill the peduncles and their subsequent growth. Silver Cineraria does not bother with beautiful buds and completely loses its decorative effect without proper trimming.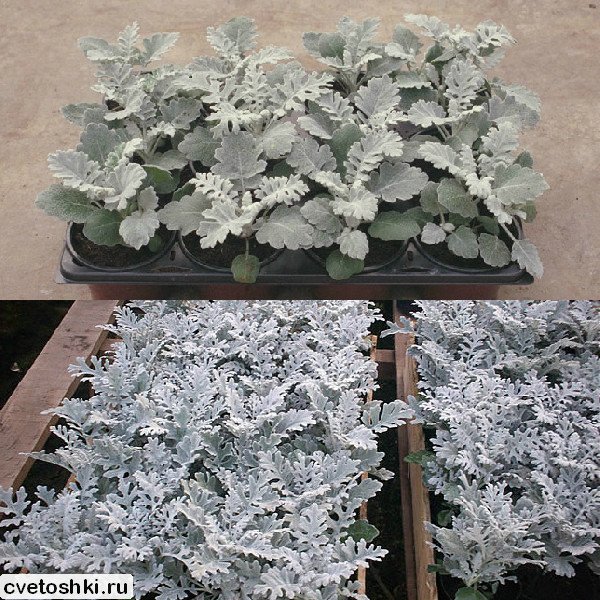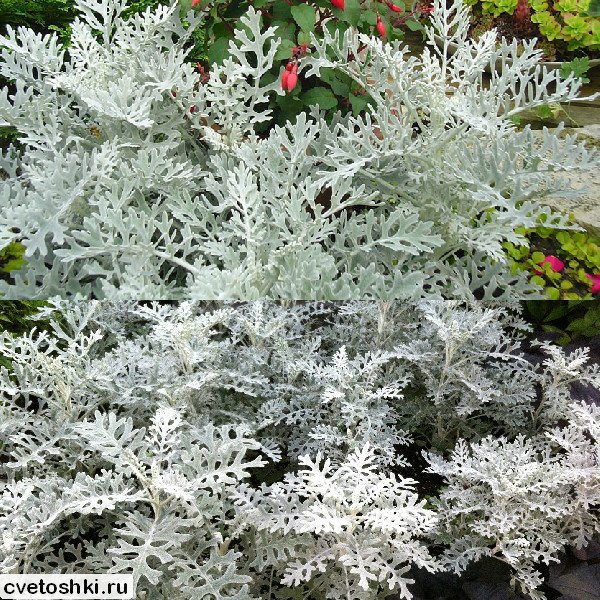 SIMILAR ARTICLES: