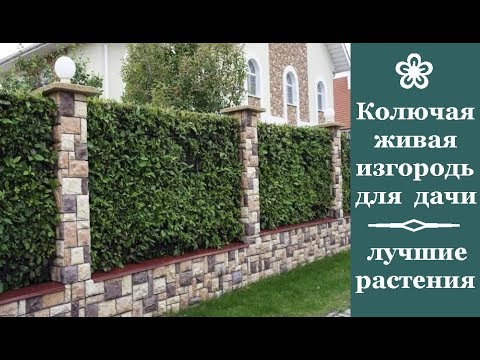 What kind of hedge is better to plant on your site, each gardener decides on the basis of personal taste preferences and the appointment of green fencing. If it is necessary to protect the territory from stray animals, then it is best to create impenetrable thickets.
If you pursue the goal of simply demarcating the boundary between yours and the neighboring garden, then it is better to have such a hedge that will not interfere with the free circulation of air.
For a long time people arranged hedges of different plant species according to their goals and tastes. Therefore, green fences from a variety of decorative and not only bushes and trees in our days differ a significant variety.
You learn about what kind of hedges are and what plants are suitable for them by familiarizing yourself with this material.
The best hedges: trimmed and trellis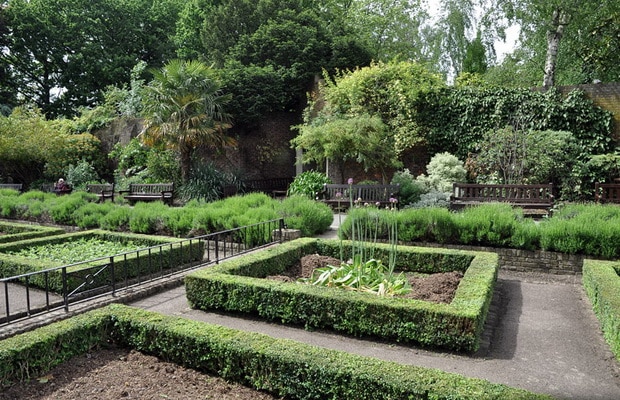 Trimmed hedges
One of the best hedges are trimmed or molded. They are created by systematically cutting plants in free form. Grooming green fences give any configuration - from the strict rectangles to the rounded shape.
A hedge can also be made in the form of a stone wall or give it a fantasy shape - arches, clear geometric figures, animals.
A clipped green fence can be of various heights - from a 30-centimeter fence to a living wall above 3 m.
As seen in the photo, such a hedge consists of one or two rows: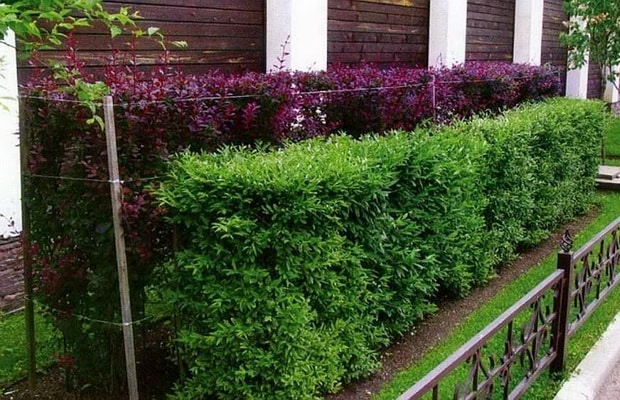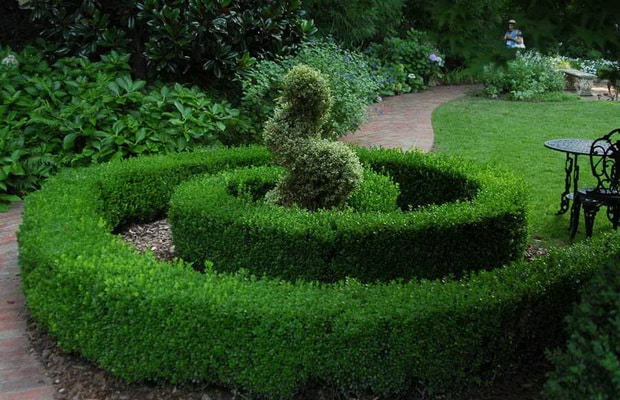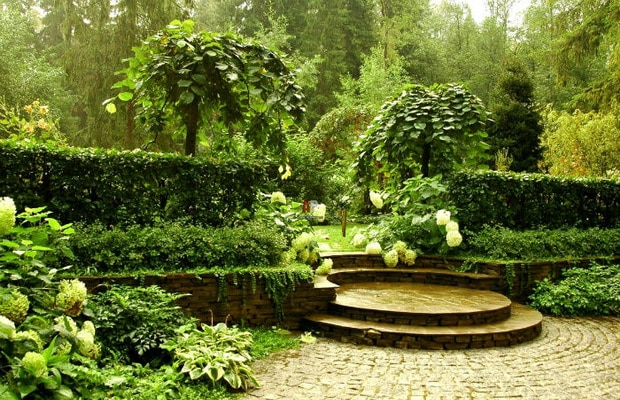 To create a molded green fence select plants with small foliage, providing a dense surface fencing. Bookmark molded hedges is more expensive because you need more planting material.
Care of the clipped fence is also more difficult, it requires special knowledge and sufficient practice in the field of formative trimming of plants.
Maintaining intelligible forms of fantasy figures is quite expensive, since it is almost impossible to do this work yourself with a trimmer or chainsaw and you have to invite a specialist.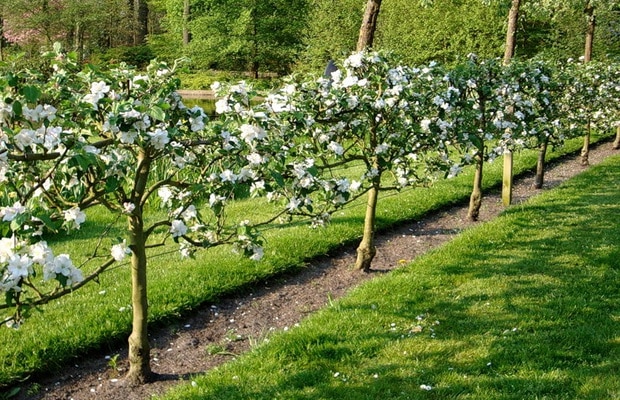 Trellis fence
Most types of hedges require a certain space. On a small area of ​​the area, when space saving is put at the forefront, a trellis fence will help.
When growing such a hedge, they regularly produce cruciform weave processes of shrubs or short trees. For the device, a thick, but not wide trellis plant is planted at close (no more than 20 cm) distance from each other.
And what plants are suitable for such a hedge?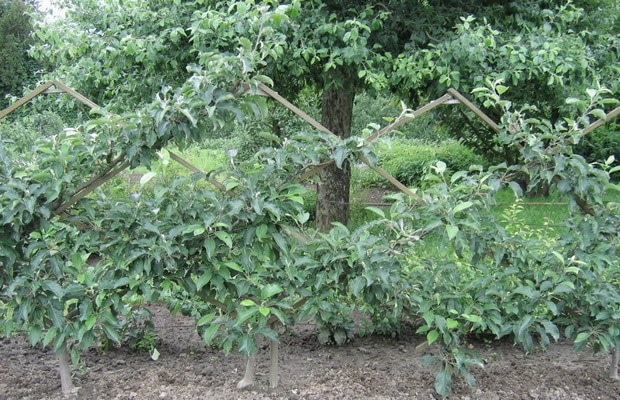 Looks great on the trellis green fence formed from hawthorn, yellow acacia, willow or rowan. Preferring a trellis fence, it should be noted that it needs to be cut regularly.
Frame and cascade types of hedges (with photos)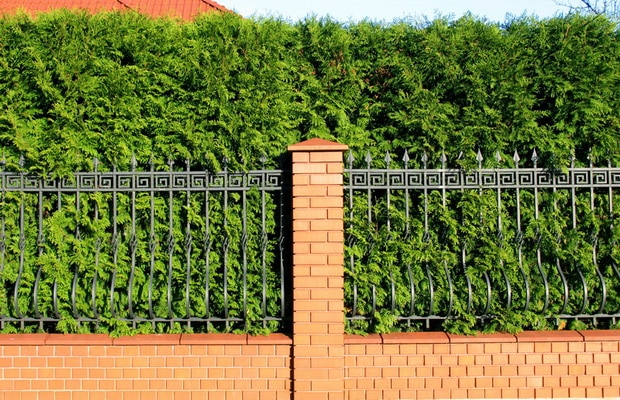 Frame fence
The device on the frame fence is a convenient option for external fencing of the site. The frame is a high fence, a self-made wooden lattice or a small mesh.
According to the frame of the plant can be sent to growth vertically or horizontally. Creating a fence on the frame, it should be remembered that the roots of climbers require regular watering.
Look at the photo, it looks like a frame hedge in the country: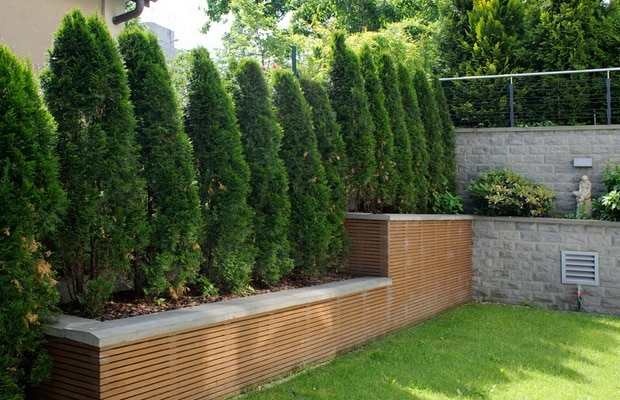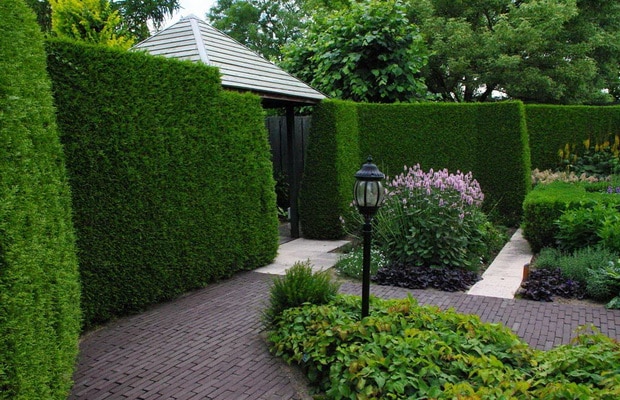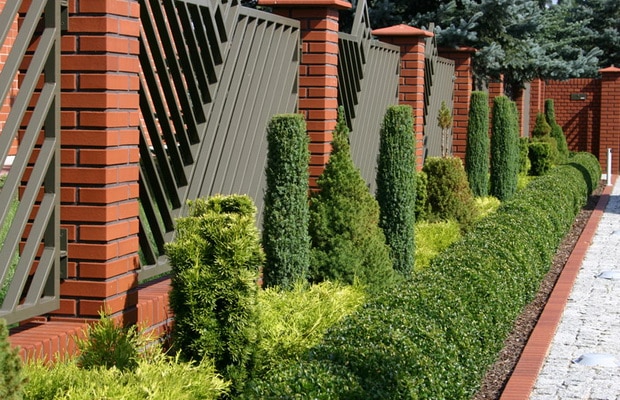 Cascading hedges
Multi-row cascading green fences are painted with some fantasy bloom. They combine freely growing and molded "steps". Such hedges create from various types of shrubs and trees.
Also, in a multi-row hedge, plants of the same species, but of a different variety, are combined with different color of foliage or needles. In a multi-row cascade hedge, combinations of purple and green beech or green and variegated holly look good.
Landing multi-layer living fences requires a lot of space, but they more effectively protect the site from the noise of the highway, gas atmosphere, outside views and unwanted visits.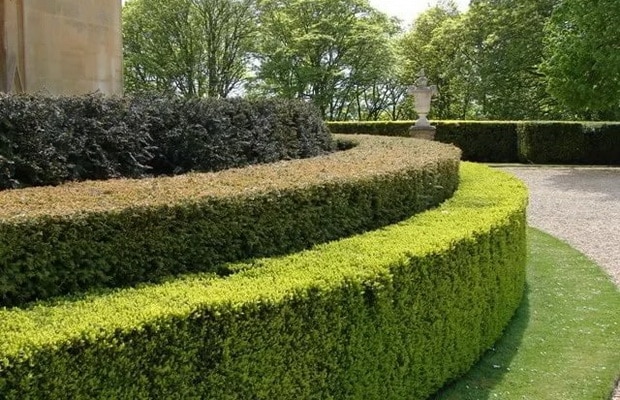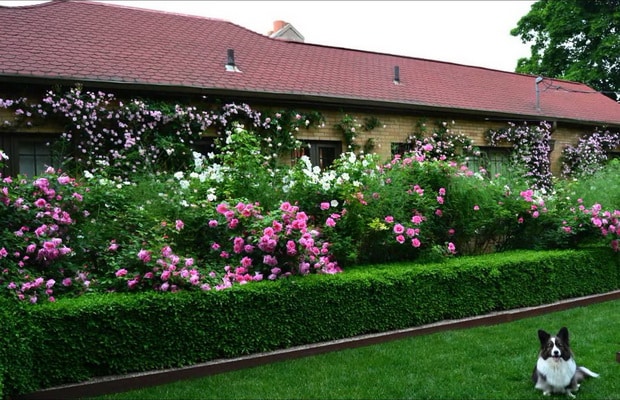 Below are photos and names of other types of hedges.
What else are the hedges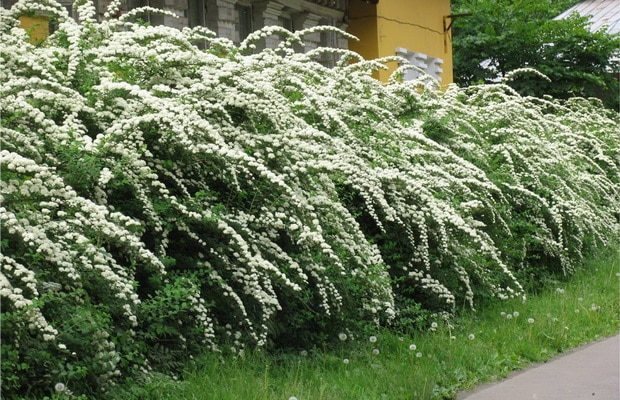 Free-growing hedges
If, while creating a green fence, a hedge is made up of plants that practically do not need a haircut, then such a hedge is called free-growing.
Since this fence is almost not subject to correction, it grows in an arbitrary direction. The only thing that a free-growing hedge requires is rejuvenating sanitary pruning.
Pay attention to the photo - this type of hedge can be made by single-row or multi-row planting of ornamental, fruit and berry shrubs or low-growing trees: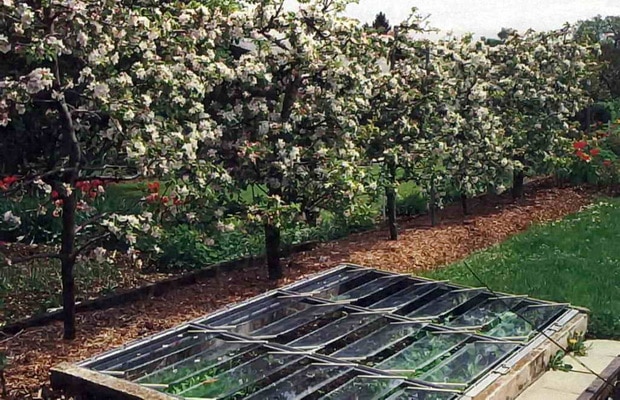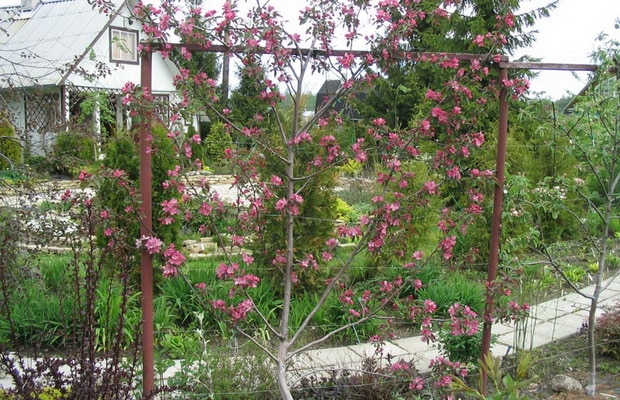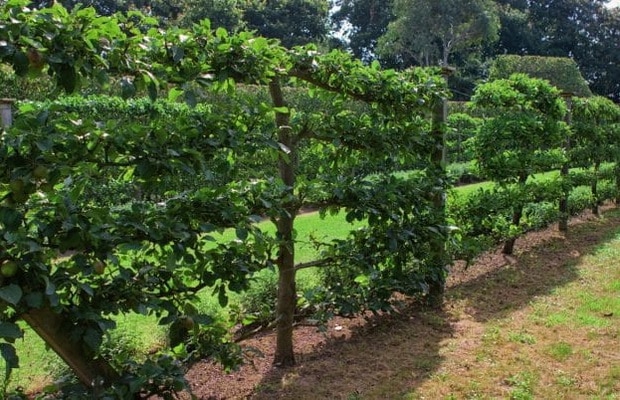 The advantage of such a fence is that it does not require regular and time-consuming pruning. It happens that in planting one of the plants accidentally dies, but for a free-growing hedge this will not be a big problem, unlike a molded hedge. The dead plant in this hedge can be easily replaced, since it was originally made up of many different cultures.
The huge species and form diversity of beautifully flowering shrubs, different in height, allows you to create an expressive composition. Plants for it are selected so that they have different dates of the beginning of flowering and its duration, different shape and color of inflorescences and foliage.
Then the fence during the season will repeatedly change its color scheme. Free-growing hedge composed of various types of shrubs is very popular as landscape decoration in landscape style.
Since a free-growing hedge does not require regular haircuts, it will be an excellent option for the suburban area, especially since it is easy enough to arrange it yourself.
Such fences are different wild and slightly neglected form, and the use of several types of shrubs creates an additional kind of romantic image from an old novel. For free-growing flowering fencing fit honeysuckle, shadberry, barberry and etc.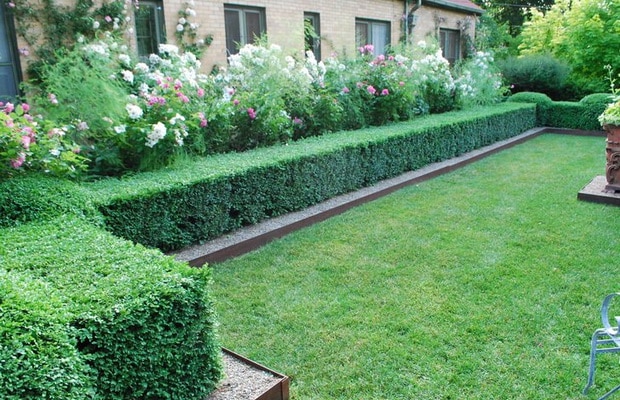 Uneven high hedges
Living green hedges in the country are of various heights, according to this indicator, there are three types of enclosing plantings:
Curbs up to 100 cm tall - suitable for delineating the contours of lawns, flower beds and paths
100-150 height hedge cm - for division of a site into functional zones
Living wall height from 200 cm and above - for landing along the boundaries of the site
For the fencing of flower beds and paths in flower beds, very low curbs of low-growing shrubs, whose height does not exceed 50, are satisfied.
All ornamental plants that form hedges, for their growth and development require different amounts of light. In relation to sunlight, they are conventionally divided into three large groups: photophilous, tine-resistant and shade-loving.
The entire territory of the suburban area is divided into separate functional areas with the help of hedges of medium height. For a green fence in this case, it is best to use a low-growing ornamental shrub and perennial herbaceous plants, so that they subsequently do not interfere with the survey area.
Hedges are taller than a man, they reach the height of 250 cm and look like a real living wall. Such fences are preferable when the area is fenced - the plants should be above it.
In this case, they are planted from the outside, before the fence. Especially this option is recommended when the fence goes out.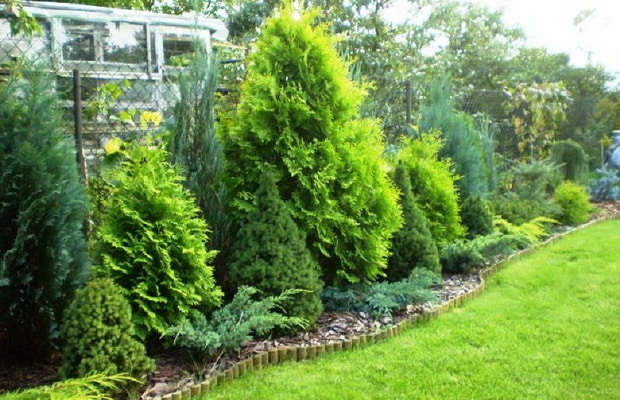 Functional fences
The external hedge is designed to delimit your own territory from the street or the neighboring site. It can be tiered.
For planting external green fence is not desirable to use fruit trees or shrubs.
During the period of fruit ripening, such fencing will be the object of close attention of birds and various animals.
Look at the photo - for such a hedge it is best to plant a prickly shrub (barberry, hawthorn or wild rose):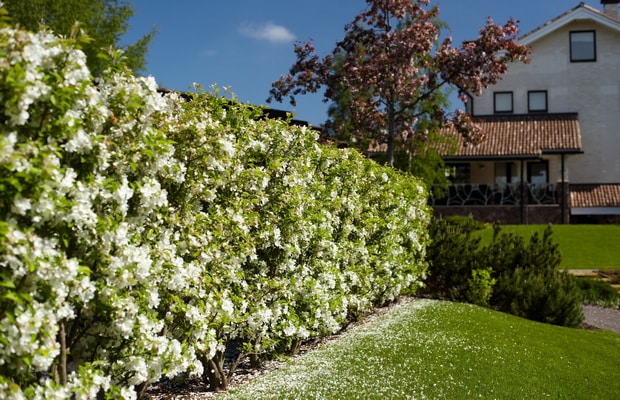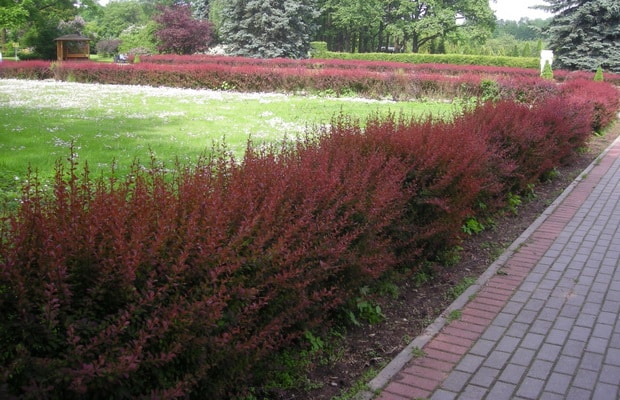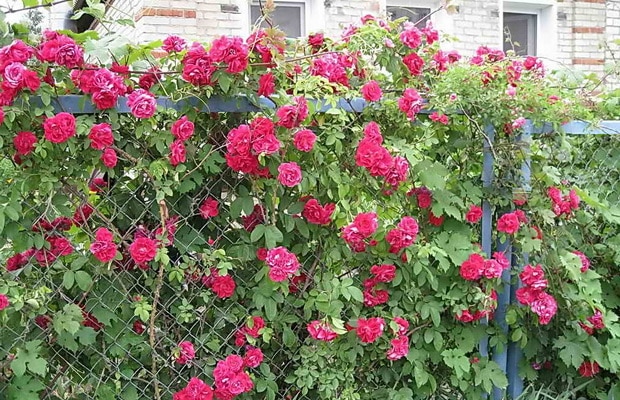 A green thorny fence will not allow unauthorized persons to sneak onto the site in the absence of owners.
Divided into different functional zones, the land plot looks cozy and beautiful, and the beds do not suffer from the invasion of uninvited guests. The internal hedge separates the living area from the economic yard, the recreation area from the garden with garden beds.
On a spacious plot, using hedges of various heights and densities, one can single out a special space for rest - the "green room". Borders for flower beds make a small height, and protecting green "walls" are made of densely planted tall plants with small foliage.
The last section of the article is devoted to what plants are suitable for creating a hedge in the country.
Selection of plants for hedge
Young shrubs and 3-6 years old trees, well developed and easily rooted in new conditions, are suitable for planting green fencing. Choosing planting material for hedges, you should carefully examine the root system, it should not be dry, and the crown of plants, which should be uniform in shape.
When choosing which plants to plant for a hedge, the following factors should be considered:
Compliance of these climatic conditions with good growth of selected plants
Compliance of the soil area with the growth of selected plants
Growth rate of selected bushes and trees
The need for meticulous care
When selecting plants for hedge in the country, it is recommended to give preference to the already familiar, "passed strength test" crops that will grow normally on this soil.
It is best to give preference to winter-hardy unpretentious shrubs and trees with small dense foliage, able to recover well after shearing and having a high ability to form shoots.
To create molded hedges require perennial, resistant to disease, pests and cold-resistant plants. The growth and development of these hedges is slower, so the death of just one bush can destroy the entire composition.
As shown in the photo, for a hedge around a garden or a kitchen garden, plants are selected taking into account their compatibility with the cultivated crops: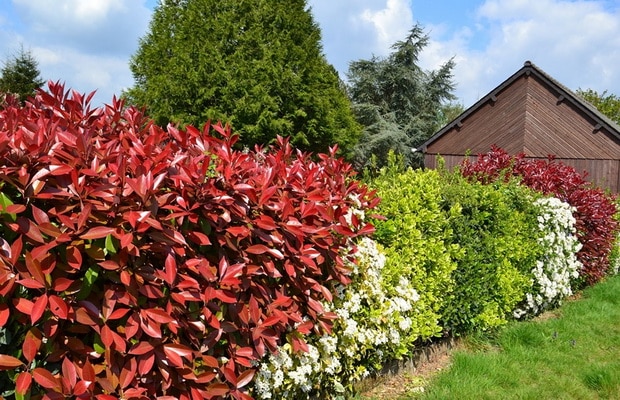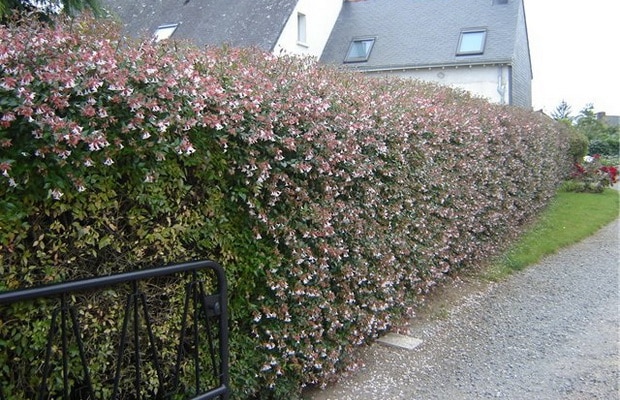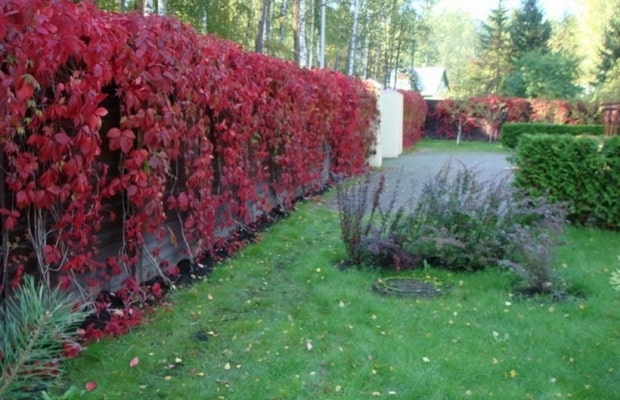 Thus, the combination of barberry in the garden with a plum or honeysuckle has a positive effect on the harvest. Harvest beautiful hedges of elderberry, spiraea, wild rose, as these shrubs contribute to the improvement of the garden.
In all other matters, choosing which plants plant for hedge in the country, you can be guided only by your tastes and interests, choosing your favorite combination of foliage and shrub flowers.
The height of the fence is completely dependent on the natural qualities of the selected vegetation:
Tall hawthorn, turf, honeysuckle, willow, viburnum, cotoneaster, filbert - to 2-3 m
Medium-high cotoneaster, silverweed shrub, spirea, dog rose - about 2 m
Low-growing barberry dwarf, lingonberry, thyme, blueberry - up to 1 m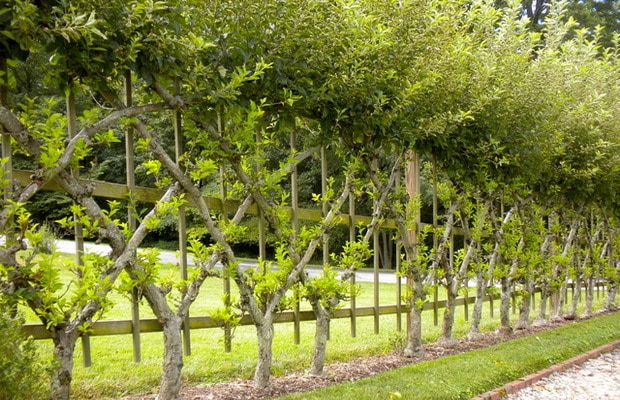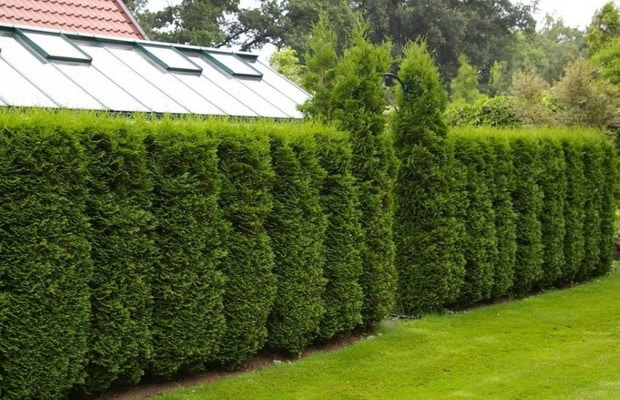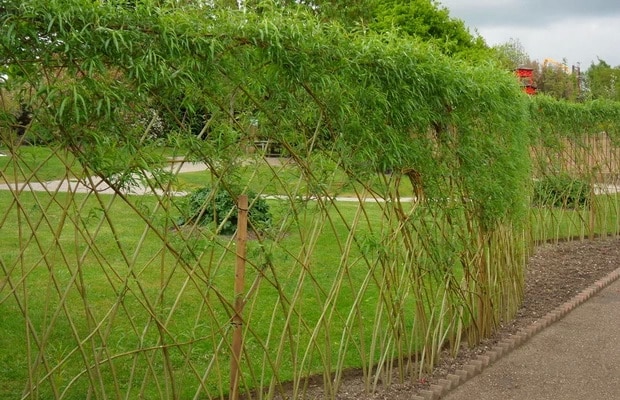 For an internal hedge around 50-100, see plants without thorns: purple willow, shrubby shrubbyalpine and golden currant or coniferous western Thuja.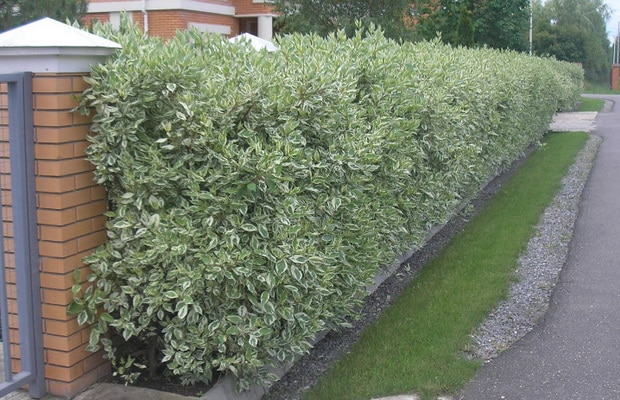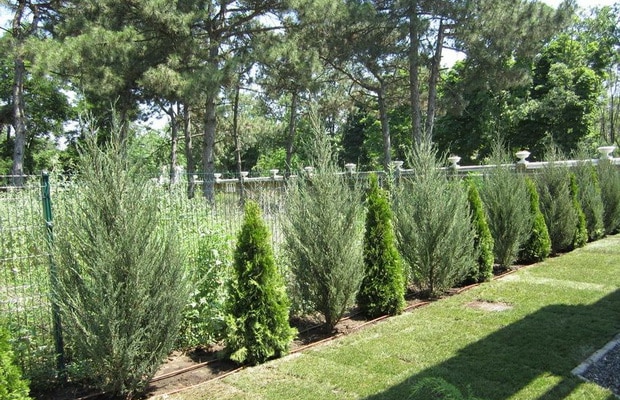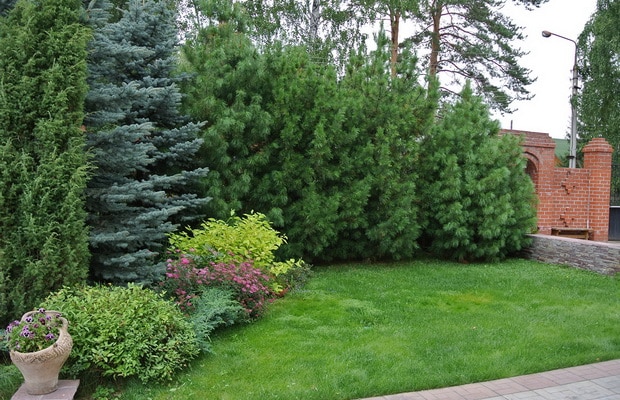 If you need a low, but prickly hedge in the country, then plant such plants as japonica, barberry ordinary, juniper coniferous, sea buckthorn or wild rose.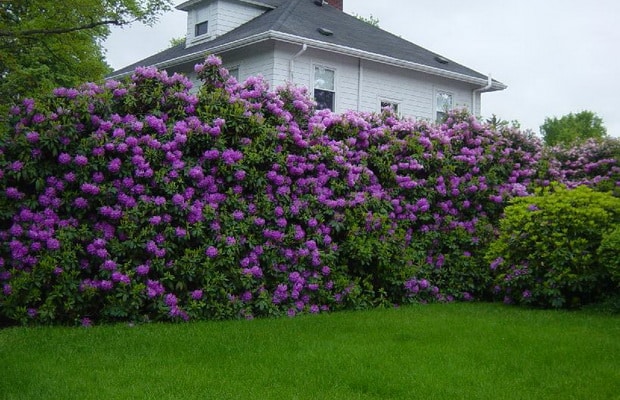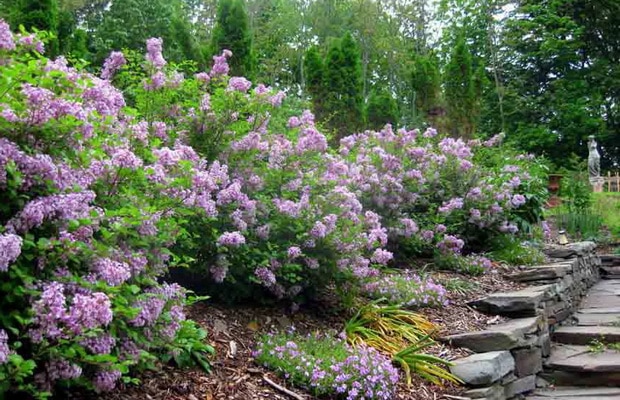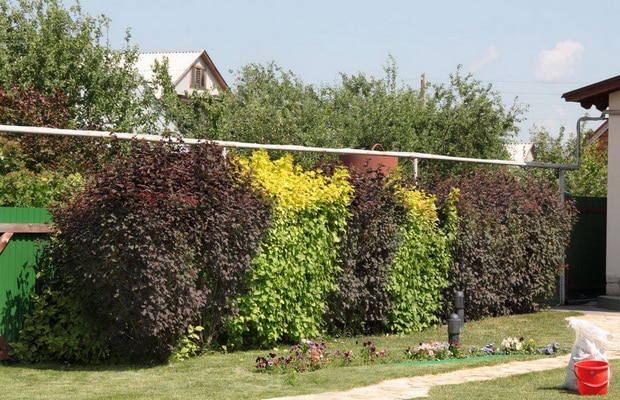 If you need a non-prickly hedge with a height of 1-2 m, then use yellow acacia, European euonymus, common honeysuckle, cotoneaster, fir, vesicleHungarian or ordinary lilac.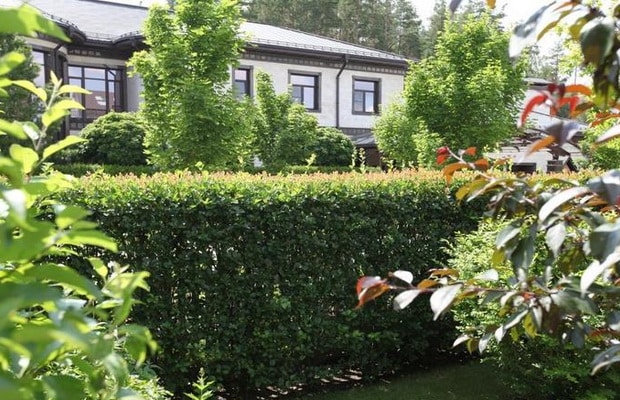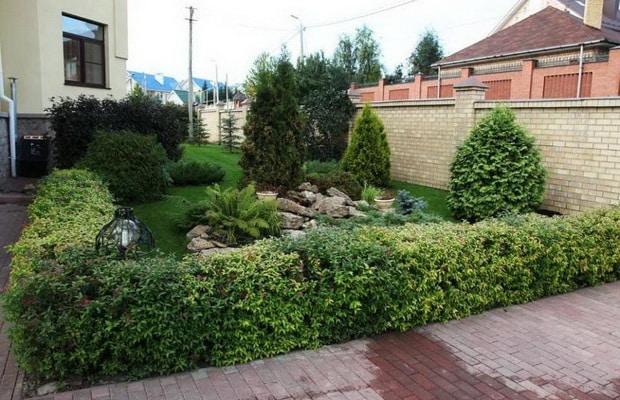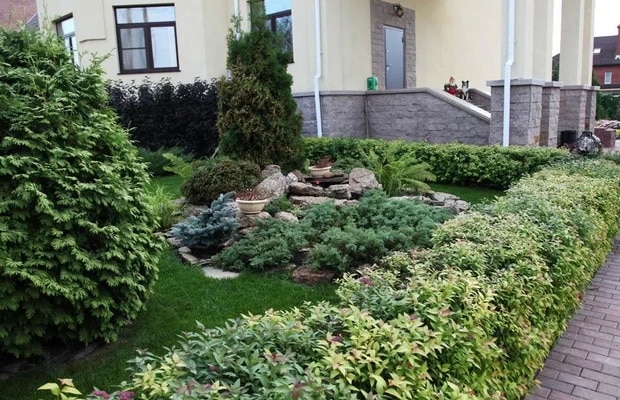 For the thorny hedge of medium height, Japanese quince, common barberry, Siberian or common hawthorn, silver or narrow-leafed sucker, coniferous juniper are suitable.
3-5 m high hedge is created by planting plum, Siberian hawthorn, prickly spruce, round-leaved irgu, Tatar or field maple, narrow-leaved sucker, common juniper, Siberian or common fir, common sloe, western thuja, berry apple tree.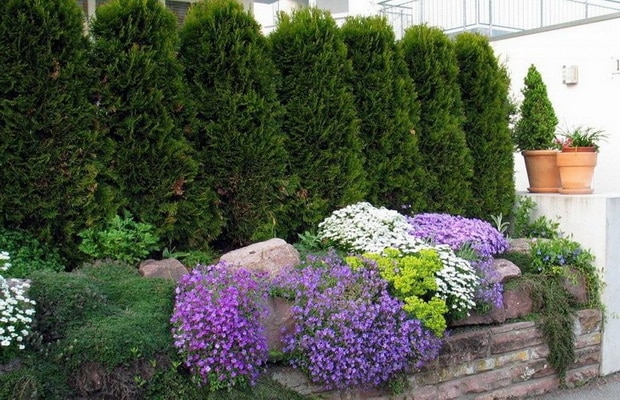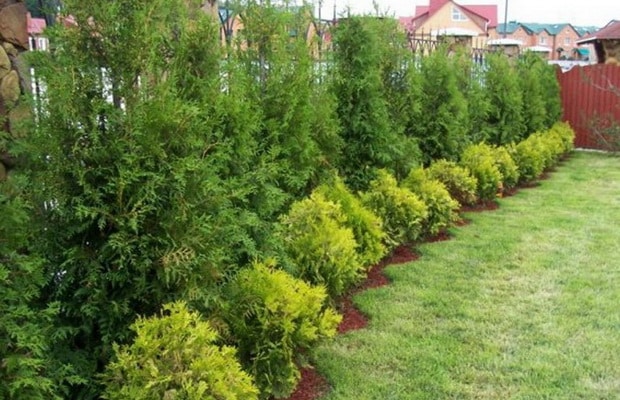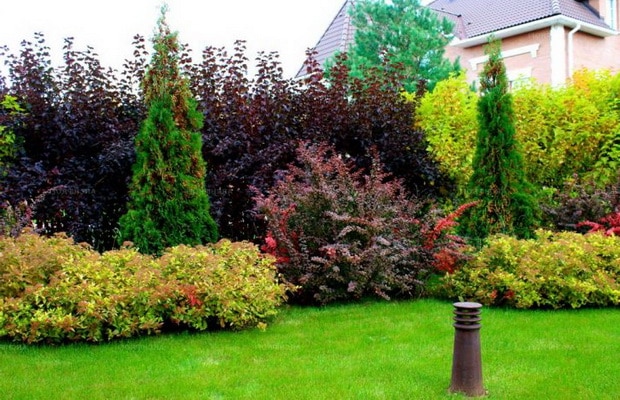 For a high trimmed hedge in the form of a wall, English oak, Canadian or Siberian spruce, common elm, small-leaved linden, Siberian fir, western thuja or berry apple are suitable.
Most sun-loving plants do not require a high moisture content of the soil and air; they can be practically not watered. The exception among them are Phloxes и peonies, they grow on wet soils, but do not tolerate stagnant water.
These photos show the plants for hedge names, which are given above: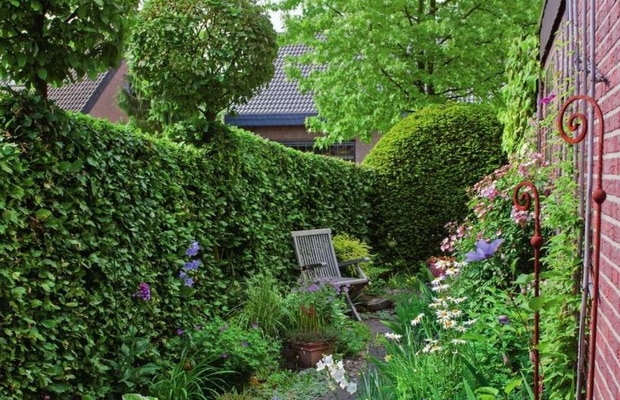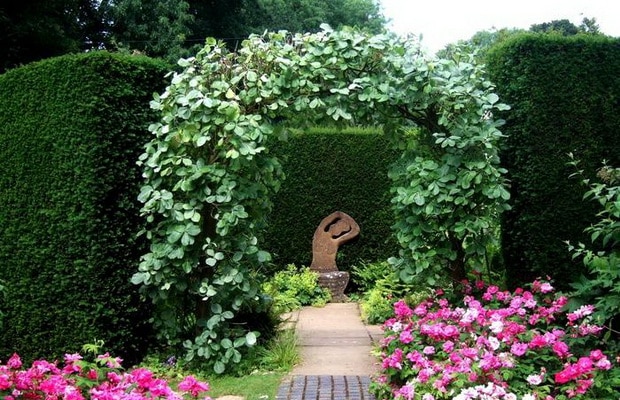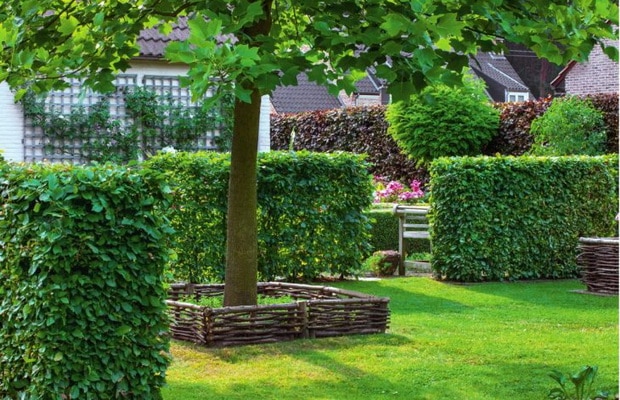 SIMILAR ARTICLES: