Any summer resident dreams of a garden on his plot was not only high-yielding, but also beautiful. But how to combine these two desires? If you think that fruit trees have no place in an ornamental garden, and are sure that only flowering plants are needed for creating design compositions, you are deeply mistaken!
Garden decoration is possible even in the presence of ordinary apple trees, pears and currants.
Before we start creating an ornamental garden, let's turn to history. After all, everything new is well forgotten old. The first gardens that decorated fruit trees were created before our era. It is difficult to say with certainty what they were. Much more information about later gardens.
A person is characterized by a craving for beauty. And in this striving, people tried to "correct" nature, to make natural forms more graceful and sophisticated. So in the XVI century began to develop shaped and decorative gardening. But this direction was most clearly manifested in the XVIII — XIX centuries in France, and later in other European countries.
The founder of tin gardening is considered to be the German fruit grower Nikolai Gaucher, thanks to which this idea has found wide application in European countries. Gaucher by birth was a Frenchman, and having moved to Southern Germany, he successfully developed the idea of ​​shaped gardening.
Trees were formed and cut in a special way, as a result of which they acquired graceful unusual shapes. In Russia, this direction was not widespread, which, apparently, was due to the lack of sufficient winter-hardy planting material. But the gardens thus created were considered the eighth wonder of the world.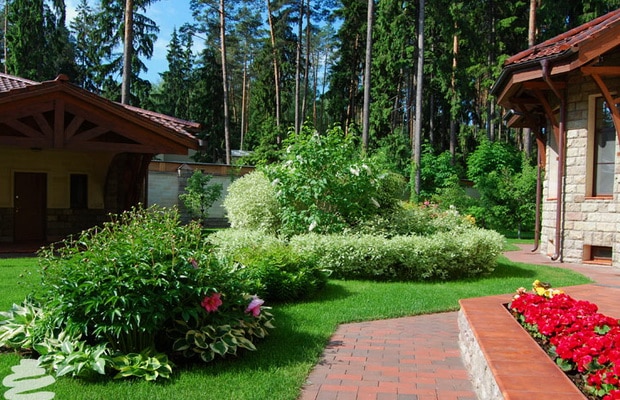 Breeding beautiful ornamental gardens is a long and painstaking task, and the world required the introduction of advanced technologies. And at the beginning of the 20th century, molded gardens almost completely disappeared. And only after 70 years of complete oblivion with the advent of new promising varieties did the gradual revival of decorative gardening begin.
On this page you will learn how to make an ornamental garden in your summer cottage.
The main work on the design of a decorative orchard
If you have the desire and patience, you can create a beautiful orchard with your own hands. In addition, by experimentally proven - molding trees and shrubs leads to an improvement in the quality of the crop.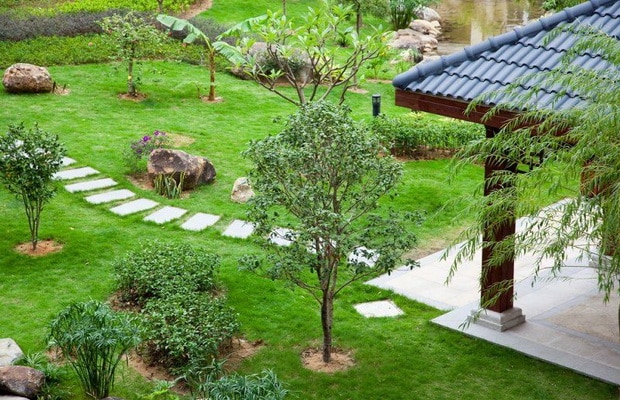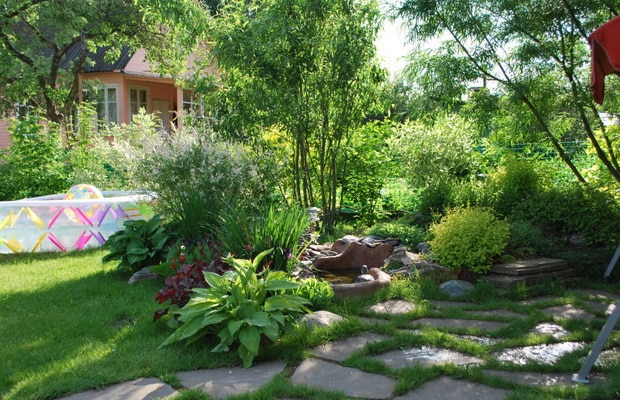 Small-sized crown solves many problems: and the lighting inside the crown is excellent, and the number of ovaries is normalized during pruning, and, accordingly, each fruit receives good nutrition.
Creating decorative forms of fruit crops in the garden, every year you can get not only a large crop of large, beautiful fruits of remarkable taste qualities. The trees themselves will be the decoration of your plot.
The fruit shrubs used to create the hedge will certainly lose some of the crop when shearing, but there will still be many! Moreover, a large number of plants is always required for a hedge, which means that there will be many branches for a potential crop.
Without old unproductive branches and weak thin shoots, the lighting inside the crown becomes better, and the berries grow more.
As shown in the photo, in the decorative garden there are various options for planting fruit crops: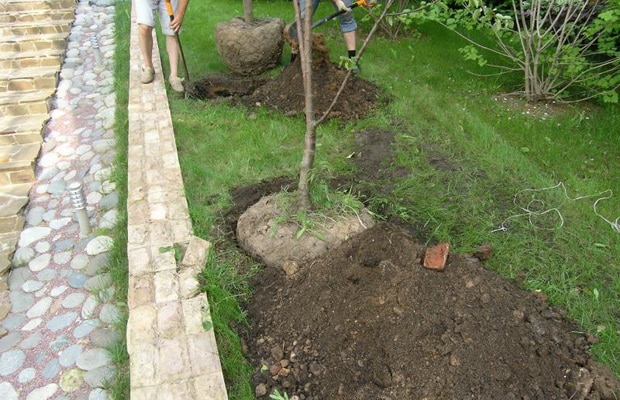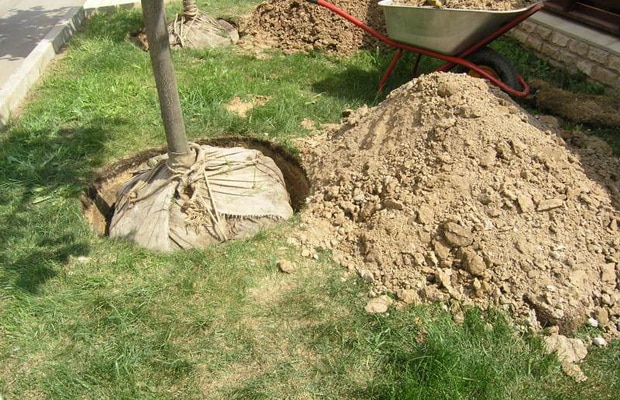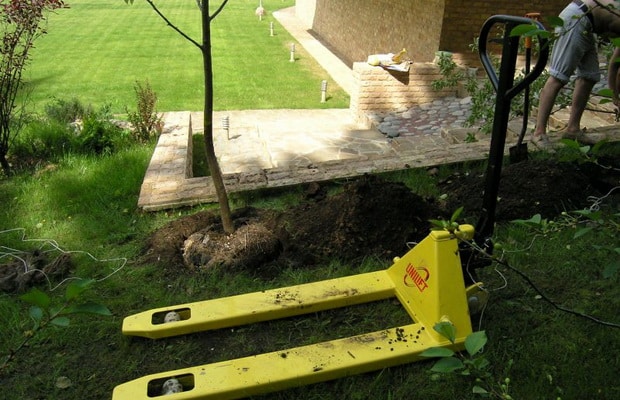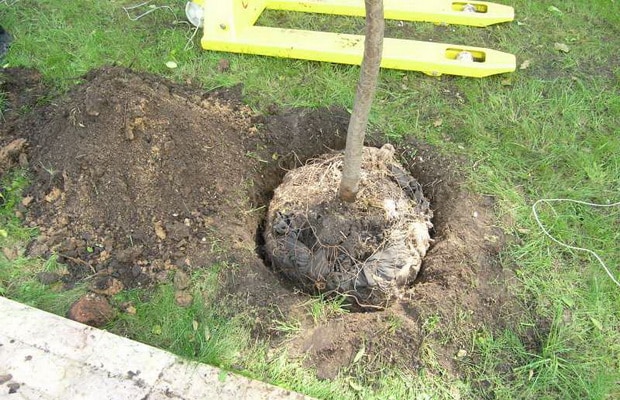 One of them is the use of fruit trees and shrubs as tapeworms - single plants located on the site. Most often for this use apples and pears.
Tapeworm can be actinidia on a beautiful support. The main thing is that such a plant is well formed and well maintained. Only when planting it is necessary to take into account that actinidia is a dioecious plant.
Dicate plants are plants in which female and male flowers form on different specimens.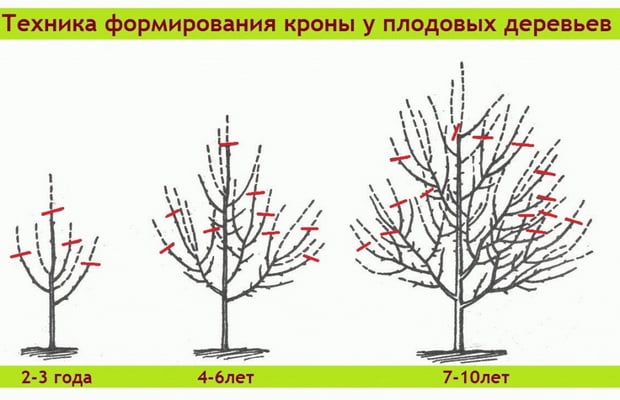 The formation of soliter trees can be different and depends on your desire and design decision. The crown of the tree can be preserved in its natural form or formed artificially. Performing the basic work of creating an ornamental garden, such as molding and pruning, you can give the crowns a rounded or flattened shape, bring the boles to the desired height.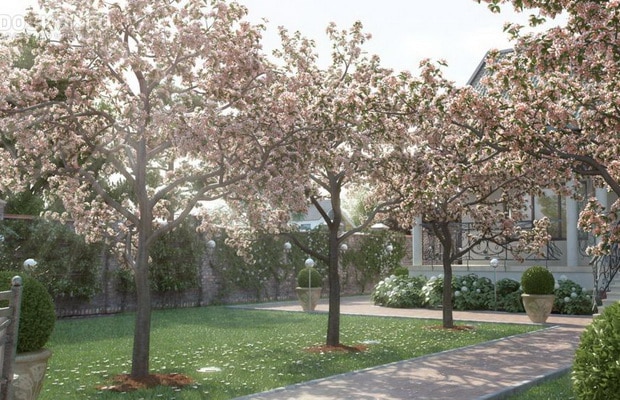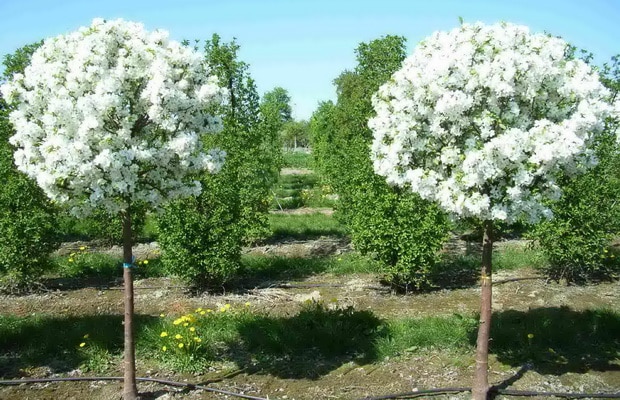 The height of the trunk determines the height of the crown. It can only be slightly elevated above the ground, or, conversely, on a high trunk you can create a beautiful spherical crown; The stemless formation is possible, when the lower branches almost touch the ground.
For example, an apple tree on a dwarf stock has a magnificent rounded shape. And how good it is in bloom or with large ruddy apples!
It is easiest to form rounded crowns, as this is a natural form. You just need to cut those branches that are damaged or grow inside the crown. But these forms are more common and have a large volume. For a harmonious combination with the surrounding landscape, it will need more space.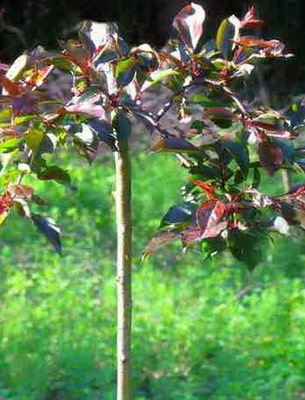 Much more interesting are the flattened crowns! Apple and pears are easy to form. The most decorative form of the crown is the palmette. All branches in such crowns are located in a vertical plane.
This form is not only beautiful - it improves the quality of the harvest, because all the fruits are well lit. Namely, this is not enough when forming rounded crowns. And is this not an ideal option for a small area? After all, the crown is flat!
What to do if the lawn occupies a very small area, and you want to place a tree on it? Among the classic molded crowns, there is a simpler and smaller crown cordon.
This is a crown consisting of a trunk and overgrown branches. There is a wide variety of cordons: the trunk can be formed vertically and tilted, or you can complicate the task of forming a two-shoulder cordon. Then this form is closer to the palmettes.
See a photo of how to make a decorative garden on your site: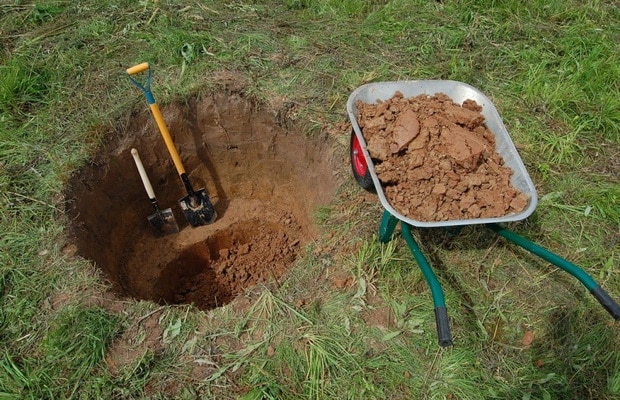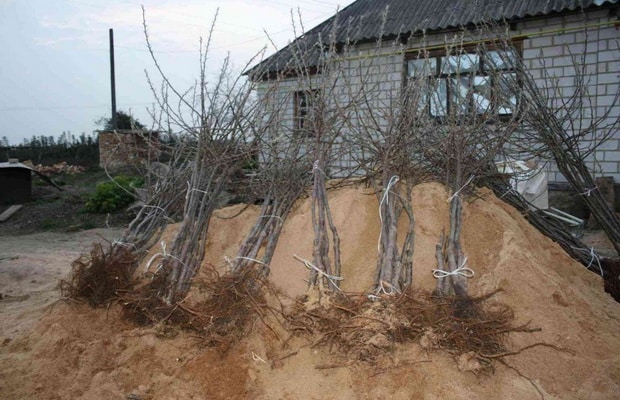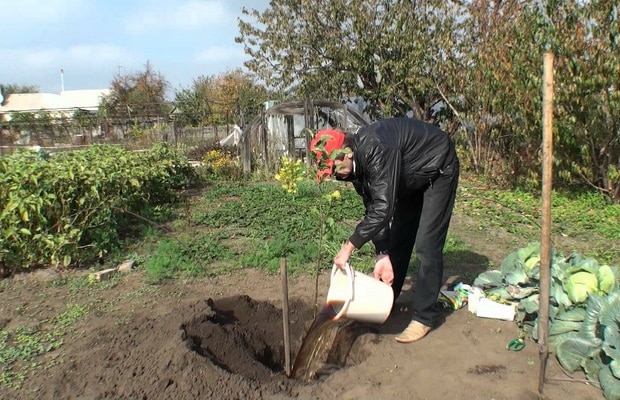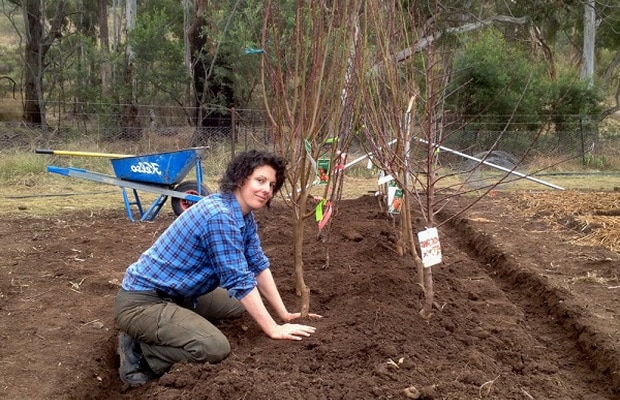 As is the case with trees, berry soliter shrubs can be left free to grow. In this case, it is necessary to cut out the aging and unsuccessfully growing branches. A more decorative option is to display the standard form.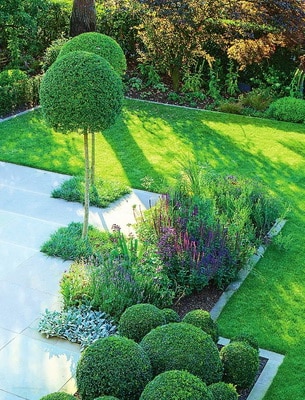 Standard forms in the orchard create a unique color, give the mood of the south. For this purpose it is best to use red currants.
Biological features of fruit plants allow you to create different types of hedges. But here it is necessary to immediately make a reservation: the usual trimmed hedge of apple or pear is not the best option. The crop at the same time will be lost, and such a fence is inferior to shrubs in decorativeness.
You can create an exquisite hedge of fruit trees, while preserving the harvest. To do this, use vertical cordons or apple-tree columnar type, planted at a distance of 40-60 cm from each other.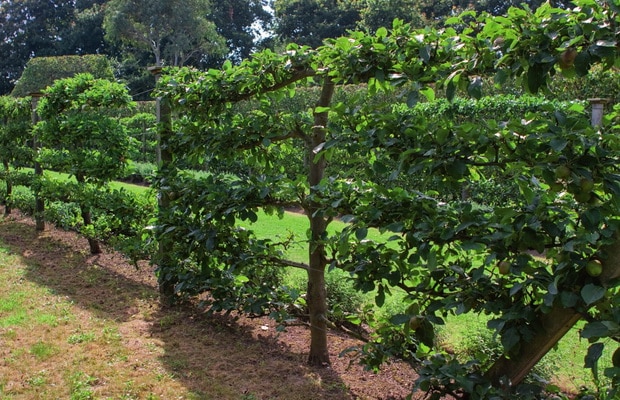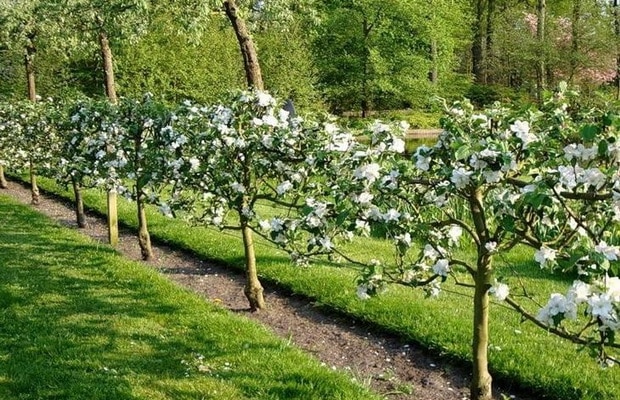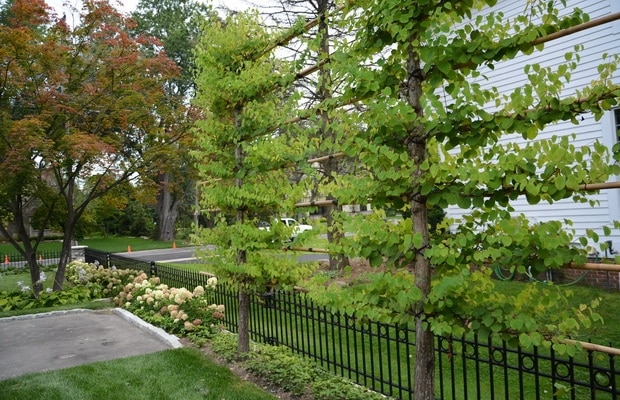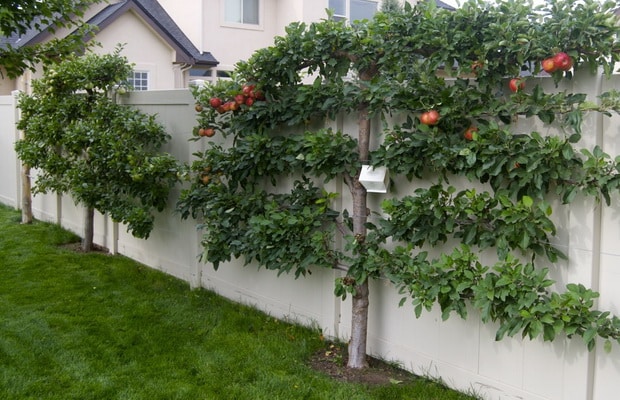 No less decorative effect can be obtained by forming fruit trees on the trellis. In this case, the crown is located in the same vertical plane, and the branches are located in several tiers, with an interval around 50, see.
Such a trellis of living trees will decorate any garden and can be wonderfully combined with both trimmed hedges and freely growing low-growing shrubs and perennials.
Palmettes or two-shouldered cordons planted in one row will also look very original.
The main works on the design of an ornamental garden are shown in this video:
Beautiful berry bushes in the design of an ornamental garden (with photos)
To create an ornamental garden you need to pick up beautiful shrubs. Recently it has become fashionable to use berry bushes as hedges. They are formed and used the same way as hedges from decorative rocks. For aesthetics, they are almost the same as the last, but you are guaranteed a harvest.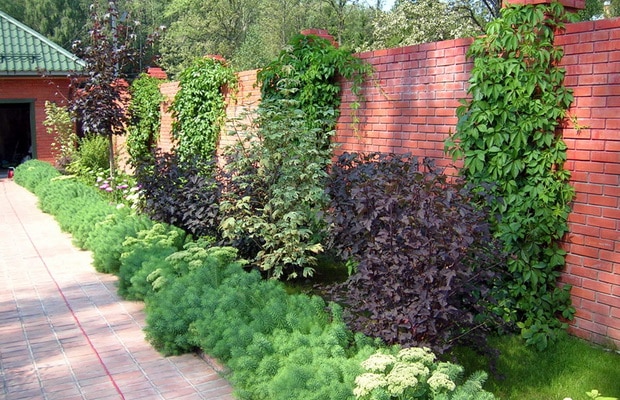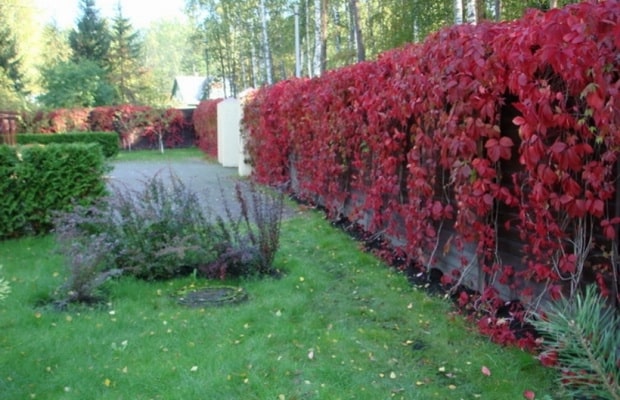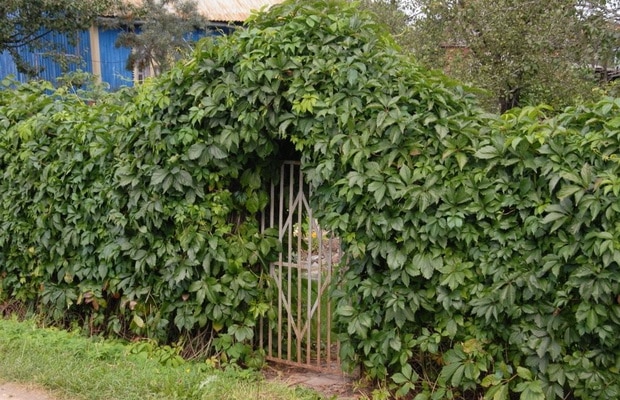 A flat hedge of berry bushes can be formed on a trellis: all the shoots are fixed on the stretched wire, and the weak and extra ones are removed. If you leave a lot of shoots, then as a result we get a dense wall, if a little - an openwork screen. But always with berries!
Of course, experienced gardeners can say that currant bushes are falling apart all the time and there are a lot of bare branches in them. But remember how we usually grow currants? We will plant in a corner under the fence so as not to interfere, and we recall it only when the berries ripen.
But currant and honeysuckle - very responsive to good care culture. Having received the same attention as ornamental plants, they will manifest themselves in all their glory. It is possible to form fences from these cultures both trimmed and freely growing.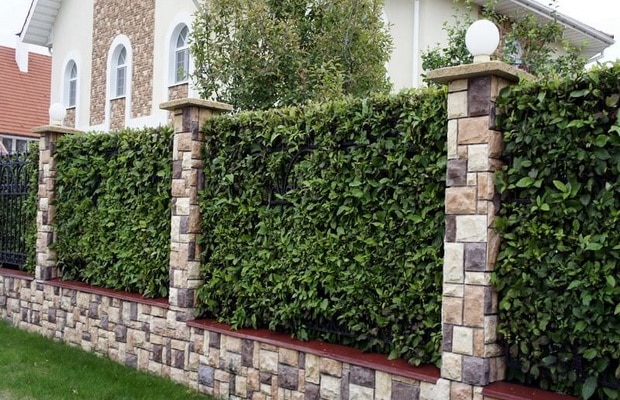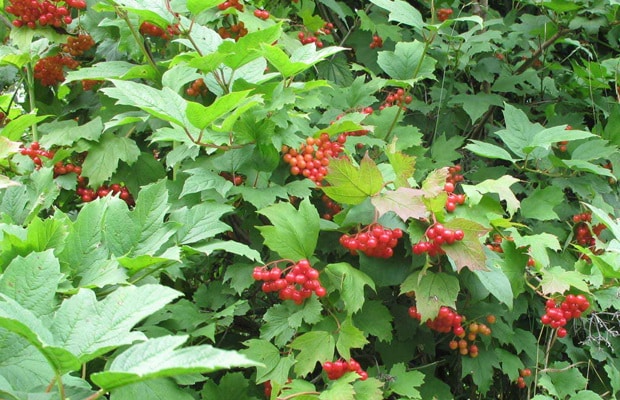 Bushes of red currant with proper care can become an openwork frame of your garden plot. The height and density of the living wall in this case will be determined by the selected varieties. Do not get carried away with a haircut - you can lose most of the crop.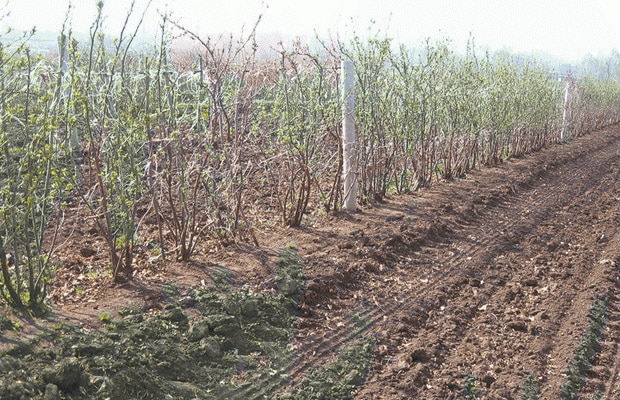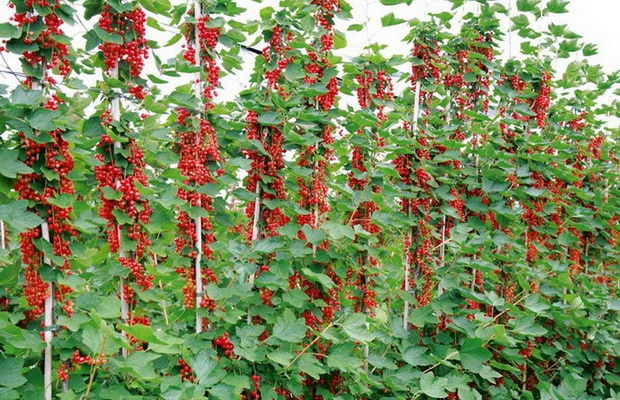 It is better to plant varieties with a compact crown and just make sure that the bushes do not thicken. And for a more decorative effect, you can pick up varieties with different color of the fruit or create a certain rhythm of planting in order to avoid monotony.
For example, among the stunted plants, every sixth shrub of a tall variety should be planted with a different color of fruits. Or alternate with other species — for example, apple trees formed on a trunk.
Thick molded hedge can be made of golden currant or honeysuckle. Even without special pruning, these rocks form rounded, beautiful crowns. The wonderful trimmed hedge will turn out from a Japanese henomeles.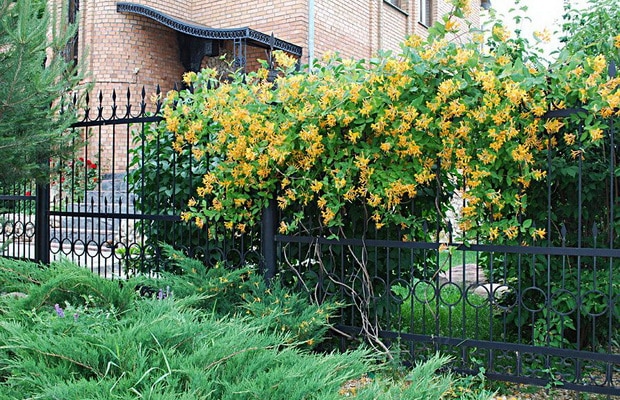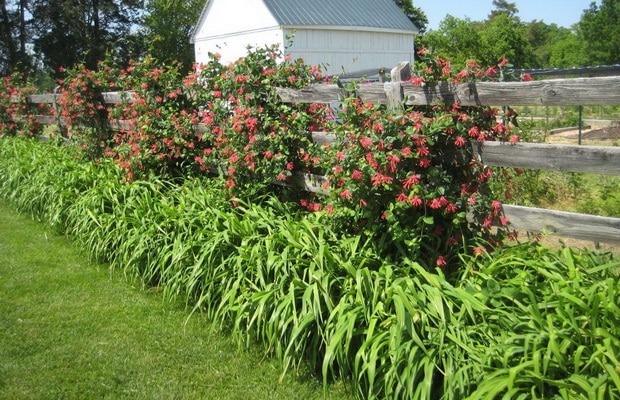 If you want to arrange a cozy corner in your garden, then opt for honeysuckle bushes - this culture is for you! Honeysuckle branches strongly, forming a dense crown, and it will hide from its neighbors, and a gray fence will decorate.
Of course, these shrubs in the decorative garden can be cut, but why? The leaves on it bloom very early and retain a beautiful dark green color until autumn. On such a gorgeous background, you can plant perennials: plants with large leaves or bright flowers will look great.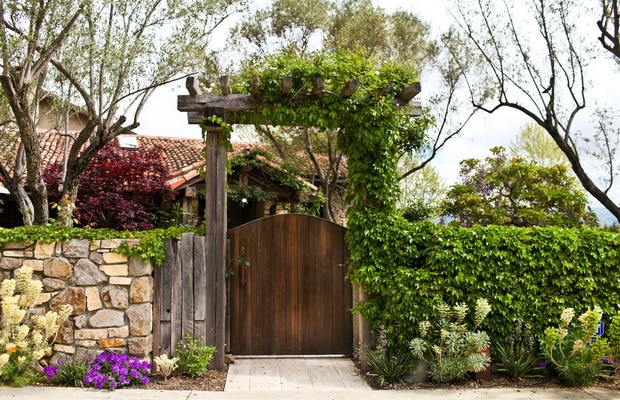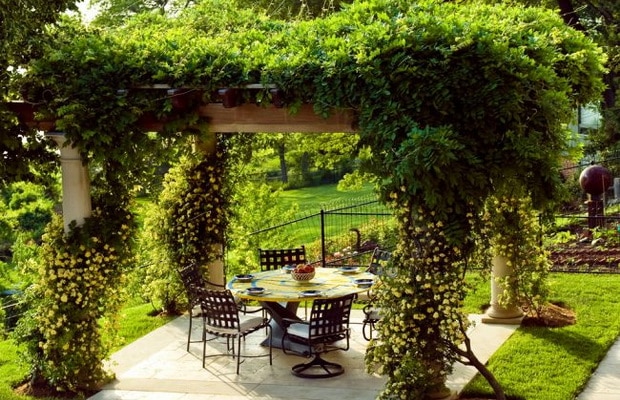 Speaking about the arrangement of the garden, one cannot keep silent about vertical gardening.
One of the best cultures for this is actinidia. In nature, this plant grows in forests in the shade of trees, which means that it can be used in poorly lit places where many ornamental plants will look less attractive. It is important that even in such conditions, actinidia preserves fruiting.
As you can see in the photo, the beautiful leaves of this ornamental shrub for the garden can decorate the wall of the house or make a gazebo: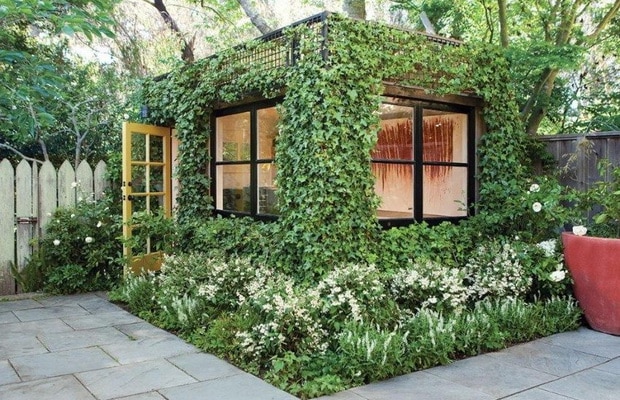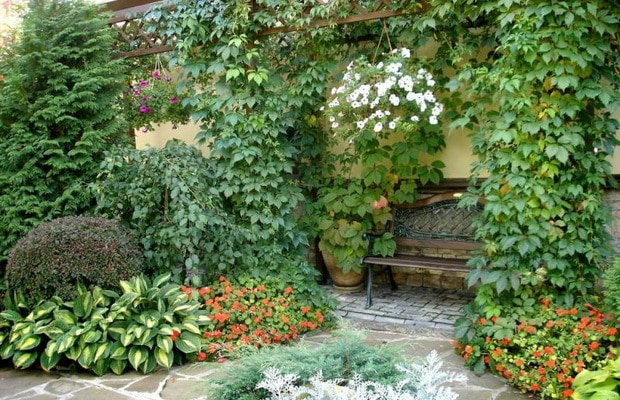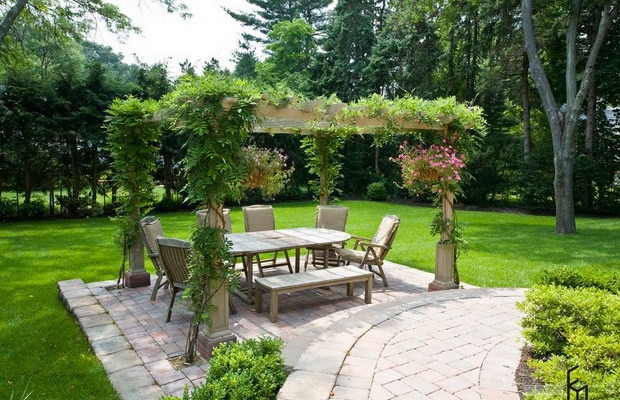 Actinidia It will be appropriate and next to the fence mesh: again, and the harvest, and hedge. The height of the support may be different: it and 10 m - not the limit, it can grow and even higher! Unlike many climbers, in Actinidia, the lower part of the bush can be bare only with very poor lighting.
This culture is used when decorating arches, and at the same time fruiting is improved. This is due to the fact that the placement of plants on the arch implies a limited number of branches. When thickened, the number of fruits naturally decreases.
Actinidia will be useful if there is an old, long-obsolete tree in your garden, and there is no possibility to uproot it. Plant an Actinidia sapling next to it, and through 2-3 of the year, what spoiled the look of your garden will turn into a fancy decorative figure.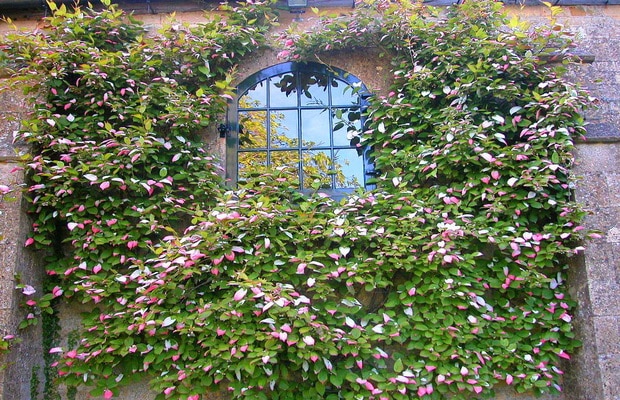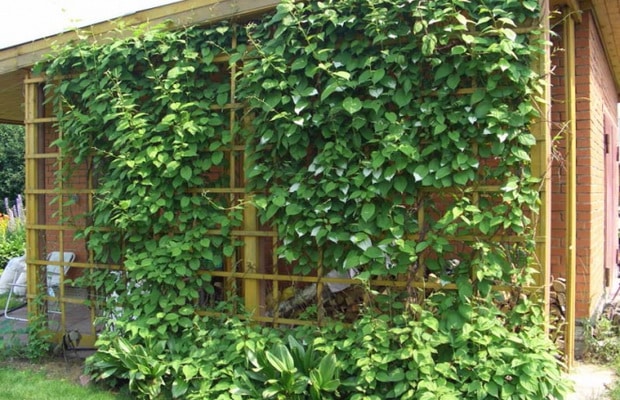 The flowers in actinidia, of course, not the most spectacular, but have a pleasant aroma. The delicate scent of a flowering plant will create a unique mood in your garden.
In the design of the garden ornamental shrubs can be used in group plantings.
The number of options for such use is limitless. Here you can create compositions that satisfy the most exquisite taste.
In the group composition may include fruit crops, and ornamental trees, and shrubs, free-growing and molded plants.
In such plant groups, you can add perennials, as well as use stones, small architectural forms or arrange a reservoir: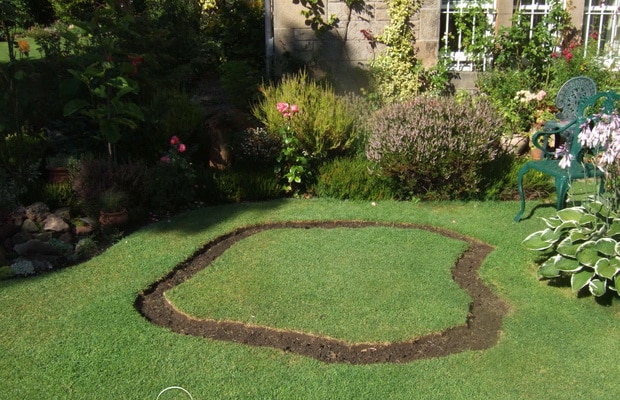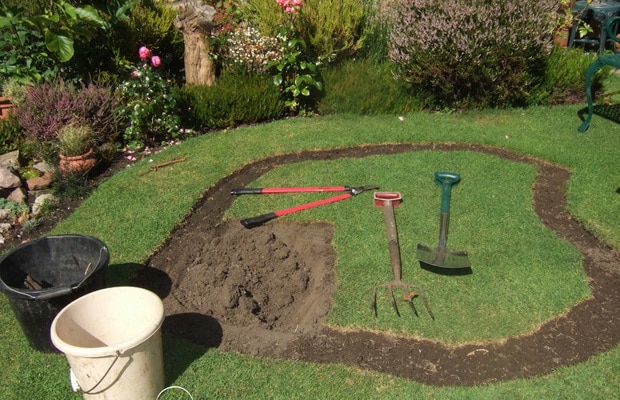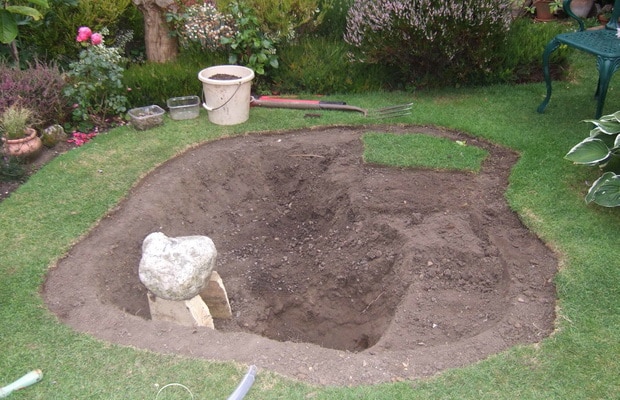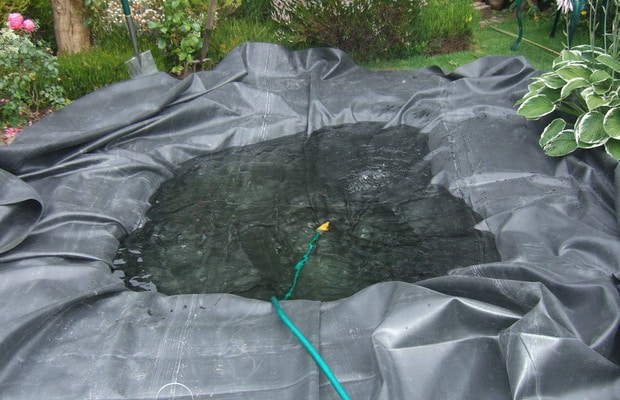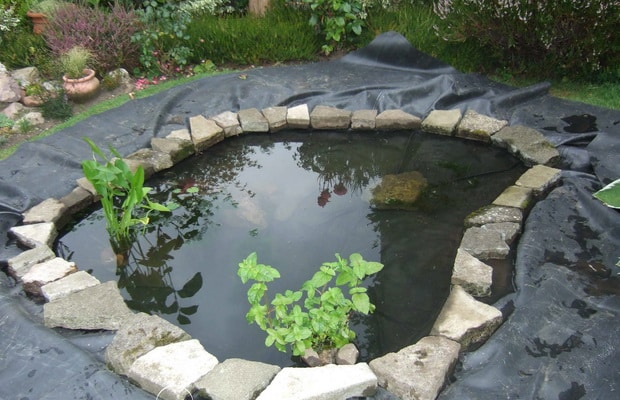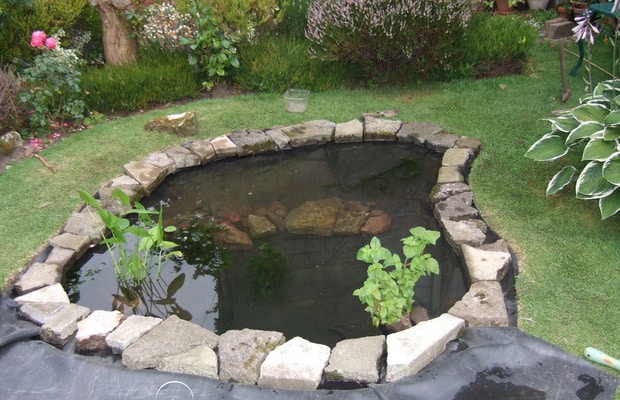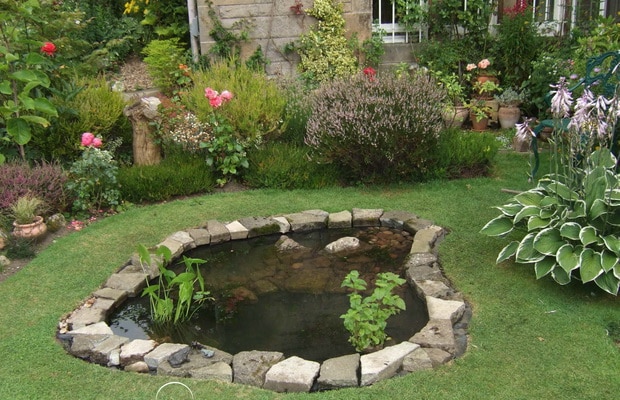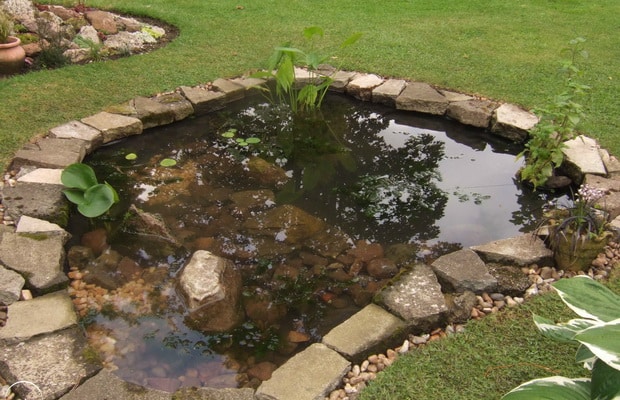 Standard forms also look great in the center of the flower beds with letniknikov, creating a complete composition.
Additional tips on how to make a decorative garden with your own hands are given in this video:
SIMILAR ARTICLES: