Decorative cultures often coexist with edible beauty, which allows to diversify landscape design to the maximum and create unique compositions. The edible exotic presented in this article is a relatively new culture that combines an attractive appearance and excellent taste characteristics. The square watermelon first appeared many years ago as a result of the experiments of an ordinary breeder. The gardener simply laid the berries' ovaries when they were formed into square plastic containers. With the growth and development of the cubic watermelon took the necessary form. Subsequently, the plastic container was removed, and the berry continued to please the eye with its unusual shape until the moment of full ripening. The idea impressed students from Japan. And as a result of years of research and experimentation, a special sort of "Kaku-Melo" was bred. Currently, it is the only variety that does not require unnecessary gestures and tricks with plastic containers in order to get square-shaped berries.
Cubic watermelons can be viewed in the photo below, as well as learn how to grow them with your own hands on the backyard in any region of the country: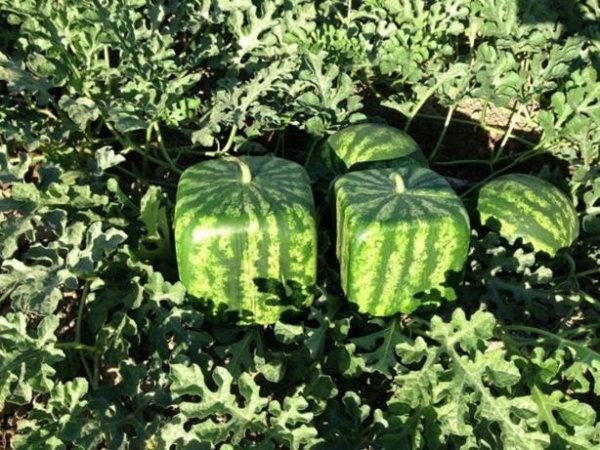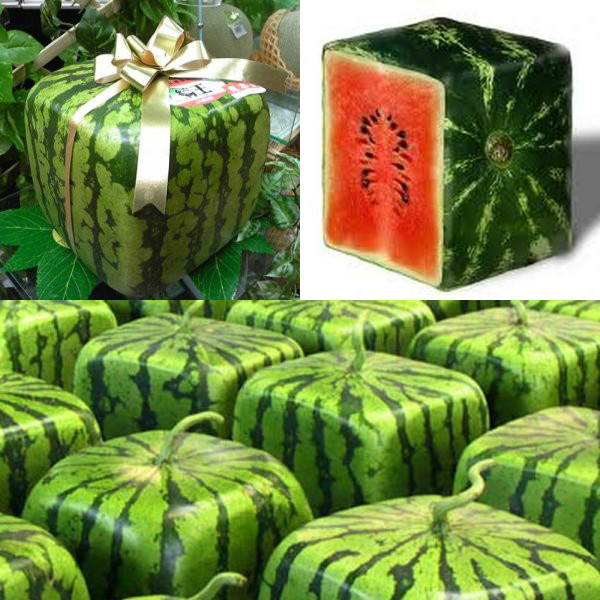 How to grow and use quadrant watermelons (with photo)
There is a certain technology by which watermelon growing, its strict observance will allow to receive guaranteed high yields. Berry has a unique chemical composition, the pulp is rich in vitamins and minerals. Summer heat is a valuable source of fluid with high nutritional value. Everyone knows about these properties of watermelon. But few people thought about how to use this melon culture for decorative purposes. How to grow square watermelons with your own hands - we will tell further, but for now look at this unusual culture in the photo in landscape design: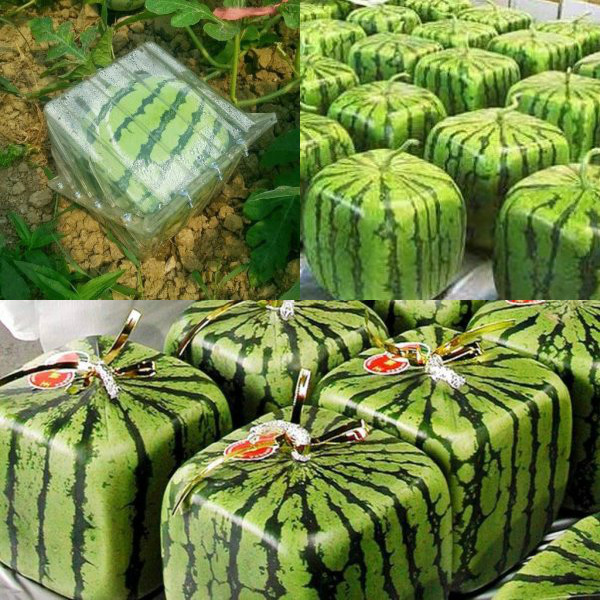 The cultivation process begins with the selection of a variety. It is selected taking into account the peculiarities of the climatic zone. Currently, there are varieties that are resistant to adverse climatic conditions - they are suitable for cultivation in open ground even in Siberia and the Urals. These are "Krimstar", "Shuga baby", "Pink champagne", "Spark" and many others.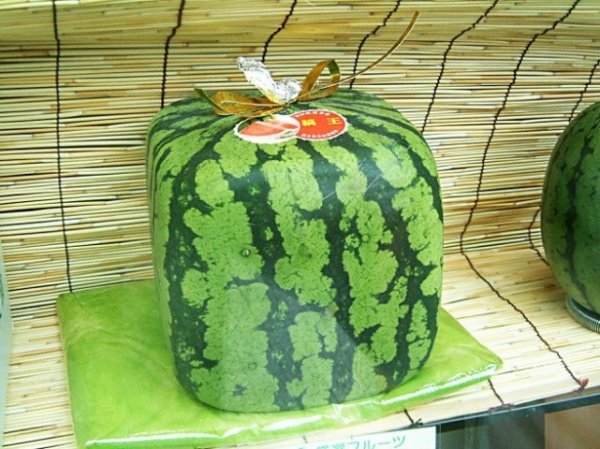 Practiced exclusively rassadny method of cultivation. Otherwise, to get even the minimum yield does not remain. Sowing on seedlings produced in early March. Pre-seeds are soaked for 2-3 of the day in a nutrient solution with the addition of growth promoters. After soaking, the seeds for 48 hours are placed in the refrigerator on the top shelf. This is the stage of stratification.
Sowing is carried out in a well-structured soil with a high content of organic substances. About half of the soil is humus or compost. Sand and sod (deciduous) earth are added in equal proportions to it. The reaction of the soil should be neutral, with an acidic reaction requires the introduction of lime or wood ash. The soil is calcined in the oven for 3 hours. Then shed boiling water with the addition of potassium permanganate. After cooling, you can decompose into peat pots and plant 2 seeds in each to a depth of 1.
There are certain sowing tricks:
watermelon seedlings have a very fragile root system and do not tolerate transplants and picks;
landing is carried out in peat cups, filled only half;
after the start of rapid growth, the soil is gradually added to the brim of the pot;
if both seeds enter, then one seedling is removed.
After sowing, containers are covered with plastic wrap (it is advisable to put them in bags and tie tightly) to maintain the required level of soil moisture. It is advisable to place the pots where the temperature is above 25 degrees Celsius during the day. Shoots appear after about 7 - 10 days. Then comes active growth and development.
In the period of growing seedlings of square watermelon, 1 needs to make liquid mineral supplements once a week, since the culture has a rapid growth, it requires a large amount of nutrients. The ground surface is loosened 1 once a week to a depth of 1, see. This increases the air permeability of the soil. Seedlings can not be kept on the window sills, which are very cool at night. This can cause root rot disease.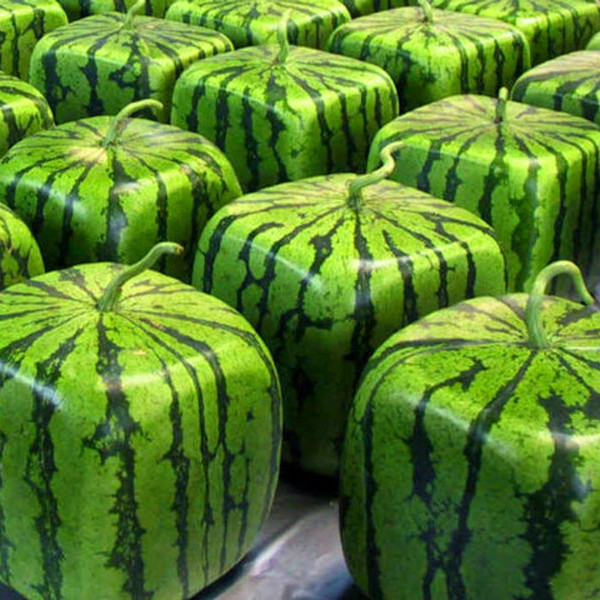 Cultivation of decorative square watermelon in open ground is possible after the threat of recurrent frosts has completely passed. Sometimes used temporary film cover. Terms of planting seedlings in the ground usually fall on the end of May or the beginning of June. At this time, seedlings are already blooming and require preliminary hardening. To this end, they are taken out to the open air every day at 2-3 hours.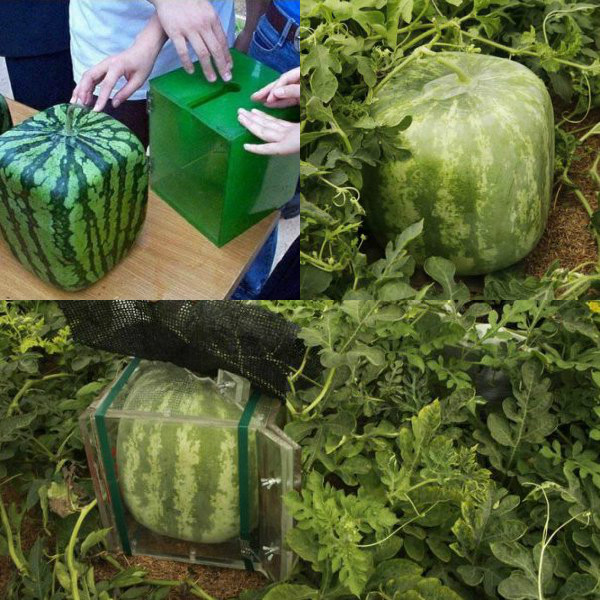 In the open field it is necessary to create favorable conditions for development. Plant culture should only be on a previously prepared bed with a bookmark of biofuels. Usually, the top layer of the soil is removed for this (approximately by 30 cm or a spade bayonet). Then, old hay, straw, dry branches, cardboard, paper, and cotton rags are laid in the trench. On biofuels, fresh grass is folded up to 10, see. Everything is filled up with soil. It is necessary to spill a bed of boiling water and cover with tarpaulin material for 7 days. All this will start the process of "burning" biofuel, which gives a huge amount of carbon dioxide, which stimulates the growth of decorative cubic watermelon in open ground.
Abundant watering is obligatory, but it can only be done in the morning. Evening watering leads to overcooling of the root system at night. This greatly inhibits the growth of melon crops.
Top dressing with liquid mullein, mineral complexes - 1 once a week. The soil surface should be regularly mulched with fresh green grass or rotted sawdust. This creates favorable conditions for the functioning of the root system.
The use of decorative square watermelon in landscape design has no boundaries. This may be a rustic-style composition, and may be an emphasis on the unusual shape of the berry. Look at the photo for some ideas of using square watermelons in the design of a plot - combine the benefits with aesthetic pleasure: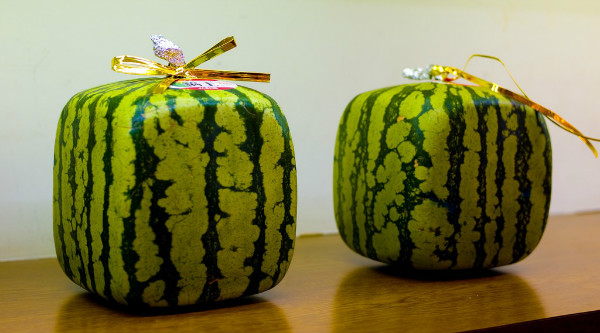 SIMILAR ARTICLES: