An inexhaustible source of inspiration for decorating a garden plot for gardeners is vegetable and herbaceous crops. They have a variety of shapes and colors, easily fit into the landscape design and are not whimsical in everyday care. Such edible beauty can also bring practical benefits in the form of a rich harvest. Decorative curly beans, red and purple, used for single and group plantings along fences and special trellis, She also finds a place in the decoration of balconies and loggias. The curling decorative haricot is a wealth and a variety of grades, types, coloring. Let's talk about its growing from seeds later in the article, but for now look at the most popular varieties in the photo: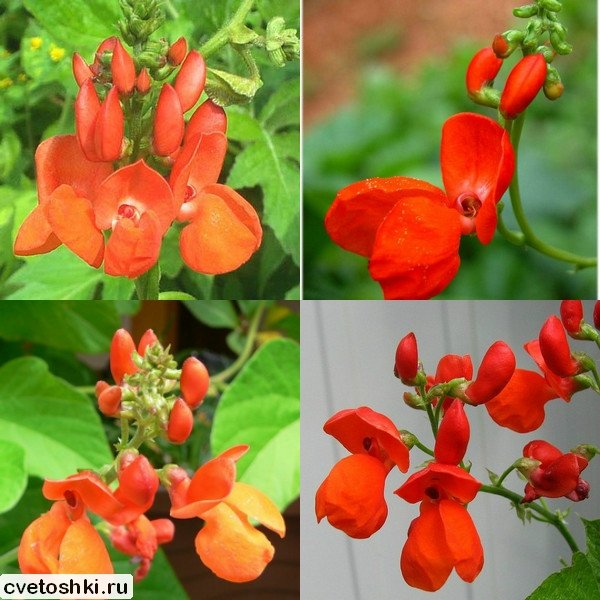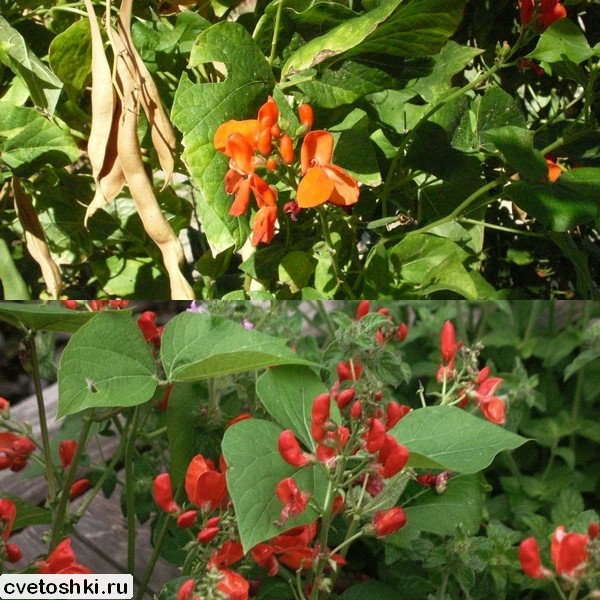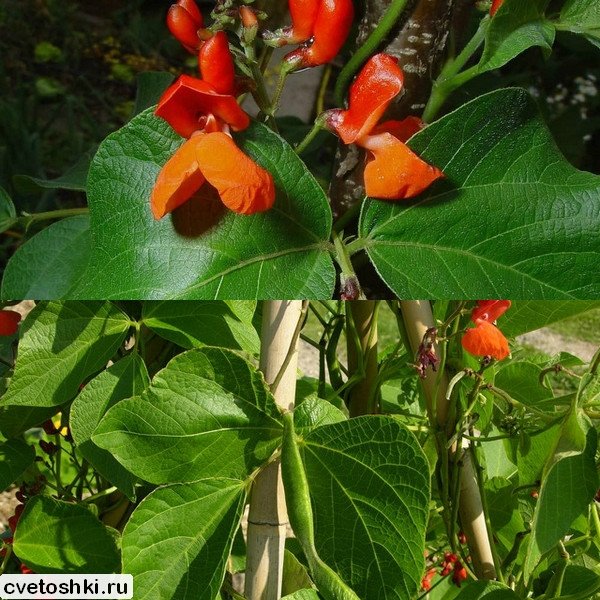 Meet - red and purple decorative beans (with photo)
The world of legumes is rich and diverse. Since ancient times, it gives man an indispensable vegetable protein. Meet the decorative beans on the podium, represented by different varieties. The red representative of the species is distinguished by its high growth and the rapid development of vegetative green mass. But the purple bean is a real miracle of nature, turning even the most boring and shabby wall into a work of floral art. Look at the photo for examples of using this plant in landscape design: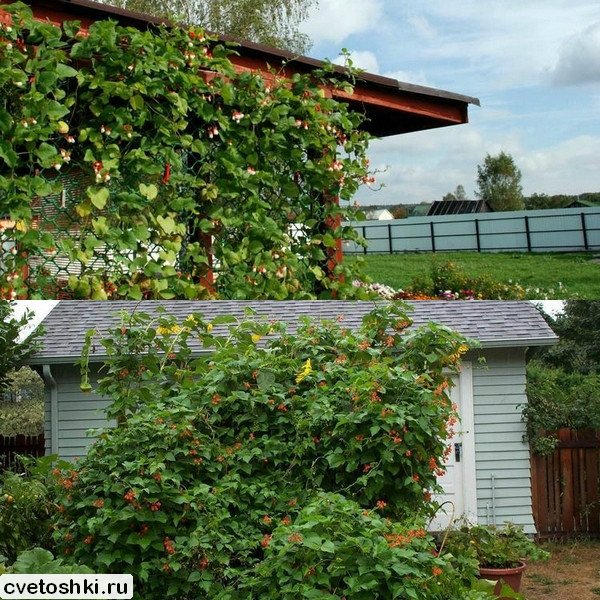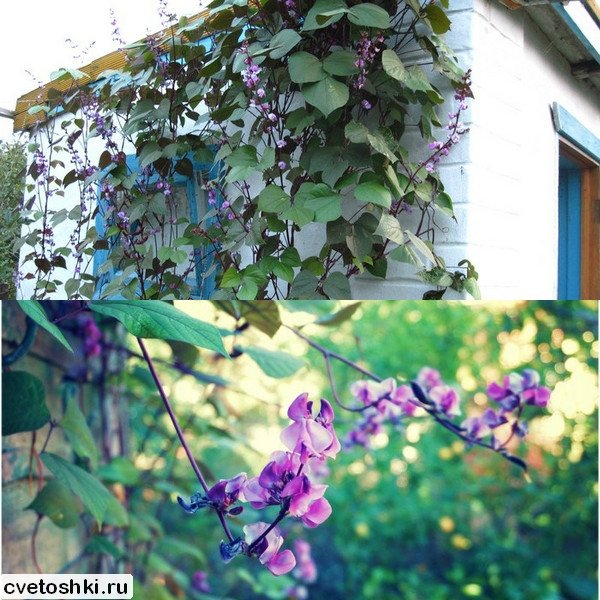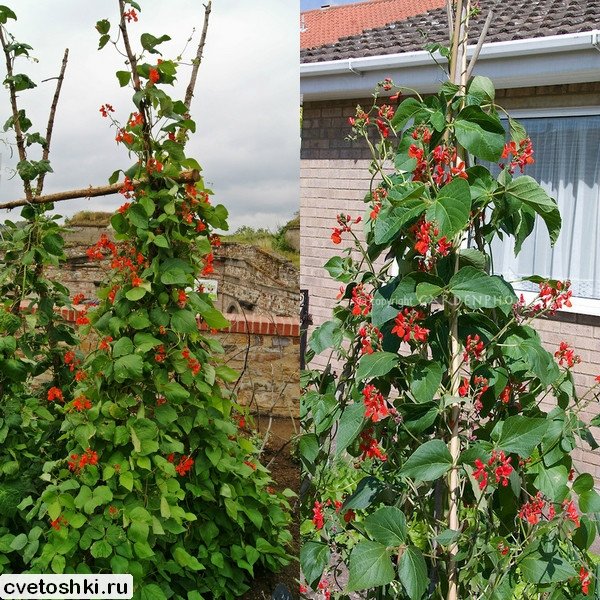 Most varieties belong to fast-growing climbing vines with a large green mass. Due to this, decorative properties increase every day. In nature, it is found in the Peruvian mountains of South America. In culture, breeding began around the middle of the fifteenth century in the central part of Europe. Since then, a large selection work has been carried out.
All types of decorative beans can be eaten in the technical maturity phase. Some species can be eaten right with the pods. With proper cultivation by seedlings, even in difficult climatic conditions, the culture begins to bear fruit from the beginning of July. Additional shelters are not required. It grows well in open ground. For full development requires rich in organic soil and a strong support that can withstand a considerable mass of lianas of lianas.
Of the beneficial properties, it is possible to call low calorie (no more than 25 Kcal per 100 gr of the product) and saturation with vegetable proteins. In addition, the plant fibers contain a huge amount of folic acid, which is useful for women expecting a child, vitamins of groups B, C, E and A. The chemical composition determines a whole set of useful trace elements: zinc and magnesium, potassium and calcium, iron and chromium. Regular consumption of this vegetable allows you to keep youth, tighten the skin, make hair and nails more resistant to external negative effects. Enhanced immune defense.
In folk medicine, beans are used in the compositions in the treatment of exacerbation of chronic bronchitis and rheumatoid arthritis. Broths and infusions relieve itching and reduce the symptoms of eczema and psoriasis.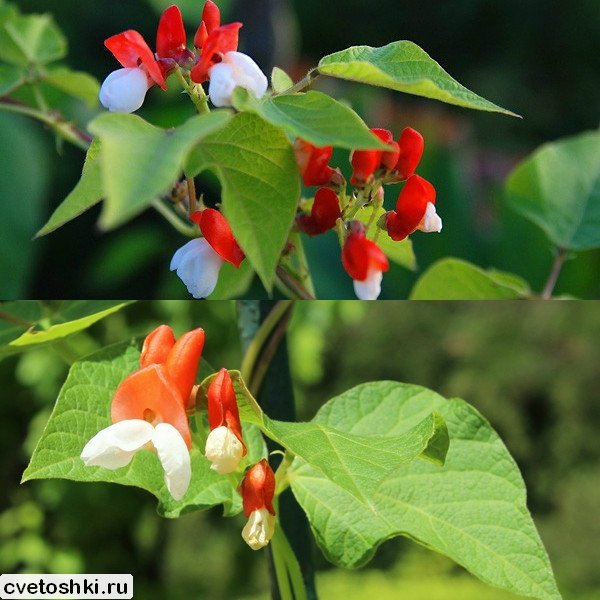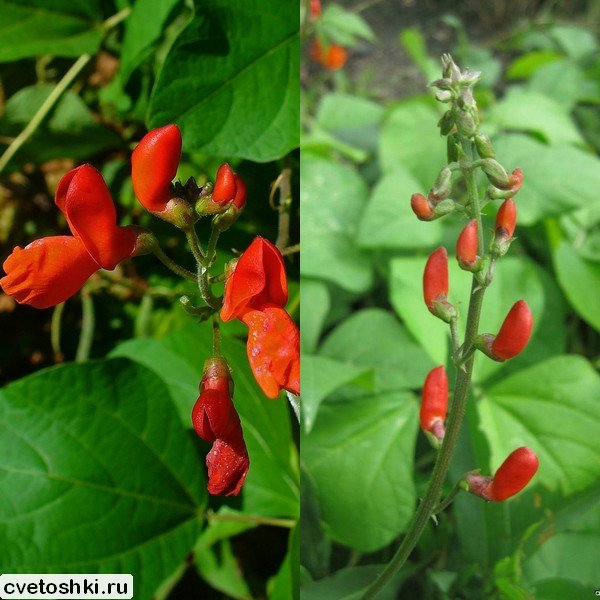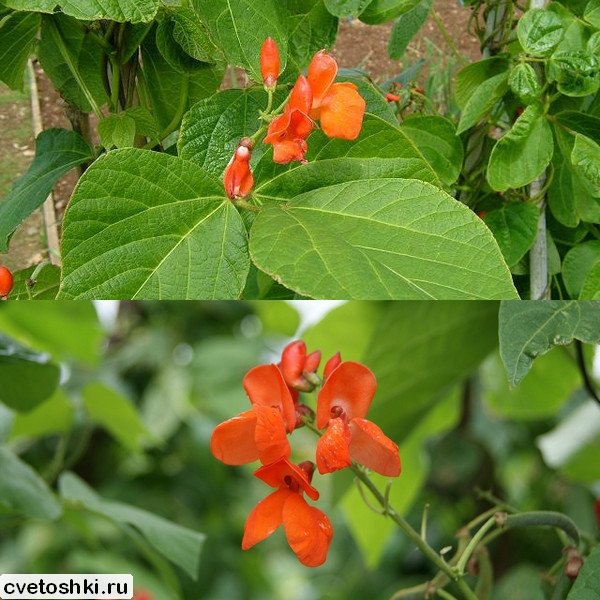 Decorative curly beans like flowers on the site
Use as flowers on the site can be all kinds of this plant. The decorative curly beans of violet and red color are suitable for these purposes most of all. Its popular name is Turkish fire beans. According to developmental options, it belongs to tall climbing vines. Scourge can grow to 5 meters in length. Let it on the supports, fences, walls of houses. It belongs to plants that love light and direct sunlight, but it is not particularly demanding in this respect and can successfully develop even in a shady place.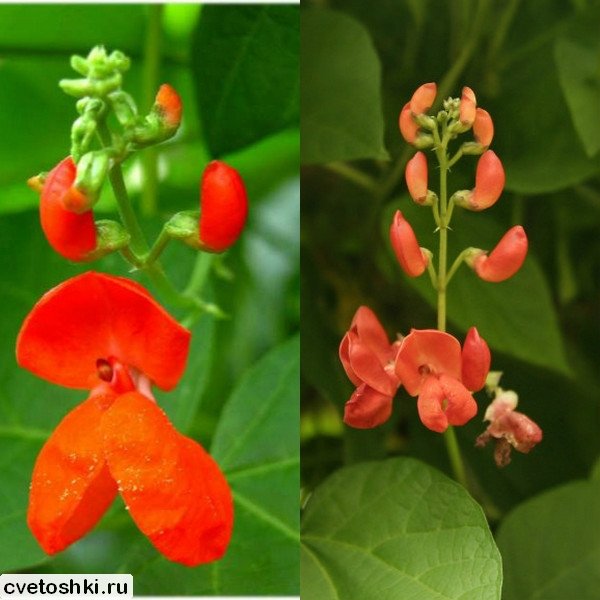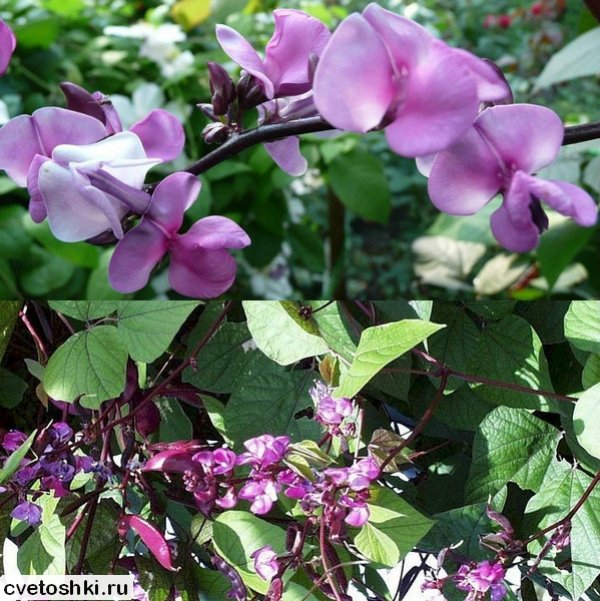 If you look at the photo, you can see that the purple decorative beans on the vines are bright green leaves of a wide regular shape. They reliably cover from the eyes those parts of the wall that need to be decorated. Buds may have a rich purple color. Occasionally there are white buds, which only enhances the decorativeness of the plant in flowering form. It blooms almost continuously. At the same time, developing and ripening pods and various buds can be present on the same vine. Please note that the pods of this type can not be eaten. Based on the research, experts state that they contain toxic compounds.
For gardeners such planting may have practical application. It is known that purple curly beans is one of the most powerful nitrogen aggregators in the soil on which it grows. This trace mineral is reproduced in large quantities by the root system. After such planting, potato yields increase by about 70%. Another useful feature is the effective protection of potato plantations against the incidence of late blight. In regions where the disease is widespread, it is recommended to plant decorative beans right in the rows between the potatoes. Such a measure also prevents the reproduction of the Colorado potato beetle.
Growing decorative beans from seeds: planting and care
Mainly used for sowing seeds in open ground. But in some cases, in order to accelerate the process of increasing the green mass, you can use the rassadny method of reproduction. It is advisable to start growing decorative beans from seeds at the end of March. Germinated seeds are sown in separate peat pots to a depth of 1,5, see shoots appear fairly quickly. It is important in the development phase of vines in length 10 see to provide its support. Proper fit and care ensures fast growth and development.
The cultivation of decorative beans from seeds by sowing in open ground begins in the first half of May. It is necessary to sow with the subsequent shelter of a protective film. It is removed only after an acceptable average daily temperature is established in 18 degrees Celsius.
Before planting, it is necessary to soak the seeds in a solution with a growth stimulator. You need to withstand about 24 hours in a warm place (for example, on a battery or on a solar window sill). Before planting, pits are prepared with a depth of up to 5, see. The distance between plantings should be about 50, see. After planting, watering is carried out and covered with protective material.
The subsequent care of the decorative beans after germination mainly consists in providing it with comfortable conditions for rapid development. In difficult climatic conditions, it is advisable to provide protection with the help of homemade greenhouses and greenhouses. They can be made of metal rods, bent in the form of a semicircle. On them the polyethylene film is tightened and carefully sealed.
Abundant watering is another important event for the care of decorative beans. The plant is very moisture-loving. Therefore, in the absence of rain should be watered every evening. At the same time, water should be avoided on the opening buds. Water should be warm and settled. Chlorinated tap water causes acidification of the soil and, upon contact with the leaves, stimulates their wilting.
Before planting, the maximum amount of organic and mineral fertilizers is applied to the soil. On 1, m2 requires an 1 bucket of humus and a mg of 50 mg complex mineral composition for legumes. Be sure to need superphosphate, providing colorful flowering and rapid development of vines.
Loosening the soil to accelerate the development of the root system, 1 is held once a week. After loosening, it is necessary to mulch the surface in order to prevent the process of evaporation of moisture.
Be sure to install support structures. This plant allows gardening fences, arbors, arches and many other elements of landscape design of the infield.
Considering varieties and their colors
Considering the varieties of decorative beans offered for planting, you should pay attention to the color of the buds. Everything else does not really matter. This culture does not possess a variety of shapes and colors of the leaf part. But the buds can have a white, red and purple color. Their colors depend on the variety. So, "French" has rich burgundy buds, and "Mammoth" - snow-white asterisks. In the mix offers "Two-tone." If you want exotic things, then varieties of "Raspberry Jingle" with pink hues and "Golden Nectar" with orange flower petals will come to the rescue.
View photos of varieties of decorative beans can be below: