Farmland is not just a territory for growing vegetables and berries. This is the place where you want to equip a corner for recreation. There should be planted attractive flower culture, equipped with gazebos and picnic areas. Recently, it uses edible beauty, various types of Physalis, beans, cereals. Decorative pumpkin is known to many experienced gardeners and gardeners.
This culture belongs to melons, but in the presence of supporting lanes it grows with pleasure in height, creating a shady coziness on hot summer days. It can be grown from seeds either by seedling, or by sowing in the land heated by spring sunshine. On this page you can see the varieties of decorative pumpkins in the photo and select the appropriate items. Depending on the variety, this vegetable crop may resemble in shape and color oranges and tangerines, garlic and pears, and many other vegetables and fruits. Usually we choose varieties depending on personal preferences. By seedling we grow ornamental gourd from seeds in areas of risky farming, where the soil warms up only towards the middle or end of May. In this case, it is advisable to conduct sowing in early April. How to do this - consider in the article. In the meantime, look at the photo of a decorative pumpkin in the landscape design of the infield: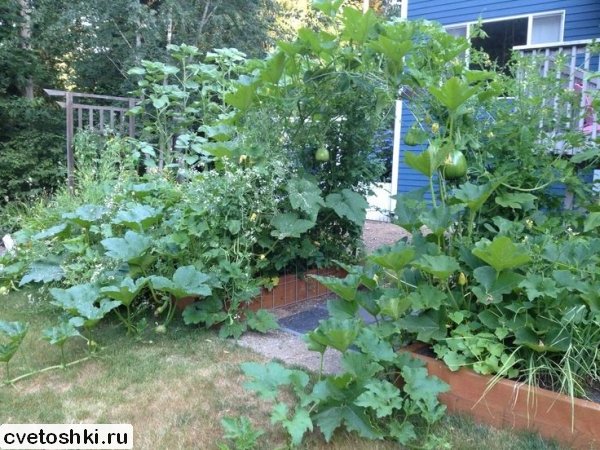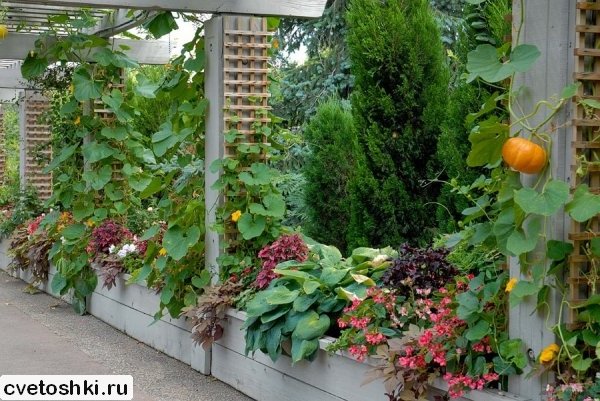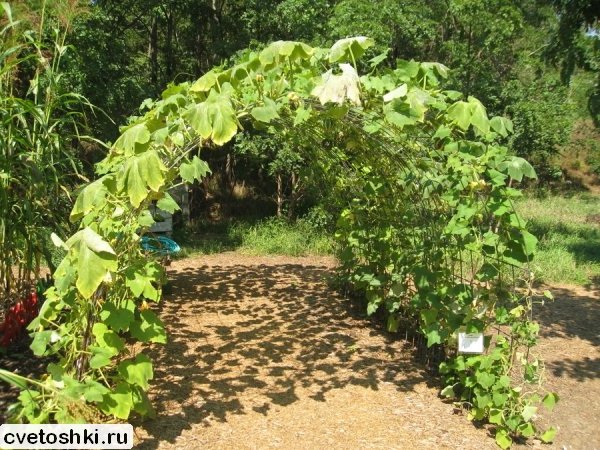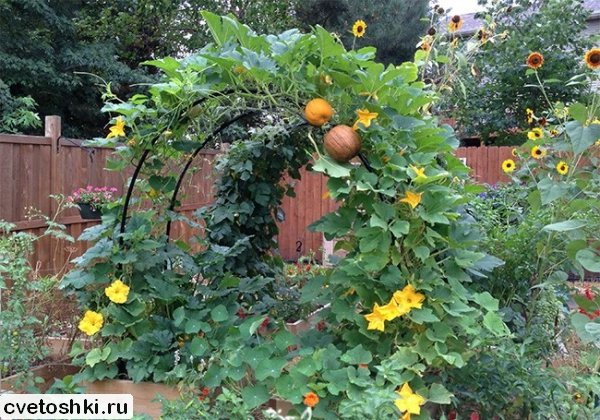 Bush and curly ornamental pumpkin - where to find its use
Culture is divided into two subspecies. This is a bush and curly ornamental gourd, differing in the form of development of the side lashes. If it is necessary to carry out dot gardening of a terrace, balcony or open territory, then landing in the form of a bush is preferable. But the curly decorative pumpkin allows you to form "green screens" in height to 2,5 meters. During June, the maximum growth of green mass occurs. In early July, you can see the active flowering, which deserves special attention to the large juicy flowers. But closer to August the whips are decorated with the most incredible in their form fruits of rich shades. As they mature, the saturation of the color only increases. What is inherently a decorative pumpkin and where can I find its use in my garden? Let's look at the photo and tell you about some ideas: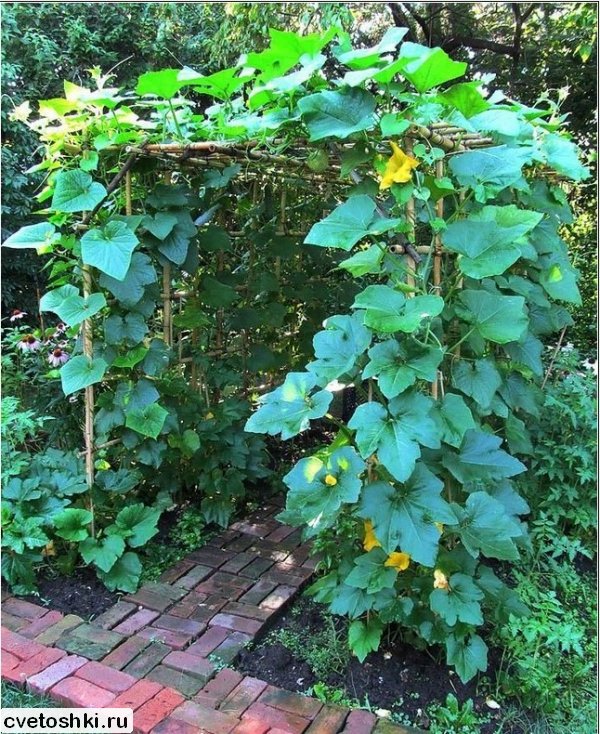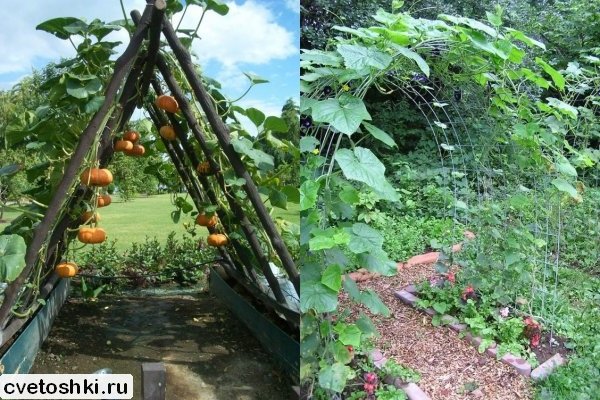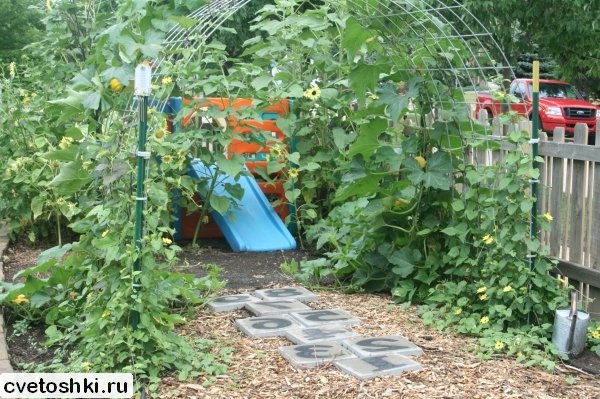 The most important application is the decoration of landscape design in the fashionable now rustic style of Provence. To do this, pre-made tapestries or supports along the fences. Also, with the help of culture, walls of houses and outbuildings that are plain in appearance can be decorated. The rapid growth of green mass with lash lengths up to 5 meters allows you to get maximum greening in a short time.
The second most important application is the manufacture of handmade crafts. Depending on the shape of the fruit, candlesticks, cases, vases, flowerpots and many other things can be created from them.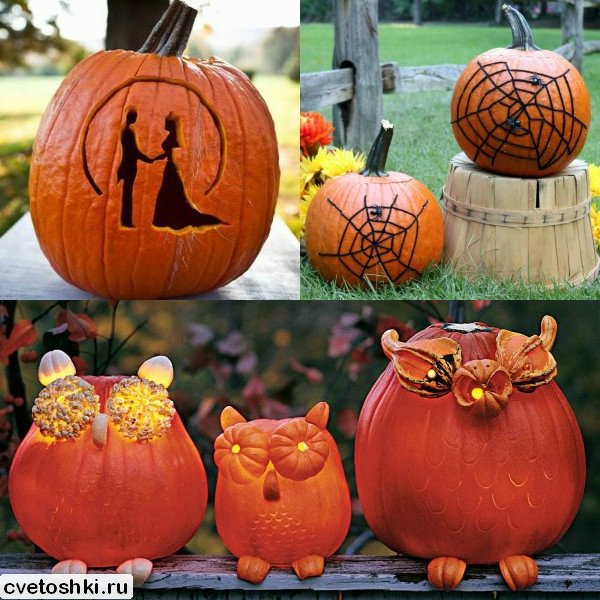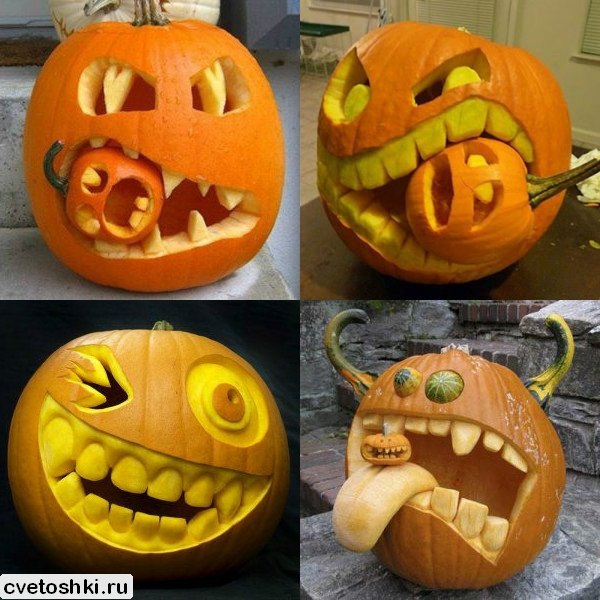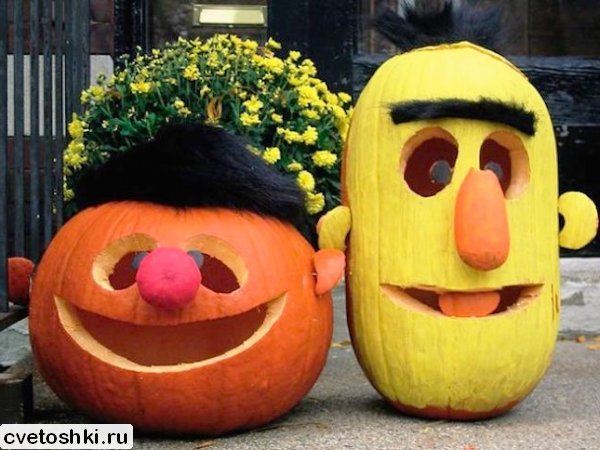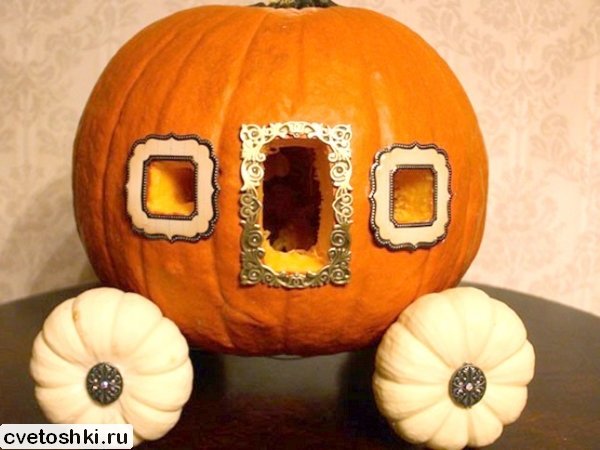 Popular varieties of decorative pumpkins and their photos
You can choose the seeds you need for planting today on the shelves of specialized stores or through the use of catalogs on the Internet. Popular varieties of decorative pumpkins include such a variety of shapes and types of coloring that it is physically impossible to fit them all in one review. Therefore, we consider selective varieties, well, you can see photos of different types of decorative pumpkins: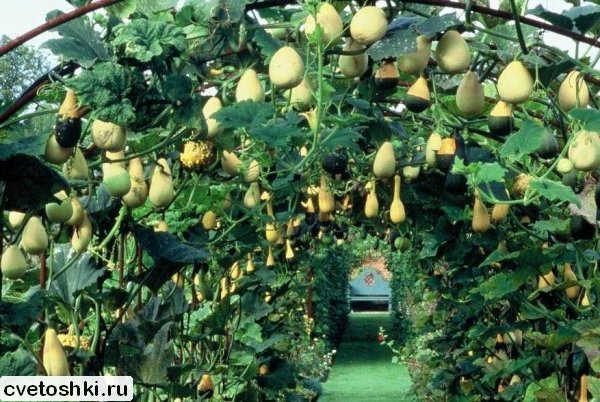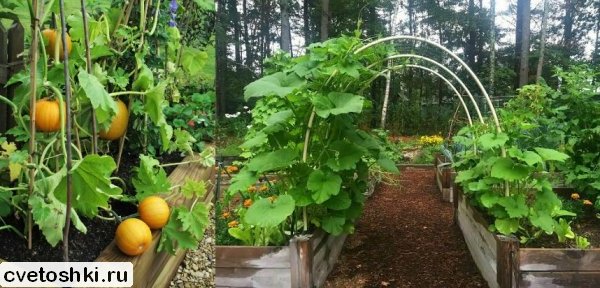 If you want to get a variety of shapes and colors without the additional cost of buying multi-colored sachets, then you should pay attention to the mixture. This can be a mixture of seeds of a decorative pumpkin "Rattle" or "Surprise" allowing you to get a beautiful trellis with minimal effort.
Variety of decorative pumpkin "Crown" has different in color fruits with a pronounced shape in the form of an asterisk. They are small, gracefully fit into bright green foliage.
"Turkish turban" - a variety with fruits in the form of turban. Their color ranges from white to rich orange. Can grow both large and small forms at the same time, which gives a decorative effect.
There are varieties of decorative pumpkins with imitation forms of orange and mandarin. Their fruits have a characteristic shape. Grow up to 10 cm in volume. "Orange" boasts fruits up to 300 gr. Coloring is orange, yellow, sand.
White is the color of the Baby Boo variety, and the green stripes on the white background, like watermelon, are of Sweet Dumpling. Imitation pear fruit - this is the variety "Kleine Bicolor" belonging to the group Lagenaria siceraria (bottle lagenaria).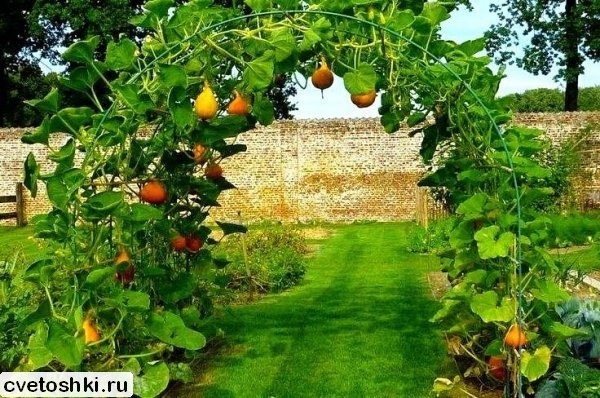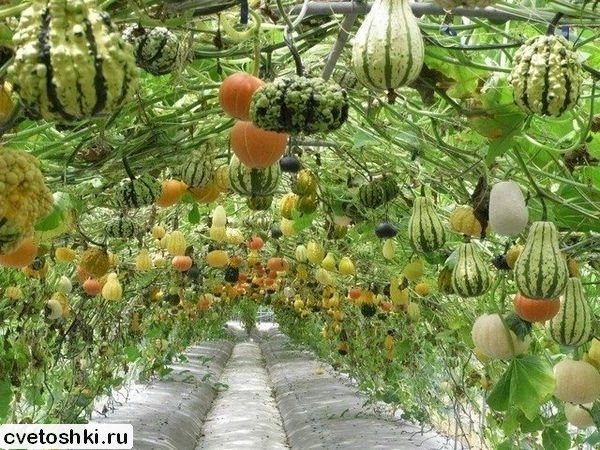 In addition, there are varieties of ornamental pumpkins in the form of warty, turbid-shaped, and patonic forms of fruits.
Growing a decorative pumpkin from seeds - agrotechnical techniques
The recommended methods of agrotechnology, if they are followed exactly during the whole process, allow to obtain an excellent result. Culture is not quite whimsical to the conditions of growth. Growing an ornamental gourd from seeds in a seedling way allows to speed up the process of decorative gardening.
To do this, at the beginning of April it is necessary to prepare a soil rich in humus mixed with sand and turf ground. After disinfection it is laid out in separate containers with a volume of at least 500 ml. Handling, picking, transplants are not allowed. Therefore, we plant 1 seeds in each pot. Previously decorative pumpkin seeds are germinated in advance. To do this, divorce any drug to stimulate growth. Soak the seeds in a warm solution for 30 minutes. Then they need to be put in a gauze and wrap in a plastic bag. Put in a warm place. Sprouts appear after 2 days. After that, planting is performed in a 1 tank with a seed germ up.
The subsequent cultivation of ornamental gourd from seeds at home consists of regular watering, mineral fertilization, loosening. For 2 weeks for landing in open ground should be the procedure of hardening. To this end, tanks with seedlings are taken out to the open air on 15 - 20 minutes, daily increasing their time in the open environment to 3's hours.
After disembarking in open ground, daily watering and fertilizing with 1 nitrogen fertilizers is needed once a week until the whips are fully developed. In the period of budding with fertilizers, phosphorus and potassium should prevail. It grows well on organic matter, after making fresh and rotted manure.
Is it possible to eat decorative pumpkins and how to use them (with video)
There may be several goals for growing such vegetables. Is it possible to have a decorative pumpkin after their full maturation? This question is quite complicated. Even with respect to the same brand, manufacturers give radically opposite recommendations. In fact, most varieties of ornamental gourd can hardly be called edible due to a rather stiff pulp. Although some of them can be used in the preparation of cereals, casseroles, puddings.
How to use them more, you can look at the video below:
SIMILAR ARTICLES: