To choose one or another method of planting garden plants, one must not only see beautiful illustrations in specialized catalogs, but also learn about the peculiarities of the formation of landscape groups. To plant flowers in the garden as your fantasy suggests is not enough good taste.
It is necessary to observe the rules of compatibility, because some cultures can suppress others or blossom simultaneously, and for the rest of the time your site will seem empty.
Even beautiful and well-groomed plants, selected in accordance with the natural conditions of the site, will not make a good impression if planted in disarray, without taking into account the decorative features of each species.
There are several basic ways of planting flowers, and for each type of composition, plants are selected in a special way. Take into account the height, shape, flowering time, the course of development during the summer season.
How to properly and beautifully plant flowers in the garden, you will learn by reading this material.
Vertical gardening and planting groups of flowers
"Vertical gardening" is called designation of plants with vertical surfaces (building facades, fences, trellis grates or pergolas).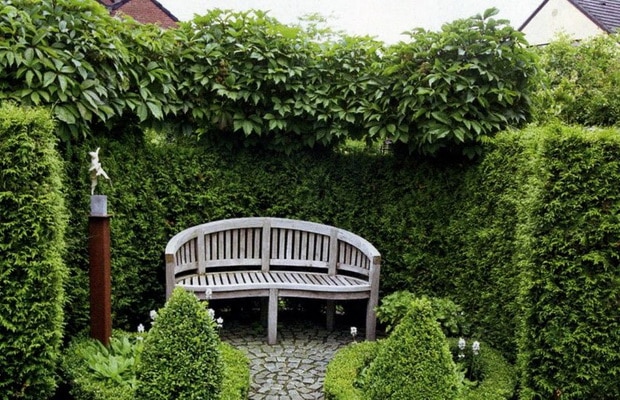 For such a beautiful planting of flowers can be used as perennial ornamental shrub (Actinide, Girlish grapes) and flowering (clematis) creepers, and ampelous herbaceous plants. With such landscaping, it is desirable to use supports (wooden, metal, etc.).
In a small garden, a group called a composition of grassy plants, bushes, dwarf tree forms, in imitation of nature, having a free shape. In a simple group, plants of the same species are used, in a mixed group, two or more.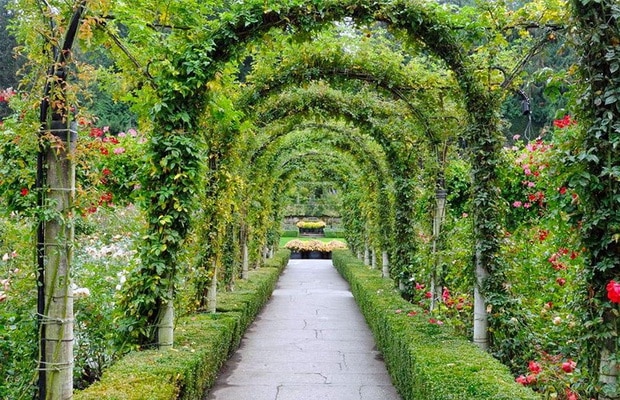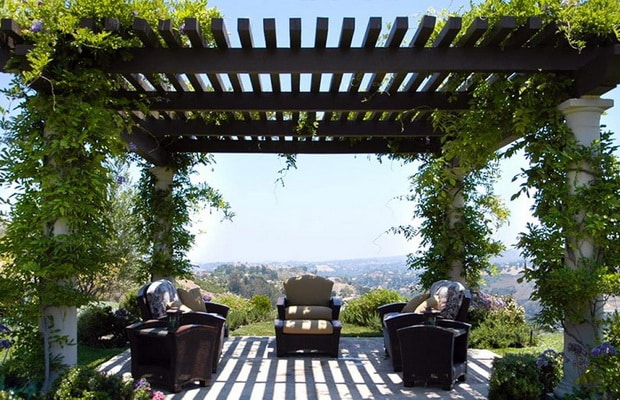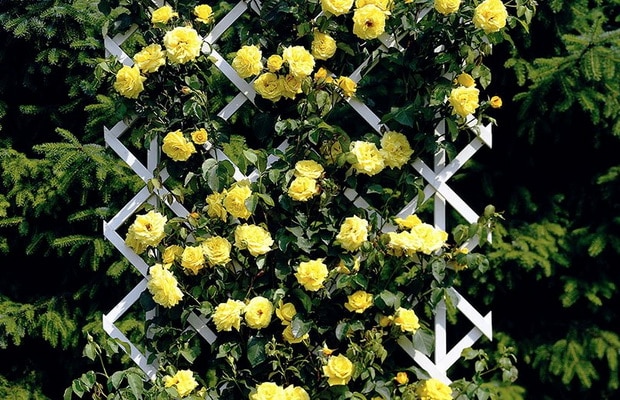 Plants are chosen so that their visible part is consistently decorative.
That plant plants in the garden in groups, as suggested by the proper agricultural technology, losing beauty after flowering and "low-lying" (few leafy in the lower part) plants are planted in the middle and background so that those in front of the planting hide all defects.
Planting flowers in the flowerbed and in containers
The composition of the correct geometric shape - in the form of a circle, a square, a polygon - is usually intended for a circular view. The flower beds are placed in the front parts of the garden, for example at the entrance to the house. Therefore, it is important that they attract attention throughout the season.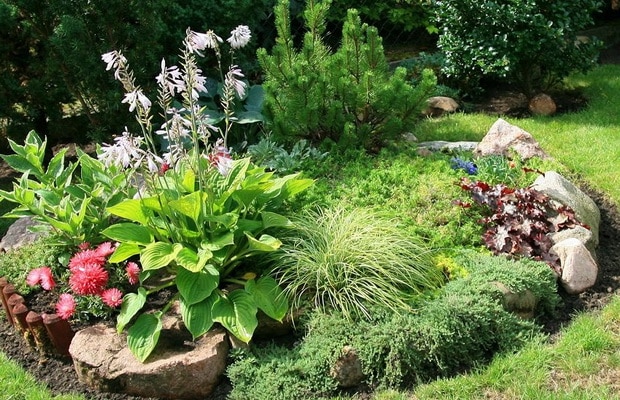 For planting in a garden in a flower bed, they usually prefer flowering blooms from spring to autumn, sometimes performing composition changes: before 10-15 June, a flower garden was planted with flowers planted from autumn or viola, which is planted in mid-May.
These plants are not afraid of spring frosts. At the beginning of summer, cold-resistant flowers are replaced by thermophilic peers, and flowering continues until autumn.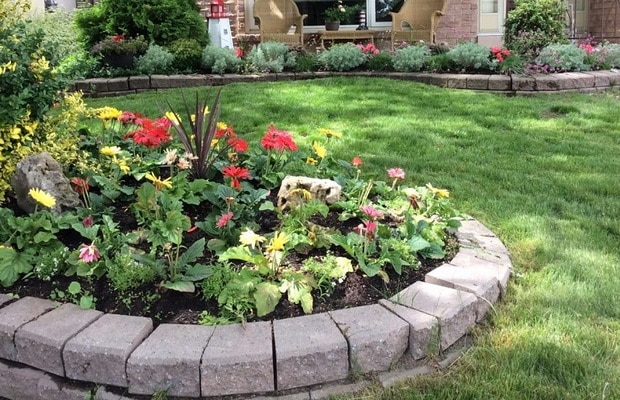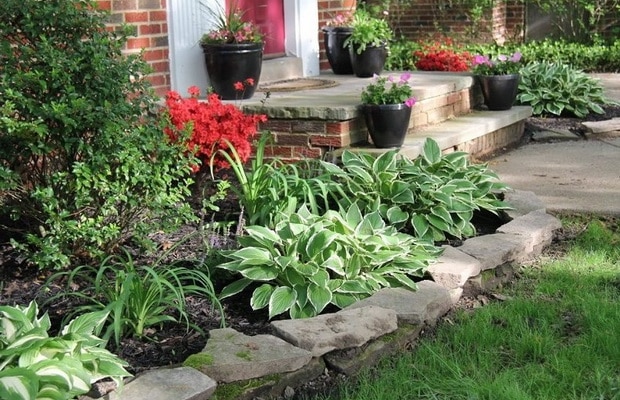 Containers are used where it is impossible to create permanent flower beds - on hard-surface plots, on balconies.
This is a very practical idea of ​​planting flowers for site design, allowing you to create mobile compositions, change the look of the garden at the discretion of the owner. Far from any plants are suitable for such plantings.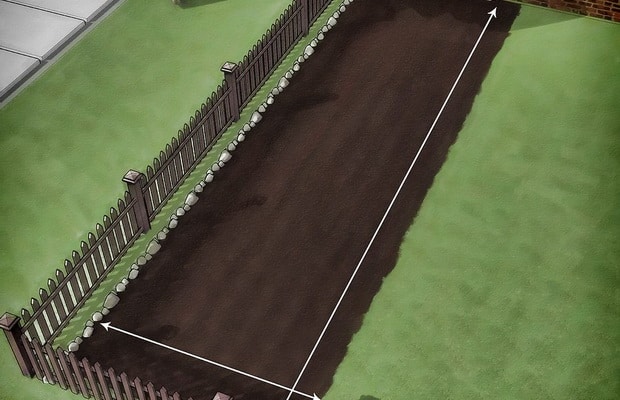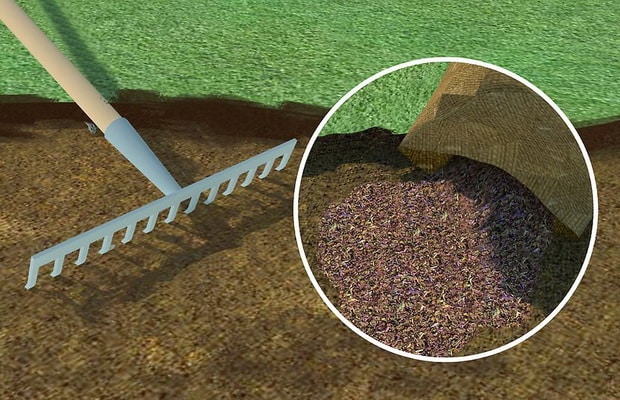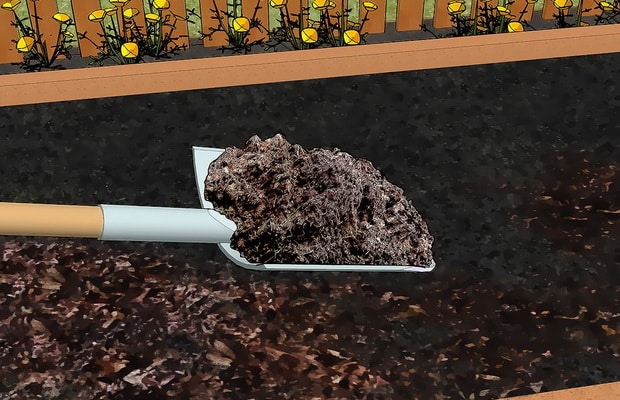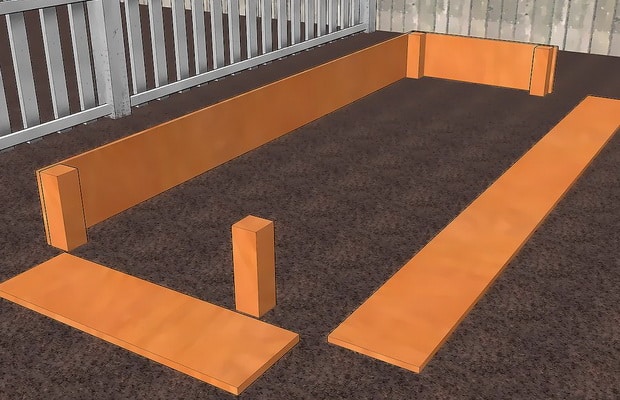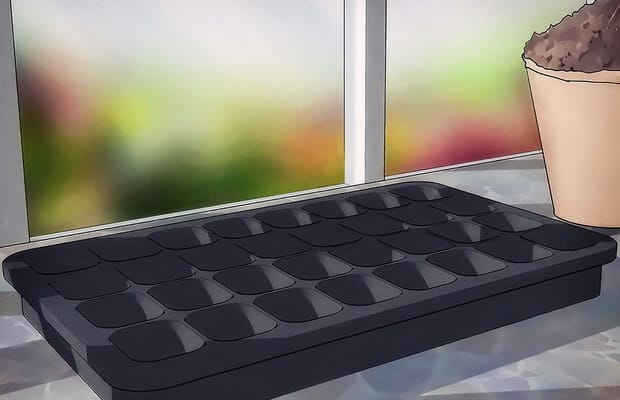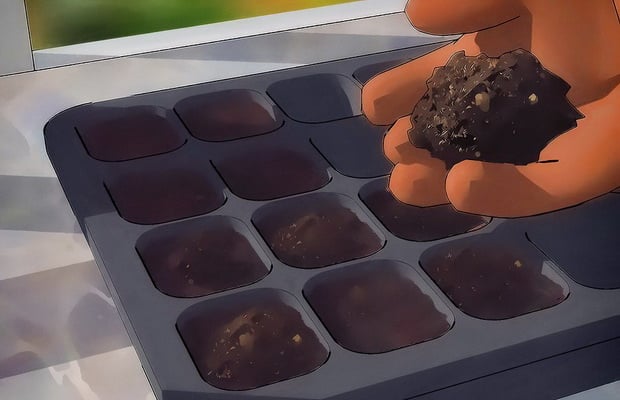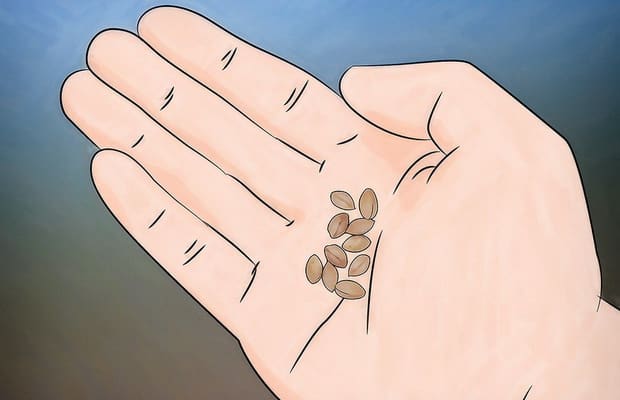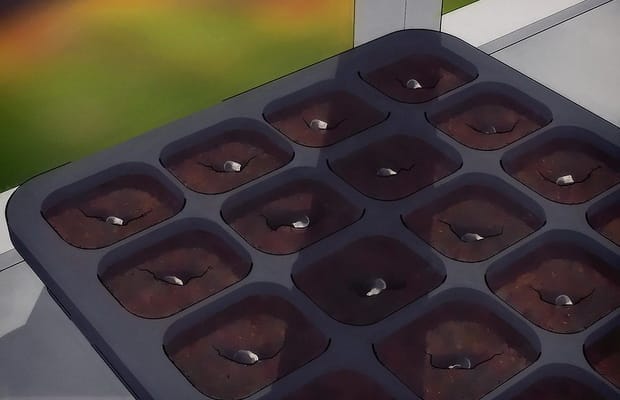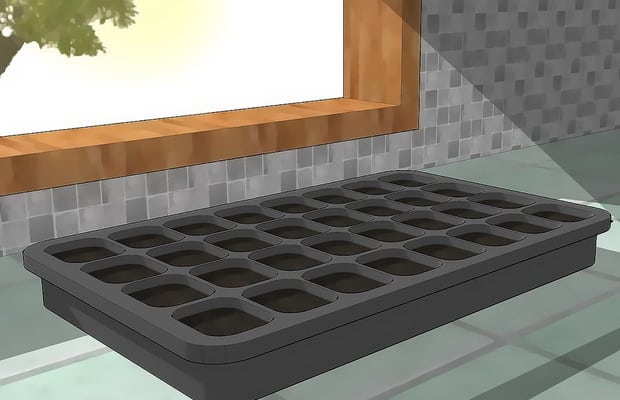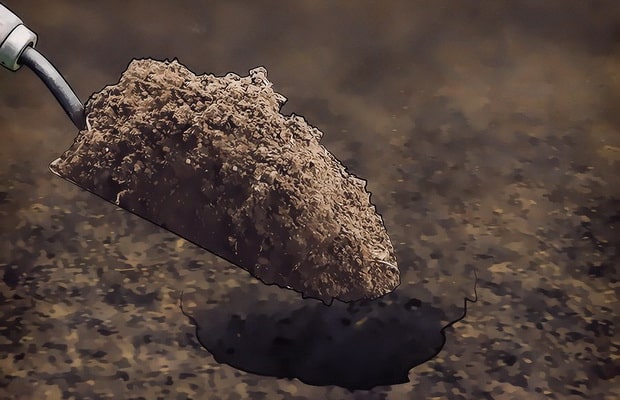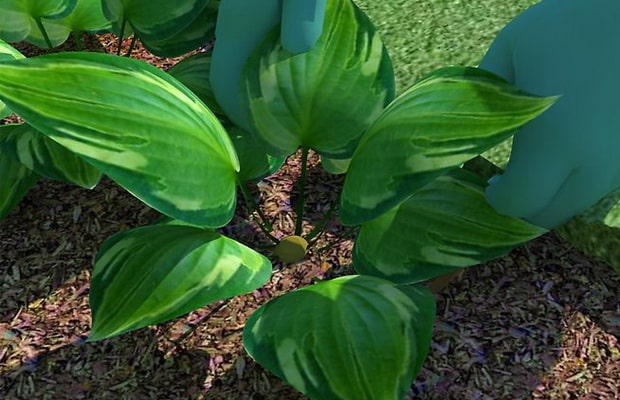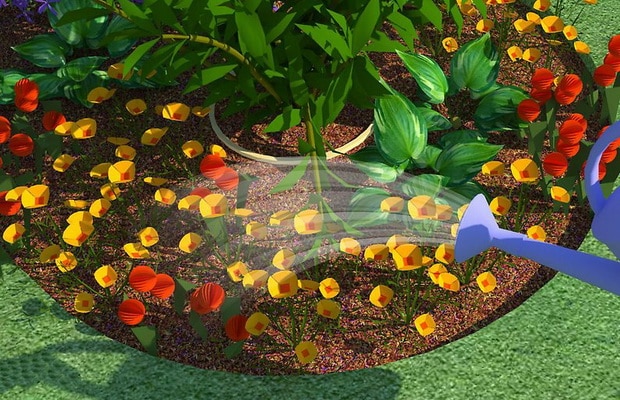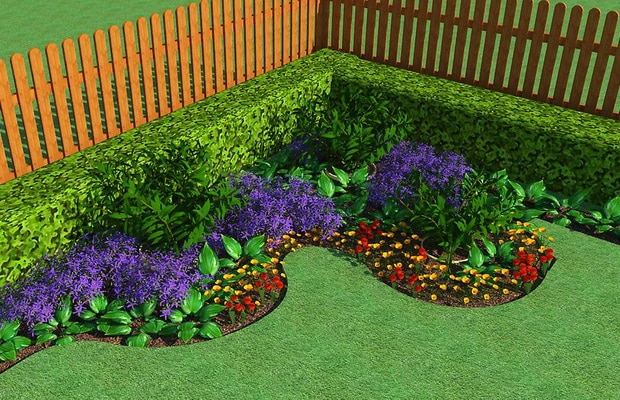 First of all, drought-resistant crops are needed - the soil in the container dries much faster than in a traditional flower garden. Plants with wide leaves that consume a lot of moisture are not suitable for such plantings. The best choice is compact plants or their varieties that have a beautiful shape — spherical, pillow-shaped, ampelous.
As shown in the photo, when landing garden flowers in a massive container in the center, you can place a rather large and "low-lying" plant, by decorating its lower part with a "skirt" made of lush letniki: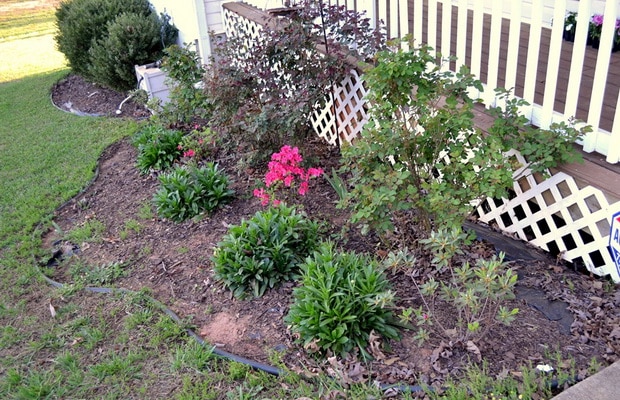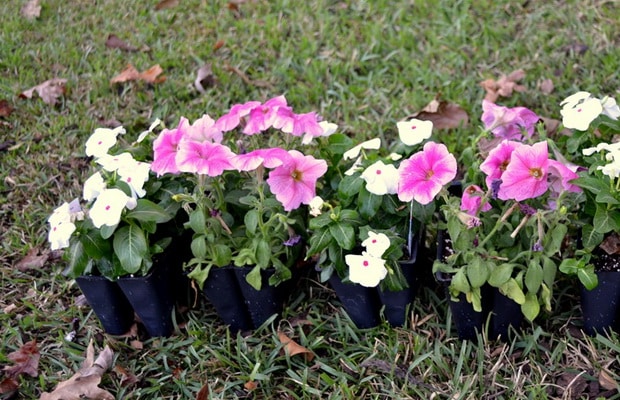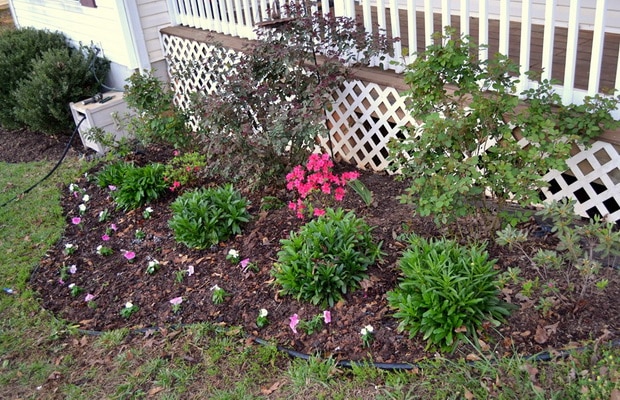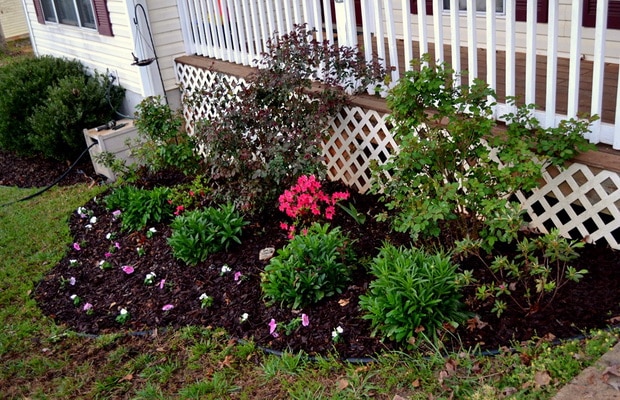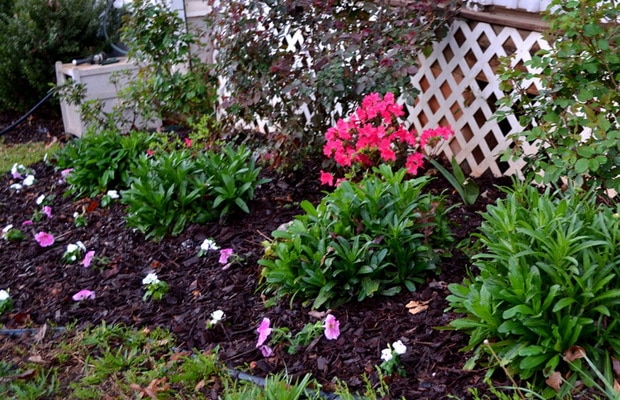 Interesting ideas on planting flowers in the garden array
Large groups of plants whose length exceeds the height multiplied by three are called arrays. They look completely different than ordinary groups. The array forms a continuous uniform surface at the height of the plants.
If it is low flowers, for example Tulips, the surface of the array extends near the ground itself. If the plant stems rise to a height of one and a half meters and above, the beauty of the massif can be assessed only from an elevation - close it appears as a solid wall.
An array, like a group, can be composed of several types of cultures, but it should be remembered that individual specimens in such a composition are not visible.
We perceive not every plant in particular, but the whole mass of leaves or flowers, so an array made up of small groups most often does not make the proper impression. Better looking plants of the same species, planted with large "spots".
These photos show how you can plant flowers in the garden in arrays: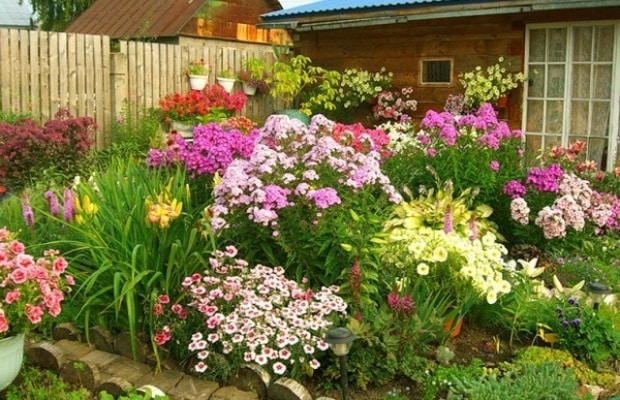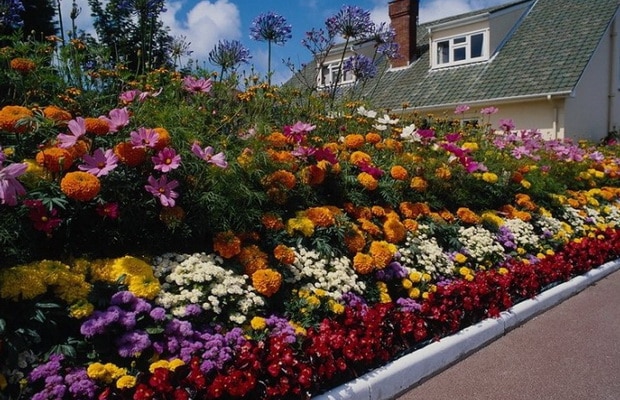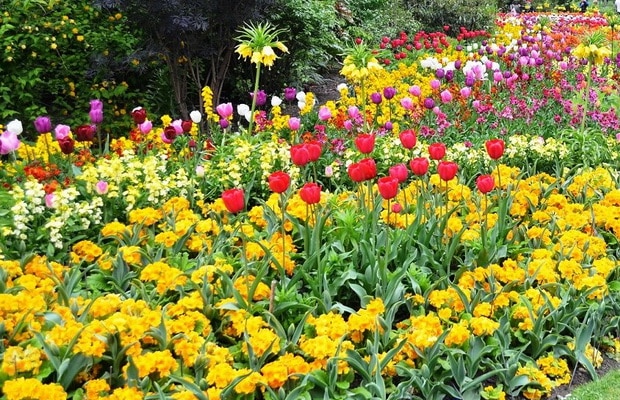 Flowers in mixborder and rabatka
Another interesting idea of ​​planting flowers in the garden is create mixborder.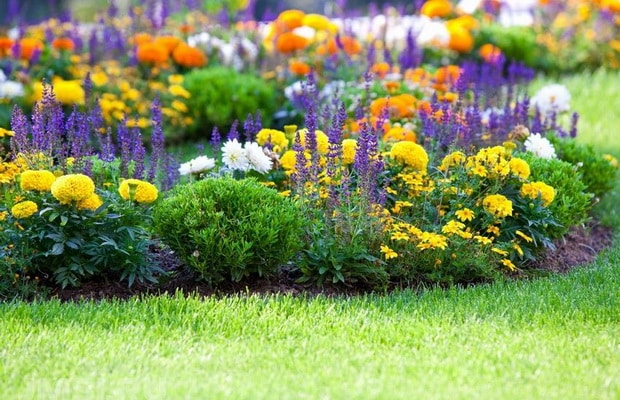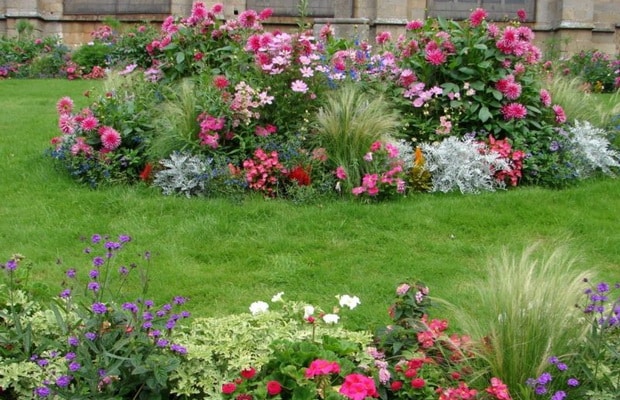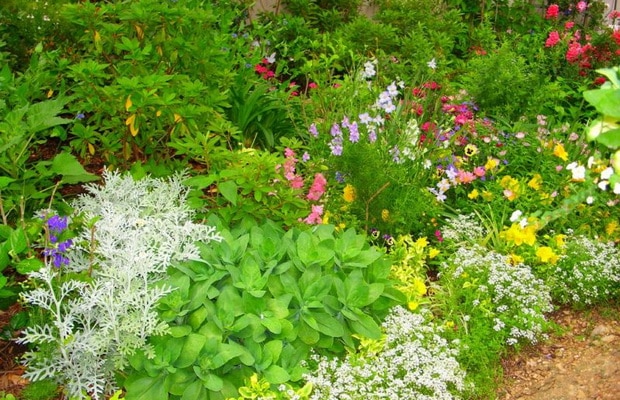 Mixborder is an elongated flower garden of irregular shape - one of the most common methods of floral design in private gardens. It is very convenient for planting garden flowers, if you need to visually divide the plot into parts, outline the contour of the lawn or path, emphasize the shape of the planning elements.
It is easier to master the mixborder composition if it is presented in the form of groups arranged in a chain. According to your plan, groups can be the same or of several types, alternating in a specific order.
Selection of plants for mixborder is the same as for group plantings. In the foreground compact steadily decorative species are planted, not losing attractiveness during the whole summer, medium and tall plants are on the middle and back.
Mixborder occupies a lot of space on the site, and gardeners usually seek to pick up the assortment of plants in such a way that flowering plants are constantly present in the composition from April to September.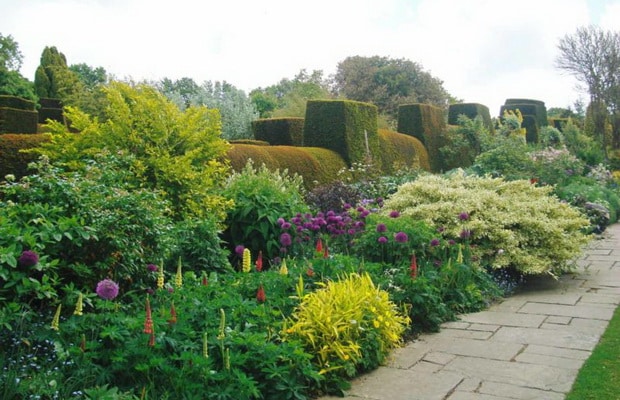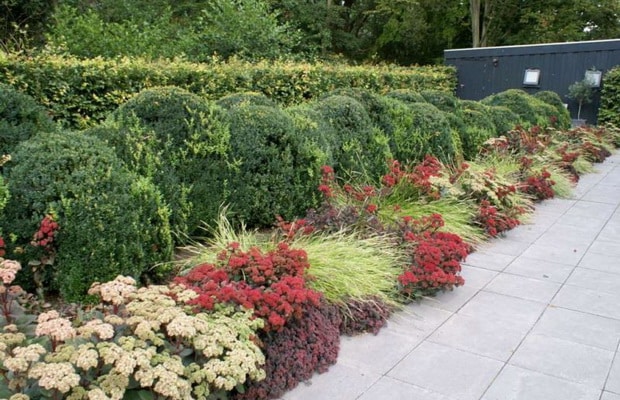 Rabatki - flower beds, elongated in the form of a strip width to 2,5 m. In contrast to mixborders, they have the correct geometric shape. In small gardens, such flower beds are usually located near the house - in the most functional and "responsible" part of the garden, where the winding lines of the layout are simply inconvenient for the owners.
You pass by them several times a day, they are the first thing that catches the eye of your guests, and therefore the range of plants for rabatok is chosen with special care. As a rule, these are letniki blooming throughout the season.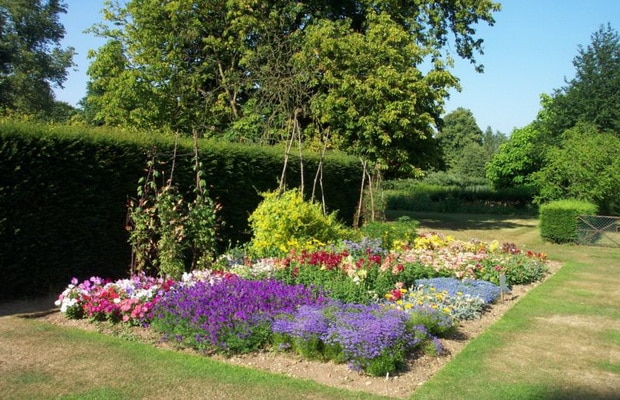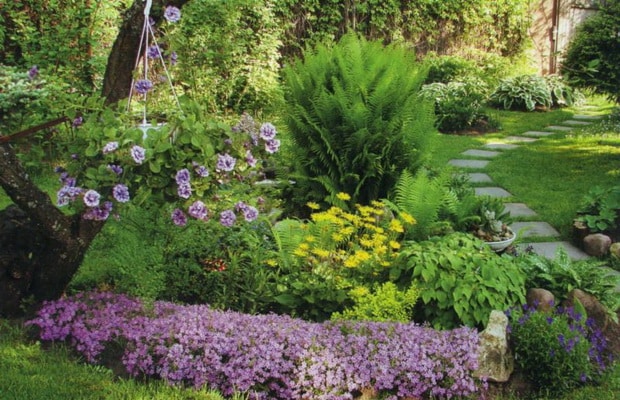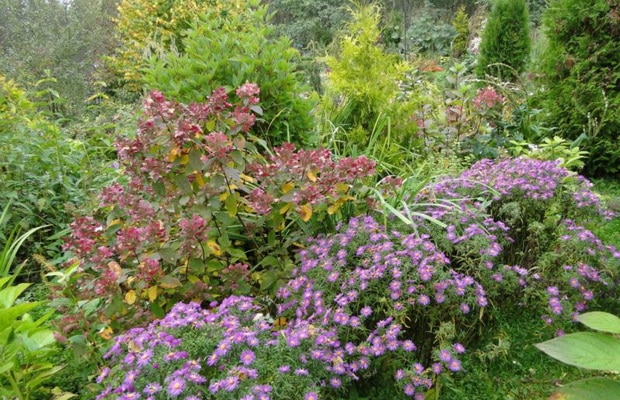 The use of stably decorative perennials with beautiful foliage is possible. Rabatki often adjoin recreation areas, terraces, summer kitchens, since this type of flower garden corresponds to the geometric shape of buildings.
In such places you can place fragrant flowers and herbs, as well as the most interesting species and varieties of your collection, because here they will be the center of attention.
See how you can beautifully plant flowers in the garden, using ridges: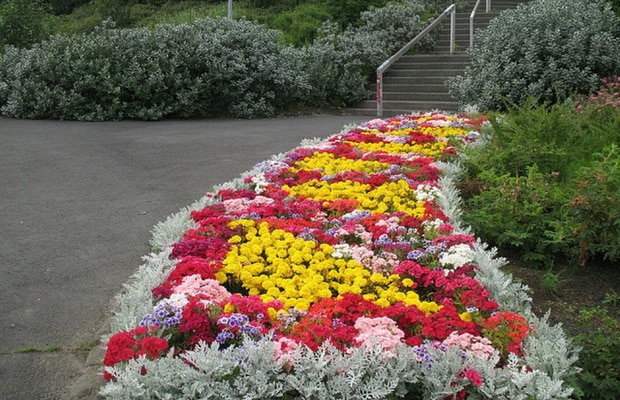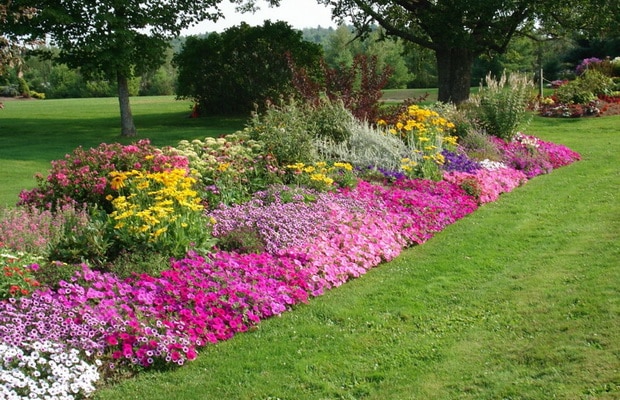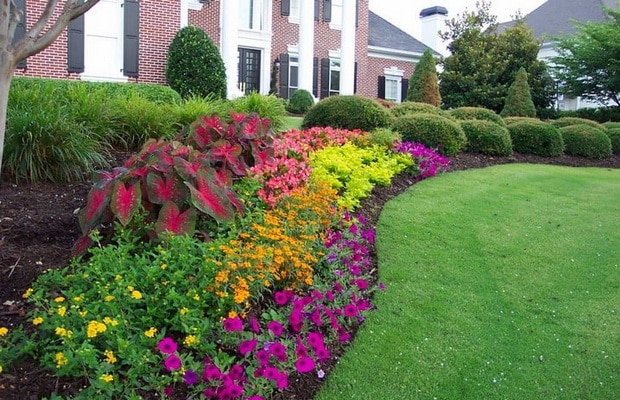 How to plant plants in the garden
Decorative planting of flowers on the garden plot in a horizontal plane, usually in front of the facade of the house, is called the parterre. Unlike, for example, the front garden parquet should be commensurate with the scale of the building.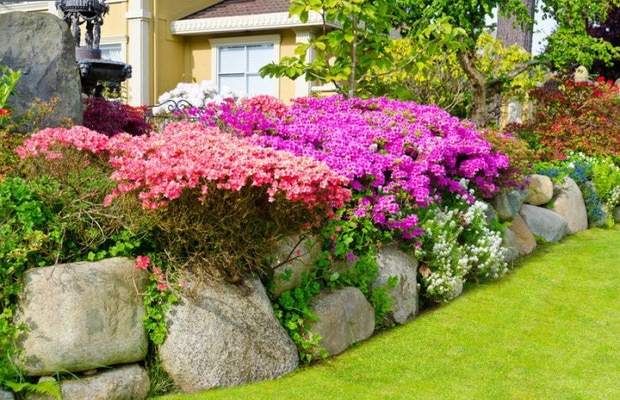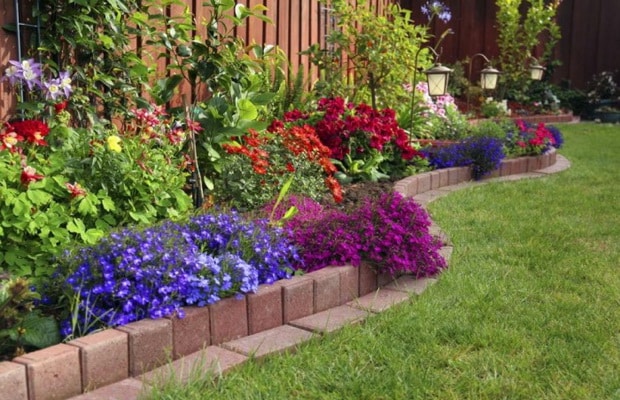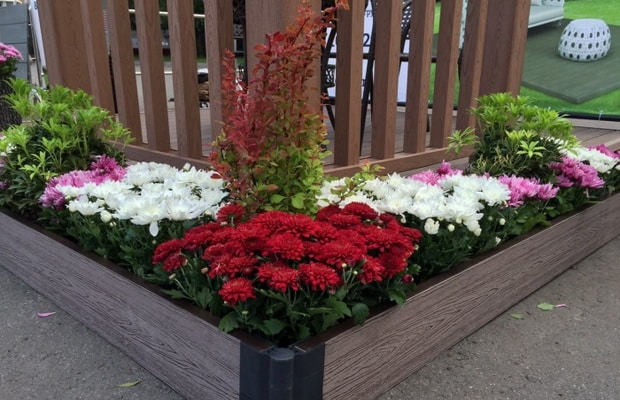 Classic stalls can be made not only from plants, but also from inert materials and water.
As the plant material used lawn, flowers, shrubs. Inert material are sand, coal, broken glass, crushed brick, tiles.
Of course, such intricate, in the old spirit, stalls are not suitable for any private garden.
Lawn and meadow parterres are much more common. The first ones are well-groomed "green lawns", sometimes supplemented with flower beds.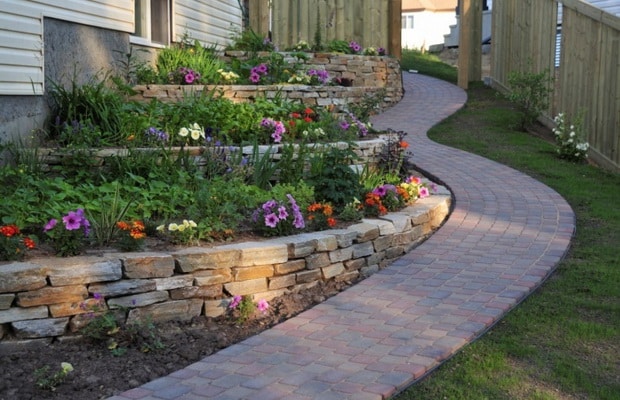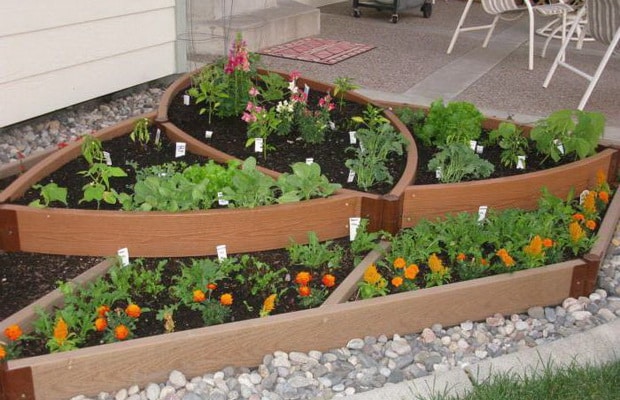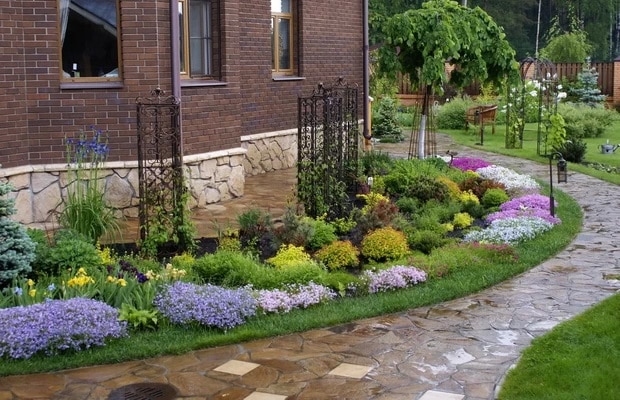 Meadow parterias are just starting to come into vogue. They are created, as a rule, from annual meadow flowers, giving self-seeding. Meadow parterres are the most durable; they are composed of plants that are undemanding to the soil conditions on nutrient-poor sandy areas, and are less subject to weed aggression.
Interesting ideas of planting flowers in the garden are shown in these photos: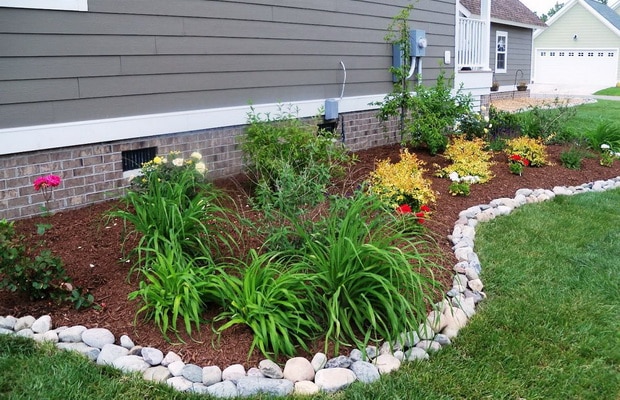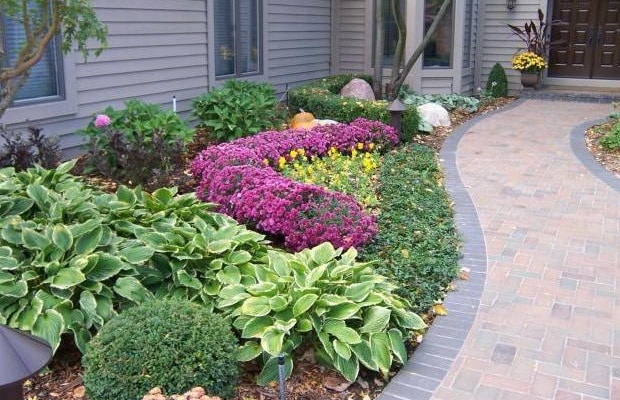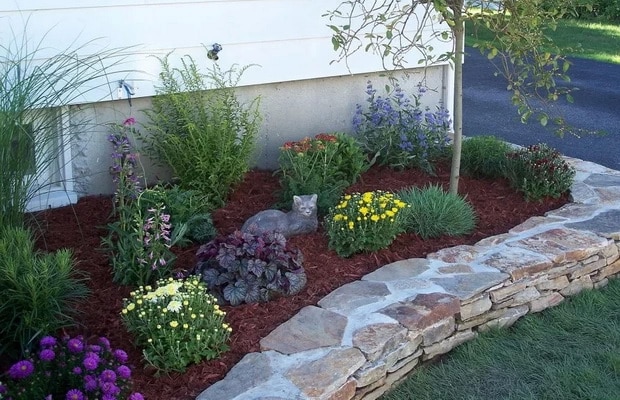 Planting flowers in hanging baskets
Beautiful planting of flowers at the cottage in hanging containers is used to decorate arbors, porches, terraces, as well as facades of buildings. This is an effective way of gardening with a lack of free space.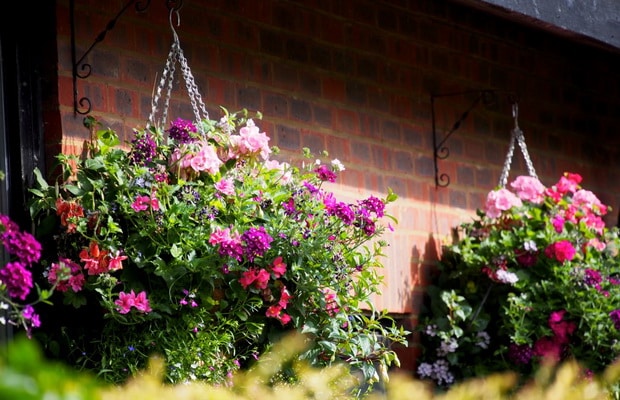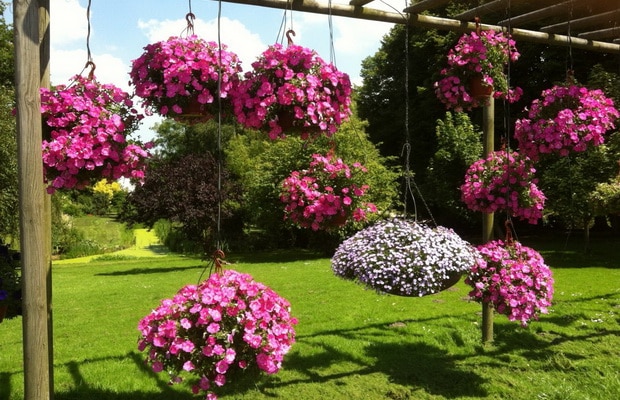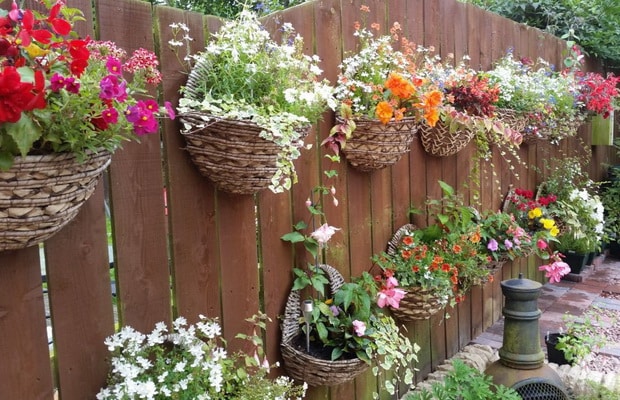 For planting in hanging baskets choose the most drought-resistant plants. Bright and floriferous ampelous cultures are most suitable for this purpose: petunia, pelargonium, gauge, lobelia.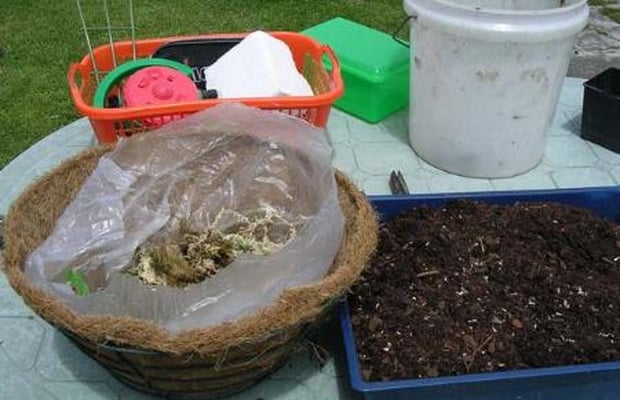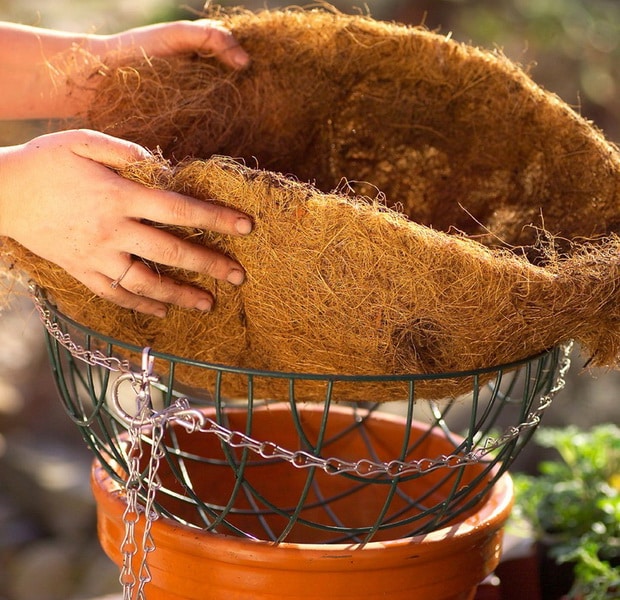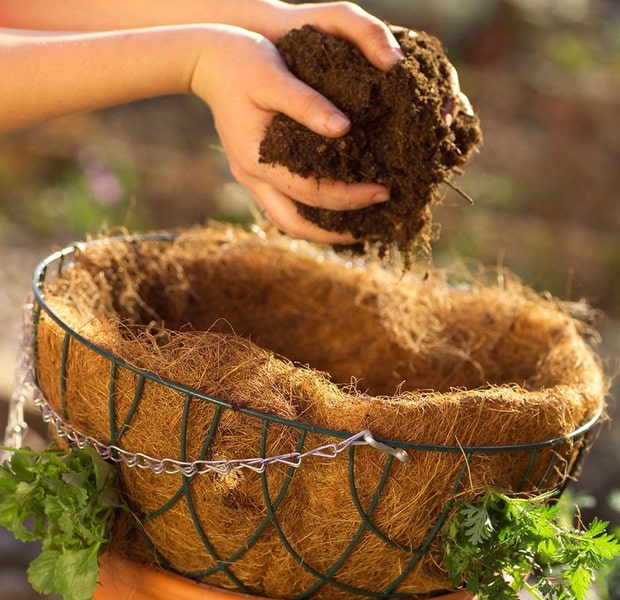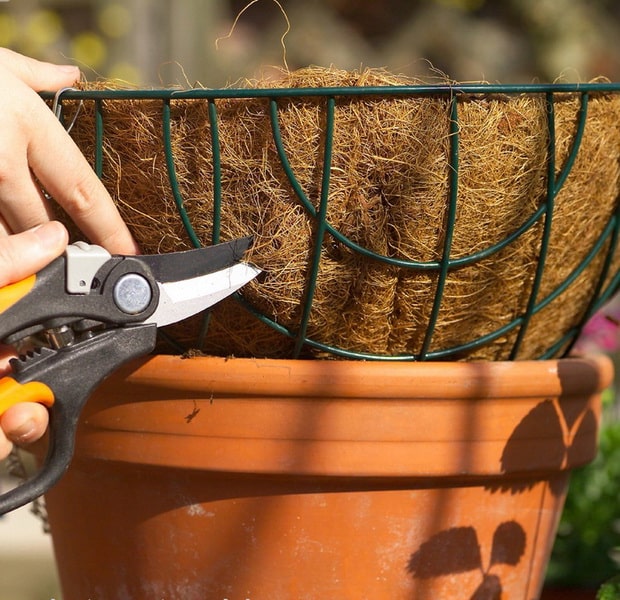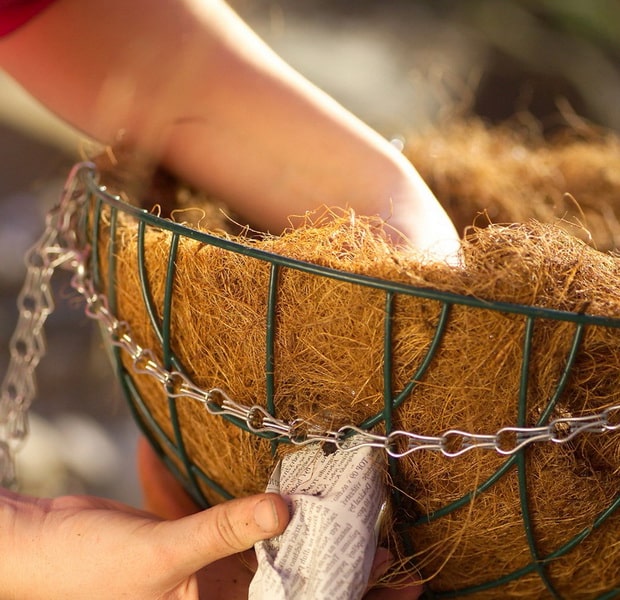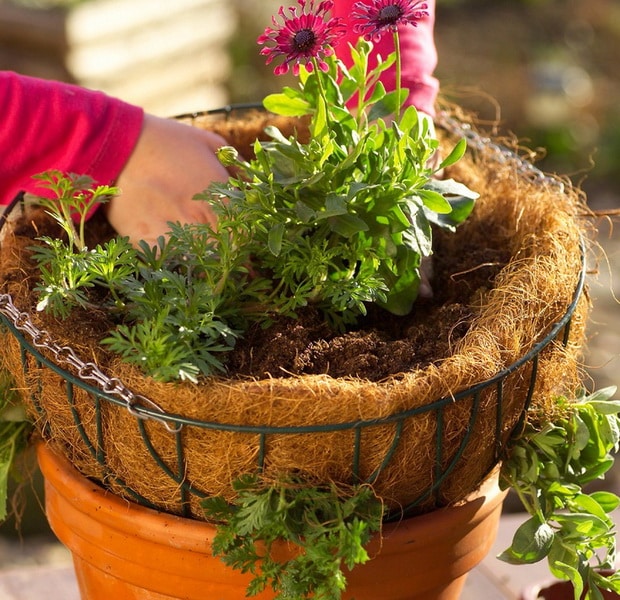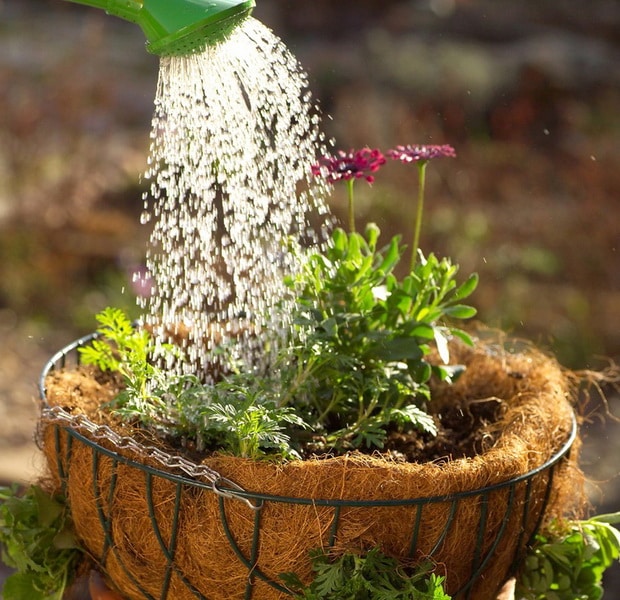 Plants adorning the facades of buildings, especially the upper floors, must also be wind-resistant. Cultures with delicate flowers and leaves, such as petunias, are not suitable. In this case, use plants with dense or tough foliage (which is easy to determine by touch).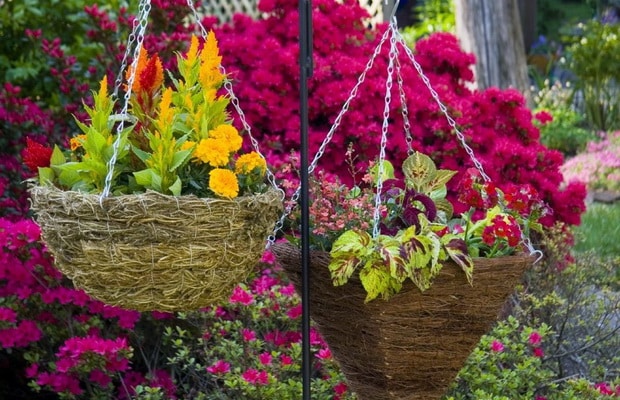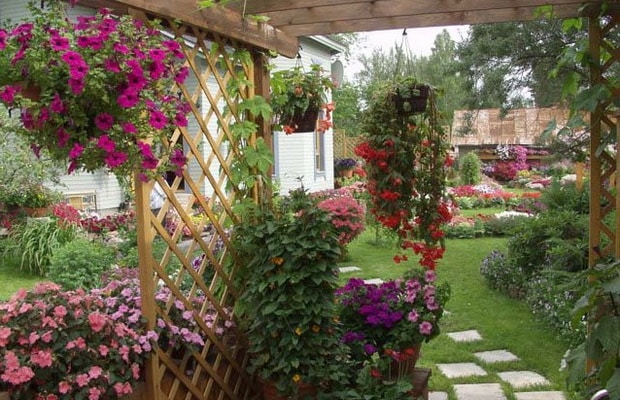 How beautiful to plant flowers in the rocky garden
Another interesting idea of ​​planting flowers in the garden is the creation of rockeries. Compositions of plants with stones, imitating mountain landscapes, gained extraordinary popularity in private gardens.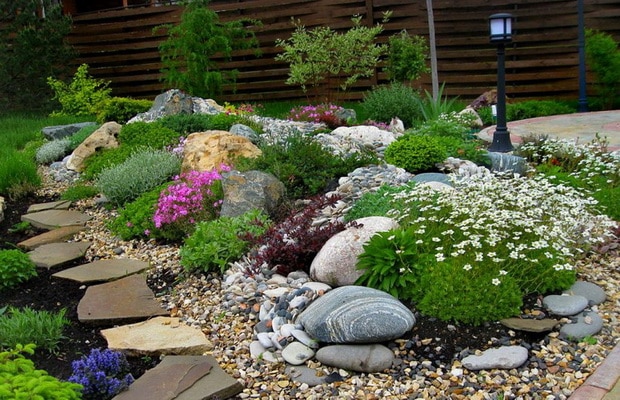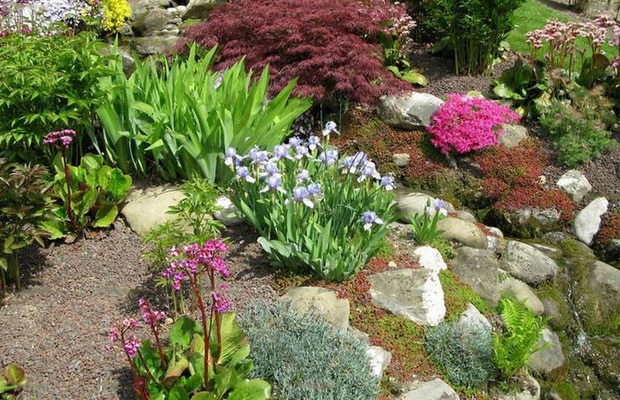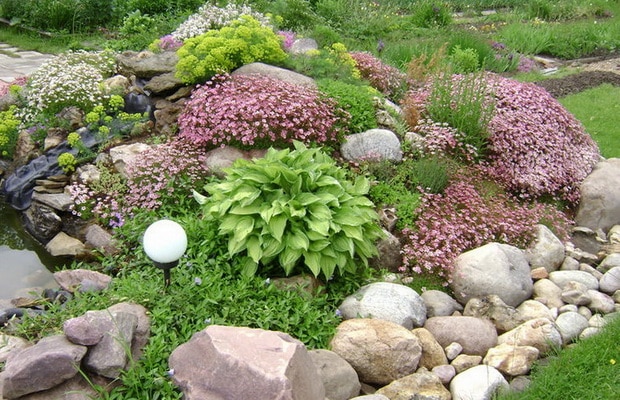 They can be performed not only in the form of "hills", but also on flat areas, giving them a strict geometric or free landscape form.
Before planting flowers in the rocky garden you need to arrange the stones beautifully. Choosing the rock, placing the boulders in a picturesque manner, you can think about purchasing plants.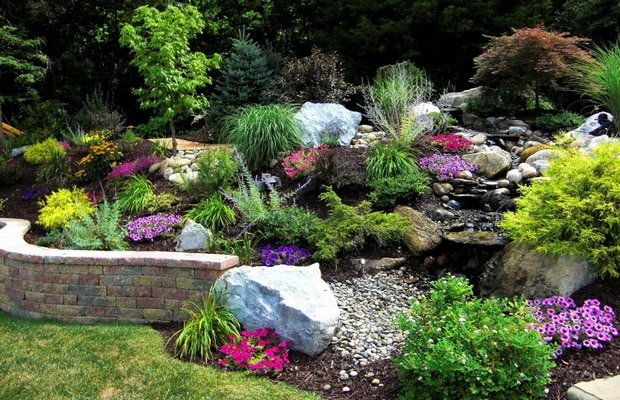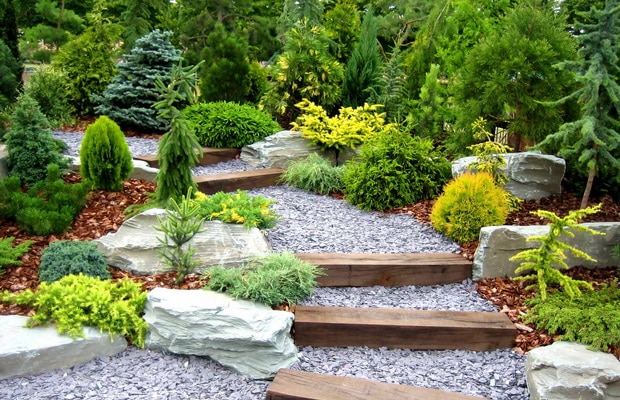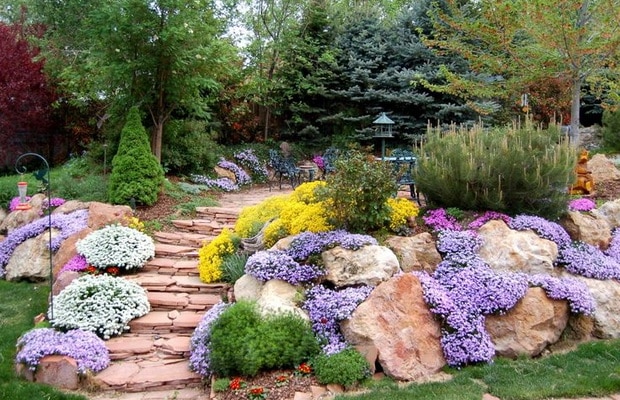 Cultures that prefer alkaline soils grow well surrounded by blocks of marble and limestone. If rockeries are made of granite, quartz, basalt rocks, it is possible to create conditions with neutral or acidic soil environment in it. In accordance with this, you can make a choice in favor of certain plants.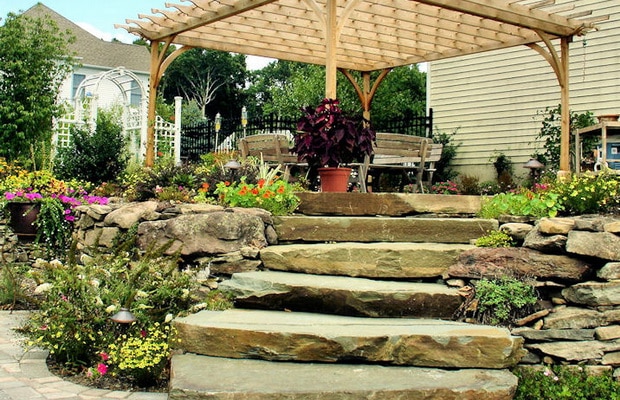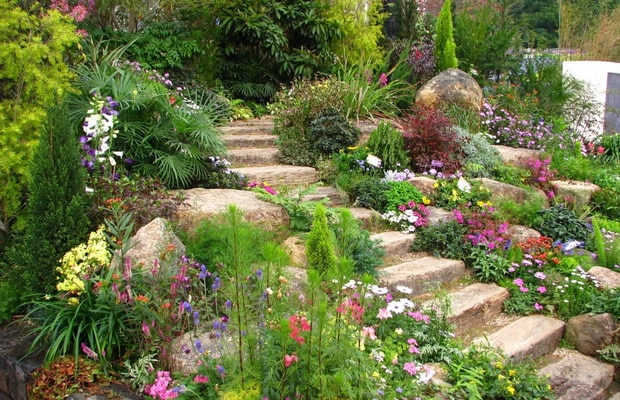 Aggressive species, rapidly expanding and hiding stones, are not suitable for rockeries. In order to preserve the originality of the composition of the "mountain landscape", do not allow it to turn into a blooming flower bed. Powerful tall plants planted next to medium-sized boulders also look comical - it is better to dwell on miniature forms and varieties.
Single planting plants
A single method of planting allows you to select one of the plants in the garden and turn it into the center of attention. This technique, for all its apparent simplicity, requires a special taste and artistic flair.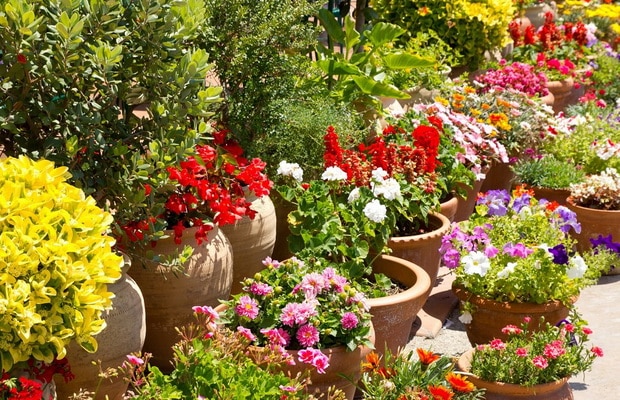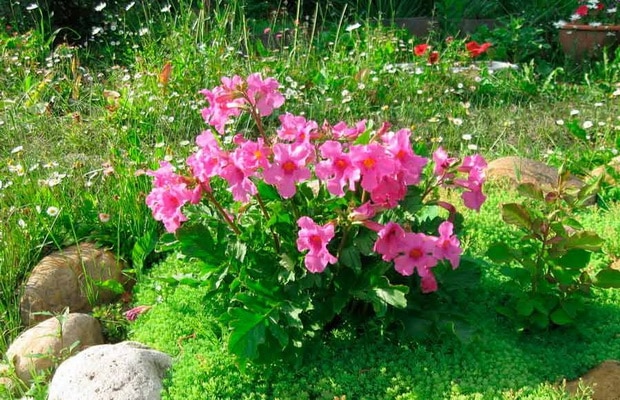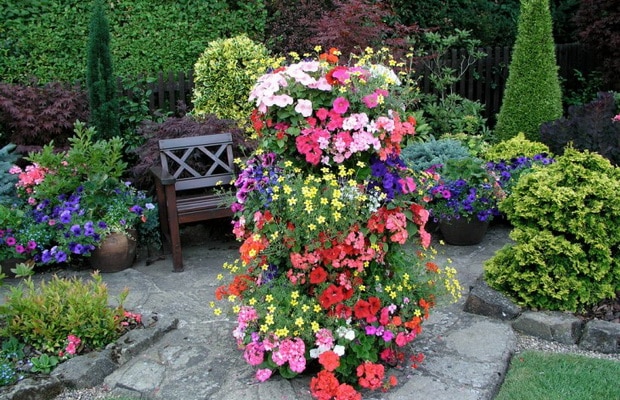 The soliter plant is placed at a distance from other plantings so that it is not perceived as part of the composition, for example, as a part of a mixborder located in the background.
It is important that the size of the selected plant matches the scale of the surrounding space. In a large park, it can be a stand-alone tree, in a small area - a beautiful specimen of a bush or a flower. Soliter should have a beautiful shape, look good from afar.
Usually these are powerful plants, regardless of the height, they are leafy at the bottom and do not lose their decorativeness during the whole growing season.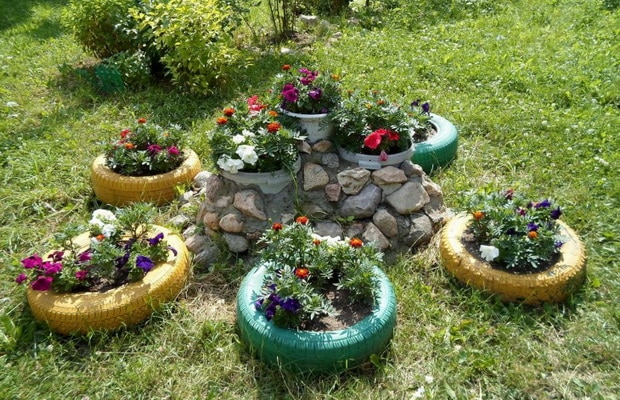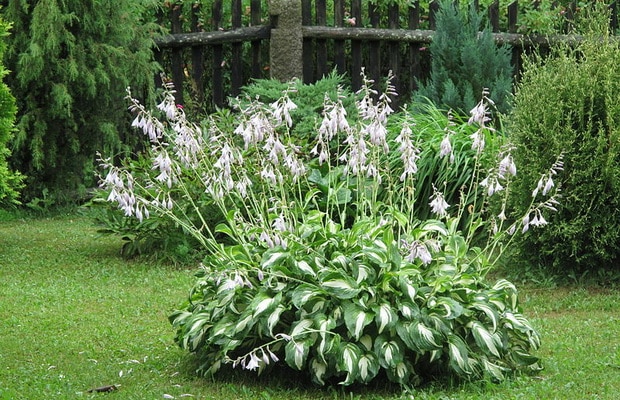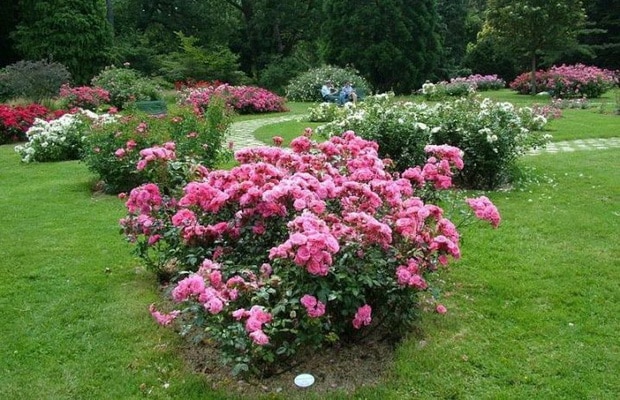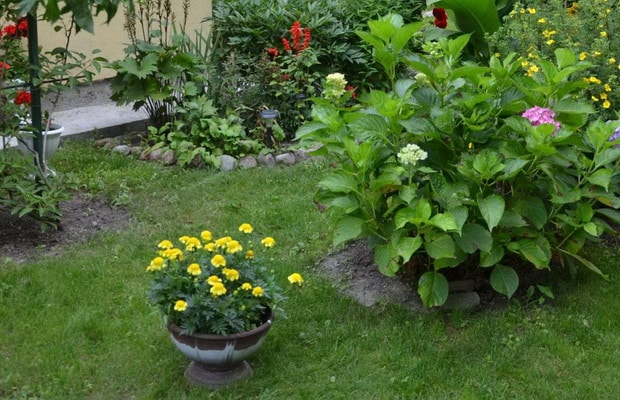 You should not use this idea of ​​planting flowers in the country, if your preferred culture is unreliable (freezing or prone to disease). Remember that the tapeworm is always striking and actively influences the impression that the garden as a whole produces.
Blooming lawn
And one more idea how beautiful it is to plant flowers in the garden is to arrange a blooming lawn. Such lawns can be of several types.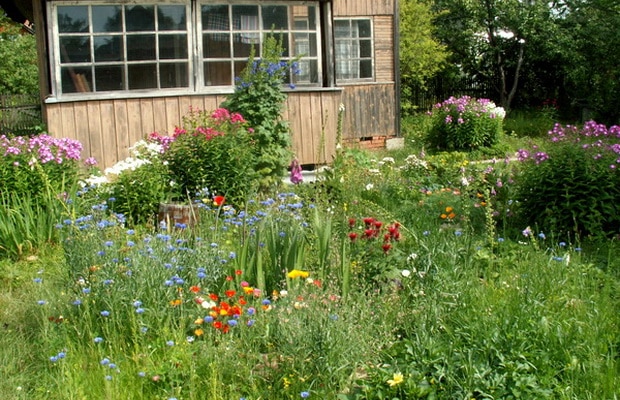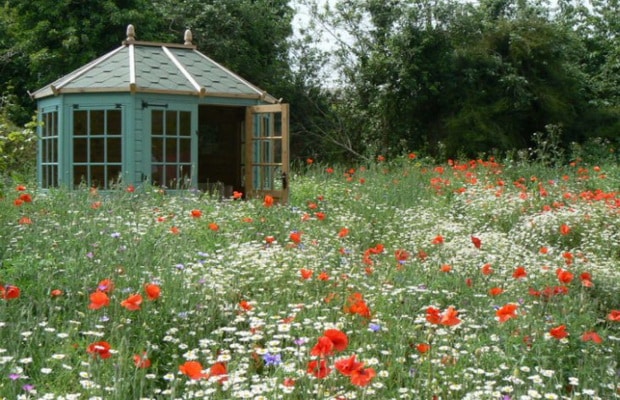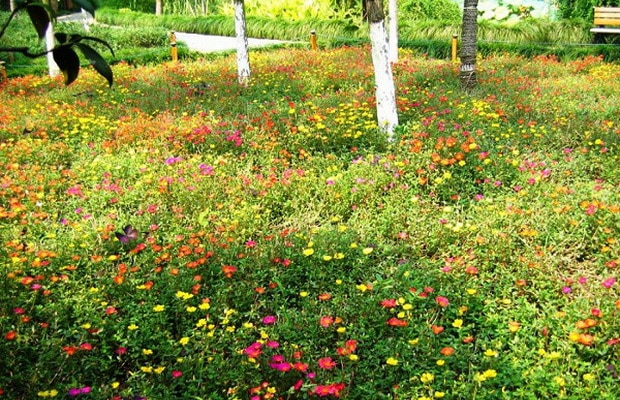 Moorish lawn consists of a mixture of cereals and flowering plants, mostly annuals, and needs to be cut. It is carried out for the first time in May, at the beginning of the growth of cereals. The next is possible only after seed ripening.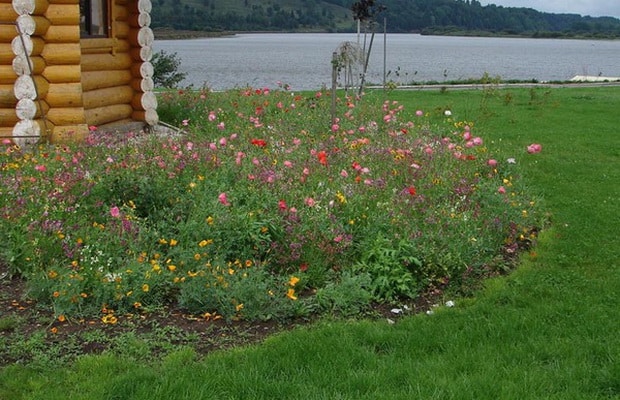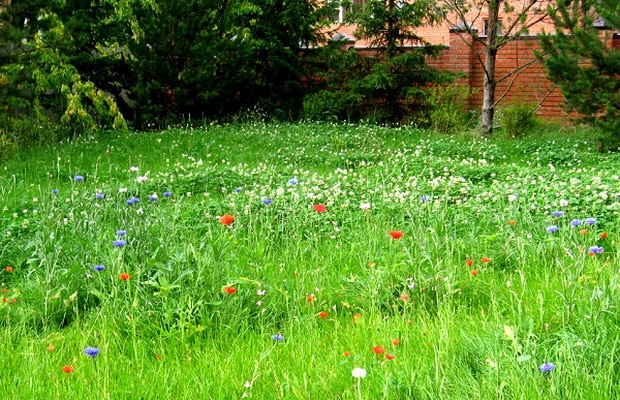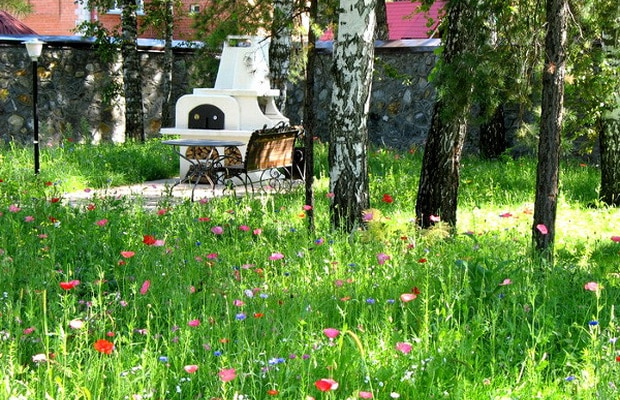 The lawn is mown in dry weather and does not clean the grass for several days to allow the seeds to get enough sleep. After this haircut, planting for a short period takes an untidy look, so this way of design is good for the far corners of the garden.
Meadow grass does not need a haircut. It is made from low grass, for example from clover.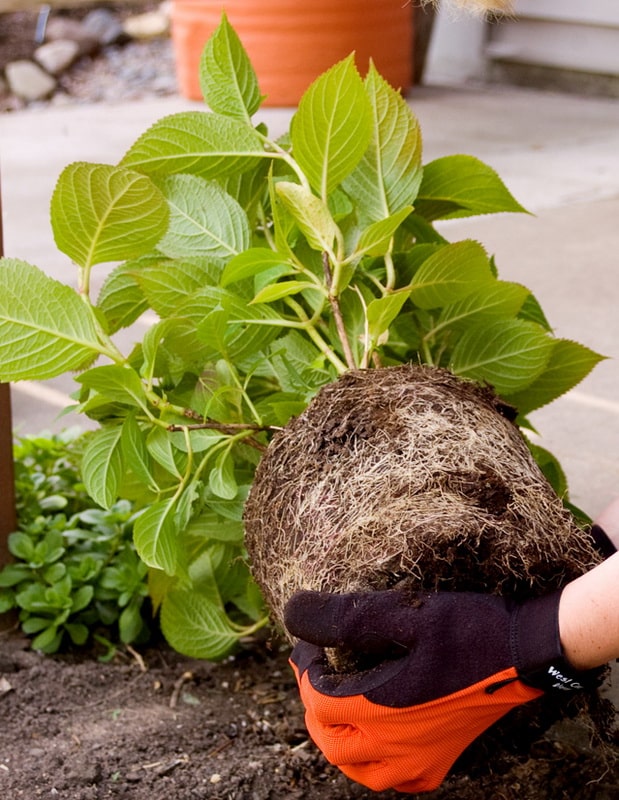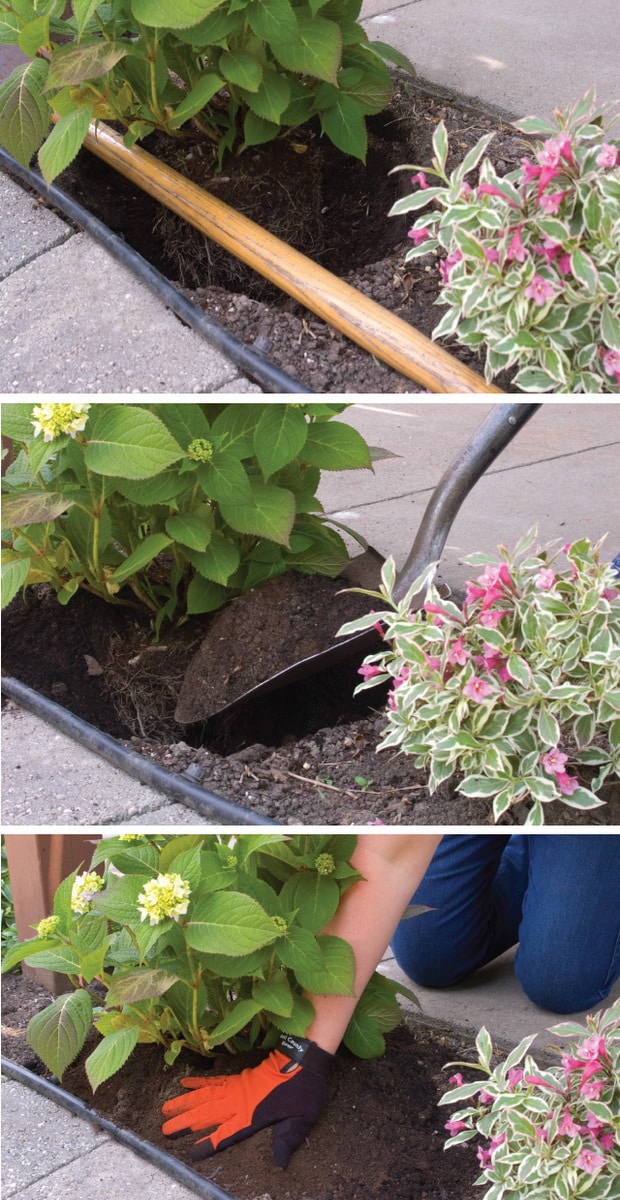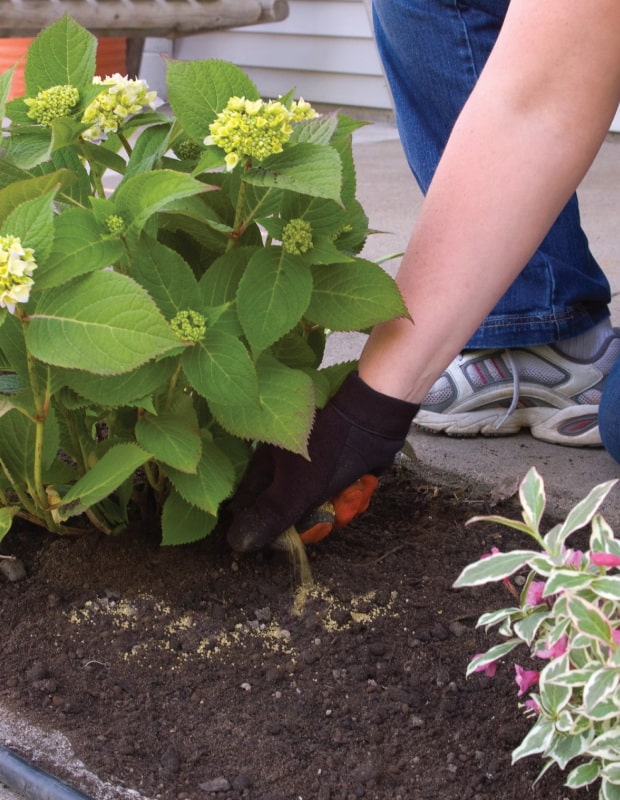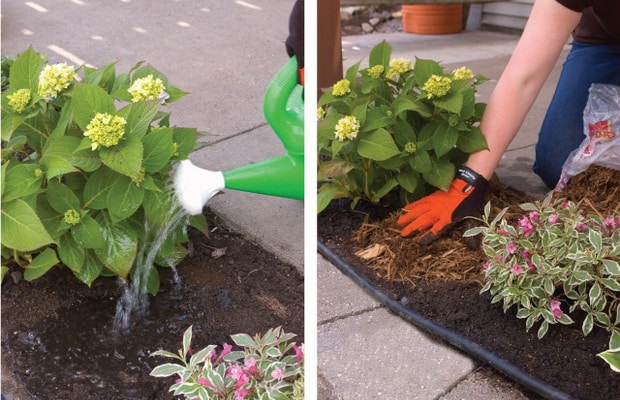 Planting spring flowers that can grow in a regular shearing lawn. These are mainly early spring flowers, which have time to bloom and enter into a dormant period before the first mowing. Planting flowers in the lawn is carried out as follows: with a cone, they make a hole in the sod, insert a bulb or a corm into it, then sprinkle it with ordinary sand.
SIMILAR ARTICLES: