The decoration of the backyard plot is often associated with the fact that it is simply a pity to occupy large areas with flower and decorative crops. There is a way out - it is edible beauty that can be used for decorative purposes. Some species belong to vegetables, others to aromatic herbs. Decorative cabbage in landscape design has been used since ancient times. The first mention of this vegetable was found in records relating to the Roman Empire. Homeland plants is Greece. Further selections were practiced throughout the world. As a result, more than 80 varieties with different leaf shapes and colors appeared. All of them are edible - can be used in salads, for the preparation of side dishes and preservation. On this page you can see the varieties and names of decorative cabbage with photos illustrating the richness of variations of use in landscape design.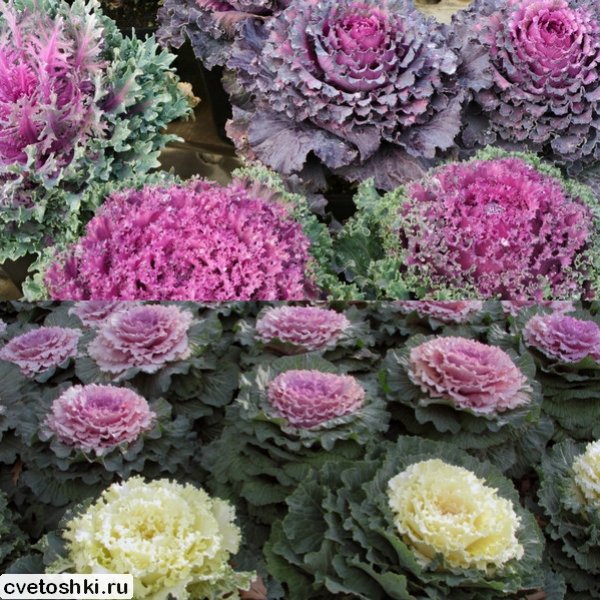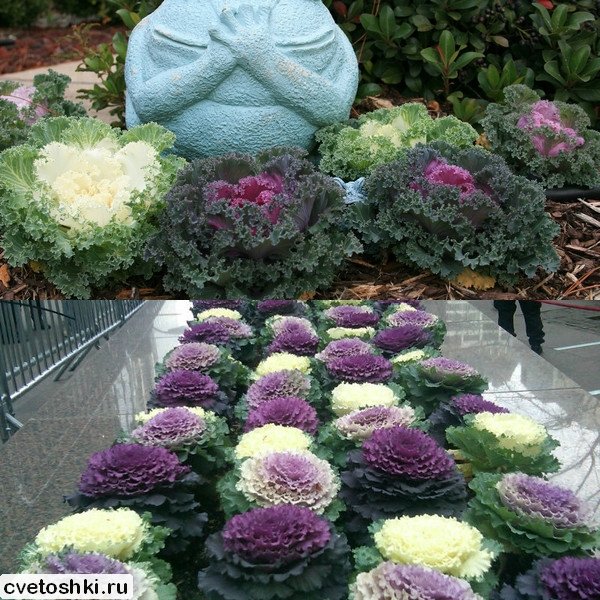 How to grow and care for the plant, you can read more. Also, advice is given on when to sow ornamental cabbage for seedlings, how to choose the right place for its cultivation, when to feed and pick-up and much more. In the meantime, look at the photos of ornamental cabbage in the landscape design of the infield: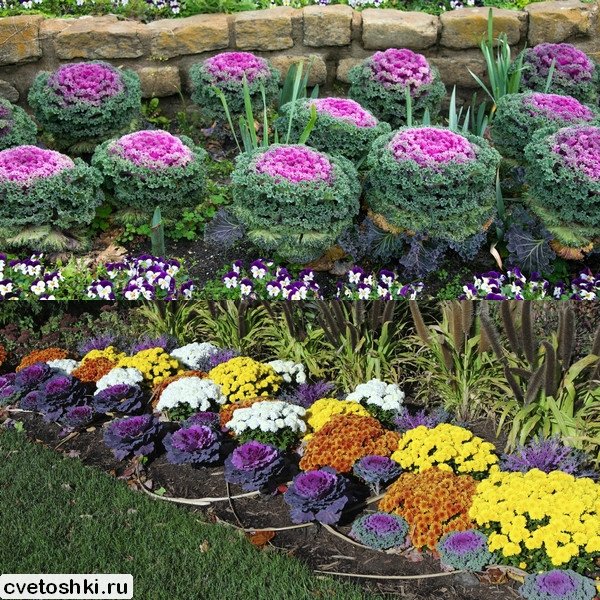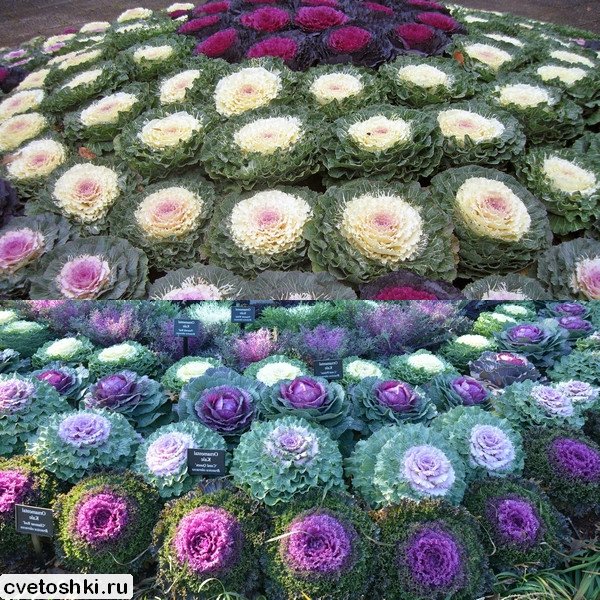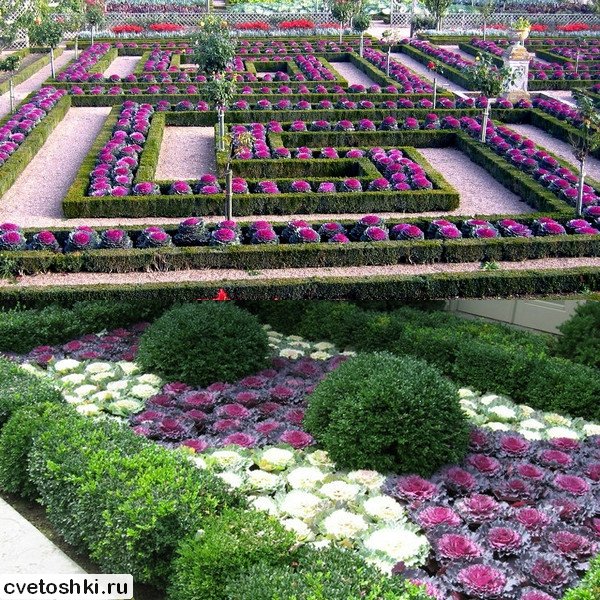 Types and varieties of decorative cabbage: names and photos
The prevalence around the world gave this culture an excellent opportunity to enrich the gene pool with beneficial properties and resistance to adverse environmental factors. Types of ornamental cabbage are divided into annual and biennial varieties. The first give germinating seeds in the first year of cultivation. The second group allows you to get flowering and seeds only in the second year of cultivation. All varieties of decorative cabbage are unpretentious and simple in agricultural technology. Next, we consider their names and photos, to be able to pre-select the seeds.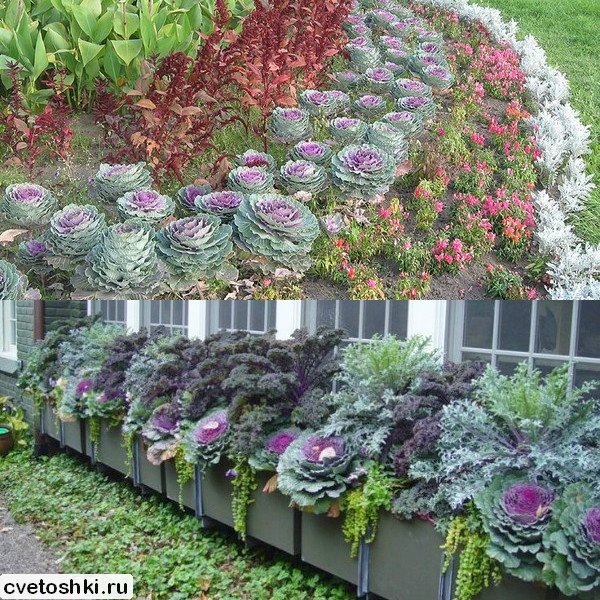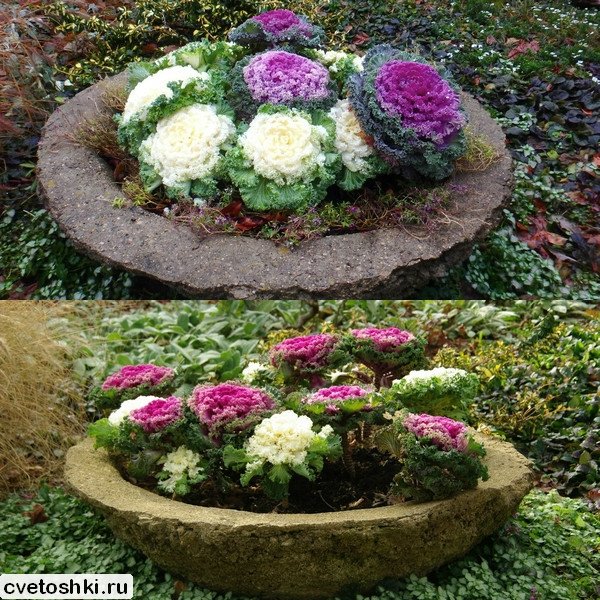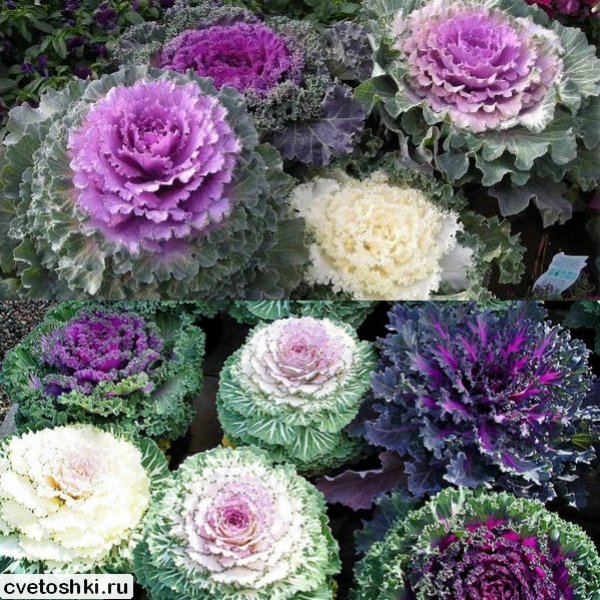 Decorative cabbage "Vyacheslavna" is also known under the name "Voronezh White". It is a stable hybrid, giving a sprawling rosette of lace leaves. The height of an adult bush reaches half a meter. Leaves are bluish, closer to the center of a yellow or white shade. Recalls in bloom a big rose. For its cultivation requires a rich organic soil with a light structure. Looks beautiful in the form of borders along the garden paths.
Variety "Burgundy lace" is agrofirma "Gavrish." Possesses emerald color lacy rosette of dense leaves with a pronounced burgundy core. This is a very colorful plant of compact size up to 40 cm in height and up to 70 cm in diameter. Grown as an annual. Planted on seedlings in March. The most attractive appearance acquires by the end of July.
Victoria has an unusual three-color leaf rosette. The outer diameter of the outlet has a rich green color. Towards the middle, the color turns to cream, and inside the socket is pink. Due to the dense mounting structure of corrugated leaves, it seems that the original flower is growing. Plant height 30 cm, diameter - 50 cm.
Crane Bicolor F1 is another amazing hybrid with an unusual rosette color. Grown as an annual crop. It has the highest decorative properties. The height of the bush is 60 cm. Can be used in group and single plantings. In landscape design, this variety of decorative cabbage retains its decorative and consumer properties up to the loss of permanent snow cover. During the first half of summer, the bushes are dense high rosettes of emerald smooth leaves. Against their background all summer flowering crops with low stems look great. Towards the middle of August, the real "beauty" begins to unfold. The socket becomes flat, and inside it, shimmering with colors, roses bloom with an unusual three-colored color. Look at the photo how it looks: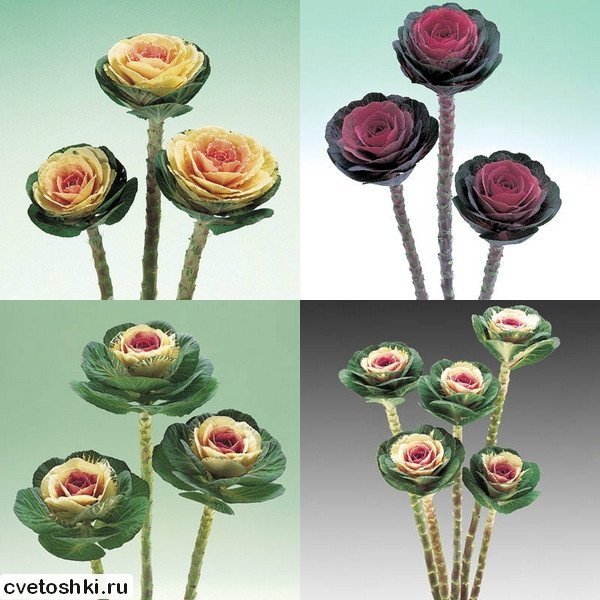 The "Nagoya Belaya F1" variety is a uniquely decorative plant with amazing corrugated and lace leaves. The outer diameter of the outlet is painted in juicy emerald color. But inside there are leaves of rich white color. Due to its low height it looks great in curb groups, along the edges of a flower bed.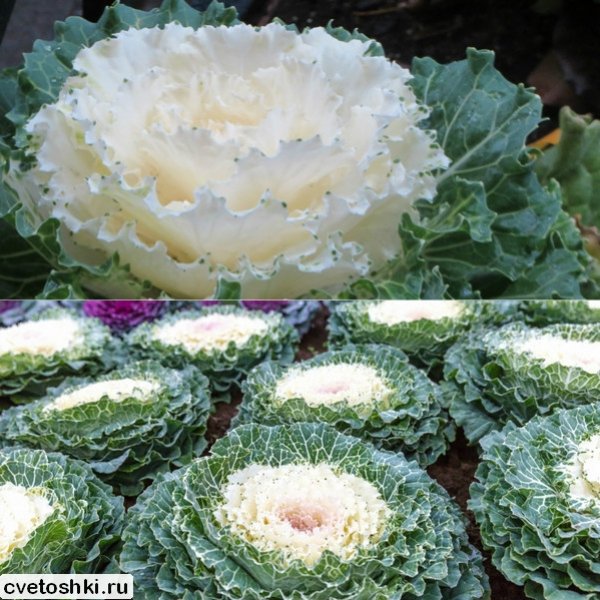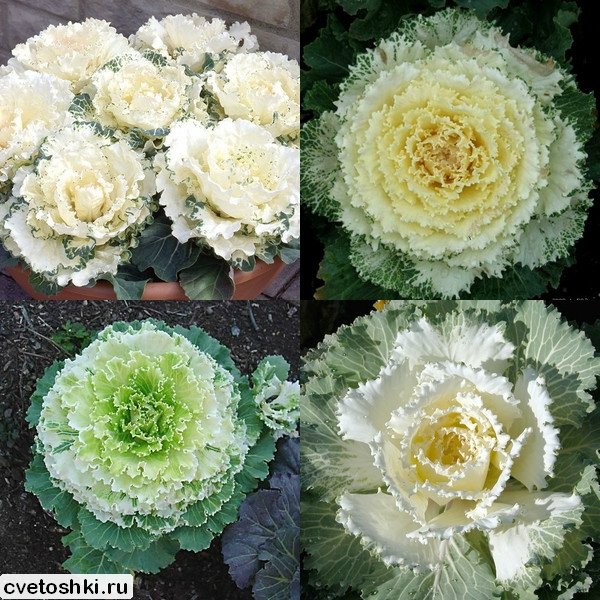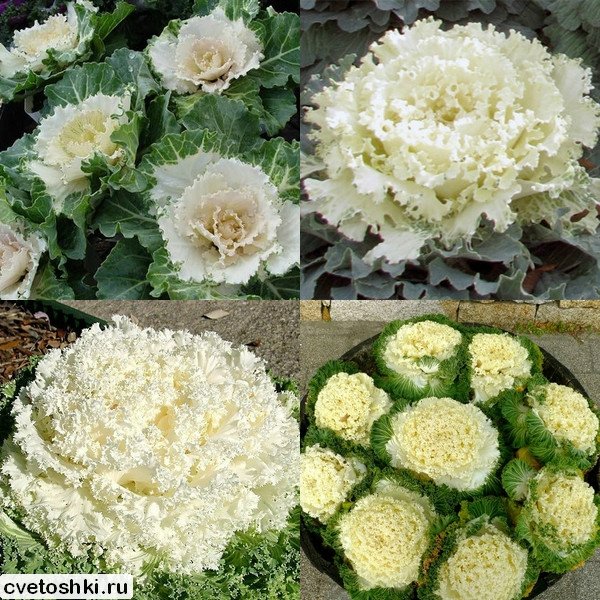 "Colors of the East" are among the most unpretentious varieties. They have a rich green and burgundy color. Used in the design of flower beds and rose gardens. Fine compositions turn out with decorative cereals and ferns.
Unconditional attention deserves a variety of decorative cabbage "Osaka", represented by three main combinations of colors. There are three main combinations of colors in the sockets. Red differs burgundy and red top. But white and blue are more pronounced contrast. You can also buy a mixture of this variety.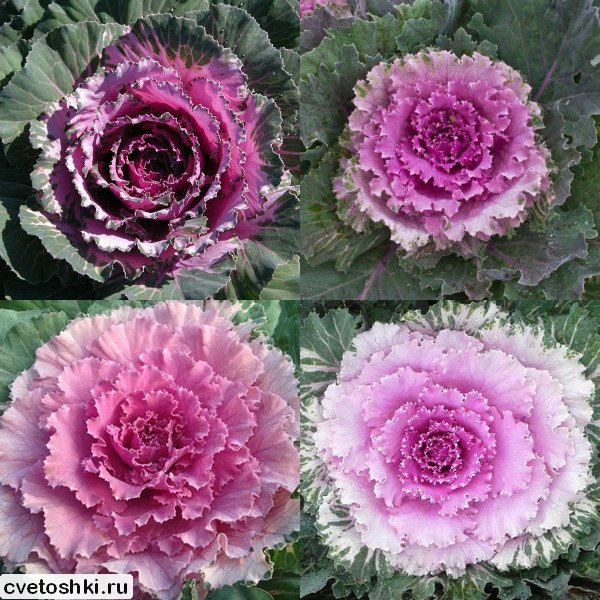 These are the main names of varieties of decorative cabbage and photos, but in fact in the flower shops you can find at least a hundred items, among which there will be a whole collection for landscape design.
When to plant ornamental cabbage on seedlings: terms and recommendations
So, it was found out above that the culture can be grown only by seedling. At least in all regions of risky farming. When planting decorative cabbage on seedlings, in what time it is desirable to do to get strong seedlings? Here a lot depends on the climatic conditions of a particular region. Agrotechnics prescribed to plant seedlings in the open ground not older than 80 days. After this period, they already do not tolerate the transplant, and the development in cramped peat pots is suspended. In this case it will be difficult to get a rich harvest. Therefore, it is worth knowing about what time the threat of recurrent frosts passes in the area. From now on, count back the 90 days and, on this date, plant the decorative cabbage on the seedlings. As a rule, in regions with a warm climate this is the beginning of April In the Urals, in Siberia and regions similar in climate, it should be planted in early March.
Soak seeds before planting. They easily pop up after 5 days. Pay attention to the preparation of the soil. It should not be acidic, contain large amounts of organic matter. Optimally take half the greenhouse earth and sand. From above, the ground after planting should be covered with a thin layer of sifted charcoal. This is a measure of protection from rotting and the appearance of the disease "black leg". Before sowing, the soil is calcined in the oven for 2 hours. Then shed strong solution of manganese and any fungicide. Sow decorative cabbage on the seedlings should be with a sufficient depression in 1,5, see. After sowing, pour warm boiled water and cover with plastic wrap.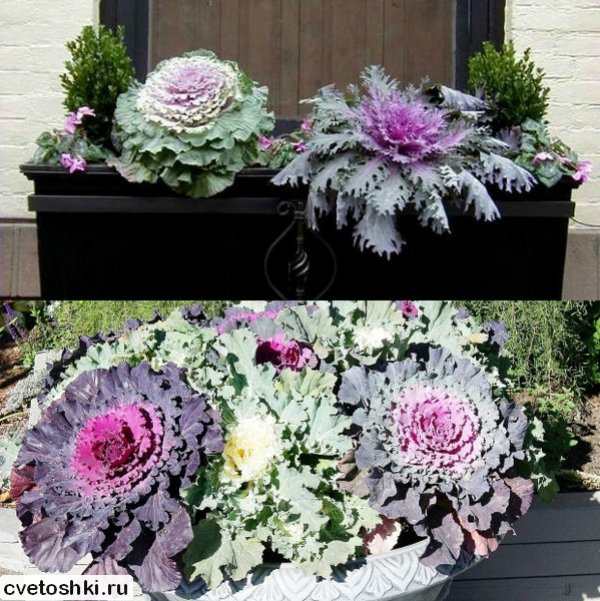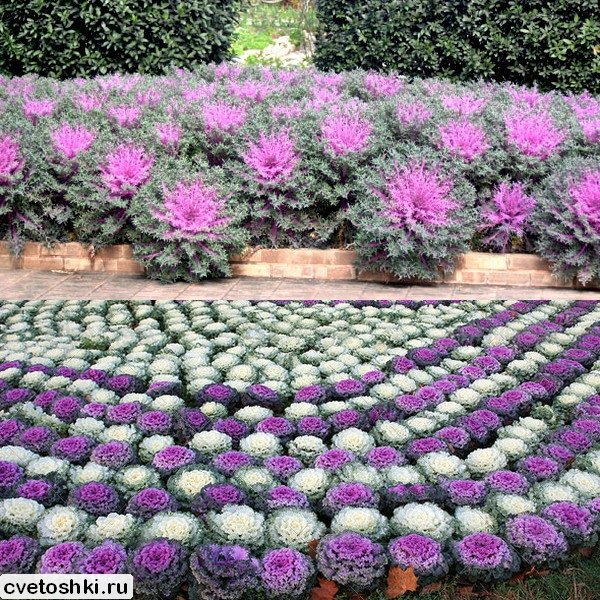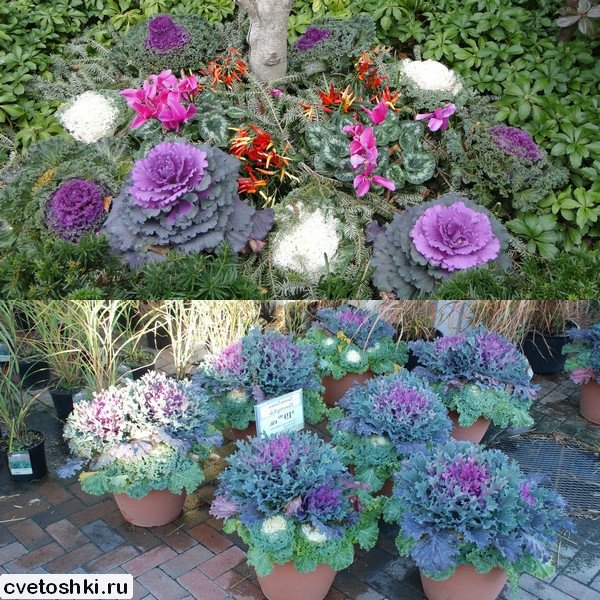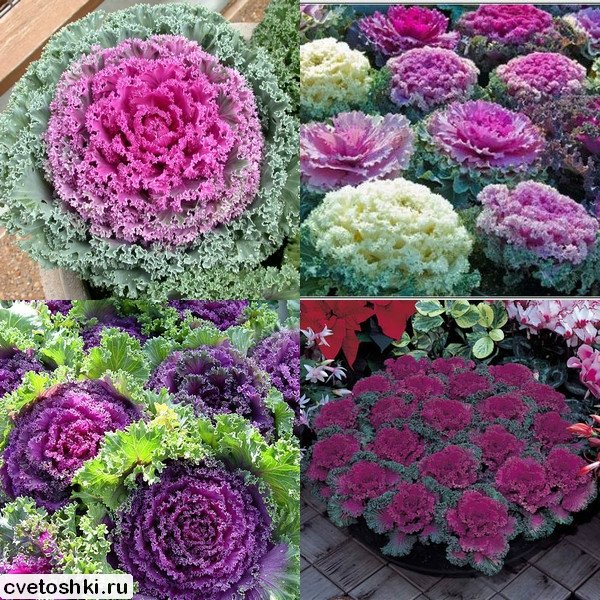 Growing ornamental cabbage: planting, care, feeding
Planting seedlings is only the beginning of a long journey to beauty. After the appearance of the first pair of true leaves, picks up into separate peat pots. This should be done carefully. Seedlings can be removed from the ground with a teaspoon with a pointed bottom edge. Dig into the ground to the seedbed leaves. As you grow, you can pour the soil. Growing ornamental cabbage during the seedling period requires careful attention to the prevention of root rot. To do this, it is advisable to water the seedlings with a solution of potassium permanganate and fungicides. Feeding 1 conduct once a week mineral complexes with a predominance of the mass fraction of nitrogen. Subsequent planting in the ground, care and feeding will look further.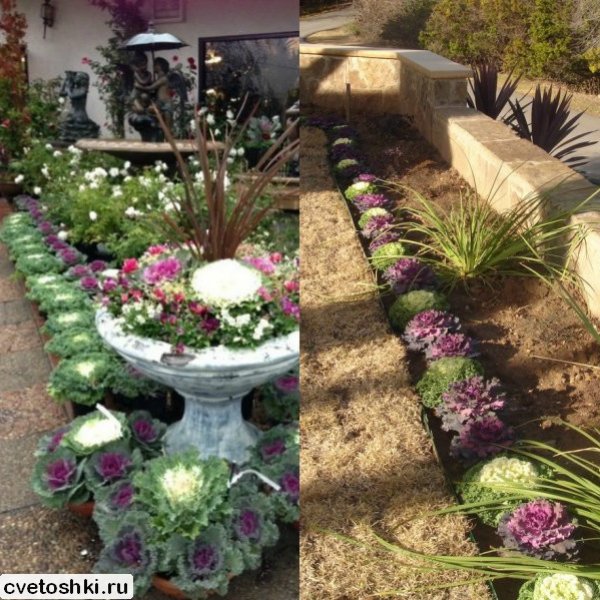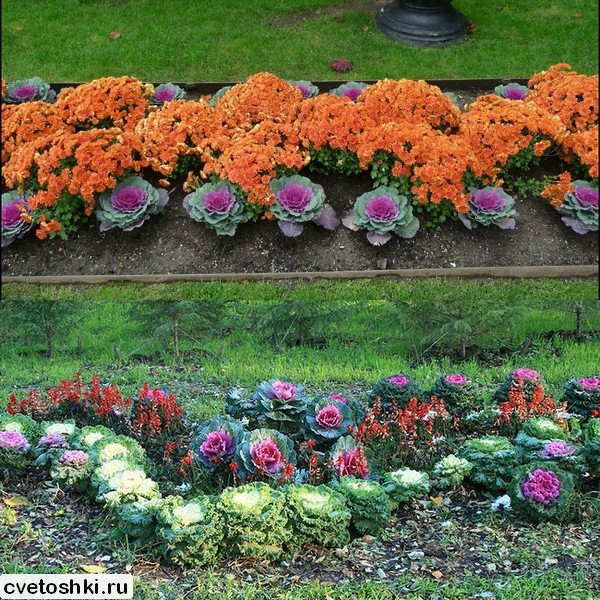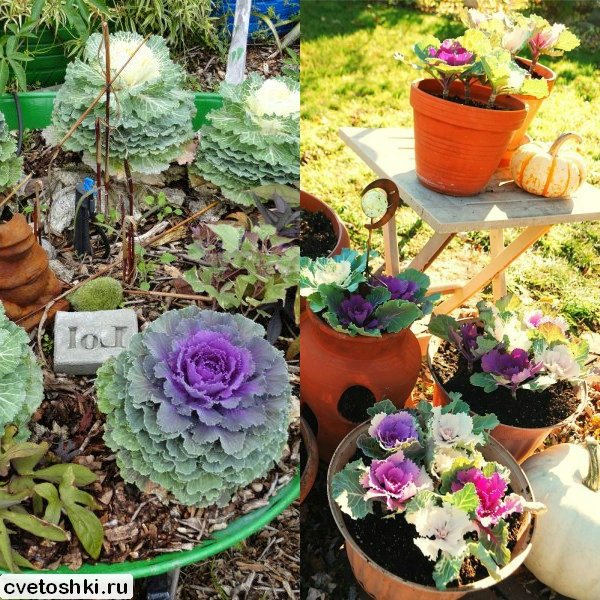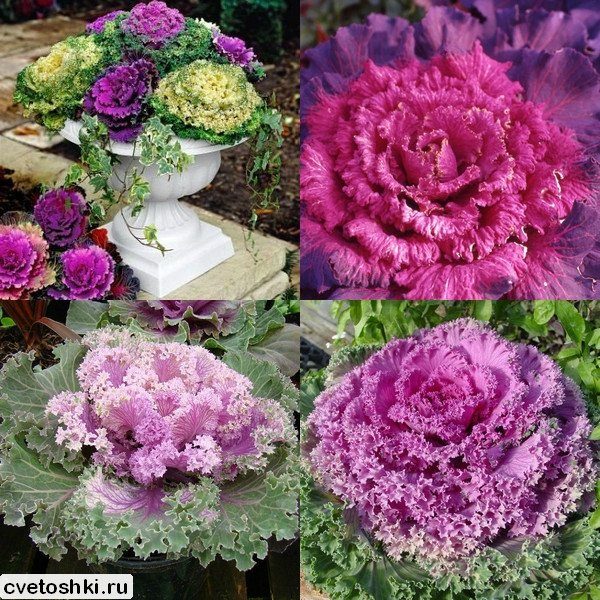 Planting in open ground is possible only after the threat of frost on the soil has passed. For planting, the wells are prepared in them, laid on a handful of humus and wood ash, a tablespoon of complex mineral fertilizer for cruciferous. After this, the plants are dropped on the ground. It is advisable to cover them with cut plastic bottles. In this way, it is possible to protect the fragile seedlings from the cruciferous flea and the scorching rays of the sun.
Top dressing combine with irrigation, adding to a bucket of water for a liter of organic solution and 2 for tablespoons of the mineral complex.
In the adult state can be attacked by slugs. Helps to fight with them regular loosening of the soil and mulching. If necessary, you can use special chemical insecticides.
SIMILAR ARTICLES: