Among the shrubs there are such specimens, which are extremely beneficial for health. Phytolacca laconosa and American has certain components that can successfully treat many diseases. About how and what therapeutic properties to use - let's talk in this material. Also presented are planting and caring for shrubs, potential problems in cultivation. This exotic in any garden, Fitolacca attracts the eye with its unusual powerful look and creates an attractive background for flowering plants. It is used as landscaping for the line of fences, fences, facades. But it is worth knowing that this plant prefers good sunshine and light structured soil. He suffers heavily from weeds, so the soil should always be kept clean. Suitable for growing risky farming in regions. But in areas of harsh winters requires additional shelter for the winter.
Look at the photos of various types of fitolakka and continue the story: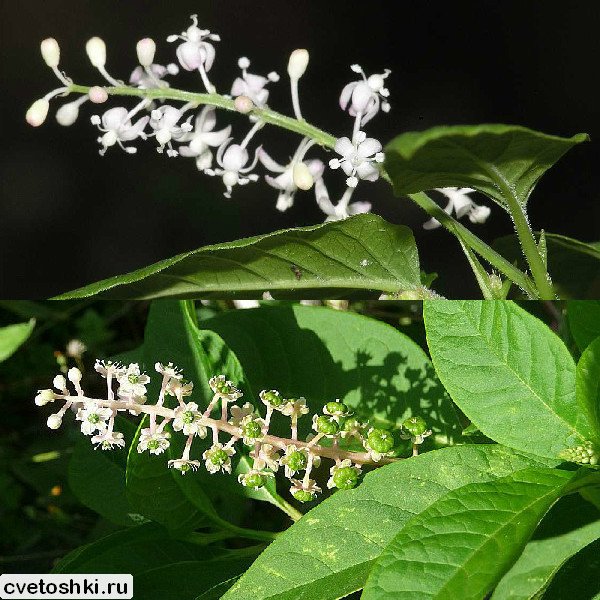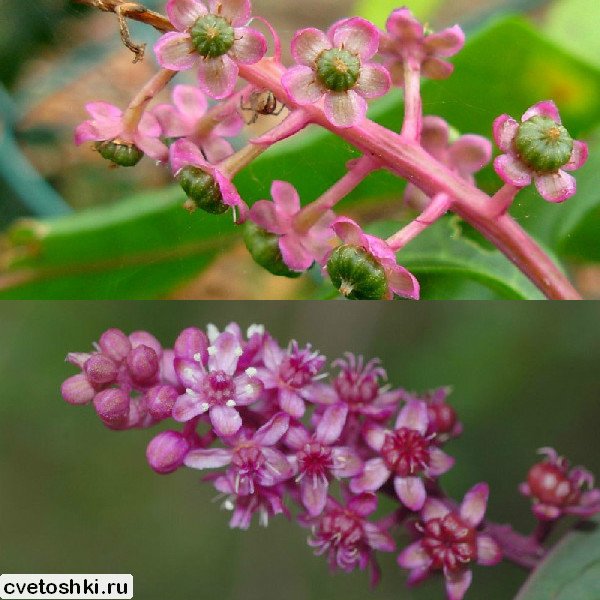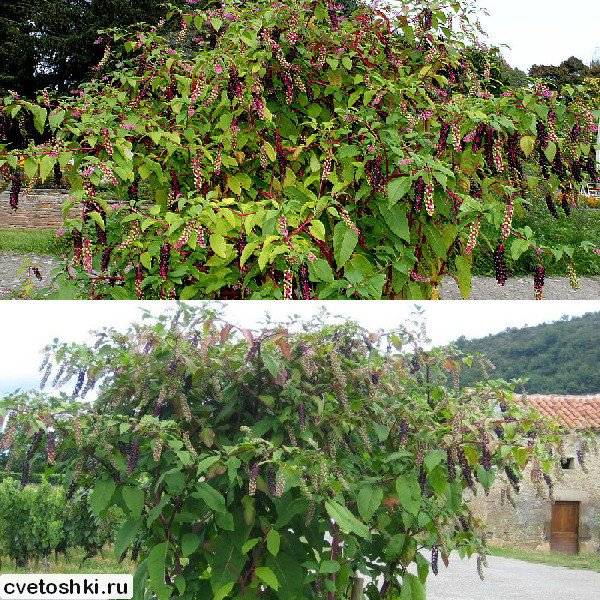 Description and therapeutic properties of Fitolacca
Description of culture should begin with the fact that her homeland is the tropics of America, but in harsh conditions, she has a tendency to rapid growth and development. Over the 2 month, Fitolacca reaches a height of 2 meters. This is a powerful grassy shrub, giving sweet berries. The known medicinal properties of Fitolacca are widely used even by official medicine. It is part of many pharmacological drugs. All structural parts are used: roots, deciduous mass, stems, berries. They contain biological active substances, vitamins, phytoncides, extractive inclusions. The most popular medicinal properties of the plant:
tonic with an increase in the level of immune protection, even in difficult cases;
increases the body's tone and regulates the work of the cardiovascular system;
anti-inflammatory effect in local and internal use;
antirheumatoid effect - the structure of heart valves and large joints is restored;
regulates the gastrointestinal tract, has a laxative effect.
Fitolakki berries are edible only after their full ripening. But in this case, the daily consumption rate is only 5 berries for an adult and 3 berries for a child. All other parts of the plant are saturated with natural poisons and may have an undesirable effect on health.
Currently known 17 species of Fitolacca, which are divided into genera. The name was not given by chance, the fact is that the berries inside contain a specific burgundy juice, resembling a varnish in appearance. Phytolaccaceae - literally translated from Latin as a plant-varnish.
When growing should be extremely careful. If there are small children in the family, then it is better to refuse such a shrub. There are cases of death from careless use of unripe berries.
In landscape design it is perfectly combined with delphiniums, Eremurus, Volzhanka, asters, dahlias and many other flowering plants.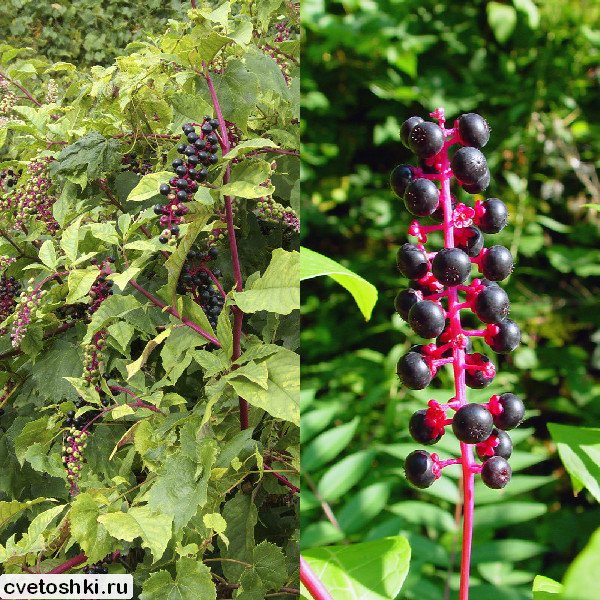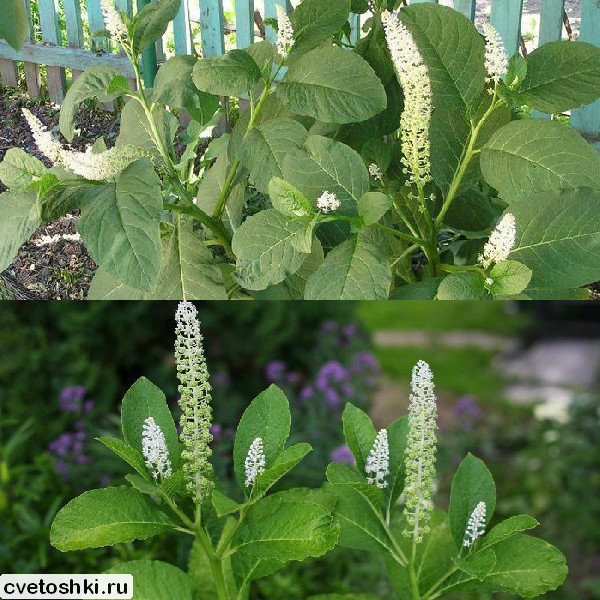 Planting fitolakki on the site and the subsequent care of shrubs
Planting shrubs on the site requires advance preparation. First of all, you should choose the right place. It should be a well-lit area free from weeds and other shrubs. When shading shoots growth stops. Planting fitolakki and subsequent care of the shrub should be carried out in compliance with the rules of personal safety. All work with the plant should be carried out in protective gloves. If the sap of the plant comes into contact with the skin and mucous membranes, they should be washed as quickly as possible with running water.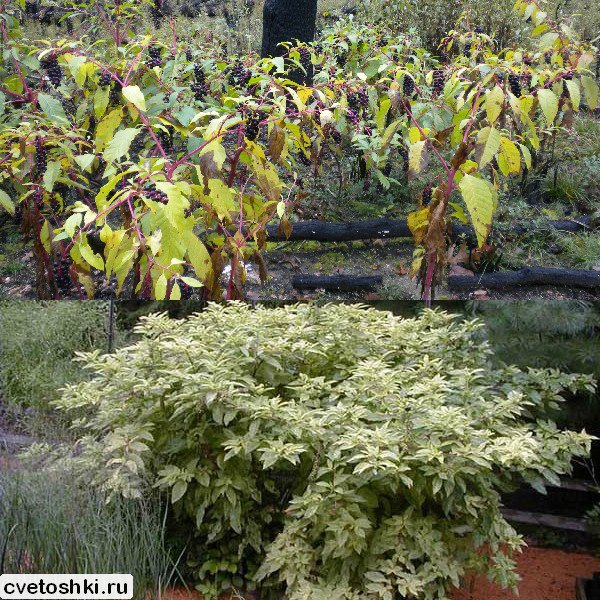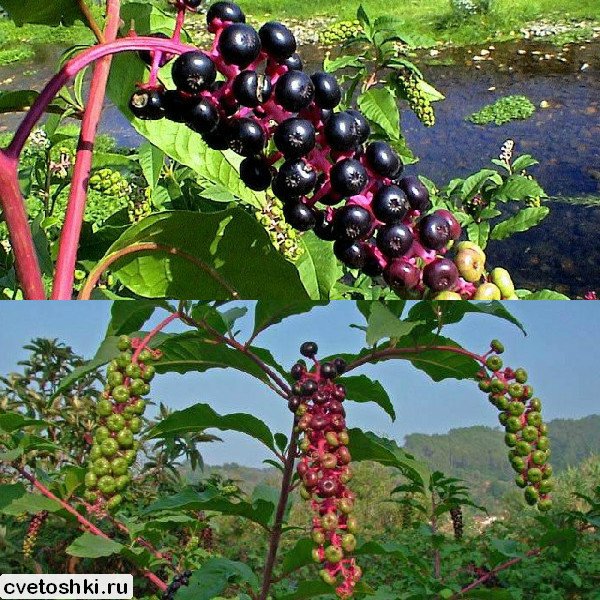 Soil preparation consists of adding a small amount of sand and a sufficient amount of humus or compost. After digging the wells are prepared and cuttings or seedlings are planted in them. They take root quickly and give rise to a large mass of young shoots.
Pruning is carried out regularly, during this event an attractive appearance of the shrub is formed.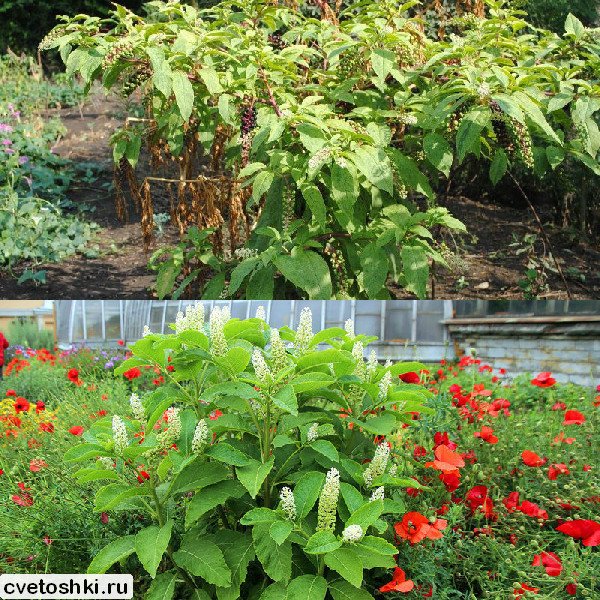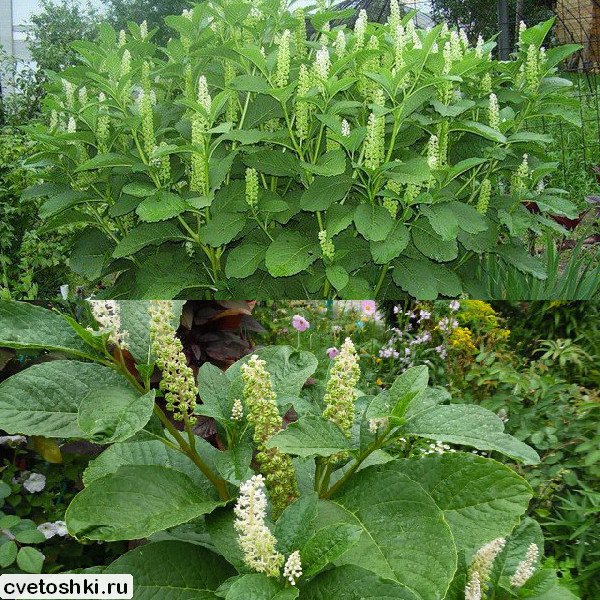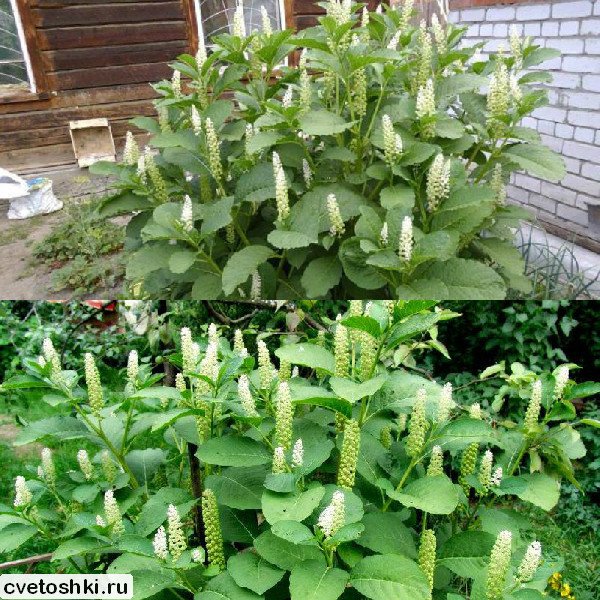 Watering is required only if the soil has dried to a depth of more than 10, see. Fitolakki has a strong root system that goes deep into 1,5 meters. She does not suffer from drought, even in the most sultry time.
For a successful wintering, spring pruning is carried out at a distance of 15 cm from the soil surface. Then the shrub is laid with straw or spruce paws. On top you can put a wooden box or box.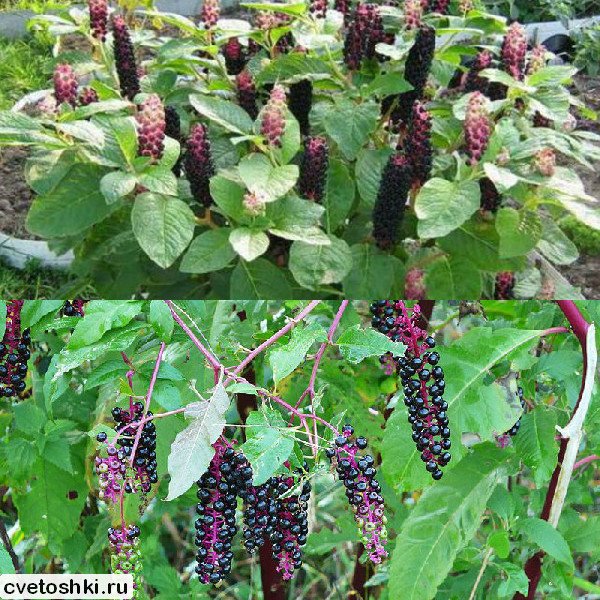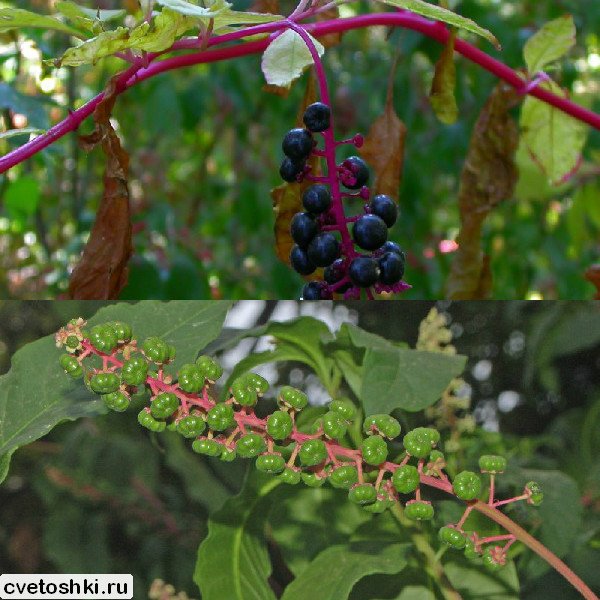 In the first year after planting, a constant digging of the area around the cuttings and weeding with the complete removal of weeds is required. Useful mulching and mineral fertilizers. After 2, fertilizer can be applied once a year, in spring, when tilling the soil around the bush.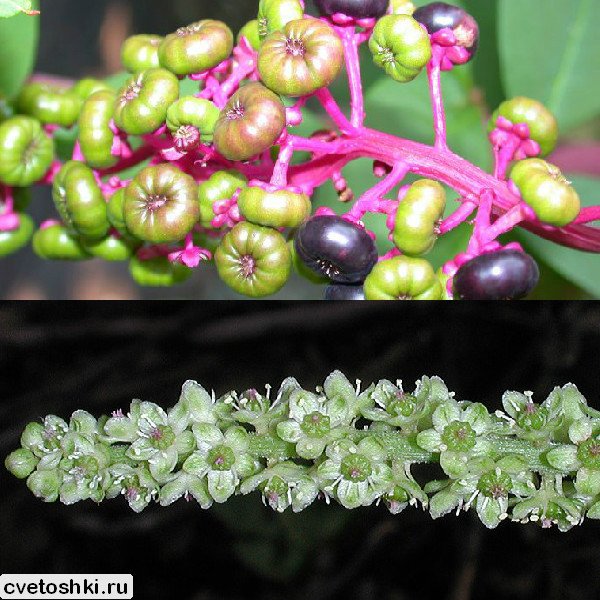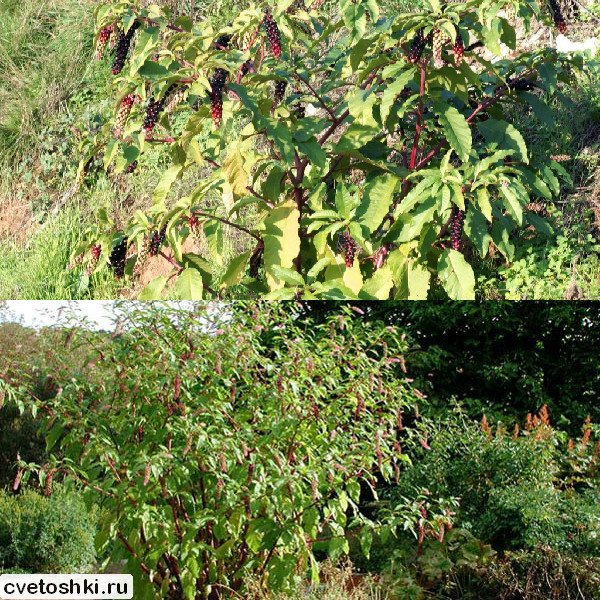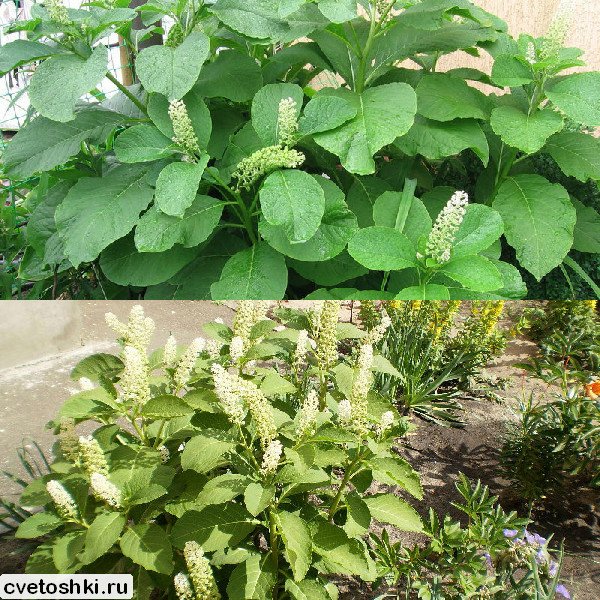 At home it is possible to grow fitolakka from seeds: for this purpose, sowing is carried out in early February. Shoots appear after 2 weeks. When two true leaves appear, they do a picking. Top dressing begin after a week. You need to make both mineral and organic substances. At the end of May, seedlings can be planted in open ground or left as a room culture in a large enough pot (at least 5 liters in volume).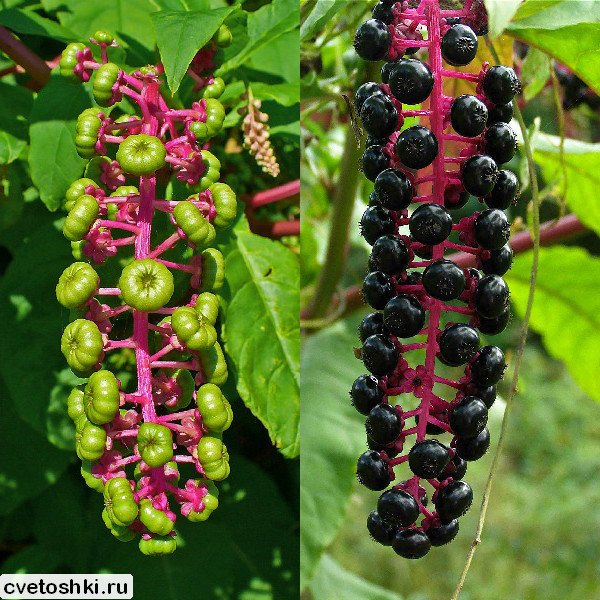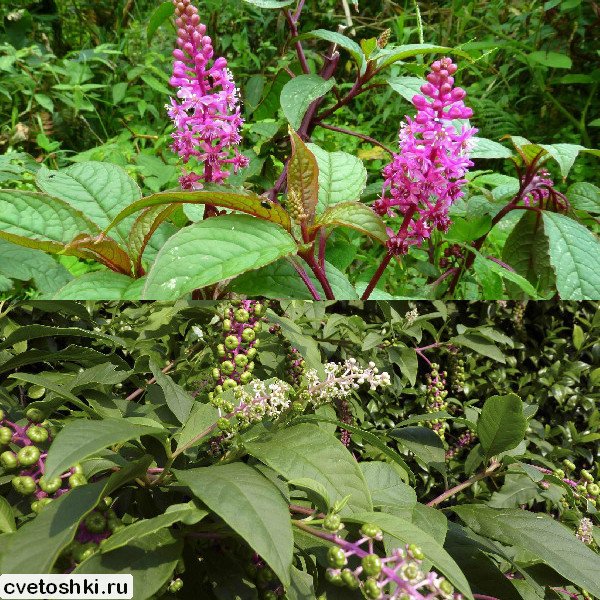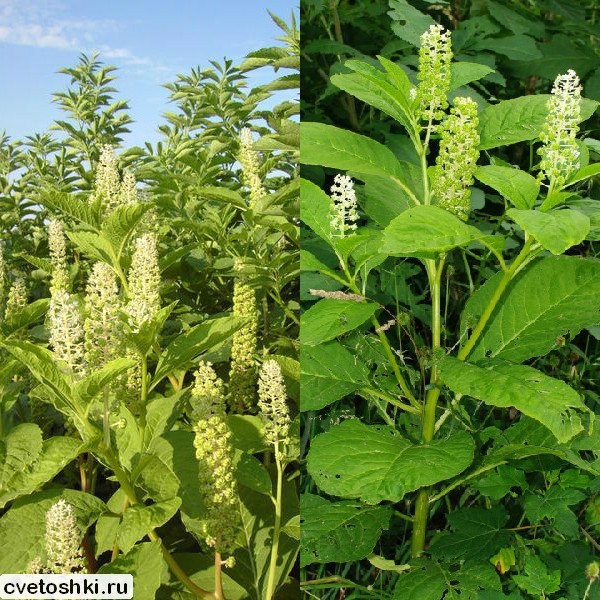 SIMILAR ARTICLES: