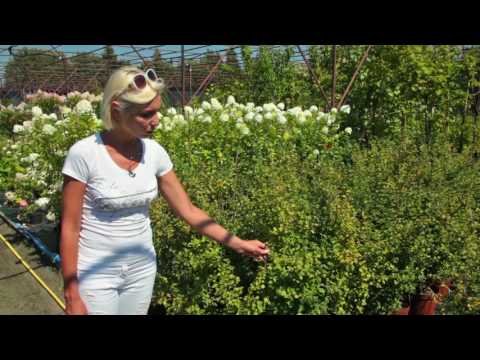 According to the description, Alpine currant in many respects resembles its kinoplodnuyu relative: they have similar foliage and bush form. But the fruits of Ribes Alpinum are located on the branches are not large, but small (3-5 berries) candle-shaped clusters.
They are quite suitable for food, but the main purpose of these shrubs is to decorate the site and use it to create hedges.
Alpine currant (Ribes Alpinum ) - It is a deciduous ornamental shrub of the Gooseberry family.
In nature, it grows in the undergrowth of deciduous forests, along river banks, on plains, in the mountains to the subalpine zone, and even on rocks. The area of ​​growth is very wide - it is found in Scandinavia, Central and Southern Europe, in the Carpathians, in the Caucasus, in Eastern Siberia and north-western regions of the European part of Russia.
A shrub with resilient brown shoots has an average growth rate, it can be up to 1,5-2,5 m high, crown diameter is up to 150, see. Young shoots rise vertically, later they grow widely, in rounded clumps with slightly hanging branches.
Alpine currant is very decorative due to the seasonal change in the color of carved foliage, yellow-green flowers and bright red fruit balls.
Description of the plant Ribes Alpinum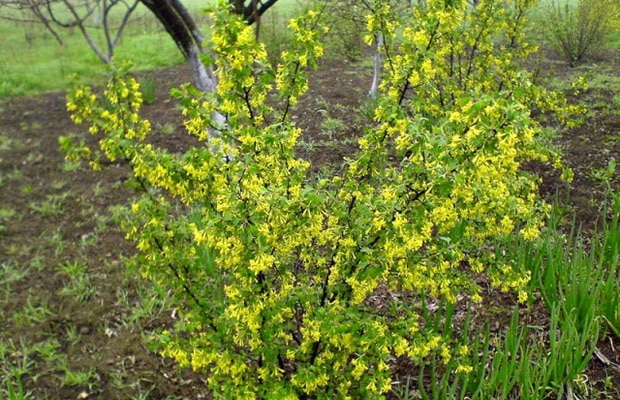 Vegetation period alpine currant (Ribes Alpinum) - From mid-April to early October.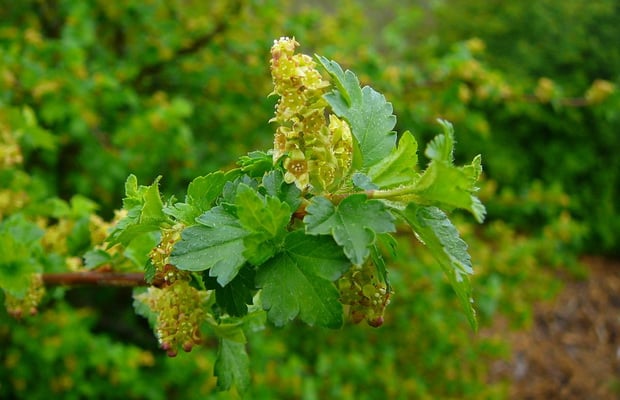 Elegant three-lobed leaves, up to 4 cm long, sharp-toothed along the edge. In many forms, the leaves on top are shiny and dark green. Bottom they are lighter, smooth or absent-hairy.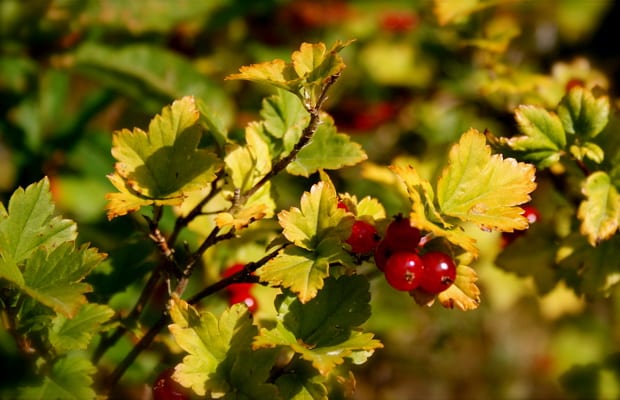 Depending on the shape, the autumn color of the foliage takes on various shades of yellow, from pale yellow to ocher yellow. Small leaves fit snugly enough to the stalks, which allows cutting out the most complex shapes.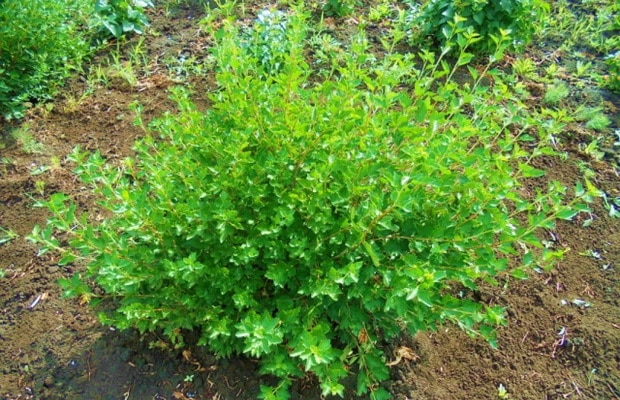 The bush blooms annually and abundantly, starting with 3-5 years. Flowering lasts approximately 2-3 week from the beginning of May. Alpine currant is a dioecious plant, therefore its small greenish flowers with yellowish overflows of two types. Stamen flowers are clustered in brushes up to 4 cm long, consisting of 2-20 flowers; pistillate - collected in very short 2-3-x flower brushes.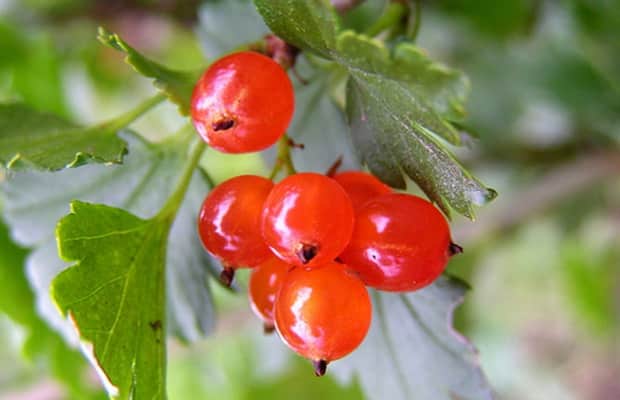 The plant is abundantly fruiting at the age of 4-5 for years, ripening in the second half of summer, the fruits (end of July-beginning of August) long hold on the branches and attract birds. The fruits of alpine currant are red spherical or slightly oblong berries (up to 0,9 cm).
They look very colorful against the background of dark green. The berries are juicy, but completely tasteless. Since the plant is dioecious, the berries do not grow on all bushes.
All shade-loving plants prefer light, loose soil with a high content of humus. Such soil is easily identified by the foliage of dense green color.
Alpine currant Schmidt (Schmidt) and other forms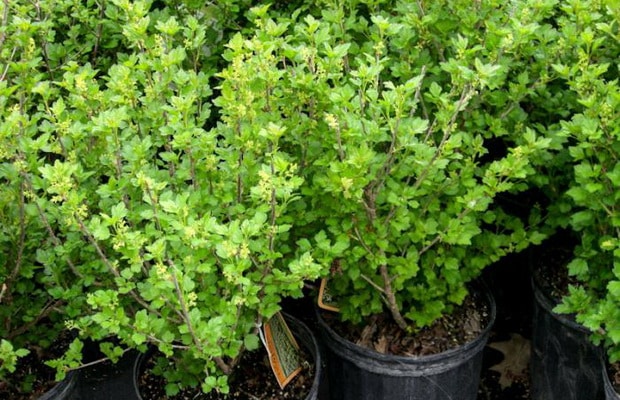 Alpine currant Schmidt (Shmidt) - small in size (1-1,5 m) densely leafy slow-growing and compact shrub, with a rich dark green summer leaf coloring. In autumn, three-lobed leaves turn yellow.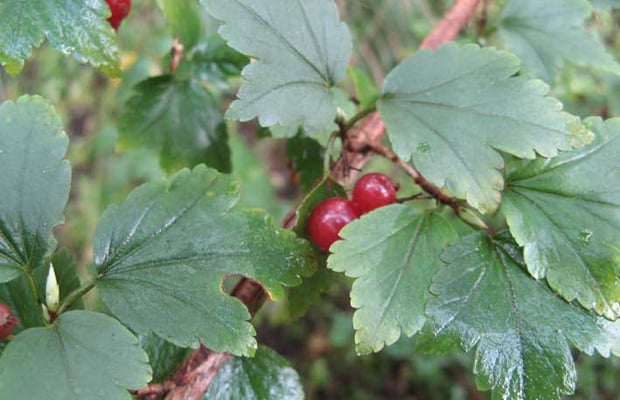 The flowers of the Alpine currant Schmidt (Shmidt) are round, greenish-yellow. Bright red spherical inedible berries ripen in July-August.
Some ornamental forms of alpine currant are widespread. The dwarf form of Augea reaches a height of about 1 m, often the bush's circumference exceeds its height. Young leaves are golden yellow in color.
The bush looks especially beautiful during flowering, when numerous pale yellow flowers on short tassels cover it like lace. By the end of summer, inedible bright red berries take the place of flowers on the branches.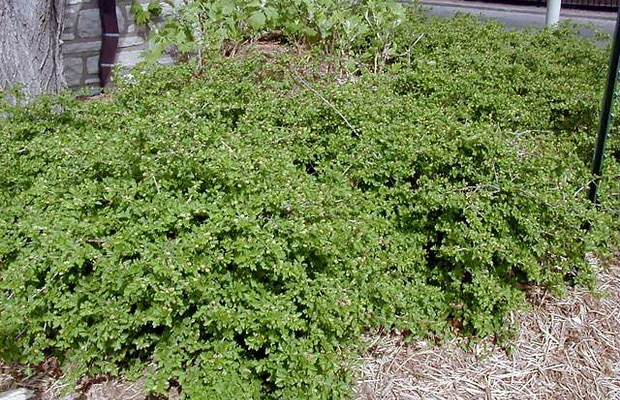 Dwarf form Pumila with small leaves is a slow-growing shrub. At the age of 10, the bush reaches a height of 1,5 m, its crown grows to about 120 cm in diameter. Bush early and densely covered with ornamental foliage, which in autumn is painted in reddish tones. In summer and autumn, bright berries are decorated with shrubs.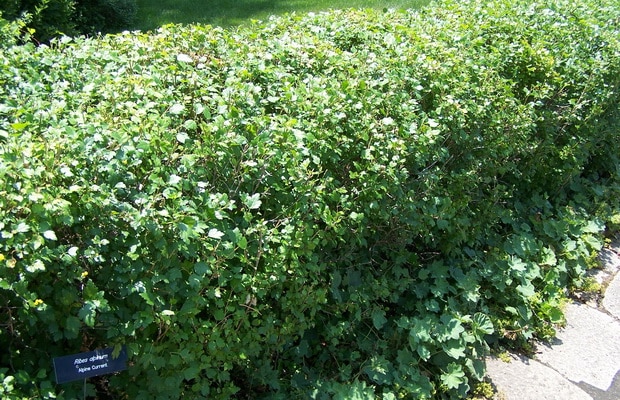 Form Laciniata It has a deeply dissected toothed leaf structure. In the fall, it pleases the eye with a color palette of pink, pale yellow and ocher shades.
These photos show the decorative forms of the Alpine currant, described above: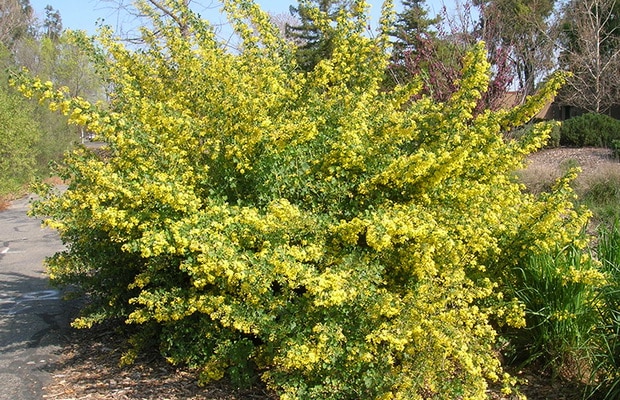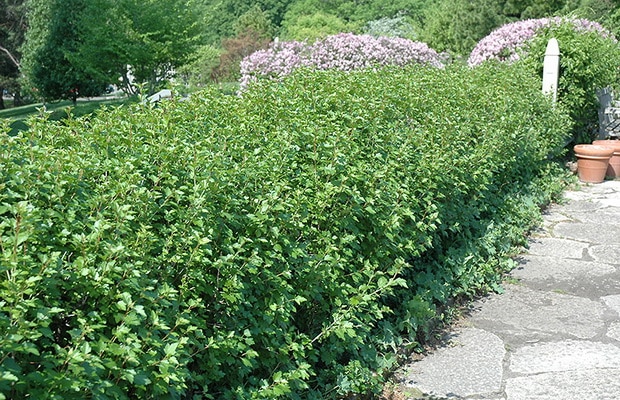 Growing alpine currant
Alpine currant, like all plants of mountain origin, is undemanding to the soil, in natural conditions it can grow in stony areas and put up with slight salinity.
In the shrub culture, slightly moist sandy loamy soil, light and medium loamy soil is suitable. Neutral, neutral or slightly acidified soil is desirable. Currant alpine forms "Schmidt" well developed on light loamy or sandy soils.
Alpine currant has high winter resistance, successfully withstands wintering in central Russia without shelter. The bush tolerates heat and various weather surprises. The culture is resistant to winds, but it is bad for drought and stagnant water. Shrub resistant to smoke and gas, as well as urban conditions of growth.
Alpine currant tolerates blackout, it gets on beautifully in the shade of trees. Shrub successfully competes with the root system of large trees and tolerates a lack of sunlight. However, on the sunny side, flowering is more abundant.
Alpine currant, when properly grown, tolerates a strong topiary very well, so it produces beautiful ornamental hedges of a geometrically regular shape.
Shrubs are easy to form by trimming, which allows you to make simple geometric shapes and fancy shapes from a bush, the bush keeps its shape well.
However, Alpine currant retains a fairly neat shape with dense vegetation and without special cutting, so it is suitable for the device of a free-growing hedge.
The beauty of the alpine currant hedges surpass many other shrub forms. However, they are well combined with other shrubs. Spring-flowering shrubs and bulbs - daffodils, tulips, and forest forget-me-nots are ideal partners for her.
Planting and reproduction of alpine currants
Alpine currant is propagated by seeds and vegetatively: layering, green or lignified cuttings, as well as the division of the bush.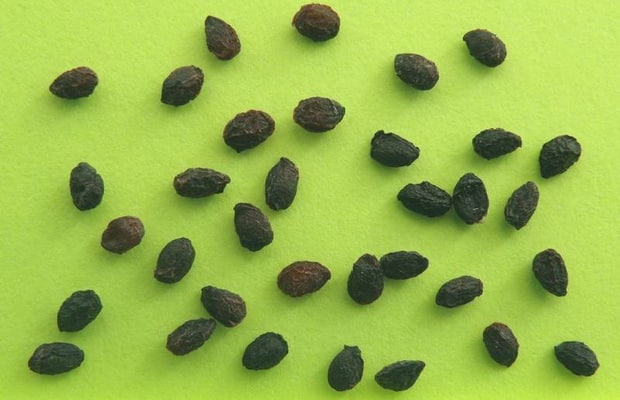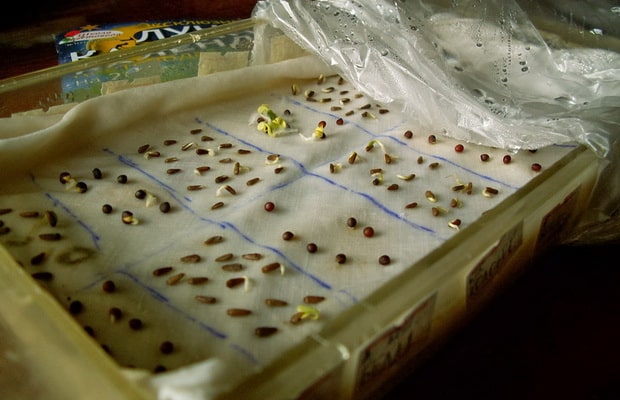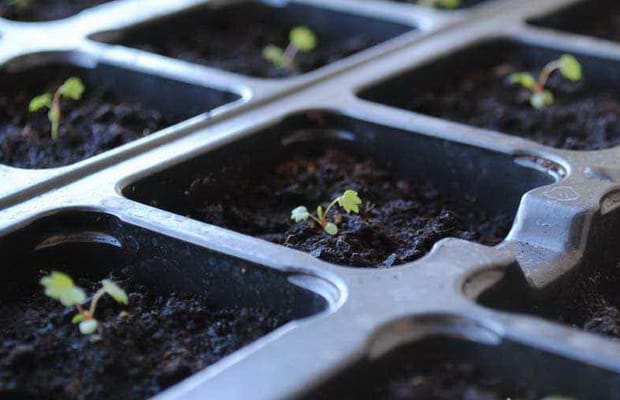 Seeds are sown immediately after ripening or late autumn, straining them after harvest. In spring sowing, the seeds stratify over the 2-3 months. They are embedded in the soil to a depth of 5 mm. But keep in mind that seed germination is small.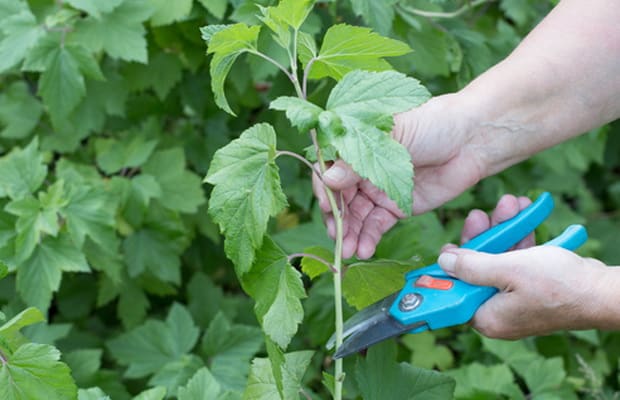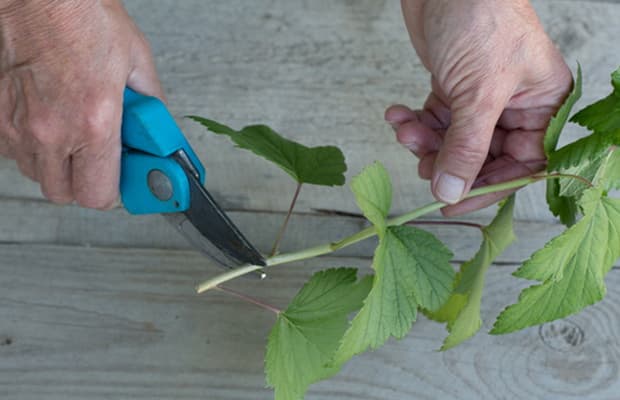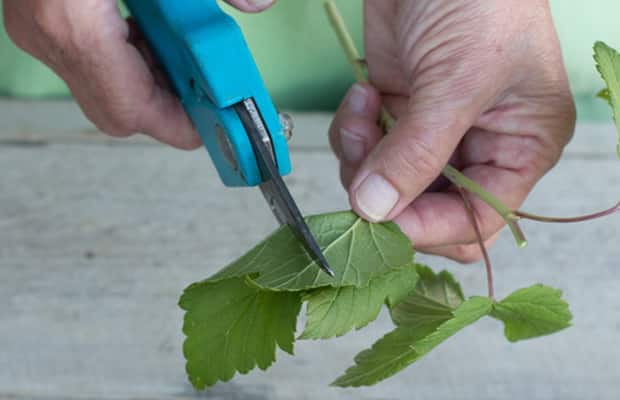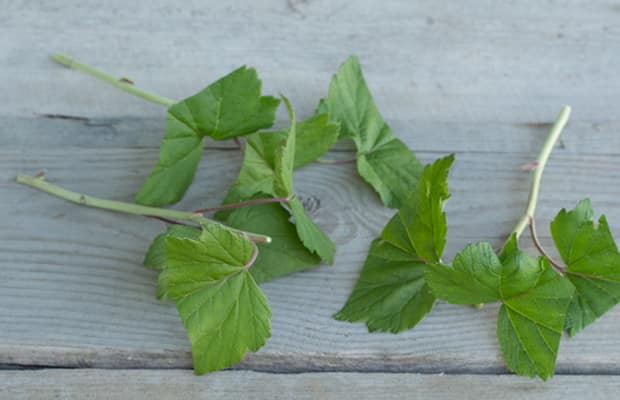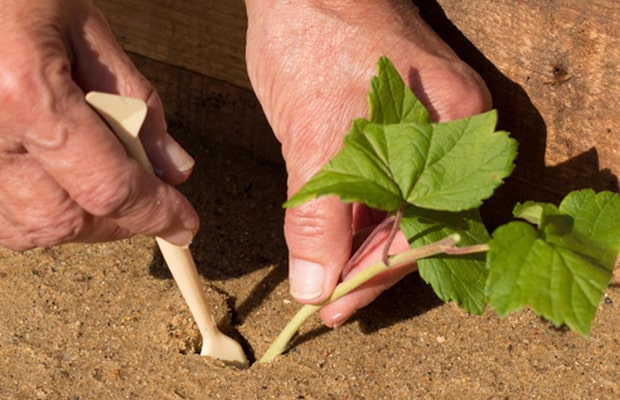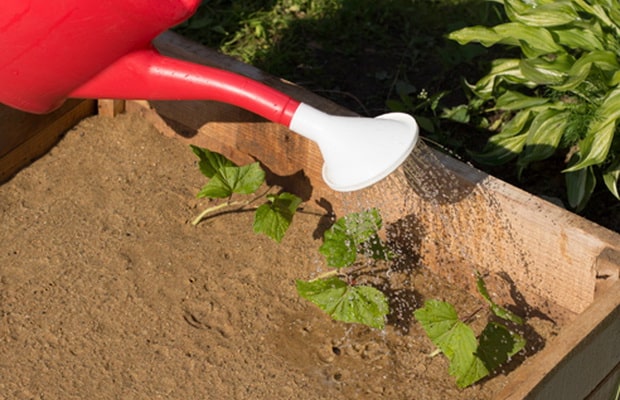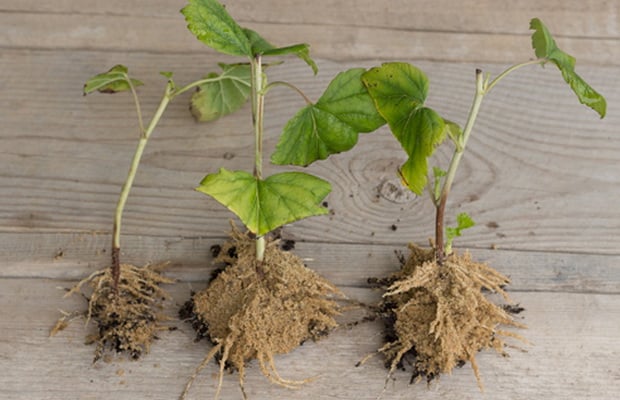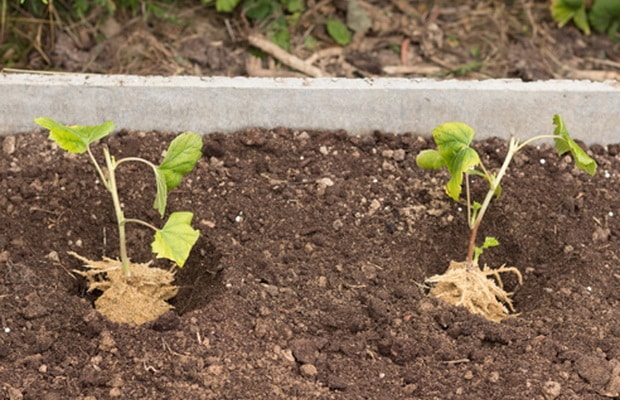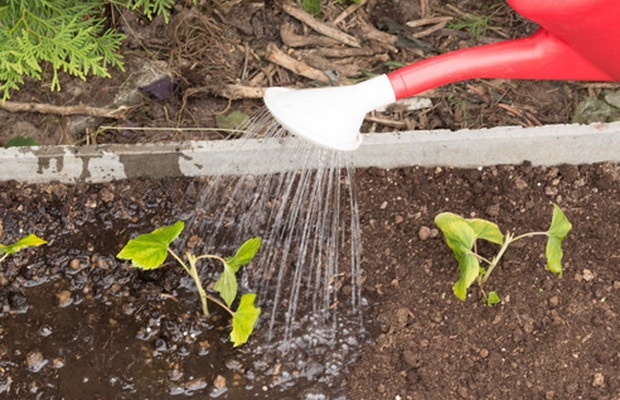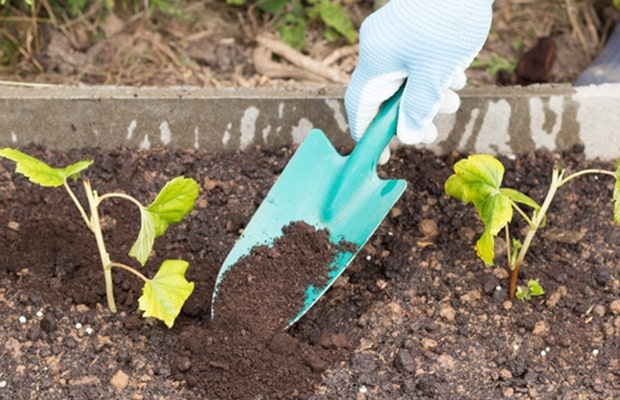 To obtain new bushes in the fall cut down woody cuttings of length 25 cm and close them up in the soil in shaded parts of the garden or in cold greenhouses. Shrubs easily propagated by summer green cuttings, approximately 80% grows root even without the use of stimulants.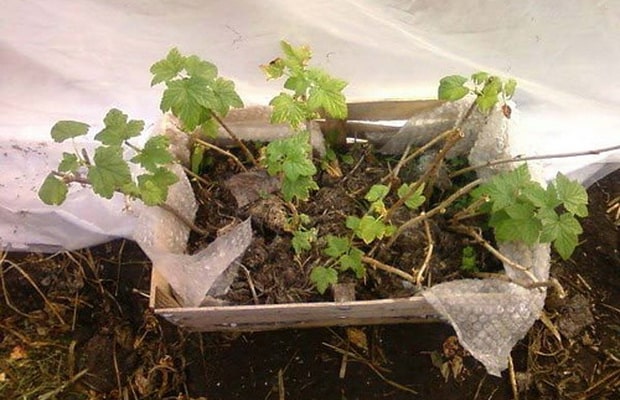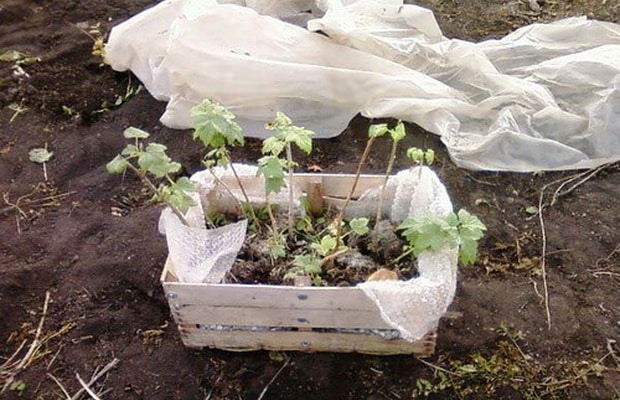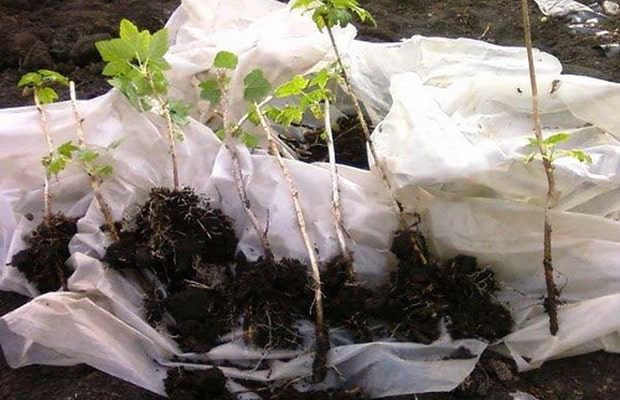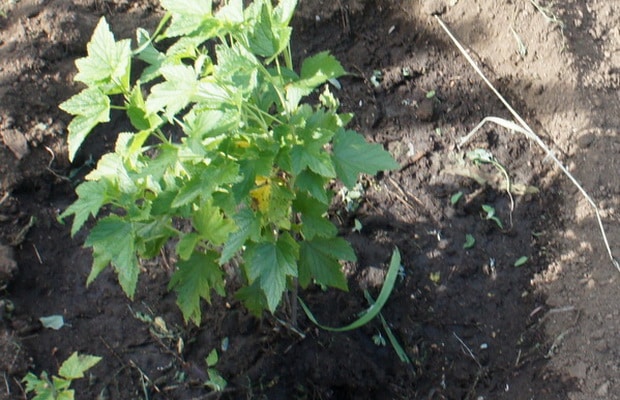 For the creation of a hedge from an alpine currant it is more and more often used with one-piece young bushes. Although this process is fast, but very costly. The purchase of cuttings will take much less money, but here the problem is in the long process of growing a hedge.
The optimal time for planting alpine currants is spring or autumn. For planting choose a place in light penumbra.
The root system of the shrub is moderately deep, densely branched, with a large number of thin roots, therefore, a plot with close groundwater storage is not suitable for planting, the roots can choke without oxygen.
The optimum depth of groundwater is at least 1,5-2 m from the soil surface.
The soil for planting is prepared in advance, deep digging is carried out to enrich the earth with oxygen and eliminate all weeds. On friable permeable soil compulsory drainage currant Alpine does not require. Planting pits dig at intervals of 1-2 m, depending on the shape of the shrub.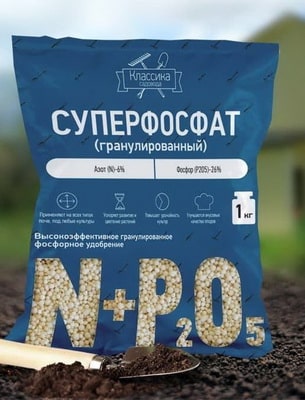 In the landing pit, if the soil is low in fertility, 10-15 kg of humus, 150-200 g of superphosphate, 20-30 g of potassium salt are introduced. If the soil is fertile enough, a soil mixture is prepared from sod land, peat and sand in the ratio 1: 1: 1.
Mineral fertilizers are also added here. In the process of planting, the seedlings are slightly buried, but not more than 5-7, see. To strengthen the young shoots they are shortened by one third. Immediately after planting, the bushes are watered at the rate of one bucket of water for each plant.
The soil surface in the wheel circle is mulched with peat, humus or rotted manure with a layer of 5-10.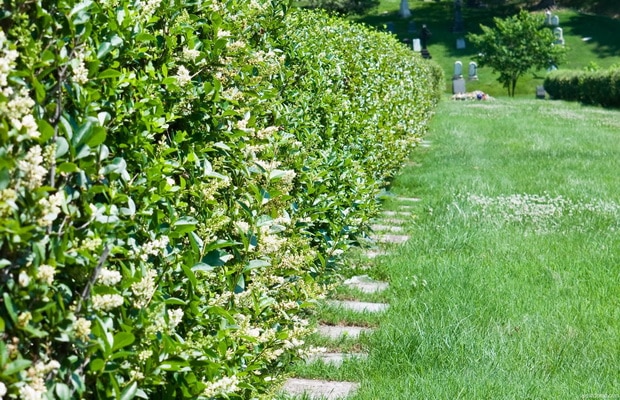 Alpine currant is a drought-resistant plant, but with growing as part of a hedge periodically needs watering with a small amount of water. Young plants water 1-2 once a month at the rate of 1-2 buckets per bush, watering increases during the dry and hot period.
The first 2-3 of the year after planting in the care of the Alpine currant in April make 10-15 g of urea on 1 м2. In all subsequent years, organic fertilizers for alpine currants are closed up in the autumn at least once a year in 2 - approximately 6-10 kg of compost per 1 м2.
Mineral fertilizers are applied annually in spring and summer - according to 45-60 g of superphosphate and 15-20 g of potash salt on 1 м2.
Each spring, the soil is loosened to a depth of 6-8 cm, then during the season, loosening is repeated every 2-3 weeks.
In the spring, in the end of March — the beginning of April, the bushes are pruned, removing old, damaged, affected pests and diseases of the branches.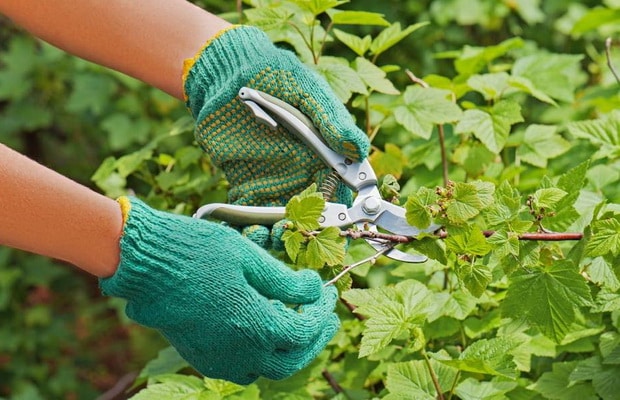 Thinning bushes produce once a year in 3 to remove weak and old shoots, cutting out unnecessary branches at the very base. Periodically, all the shoots and growths are removed from the standard forms to improve the health of the plant. A beautiful and neat haircut currant Alpine for molding the bush do in early spring.
Alpine currant is a winter-hardy plant that does not need shelter for the winter in conditions of central Russia. However, the standard forms of the plant should be covered to protect against frost first 2-3 years after planting.
To do this, wrap the barrel with sacking in the 1-2 layer. With age, the winter hardiness of the plant increases, to protect against sunburn in the winter enough to whiten the stumps.
Ornamental plants exhibit different requirements for the duration of illumination, conditionally they are divided into three groups. All plants of southern origin are short day crops. plants, midland - long day or neutral.
Diseases and pests of alpine currant
Decorative varieties of alpine currants are resistant to diseases and pests.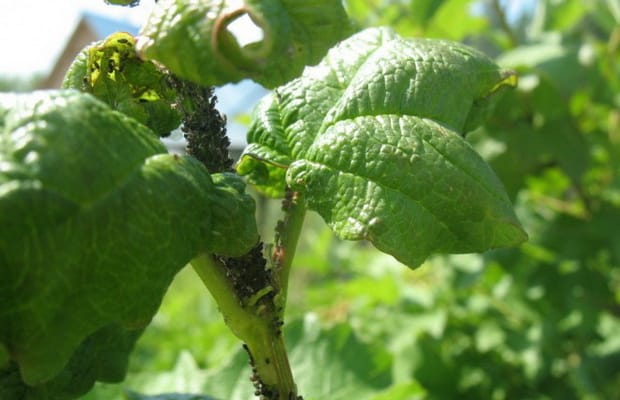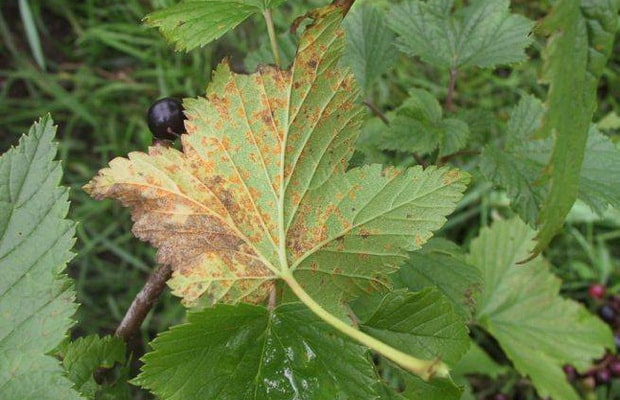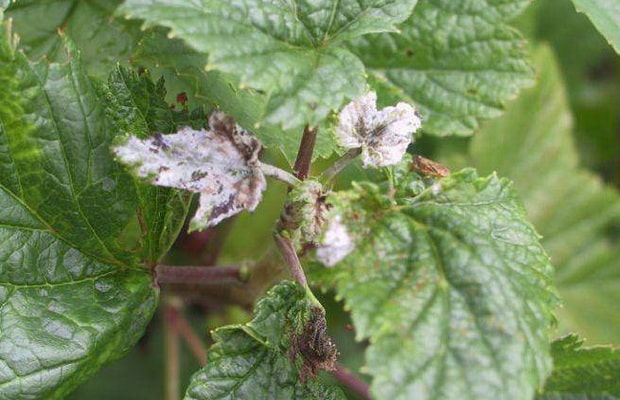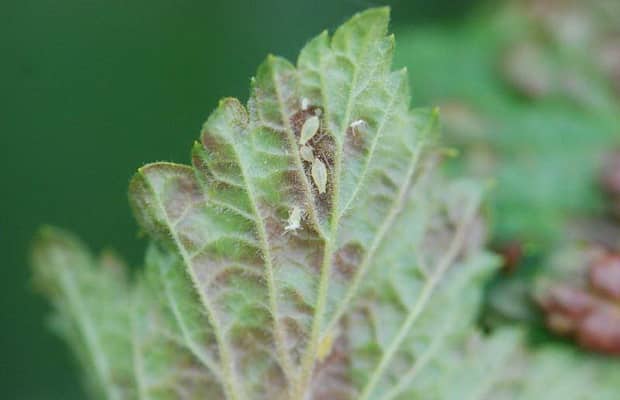 Sometimes plants bother spider mites and aphids.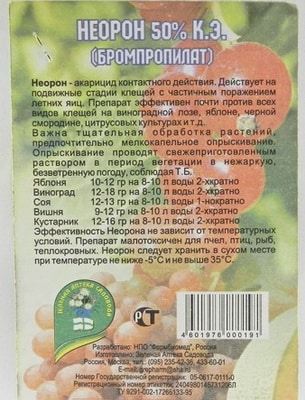 With a high lesion of spider mites, the bushes are sprayed with a solution Neorona (20 ml per 1 l of water).
For aphids, bushes are treated in spring with a solution of household soap (300 g of soap on 10 l of water).
Currants are also sprayed with infusions of garlic, onions, hot peppers, pine needles or ate, yarrow or celandine. Adhesive belts are fastened on the standard forms to block the path of the ants.
Of the diseases Alpine currant unstable to rust and fungal diseases, in particular terry. Bushes are treated for fungal diseases at the end of April with an 1% solution of colloidal sulfur.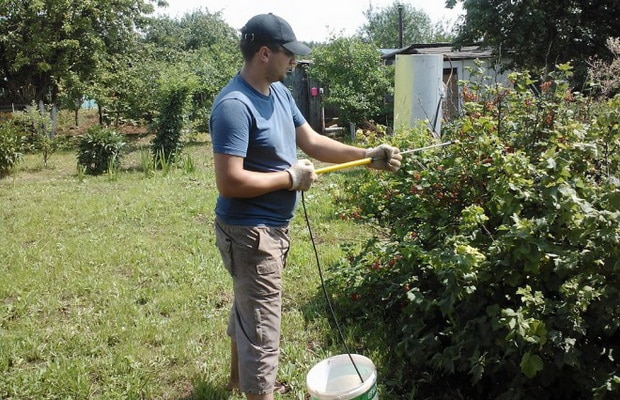 Swollen buds and badly damaged branches are removed. Against rust once sprayed with a solution "Arceride"(50 g to 10 liter of water). A fourfold spraying of 1% solution of Bordeaux liquid in May and June is also useful. For prophylaxis after pruning of diseased shoots, wounds with 5% solution of copper sulphate are treated.
SIMILAR ARTICLES: