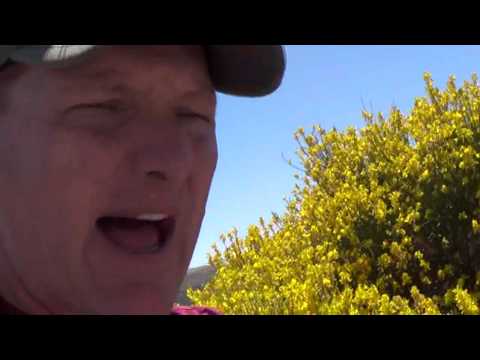 In recent years, landscape design has become increasingly popular. Now not only rich people can decorate their garden with beautiful plants and sculptures, but also citizens with an average income. Many make out the gardens and flower beds in country houses. If you are thinking about which plant is best to choose, we suggest staying at the broom.
Broom (Cytisus) Is a shrub from 0,5 to 3 m tall. Relatively many varieties of coronary broom (S. scoparius). Blooms profusely in May. In the form of flowers are yellow, varieties are reddish. Light broom. It grows on sandy soils. When frosting usually dies. Does not tolerate low trim. Suitable for mixborders, heather gardens and mixed groups of shrubs. Propagated by seed, layering, green cuttings.
Types and varieties of shrubs broom: photos and description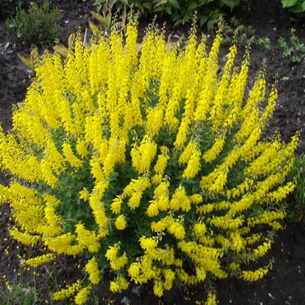 The description of the broom should be started with the plant species. Experts attribute it to the legume family. In nature, it occurs to 50 species, it is common in the European part of Russia, Western Siberia, some regions of Europe and Africa. Grown in pots and open field.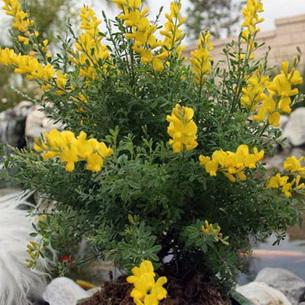 The stems are smooth, the bark is bright green, rarely can be found varieties with pubescence on the branches and silver tint on the bark. The branches of young plants are flexible, so they are used in the manufacture of small wooden products. The inflorescences are large, bright yellow, pink, purple, red. The smell can vary significantly depending on the species and varieties of broom.
A plant variety can have a pleasant unobtrusive, like in ornamental species, and a specific smell. It blooms in the summer about a month. This is a bush with a thick crown. The diameter of the leaves on average does not exceed 4 cm. Shrubs are evergreen and deciduous.
The fruit of the plant has the form of flat leg beans, which crack when ripe. Seeds can be used for breeding broom. The plant is partially poisonous, when used a large number of medicinal infusions can lead to problems with breathing.
Please note: below is a photo of the broom and a detailed description of the species, as well as methods of its reproduction: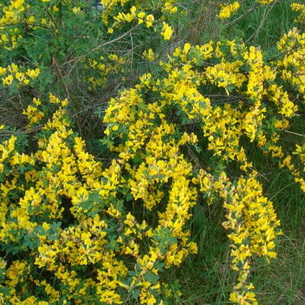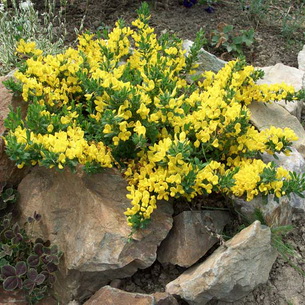 Broom species now exist around 50. Consider the most common: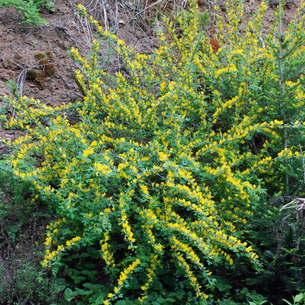 Russian broom or sortinger. Most often found in Russia. Deciduous shrub, grows to a height of 1,5-2 m maximum. During flowering many many spicate flowers appear. The bark on the branches has a grayish tint. Poisonous plant;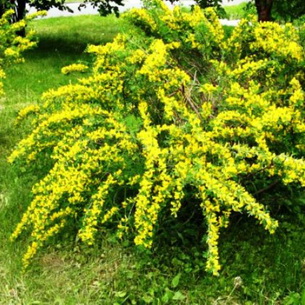 Early broom. The height of the bushes - 1-1,5 m, pale green flowers, thick leaves, no larger than 2, see. The root does not grow deep, resistant to frost. The flowers begin to bloom in May, so it is called the earliest. For most varieties of broom, flowering occurs at the beginning of June;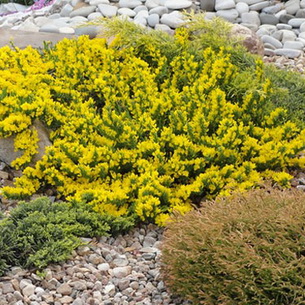 Oblong broom. The plant is medium in size. The maximum height is about 1,5 m. It blooms more than 2's months. Heat and light-loving variety, often used in landscape design;
Broomstick. It differs from other varieties in pink color. Erect 2-meter bushes have the wrong crown, withstands temperatures up to -29 degrees.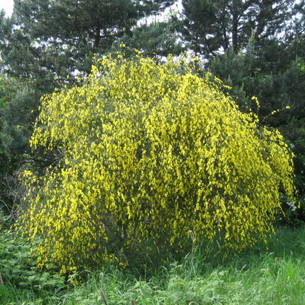 See the photo for the shrub broom shrub.
Crowded broom. It has small sizes, blooms all summer, is used for decoration of gardens and parks, begins to bloom immediately after planting in open ground through 3 of the year after sowing seeds.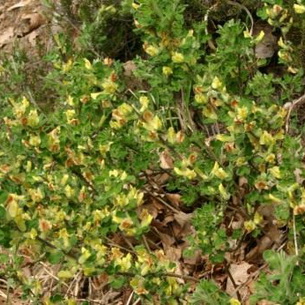 Photos of the crowded broom, you can see.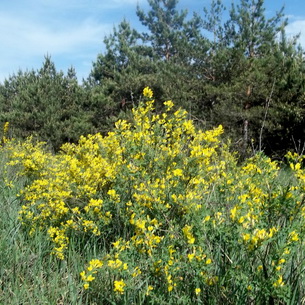 Broom sperm. A bush height 1,5 meter, begins to bear fruit only with 5 year after planting, more demanding to care than other species. It does not tolerate cold, it is necessary to cover the winter, after flowering the branches are pruned;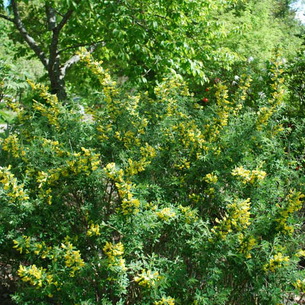 Podolsky broom. Distributed in Russia and Ukraine, it grows in dry limestone soil, medium size, height - 1 m, flowering period - June - September.
Some listed types and varieties of broom, look at the photo below: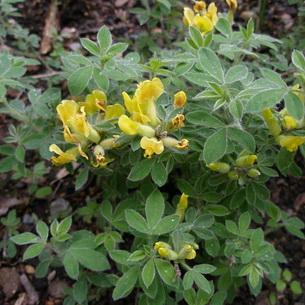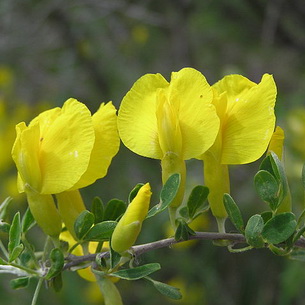 Breeding broom seeds, layering and cuttings
Breeder breeding occurs by planting seeds, layering and cuttings. Seed propagation is effective for species breeches. They are planted in sand or a mixture of soil and sand in the ratio 1: 1. Deepen the seed no more than 1 cm. Collect planting material in the fall from ripe pods. Near the bush you can often observe self-seeding, which can also be seated in your garden. So the plant will grow faster and bloom.
You can sow seeds in spring and autumn, depending on this technology will be slightly different. Planting material should be soaked for 48 hours. The prepared soil should be wet, the width of the aisle - about 5 centimeters. In the room where the broom will grow, the temperature should be maintained in the 18-21 degree area. The room is aired. For plants need constant care, regular spraying with water. After the appearance of these leaves 2 seedlings planted in separate pots.
In June, they make another transplant so that the bush has room to grow. It is allowed to plant a broom in the open ground no earlier than in 3 of the year. The root is very sensitive to damage. It should be at the last landing to keep the earthen room, in which the measles system has grown. If sowing is done in the fall, then it is not necessary to prepare planting material.
See the photo of planting and broom care below: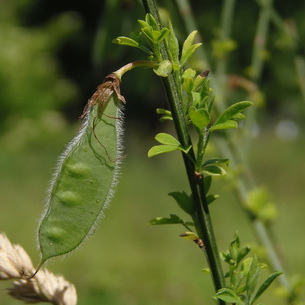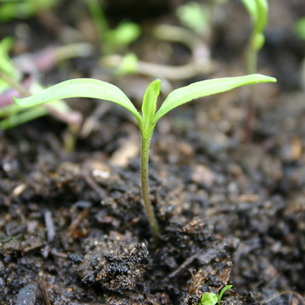 Layering reproduce adult plants. To do this, take the broom branches, pressed to the ground and sprinkled with soil. When he firmly rooted, you can separate the branch and transplant to a new location.
The last method of reproduction is cutting, which is carried out after the end of the blooming period (summer). Cuttings are selected with a minimum of 2 leaves, then they are shortened and planted in pots with a mixture of peat, sand and humus. Growing conditions are the same as when sowing seeds. Sure to bright lighting. After rooting, the layering can be landed elsewhere.
How to plant a broom in the garden
If you were wondering: how to plant a broom, then there is nothing complicated. We offer you to familiarize yourself with the agrotechnics of growing this ornamental plant below.
Regardless of which method of planting is chosen, it is planted in places with good lighting, where there are no drafts and a lot of free space for further growth of the bush. Planting broom made in the spring and autumn. Seasoned gardeners for this recommend April - May, but the choice remains for the owner of the site.
When planting plants should take into account such moments:
The soil in which the seeds are sown or the seedlings are planted should consist of a mixture of sand, soil and humus in the ratio 2: 1: 1. It is in this soil that the plant will grow healthy and strong;
if the bush is planted in open ground, you need to pass it on for analysis, so that after knowing the composition, you can conclude that it is necessary to apply mineral fertilizers. It is categorically forbidden to grow broom in soil with high acidity, the plant will die after acidification of the root;
Between sowing seeds or seedlings, a minimum distance of 30 cm should be observed, and if possible more. If you violate the technology of sowing, then one seedling will interfere with the other to grow, they will reach for the sun and grow long, thin, with a small number of sheets;
planting and care of the broom in the open field should be carried out away from water. The plant can release toxic substances that affect the flora and fauna of small ponds;
if you buy not seeds, but seedlings, then you should opt for an grown broom with a well-formed root system. There is a high probability that during transportation and planting the root will be damaged and well taken;
laid drainage layer is a good solution for improving growth conditions. The optimum thickness of the drainage from the pebbles or bricks, broken into small pieces - 10-20 cm, depending on the compaction of the soil layers;
depth is taken into account when landing. The neck of the seedling root is located at ground level, seeds are sown into the soil to a depth of 0,5-1, see
Photos of broom planting can be viewed below: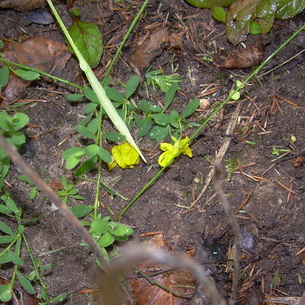 Plant Care Broom
Broom care does not require special under the condition of planting in the correct soil. Schematically, this process can be divided into:
watering;
top dressing;
pruning;
pest and fungal disease control.
The plant is watered abundantly in spring and in summer when drought or after the topsoil dries. At another time you should be careful with this case. Excessive watering can cause acidification of the soil. An adult plant easily endures many days of drought and occasional flooding. It is recommended to add lime to the soil moistening fluid.
Feed the humus from 1 to 3 once a year. If you are seriously engaged in gardening, then take care of the introduction into the land of nitrogen fertilizer in early spring and phosphorus-potassium - in the summer.
Pruned branches only after flowering, without damaging the stiff part of the bush. To shrubs endured frosts, young plants covered with foil, more mature broom growers are not afraid of winter.
We offer to look at the photos of the disease of broom and their description below: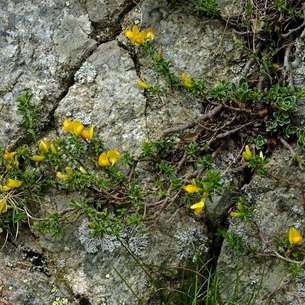 Mučnistaâ rosa. It is a grayish bloom on the leaves, turning brown with time, indicating that the disease is neglected. Over time, the plant ceases to grow, not tied, frost resistance decreases. Bust with nitrogen fertilizers, changes in air humidity and temperature provoke the development of the disease. Disease appears in summer;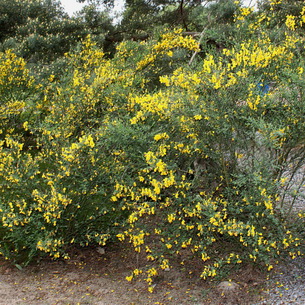 Black spot - fungal disease, which appears on the leaves brown-black spots. Affected leaves fall, and the plant itself loses immunity. If only one variety gets sick, then over time, black spot can spread to neighboring bushes. There is a fungus during prolonged rainy weather;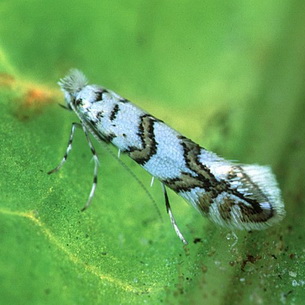 The attack of the moths and moths.
To eliminate them, you need to purchase suitable insecticides and process the leaves.
Planting and caring for the broomstick is simple, but you need to provide the plant with good lighting and regular feeding, then it will not get sick and will be able to bloom well.
Broom use
Broom - a plant with healing properties. The chemical composition contains many flavanoids that have a diuretic effect, thus contributing to the removal of chloride elements from the body. Drugs have a calming effect, improve blood circulation, regulate heart activity, help with swelling, headaches, heart pain and pain in the lumbar region. It is strictly forbidden to take pregnant women and during lactation, children of any age, as well as hypertensive patients.
The plant is partially poisonous. In its composition there is an alkaloid cytisine and anagirin, so you need to strictly follow the dosage. Tinctures do, brewing dried flowers, collected at the beginning of flowering.
Also use broom in the garden as a decorative element. Among landscape designers, the plant is popular due to its attractive appearance during flowering and unpretentious care. In the park areas there are single and group landings of the broom. It blooms for a long time, looks good in combination with conifers and legumes.
In addition, different varieties are used in:
chemical industry. Yellow paint is extracted from the plant, used to dye wool and other fabrics;
beekeeping. Good honey culture.
Honey broom varieties in the photo, see below: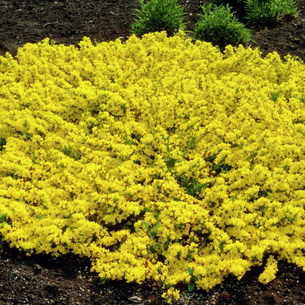 Perfumery and cosmetology as a fragrance for soap, shampoos, shower gels, perfumes.
Growing a broom is a simple matter, even a novice gardener. It will perfectly decorate the landscape and give you unobtrusive aromas near your home. If you do not want to engage in growing from scratch, then you can buy this plant in specialized stores. Adult seedlings are more expensive, because you do not need to wait for the flowering period, coming through 3-5 years after planting seeds. On sale there are species that can be grown in pots.
Choose your favorite broom species in the photo and grow in your garden: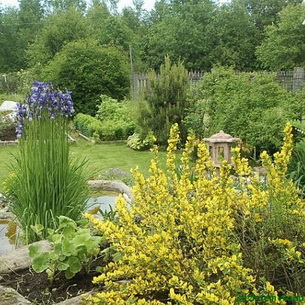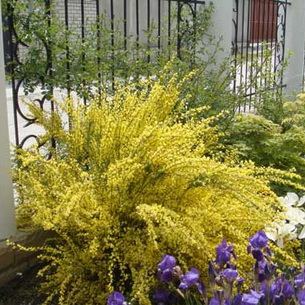 SIMILAR ARTICLES: