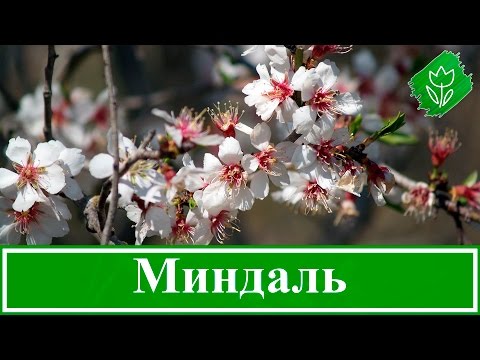 Almond (Amygdalus) - shrub or small tree from 1 to 6 m tall, famous for its spectacular flowering. Almond ordinary (A. communis) since ancient times, cultivated as a nut culture. Low (up to 2 m) species of almond - elegant beautiful flowering shrubs, are of interest as ornamental plants.
This is an ornamental plant almond low, steppe, or bobovnik (A. papa), which is small in size (up to 1,5 m high). In the spring, simultaneously with the blooming of leaves, the bushes become covered with delicate, modest, but numerous pink flowers. At this time, the plant is literally striking. But even after flowering, thanks to the compact crown and graceful leaves, the baubery looks attractive.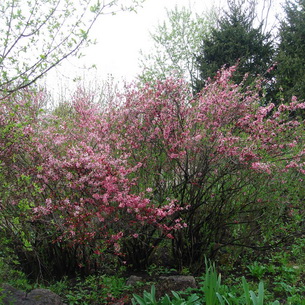 Another winter-hardy almond is Georgian (A.georgica) grows to a height of 1 m, has bright pink flowers.
Among the undersized ornamental almonds, baubnik is perhaps the most resistant to adverse conditions. This type of ornamental almond bush is winter-hardy, it is easily tolerated by drought, but it requires a lot of sun. Almonds are propagated by seeds and numerous shoots.
Decorative almonds in landscape design: how the plant blooms (with photo)
Almond low is very popular in landscape design, which is suitable for small open areas and rockeries. In the background of the mixborder, it will be a bright spring accent, and then a good background for perennials.
Even before the planting of almond ornamental began to be practiced in our area, this plant grew in the vast expanses of the Mediterranean. Little by little the shrub began to spread and overwhelmed the territories of such countries as China, the Czech Republic, Slovakia and others. In the middle zone, the cultivation of almonds is now not uncommon, since many plant species are well adapted to our climatic conditions. By the way, three-bladed almonds from local gardeners are a favorite, thanks to its frost-resistant qualities and the beauty of flowering. An indisputable advantage of this shrub is also the fact that even beginning gardeners can cope with it.
But it's not immediately possible to see the long-awaited results of his labors. On the question of how the almond blossoms, experts mysteriously smile and answer: "Incredible." Only this magnificence can you observe only four years after planting. Such is its feature. However, believe me, it is worth it: the stunning beauty of double flowers of white or pink shades will decorate your garden and fill with wondrous aroma.
Look at the photo how almond blossoms: this magnificent plant will decorate your garden for many years if you take care of it and provide favorable conditions for its existence: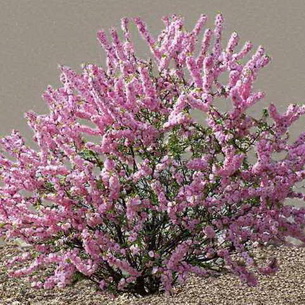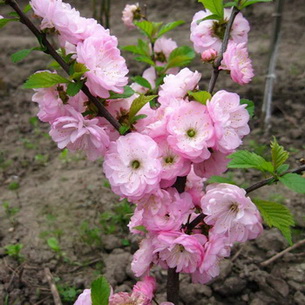 By the way, some people believe that almonds from Greek means "beautiful tree". Well, it is quite possible, because the riot of colors - purple, white, flaming - no one picture can convey. Approximately 20 days in a year allows to admire this plant in our area - at the very end of April and until mid-May.
How to plant and grow ornamental almonds
You can plant a decorative almond shrub either in spring or in autumn. In the spring, it is imperative to wait for the onset of good warm weather, but in the mid-late fall - by the way, the most opportune moment for disembarking - you should wait out the leaf fall.
The next very important point that you need to know for planting and caring for ornamental almonds is that this plant prefers areas with sufficient sunshine during the day. Therefore, it is best to place the bushes in the southern corners of your garden.
Please note that there will not be a tree growing on saline, acidic or clay soil. Moreover, for a successful planting and care of ornamental almond shrubs, it is necessary that the groundwater in the soil be at a sufficient depth. Experienced gardeners are advised to pick fertile sandy or loamy soil for a successful planting.
Take note: if your site has an apiary - this is simply the perfect solution to one of the important moments in the cultivation of almonds. The fact is that the shrub needs a process of regular cross-pollination. But if you do not breed bees, do not be discouraged: just plant several of these ornamental trees at the same time.
So, how to plant almonds, the masters of the garden case will tell us:
At first, choose a well-lit place. If something gives a shadow, try to remove this object. But the stones, if you have any on the site, you can leave. The shrub from ancient times grows on mountain slopes.
Your next step - dig a hole, the depth of which should be approximately 30 cm. In case you need to plant several bushes, place them approximately 3 meters apart.
After that, fill the wells with a drainage layer: either a broken brick or crushed stone will do. Top sure to sprinkle sand.
Now place in the center of the pit what will become the support for the seedling - that is, a long pole. And remember that it must be at least 0,5 m above the ground.
Experts also argue that the most favorable time for planting is considered to be early morning or after midday hours.
By the way, if you still could not find the loamy soil and have to work with sour soil, be sure to first bring a small amount of lime into the pit. This will help "neutralize" the acid.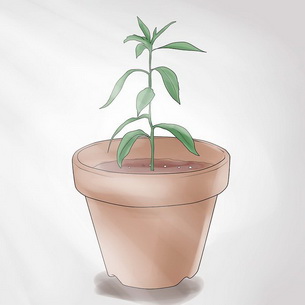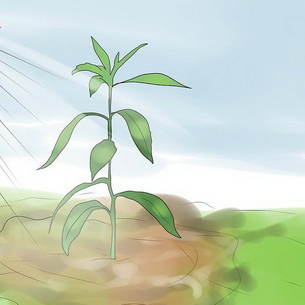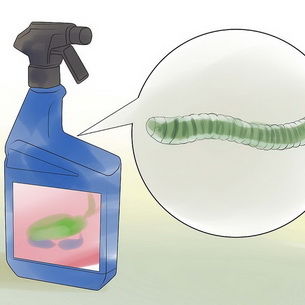 On a note: The plant is placed in the hole so that above the ground the root neck rises to 3-4, see. Naturally, after this, the hole should be filled with a mixture of sand, humus and leaf soil.
Do not forget to pour a seedling of at least 1 with a bucket of clean water. And, to fix the result, carry out the procedure of mulching - falling asleep the area around the bush with a layer of peat. Be careful: the mulch should not come into contact with the plant!
You can see decorative almonds on the photo, planting and caring for which were carried out correctly: now such soft pink buds are now pleased with the shrub of their gardener every year: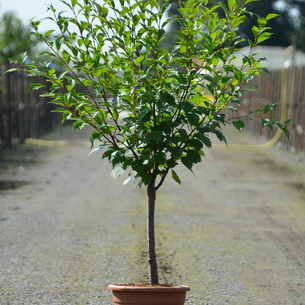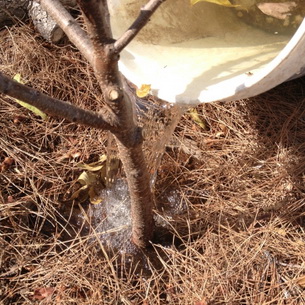 How to care for decorative almonds
Let's take a closer look at how to grow almonds so that it fills the territory of your kindergarten with divine fragrance and does not suffer from a lack of care and concern.
Cultivation and care of almonds occur in the same pattern as that of any ornamental plant: the shrub should be watered, fed with fertilizers, sheared and protected from any pests.
To begin with about watering. As you remember, stagnant water in the soil of this tree is contraindicated. Therefore, it is necessary to water the bush no more than once a week. In this case, just enough buckets of clean water.
Another feature in the conditions of growing almonds is that after watering the bush you should definitely gnash the ground thoroughly. You need to dig into the soil on 7 cm, if it is a sapling, but you can indulge adult specimens with this procedure at a depth of at least 9 cm. Remember that the rest of the time - not only after watering - the area around the bush should be cleared of weeds.
Any plant must be fed. Therefore, wondering how to care for almonds, remember that it needs spring, for example, top dressing in the form of manure or mullein, but in the autumn, you need to apply superphosphate, or potassium to the soil around the bush.
Pay attention to the photo of decorative almond, which is timely fed with nutrients: it gives a lush color and is protected from any diseases: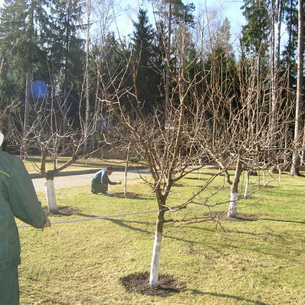 But in order to give the shrub a laid-out aesthetic appearance, caring gardeners trim their pet. Trimming decorative almonds involves several steps: in the spring, for example, sanitary cutting is done. With its help, the plant gets rid of the sick, broken and those branches that thicken the crown. But the shaping - haircut, which helps to give the crown the desired shape - occurs after flowering shrubs. By the way, in the eighth year of life, ornamental trees will definitely get rid of old branches.
You should pay special attention to the cultivation and care of almonds in the middle lane: firstly, since our winters are characterized by very low temperatures, it is necessary to protect the bush from frostbite. Seedlings should be covered with straw or dry foliage.
Do not forget just to make sure that under this insulating layer does not begin to rot and groove the root neck. Much simpler things are with adult specimens: they are rarely harbor for the winter. Just remember that the most suitable types of winter-hardy almonds such as three-bladed, Georgian, steppe and Ledebour are most suitable for our edges. They tend to quickly recover from the winter cold.
Since you already understand that frosts, in principle, do not pose a particular threat to this plant, you need to be alert to another kind of danger - pests and diseases. A common disease is moniliasis, a type of fungal infection.
Most often, the fight against this scourge is to warn her. That's why we said that almonds need regular nutritious food and appropriate soil. But if the trouble did happen, use a variety of fungicides for the war against moniliasis - for example, the same foundation.
But in order to get rid of such creatures as ticks, seedlings, moths and, of course, aphids, you should use a set of insecticides. One of the suitable options is Zolon. For stripping spider mites, it is better to use Akarin.
Breeding methods of ornamental almonds
It should be remembered that the reproduction features of the ornamental almond shrub are slightly different: this is how varietal specimens are bred using vegetative methods - layering, grafting, and overgrowth, but gardeners propagate species plants.
We will try to deal with each of the methods.
If you are thinking about how to propagate decorative almonds by resorting to planting seeds, then pay attention to the following step-by-step instructions:
You need to decide when you will carry out the landing - in the spring or autumn. From this will depend on the specifics of the work. So for spring sowing, it is characteristic that the gardener must make a mandatory seed stratification, which according to the canons lasts 4 of the month.
The next stage is planting almond kernels. To do this, prepare the grooves, the depth of which should be at least 8 cm, and the distance between them should be approximately 10-11 cm.
After the seeds have sprouted, we should not forget to water them, loosen the soil and fight weeds.
Already in summer, seedlings can be transplanted to the site where they will grow in the future. In addition, the already established copies are suitable for vaccinations.
With the help of cuttings, the reproduction of almonds is carried out in the middle of June. Then the upper cuttings are cut, the length of which reaches at least 15 cm. Then they are placed in a substance that stimulates growth and is kept in this mixture for about 16 hours.
To root the cuttings, they are placed in a cold greenhouse, where the soil has already been prepared, consisting of sand and peat in the ratio 1: 2. Rooting procedure lasts about 4 weeks. Upon completion, the cuttings are carefully transplanted to the garden bed.
Another method of propagation of this plant is the growth, which occurs due to maximum pruning. It is used only after the shrub is two years old, because then the bush has a fully formed root system. The shoots are simply dug up and moved to a permanent place of growth. Caring for her is similar to caring for one year old saplings.
You can display varietal species that you see in the photo by reproducing ornamental almond shrub with the help of layering: this procedure assumes that the shoots need to be pressed to the ground, fixed and sprinkled with soil: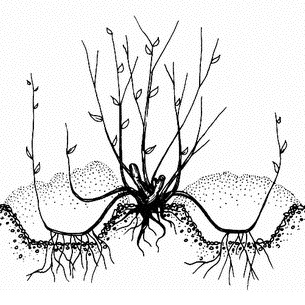 Be sure the cuttings are watered, loosen the soil around them and protect from weeds until they have roots. After the root system is formed, and this happens only about a year later, the plants are transplanted to another place away from the mother bush.
Types and varieties of decorative almond: photos and description
Let's look at the photo of almond in landscape design: experts say that this plant, which is so elementary in the care, looks great both in solitary - single - plantings, and in group compositions: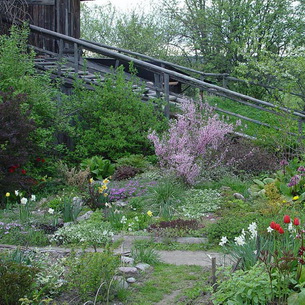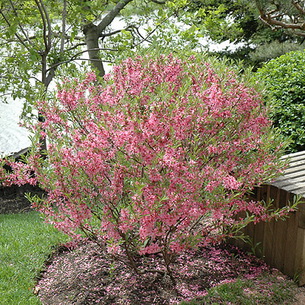 But, in fact, this tree has no equal in the creation of amazing hedges!
Most often, gardeners use varieties and types of almond, such as low, to create a delightful design of a particular site. "Gessler" or belotsvetkovy. But after all, on these specimens the species diversity of this shrub does not end!
Let's find out about the other varieties of such a unique plant.
And we begin, of course, with ordinary almonds. That it is so popular and indispensable in farms where the tree is grown for fruit extraction. He is of two kinds - bitter and sweet. As you might have guessed, it is sweet almonds that are most in demand for industrial purposes.
You can take a closer look at such a useful kind of almond in the photo below: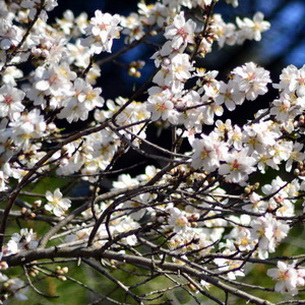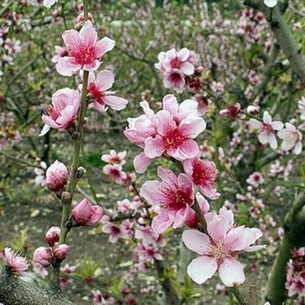 Deciduous shrub is steppe almond, which still has such names as low and bauber. It is characterized by the spherical shape of the crown. The tree can reach a height of up to 1,5 m. This plant is distinguished by the presence of bright pink buds. A characteristic feature is the fact that the human eye is delighted with the riot of colors just 10 days. True, a small bonus can be the fact that the fruits of this type are edible. By the way, this particular variety is one of the most popular in our area.
The most common forms are belotsvetkovaya and "Gessler". But the varieties of this bush do not end there: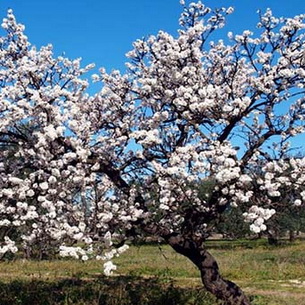 The bush, which is distinguished by beautiful snow-white buds, is called "White Sail";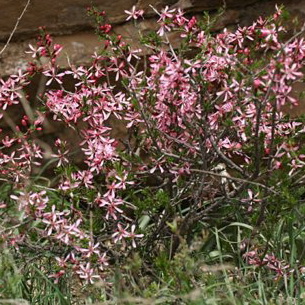 The next grade - "Anyuta", whose branches bloom with rich pink flowers during the flowering period;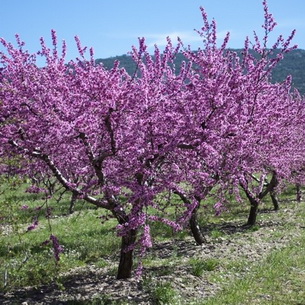 "Pink Mist" - It is a variety whose branches are completely covered with amazing large poisonous pink buds;
Pale pink buds are characteristic of the Dream bush;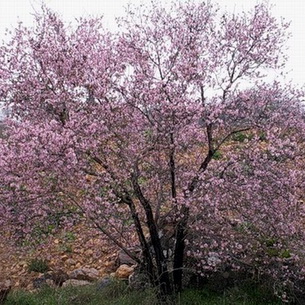 A large copy that reaches a height of at least 2 m, has the name "Mediator". It is considered one of the frost. Blossoms in gorgeous light pink flowers;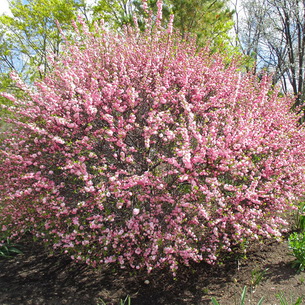 Pleases the eye with double buds of the bush "Pink Flamingo".
Of course, flowers are painted appropriately - sustained in a pink range.
To be convinced of the attractiveness of this variety of almonds, see the photo below: it is possible that such a shrub will soon decorate your garden: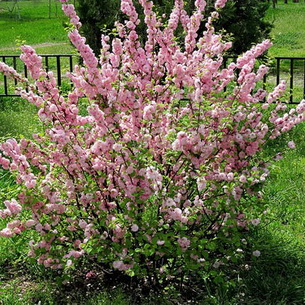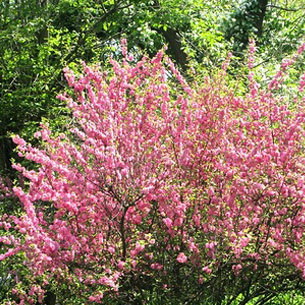 In appearance it resembles the previous instance of Georgian almonds, which in nature grows on the slopes and edges of the Caucasus. Unlike bovovnika, this species is characterized by large leaves and flowers that have a bright pink color. The very same bush does not grow above 1 m. Very good for breeding in the northern strip.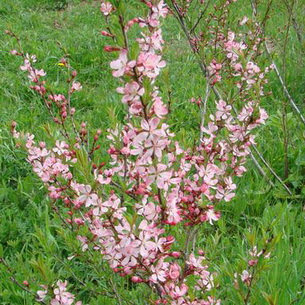 Let's turn our attention to the species that grows in Altai - the almond "Ledebour".
It is characterized by very large leaves and buds of pink shades, which open much earlier than in other species. By the way, it blooms a little longer - 21 day.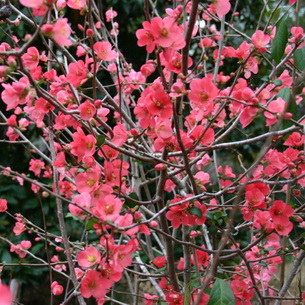 Such a variety of this shrub as Fire Hill boasts bright red-pink flowers.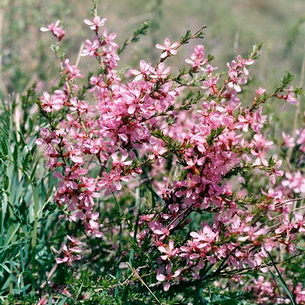 In Central Asia, you can meet another kind of plant - Petunnikova almonds. This is not a very large specimen, which grows to a height of 1 m. Its flowers are single and differ in pinkish colors.
Three-blade almond has two forms and a huge number of varieties.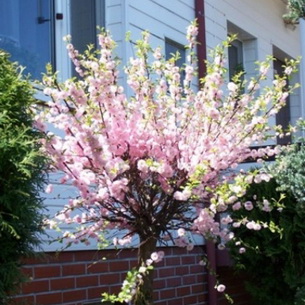 You can see on the photo shrubs of the ornamental almond of the "Plen" and "Kievskaya" type, the first of which is distinguished by terry buds of pinkish shades, revealing much later after the appearance of leaves.
The second one has large, fluffy flowers of rich pink color, which are of great value for gardeners, because they bloom before the leaves appear.
In general, the three-bladed almond is a bush that grows up to 3 m in height and has flowers located on the branches in pairs. Below you can see photos of various varieties of almonds and their descriptions that are considered the most popular and popular in our area: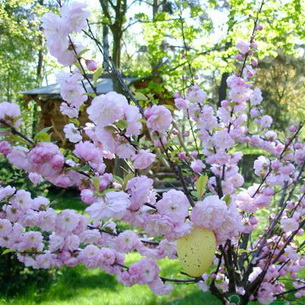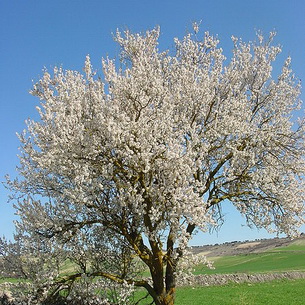 "Ruslana" - the same hybrid that may surprise novice gardeners with the fact that its flesh-colored buds at the end of flowering become almost snow-white;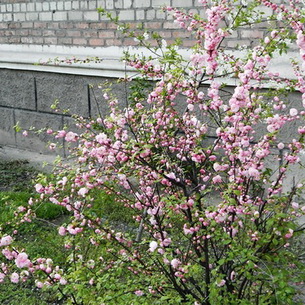 Shrub "Tanya" boasts large terry flowers, different petals of swirling shape;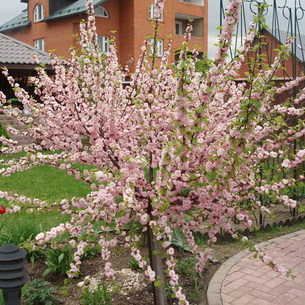 Almonds "In Memory of Mahmet" has the property of changing the color range of buds - from light pink to cream;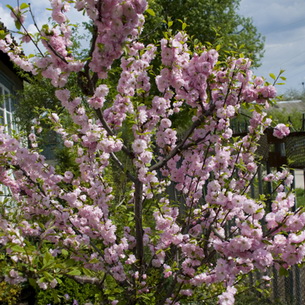 "Chinese" it looks very simple - it has modest pale pink buds;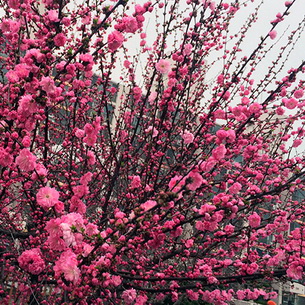 This variety is "Hybrid No. 3" - looks like that Japanese sakura. This similarity gives him an amazing double pink flowers;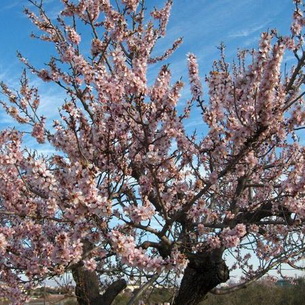 Another hybrid that can change the color scheme of buds is "Snow Wimura".
Shrub blooms with pale pink flowers, which then become cream.
Such a huge variety of ornamental almond species allows gardeners of our region to create unique plant ensembles that can become the pearl of any landscape design.