A very beautiful flower that gardeners grow on their plots is lobelia, it was she who became quite widely spread in Russia. The fact is that such a plant is not quite capricious and does not require any special care for itself. Most often, gardeners grow it from seed in pots or hanging baskets. Lobelia ampelous is different in that it blooms very much and hangs from a pot. Thus, with proper cultivation and planting of this plant, you can get excellent decorations for your site. Let's learn about it in more detail, and also look at the photos of the most attractive sapphire and regatta varieties.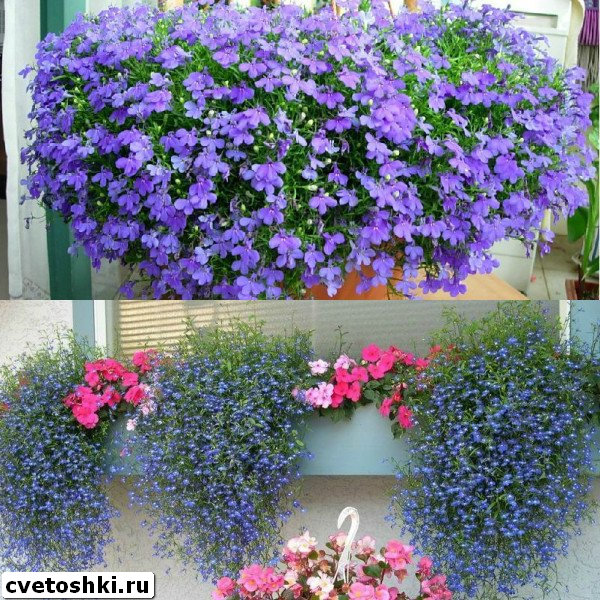 In nature, lobelia is found in North America and Africa, where it grows where there is a wet rocky soil. In the natural environment - it is perennial, as for cultivated varieties, they are all annual plants. The most popular varieties that gardeners use to decorate yards and plots are Sapphire and Miranda, which can be seen in the photo below.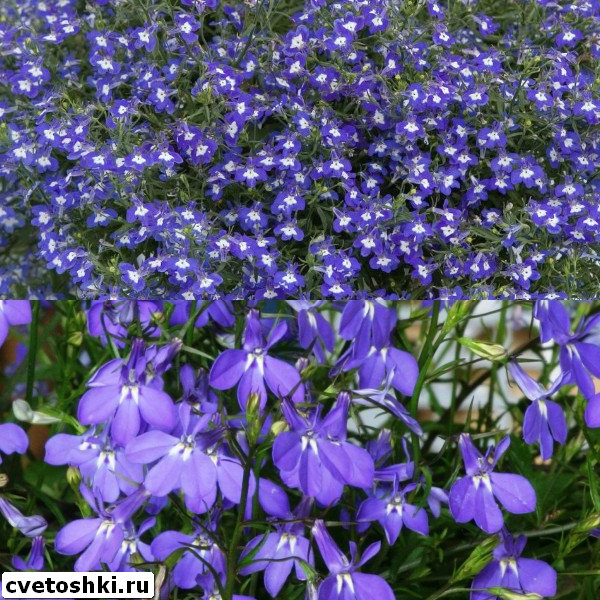 This name was given to the plant in honor of the famous Dutch botanist, who for some time headed the Royal Botanic Gardens - Matthias de L'obel. This flower belongs to the family of bells and has quite large similarities with its other members. For example, Lebolia has bilocular ovaries and zygomorphic corollas, such as in the photo below.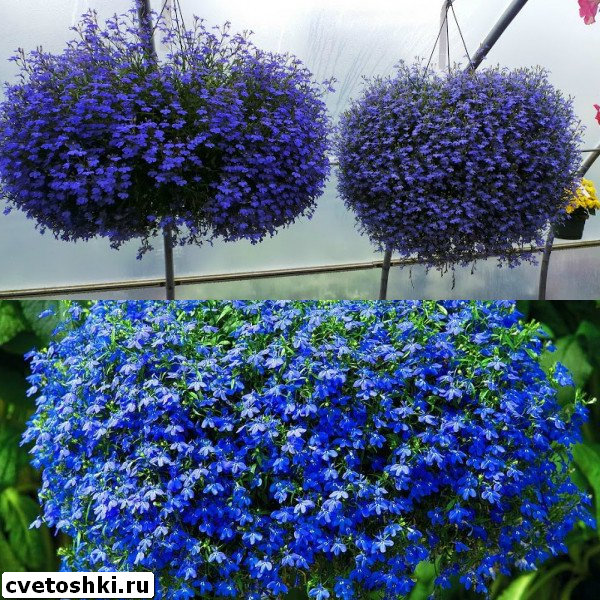 What is in nature, that in gardening lobelia is a shrub not higher than 15-20 cm, but some of the varieties can boast that their branchy-angular stem can reach 50 cm.
More than 300 species of this plant are known in the world, but in gardening the most famous ampelous one. At the same time, about 20 is cultivated, such species as erinus or black-eyed are not badly taken root as curb plants.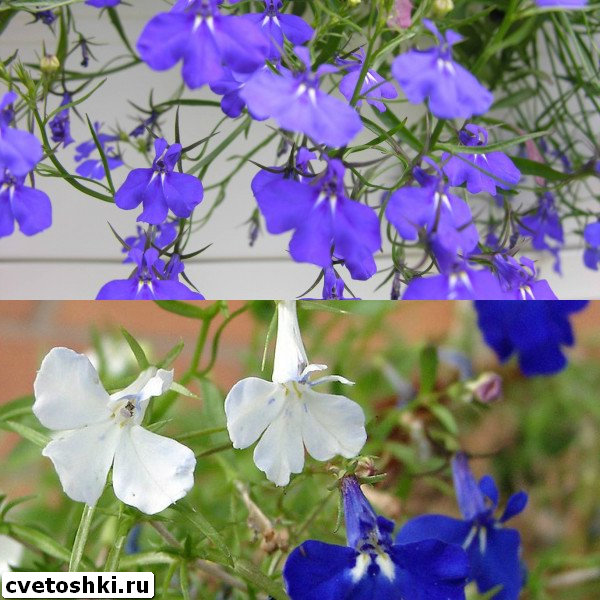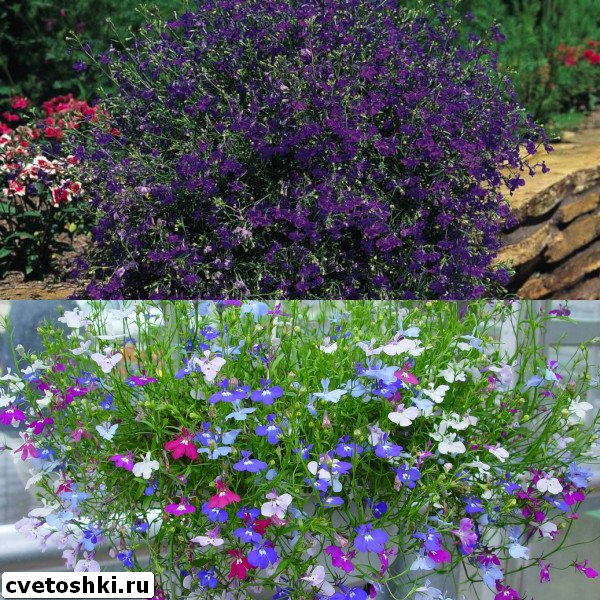 Popular types of ampelous lobelia sapphire and regatta at home (with photo)
Flowers are color depending on the species, but mostly it is white or blue gamma. Such small, but rather actively-flowering buds can please us the most popular type of lobelia of ampelous - sapphire, as for the regatta, here you can see even pink or lilac inflorescences. Some households call such a plant a blue cloud, since it has quite a few flowers of a pleasant range of colors. It is easy for this plant to take root, both at home and in the open field, but in both cases this grass is not a big shrub. In the photo below, you can see its variety of beautiful shades, which this plant can boast.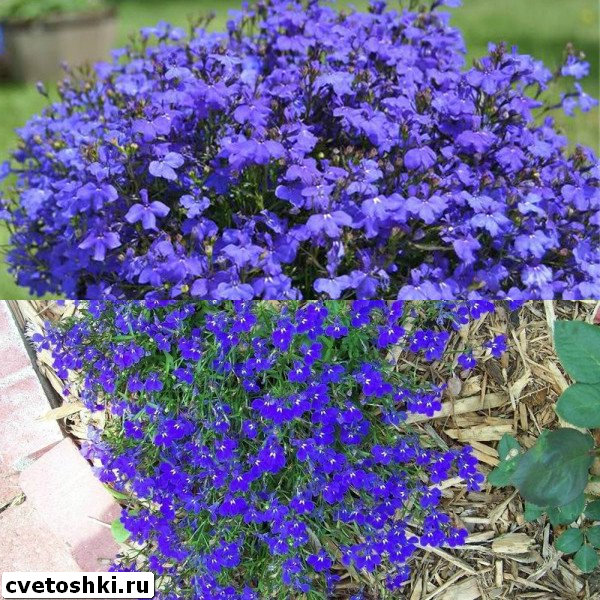 Such a plant of the Sapphire variety is perennial, but in our conditions it does not tolerate frost. There are several nuances that should be known before growing lobelia at home. Firstly, be sure to remember that this process can take a long time, so you should start sowing in January. If you follow this fairly simple rule, then any sapphire "Sapphire" will please the household with a rather beautiful flowering that will last from June to the first frost.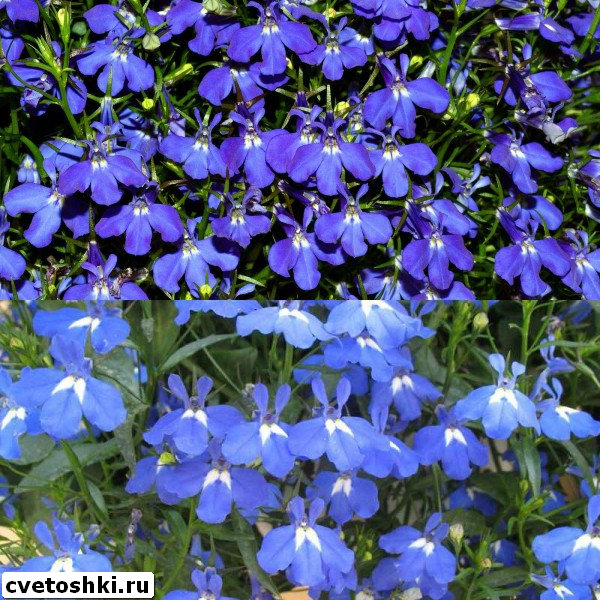 Many experts say that it is necessary to purchase seeds only from proven producers. The fact is that many unscrupulous companies can offer plants in the photo of packages of which lobelia with small red or yellow flowers flaunts. Remember! Such varieties do not exist yet, the breeders may have taken up the question of how to bring them out, but even in nature such unusual hybrids are not found.
One of the brands you can trust is Aelita, the packs are equipped with photos, in which you can see not just the desired result without a photoshop, but also the plant that can decorate a plot or a balcony.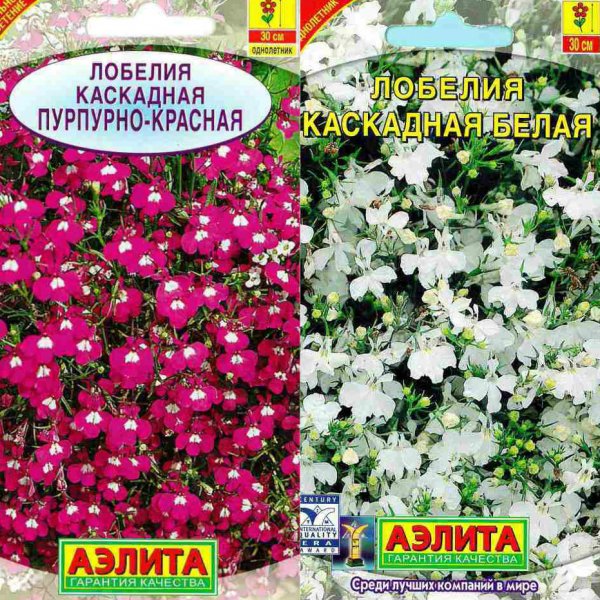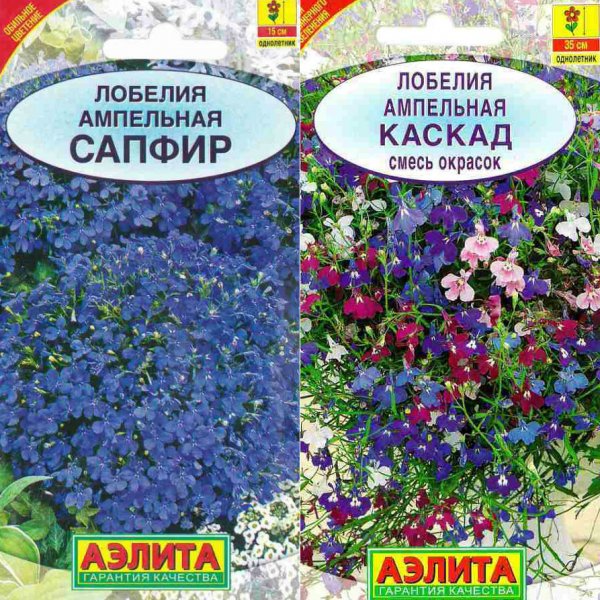 In order to grow lobelia varieties "Sapphire" it is necessary to prepare the soil. To do this, you can take a light soil without admixture of peat. The fact is that nitrogen can have a beneficial effect on the growth of green mass, and this will go to the detriment of the beautiful flowering of the plant. After the soil has been prepared, tiny, barely noticeable seeds are evenly distributed over its surface, which must be further mixed with sand, so you should not bury them.
To lobelia together gave shoots need careful care. It consists in lighting and a favorable temperature, which should not be 20 degrees. So cover the box with the seeds of cling film or clear glass. This design is placed on the windowsill or balcony so that there is solar lighting. Be sure to moisturize the soil, but do not water it, it is best done with a spray gun. Avoid having the ground completely dry - this will adversely affect the seeds.
Quite friendly and dense shoots usually appear when 1-2 weeks appear when properly sown. After 2-3 weeks, you can dive seedlings. If you want the amber lobelia to grow in bulky bushes, then plant it in several seedlings at once. During the growing season, make sure that the soil is very wet and observe the temperature balance around 15 degrees.
Another variety of amblel lobelia is a regatta, it is no less beautiful, which means as popular as Sapphire. Many gardeners love this flower, as it, like others, is not quite whimsical and during active flowering turns into a beautiful blue cloud. By the way, if we talk about colors, in most cases they are exactly light blue shades, as in the photo below.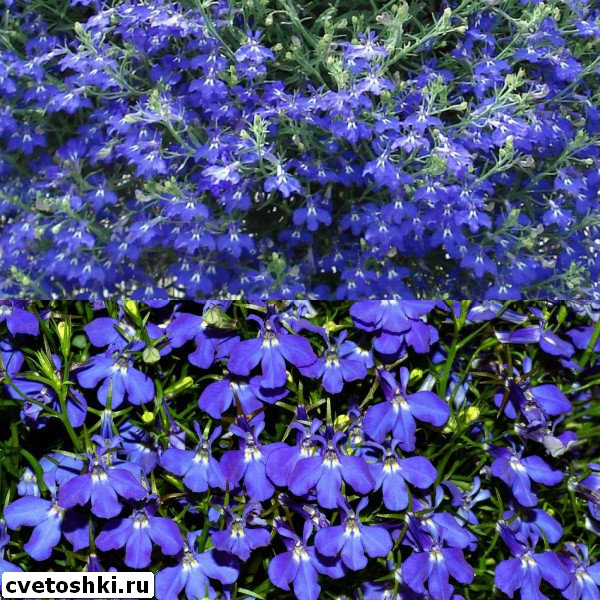 Many gardeners, quietly place the lobelia regatta in their gardens, as this is an annual plant and, unlike the Sapphire variety, it will please the household only one year. In height, this flower can reach no more than 15-20 cm, but here the length of the shoots is usually from 25 to 30, see. At the regatta, the stems first grow up, and then under their weight fall down forming a volumetric shrub. Such an ornamental plant is suitable for growing them in a garden in flowerpots and in hanging pots.
In fact, the regatta can have several varieties, including: "sea blue", "white", "blue midnight", "pink" and others. By the names one can understand that such a look can have a rather original elegant flowering. Look at the photo below for some of the varieties listed.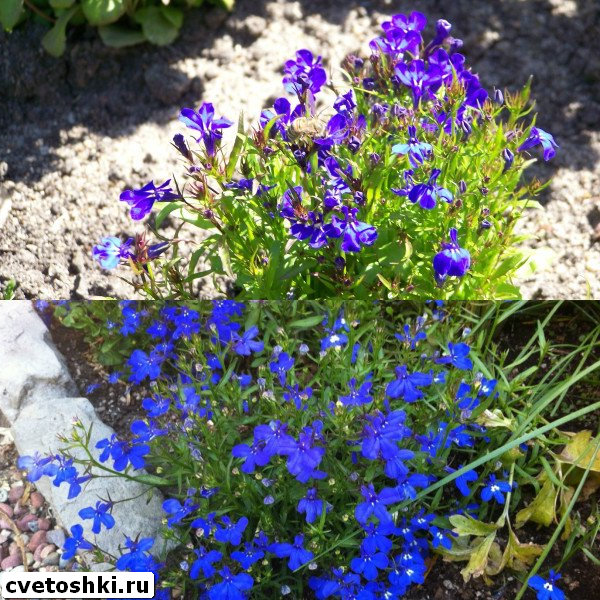 It is necessary to propagate the black-white amber lobelia regatta as well as the sapphire in the seedling way. In general terms, the care of such a plant is not particularly different from other species, so let's talk about it more generalized below.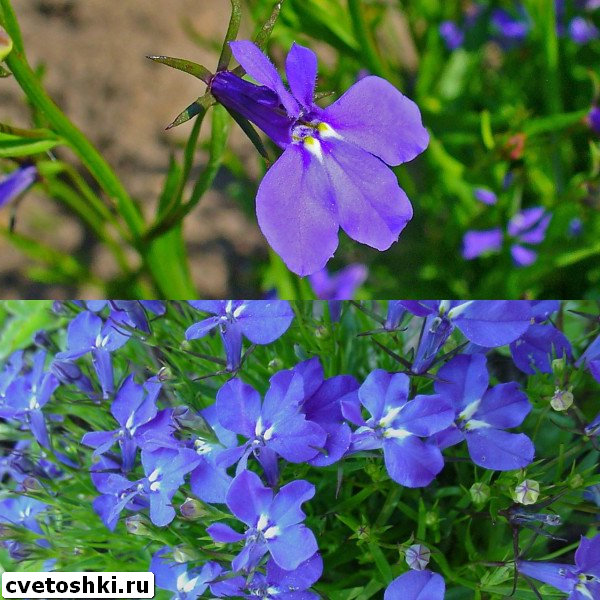 Rules for planting and caring for an ampel lobelia when grown from seed
As mentioned earlier, lobelia ampelnaya is a rather not capricious plant and does not require careful self-care. But, there are certain rules that must be followed in order for plants to enjoy abundant flowering in the summer. Basically, most of the thorough care occurs in the first months of the life of ampelous lobelia. Let's find out exactly what it is. The basics of care for an ampel lobelia when grown from seeds are concluded in timely picking and pruning in order to form a fluffy crown.
Like any other plant, amber lobelia is rather light-loving, you need to make sure that even if it grows in closed conditions, so that it has a permanent sunny place. If it is at home, then a balcony or window sill will work fine. But, lobelia does not tolerate frost, it can die at -2 degrees, so you should avoid drafts and keep it warm.
If you want the bush to be very voluminous at the beginning of growth, when they reach 2,5, you need to pinch. Also, it is necessary to shorten the plant after the first wave of flowering. This is done so that new shoots form on the flower, only then lobelia will bloom again. This should be done by no more than 5 cm.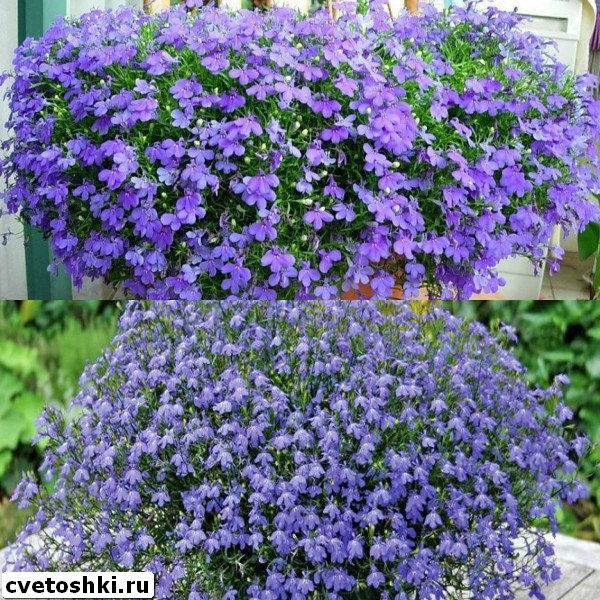 As for seedlings, then the optimum temperature for it is no more than 20 degrees, an adult plant can easily cope with differences. A big plus, which will appeal to almost all gardeners - is that the amupel lobelia does not require any special soil, here it can be any. As for watering, this flower is considered a moderate degree of moisture-loving, but do not neglect it and forget about it. Watering should be done in the degree of drying of the soil, otherwise the stems will bend and a neat little bush is hardly formed.