How to turn the cultivation of plants in the garden for beauty and comfort into a reason for constant joy for success? Everything is quite simple - you need to choose the appropriate culture. The cinquefoil shrub has unpretentiousness and does not require that care be carried out with the utmost care. This shrub was popular with gardeners of the past centuries. Therefore, even in our time, the shrub cinquefoil is quite relevant and widespread - its varieties possess all consumer qualities. Proper planting and breeding allow you to quickly dissolve it in the garden. This plant is a low (meter and a half tall) branching shrubs with a dense, dense crown. The decorativeness and attractiveness of flowers provided them with the attention and relevance of numerous professional gardeners and ordinary gardeners. Such plants prefer to be planted in separate units at a distance from each other, and create a bright foreground of them during group landings. Look at the photo of the shrub sponge - this is an amazing powerful plant for landscape design: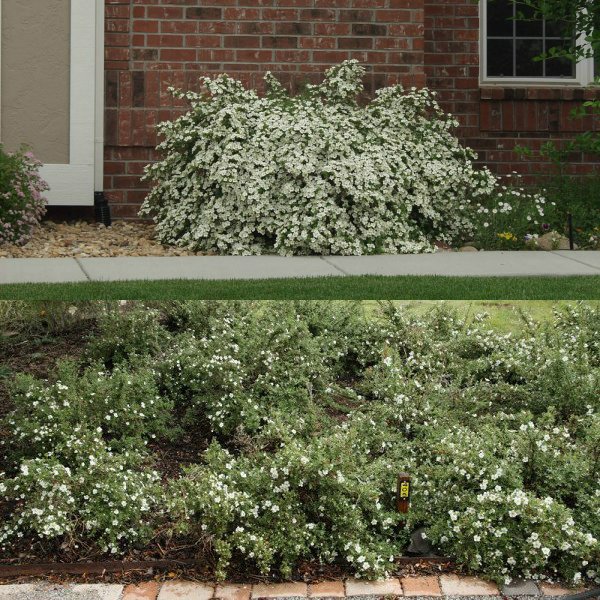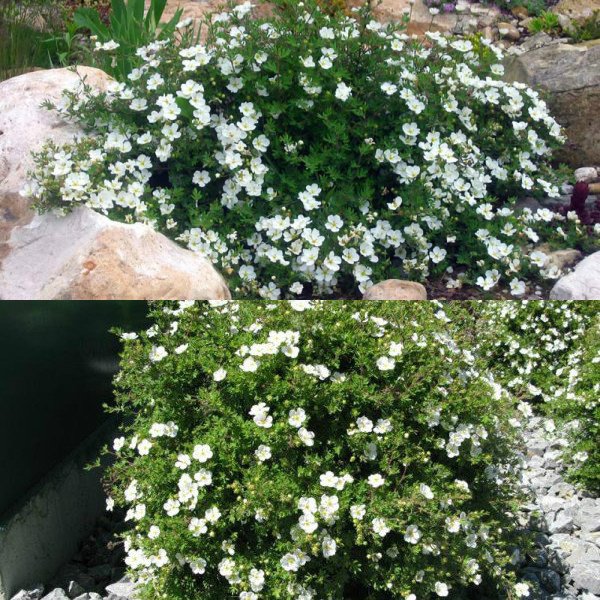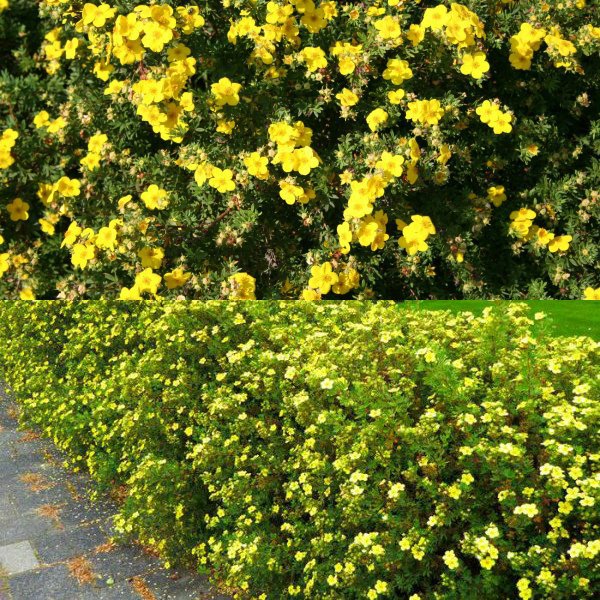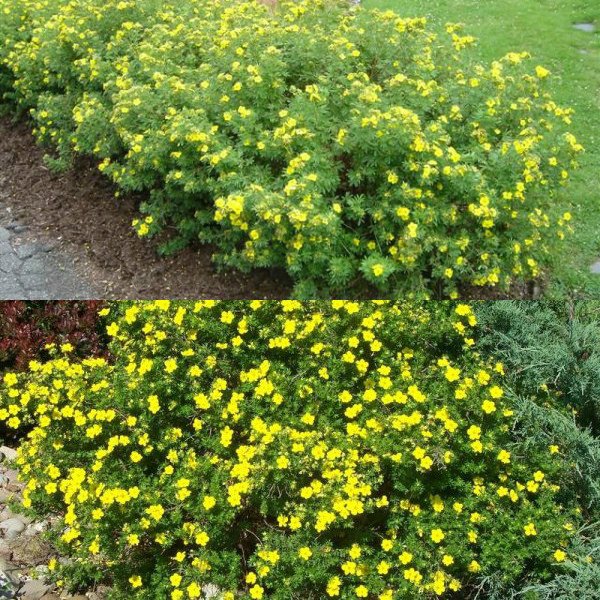 Features and accurate description of Potentilla shrub (with photo)
The features of the plant are insignificant and they are taken into account by the exact description of the shrub pastin presented below. This type of ornamental plantings has fibrous rhizomes. Cirrus, slightly pubescent leaves most often in nature are five-fingered, due to which the silverweed is also called a five-leaf. In many European countries, the plant is known as Dazifora, which translates as "bearing thick hairs." The crown of bushes has a hemispherical shape. Of particular importance in the description of Potentilla shrub is the external structure of flowers. Look at the photo varieties and varietal types: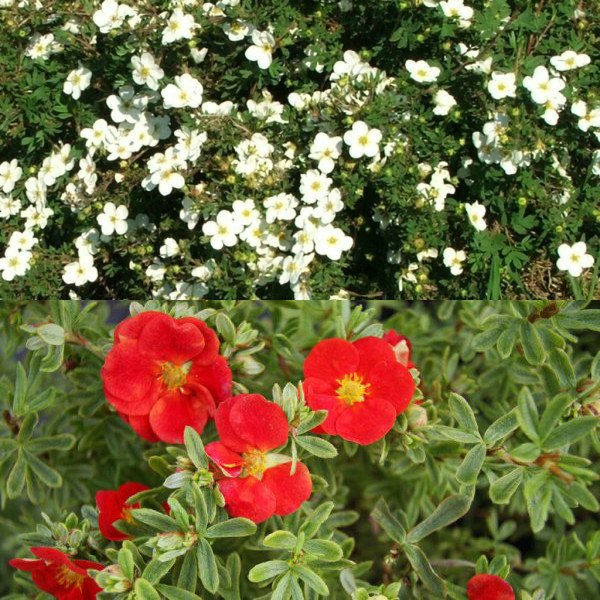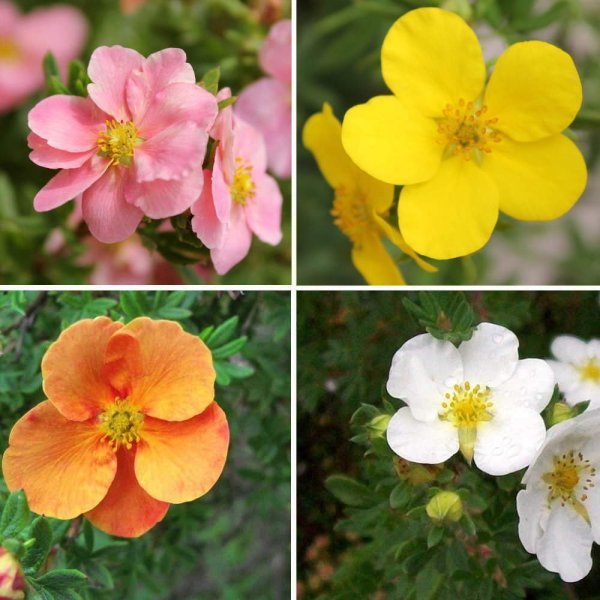 Abundant, colorful flowering is observed from June to October, so this duration can be called one of the obvious advantages of the plant. Numerous flowers are quite large in size - the diameter can reach 3, 5 centimeters, they are usually located separately or in bright inflorescences. Each flower contains up to thirty thousand small stamens, thanks to which the middle centers become fluffy and showy.
Even more decorative give the plant ripening fruits. Covering the dense crown of the bushes with a kind of "buttons", the combined seeds mature to dark brown and also contain numerous fine hairs.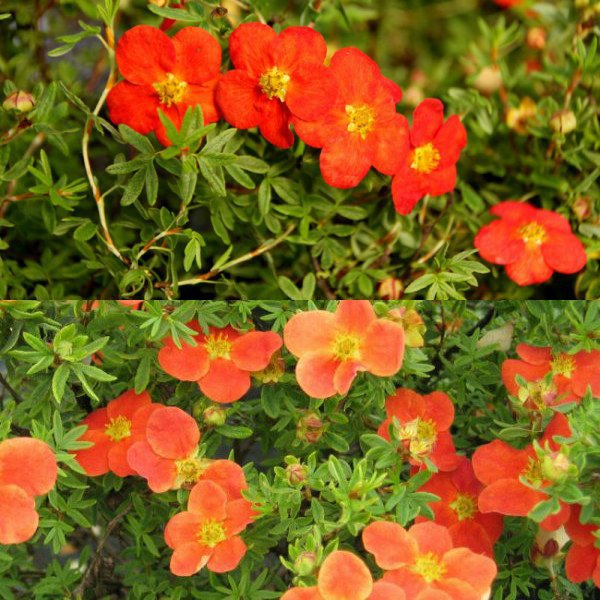 According to the color variety, the plant is divided into three main groups - cinquefoil shrub white, yellow and pink. However, depending on the variety, colors and shades may vary. Most often, in public flowerbeds or in urban gardens you can see yellow shrub palmweed, which looks decent and successfully sets off other types of ornamental plants.
In addition to their colorful, shrubs have a number of useful and practical qualities that are used in traditional medicine and pharmacology. The flowers, leaves, shoots of the plant contain a large amount of resins, alkaloids, vitamins C, R. Tea that is brewed from this variety of herbs is quite popular - the drink has choleretic, anti-inflammatory, analgesic, antimicrobial properties. Burns, boils, and various wounds are cured with the help of decoctions.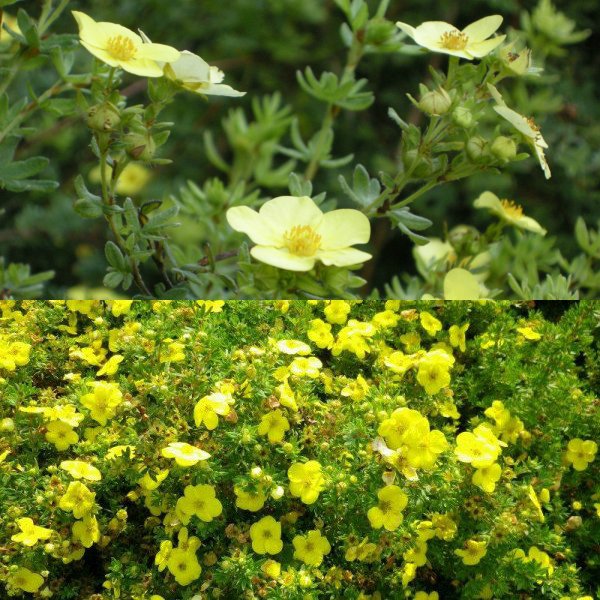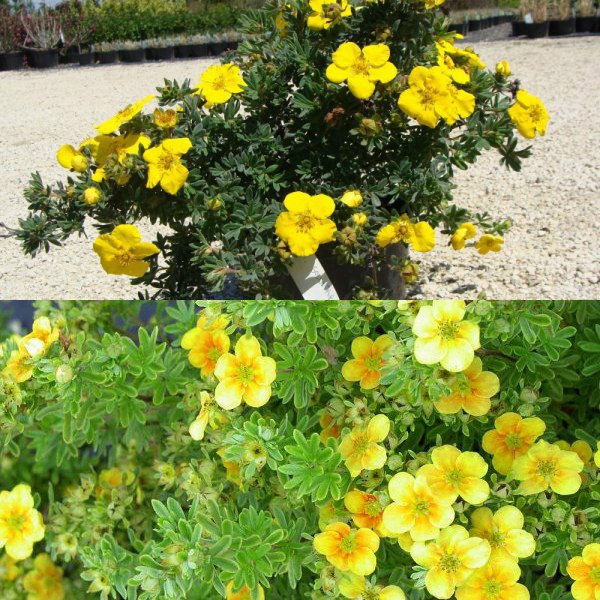 Planting and proper cultivation Potentilla shrub
For proper growth and abundant flowering plants need to produce high-quality care. Shrub prefers well-lit, but at the same time slightly shaded places - being a light-loving and heat-loving representative of the flora, they can not withstand direct ultraviolet rays. In this case, their coloring becomes dull and inexpressive. Planting shrubby sponge is carried out in early spring or autumn, when there is a sufficient amount of moisture in the soil. Confident and proper cultivation of Potentilla shrub implies a number of nuances that you need to know:
The plant needs regular abundant watering.
In the spring, there is a need for additional feeding - mineral types of fertilizers (phosphate and potash) are used.
In the summer, you need to periodically loosen the soil, as well as weed in time.
Mandatory stage of plant care is considered regular sanitary pruning of sick and dry shoots.
It is not necessary to cover for the winter period of time - the plant tolerates low temperatures.
A variety of pests and plants is rarely affected by the cultivated plant. For the prevention of rust, which can hit the flowers, various modern fungicides are used.
When planting Potentilla shrub one must carefully and carefully choose the place. Cultivars are usually planted in leeward, shaded areas on the south side. The best option when the flowers are actively illuminated by the sun in the morning, and in the noontime they are in the shade.
The most correct will be the planting of decorative pets in light drained soils with alkaline or slightly acidic reactions. Group landing implies a distance of at least 60-cm between the bushes. Landing on any kind of wetlands is undesirable.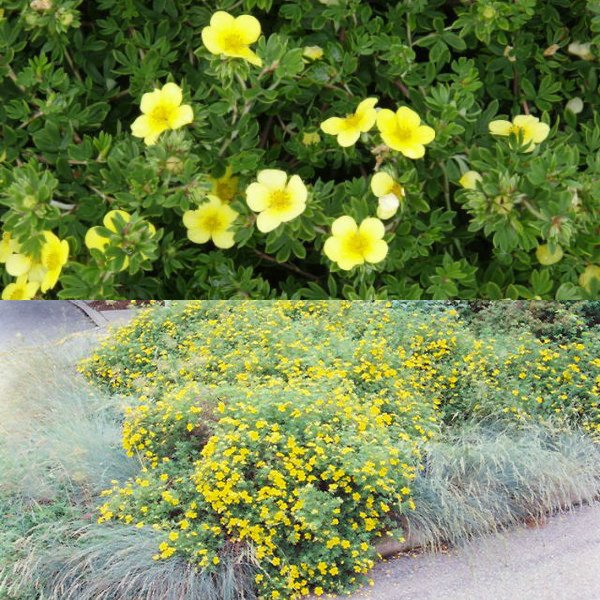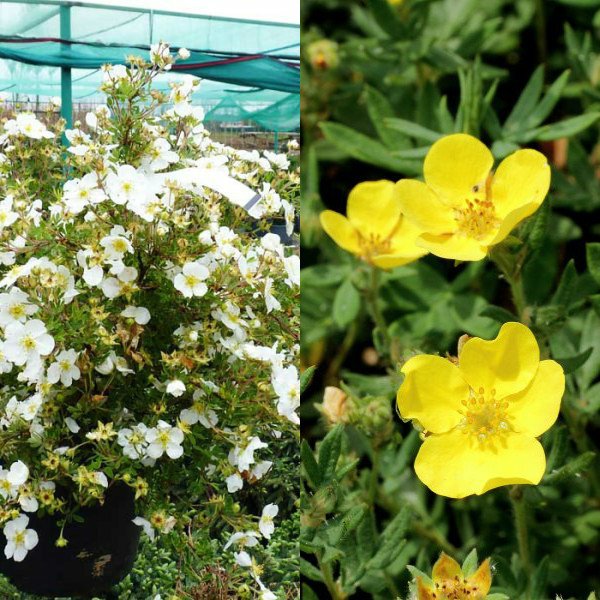 Reproduction of Potentilla shrub - cuttings and other methods
This type of plant has the ability to multiply with seeds, green or lignified cuttings, as well as special layers. Another breeding method is dividing a bush. The most popular methods are reproduction of Potentilla shrub cuttings and seeds. Types of division of the bush are rarely used, usually gardeners use other methods.
At the first planting of shrubs, many prefer to use seeds. These flowers have rather small seeds, they are usually planted in late autumn. If sowing is done in early spring, the seeds are pre-stratified. At the same time, it is not necessary to bury the seeds - they pour out onto the ground and are slightly pressed down. This method of planting a plant has a high percentage of germination. The following year, sprouted young shoots are transplanted to a permanent place (before it is diving). Bushes from seeds give high-quality color in the second year after planting.
Materials for cutting are recommended to be harvested in June. To do this, select the dense, strong shoots that need to be cut about 20 cm long. Flowers and the bottom of the leaves is removed. In order for the cuttings to take root faster, before planting they can be kept in a heteroauxin solution (treatment with Kornevin solution) for 12 hours.
Rooted cuttings with roots under glass or in greenhouse conditions. To increase the humidity they need to be sprayed frequently and regularly. When the first buds appear, they should be immediately cut off, otherwise the blooming flowers will greatly weaken the plant. According to numerous photos of Potentilla shrub, it is possible to analyze how properly it was planted and whether or not they take care of it accordingly.
Already with 4-year-old bushes can be divided by planting parts in autumn and spring. Selected shoots with growth buds are separated from the bush-motherboard and planted in a permanent place. You need to water constantly.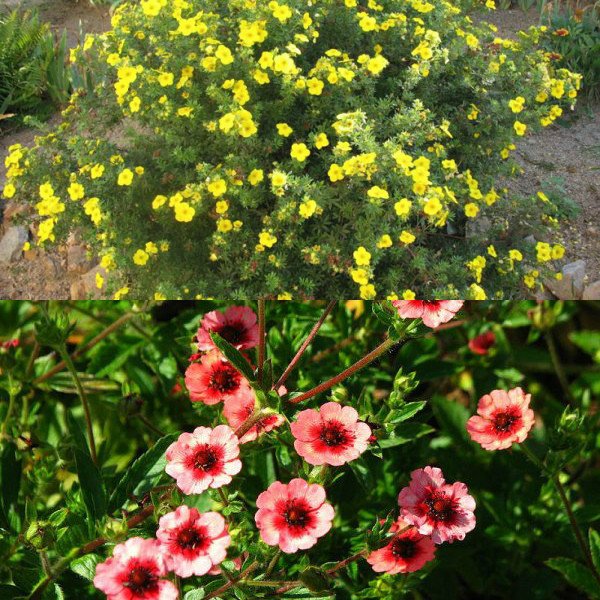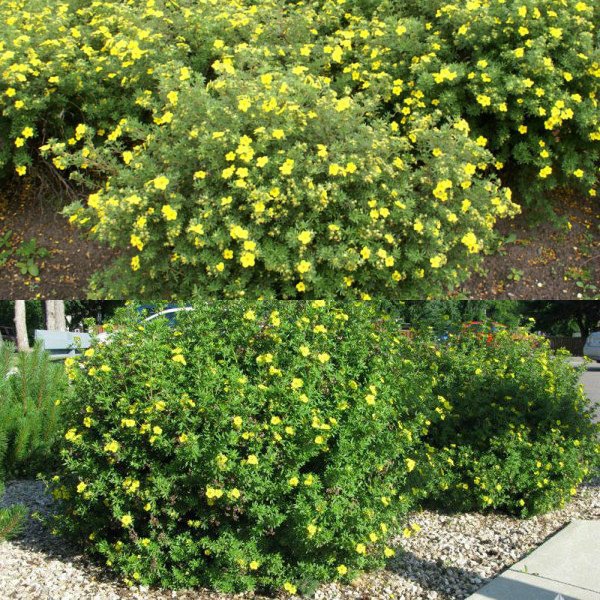 Necessity and benefits of pruning shrub
The need and benefits of constant monitoring of the number and length of young shoots are constantly discussed by designers and gardeners. If you do not cut the plants, they quickly grow and look unattractive. In addition, it is possible to expose the bottom of the bushes. Therefore, in early spring or late autumn, at the end of flowering, pruned shrubs are pruned, in which the inside of the bushes or dried twigs are carefully removed.
Every 3-5 years of age, plants are rejuvenated - one third of all shoots are cut to the ground level. The decorative pruning is also relevant, with which the shrubs are given any desired shape.
The variety of varieties of Potentilla shrub (with photos)
The variety of varieties of Potentilla is more than 500 names, which, in general, are divided into subspecies with white flowers, yellow flowers, pink and red. Depending on a grade, its application is possible in various decorative variations. The most relevant can be called the following varieties of Potentilla shrub:
High and bright Potentilla shrub Abbotswood. The variety is heavily branching, has flowers of snow-white color. Flowering occurs from early June to October.

Elizabeth. Original bushes with a volumetric crown - its diameter can sometimes reach the mark of one meter. The leaves are velvety, and the flowers are large, light yellow.
Silverweed Nepalese. It blooms for 55 days with red and dark pink flowers.
Tall (up to one and a half meters) silverweed Shrub Goldfinger. Shrubs with a lush, dense crown of bright, emerald green leaves. They have large bright yellow flowers whose diameter reaches 4 cm.
Depending on the variety, the color of flowers can be the most diverse - from snow-white and yellow petals to bronze-orange. For many landscape designers, this shrub ("potentilla fruticosa") is indispensable - with its help you can confidently and organically decorate modern alpine slides, borders, rockeries, different types of hedges. Look at the photos of various varieties of shrub Potentilla: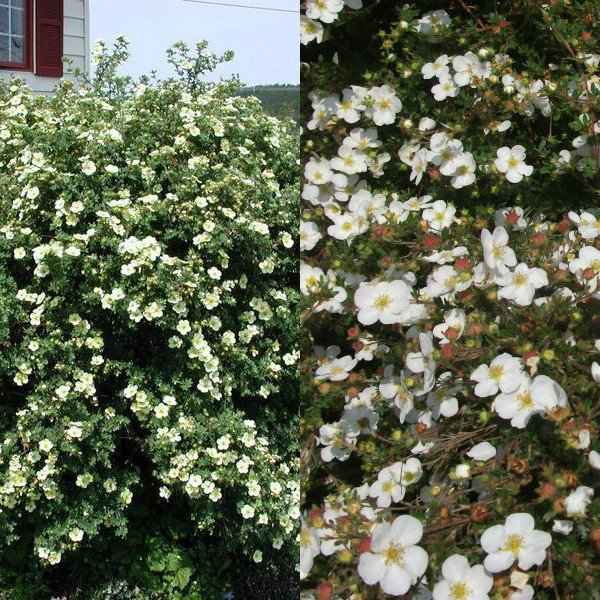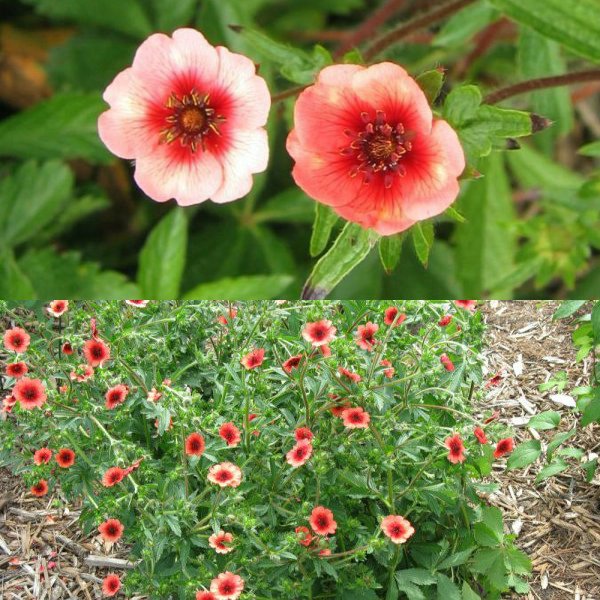 SIMILAR ARTICLES: