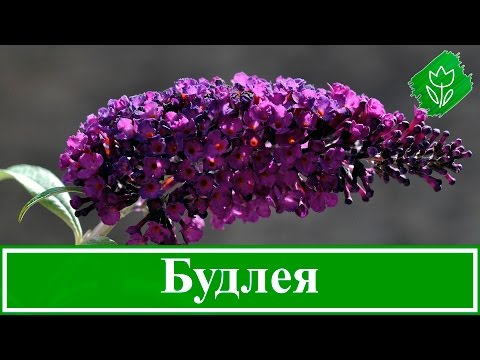 Luxurious buddleya (Buddleja) - heat-loving shrub, blooming in the second half of summer and autumn. Most buddleya for growing in central Russia is not suitable. But buddleya David (V. davidii) is found in gardens quite often. This relatively winter-hardy species is distinguished by its high decorative effect. It is appreciated for late flowering. Long brushes of small flowers of lilac, white, pink flowers vaguely resemble lilac.
In protected areas with a special microclimate, buddley shoots overwinter. But more often they frost up to the level of snow, or even to the root collar. However, it does not harm it - for the season it gives an increase to 2 m high, at which inflorescences are formed. Buddley can be cut annually "on a stump." The main thing is not to freeze the root system and renewal of the kidneys. For this bush spud or mulch a thick layer of fallen leaves. Buddley propagated by green cuttings and seeds.
Budley grades: photo and description
The Latin name "vuddleja" plant received on behalf of the Englishman Adam Buddl - botanist, who lived at the turn of the XVII-XVIII centuries.
There are trees up to 5 m tall, but usually buddleya - shrub, look at the photo: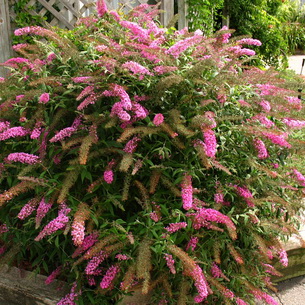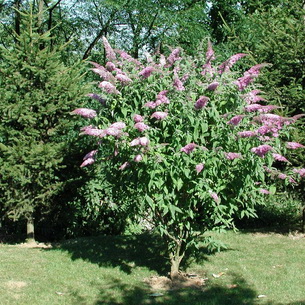 Its other name - "autumn lilac" - The plant has received thanks to the stunning similarity of its flowers with a terry lilac. 100 is known for its semi-evergreen or deciduous species. The most popular varieties of buddley, which gardeners love and are more commonly used by landscape designers, are listed below: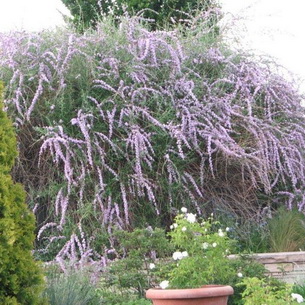 Buddleja alternifolia - Hailing from the western regions of China, grows in open dry areas. A distinctive feature is the ability to set generative buds on the shoots. This is one of the most drought-resistant and frost-resistant varieties.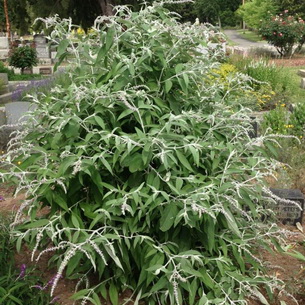 Buddleja nivea (snowy) - shrub with very beautiful pubescent shoots. Flowers lilac at the ends are gathered in panicles of size 15 cm.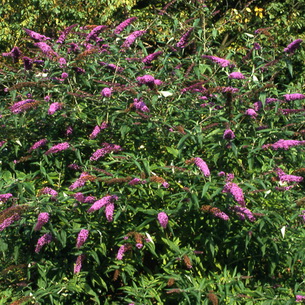 Buddleja davidii (David) - bushes exude a pleasant honey aroma, flowers have a purple, pink, blue or purple hue. Long (about 0,5 m), erect or drooping inflorescences resemble spike.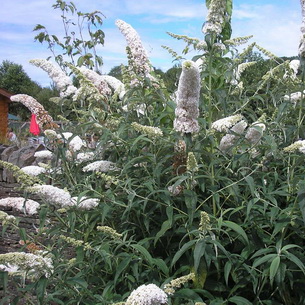 Buddleja albiflora (white-flowered) - a large plant with upright fragrant inflorescences with soft purple or white flowers.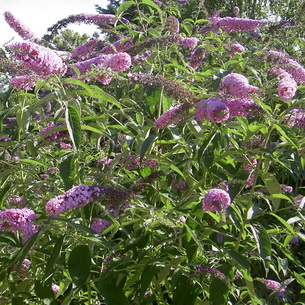 Buddleja japonica (Japanese) - This 3-meter buddley shrub with four-sided shoots comes from Japan. Gentle lilac inflorescences reach the size of 20, see. Not the most decorative variety, but its advantage is rapid growth.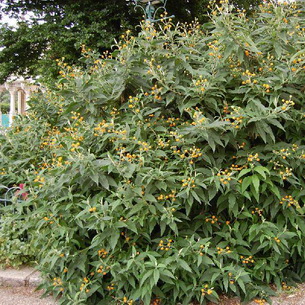 Buddleja globosa (spherical) - semi-evergreen shrub producing fragrant, rich yellow inflorescences. Highly heat-loving plantwhich can grow only in the Crimea, the Caucasus, southern Russia.
It must be remembered when choosing a shrub buddley that planting, caring for its different species will be somewhat different.
Also, breeders in the process of long experimental work brought out many hybrid varieties: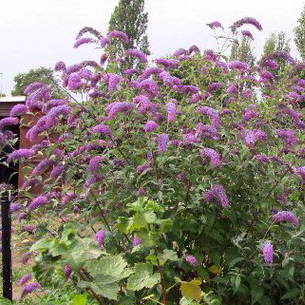 Buddleja Wilsonii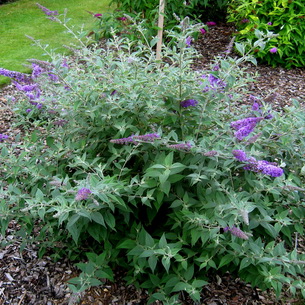 Veitchiana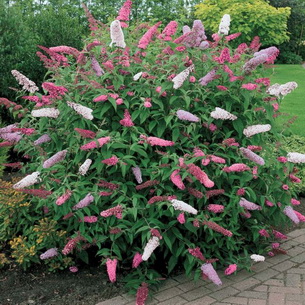 Magnificentwhich pleasantly surprise with the attractiveness of the forms, the richness of the color palette.
To appreciate the beauty of different varieties of buddley, take a look at the photo: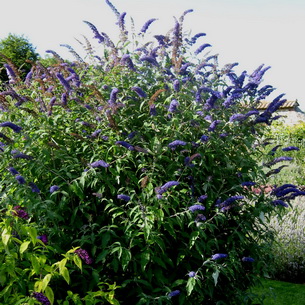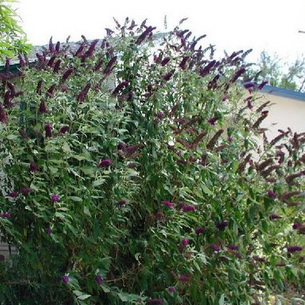 Buddley shrubs will amaze anyone with their magnificence.
A description of the most common variety Buddleja davidii, which came to us from China, is offered below.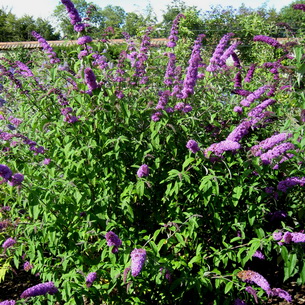 The plant is a large deciduous shrub (or shrub) rounded. Its height reaches 3 m. The branches are ribbed, thin, dark green, at the ends they seem to wilt to the ground, spreading widely around. Over time, the bark on the branches becomes covered with cracks, acquires a grayish color.
Application flowering shrubs buddley:
It is used for monocompositions, in multicomponent plantings, it is perfectly combined with low plants-bushes (St. John's wort, rose).
Perfectly combined with herbaceous perennials (yarrow, lupine, enotery).
It is used in the design of living fences, with the help of which they hide non-aesthetic zones in the courtyard.
Lanceolate leaves are pointed closer to the ends. On top of the foliage is dark green, and on the wrong surface is covered with a yellowish or whitish edge. Leaves grow to 25. Shrub blooms on 3-th year of life. It blooms very abundantly, every year throughout the 1,5 month, from July until late autumn. Each flower grows to 1,5 cm in diameter. An immense amount of pollinators flies to fragrant bushes, among which are a lot of smart, colorful moths. From here one more name of a plant - "a magnet for butterflies". Seeds ripen by early November, they are quite miniature, numerous.
After reading the description of the buddley, look and photo of this charming plant: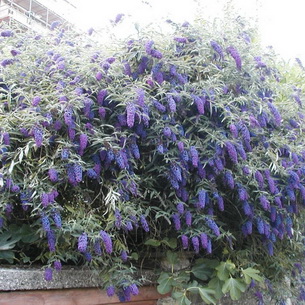 Buddley breeding cuttings
Vegetation is one of the breeding methods that allow to preserve all species of the variety. Scrape the tops of an adult plant. In June-July, several young, strong, healthy shoots are cut off, the foliage is removed from them. Next, the cutting is treated with a growth stimulator, planted in loose soil, plentifully watered, covered with oilcloth (it is not removed until the rooting of the cuttings).
How are buddley and care carried out by this method, look at the photo: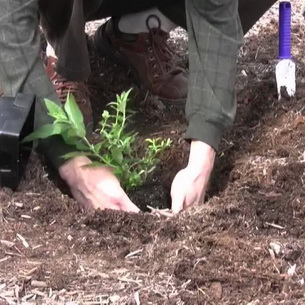 Cultivation buddley in the open field: planting seeds and caring for shrubs
Another way to breed buddley is to grow from seed. This technique is practiced less frequently, because of the complexity. It should be remembered that if it is planned to grow buddley shrubs from seed, then planting and caring for it will be a more painstaking business than cutting. In the spring, the seed is immersed in small paper containers with wet peat soil, covered with foil. During the 14-18 day, the containers should be kept in a warm place (greenhouse, greenhouse) until seedlings appear. Sprouts need to be ventilated periodically, watered every 3 of the day. Ripened seedlings are sent to a permanent habitat.
Then you will receive recommendations for growing buddley in the garden.
Since most often Buddha's buddley is found in the gardens of our country, the planting and care of this particular variety will be described later.
Selection of soil. For mechanical composition suitable loam or sandy loaf with a strong alkaline or neutral medium. The soil requires fertile, drained, moist.
Definition of a place. In order for the plant to grow quickly and make happy beautiful inflorescences, it should be planted in sunny areas not accessible to drafts, the northern wind.
Preparation of the landing pit. The trench depth should reach 40-50 cm, diameter - minimum 15 cm. River sand (layer 10 cm), rotted manure (1vidro), superphosphate (150 gram), ash (0,5 kg) are placed at the bottom of the pit.
Buddley planting bushes. Planting and care in the open field has certain features. A landing is planned for the end of spring - the beginning of summer. Shrubs are arranged in such a way that each of them has free access to the light. Horse system sprinkled with earth, watered. The area around the trunk sprinkled with peat mixture or dry grass.
Watering. Need a good, but not excessive watering, as well as spraying. Water treatments are done in the evening, after sunset. Mulch helps retain moisture.
Pruning. The main branches are cut in half their length, so that the flowers give an intensive increase in additional shoots, become even more decorative. Pruning is scheduled for March or early April; it is very important in the first year of the plant's life.
In the ground a young bush is up to the cold. Then it is dug, immersed in containers, stored in the basement. In the spring the plant is returned to the soil. Only 2-3-summer bushes are allowed to leave in open ground for the winter. They are pre-cut (almost to the root), insulated with dry leaves, sawdust or hay. From above cover with a wooden box or a tent from an oilcloth.
To understand what is needed before wintering buddley bushes care, read the photo: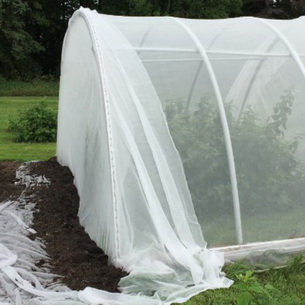 Charming bushes buddley will be a worthy decoration of any landscape. In order for the plant to please the eye with beautiful inflorescences and retain its decorative effect as long as possible, it is necessary to properly care for it - water it, cut it, correctly prepare it for winter.
SIMILAR ARTICLES: