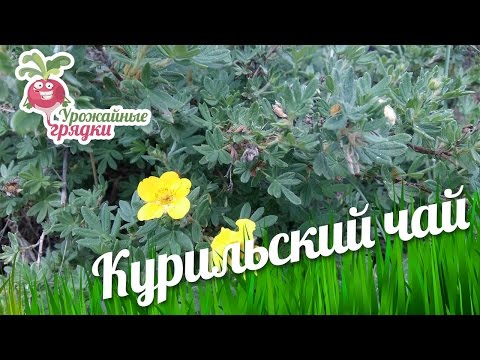 Kuril shrubby tea (Pentaphylloides fruticosa) is most common in landscaping. It is low, up to 1,5 m tall, a shrub with a beautiful dense crown and small feathery pubescent leaves.
Differs in long flowering (from June to mid-autumn). Effectively look simple yellow flowers, like Potentilla flowers. There are varieties with larger flowers of a different color. But they are less hardy. Kuril tea is undemanding to soils, drought-resistant, winter-hardy. It does not require special pruning, while it easily transfers haircut and rejuvenation "to the stump". It is convenient to propagate its summer cuttings.
There are many varieties of Kuril tea with yellow flowers. All is good. But if you are looking for diversity, pay attention to the varieties of Abbotswood with white, Princess - pink and Red Ace - red flowers.
What is the usual Kuril tea, look at the photo below: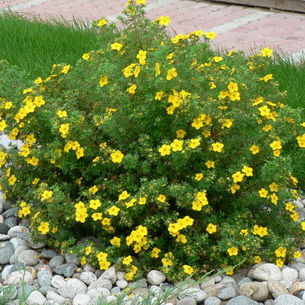 Description and use of Kuril tea
Kuril tea (shrub topography) is an instance well-known for its healing and decorative qualities. In the people other names are used also - "silver goose", "mighty".
If we talk about the description of Kuril tea, we can distinguish several characteristic features of this representative of the plant world:
It is an upright, very branched shrub belonging to the Rosaceae family. Height depends on the variety, place of growth.
Sheets have a complex shape (each element consists of miniature 5-7 leaflets), covered with fluffy hairs.
Flowers most common varieties - rich yellow. In their center is located about 3-x dozen stamens, which give pomp to the inflorescences. There are also samples with pink, white, scarlet buds. Flowering is long, lasts almost all summer.
Shrubs bear small nuts.
Kuril tea is a shrub that is actively used in the decoration of household plots. Landscape designers use it as mono-plantations or as part of intricate group compositions. It is effective in low living fences, rock gardens, it looks advantageous both against a green lawn and on stones.
The quatrefoil is not much different in taste from ordinary tea, therefore a fragrant, tonic drink is often made from it. It perfectly quenches thirst, activates physical, mental activity.
Growing Kuril tea is important for alternative medicine - it can boast a rich composition. The plant contains flavonoids, tannin, catechin, saponins. There is a whole range of beneficial trace elements (Ca, Mg, K, Fe, etc.), vitamins C, P, as well as essential oils and resins. Indications for use can be:
pathologies of digestive organs - alimentary poisoning, dysentery, dysbacteriosis, constipation;
gynecological, hematological diseases - uterine hemorrhages, anemia;
metabolic disorders, endocrine diseases - diabetes, obesity;
neurological and mental disorders - neurosis, insomnia, depressive state;
dermatological pathologies - ulcers, ulcers;
inflammation of the oral cavity, throat - stomatitis, tonsillitis.
The immunostimulating activity of Kuril tea has been proven; therefore, it is advisable to take it during epidemics of influenza, ARVI. From the plant make infusions, decoctions (for oral use), lotions (for external application).
Despite all the positive properties of this tea, you can not drink it all and not always. Among the contraindications, mention should be made of infancy, pregnancy, allergies, serious kidney problems, hypotension, etc. Before using, you should consult a phytotherapist, be sure to discuss with him acceptable treatment options, the possibility of using a particular variety.
Varieties of Kuril tea: photos and description of shrubs
Cultivated many varieties of Kuril tea, each of them has its own characteristics. Collectors, designers, and enthusiastic gardeners prefer the following designs: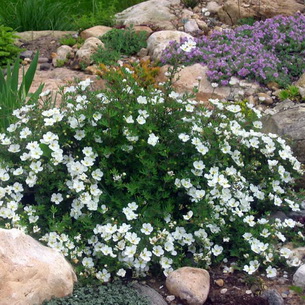 Kuril tea "Snowbird"
Shrubs height 0,7 m, with a diameter of crown 1 m. Leaves are pale green. Flowers are large (3-4 cm), white with a cream shade. Flowering occurs from mid-summer, continues to September.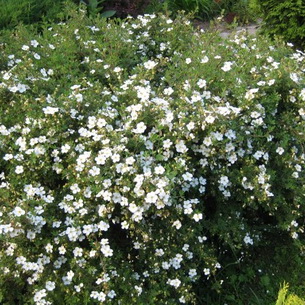 Kuril tea "Abbotswood"
Neat specimens in height up to 0,75 m. Flowers are very decorative, numerous, white. Long flowering - from the second half of summer to early autumn.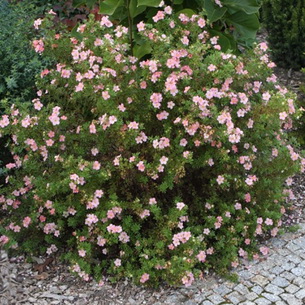 Kuril tea "Pink Queen"
Height up to 0,8 m, diameter 1,5 m. It blooms from June to September. Coloring buds - all shades of pink. The plant is characterized by frost resistance.
Kuril tea "Tangerine"
Very beautiful, medium-sized shrub. Inflorescences have a rich bronze-yellow color.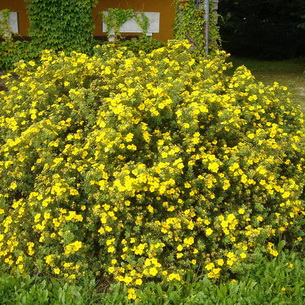 Kuril tea "Klondike"
Early flowering (May – August) bushes are 1 m in height and 1,3 m in diameter. Light green leaves bloom in early spring, which then turn dark green. Very hardy specimen.
Most of the varieties bred in England, the Netherlands, Ireland - during the difficult breeding.
After reading the description of Kuril tea, look at the photos of its varieties: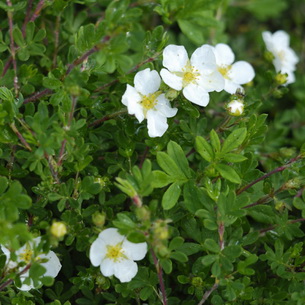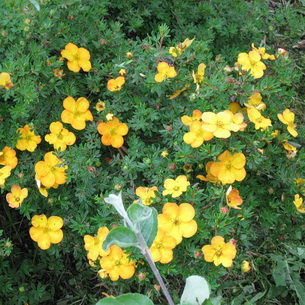 Methods of breeding Kuril tea
In order for the plant to perform decorative functions and could be a high-quality medicinal raw material, it is necessary to provide Kuril tea with growing and care according to all the rules. Breeding a cinquefoil involves several traditional methods. The simplest is grafting. Gardeners like to use this method, because it is not coupled with intricate techniques, suitable for large-scale reproduction.
Two types of shoots are harvested - how to grow Kuril tea with their help is explained further:
green cuttings - between the time of cutting and planting should not take more than 2 days. The length of the shoot with leaf nodes - from 9 to 12, see. Lower sheets eliminate, upper - cut by half. Treatment with rodent stimulating drugs is indicated. Plant material in the prepared, drained substrate, under a film or glass.
lignified cuttings - used mature, devoid of leaves shoots harvested in autumn, winter or spring. Cuttings tolerate long-term storage and transportation. The length of the shoot - from 5 to 12, see. Put in a greenhouse.
Beginners gardeners will be useful to know how to plant seeds of Kuril tea. Grain harvesting is started in August-September, sown in a greenhouse. They have seeds in the soil superficially, without digging, only slightly sprinkling the substrate on top. Sprouting seedlings protect from the bright sun, gently harden. Seedlings are transferred to the "free" soil only after 3 of the year.
It is possible to reproduce Kuril tea by layering - horizontal or vertical. In the spring, the sprout is clamped with wire at the very base, and shallow notches are made for better rooting. The branch is bent to the soil, fixed with a metal bracket, sprinkled with soil, spud.
The division of mature bushes is another elementary and productive technology, with which Kuril tea is bred. Planting in this way is permitted when there is access to an adult, 5-6-year-old bush. It is his root apparatus that is divided into several full sections and then planted in the wells. As a result of the manipulation receive from 2 to 6 new instances.
Planting Shrub Kuril tea
If we talk about the middle climatic strip of the country, then the best for the Kuril tea of ​​shrubs is to plant at a permanent place in the 2 half of April or in the fall. It is important to be responsible with the choice of location. The quatrefoil prefers bright, sunny zones of the site and rich soil.
The dimensions of the landing ditch - 50x50x50 cm, the distance between the bushes - 60, see. Drainage can be lime gravel. The bottom of the pit is filled with humus, sand, turf soil in the proportion of 2: 1: 2. It is allowed to add wood ash, lime, mineral fertilizer. The best period of the day is considered to be earlier morning or evening. The root neck of the plant is not buried excessively, it is left at the level of the edges of the trench.
How to care for Kuril tea and how to trim the shrub
When the Kuril tea has been planted, rational care is required - the success of plant survival depends on it. Pristine ground is mulched with hay or peat. During the dry season, the young bush is supplied with water daily for 2-3 weeks.
Some stages of planting Kuril tea and caring for it later look at the photo: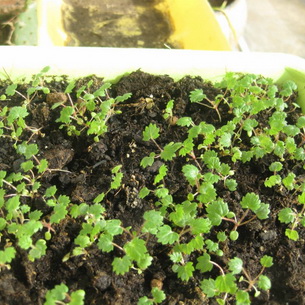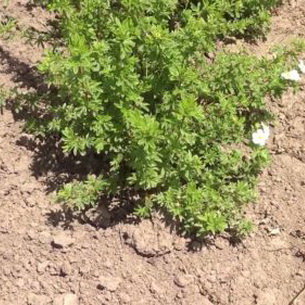 Gardeners love such an unpretentious plant as Kuril tea shrub - planting and caring for it does not involve difficulties and professional skills.
Pay attention to the following points:
Top dressing. The first application of mineral fertilizers is carried out during the transfer of the bush from the greenhouse container to a permanent place. Plants that have not yet taken root finally are not recommended to feed very actively. During the period of intensive growth and flowering mineral supplements will be appropriate, with a predominance of phosphorus and potassium in the composition. Nitrogen-containing drugs are good in spring, but are contraindicated in the fall.
Watering. Although drought resistance is one of the advantages of Kuril shrubby tea, caring for it does not exclude the need to water this plant. During the season, several waterings are required (10 l of water under one bush), followed by mulching the soil around the trunk. If the summer was too hot, then additionally sprayed crown.
Pruning. It is important to know how to cut Kuril tea so that it fully performs the decorative tasks on the site. Shrub bushes in cloudy weather, towards evening. Shoots are shortened on 8-12 cm, get rid of all dry and diseased branches. Forming haircut perform to maintain the crown in a tidy state throughout the summer season.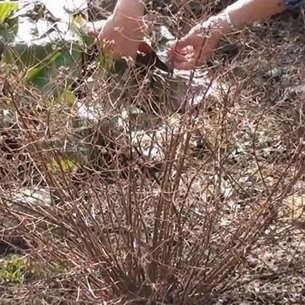 Silverweed is almost not susceptible to common diseases or pest aggression. Occasionally it is affected by rust. In such a situation, it would be advisable to use 2% sulfur.
Mature plant winters safely under snow, without shelter. In very cold winters young tops can freeze tops. They freshen Kuril tea with pruning - the branches that suffered from the cold in the spring are simply cut off. This does not adversely affect flowering, as it occurs on the shoots of the current season. Shrubs 1-th year of life, it is desirable to cover for the winter mulch.
The quatrefoil will add a zest to the beloved garden, provide incredibly valuable stocks of medicinal material. Kuril tea doesn't require complex or specific care, which attracts keen attention of gardeners, evoking sympathy from connoisseurs of the original design of the plots.
SIMILAR ARTICLES: