Irga (Amelanchier) - shrub or tree, height up to 6-8 m. In spring, an irga blooms profusely with small white flowers, collected in a brush. At this time, the plant is a bit like a bird cherry. In autumn, leaves turn golden and purple.
In culture, the most common are four species of irgi, of which Canadian irga (A. canadensis) the most decorative.
See photos of irga shrub the most common species in our country: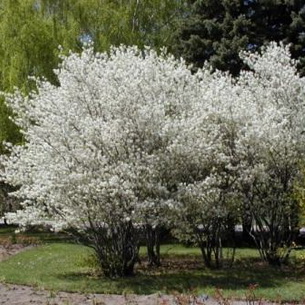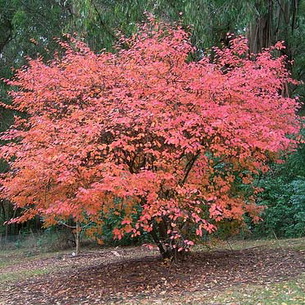 All species have edible apple-like fruits, similar in color and size to currants.
Irga is a frost-resistant, undemanding shrub capable of tolerating both drought and slight salinization of the soil. The plant is resistant to diseases and pests, makes air polluted, light-requiring, but can grow in partial shade, tolerates pruning, including "on the stump", grows and rejuvenates offspring.
Irgi results in beautiful hedges, screens that protect from prying eyes, noise, and dusty highways. In addition, irga is a good background for other shrubs. Below is a description of shrubberry, especially care and cultivation.
Description shrub irga
This bush can be considered a "newcomer" in the territory of domestic summer cottages, but despite this, she fell in love with gardeners. The tree grows quickly and has several trunks, is resistant to winter cold, unpretentious to the conditions, does not undergo diseases and has a rich harvest.
The shrub has oblong, oval leaves, dark green, which become purple-orange in autumn and look particularly decorative, brown-gray bark. Blossoms in white flowers, which are located in the inflorescences in the form of brushes. The berries have a sweetish taste, juicy, dark blue in color, arranged up to 12 pieces on one brush.
Flowering occurs in April-May, which makes the shrub very attractive at this time. During this period, he is not afraid of frosts, which are in the spring, and in winter the bush can withstand temperatures down to -30 ̊C without additional hilling.
Types and varieties of irgi for Moscow region: photo and description
In total there are 18 types of irgi (there is also information that 25). The shrub is considered to be the Rosaceae family, most of which are widespread in North America. He likes open sunny places, such as the edges of the forest, mountain slopes, can grow in tundra areas.
On the territory of our country, such species and varieties of irgi as are considered to be common: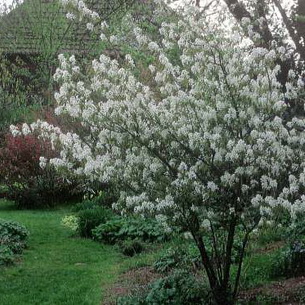 Irga round-leaved (Amelanchier rotundifolia)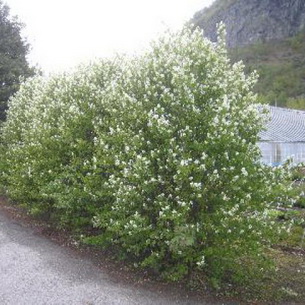 Irga spiky (Amelanchier spicata)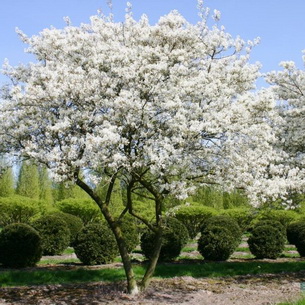 Irga Canadian (Amelanchier canadensis)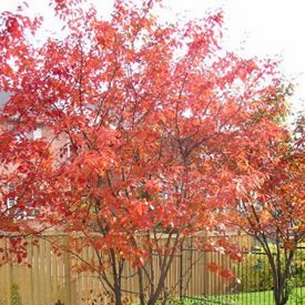 Irga blood red (Amelanchier sanguinea)
These varieties can be found wild in nature, which grow there thanks to birds, lovers of tasty fruits.
The listed varieties of irgi are suitable for the Moscow region, they are perfectly "taking care of themselves", the main thing is to plant a tree correctly. They are not afraid of drought, strong winds and almost any adverse conditions, but all thanks to the root system, which penetrates to a depth of about 2 m and spreads within a radius of 2-2,5 m. It provides the plant with all the necessary nutrients and moisture.
What kind of different varieties irgi have, look at the photo: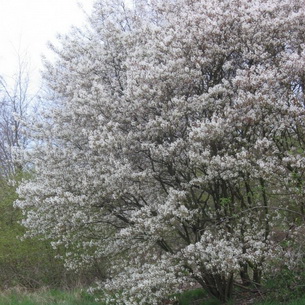 Consider a more detailed description of varieties of irgi with photos.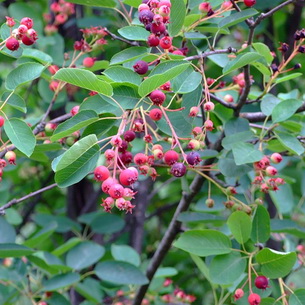 Round leaf
This shrub has many trunks, grows to 4 m. It has a smooth bark, dark gray, oval, sometimes almost round leaves, which makes them similar to the alder leaves. In autumn, they become bright yellow. Blooms white with a light fragrance. The berries are very sweet, large, dark blue with a purple hue. The shrub can bring up to 10 kg of fruit for the harvest, so it is considered the best grade of irgi.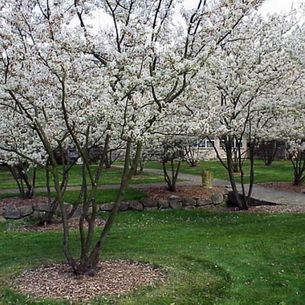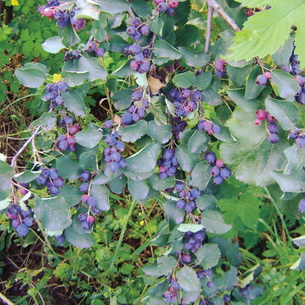 Canadian
This plant is distinguished by its height, which can reach 8 m. It blooms with cream or white flowers that do not smell. The branches are thin, hanging down, the leaves are oblong, elliptical, in the autumn period become dark purple, red, purple. The berries are dark pink in color, they taste sweet, for one crop you can harvest about 6 kg.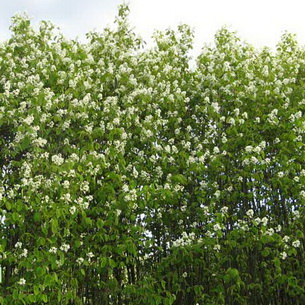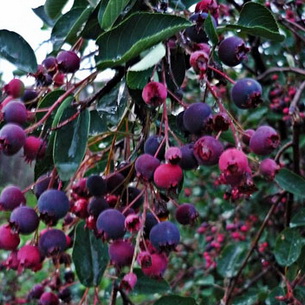 Spiky
Shrub up to 5 m tall, has a thick crown of oval shape, bark gray and matt dark green leaves ovoid. Flowers have a bright pink or white shade, placed in racemes. Berries are dark red, almost black, with a bluish bloom. The plant begins to produce a crop with 4 year of life.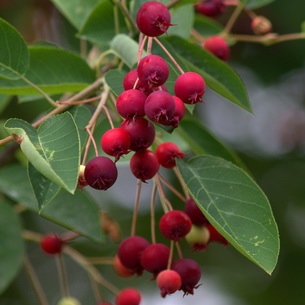 Blood red
Its berries are irregular globular in shape, resembling blueberries. It tastes like immature fruit, which even birds neglect. Despite this, they are very juicy, so they are used to make juice on the basis of other fruits.
Given the description of the irgi species, the best varieties for the Moscow region are Canadian or round-leaved. But it is necessary to pay attention to some nuances. Since this shrub has a strong root system, it is necessary to struggle all the time with shoots, so you should not plant this shrub near paths and buildings or decorative landscape elements. Do not do this and for the reason that falling fruits leave dark spots.
Planting and care for an irga in the open field
Before you start growing this shrub, you need to familiarize yourself with the features of planting and caring for an irga. She loves sunny terrain and soil rich in organic supplements. Depending on preferences and features of care from it, it is possible to form a bush or a tree.
Planting and caring for an irga in the open field have their own characteristics. For planting, seedlings are taken, 1-2 years of age, planted in prepared pits, with a diameter of about 50, see the distance between plants should not be less than 1 m. Above the ground remains a trunk about xNUMX cm long with healthy kidneys 10-4.
Some stages of planting irgie see photo: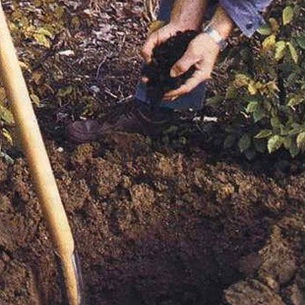 Planting seedlings in the prepared hole.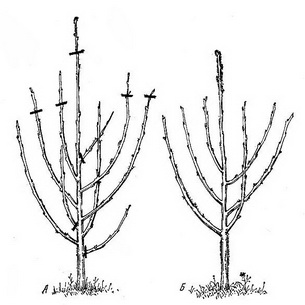 Pruning of the seedlings after landing.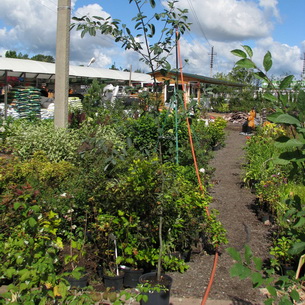 Irrigi saplings on sale.
How to plant irgu in spring
Peculiarities of planting irgi and care in the Moscow region correspond to the general recommendations for planting and caring for trees in general. To plant seedlings of this shrub is desirable in the autumn. According to some experts, this can be done in March, when there will be favorable weather conditions.
It is necessary to make pruning of weak branches in time. In general, on one trunk should not be more 2-3 healthy shoots. In 3, the shrub should have about 15 branches. Older plants can be periodically rejuvenated.
Planting shadberry and features of care, see the photo below, which shows the annual method of dealing with the growth of this shrub: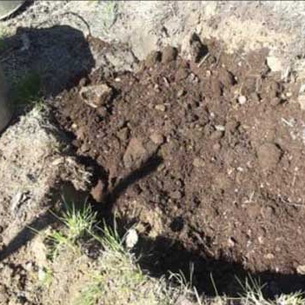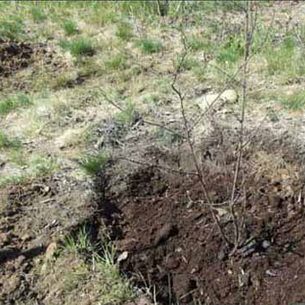 Young shoots, or as they are also called "zero", need to be removed not above the ground, but near the root of the plant, except for those from which the shrub is subsequently formed or with the help of which its rejuvenation is subsequently carried out.
How to grow irgu from seeds
Planting irgi and care, as well as reproduction - the process is not difficult, not only for professional gardeners, but for beginners too. It is possible to propagate shrubs with seedlings that can be purchased or grown from seeds. Seeds are planted in fertilized beds and then well watered. When the seedlings reach the 1-2 age, they are planted in a permanent place.
Cultivation of irgi does not require special skills, the main thing is that the plant should be taken when planted, further care is to feed, form the crown, prune weak, old or dry branches, thinning the bush.
If you are interested in how to plant an irgu from seeds, you need to know how to properly prepare them for planting. For the preparation of seed material, ripe fruits are taken, rubbed and rinsed with cool water. Bad seeds usually float to the surface. The washing procedure should be carried out until the good ones remain at the bottom.
You need to know how to plant irgu correctly, using seeds if you have chosen this breeding method. In the groove length of one meter to sow about 300 seeds to a depth of 1,5-2, see. Sowing is done in early spring, sometimes at the end of winter, and the ascent of descents can be expected for almost a year.
How to grow irgu, when the seeds have germinated, every gardener should know. Paroski, in which 3-5 grows full-fledged leaves, decompose and grow to 1-2-year-old. For the bushes grown from seeds, homogeneity is characteristic. Presumably this is caused by the asexual method of reproduction (apomixis).
Reproduction of irgi cuttings and root processes
The easiest way to breed irgi is to use for planting seedlings from the roots, which have to be harvested every year. This bush requires space for the life of 2,5-4 m, between future shrubs leave 1,5-2 m. In nurseries, seedlings are planted in a checkerboard pattern.
The work consists in the selection of suitable basal shoots, the diameter of which should not be less than 0,5 cm, and the length of 10-15 cm. It is important that the roots are healthy and well developed. Prikopanny steam trays are well watered, so that the humidity is constantly at a high level.
For this breeding method, processes that are no more than 6 years old are suitable. It is suitable for amateur gardeners who are interested in planting irgu in the spring by dividing the bushes, because there are no more 4-6 full cuttings. In nurseries, preference is given to seed multiplication in order to obtain a greater number of seedlings.
The propagation of irgi cuttings consists in choosing branches that are no more than one year old and whose length is 12-15, see. You need to prepare a special greenhouse with a special ground mixture. The bottom is covered with a layer of pebbles (30-40 cm), then a mixture of light soil with humus is poured (25 cm), the top is covered with sand (4-5 cm).
Planted and well watered cuttings covered with a film before the roots. This usually happens around 25 days, depending on the variety. To speed up the appearance of the roots on the cuttings, they are treated with special solutions. Rooted cuttings are planted in open ground for next year.
Despite the fact that the cultivation of shadberry and care for this shrub does not require much effort, it is still necessary to carry out some standard actions, such as feeding, pruning and protection from pests and birds. Birds love to feast on ripe fruits, so when you want to get a harvest, you need to cover the bush with a fine net.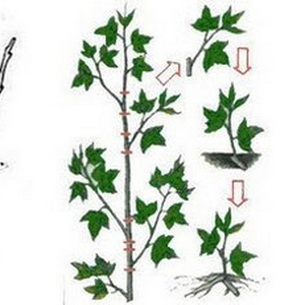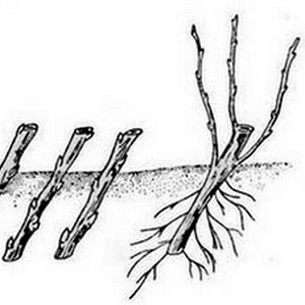 Growing and caring for an irga consists of correct feeding in the summer. The nutritional composition should be liquid, prepared from ammonium nitrate, 50 g of which is used for one bush or 5 l 10% emulsion of bird droppings. It is necessary to produce top dressing at night, when abundant watering has been carried out or rain has passed.
How to trim irgu in spring
In order not to harm the bush, you need to familiarize yourself with the information on how to trim the irgu in the spring. The shape of the crown can begin with the 3-4 age. During this period, it is important to remove the basal shoots, leaving the 1-2 shoot, which grew near the main shrub trunks.
Consider further how to properly trim the irgu to rejuvenate it. Rejuvenating pruning is done when the shrub turns 8-10 years. The need to rejuvenate shows the condition of the bush, such as:
a small increase for the year (no more than 10 cm);
increased bush density;
the appearance of weak and dry twigs.
If you do not do rejuvenation, the bush begins to lose its decorative effect, worse fructifying and being exposed to pests. How to trim irgu to rejuvenate the bush:
thinning (remove all unnecessary, weak shoots);
pruning too elongated branches;
shortening long healthy shoots.
As a result, there should be no more than 10-15 strong branches. Place cut cut garden pitch.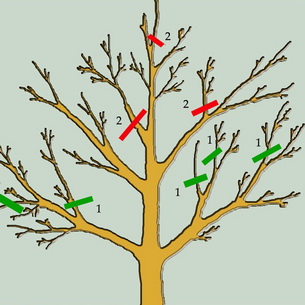 Each amateur gardener, using basic information, will know how to care for an irga correctly, what needs to be done at each "age" period of the plant, what actions to take at a different time of the year. With careful care, it can grow safely and bear fruit up to 70 years.