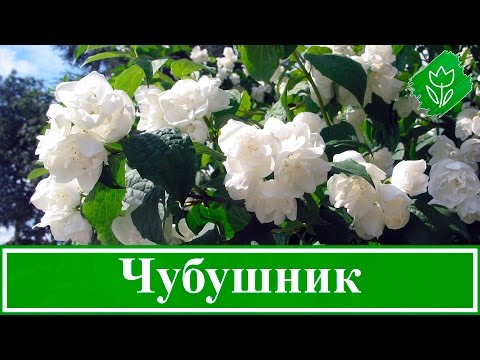 Chubushnik (Philadelphus) often called garden jasmine, although it has nothing to do with real tropical jasmine. It is a shrub reaching in height over 4 m.
The garden Chubushnik blooms in the first half of summer with white, in many species and varieties of fragrant flowers. Due to the exceptionally rich flowering of the bush, the Pincer beetle attract the attention of breeders. Currently, many varieties and hybrid garden forms have been developed. They differ in aroma and timing of flowering, and in the form of a bush.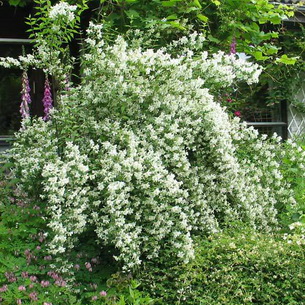 Many of them belong to the hybrid type of Lebuan chubushnik (Ph. X lemoinei).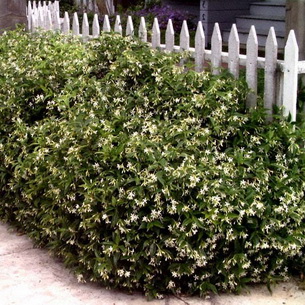 There are small-leaved ('Avalanche', 'Manteau d'Hermine')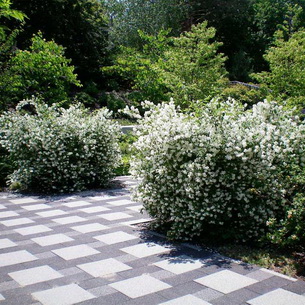 Large-leaved varieties ('Alebastre', 'Glacier').
In the small-leaved varieties of the chubushnik flowers are relatively small, in the large-leaved ones, on the contrary, they are large, often terry.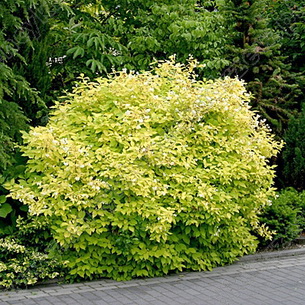 Coronal chubushnik (Ph. Coronarius) has the form 'Aureus' with golden yellow leaves and variegated 'Variegatus'.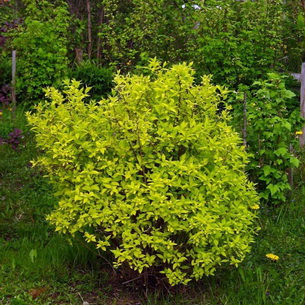 Tiny, up to 0,6 m tall, 'Nana' shape, like other dwarf forms and varieties of chubushnik, does not bloom, but forms a dense cushion-shaped shrub.
In the description of the chubushnik, it is worth noting that it prefers fertile moist soils. During the drought needs watering. It can grow both in the light and in partial shade.
It tolerates pruning, which is to remove old trunks for better development of young shoots.
The trunks are either cut out near the ground, or shortened to a strong branching. Rejuvenate Chubushniki pruning "on the stump." Shrub easily propagated by green cuttings.
If you see a plant on your lawn with a friend that reminds you of a jasmine flower, do not make hasty conclusions: most likely, you have a real jug of water - garden jasmine. By the way, gardeners appreciate this plant because it is capable of pleasing the human eye for most of the summer. A shrub belongs to the proud family Hortensia.
Philadelphus, a bushy name, got its bush thanks to the ancient Egyptian king Ptolemy Philadelphus.
But the second part of the name entrenched because of the plants with such a plastic structure, previously produced very important elements for the tubes, popular in "dashing times" - for example, mouthpieces.
Modern scientists-chemists have managed to bring a huge variety of different types and varieties of Chubushnik. However, it should be noted that the native land of the shrub is still North America, most of the European continent and the territory of East Asia.
Look at the photo of a bush chubushnik: in front of us is a plant, which is characterized by thin stems, covered with brown or gray bark, and small leaves.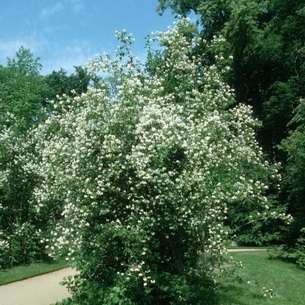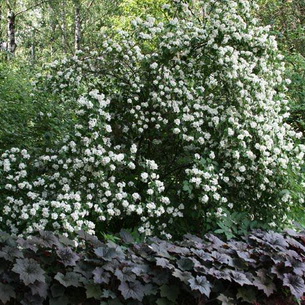 This variety is considered to be light-requiring, but can be grown in dark places.
Planting and care for Chubushnik in the open field
Experts note that planting a pincer in places where moisture is concentrated and stagnant may cause the death of the plant. Therefore, the choice is still moderately moist soil. A very important feature of the shrub is that it is very resistant to changes in temperature regimes - for example, temporary drought - and normally reacts to air polluted by exhaust gases. When the bush is bearing fruit, tiny boxes can be seen on its branches, in which there are seeds necessary for the reproduction of the Pincer-tree.
Simple, terry or semi-double fragrant flowers that form lush tassels form on young shoots.
This description of the chubushnik in the photo can be viewed in more detail to see for yourself the unusual beauty of the plant: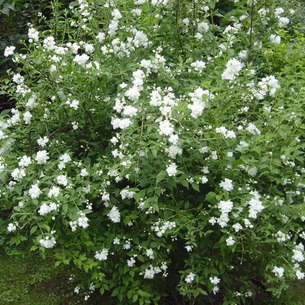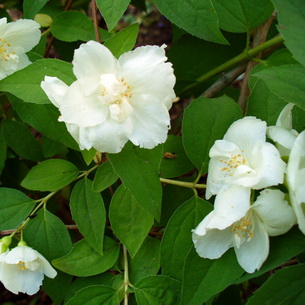 Undoubtedly, the most important feature of the shrub is that it is very frost-resistant: however, much also depends on the type and variety of chubushnik that was chosen for planting. But one thing should be remembered: even if the plant is very much affected by the influence of low temperatures, only the ground part of the bush will die, which can easily be cut off in spring. Jasmina garden is characterized by rapid regeneration, so you should not worry about its possible appearance.
Caring for an chubushnik elementary: the shrub itself prompts the person when, for example, it is necessary to water it urgently. This becomes clear if you carefully observe the leaves of garden jasmine. They will certainly hang in the hot summer season, if they do not have enough moisture.
In almost any description of the varieties of chubushnik, you will read that they need weekly watering in the amount of two or three buckets of water. This is especially true of the period when the shrub pleases your eye with its flowering: during this period of time you should even repeat the watering procedure almost every day.
The land in the watered area should be properly loosened and all weeds removed from it. True, if you were prudent and carried out mulching in the spring, then we will have to weed the land much less often.
To make the best grades of chubushnik feel most comfortable in your garden, feed them with slurry every year in spring. It is also reasonable to fertilize the soil under garden jasmine after it blooms: you should use ordinary wood ash and just scatter it under the plant before watering.
How to plant chubushnik spring
It is best to plant and care for the chubushnik, if it is located on a well-lit area, because then you will have a guarantee that the bush will surely give a lush color and fill the entire garden with a delicious aroma.
When pondering over the question of how to plant a chubushnik in the shade, remember that you consciously subscribe to the fact that your plant will have very elongated shoots and small flowers.
Before planting, be sure to prepare a soil for the bush that would combine soil, sand and a sufficient amount of humus (3: 2: 1 ratio). Do not miss the moment that in the absence of good water permeability of the soil, it would be reasonable to fill the pit for garden jasmine with a drainage layer.
Experienced gardeners recommend planting plants in autumn, starting in September and the entire first half of October. But if you are thinking about how to plant the chubushnik in the spring, keep in mind that the procedure should be carried out as soon as possible - before the kidneys swell.
It is imperative to think about how to properly put the jubilee, so that its root system does not suffer. For example, if you need to plant several plants, experts advise to dig holes at a distance of at least 50, see. To create a hedge, seedlings should be placed approximately at a distance of 70, see.
The next stage involves the bedding of a dug pit with the already mentioned drainage layer with a mixture of soil. This is done in advance - at least a couple of weeks before the landing of garden jasmine.
Be careful that planting and caring for the Chubushka in the open field implies an accurate root immersion: the neck must appear a little above the ground. The maximum immersion depth should not exceed 3 cm, so that the plant does not start to rot. After all this, you should thoroughly moisten the ground under the seedling by pouring out a couple of buckets of clean water. Next, you need to add dry soil in the pits. Do not forget after the expiration of 3 days from the time of disembarkation to carry out mulching - cover the area under a bush, for example, sawdust.
Be sure to take a look at landing photo and care for the chubushnik: these stages involve abundant watering of a young plant: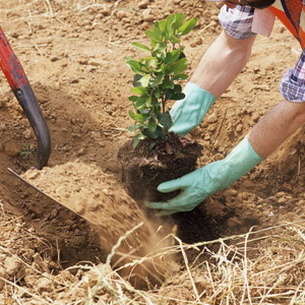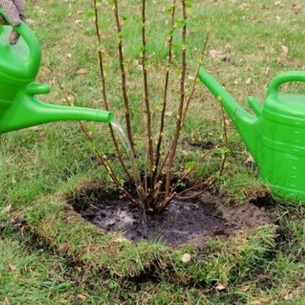 If you need to transplant garden jasmine, do not be afraid: the bush will transfer this procedure easily, but it will have to sacrifice its beautiful lush crown.
But you can see in the photo the chubushnik after planting, which was made twice: the plant feels great and pleases the owners with a new abundant flowering: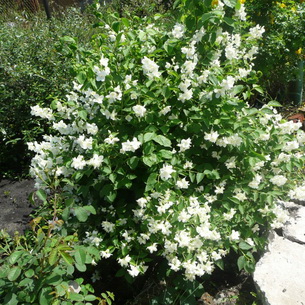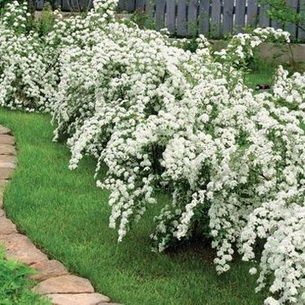 How to achieve such a result after transplantation? Just need two weeks to prepare a hole for the plant to the soil settled. Next, it is good to water the Chubushnik, which will need to be transplanted, remove half of the shoots of past years, the rest - prune. That's just then the shrub can dig and move to another place. We recommend that you engage in transplanting in the first half of September or in March.
How to trim the bush Chubushnik spring
Pruning chubushnika is the guarantee that your landscape design will be year after year to dazzle with magnificent fragrant flowers of garden jasmine.
Moreover, you see in the photo the bush chubushnik, in the description of which it is important that the moment that such large buds open only on the strongest last year's branches: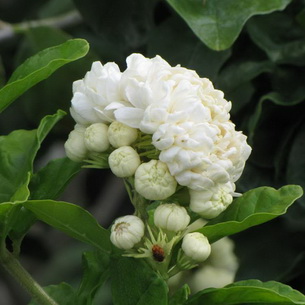 Therefore, all unnecessary - weak shoots - you can safely delete!
How to cut off the chubushnik so that in a year it will delight you with new flowers? To do this, you must remove the branches that have flowered to the young strong shoots located below. By the way, this procedure is carried out in the fall and also implies a sanitary clearing, which helps to get rid of crown thickening branches and sick or broken parts. And every three years there is also a sweep of twelve-year-old branches.
Renovating pruning of chubushnik in spring suggests that several shrub trunks must be pruned to about 30 cm, while others are mercilessly cut to the ground level. In order to know how to cut the chubushnik in the spring, novice gardeners ask for advice from specialists, who certainly recommend using pitch to treat the plant sections, and mulch the soil with peat. If you listen to the advice, in the fall you will see healthy shoots appear.
Chubushnika breeding spring cuttings
You could already make sure that this plant is not very demanding. Therefore, a similar situation with the procedure for the cultivation of shrubs. We mentioned that garden jasmine can be propagated with the help of seeds - that is, generatively - and now we will also tell you about the vegetative method - reproduction of the jugs by cuttings, dividing the bush and layings.
If you nevertheless chose the first option - the generative one - then you should remember that before planting the seeds, they must be kept for two months in a place where the temperature readings will be no higher than 2-3 ºC. This procedure is called stratification.
So that everything goes well, at the beginning of the year, skilled gardeners add the same seeds to peat, immerse the mixture in various containers, and leave it in this state in the refrigerator until spring comes.
When it comes time, the seeds are sown in boxes that are pre-filled with a mixture of humus, leafy earth and, of course, peat (1: 1: 2 ratio), and sprinkled with a layer of sand on top, then covered with glass. It should be remembered that the soil should remain wet, so crops should be sprayed with the 2-3 sprayer once a day.
Within a week and a half, you will see the result of your efforts: seedlings will begin, and when the first leaves appear, you can safely transplant the seedlings into the ground.
It is the reproduction of the Chubushka cuttings in the spring ensures that the plant will accurately take and will give color for many years in a row. Carry out this method by cutting the cuttings from large adult shoots. The best option is considered to be cuttings with a heel - this is the planting material that was cut from annual shoots with a piece of last year's twigs.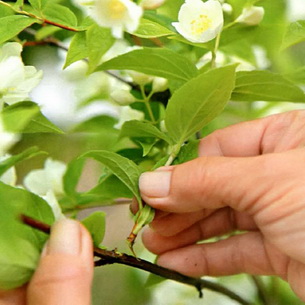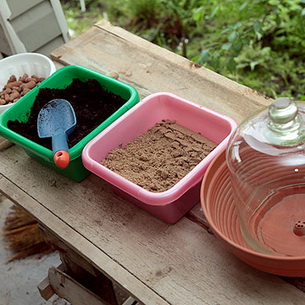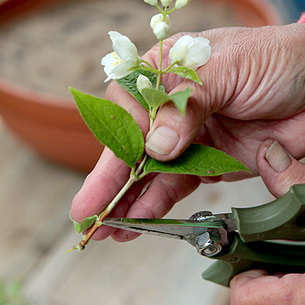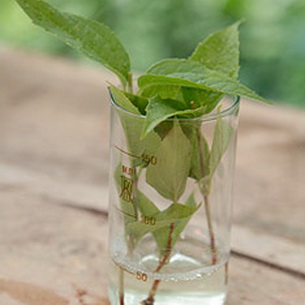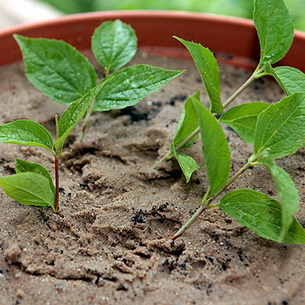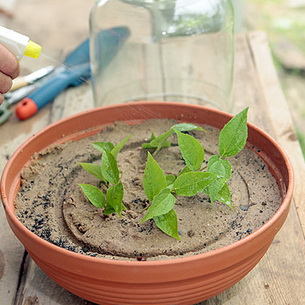 How to propagate the chubushnik with cuttings, experts tell us: after cutting, they need to be treated with a preparation for root formation, and then landed in a tank with a mixture of sand and nutritious soil. Finally, you must not forget that you need to cover the containers with a glass or plastic cap that will help create the effect of greenhouse conditions. To the note: cuttings should be regularly sprayed for effective rooting.
How to propagate Chubushnik by dividing the bush and layering
Chubushnik breeding in the spring is possible with the help of dividing the bush, until the process of sap flow has begun. If you are going to do this fall, wait until the fall of the leaves. In the first and in the second case, the plant is dug out and, accordingly, is divided into parts, which are quickly planted in different areas.
Cuttings are also considered to be a very effective method of breeding shrubs. They literally 70% of cases are well accepted and rooted. This procedure is best carried out immediately after the update pruning.
This is done as follows:
plot under a bush digging up, necessarily fertilized and leveled;
then, with a fishing line, gently pull the healthy branch near the extreme kidney, carefully place it in a previously dug hole, fix it and sprinkle it with earth.
If you want to immediately get a certain number of new plants with strong roots, take not one shoot from the shrub, but as many as you see fit. A year later, next spring, you just need to separate them from the parent bush, dig and grow for two years.
How to get rid of pest insects
Pay attention to the photos of various varieties of chubushnik: the greatest threat to these stunning plants are insect pests - for example, weevils or aphids: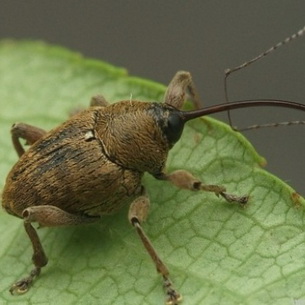 True, such a parasite, like a tick, can also give you some trouble.
Aphids can be tried to destroy, as experienced gardeners do, using moderately toxic pesticides, which should be sprayed with all the bushes of the plant. For the fight against ticks useful various solutions with the addition of phosphorus, intended for the treatment of garden jasmine.
Spraying Chlorophos will help to get rid of that weevil.
Types and varieties of Chubushnik: photos and description
Intending to use chubushnik in the design of your site, you should find out which varieties of this plant have a divine aroma, and which are completely odorless.
For example, Chubushnik ordinary, which was brought to us from the south of Western Europe, is one of the most popular species in our area. In height, the shrub reaches up to 3 m, and the shoots have bare, upright.
As you can see in the photo, this sort of Chubushnik differs in oblong leaves with pointed tips: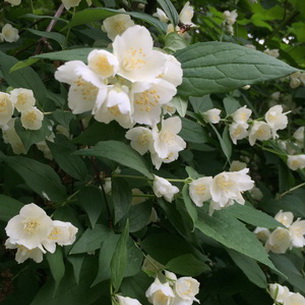 The flowers are creamy white undertones and do not exceed 3 in diameter. See This species has a wonderful aroma.
Moreover, given the harsh weather conditions of our territory during the winter period, the mongrel is the plant that can withstand even -25 ºC. Among the main species forms of the shrub are terry, willow, low, golden, large-flowered and silver-haired.
The most popular are: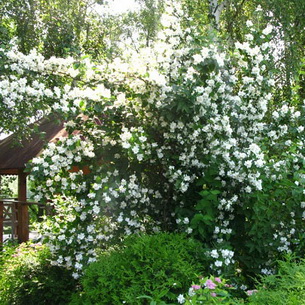 A variety that was bred in 1909, by Emil Lemoine - Chubushnik Virgininal.
Reaches a height of up to 3 m, has a wide crown and shoots with peeling bark. Luxuriantly blooms in July. Buds are collected in clusters in the form of brushes. The variety retains its decorative effect for 20 years;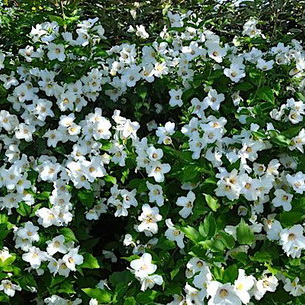 Another child Emile Lemoine is Belle Etoile.
Unfortunately, the description of this variety of Chubushnik is such that in our temperate latitudes the shrub does not grow above one meter. The bush has small leaves with drawn tops and flowers that smell like strawberries. The buds resemble bells with a clear saturated scarlet spot in the center;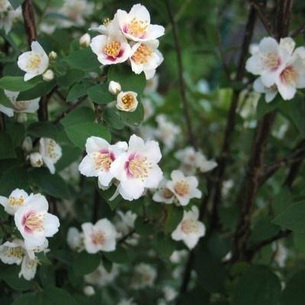 A fluffy shrub that grows up to 2 m in height is called Chubushnik Bicolor.
It is distinguished by single flowers. Best of all, this variety is suitable for landscaping.
A curious reader can see in the following photo one of the varieties and types of Chubushnik - crown chubushnik: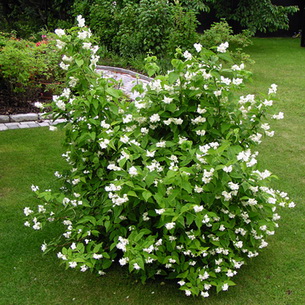 This magnificent variety is distinguished by a delightful aroma and charming little white flowers. By the way, this shrub was introduced to our region from Western Europe. The plant is quite high - up to 3 m. It is typical for the bush to bloom in early June during 20 days. Lifespan is approximately 30 years. By the way, the variety is extremely frost-resistant (up to -25 ºC) and patient with respect to polluted air.
The plant can please real connoisseurs with such best forms as: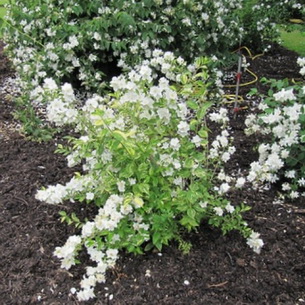 Innosence - shrub, characterized by compact size - up to 2 m in height - and single snow-white strongly smelling flowers;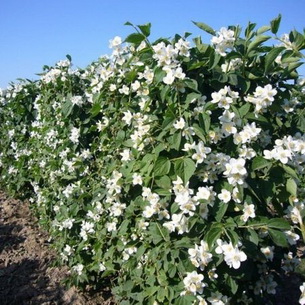 Bowles Varieti - A variety that is distinguished by leaves that have a wide cream strip at the edges;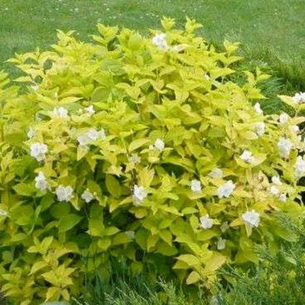 Aureus - Chubushnik, which is characterized by a spherical crown and rich yellow leaves that can change their color until the moment of leaf fall. In height reaches up to 3 m. One of those species, which is endowed with a divine scent.
Pay attention to the photos of the varieties of chubushnik, the description of which must be started from the fact that it is a real hybrid of the ordinary and small-leaved chubushnikov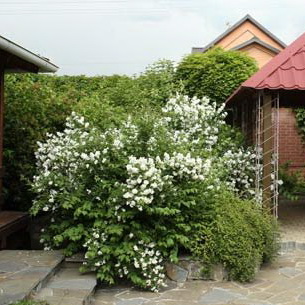 And this is called variety - Chubushnik Lemoine. We have casually mentioned it a little higher.
By the way, the plant is most common in North America and in Europe. In height can reach up to 3 m, and its branches are covered with egg-shaped leaves. Large snow-white buds are collected in clusters in the form of brushes.
It should be noted that this hybrid has plenty of "heirs":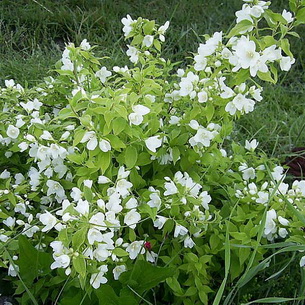 First, the grade "Ermine Mantle", which can grow to 1 m. It is covered with elegant white semi-double flowers, which can give its wonderful aroma for a whole month;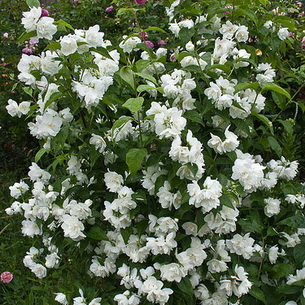 It is impossible not to mention Chubushnik "Shneersturm"with fragrant pale white buds, gathered in a brush. Reaches the plant to 2 m in height;
Rђ RІRѕS, shrub "Gletcher" with large, terry white flowers that are incredibly smelling, grows to 2 and blooms only for about three weeks;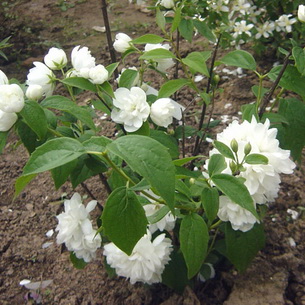 The next variety - the very present "Charm". Breeders recognize it as one of the most beautiful species of Chubushnik. Differs plant huge snow-white flowers, which, alas, almost devoid of smell. But each bush "Enchantment" has a significant drawback - the bare bottom. And so that the aesthetic appearance of your garden is not disturbed, it is recommended to plant some low-growing shrubs in front of this plant;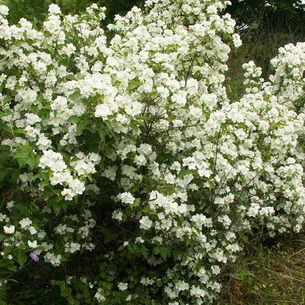 "Blizzard" - that sort of garden jasmine, which reaches a height of up to 2 m and has white terry buds, which are collected in inflorescences.
As you might have guessed, the species diversity of the chubushnik does not end there. You can familiarize yourself with the following plant varieties: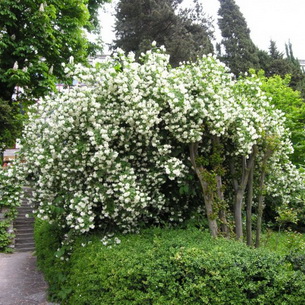 For example, you see in the photo Chubushnik Shrenka, who was introduced to our region from the Far East.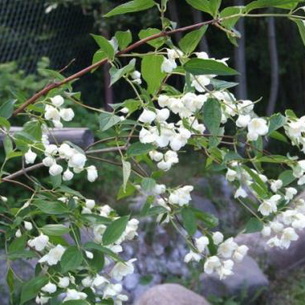 The shrub is characterized by egg-shaped leaves and flowers emitting a delicate fragrance, collected in inflorescences. Fortunately, it is ideal for gardeners of temperate latitudes, because it is frost-resistant (-25 ° C). Color within 25 days in early June.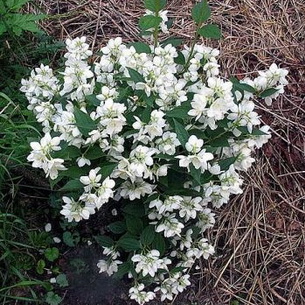 Fine-leaf chubushnik - This is a miniature plant whose flowers resemble cherry blossoms. This shrub is exuded by a divine strawberry flavor.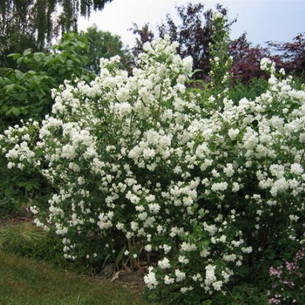 A variety of garden jasmine is a variety called "odorless.". His white flowers are collected in the brush. Reaches a shrub in height to 4 m. It is characterized by flowering within 30 days.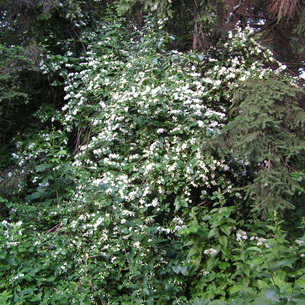 Chubushnik Gordon differs downright bogatyr size. It can grow up to 6 meters in height. Bright glossy leaves and piercing white flowers are characteristic of this variety. Gives abundant color in mid-June. It has a faint aroma.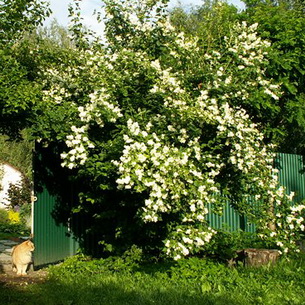 Fluffy Chubushnik deserved such a name, because its lower leaves really seem airy.
Look at the photo of a variety of Chubushnik, and this description will seem to you the most accurate and suitable: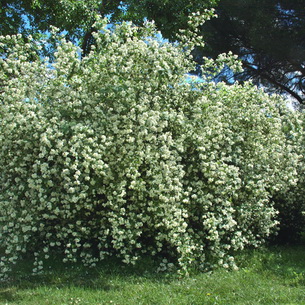 True, his flowers almost never smell, but their beautiful form of "cups" pleases the eye of any gardener. By the way, the plant blooms from mid-July until the first days of August.
The use of chubushnik in landscape design (with photo)
Chubushnik in landscape design looks great in any guises: it is wonderful for a solitary landing - a single one - and for most real park compositions. And all because the shrub is endowed with nature abundant fragrant color.
How do you, for example, have such an idea: to place a bush with fluffy buds near your favorite hammock or garden swing? Or maybe you have a place near a bench or a tiny mill?
Especially prized in landscape design are those varieties of plants that are endowed with an architectural crown.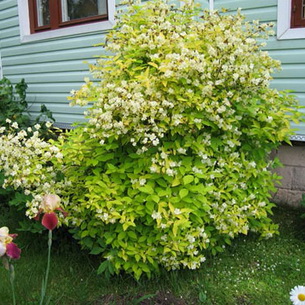 This, for example, "Pyramid" with the real pyramid instead of the crown.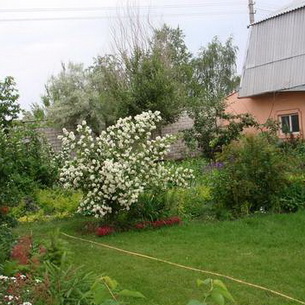 Or Virginia, whose branches form a vertical crown.
It is difficult to look away from the spreading bushes adorning large landscaped gardens. Shrubs are most often placed near a brick wall or planted on a lawn.
To see this, take a look at the photo of the Chubushnik in landscape design, which so picturesquely complements the picture of home comfort and peace: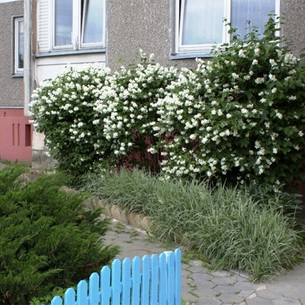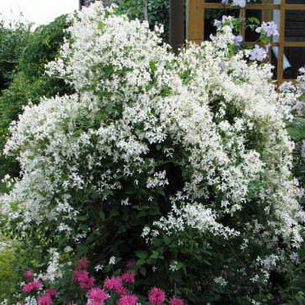 Experienced gardeners know that chubushnik can be used to create hedges. For example, varieties with a massive crown help to build dense and high hedges, reaching a height of up to 3 m. The compact varieties will be useful for the construction of low borders.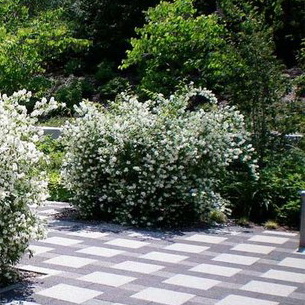 Take note of what dwarf varieties of garden jasmine - "Gnome" and "Dwarf" - the most suitable shrubs for the construction of the very curbs, mixborders or edging flower beds.
Experts recommend placing small species of chubushnik in the most prominent place - in the ground floor of any garden.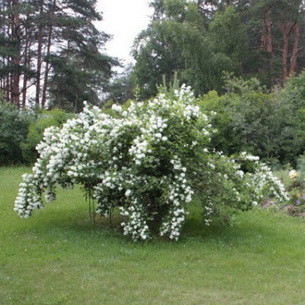 For example, the "Ermine mantle»Helps to give a mini-garden and other miniature compositions of charm, thanks to its terry flowers.
But in the whole landscape ensembles you can combine all sorts of types of this shrub: varieties of different heights, with different colors of foliage and inflorescences, will give your site royal splendor.
But if you are a true connoisseur and connoisseur of garden crafts, then you do not miss the opportunity to link the Pincer Tree with other shrubs - viburnum or hydrangea. So you will be able to create a real thematic - filled with, for example, white flowers - a park or "garden of aromas" - a touch garden.
SIMILAR ARTICLES: