Hawthorn - shrubs large and small trees with thorny branches, blooming in May - June, usually white flowers. This is a perennial plant, the average age of some species reaches three hundred years. In the autumn, these small trees are decorated with bright, most often red, fruits. The fruits of hawthorn semi-mild (C. submollis) are especially spectacular.
The best grades of hawthorn of different types: photo and description
There are forms with terry, pink and red flowers, for example, 'Toba'. Look at how the hawthorn shrubs of this variety look like in the photo: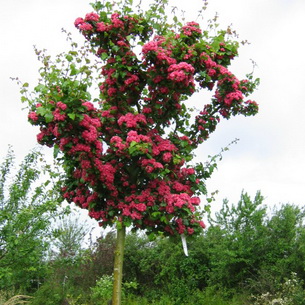 Many other species of this plant also deserve attention.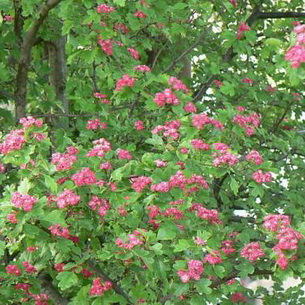 So, the type of pistillate (S. monogyna) has many decorative forms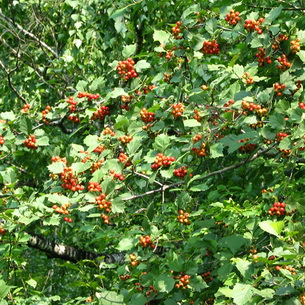 Daursky (S. dahurica) It is distinguished by its graceful foliage, which acquires a purple color in the fall, etc.
These haws are considered the best varieties to create an aesthetic appearance of the infield.
These small prickly plants are unpretentious, drought-resistant and winter-hardy, grow on almost any soil in the sun and in partial shade. Well tolerated pruning, which allows you to adjust the size and shape of the crown. You can grow them as tapeworms, especially in the standard form. Suitable for creating groups, including mixed ones.
This plant has many species. It can be found in different countries. Many people think that it has only healing properties and is not used in gardens to create compositions. But this is far from the case. There are many varieties of hawthorn - ornamental shrubs.
In Eurasia, these species are often found: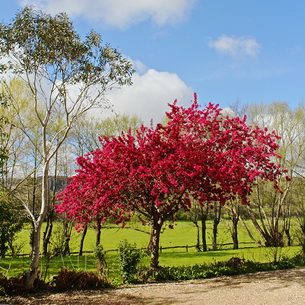 Siberian (blood red)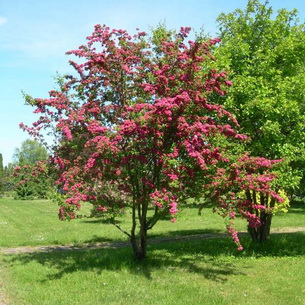 Common (spiny)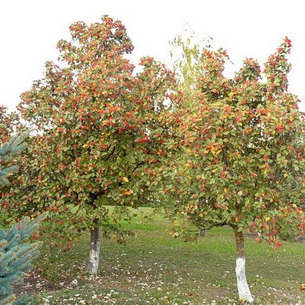 Altaic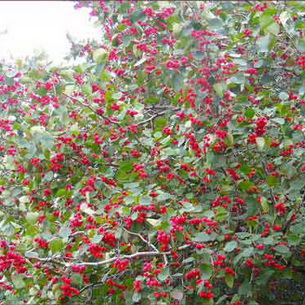 Soft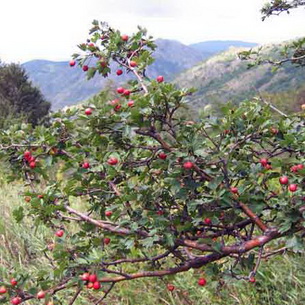 Ukrainian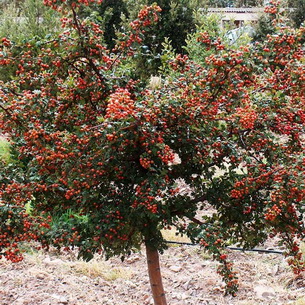 Odnopepichny
Consider the external features of hawthorn of certain varieties and species.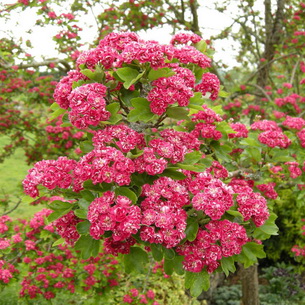 Bloody-red or the Siberian species is a shrub or a short tree, no more than 4 m in height. The branches of the plant have rare, but rather large spines (up to 5 cm). The first fruits appear only after 7 years. It blooms for a short time, no more than 5 days, from May to June. The color emits a rather unpleasant smell. Berry plants ripen by September. They are edible, sour-tasting, round in shape, up to 8 cm, have up to 4 seeds. The plant is resistant to frost and drought. Lives very long - up to 300 and more years. This type is ideal for creating hedges.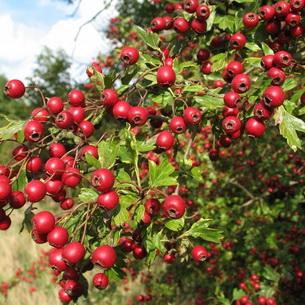 See how this hawthorn looks like in the photo.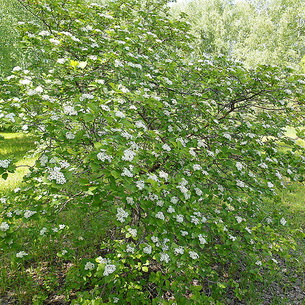 Green Meat different flowers with white color, which have dark stamens. The berries of this bush are of a black shade, but at the same time they have green flesh. Edible and tasty. The spines of the plant reach one and a half centimeters. In the wild, it grows in the Kuriles and Kamchatka, Russia. This species does not propagate by cuttings. To do this, use the seeds, and to preserve varietal qualities spend grafting.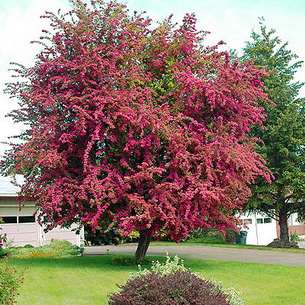 Common Hawthorn as well as the previous variety, grows in the form of a bush or a small tree, reaches 5 m in height. But the berries of this variety are very small - no more than 10 mm in diameter. The plant grows very slowly. But it does not require good soil, can grow well in shady places, perfectly tolerates the formation of crown by cutting. Therefore, it can also be used to create natural hedges.
Look at the types of hawthorn hedges in the photo: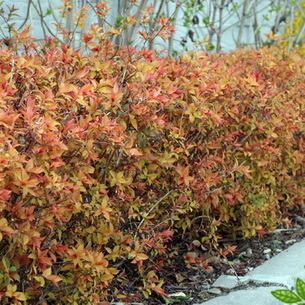 In addition, many varieties of common hawthorn varieties have been bred, which have a beautiful color: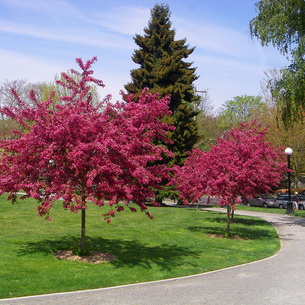 Paul Scarlet (double flowers with a pink-white shade)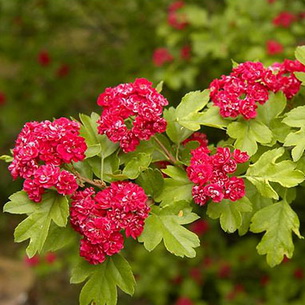 Bicolor (with white petals to the middle and red edges),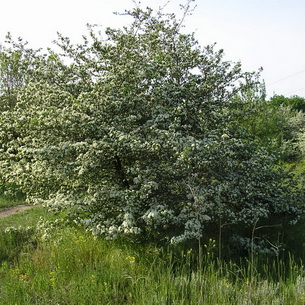 Odnopepichny Unlike the aforementioned varieties, it is characterized by rapid growth. On average, it lives over 200 for years and has the appearance of a tree reaching 6 m in height. The branches have small spines, which are quite rare from each other. After pruning forms many young shoots.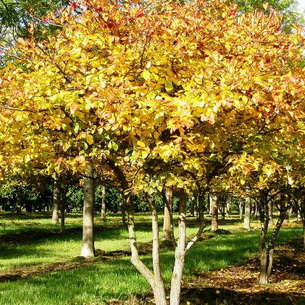 Soft hawthorn has bright orange berries, very tasty. The tree reaches a height of 8 m. Crohn dense, spherical. The plant has many spines on the branches. Fruit on 8-th year of his life. White flowers. Due to its leaves and lush crown is widely used as an ornamental plant. How to propagate this hawthorn? Seeds or cuttings. Both of these methods give germination up to 50%.
There are quite a lot of haws. Species and varieties can also be viewed on the photos below: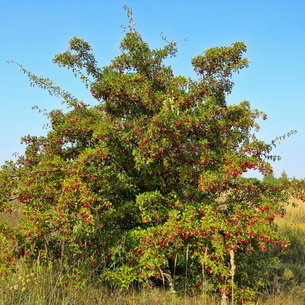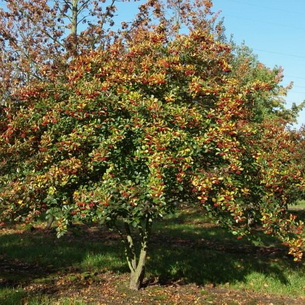 Growing and caring for hawthorn: how to plant shrubs
It has already been mentioned that hawthorn does not require special care. Many varieties, as the descriptions say to them, are sufficiently resistant to long-term drying out of the soil, severe frosts, and shade. Before planting hawthorn, you can not think about the quality of the soil, etc. But keep in mind that the plant has only pests with apples, plums and pears, so it is better to plant the plant away from these fruit crops.
In addition, before planting and further care of the plant it is necessary to clarify for yourself what purpose you grow it. If you want to get valuable fruits, then choose a more sunny place, but if you are more interested in the decorative features of this plant, then shadow or partial shade will do.
It is also important if the gardener plans to get a good and strong plant with beautiful color and berries, you should still pay attention to what hawthorn loves, breeding methods and the subtleties of caring for it.
Here are some features of plant care:
Pruning. When growing and caring for a plant, removal of dead and diseased branches is required. In addition, pruning can carry not only sanitary functions, but also decorative. With its help, you can form a crown of the desired shape. To do this, trim the living branches is necessary, leaving the 2 / 3 part of the escape. Pruning is carried out in the spring.
Fertilizer soil. This is not a mandatory program item. But some gardeners recommend turning on slurry fertilizing. In the first few years, the hawthorn after planting and during its care in the open field does not require fertilizer. It is appropriate to do this in the period before flowering.
Watering. The focus here is on the climate where culture grows. Planting and further care of the plant does not require too wet soil. In the spring and autumn months, it is enough once per 30-40 days, but each plant should be filled with water to 15 l. In the dry summer months, you can increase the frequency of watering up to once per 15-20 days. If there is enough rainfall in a year, then hawthorn can develop well without additional irrigation.
Weed control and earth hilling. It is enough to loosen the soil twice a year - in spring and autumn, by digging up the earth around the plant on a bayonet spade. This can be done in the summer, but during this period the depth should not be more than 20, see. In time, remove weeds from the area where the hawthorn grows.
These are the basic principles of care that should be considered for any variety and type of hawthorn. Observing them, you protect the plant from most diseases, and the tree itself will look very beautiful.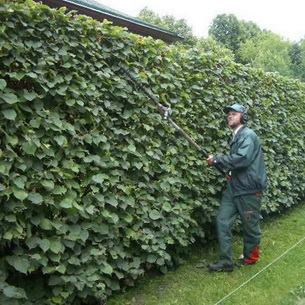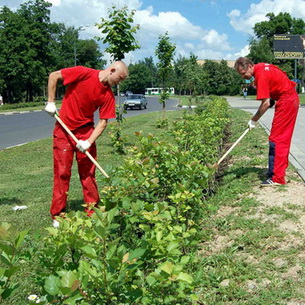 Reproduction hawthorn: how to plant seeds
How to grow hawthorn correctly, many gardeners are thinking who want to get a good plant while preserving in it all the maternal varietal qualities. Unfortunately, not all methods of breeding hawthorn shrubs, even when planting and care, respectively, can lose their distinctive features. Therefore, this should be taken into account.
The loss of varietal qualities most often occurs during the reproduction of hawthorn seeds. Therefore, often this method of cultivation is used in the preparation of seedlings to create a hedge, where varietal quality is not so important.
The fruits of the plant have a thick skin. Choose ripe, healthy berries. Before planting hawthorn using its seed, it is necessary to quench it (stratify). The process is long and can take up to a year. They do this by keeping the plant seeds at a temperature from + 1 to + 3 degrees. It is better if such quenching lasts no less than 3 of the month.
The hardened seed is laid in the ground close enough to each other, since its germination is low. The first shoots in some cases can only be seen through 2, since the development of the plant is very slow. Weak sprouts are removed.
Leave the young shoot for another 2 of the year. During this period, he will grow to half a meter. It must be cut to 3 buds, counting from the ground. If during this time there are many side shoots, they are removed, leaving no more than two.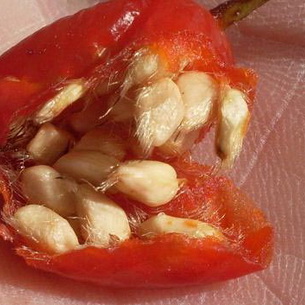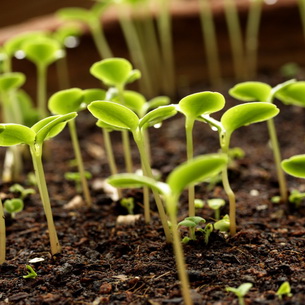 Next, the plant in the spring can be transplanted to a permanent place.
How to grow hawthorn: reproduction by cuttings
Reproduction hawthorn cuttings - is the main way that allows you to save varietal qualities of the parent plant. Carefully dig up a bush. Select a good and healthy root. Its thickness should not be less than 2, see. It must be cut into pieces about 10 long, see. The resulting cuttings are laid out in the ground, added dropwise, leaving about 30-50 mm above the ground. You can do all these manipulations in spring or autumn. But the planted material needs to create a greenhouse effect with a can or plastic film. From time to time, air the cuttings and, if necessary, water it. The ripening period of good, ready-to-transplant seedlings also varies within 2's.
Remember that sharp spines on the bushes - this is a great opportunity to create a hedge in the territory of your site. To do this, hawthorn and planting after reproduction should be made in holes 0,5 size 0,5 m. The distance between each seedling is about half a meter. At the bottom of the prepared pits can be put humus. Watering is carried out as the soil dries out even during 2 weeks. Further moistening is carried out as in an adult plant.
How to propagate hawthorn layering
Root hawthorn can be layering. To do this, carry out such manipulations:
take the young branch from the mother bush;
lay it in the prepared recess in the ground;
secure and sprinkle with earth, leaving about 10, see branches.
In about a year or two you will receive a sprout that preserves all the varietal qualities of the mother hawthorn. Agrotechnical cultivation may include grafting green young sprouts. But this type is used very rarely, since rooting does not always give a good result.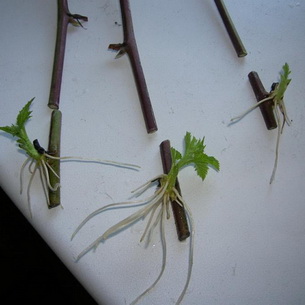 If, during 2 years, your cutting has not reached the required height (up to 60 cm), you can leave it for another year. Such hawthorn manipulations can be carried out before they reach 4 years. Further, its root system grows very quickly, and it is almost impossible to dig it out without damaging the root.
Hawthorn diseases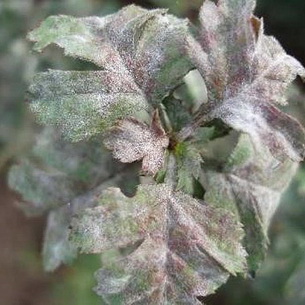 Mealy dew, rust, fomoz, decay - this is not the whole list of diseases that a plant can cause. From time to time it is necessary to inspect the bushes for signs of damage. At changes of foliage of trunks it is necessary to take immediate measures against the disease, otherwise the decorative effect will be lost. For the fight using circumcision of the affected areas, which should then be burned.
In order to minimize possible damage, it is necessary to plant the plant in a well-ventilated area and from time to time to process the plant 1% of colloidal sulfur.
Hawthorn is a plant that carries aesthetic and useful functions. As a medicine, not only berries are used, but also branches and leaves of some species. Having a hawthorn in your garden means getting a beautiful perennial plant, putting a minimum of effort in caring for it.
SIMILAR ARTICLES: