The momordica plant is about 60 species of annual and perennial loaches or small shrubs belonging to the pumpkin family. The name comes from the Latin word, which literally means "animal bite" - and if you look only at the fruit of a plant, you will understand everything at once. Its surface is very similar to the bites of animals, so this name is fully justified. Homeland plants - the territory of subtropical and tropical Africa, Asia and Australia. Most subspecies produce floral oils. Currently it is an exotic guest on the balconies, terraces, loggias and vegetable gardens. Growing from seed is possible even for beginner growers. Planting and caring for the crop are described in detail in this article.
Some species are grown specifically for their fleshy fruits of orange or red color, which have an oblong or cylindrical shape. Usually the fruits burst when ripe. There is also the second name of this plant - Chinese bitter melon, which has family ties with cucumbers and zucchini. They look very similar to the one and the other vegetables, but only with warts on the entire surface. The unripe fruit has an unpleasant green shade, so that even you will not want to eat it. But when ripe, the fruit becomes a rich orange shade, like the sun itself, and split, showing growths of bright red color to the whole world. By the way, it is in these growths that the most expensive is for all gardeners - both amateurs and professionals. In such growths momordiki stored seeds. With their help, you can then grow in your garden more than one such plant.
Look at the photos of momordica at different stages of development: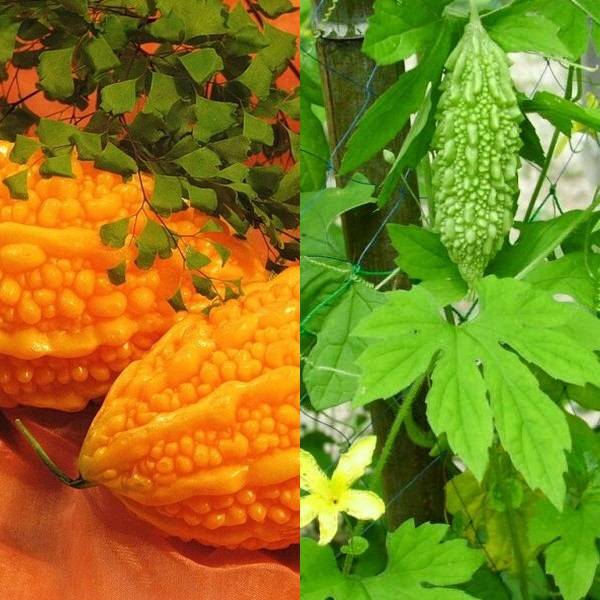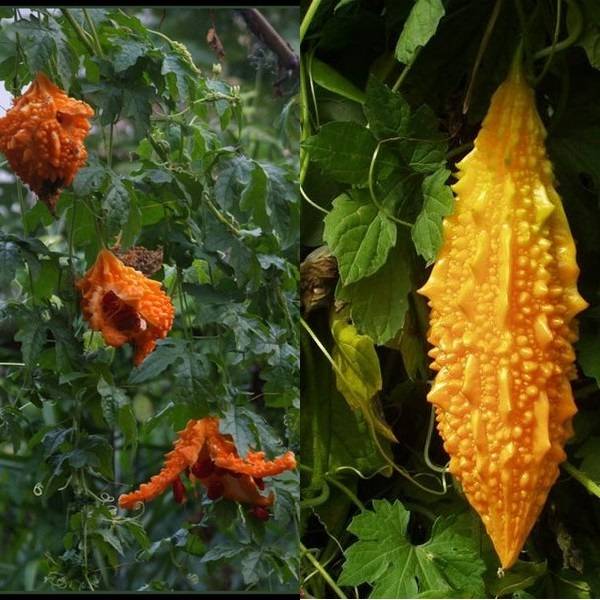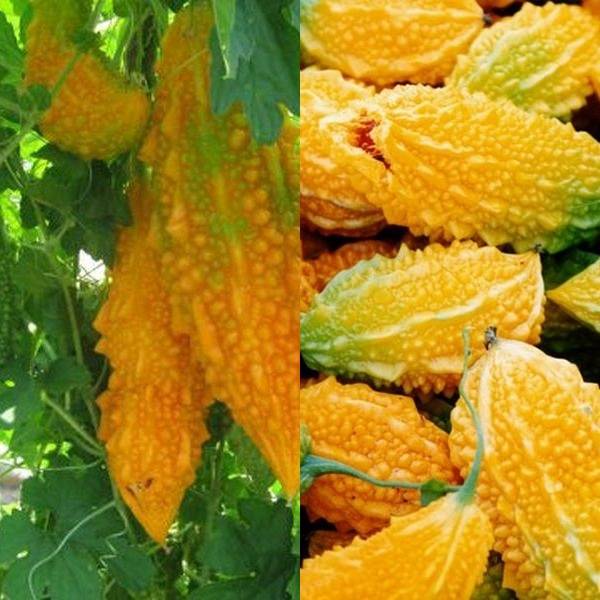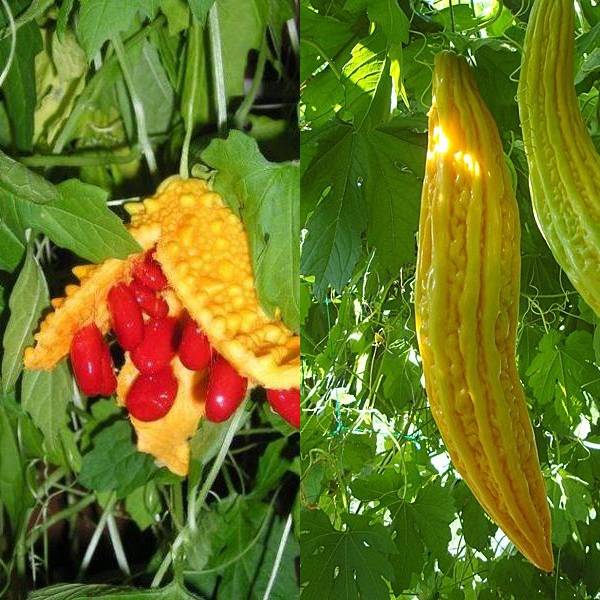 Growing momordika from seed: planting and subsequent care
The process of growing momodiki is divided into certain stages. The most commonly used seedling method of seeds. If this plant was previously considered predominantly tropical, then at present gardeners have adapted to grow on window sills, and on balconies, and in their garden plots. The truth is with one but more often it can be found on the southern territory of Russia, since momordica loves heat and light very much. It does not require special care, so it is very popular among young housewives and lovers of exotic plants. Proper subsequent care after planting will provide a high decorative plants.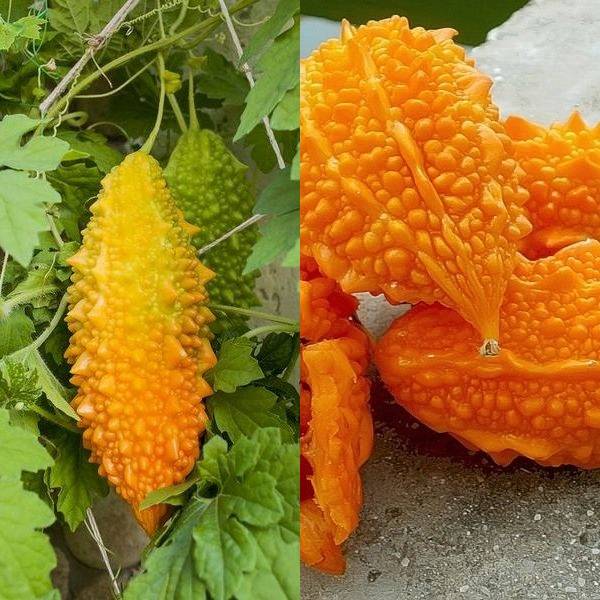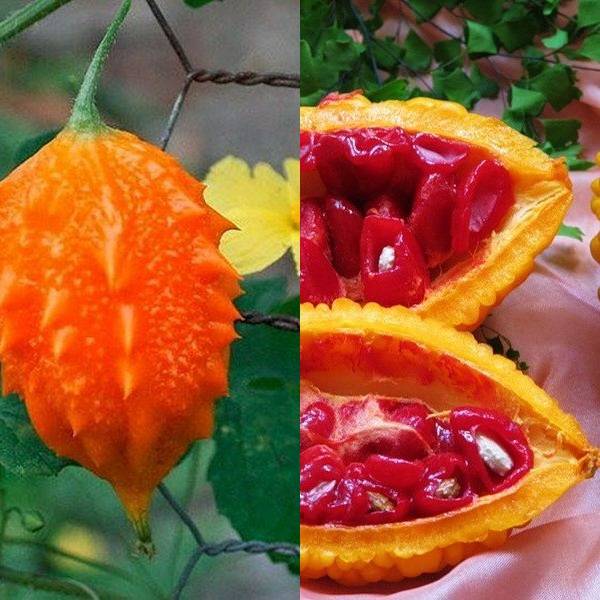 The seeds of ripe momordica have a bright red color and a fairly dense protective shell. When it dries, it becomes smooth and pleasant to the touch. By the way, another feature that will surely attract lovers is unusual patterns, resembling oriental motifs, on the seed shell, which, by the way, never repeat!
Planting momordiki seeds: before you put the plant in the ground, you should process the sharp edges of the seeds with a nail file or sandpaper. This will allow them to open up faster (which is often problematic due to the dense shell around). It also helps to increase seed germination.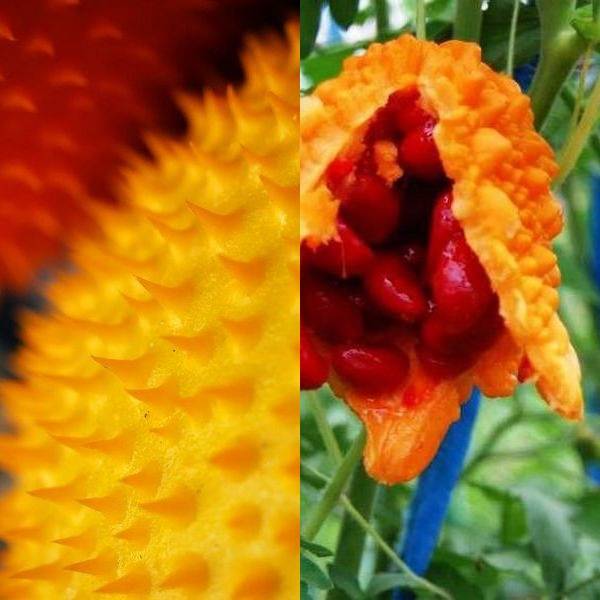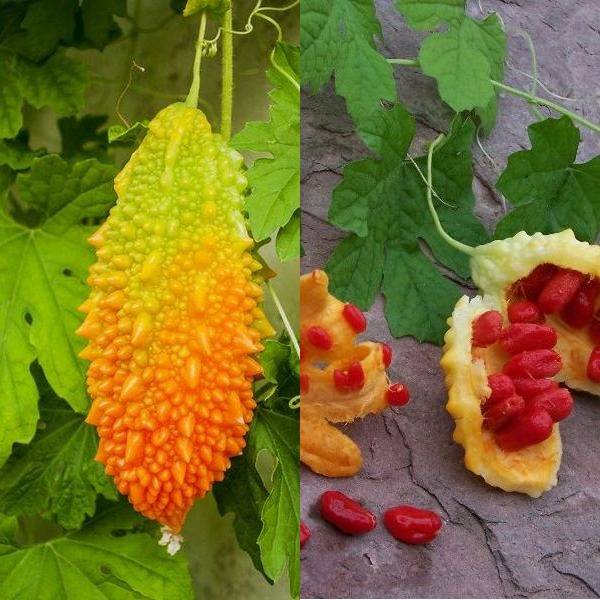 A day before planting, seeds are soaked in warm water, you can even add potassium permanganate to save the plant from future diseases and parasites. When the seeds are swollen, they are recommended to be put in sawdust, cotton wool or gauze (better, of course, the first option), which are used as a pillow, and watered regularly. Top of them, it is desirable to cover with a damp cloth and place in a well-lit place. In this state, they should be kept for about 3-5 days, until they unfold (do not worry - you will see small roots in them). Now is the time to place the seeds in the soil from a mixture of peat, humus, leaf soil and river sand. After 10-12 days after planting, the first shoots will appear, which after a short time will turn into luxurious vines. A month later, the length of the sprout reaches 18 centimeters. It is at this time that it is recommended to transplant seedlings in separate pots. If you plan to plant momordika at home, then it is better to choose a pot with a larger diameter.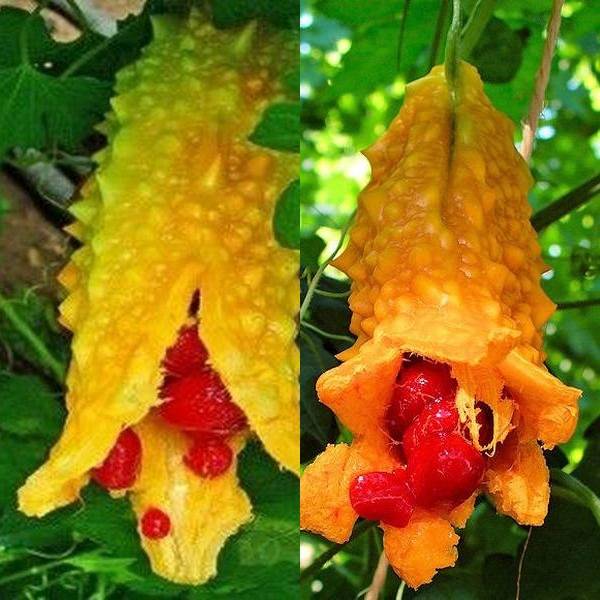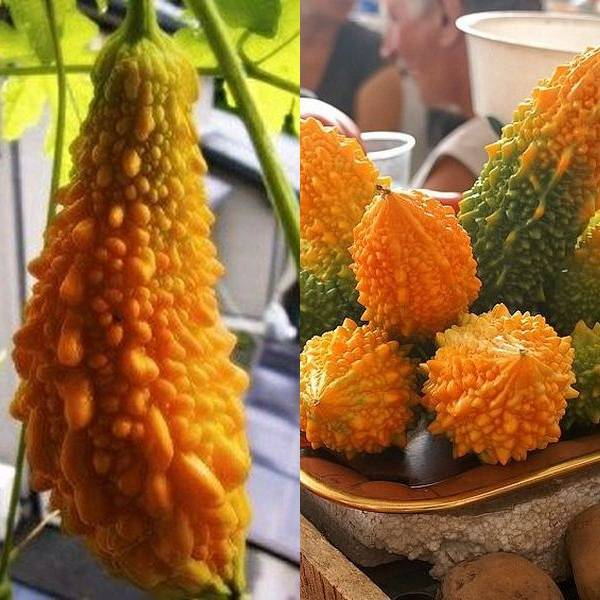 If you plan on planting momordica in open ground, it is recommended to pre-saturate the soil with mineral fertilizers. And seedlings placed at a distance 50-60 centimeters from each other in a place that is well lit from all sides. Experienced gardeners recommend using a garden bed under a liana, where it was previously grown potatoes or tomatoes. Aftercare for momordica includes a standard set of agrotechnical measures. We need to regularly weed the beds where the plant is located, as it does not tolerate weeds.
When the height of the flower reaches 40-50 centimeters, a stake is driven in near each bush so that the plant clings to it. At about the same time, lateral shoots are removed from the seedlings, but do not touch the top. The beginning of flowering of momordica - the beginning of July, and already after 2-3 of the week, it will give you the first fruits that need to be collected within 10 days, otherwise they will lose their unusual taste.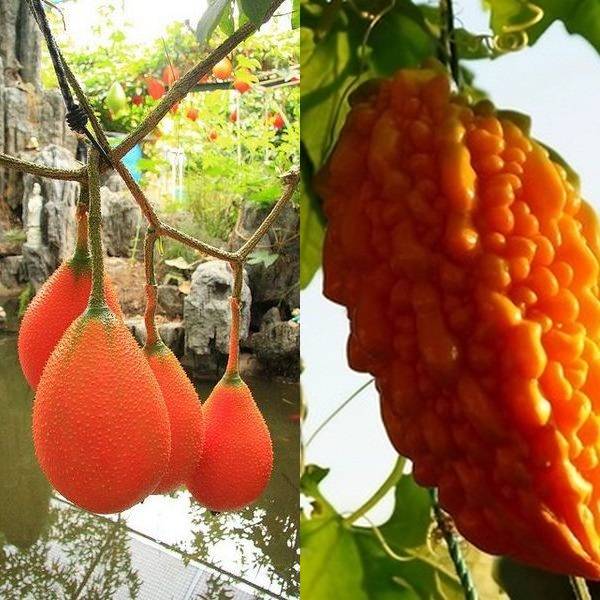 Stagnant water in the root system momordika can lead to rotting and, consequently, the death of the plant. Therefore, the soil and place for the future location should be chosen carefully - you should not choose low-lying areas of water, especially if there are stagnant water there. Caring for a plant is very similar to caring for squash, cucumbers and pumpkin that are familiar to us (they are from the same family, if you have not forgotten).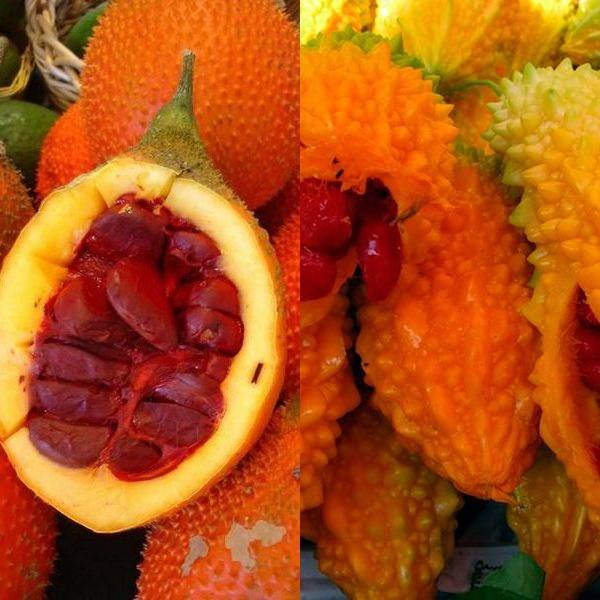 Scope of Momordica and its useful properties (with photo)
The scope of Momordica is quite extensive - each part of this plant can be used for good. Fruits are often used for medical purposes, as they are too bitter for cooking.
The flesh of the fruit is used in cooking only in an unripe condition, when it resembles cucumber to taste. But what is good in a ripe fruit is the seeds, which, unlike the fruit, become sweet. They are often eaten raw, because after heat treatment, they become softer.
The pulp and seeds of momordica like to use in the national cuisine of Asia - they are processed in various ways, and then added to salads, stews or first courses. The result is an interesting and nothing like the taste. The flesh of the fruit goes well with yogurt, coconut, cucumbers and main dishes with potatoes and meat. Try to surprise your friends with such an unusual dish, though before that it is better to practice properly.
Momordica and its beneficial properties are adored in Japan, and even believe that this is one of the reasons why its population has such a lifespan.
In the Amazon tribes, the leaves and seeds of the bitter melon plant are used as an exquisite spice, which gives a special flavor to their soups and legumes. To remove the bitter taste, they pre-soak the fruits in salt water.
But momordika can be useful not only as a culinary ingredient, but also as a medicine. For example, in traditional medicine in China, it is a remedy for the treatment of gastrointestinal infectious diseases. But in South America, it cures various inflammations, as well as indigestion, hepatitis, scabies, malaria and measles. In India - with a snake bite and liver disease. Some tribes also use it as a remedy against burns, asthma and insect bites, and even as a contraceptive!
Momordica is contraindicated in pregnant women, as it leads to miscarriage.
See momordika on the photo, where various species are presented: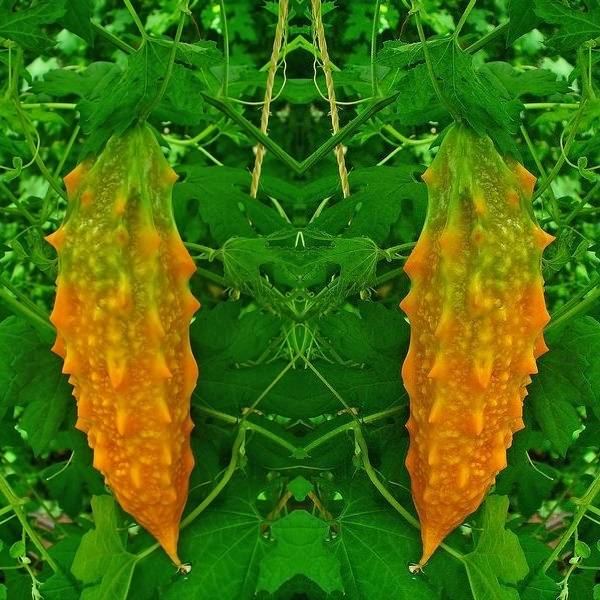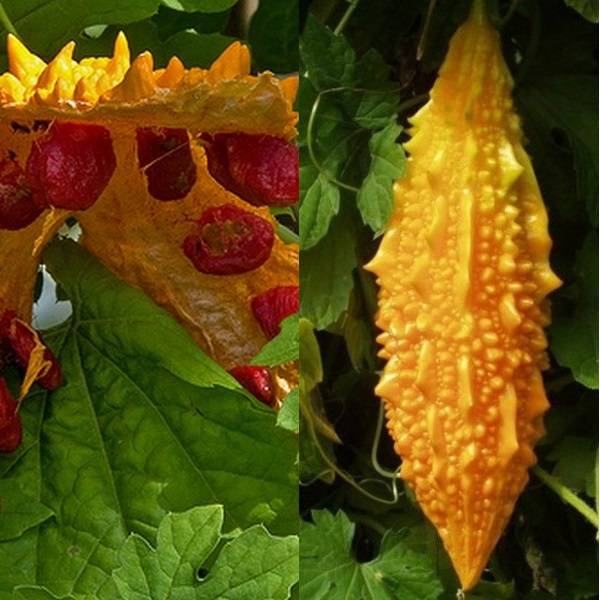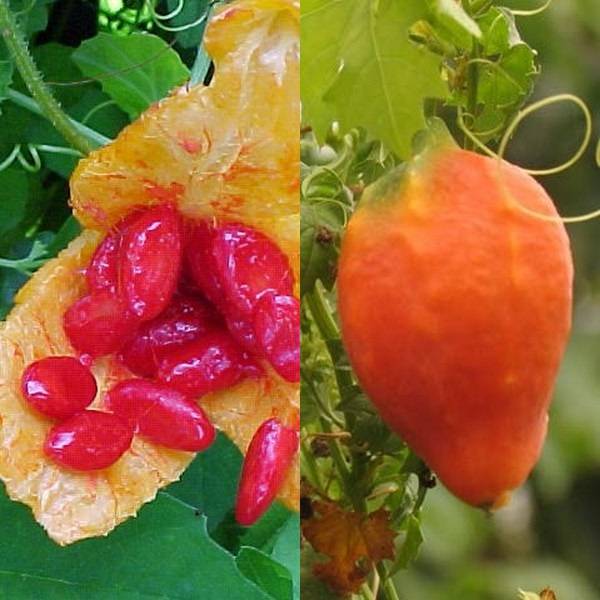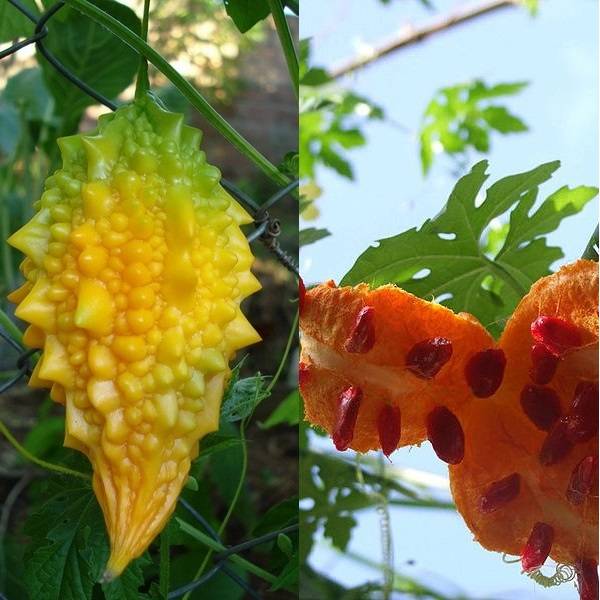 Momordica Kharantia: photo and description
Momordica is known as bitter melon, bitter gourd, bitter squash or balsam pear. In English and other local languages ​​there are many more second names for this plant. Description of the variety of culture is not much different from the general botanical characteristics. This tropical and subtropical vine of the pumpkin family is widely known in Asia, Africa and the Caribbean. They love for its edible fruits, which, however, are very bitter. Its many varieties differ in shape and bitterness, so maybe you will find a completely acceptable option. Bitter melon was first grown on the Indian subcontinent, and introduced to China in the 14 century. See how momordica looks in the photo - all the decorative qualities of the plant are demonstrated: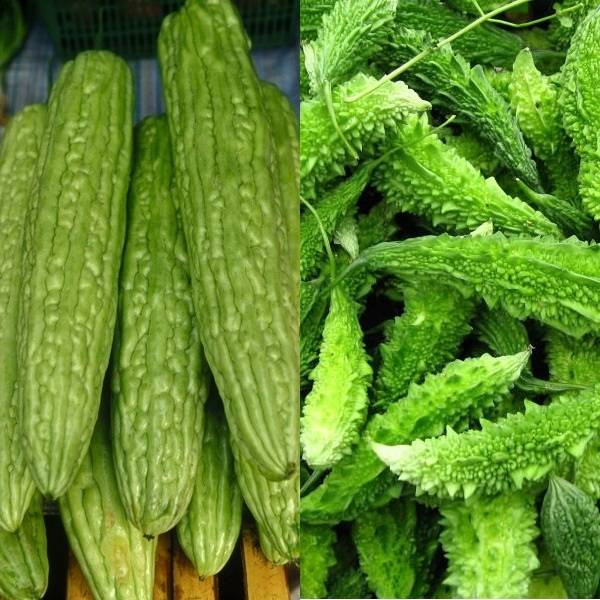 This herb grows 12 centimeters wide with three deeply divided lobes. Each plant has separate male and female flowers. In the Northern Hemisphere, it blooms in June-July, and bears fruit in September-November.
the fruit has a clearly defined oblong shape and a warty surface. In cross section, the fruit is hollow with a relatively thin layer of pulp. fruits are more often eaten when they are still green or as soon as they begin to turn yellow. at this stage, the pulp of the fruit is crispy and watery, similar to a cucumber, chayote or green bell pepper. his skin is tender and edible. in immature fruits, the seeds are white, they are not very bitter and can be easily removed before cooking.
As the fruit ripens, the skin of the rind becomes tougher and bitter, which is considered by many to be very unpleasant. On the other hand, the core becomes sweet and bright red, it can be eaten raw at this stage. Raw momordica is a popular ingredient for some East Asian salads. When the fruit is fully ripe, it becomes orange, mushy and splits into segments.