A variety of prickly house plants is amazing. Lobivia cactus has long been the most popular crop of the genus Lobivia, which includes up to 100 species of similar plants. In nature, it is a highland inhabitant of the arid regions of Bolivia and Peru. Simple home care for lobivia allows you to successfully grow cactus even to novice gardeners. It is also suitable for demanding flower growers who collect collections of "thorns". Look at the photo views of this culture and select suitable for your apartment: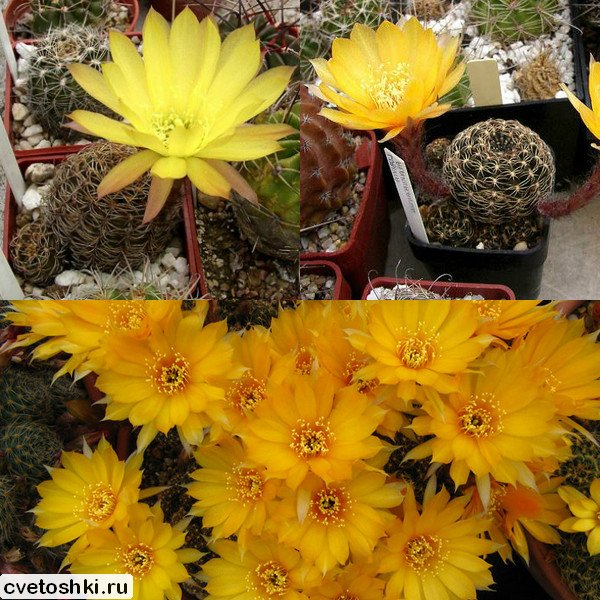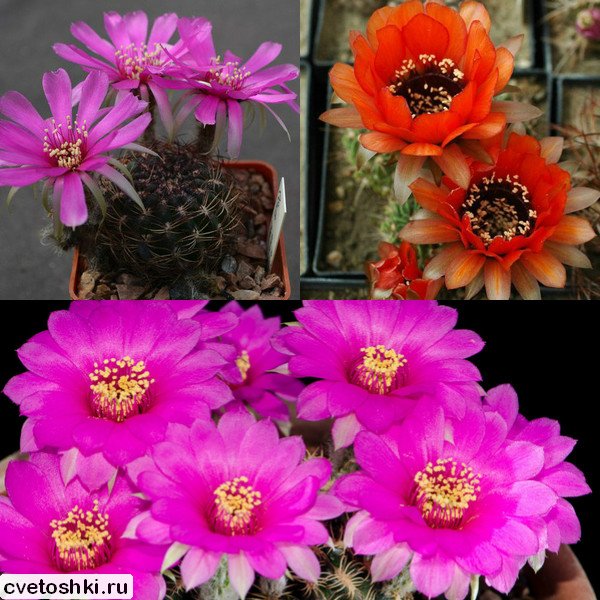 If you look at the classical botanical description of culture, then there is nothing special at first glance. But it is worth looking at least at the photo of a lobivia, and it becomes clear why florists love it. It is the grace and grace of the intricacies of the thorns and the tenderness of the original buds during flowering. It has a spherical correct shape. They are absolutely symmetrical, which causes admiration with properly composed compositions. At the base of the stem numerous children form, on the cactus itself the side branches are not formed. As an adult, it grows into a cushion-shaped colony, richly decorated with various flowers.
The ribbed structure can be quite sharp or rounded depending on the type presented. Hillocks of hard long spines create the impression of originality of the plant. Buds are formed from separate petals of simple (not terry) form. Flowers solitary, in diameter reach 15, see the only drawback - the short duration of life of each bud. It blooms only 3 of the day and then falls. The only consolation is the fact that on an adult cactus, Lobivia is simultaneously laid down to 25 flower buds, which unfold gradually and alternately. Thus, the flowering period can last up to 3 months. However, at the same time on the stem will always be only 1 bud.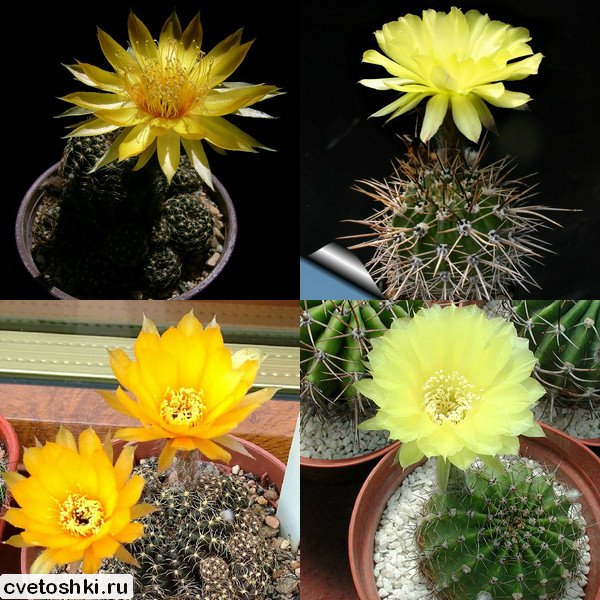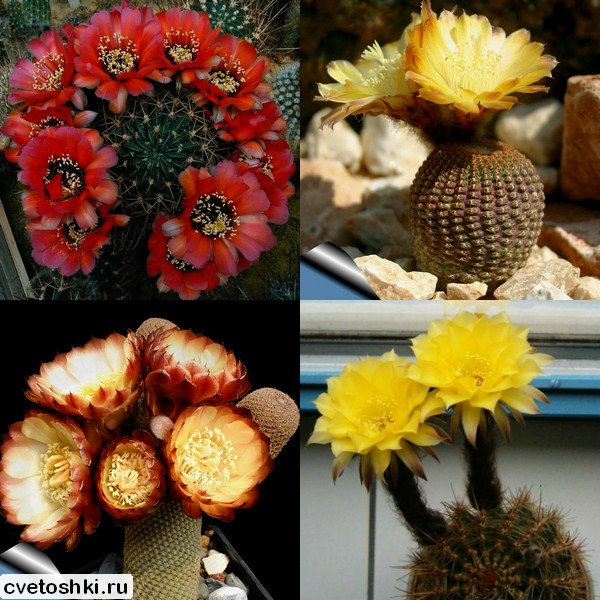 Popular types of lobivia and their photos
The prevalence of this culture is almost ubiquitous. It is used both in offices and for residential landscaping. Looks great in flower arrangements. We will look at popular types of lobivii further, for now you can see their photos: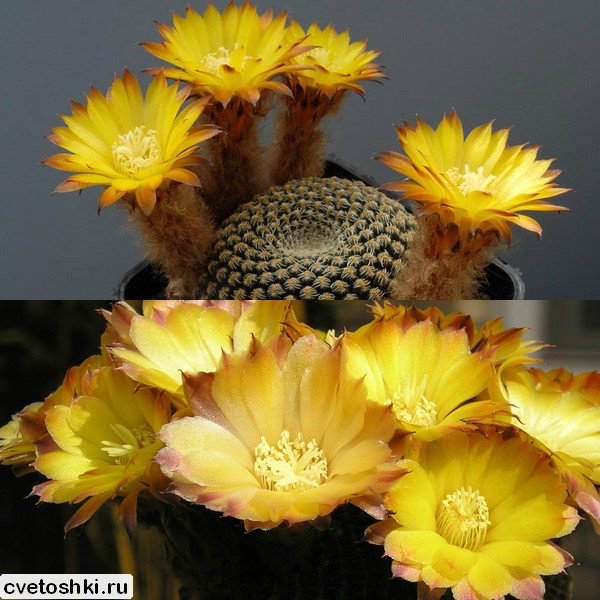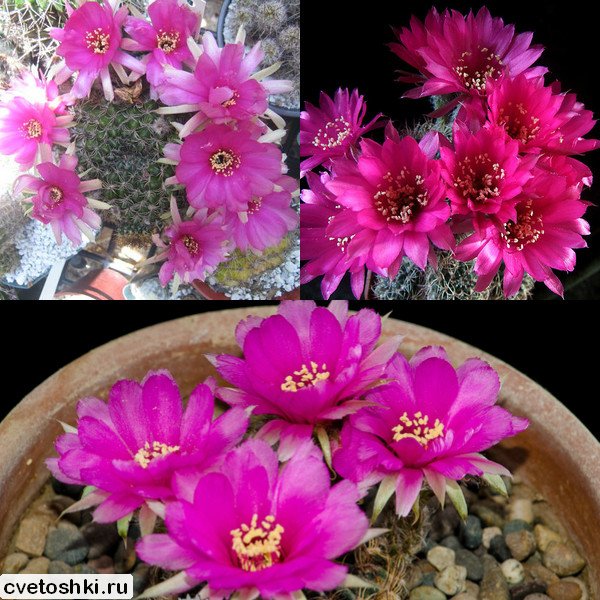 It is worth starting a review with a wonderful loivia of arachnacantha (Lobivia arachnacantha), which is distinguished by its miniature size even in adulthood. The height of the central stem rarely exceeds 5. 14 has rigid ribs, rounded into a regular-shaped ball. Spider in the form of a spider tightly braid the entire surface of the plant. Flowers bloom in March and April. They have a large diameter, reaching 12, see. Primary color of the petals is yellow, but there are varieties with red buds and white stamens.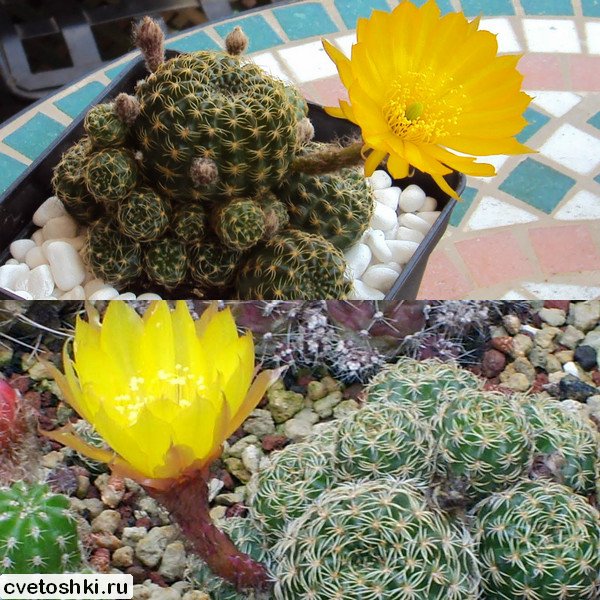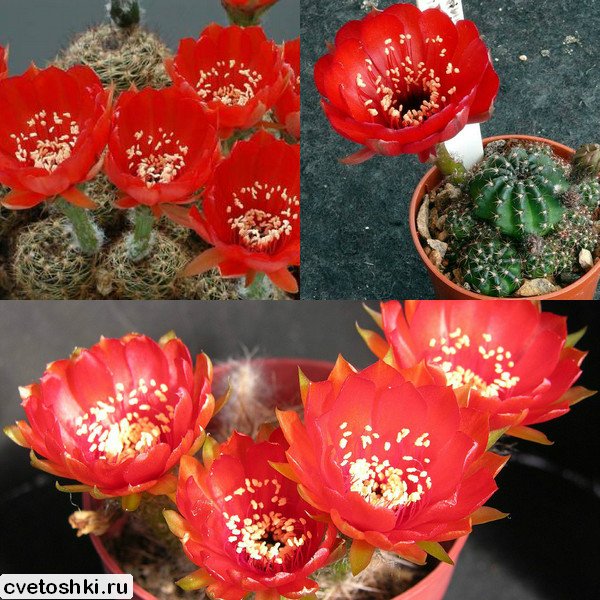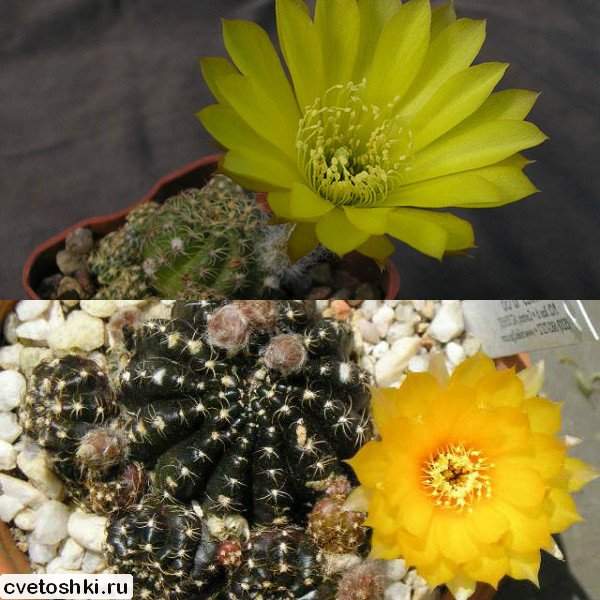 Golden Lobivia is another popular and attractive look for florists. Lobivia aurea has large-scale growth, the central stem extends to 50 cm in height. The ball diameter is only 12-15, see. Its spines are divided into two groups. Smaller reach 2 cm in length, and the central can grow to 6 cm in length. Together they form a graceful and mysterious web pattern. The diameter of the flower reaches 15, see Petals of a rich yellow color with a pronounced lemon shade. In the collections of breeders there are varieties of this species with snow-white, red and lilac petals. But in the free market, they are extremely rare.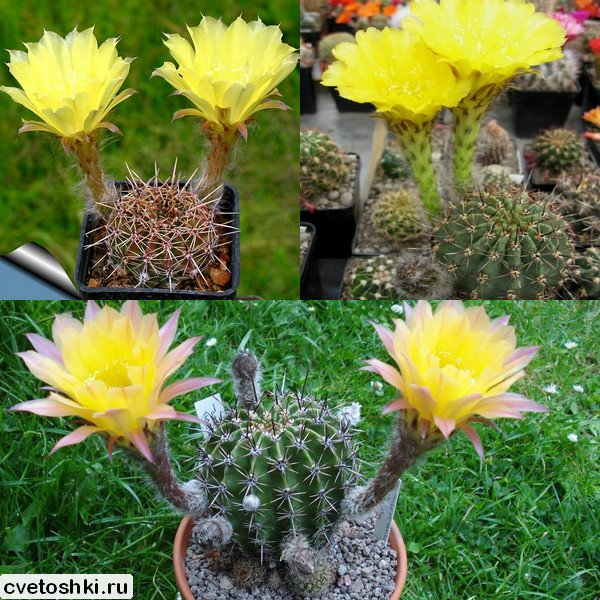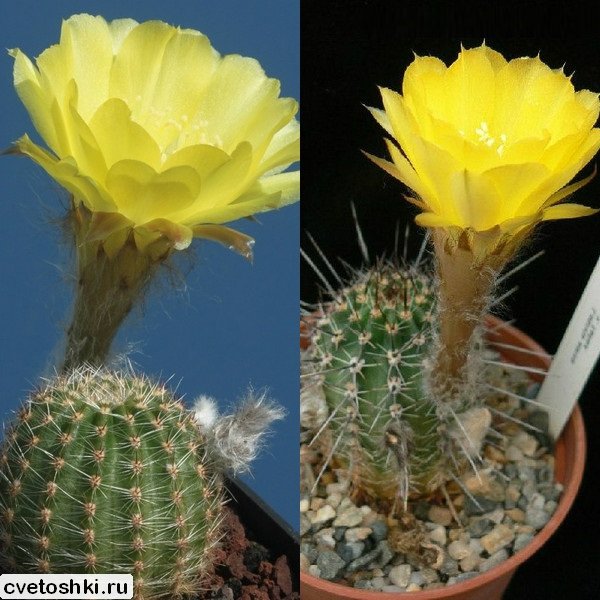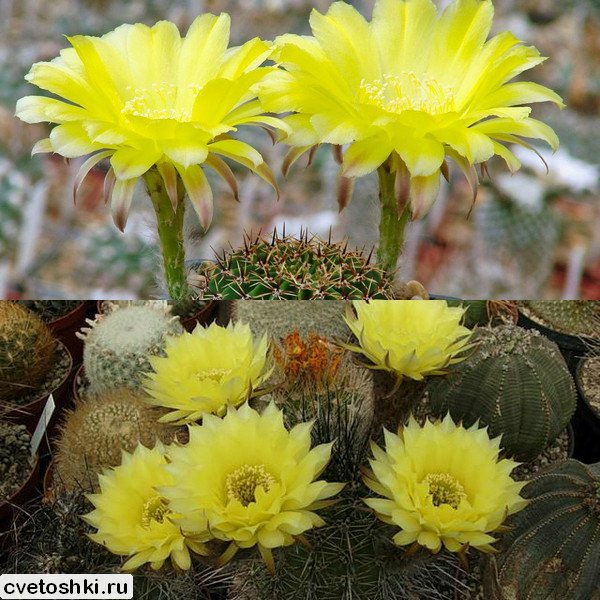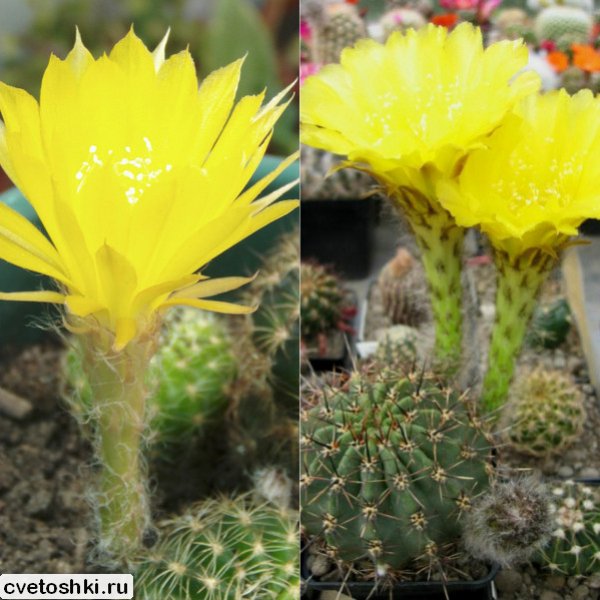 Lobivia tiegeliana for lovers of the "golden mean". This is a medium-sized cactus with a stem height up to 10, see. Lobivia Crucible has small stem diameters (up to 12, see), but a huge number of children who create the impression of a huge bush dotted with small 2, see.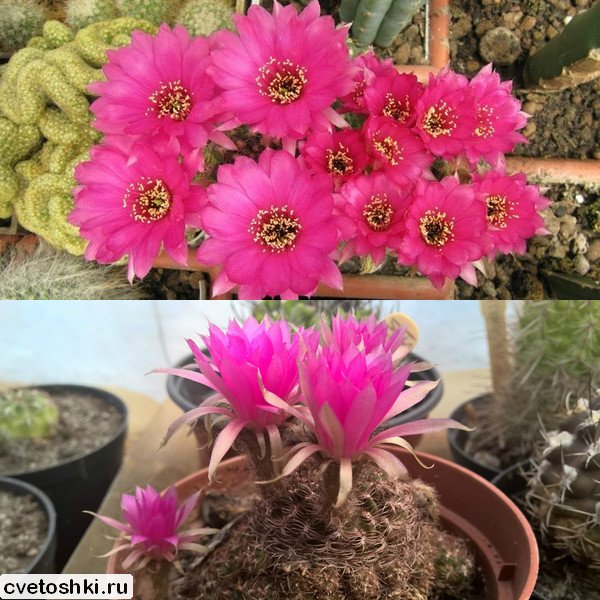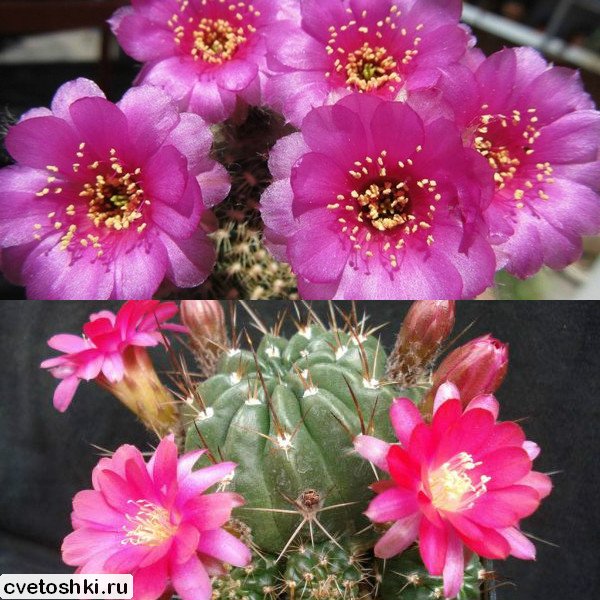 Lobiviya yayoana also does not differ in mighty growth. In adulthood he reaches 12 cm tall. Small about the length of the spines look harmoniously with burgundy large flowers that have the shape of glasses.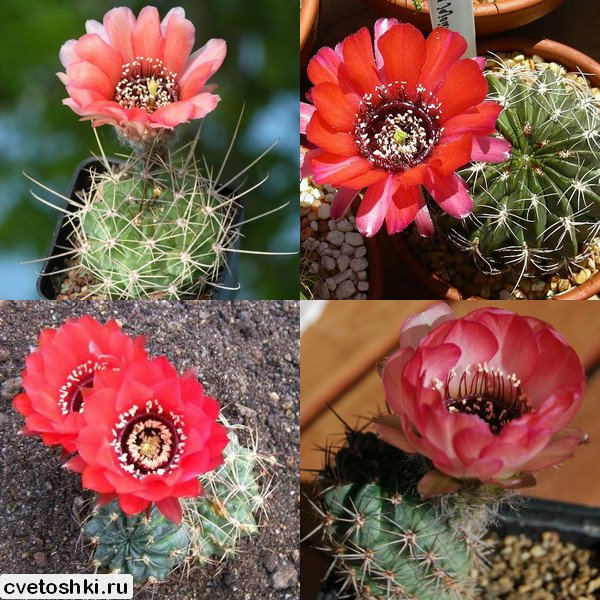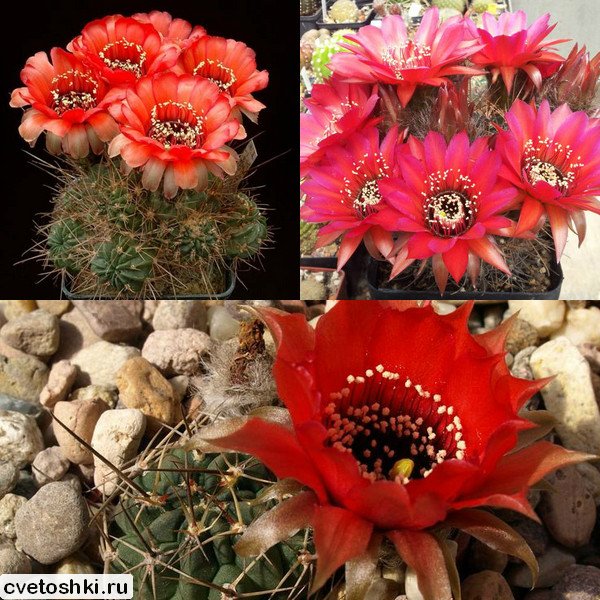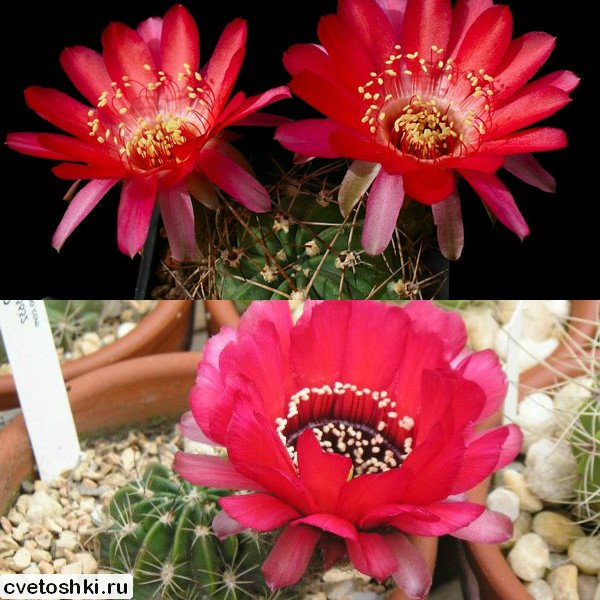 Lobivia famatimensis (Fatimanian) is the record for the number of side ribs. A representative of this culture has their 24 and all of them are covered with a small down, consisting of very thin short spines pressed against the surface of the stem. The flowers are yellow.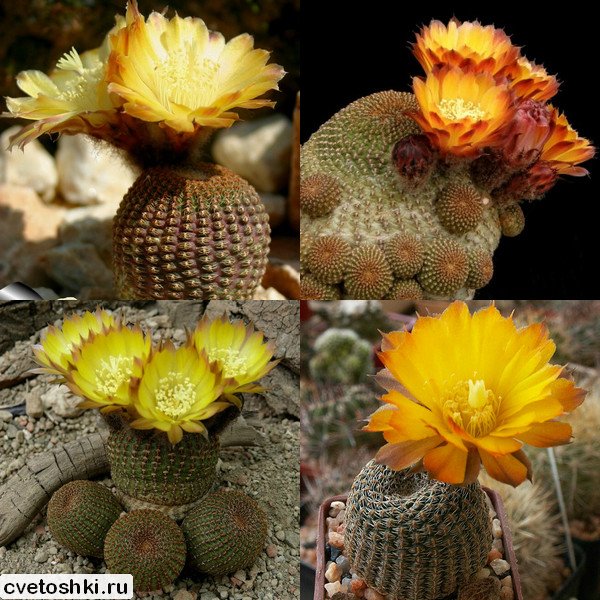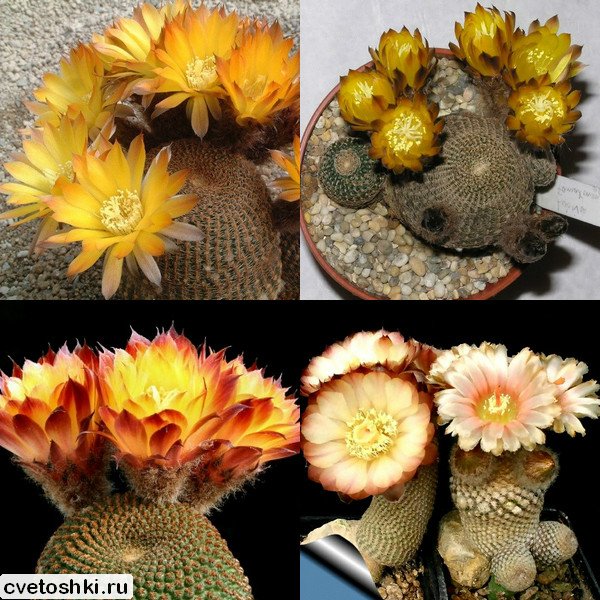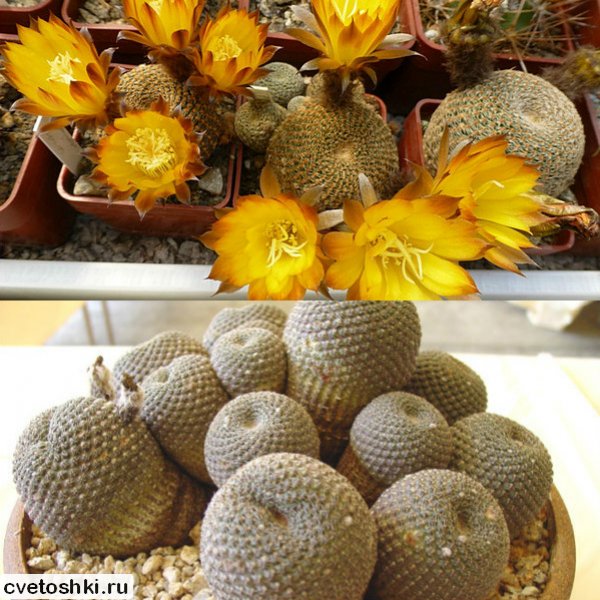 Growing lobiviya: planting and care at home
Unpretentiousness to environmental conditions and undemanding in everyday care - these are the main characteristics of this cactus. Growing lobivia at home begins with the purchase of a plant or planting a cutting. For reproduction are used babies, which are formed in large numbers at the base of the central stem. Planting and caring for lobivia at home are no different than supernatural. The most important condition for achieving success is to provide continuous sufficient coverage. Lobivia feels great on a well-lit south window. If it is not possible to grow a plant in the south window, the use of fitolamps will be required. Otherwise, wait for flowering will simply not be real.
There are no special requirements for the temperature regime. Room content is perfectly appropriate. Moreover, in winter, lobivia requires lowering the ambient temperature to 10-12 degrees Celsius. This is just the temperature on the windowsill near the glass.
In order to stimulate flowering, it is necessary to simulate periods of drought. The first begins in mid-June. From now on, watering stops until mid-August. Then earthen room is wetted with plenty of water. Until November, watering is done carefully, 1 once a week until the end of November. From December to February, watering stops. And after the first flower buds are ejected, 1 is renewed once a week. When budding it is impossible to allow complete drying of the earthy coma. This may cause the flowers and buds to fall completely.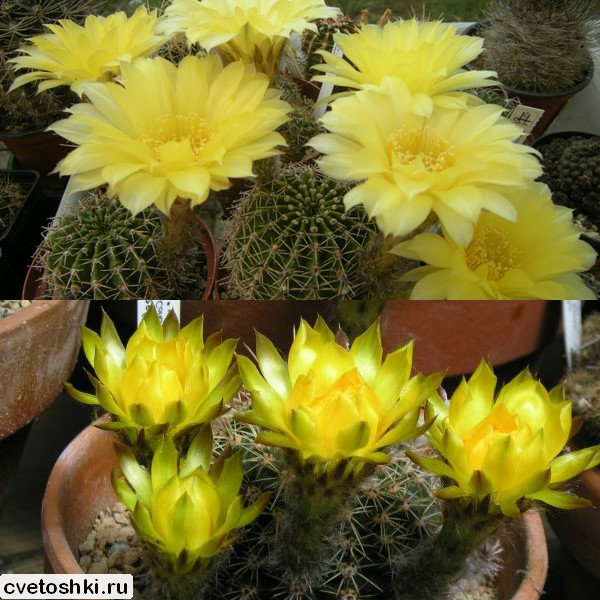 Planting is carried out in a special ground for cacti. At home, the soil can be formed from sod land, humus and sand. Before planting, it must be decontaminated. To do this, pour boiling water with the addition of manganese, and then calcined in the oven for 3 hours. Adding fine gravel at the rate of 10% of the total soil volume gives good results. Planting is carried out with shallow, but wide pots. This is due to the peculiarity of the development of the root system. It is located close to the upper layer and prefers horizontal development.
Feeding should be carried out very carefully, at least 2-x once a month in the spring and summer periods. A large amount of nitrogen can cause the rapid development of green vegetative mass and at the same time completely bloom will be absent. To feed in the period from October to March in general is strictly prohibited. Replace as needed. It is possible to thin out a colony by removing extra babies.
SIMILAR ARTICLES: