Spring for cacti, as for most plants - a transition period. Succulents awaken from hibernation and prepare for flowering. For kaktusovodov comes hot time - you need to conduct a careful inspection of the "barbed collection", to identify the damaged plants and try to cure them, but from those that did not survive the winter, unfortunately, will have to get rid of.
Understanding what spring is, when it comes and what is connected with it, is probably one of the main observations that can be made in places where cacti grow. It is important in the culture, because many lovers unduly trust the advice of colleagues, whose cacti are often in completely different conditions.
Read about cacti in nature, watch them at home, learn to feel their needs - this is the key to healthy plants and a beautiful collection!
In this article you will learn how to water the cacti in spring and how to transplant succulents.
Spring in the homeland of cacti
Spring in the homeland of cacti most often does not resemble our spring with its first warm days, melting snow. And it is not at all like our ideas about the "cactus" spring: when and how it comes, what events are taking place.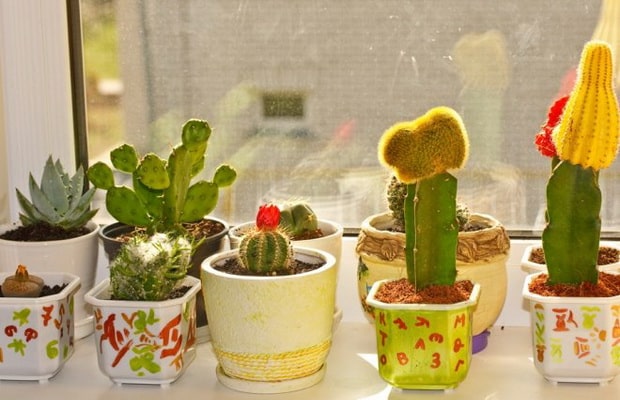 For some North American, including Canadian, prickly pears and escobary, the onset of spring is apparently almost the same as in central Russia. And you can even imagine a typical Russian pine, on the edge of which, among the melting snow and withered last year's grass, you can already see a little winter-tired cacti.
However, for most species, the onset of the actual spring is quite different. The heat that we associate with the arrival of spring is not a factor limiting the development of cacti. In many "cacti" regions, almost the whole year is relatively warm and even hot weather.
Seasonality and amount of precipitation is much more important for plants, and these factors can sometimes be quite difficult to predict during a year. Therefore, for many cacti from areas with a subtropical climate, the onset of spring is primarily associated with heavy rainfall.
It is at this time that the soil is saturated for a long time or very briefly with water, which awakens the plants to active growth and flowering. Then the water ends, and this auspicious period is passing. Actually, spring is coming to an end. If for some species of cacti the spring period can stretch over the 1-3 month, for others it often does not exceed two or three weeks.
Accordingly, the beginning of the so-called "spring", tied to the dates of the first heavy rainfall, may shift significantly from year to year. For example, in the southern hemisphere for a number of Argentinean species in the same area, spring may come in October, and in November, and even in December.
Therefore, the dates of abundant flowering of plants in a given population may vary by a month or more over the years!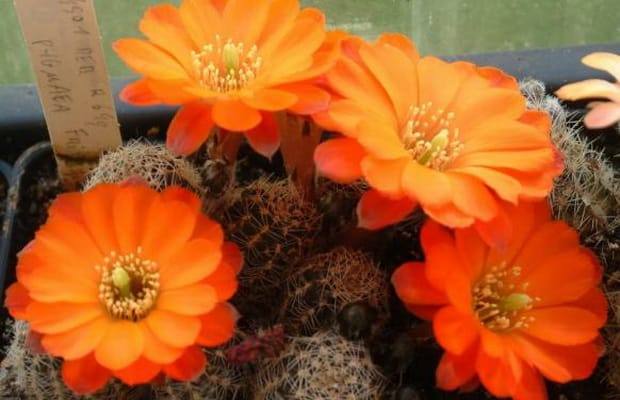 During spring, plants actively absorb water, form buds and bloom. However, soon the onset of heat and the cessation of water in the form of precipitation can negate the results of flowering. Water will not be enough for the formation of fruit with normal seeds, and for seed germination (new or old crops) and the development of seedlings.
Many cacti populations in nature do not resume. Sometimes it seems that in places this or that species is represented only by instances of one age generation.
And the point is, apparently, not only that ants actively take away and eat the seeds of cacti, but also that cacti grow in the very harsh conditions of late spring and summer, and all this year after year prevents the successful resumption of the population.
On the other hand, if we assume that the "cactus" spring is primarily the presence of available moisture, then the second spring period, paradoxically, may come in the fall, the plant's benefit is less than in central Russia, limited by the absence of heat and solar lighting.
In other words, when water appears, then spring comes with characteristic peaks of growth and development. Probably, in some regions with a subtropical and tropical climate, spring may come more than twice a year!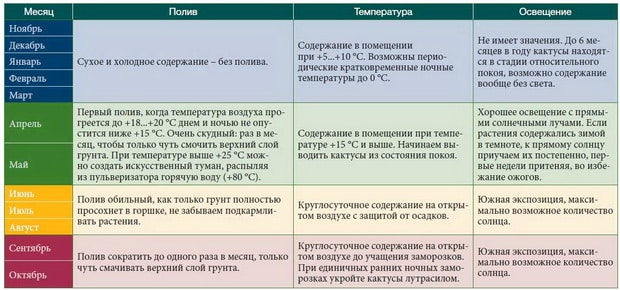 In addition, without any reference to the calendar in a particular hemisphere. An amateur can take advantage of this by organizing opportunities for a new "spring" and vegetation in August - September!
How often to water cacti in spring and transplanting succulents at home
Spring is the time that all cacti lovers are looking forward to. From this moment begins the long-awaited period of flowering cacti. And if there is a sufficiently large collection, and relatively small, but well-chosen, flowering can stretch from the beginning - mid-February to the end of October!
In addition, the time of "rest" of plants ends, and, having actively moved to growth, they again begin to delight us with new, bright and, as a rule, more powerful and long spines.
Awakening the collection is fraught with some problems and the need to hold certain events. The bright spring sun is already capable of warming up quite a small amount of a glazed balcony or greenhouse during daytime hours.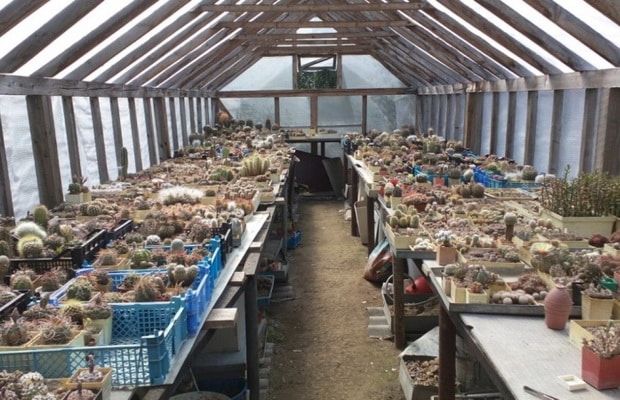 If, while in a greenhouse, cacti during this period receive adequate growth to start growing, then on a small balcony, especially if it is used only for wintering, problems may arise, for example, with views from the Chilean coast.
Heat and the sun encourage cacti in the spring, even without irrigation, to active growth. But the winter arrangement does not always help to get the required amount of light to all plants of the collection. Therefore, part of them can begin to grow ugly - the rapid growth of the apical part of the stem will be ahead of the aging of tissues and the development of a normal population.
As a result, the decorativeness of the stem will be significantly affected. As a rule, the older and larger the plant, the more difficult it is to restore its original form, lost in early spring.
That care for cacti in the spring, as advised by experienced plant growers, it is necessary to be especially careful with training the succulents to the sun, especially in regions with a small number of sunny days in winter.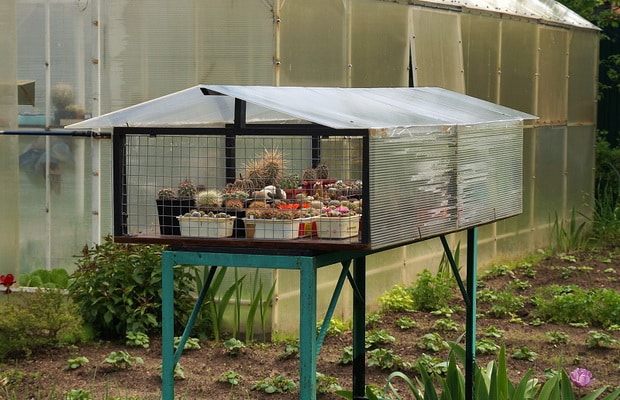 Inadequate shading in the first days can lead to the fact that adults and seemingly hardened plants will get severe burns over a large surface area of ​​the stem and die, and this is an extremely annoying loss.
If there is no certainty that the sun accustoming process will take place painlessly, then during 4-6 days, cacti can be covered on sunny days with a regular newspaper sheet, ensuring an adequate level of room ventilation, especially with a small internal volume.
Part of the succulents is actively preparing to bloom - the first buds are already visible at the end of January and February. This and stenokaktusy, and Mammillaria, and rebution, and Echinomastus. If possible, such cacti should be placed in the most bright place.
And with sufficient development of buds, if day and night temperatures permit, it is necessary to do the first, perhaps not very abundant watering or spray the plants with warm water.
During the first warm sunny days, it is worthwhile to carefully inspect the collection for the reproduction of pests affecting above-ground stalks of plants. If they are found, the collection should be processed locally or completely with appropriate preparations. After processing, be sure to add cacti on 4-5 days!
In early spring at home should transplant cacti in the new planting a mixture of new and larger pots, taking into account all the errors that have become apparent when inspecting transplanted plants. During the winter, part of the peripheral root system (the thinnest roots) died out, instead of it a large number of waiting roots were formed.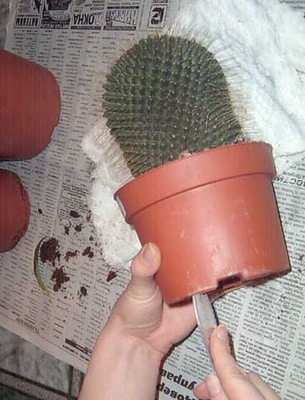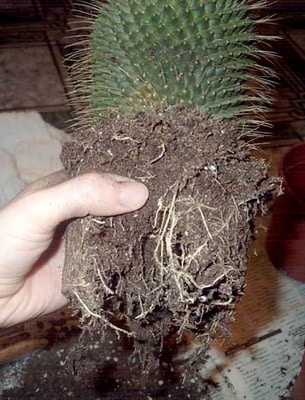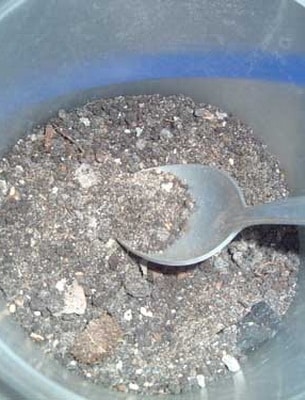 Cactus transplantation spring in this state and watering, followed in a week or more, awaken the waiting roots to active growth and development. Transferring transplants to later spring or even summer months is not always a good idea.
For a number of species, transplanting on hot days may be associated with the loss of a part of the root system and subsequent suspension of growth for the whole summer. How often to water and spray in early spring, you will be prompted by the temperature, but in any case, this should be done carefully.
In the spring when caring for cacti, you need to carefully examine the succulents that bloomed in late summer and autumn, in order to collect seeds. It is better to collect only those fruits and seeds, the origin of which we are sure.
Fruits that were formed without our participation and control, it is better to throw away, so as not to produce an army of indistinct hybrids of unknown origin.
SIMILAR ARTICLES: