Collecting a collection of cacti amazed by the number of their species and varieties. These unpretentious plants have the grace of minimalism and can perfectly fit into any modern styles of residential and office interiors. Lump aporokaktus has a lot of aesthetic and practical advantages. During the flowering period it is a mysterious stranger, striking the imagination with its beauty and grace of delicate flower buds. On this page you can see the types of apocactus in the photo and learn how to properly organize the care at home in order to obtain a beautiful and powerful plant: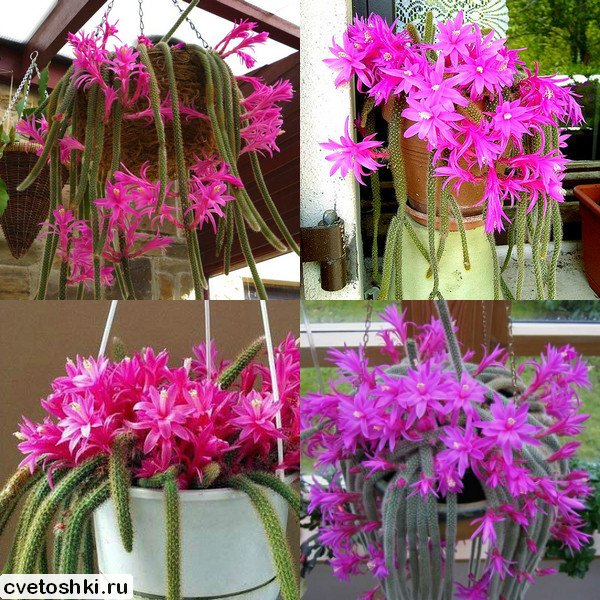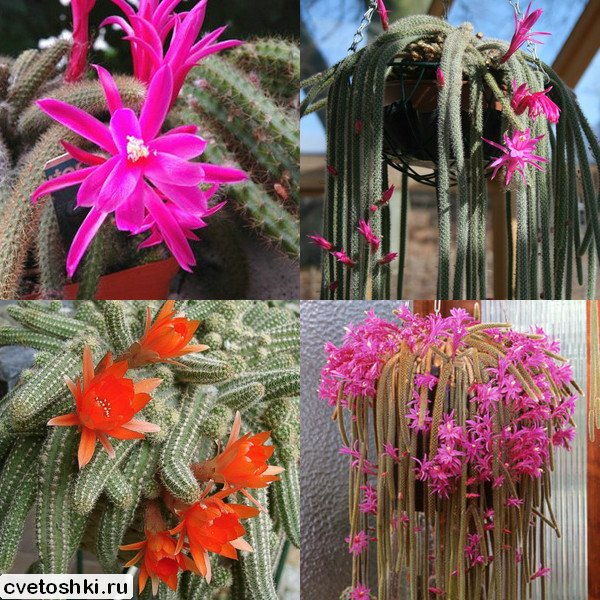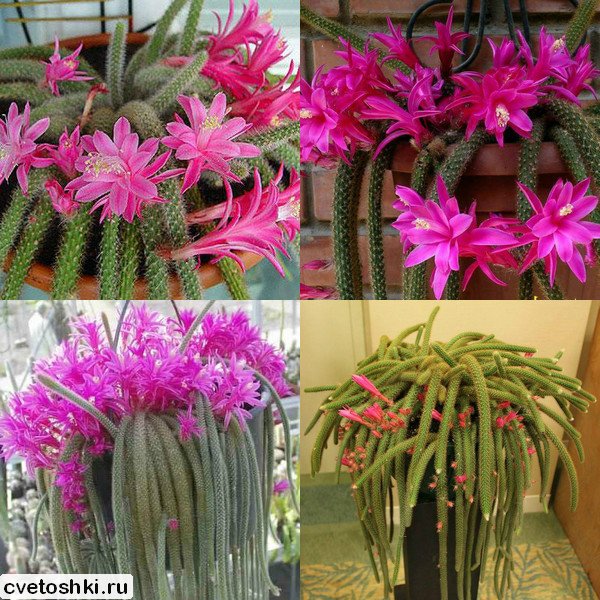 Types of aporocactus for home breeding (with photo)
This is a very popular culture for growing at home. It is characterized by the absence of special requirements for its habitat and special care. It's simple. Types of aporocactus for home breeding can easily withstand the lack of irrigation and application of dressings. They can withstand shade and bloom at the same time plentifully and continuously. Look at the photos of blooming apococactus grown in the most incredible conditions of detention: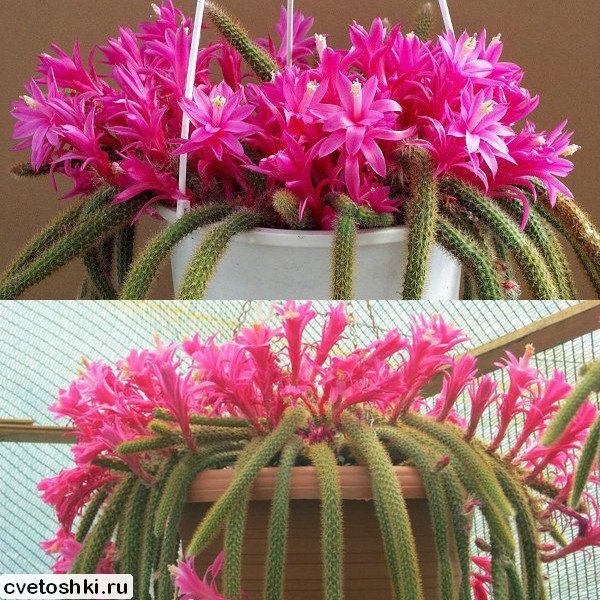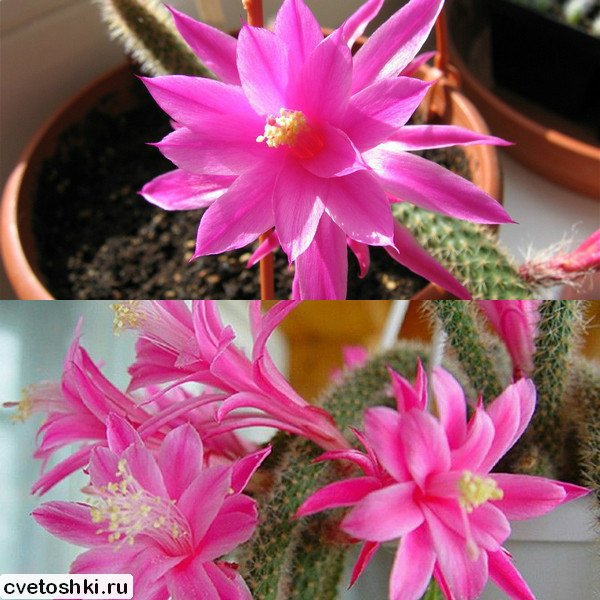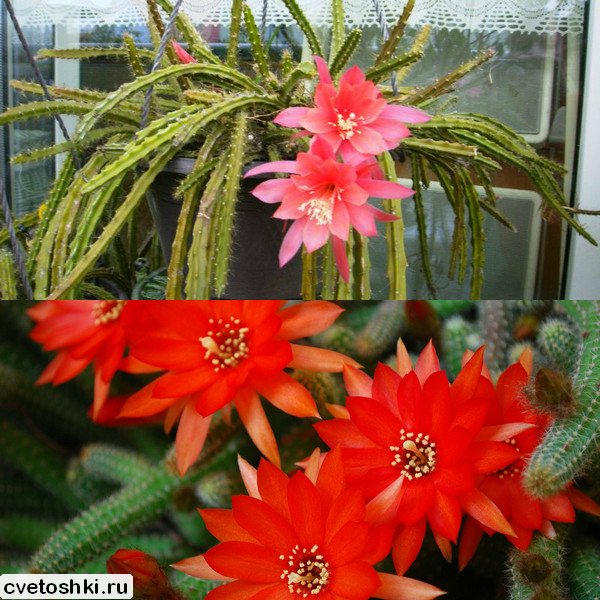 Botanists today know all 5 species of this culture. In nature, they are common in Mexico and Brazil. This plant has a strong root system, capable of clinging in the literal sense of the word, to the harsh rocky rocks. His favorite place of growth in nature is the trunks of ancient trees, in symbiosis with them it reaches gigantic proportions. At home, it is quite modest bushes with drooping stems, dotted with colorful buds.
Flowering in aporocactus begins in late February and lasts until mid-June. But for this you need to organize the right care and timely watering with the addition of mineral components. A distinctive feature of this culture is the re-formation of buds at the place where the previous ones fall. Thus, flowering throughout the stem does not stop for a single day.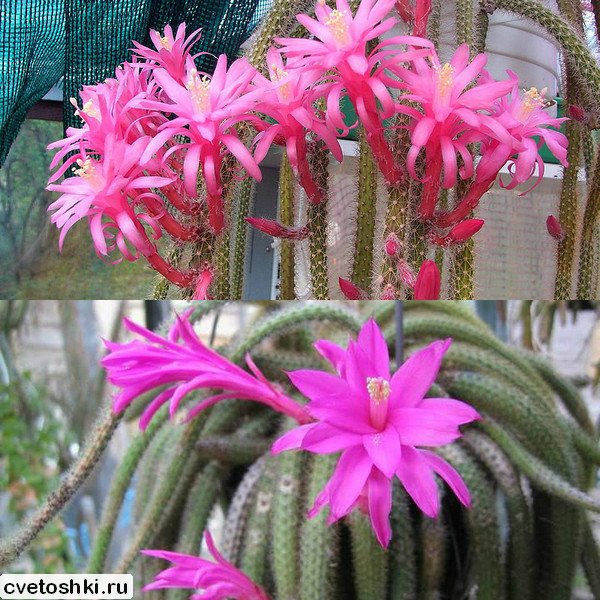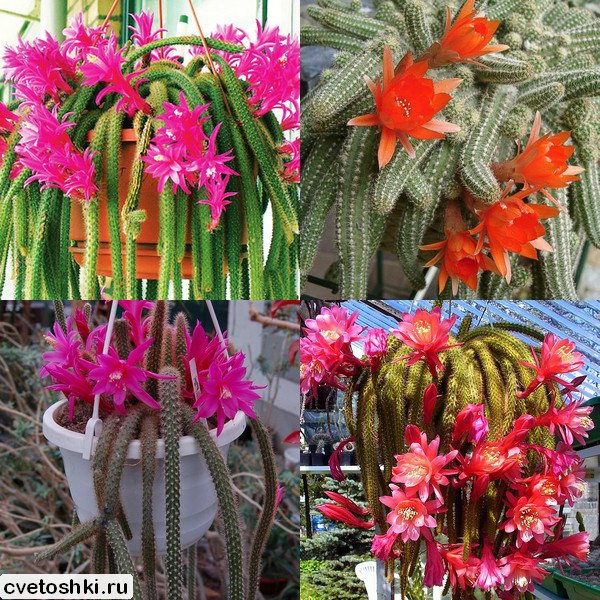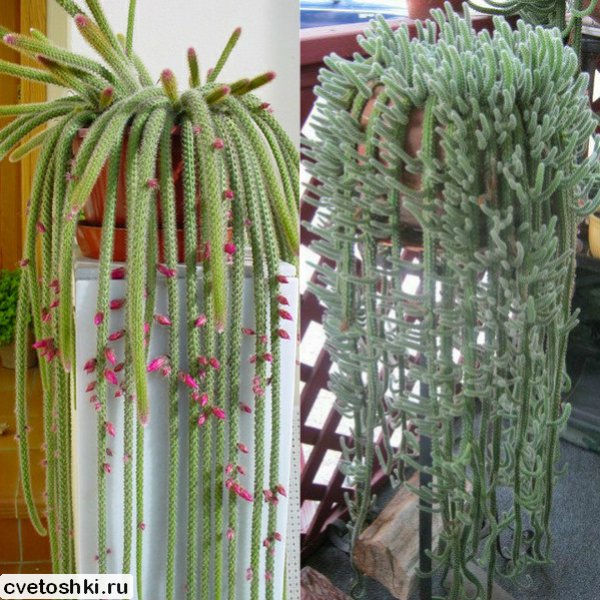 The most common species is plaque-shaped aporocactus, which strikes with a long, fleshy branched shoot with a pleasant green color. The length can reach 1,2 meter. In the first year, the culture grows central shoots that grow upwards. And only starting from the second year of development, the shoots fall down with a magnificent waterfall down. The first buds appear on them. After the flowering period, beautiful shiny berries appear on the bushes. After full maturation, seeds ripen in them.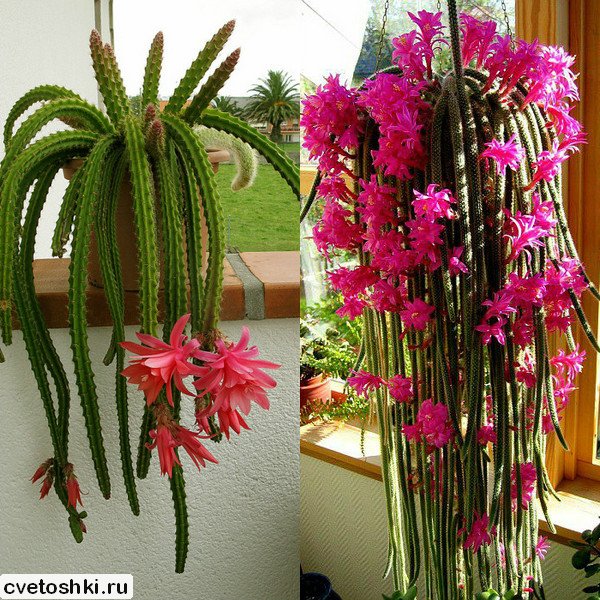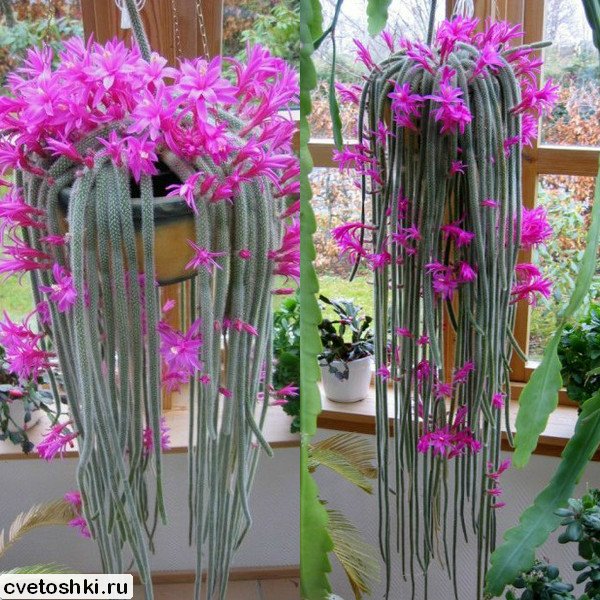 Another attractive view for indoor floriculture is the Konacti apococactus, which has thorny thorns in a contrasting brown color. It is also dominated by long belt-shaped shoots with a fleshy structure. He has large bloody red blooms. Their diameter reaches 10 cm.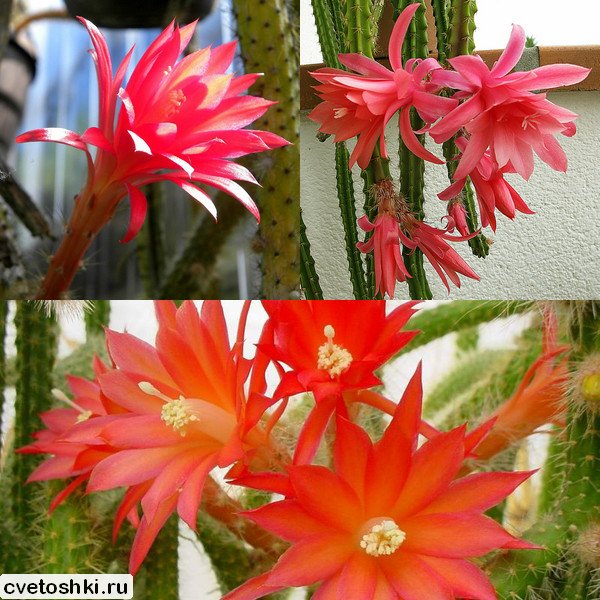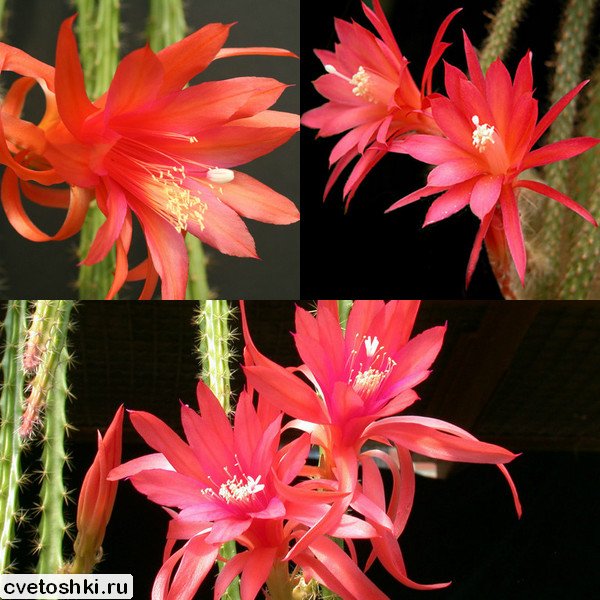 Martius apococactus is another native of Mexico. He also has thorns on long broad shoots against a background of green emerald green. But they have a rich gray color. It blooms with pink fragrant flowers with a bud diameter up to 12 cm.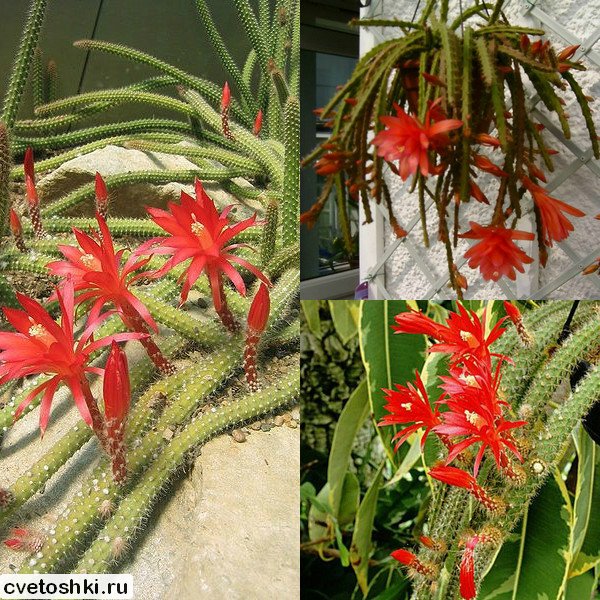 Care for apocactus at home
The stranger requires only compliance with two basic principles - not to violate his sovereignty and provide nutrients in time. The first principle is that you can not twist, twist and rearrange a plant unnecessarily. He does not like environmental changes. Rearrangement may be sufficient reason for the long absence of flowering. The second principle of the content is based on the fact that aporocactus simply requires a huge amount of mineral elements in order to give that mass of flower buds to which nature has it. Care for aporocactus at home can be organized quite simply. Even a beginner in floriculture will cope with this task.
First, determine the place of cultivation. If the apartment does not have northern windows, then it is better to immediately abandon the idea of ​​growing on the windowsill. But next to the window behind the tulle curtain the plant will be very comfortable. The fact is that aporocactus loves a diffused sunny color and does not tolerate scorching direct rays.
Temperature mode - without features. In winter, 18 degrees Celsius is enough, and in summer, the allowable temperature is up to 25 degrees Celsius. On summer days, the flower will feel great on the balcony, but subject to the absence of direct sunlight.
The care of aporocactus includes timely watering. Despite the fact that the culture endures any drought and a prolonged absence of watering, it is not worth experimenting with it. For irrigation, filtered water with a neutral pH reaction is used. Watering is done 2-3 once a week in winter and every day after the beginning of the budding phase. When the first buds begin feeding. Watering with mineral complexes during the flowering period is carried out every week. After flowering, it is necessary to saturate the plant with nutrients for future flowering. Therefore, during the next 2 months, mineral and organic supplements are applied 2 times a month.
Spraying the leaves is practiced in preparation for flowering. After the appearance of buds spraying stops.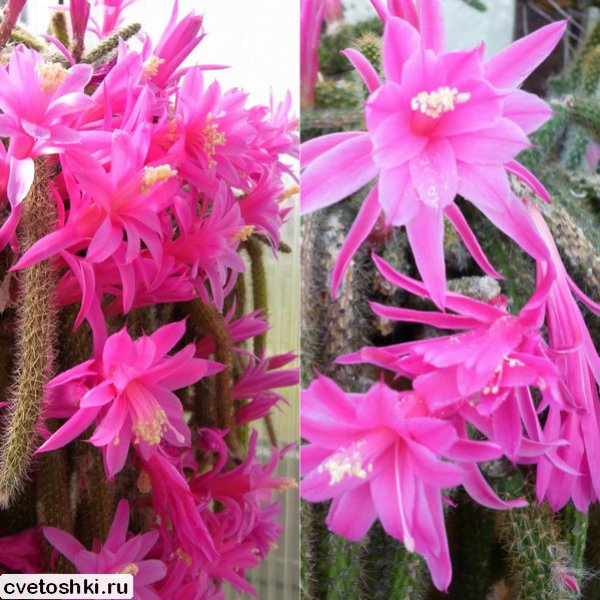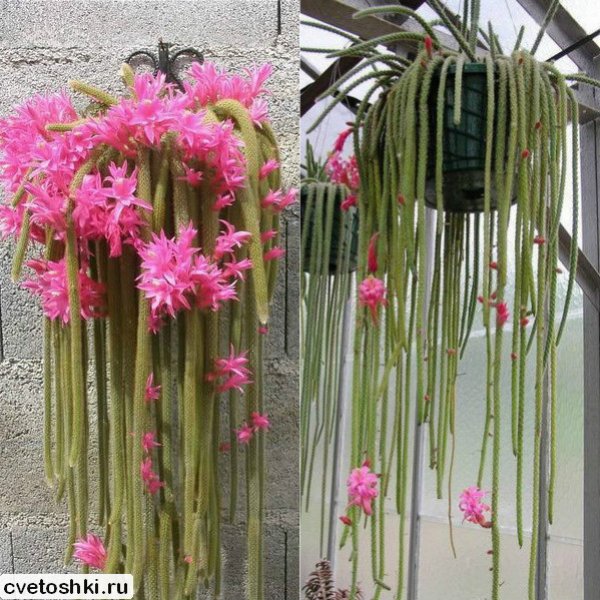 Planting, transplanting and reproducing apococactus
All treatments begin with soil preparation. Soil should be well-structured and rich in nutrients. The base is a simple turf land, organic humus is added to it. Wood ash and mineral fertilizers are introduced. Pre-sterilization in the oven neutralizes the soil from fungi, bacteria and parasites. Exposure time at a temperature in 220 degrees - 120 minutes.
The pot should be chosen in such a way that it fits a fairly well-developed root system. It should be wide and not high. At the bottom is laid drainage with crushed stones and bricks, expanded clay.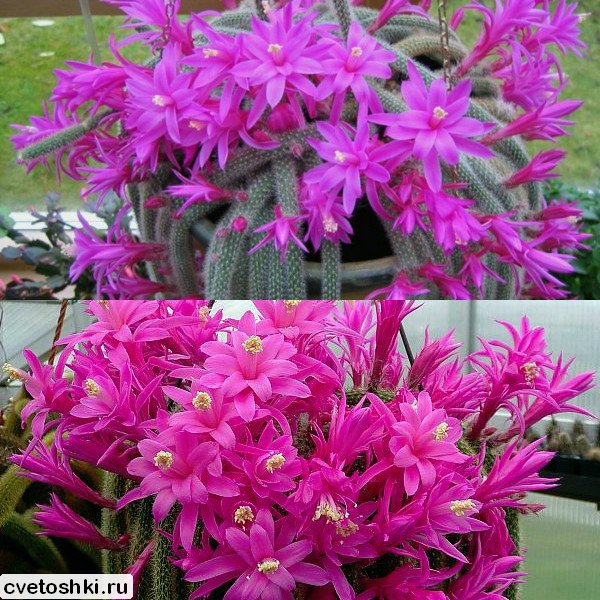 The initial planting of aporocactus involves the preliminary grafting and rooting of cuttings. A long stem is taken and cut into 6 cm long pieces. They are dried and processed with crushed charcoal. Then, one end is buried in a bowl with roasted river sand. After a lot of watering from the top, the container is covered tightly with a plastic bag. In this state, the formation of the root system should occur within 2-3 months. After starting to appear new shoots remove the film. It is impossible to do this all at once. First, the cover is removed for 30 minutes, the next day - at 1 hour. By adding 30 minutes each day, you can achieve complete hardening of the cuttings.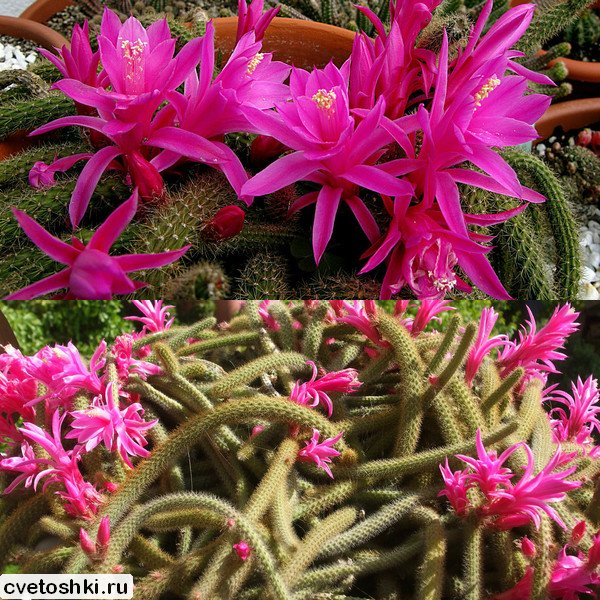 Transplant rooted cuttings do not require special techniques. The pot is filled with soil and it is planted aporocactus in the required quantity. It is usually recommended to plant a pot of 1-3 cuttings in 5. The first 4 year of life a flower is transplanted into a larger pot annually. Then transplanting is required only 1 times in 3 years.
SIMILAR ARTICLES: