Perennials in rooms and offices are pleasing to the eye and saturate the air of the premises with useful oxygen, simultaneously absorbing harmful compounds. Amazing achimenes while giving more and exquisite aesthetic pleasure from the contemplation of its delicate buds. The flower is perfectly adapted to growing at home, all agronomic processes, from planting to breeding, are available even to the beginning florist. It is possible to grow this miracle both in group compositions, and in single plantings. We offer to learn more about these flowering plants, get acquainted with the species of achimenes and see their varieties in the photo: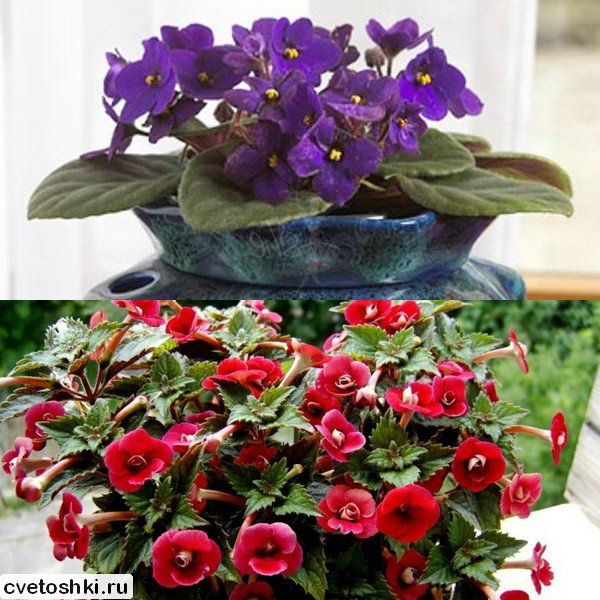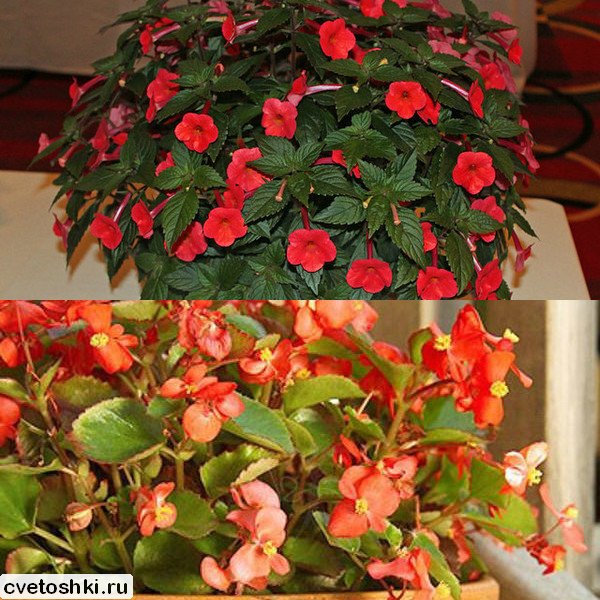 A description of achimenes can take several pages - the varieties of this plant are so varied. It belongs to the Hesnerian family, is a grassy formation with a powerful root system. Under natural conditions, it is a perennial, propagating vegetatively and seed. All well-known direct relative of Ahimenes - violetgrowing on almost every windowsill. In addition, gloxinia, columney, smithant, eschinatus and other representatives are common among Gesnerian. Recently, more common Streptocarpus, allowing you to display absolutely unusual versions of flower buds.
Ahimenez flower is subdivided into spray and drop ampelous forms. The latter are great for gardening balconies, loggias, terraces and gazebos in the summer. Spray species are grown at home on window sills. From them it is possible to form various compositions.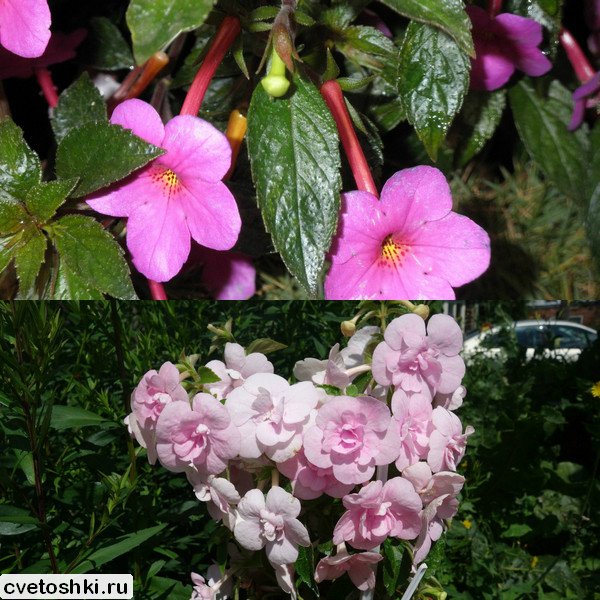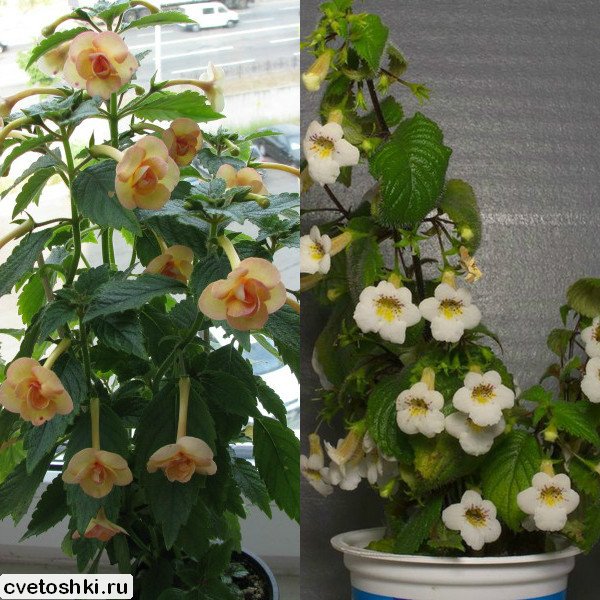 Ahimenes varieties for growing at home (with photo)
Achimenes includes more than 50 species of beautiful plants that actively bloom for a long time, starting in early spring and deep into winter. In the wild form is found in the northern regions of Africa, in Mexico, on the island group of Jamaica, in Brazil and many other countries. Ahimenez varieties suitable for growing at home are mostly all through genetic processing and selection. Accordingly, they are adapted to room conditions and, subject to the rules of agricultural engineering, give excellent flowering.
Look at the photo of the Ahimenes variety - among them you can find several dozen for your collection: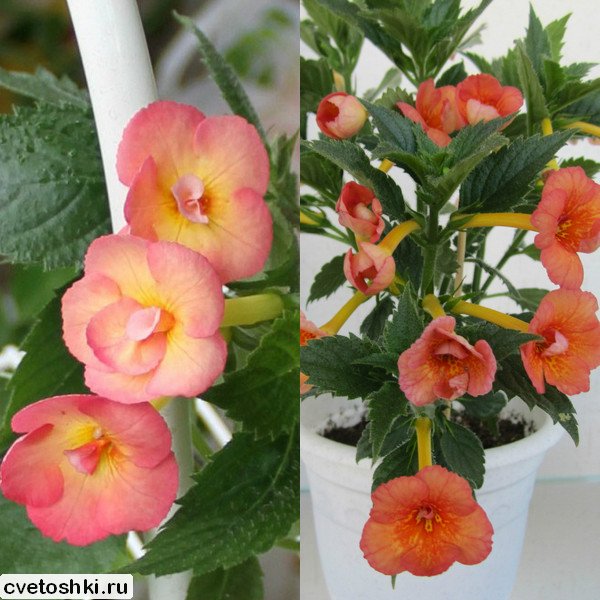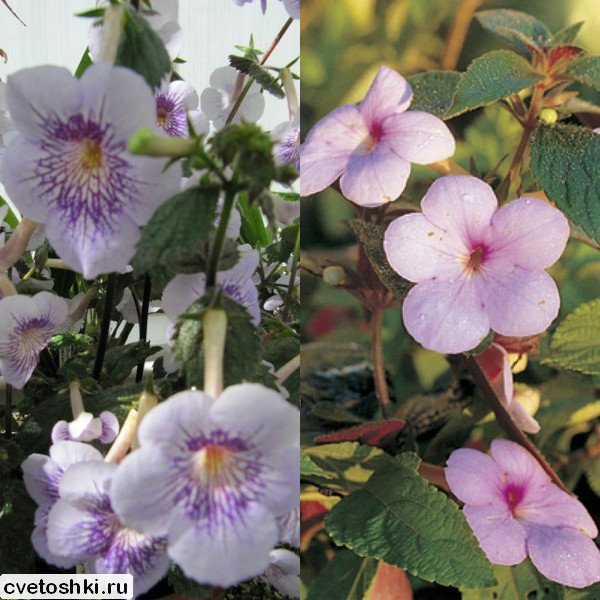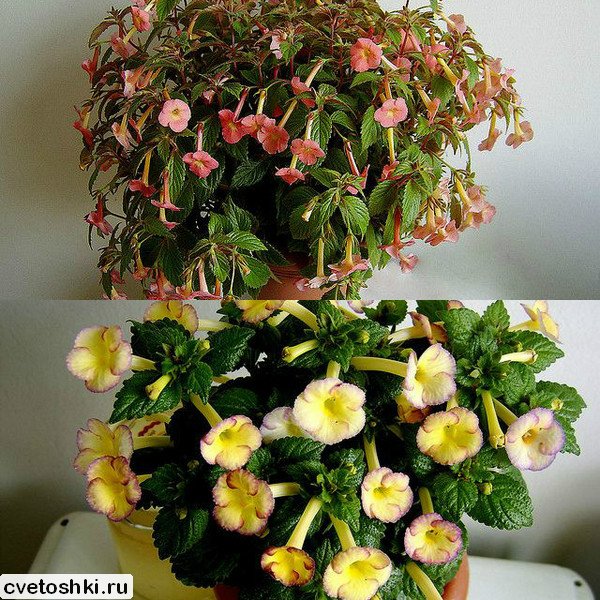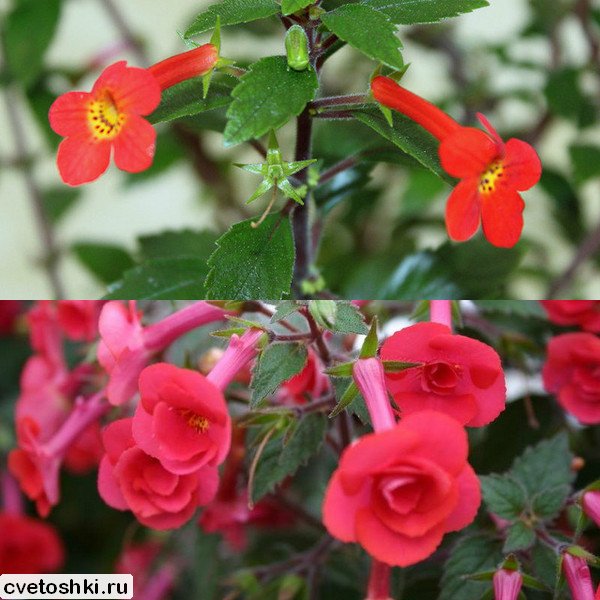 The bush group is distinguished by upright strong shoots with a fleshy structure capable of accumulating a large amount of moisture for a comfortable life during the dry season. Ammelnye stalks are flexible with a fairly large massiveness. Stems drooping, more pale in color than the deciduous mass. Leaves possess a gear form of saturated green coloring. They are fleshy, covered with light pubescence. Some varieties have burgundy, purple, brown and orange leaves. Bud form bell-shaped, simple or terry. A flower can reach a diameter of up to 10 cm, but more often there are varieties with small buds up to 5 cm. There is a nimbus in the center of each bud, it can have a contrasting petal color.
Plants require a short period of winter dormancy, in the continuation of which they reduce the intensity of watering, stop making root dressings. In Russia, this period begins at the end of November and lasts until the end of February. The elevated part at this time gradually dries up, giving nutrients to the tuberous system for subsequent accumulation. At the end of February, the tubers give new shoots and new vegetative period begins, followed by flowering.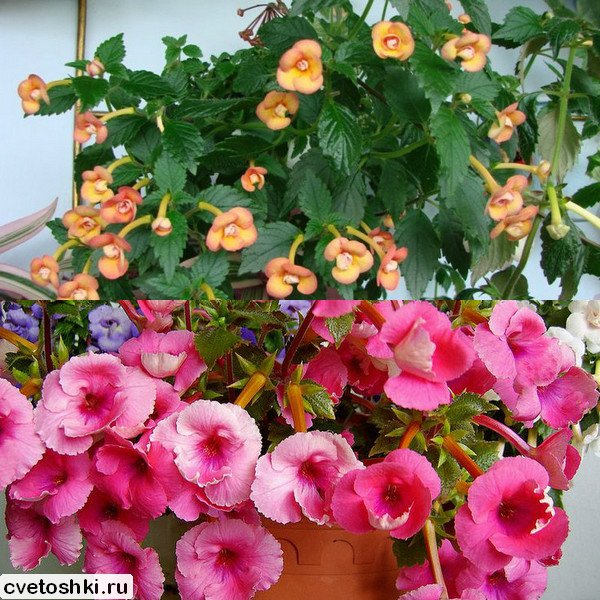 Ahimenez peach has magnificent peach buds and green foliage. Propagated by tubers and leaves. Possible planting seeds. Unusual pink achimenes rose is the most favorite variety of flower growers. He is absolutely not fancy in the care. Flowering is over 9 months. A more rare variety is achimenez blue - its distinctive feature is blue petals of unusual shape.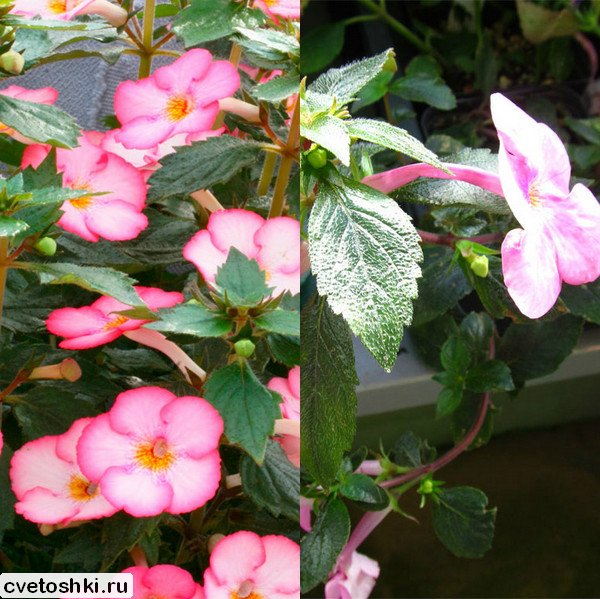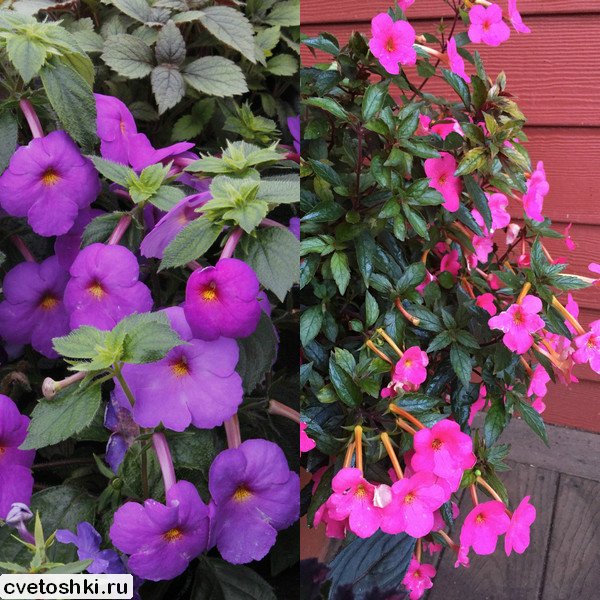 Other popular varieties include:
Achimenes candida with white buds up to 2 cm in diameter, blooming on peduncles up to 40 cm;
Achimenes ehrenbergii with purple petals and dark green leaves;
Achimenes fimbriata gives fringed flowers, refers to ampel forms;
long-flowered species resembles Gloxinia, but buds are smaller;
another large-flowered variety, Achimenes heterophylla;
Mexican achimenes belongs to weakly branching types, has a wide range of color buds.
The combination of several shades in one bud is the dream of any breeder. Breeding such varieties takes years, but the result is amazing.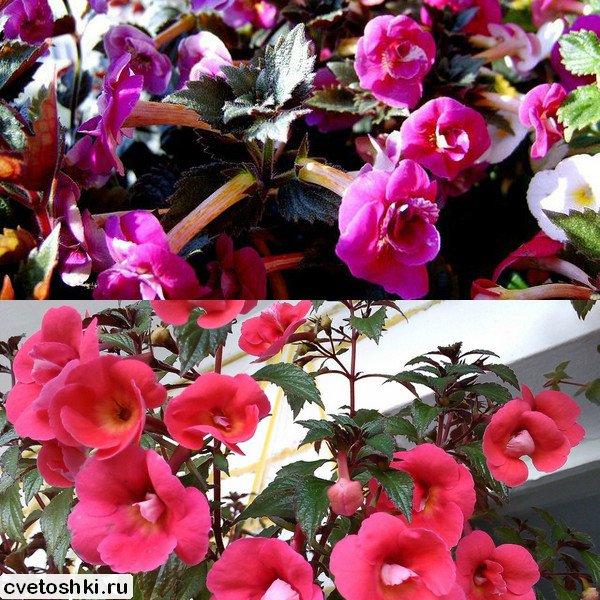 Care Ahimenes - what you need to know a grower?
Below we give the basic information about what a novice grower needs to know for successful agrotechnics of this flower culture. Caring for achimenes at home is not particularly difficult. It is important to choose the right location for him, where there will be enough diffused sunlight and there will be no drafts.
Watering is the most important agronomic technique. Plants love moisture. Spray the deciduous mass can only be in the period when there is no budding and flowering. Water droplets falling on the buds cause damage to them. Brown spots may form. Constant moistening of the air around achimenes stimulates its rapid flowering. For watering should take soft water at room temperature. 1 mineral complexes for violets or other flowering plants are added once a week during watering. Watering in spring and summer is held daily in the morning. In the autumn, they gradually reduce the number of waterings, and towards the end of November, watering stops.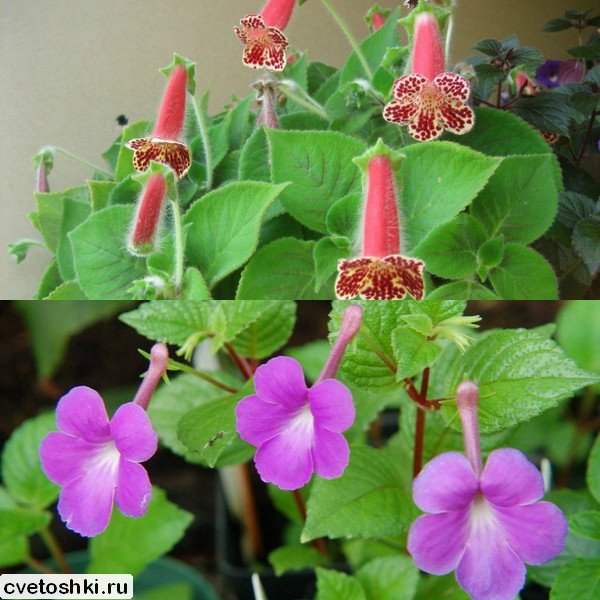 When preparing a plant for a rest period, cutting the above-ground part is strictly prohibited. From the deciduous mass at this time, all the nutrients and accumulated chlorophyll are transferred to the tuberous system, where rhizomes develop, giving shoots for the next year. For winter storage, it is necessary to lower the temperature to + 15 degrees. Approximately 1 once a month can be carried out lightly moistening the soil mixture in the pot. With the appearance of germs culture rearranged on the windowsill. You can carry out the procedure of transplanting in fresh soil or partially replace it in the old pot.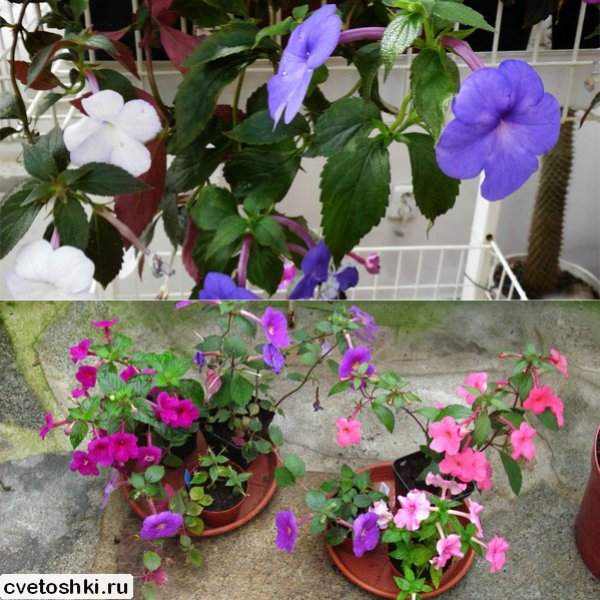 Propagation and planting of Ahimenes (rhizomes, seeds and cuttings)
Before the landing is held at home, the preparatory stage takes place. It is necessary to determine the method of reproduction, pick up the soil and pots. The reproduction of achimenes is carried out in three ways: sowing seeds, rooting cuttings, dividing the root tuber system. Usually, the rhizomes of Ahimenes possess several strong shoots; after planting, they give active flowering in the first year. Sowing seeds is a long way to reproduce. After the emergence of seedlings, the seedlings are seated, grown for 2 years for the formation of the tuberous root system. And only after that, in the third year the plant will be ready to give abundant flowering. Seeds are small, sprout 20 days after sowing. The cuttings rooted perfectly in the water, quickly give flowering.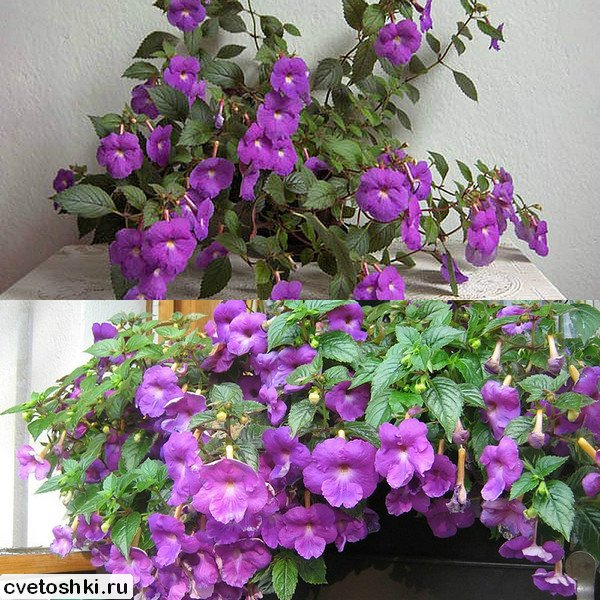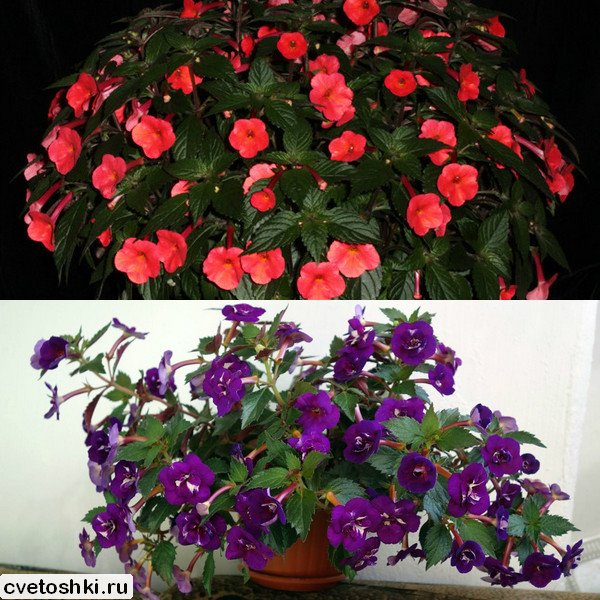 The soil for planting should be nutritious, rich in humic substances. The humus is taken as a basis, to which is added the 1 part of the sod land and the 1 part of the construction sand. Adding hydrogel allows you to increase the flow of moisture to the root system of the flower. The addition of vermiculite, dry mullein, biohumus and other substances is also practiced.
Pots for planting should be wide and not deep, since the main part of the root system develops near the soil surface. At the bottom of the pot is placed a layer of drainage (expanded clay). In one pot you can plant 3-5 with a riza of achimenes - this is how a more lush plant is obtained. Topsoil should be up to 4, see. Watering is carried out daily, do not allow the soil to dry out. The first shoots appear fairly quickly, after 1 week. The flowering period begins 2 months after the rhizome landing. Regular pinching contributes to the development of a lush bush with a large number of peduncles.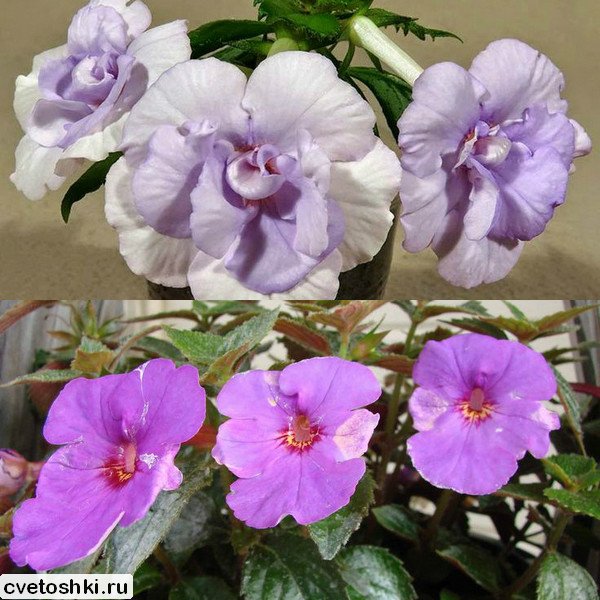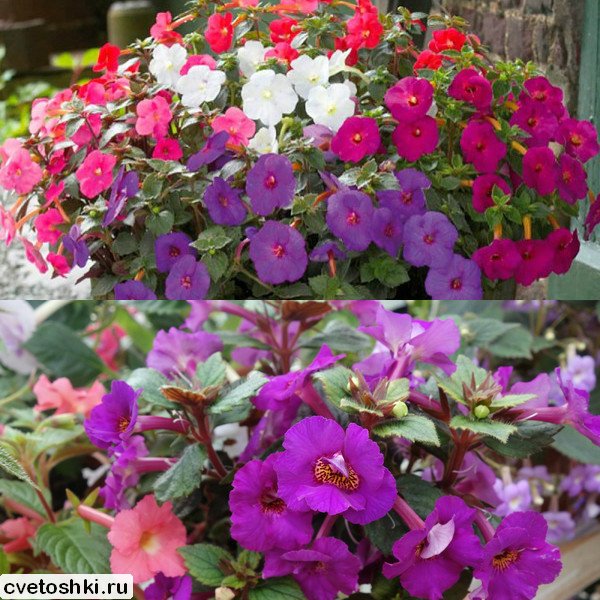 To ensure long flowering, you can use the following tips:
regularly remove flower stalks, on which flowers have dried;
water with mineral fertilizer every week;
protect from direct sunlight, under adverse conditions, the plant stops flowering;
Avoid even briefly lowering the air temperature below 15 degrees Celsius;
spray the air next to the plant.
When a large vegetative mass requires the installation of mesh supports. Otherwise, the stems will break off.
Sowing seeds for breeding achimenes is not an effective way to preserve varietal traits. Basically, planting is practiced by breeders in order to obtain new interesting species. When grafting all species characteristics of varietal characteristics are preserved in full. You can also cultivate culture by dividing the root system. In the autumn, daughter rhizomes form in large numbers on the bush.
Note! Plants grown from cuttings and seeds should not be stopped watering in the autumn until such time as they have not formed a full tuber root system.
SIMILAR ARTICLES: