Ampel Pelargonium is one of the most beloved plants of flower growers, usually decorated with parks, balconies, terraces, open areas and spacious rooms. She is valued for the fact that she has beautiful flowers and leaves, and she blooms brightly and for a long time. Ivy Pelargonium is loved by both experienced flower growers and retirees who are not well versed in the intricacies of caring for this fragrant plant. The plant is originally from Africa, and in Europe it appeared only a few centuries ago. Care at home is not difficult, reproduction is carried out by grafting in the process of annual pruning. Cuttings quickly give the root system and do not require special skills for rooting.
Look at the photo of ampelnaya pelargonium and highlight all the advantages of this plant for indoor floriculture: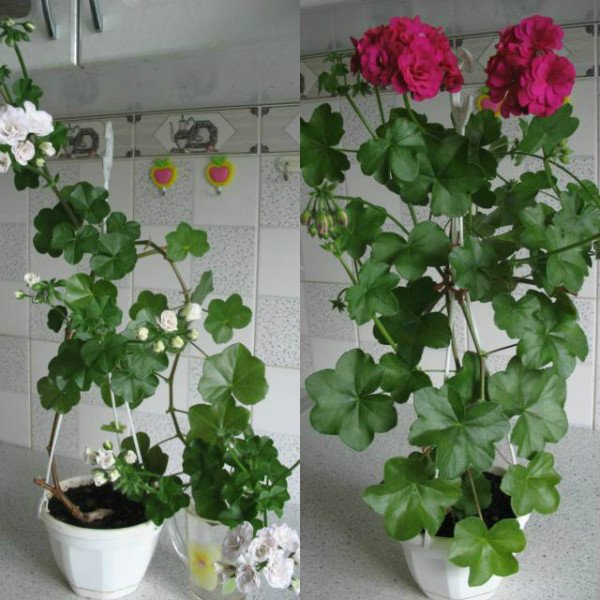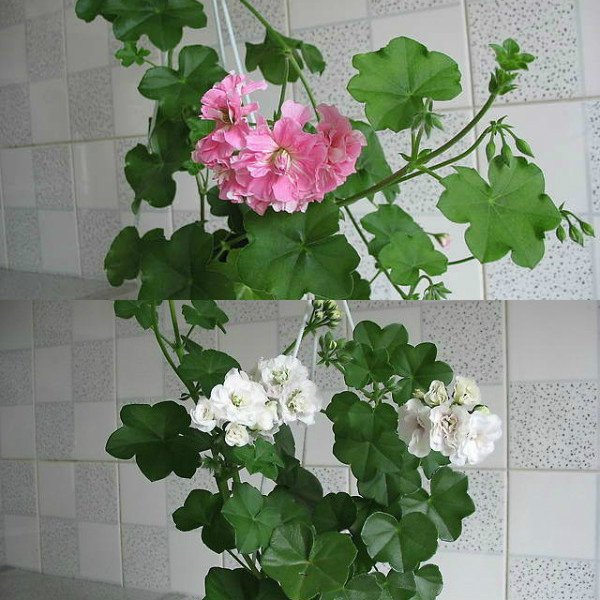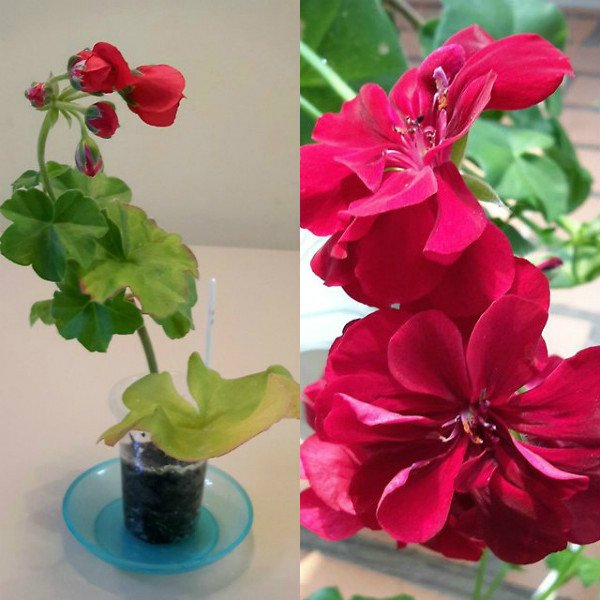 What is ampelnaya ileum Pelargonium?
Pelargonium is often called geranium, and both of these names are associated with birds. If the first word is translated from Greek as a stork, then the second from the same language is like a crane. The beaks of these birds resemble the fruits of this plant. As a rule, Pelargonium is called perennial, growing at home. A geranium is a frost-resistant plant, quietly wintering in the garden or in a flower bed. What is an ampelous amber pelargonium from the point of view of a home phytodecorator? This is a plant with which you can create unique green interiors that do not require a special flower breeding experience.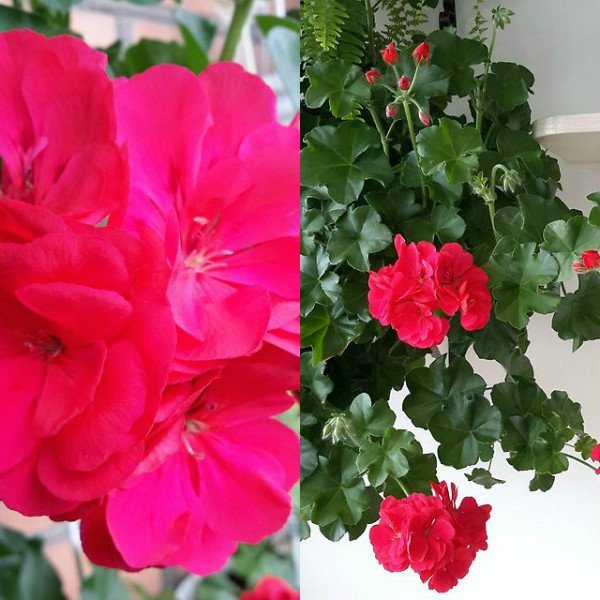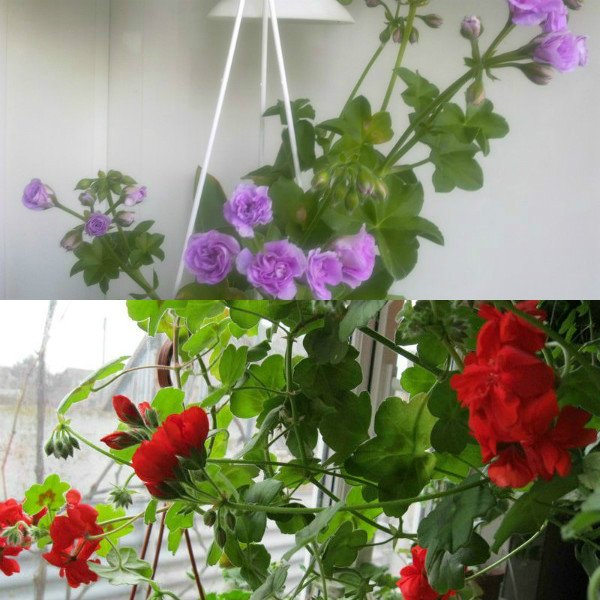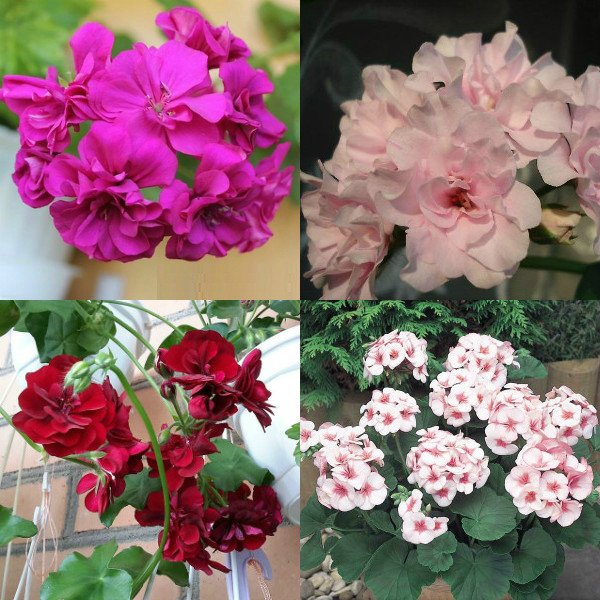 The word ampelnaya in the name of the plant comes from the German ampel (flower vase), which, in turn, goes up to the Latin ampulla, which means "small flask". In ornamental ampelous plants, the shoots are flexible. They are good for so-called hanging gardens. These include ampel pelargonium ileum, the length of shoots which reaches almost one meter. It comes from the south of Africa, where it falls from the slopes of the hills. It differs from vertically growing pelargonium in that its leaves are smooth, without a gun, five-lobed, from three to six centimeters wide. Star-shaped and cactus-shaped flowers are collected in an inflorescence in the form of an umbrella. It has up to thirty flowers blooming five to six days. Flowers of the plant come in a variety of colors and shades.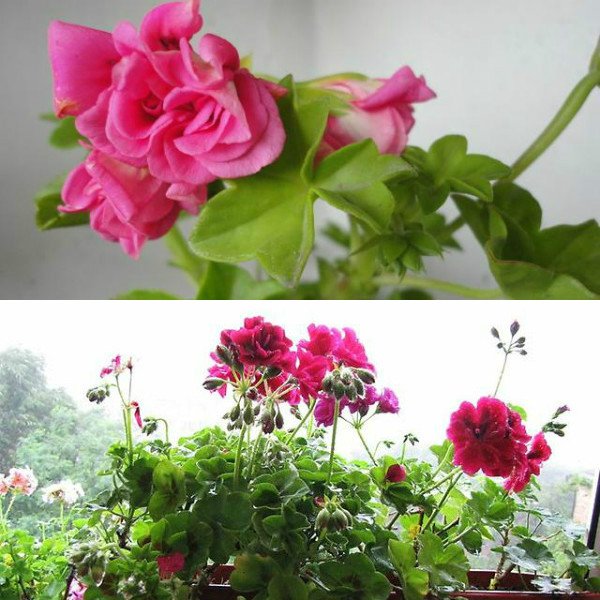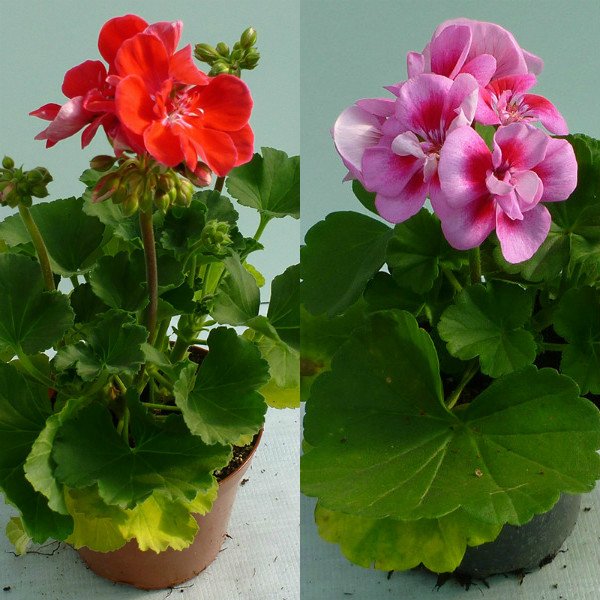 Planting of ampelous pelargonium and its subsequent care
For planting flower pelargonium ampelous use hanging baskets, pots, vases, window and balcony drawers. Most often, these light-loving plants adorn the sunny facades of houses, where they look both organic and beautiful. Ileum, or ampelous, pelargonium differ from other species in that they have hanging or creeping shoots from twenty centimeters to one meter in length. This type is widely used for decorating windows, loggias or balconies. Planting can be done in spring or early autumn.
The subsequent care of it consists in timely watering and introduction of mineral fertilizers. It is easy to care for pelargonium at home, it grows normally under certain conditions. It is necessary to monitor temperature fluctuations, light, the amount of moisture in the soil. The temperature in the room where pelargonium grows should be in average 22-23 degrees in the warm season, and in the cold season it should not be lower than 12-15 degrees.
For planting, it is necessary to prepare a suitable soil for it: an approximately equal amount of sand, humus soil is taken, there should be a large amount of potassium in the ground, but there should not be much nitrogen. The fact is that with an excess of nitrogen, flowering rates slow down, and the leaves, on the contrary, become larger.
The seedling is planted in a window box in one row, at a distance of about fifteen centimeters from each other. At the end of the spring frosts, they can already be put on the street, and in April-May and in the summer, pelargonium should be watered regularly, fertilizing with small doses of mineral fertilizers.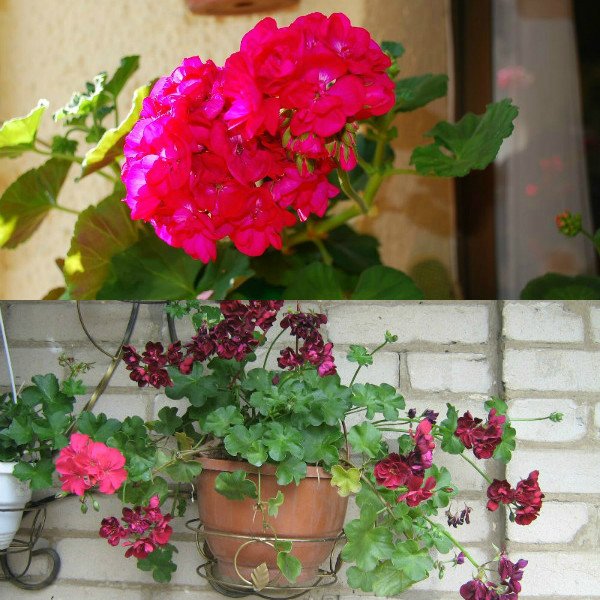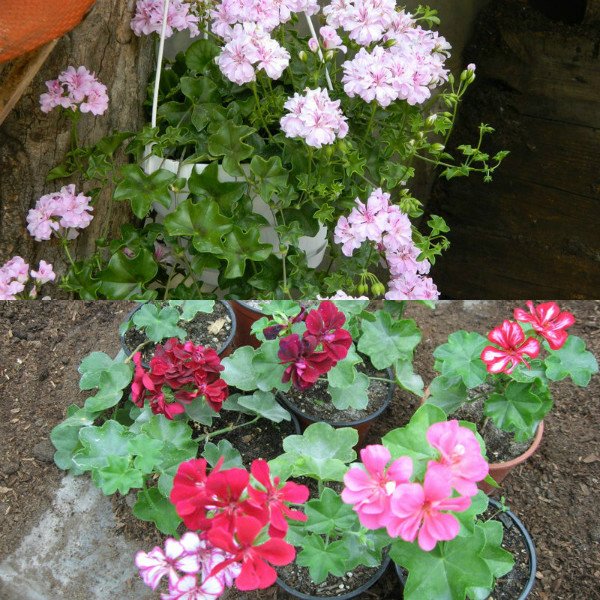 Watering a plant also requires certain conditions: the soil in a pot or box should be moderately moist. If it is more than normal, it will stagnate in the container and as a result, mold may appear. Excess moisture can be removed by draining through small holes in the bottom of the tank. In the summer they water more often, in the winter - less often, once every one and a half to two weeks. At the same time, the ampelous geranium should not be sprayed, since the ingress of moisture on the leaves can cause them to rot.
For good growth, the plant needs fresh air, so airing the room is necessary, but it should be avoided drafts. In winter, it is desirable to place pelargonium in such a way that it has additional lighting, while the ground part can not be cut off. But in the spring pruning will give Pelargonium downright gorgeous pomp.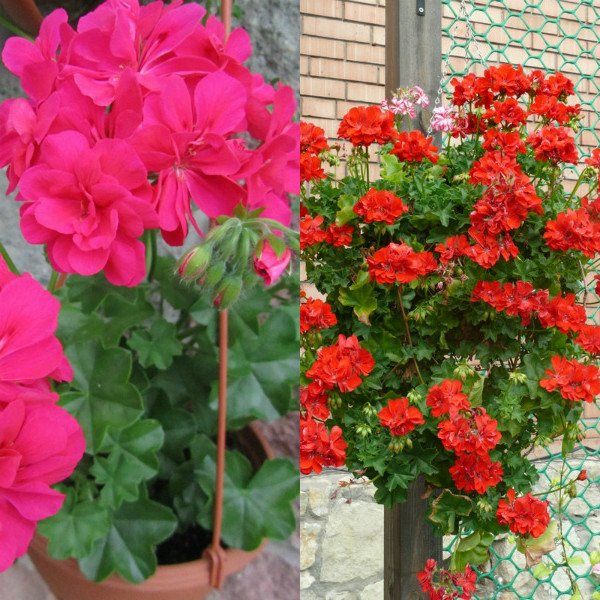 At room temperature, plant pots should be kept as far as possible from heating appliances. In winter, pelargonium should not be watered too often - once every one and a half to two weeks is enough. By the way, in winter, "to please" pelargonium is more difficult, because it needs more light.
It is important to produce fertilizing pelargoniums in time. When caring for ampelous pelargonium, it should be remembered that from March to August, during the flowering period, it is necessary to feed the plant weekly. Mineral fertilizers, as already mentioned, should be used in low concentrations. Florists have long noted that milk diluted with water is very useful for pelargonium.
But some believe that geranium is not necessary to fertilize. It grows well in fresh fertilized soil, so in spring it is better to transplant it into a new pot with fresh soil, moderately fertilized. Such land can be purchased in specialized stores, or prepare the soil yourself. Recommendations on how and in what proportions to do this can be obtained from any specialist or experienced amateur.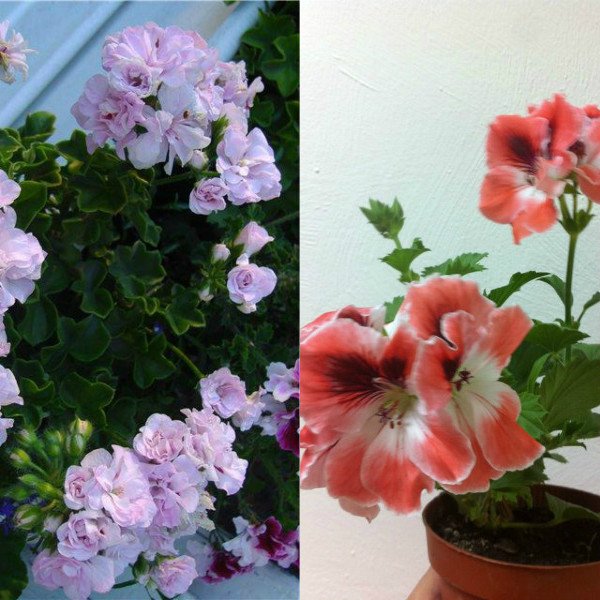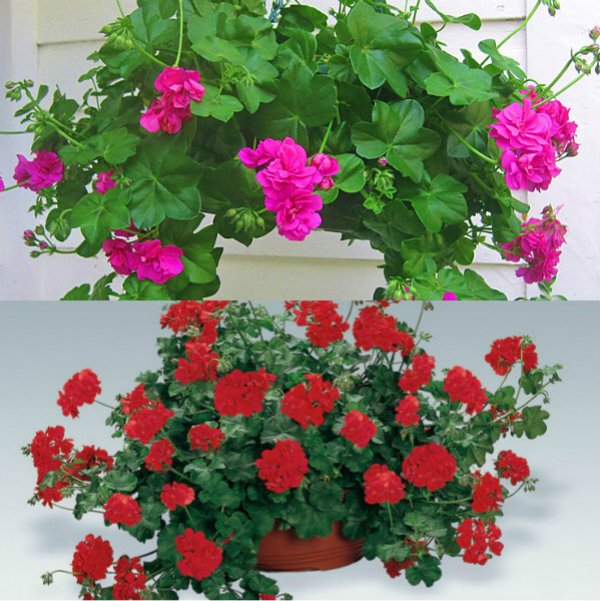 Reproduction of ampelous pelargonium
Florists sometimes cultivate ampelous pelargonium from seeds, but they reasonably consider this a matter of too troublesome, since many nuances must be taken into account. Therefore, it is preferable to propagate the ampelous pelargonium with cuttings, previously dried for about a day.
For reproduction, dry sections, having previously been lowered into coal powder, which acts as a growth stimulator, are planted in disinfected soil. Disinfection can be carried out with boiling water or held in a hot oven for about ten minutes and then cooled to room temperature. The distance between the cuttings is no more than two centimeters. The soil around them must be compacted. If all this is done in spring, then in summer, pelargonium will surely bloom.
But if the cuttings do not, then you can grow out of seeds, especially since they are sold completely free. The most favorable time for sowing is the beginning of winter. Florists recommend sowing them to a depth of about five millimeters. Optimal temperature soil for reproduction of ampelous pelargonium seeds - up to 25 degrees. Within a few days, the seeds may ascend, but, as the experience of professional flower growers and amateurs shows, it is rarely possible to get a full flower from the seeds.
If a plant has bare stem in the winter months, there is no need to hurry to rejuvenate it, cutting it to cuttings. In this case, you just need to pin the top. After this, new shoots appear from the buds, and the plant blooms faster and more magnificently.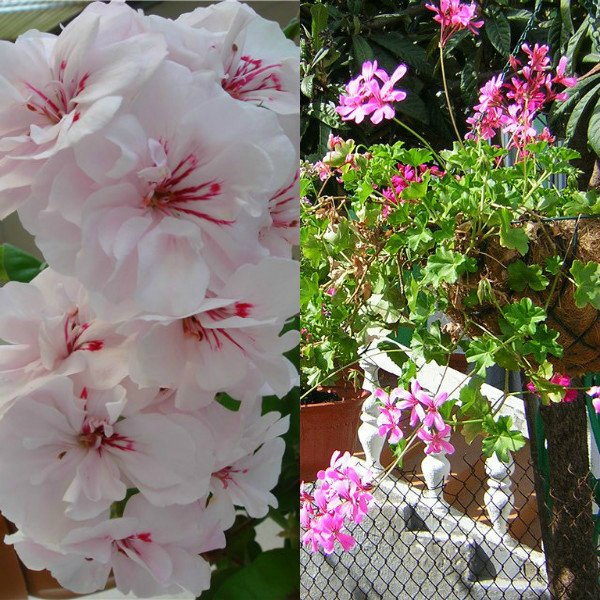 Varieties of ampelous pelargonium (with photo)
Today, in stores and in the markets you can buy geraniums of a wide variety of varieties, including ampelous geranium. Decorative leaves and flowers of bright and unusual shades on the window or balcony will delight not only the apartment owners themselves, but also their neighbors. Yes, and passersby are unlikely to remain indifferent.
For three or four centuries of breeding, a wide variety of hybrids and varieties of ampelous pelargonium appeared: variegated, dwarf, white and two-colored, with double flowers and others. They are grown not only because of the bright, unusual colorings of flowers, but also because of the leaves, with a unique flavor. Look at the photo for some varieties for indoor floriculture: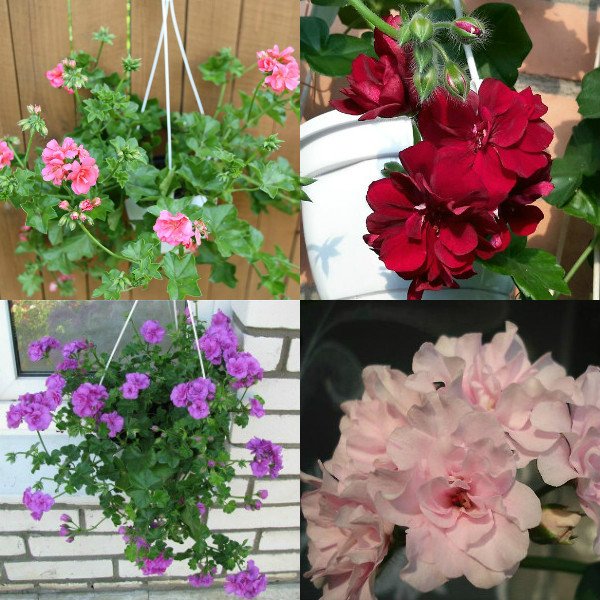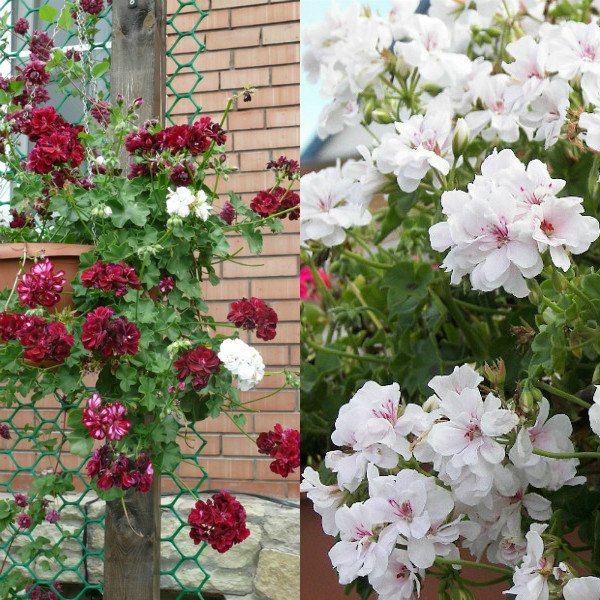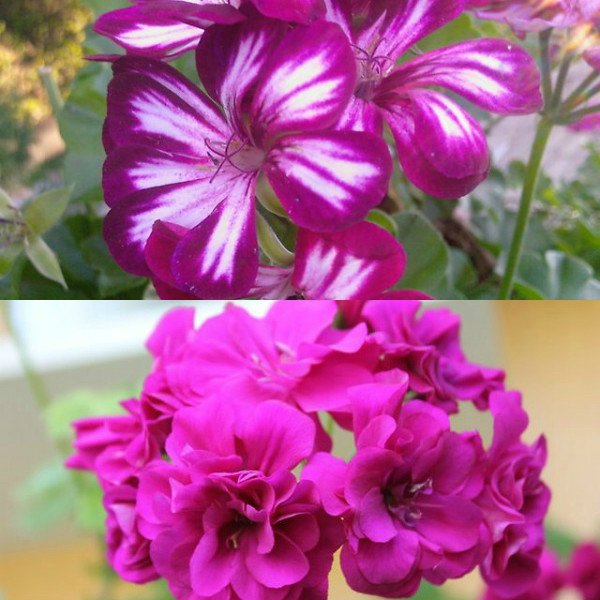 There are many species and varieties, the most common of which is zonal pelargonium, varieties of which number several tens of thousands. This species got its name because of the so-called zones on leaves that have a different color. At the same time in winter, when the light is low, they disappear, and appear in the spring again.
There are rosaceous pelargoniums with buds similar to pink and tulip-shaped, the flowers of which resemble the buds of tulips — they were brought out by American amateur breeders in the middle of the last century. Star Pelargonium is a rare species. It is characterized by twisted flower petals. Clove varieties resemble garden carnations.
Royal geraniums has large sizes and flowers with a corrugated edge. The peculiarity of its color is that it does not have uniform shades of white, burgundy, purple and pink. Variety "Angel" resembles the appearance of astermia. It was obtained by breeding in the 30s of the last century. This variety also belongs to the royal group. Photos of the ampelous pelargonium of this variety can be found on the Internet resources.
The fragrant geranium exudes a strong aroma and, as a rule, has many small flowers in the inflorescence. When growing it at home, it forms a small bush, whose height can reach one meter.
Adhering to not complicated recommendations, you can easily grow a luxurious flower that will decorate your interior. In addition, according to popular belief, pelargonium has magical properties, can resist negative evil spirits and preserves the well-being of the family.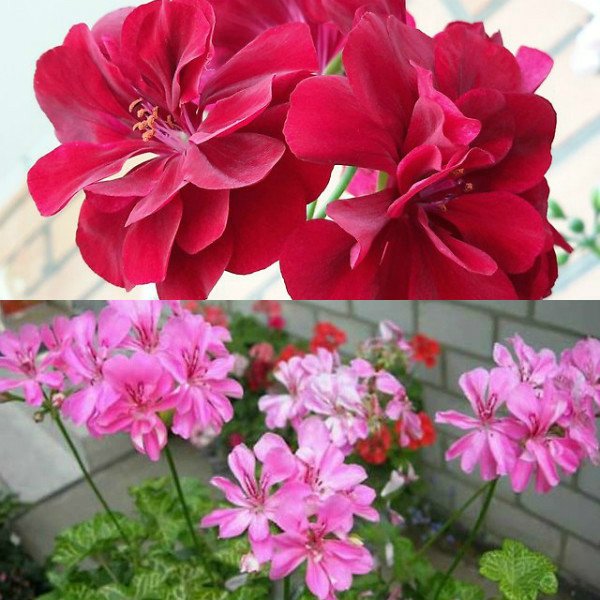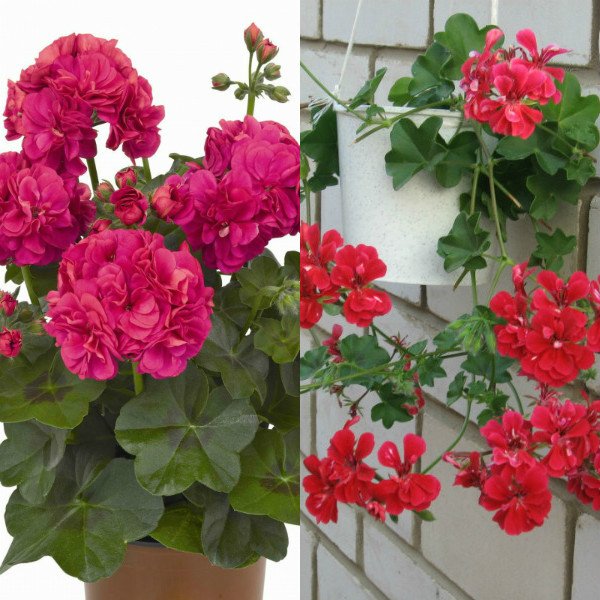 SIMILAR ARTICLES: