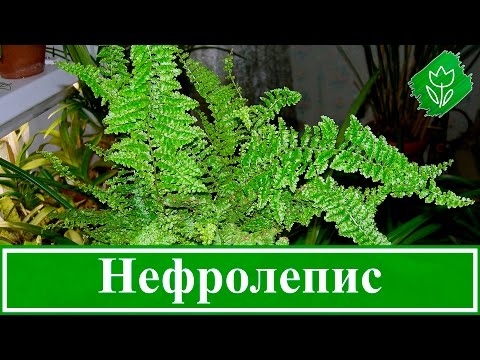 Some will say that this is a magical plant that blooms once a year on the night of Ivan Kupala, and if you are lucky enough to find a flower of a fern, then your dearest wish will be fulfilled. Others will argue that this plant is nothing special, it is just one of the oldest, which appeared about 400 a million years ago. During the long-term evolution, a indoor specimen of a fern flower appeared, which is identical in structure to its wild predecessor, but This is adapted to the home environment. The main external feature of the plant is its structure.
The leaves, or how the fronds will be more correct, are the land part of the plant, which is presented in the form of broad feathery leaf plates, cut across from the base to the very tip. The young shoots of a flower have the form of a tightly twisted spiral, which, as it grows, straightens and condenses.
For acquaintance look at a photo of potted flowers of a fern and their names.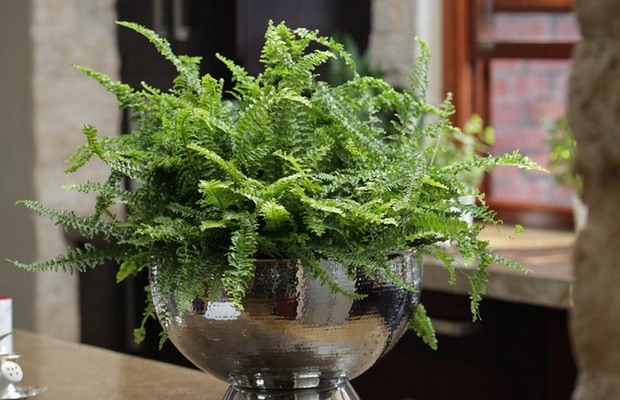 This appearance is explained not only by the ancient origin of the plant, but also by being in the intermediate class between mosses, algae and gymnosperms of vegetation. This type of vegetation belongs to the Acrostichaceae family (Pterisaceae). Homeland of almost all home flower specimens ferns are subtropics and tropics.
What are the types of home ferns: photos, names and description of indoor plants
At first glance, all ferns are the same, but they are more than 10 thousands of species, they vary greatly in structural features, life cycles and sizes.
The fern family includes both indoor and garden plant specimens. When choosing vegetation, it is worth considering not only the appearance of the flower, but also the requirements of this species for habitat conditions. Below are the most famous types of ferns and their names: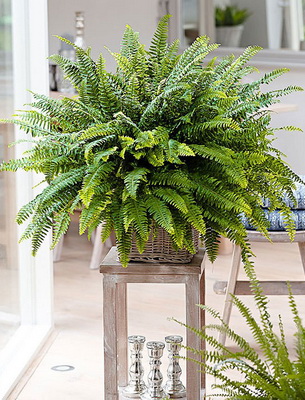 Nephrolepis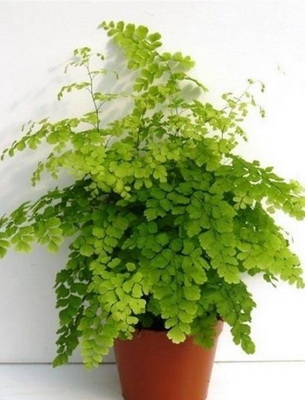 Maidenhair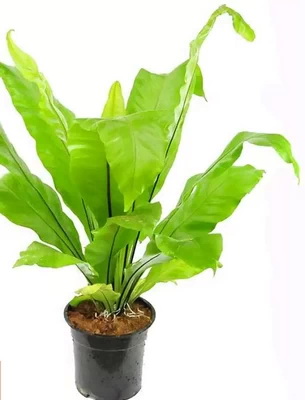 Asplenium, Kostenets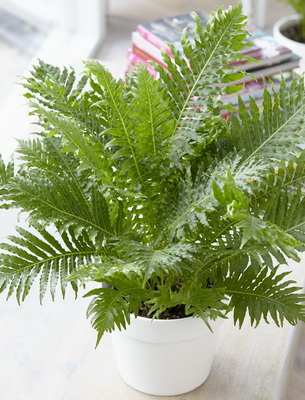 Blehnum (Debryanka)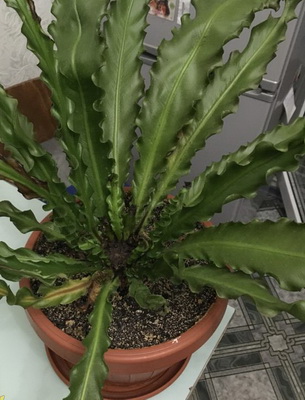 Listovik (Filitis)
Pelley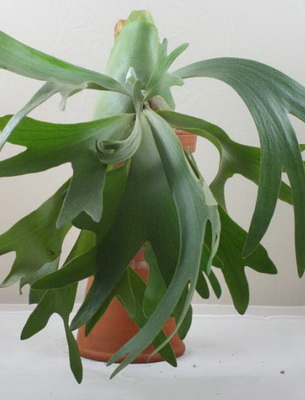 Platicerium (deer horns)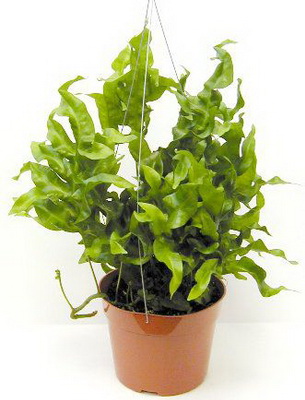 Polypodium (centipede)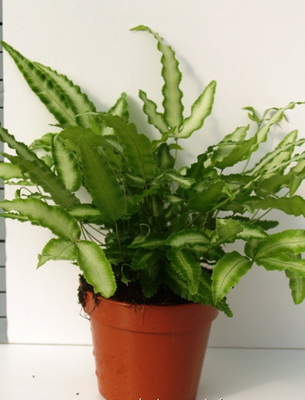 Pteris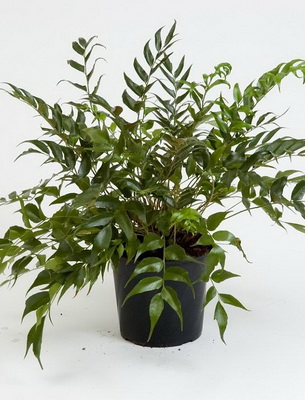 Tsirtomium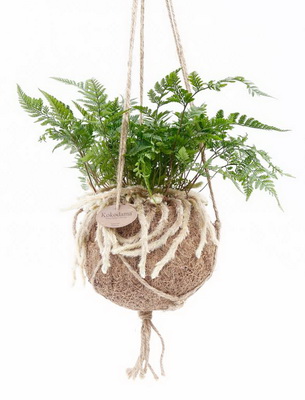 Davallia
All of the above types of ferns are grown at home without much effort. They develop well in indoor conditions and are capable of reproduction. As a rule, it is unpretentious vegetation, but depending on the species, there may be some nuances.
Nephrolepis - one of the most stable representatives of the flower grown in the home. It belongs to the Davaliev family. Often used by breeders for breeding new varieties. Includes more 30 varieties that are well established in tropical climates. Below are the indoor species of fern, their names and a brief description.
Nephrolepis exalted - This is a grassy vegetation with a compact vertical rhizome and a large rosette of pinnate leaves. In height can reach 70, see Vayi have a light green color and a lanceolate form. The root system forms scaly lashes (shoots), which are the precursors of young shoots.
Nephrolepis cardiovascular - this species has feathery leaves of slightly pointed form, directed vertically upwards. On the root processes there are tuberous swellings, thanks to which young shoots sprout. In terms of overall dimensions, the flower is close to the previous view.
Adiantum is a fragile plant with delicate, rounded leaves that are water repellent. Belongs to the Pteris family.
Varieties of the homemade Adiantum fern flower are provided below with the appropriate photos: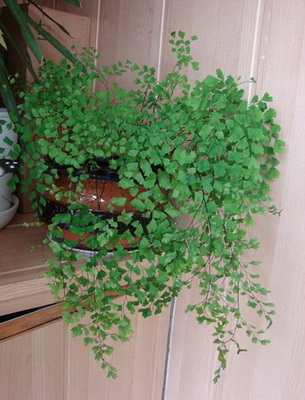 Adiantum venerin hair - possesses wedge-shaped fronds with a very thin cirrus dissection. The base of the shoots is brown or black. Very moisture-loving variety of a plant that practically does not tolerate dry air.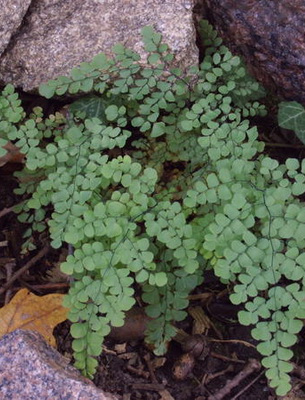 Adiantum beautiful - This is a large specimen, reaching 1 m in height. It has a wide triangular leaf plate with a purple-black stem. The fronds are repeatedly feathery and rather fragile, like the rhizome of a flower.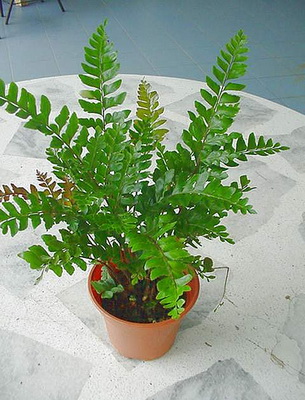 Adiantum melkoopushenny Is a small shrub up to 25 cm, with a creeping root system. The sheet plate is rigid, back triangular in shape. The scape is rough to the touch and is colored brown or brown.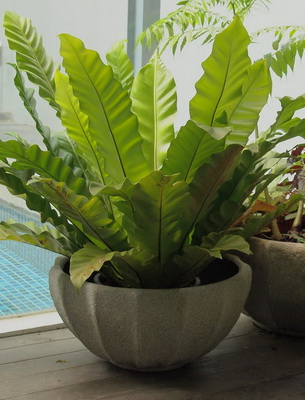 Asplenium - A variety of indoor species of ferns, also known as Kostenets. It has a wide variety of sheet plates. It belongs to the Aspelene family. Widespread species around the globe. Considered one of the most valuable representatives in the field of medical treatment.
The following are the types of homemade fern plants that are popular in amateur crop production. Under each characteristic are images of the corresponding type of flower.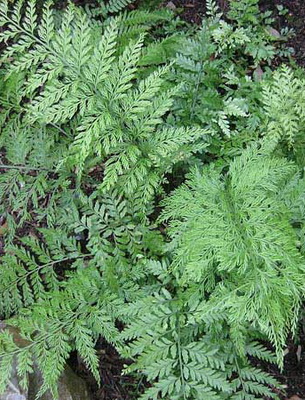 Asplenium Onionaceous - It is a large representative of the species, reaching a height of more than 1 m. It has three-pedigree fronds, on which buds sprout, giving rise to new sprouts.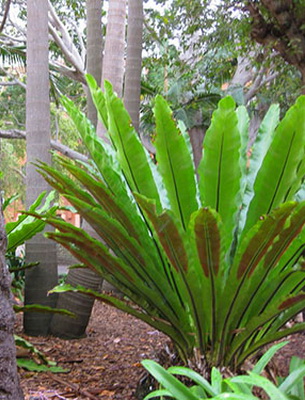 Asplenium South Asian - a very large plant, up to 1,5 m in height. It has a dense rosette consisting of whole slightly wavy sheet plates. It is a narrow bush, painted in a light green color with purple thin petioles and vertical veins.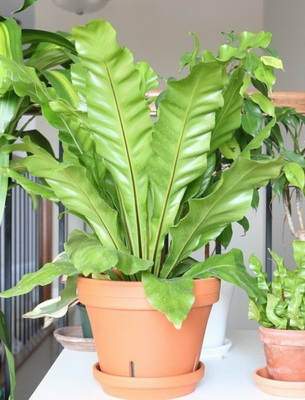 Asplenium nesting - This is a plant with narrow leaves, reaching a height of 70, see. The socket is wide open, so the bush has a visual resemblance to the bird's nest (from which the name of the species appeared).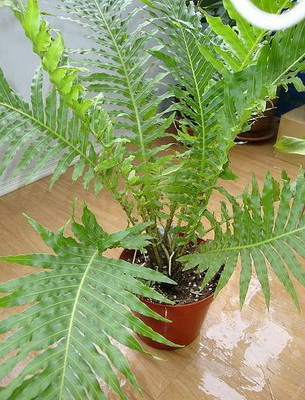 Room fern Blehnum - home large flower up to 1 m. It has wide spreading leaves of light green color. This species needs moist, but fresh air at the same time. Suitable for outdoor cultivation.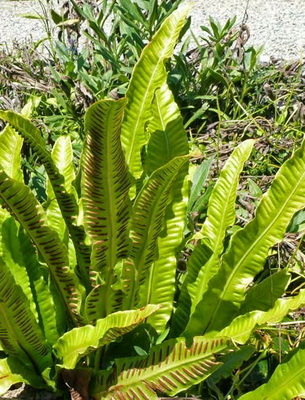 Listovik (Filitis) - a species with unusual leaves for ferns - one-piece, oblong with a pointed end. The fronds are assembled in dense sockets up to 35 in height. The color range of the plant ranges from light green shades with white veins to more saturated lime flowers.
Photos of indoor fern species with a brief description are provided in the article below: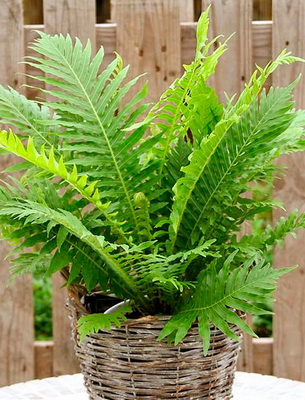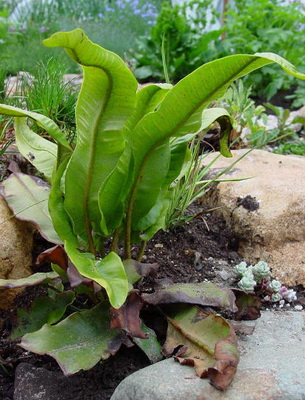 The only representative of this species is the leaflet skolopendry Phyllitis scolopendrium l. This plant reaches 60 cm tall, fronds are colored bright green and have a shiny glossy surface. The leaf plate is lanceolate or xiphoid with a slightly wavy border.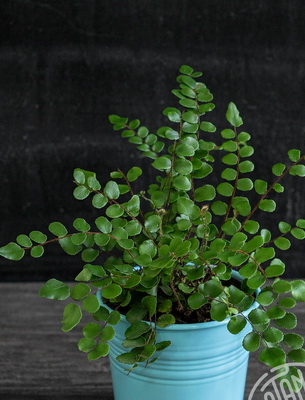 Pelley is a fern of the Synopter family..
A feature of the species is the need for a dry warm climate. The color of the leaf plates is also unusual - a dark green saturated shade. Long soft fronds allow you to grow a flower like ampelous vegetation.
Varieties of indoor fern with photos and names are described below: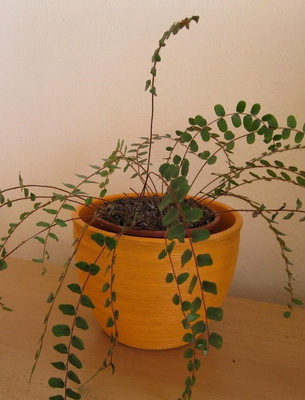 Pellet spear - This is a herbaceous plant with a creeping stem. Sheet plates are assembled in a socket up to 60 height. See Frontier plumose with a solid edge and a continuous border.
Round pellets - This is a plant with a creeping rhizome and scaly petioles. Slightly rounded leathery leaf plates have a slightly curved edge.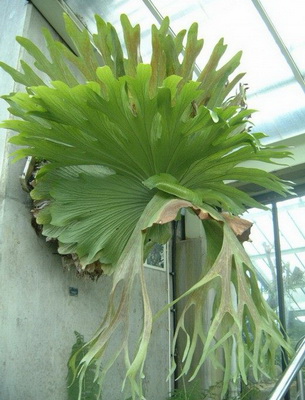 Platicerium (deer horns) - fern with two types of leaf plates. The lower fronds are presented in the form of "pockets", the purpose of which is to collect water and provide support for the whole flower. The second type of leaflet has the appearance of a narrow fan up to 1 m in height. Leathery sheets of a light green color to the touch resemble deer horns, which is why the second name of the plant appeared.
Photos, names and descriptions of species of home ferns Platicerium are provided below with a brief description:
Platicerium double - this fern has a rosette consisting of leaves of green color with a gray shade. The height reaches 70. The base of the flower is wedge-shaped fronds with notches.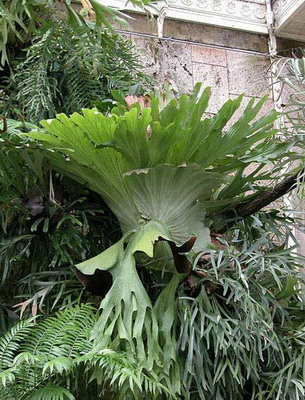 Platicerium Hill - almost identical to the view described above. However, this copy is more compact, and the sheets are not so deeply dissected.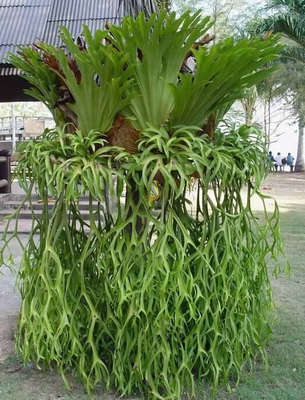 Platicerium large - this is a very large representative, the width of the outlet of which reaches 1,5 m. In connection with the dimensions it is grown, as a rule, in home greenhouses or winter gardens, on verandas, etc.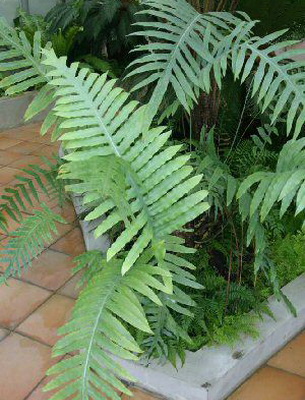 Polypodium (centipede) - the copy belongs to the family of Polypodiaceae. In home collections is rare. The peculiarity of the flower is in the structure of the root system. The plant has many leaf scars on the roots (hence the second name).
Below it is written about what are the types of indoor fern polypodium (with photo):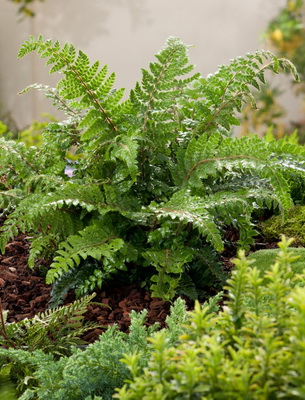 Polypodium gold - It is a flower with a creeping short rhizome covered with soft golden scales. The bush reaches a height of up to 1 m and has thin leathery leaves. Vayi pinnatisect with slightly pointed end.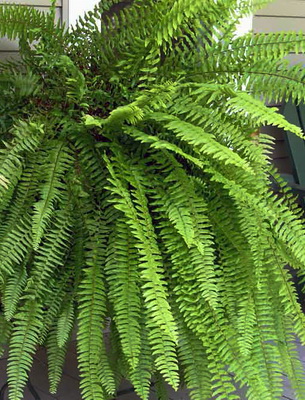 Polypodium bumpy - possesses a creeping branched root system covered with scales. The form of the leaf, as in the polypodium of gold, but the surface is not smooth, but covered with protuberances.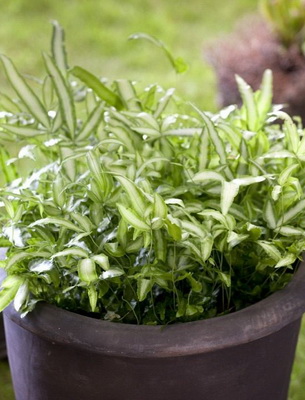 Pteris (Pteris) - fern with short underground rhizomes, from which a bundle grows fronds. They grow up first, and then bend their tops down. This genus, which includes about 250 species in the tropics and subtropics, includes some of the most famous indoor plants. They are geofitami, which means that they can be kept in a pot. Some species have different fronds, sterile short and fetal ones longer, on the lower side of which sporangia are located.
Accordingly, plants with wayas of the same type can be sterile. Common species and varieties of this fern include the following specimens.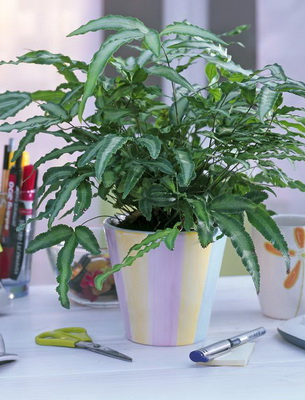 Pteris Cretan (Pteris cretica) - with the same type of wyayas, from 2 to b of which are located on one black petiole. Pteris cretica was imported into 1802 from England and has undergone significant changes.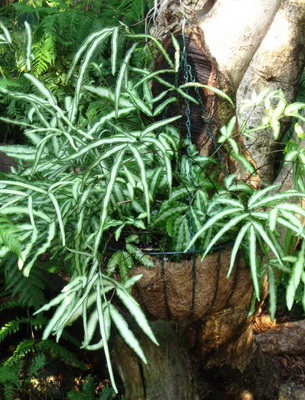 There are many varieties of this species, for example, or "RowiWith curly leaves.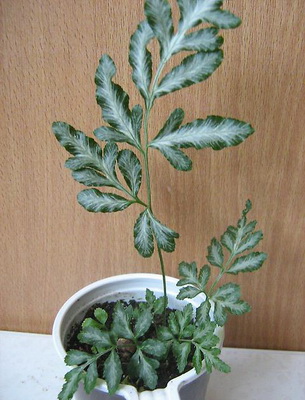 Pteris xiphoid (Pteris ensiformis) - comes from tropical Asia and Australia, in its pure form almost never occurs, but the variety 'Evergemiensis' with white stripes on the fronts or 'Victoriae', which looks the same, is common. Both varieties are great for small pots and bottle garden. But when long fronds appear, their appearance deteriorates somewhat.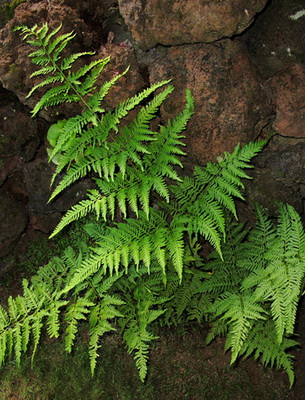 Pteris trembling (Pteris tremula) - grows to 1 m tall. Originally from New Zealand, which is well kept in the spacious and warm winter gardens.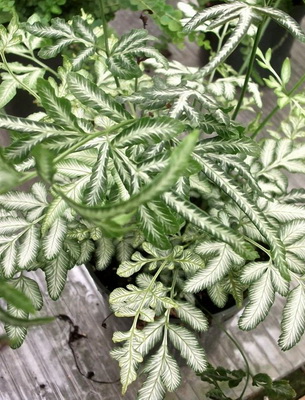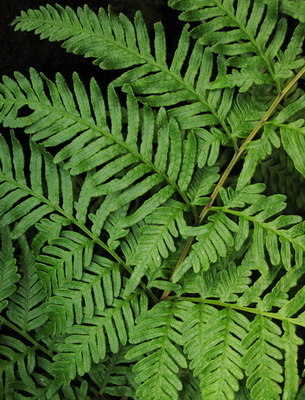 Here are the photos of room ferns, whose names are listed above.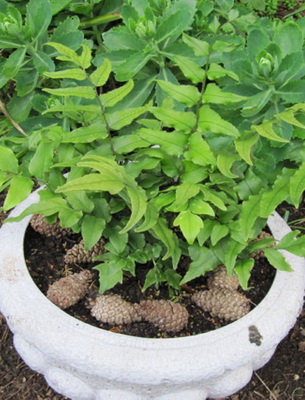 Tsirtomium - This is an unpretentious plant with shiny leaves with a smooth or serrated edge. Belongs to the family Shchitovnikovs. This rare specimen is not only one of the most ancient, but also one of the most hardy.
Types of room ferns with names and photos are provided below: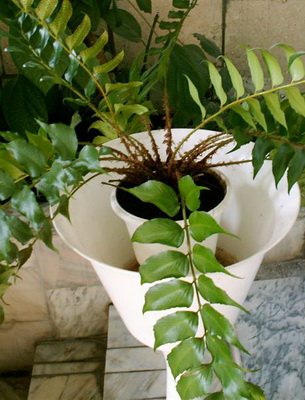 Cytromium crescent - This is a herbaceous plant with feathery leaves, which are bent to the top. This copy refers to the frost-resistant representatives of ferns.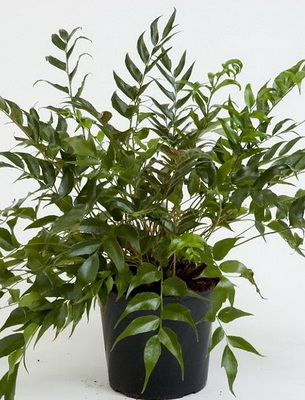 Fern rochfordianum - a flower with single pinnate leaves with a shiny upper side and a jagged edge. The height reaches 50 cm.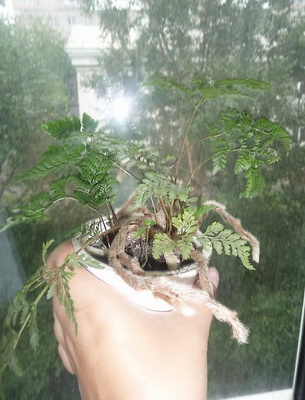 Davallia or hare's foot - refers to the family Davallievs. It has brown-brown rhizomes that slightly go beyond the edges of the pot. It is grown most often as an ampelous plant.
Varieties of indoor ferns: photos, names and description of home species
The following is a list of the most popular varieties of fern flower for indoor growing, derived from the species of adiantum.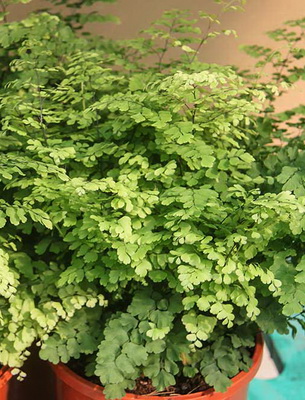 "Fritz Luthii" - a flower having a triangular leaf shape up to 30 cm. Crohn is quite lush, but not very thick.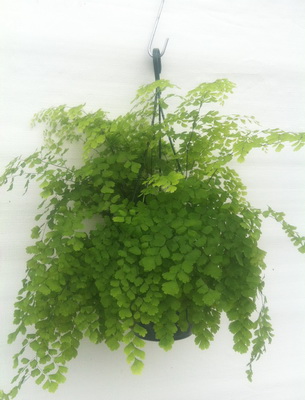 "Fragrans" - The plant of this variety is a lush bush, on each branch of which grows many leaves.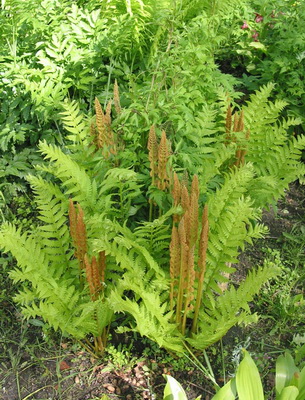 Fragrantissima - a large variety with a crown diameter up to 1,5. Leaves are wide and spreading with a pointed end.
The cultivation of indoor varieties of the fern flower nephrolepis is no less common.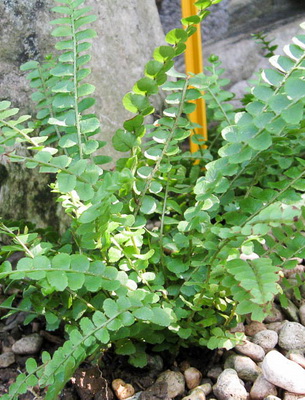 Cordifolia - This is a very compact variety with a rather lush crown. Round leaves are located along the axis of growth of the flower.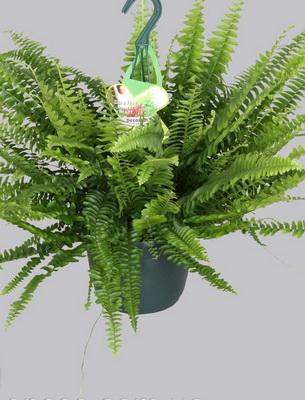 "Exaltata" - this specimen is grown as an ampelous plant. The length of the leaves reaches 1 m. The bush is rather lush and spreading.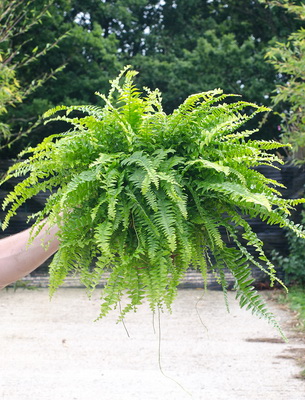 "Bostoniensis" - this variety has a curly or corrugated sheet plate shape, due to which it looks very unusual. It is a dense bush with a width up to 0,5 m. Crohn is thick and very lush.
One of the most common species in domestic crop production is pteris. This unpretentious variety will be a bright decoration of any interior. Some of its varieties are described below.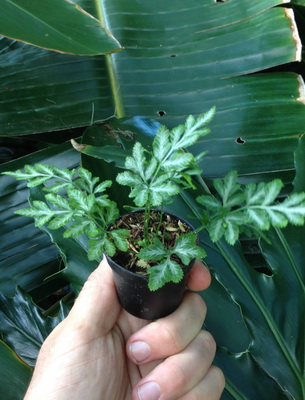 "Cretica" - a small bush with a diameter up to 40, see. Vayi of a highly elongated shape on a thin petiole.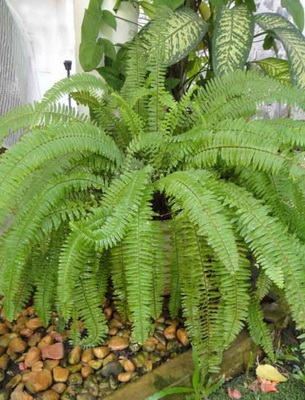 Alexandrae - this variety has an unusual color - the main streaks of the leaf are painted in a cream shade.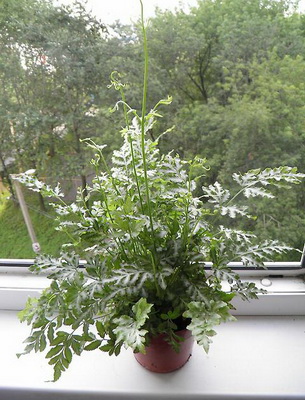 "Ensiformis victoriae" - grows in the form of a small bush of green-silver color. The structure of the plant resembles the structure of a fir cone.
Here you can see photos of these fern varieties: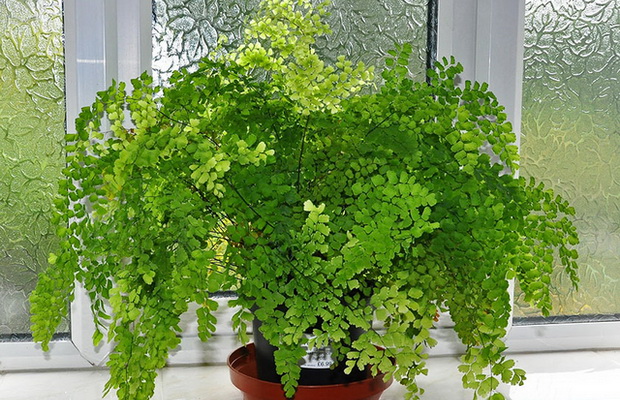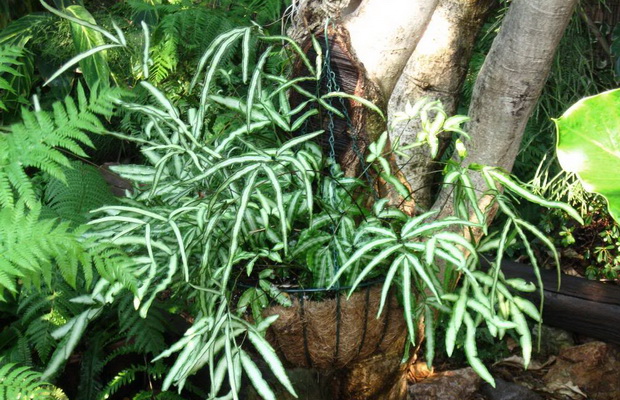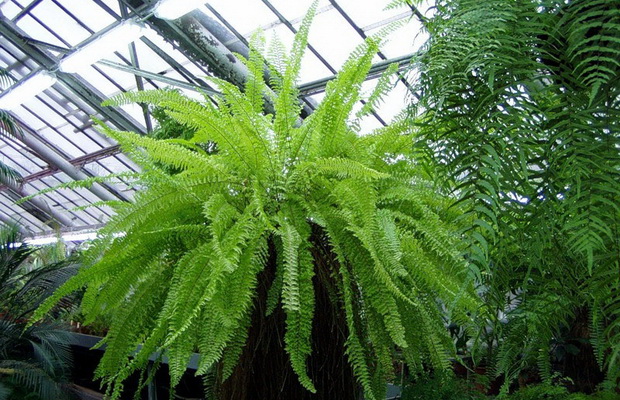 The following are recommendations for the care of these plants.
How to care for indoor ferns at home: the basic rules
Consider in more detail the most common and unpretentious ferns, which are easy to care for, even at home.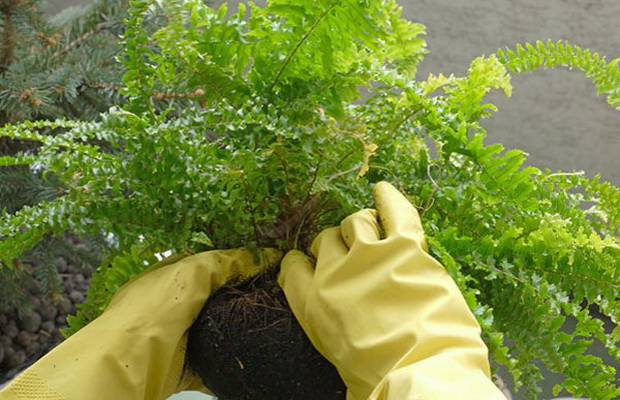 A very popular type of fern is pteris, which care for at home requires compliance with the basic rules.
Location: Penumbra or shadow. Perfect for a north or east window.
Temperature: Pteris ensiformis and Pteris tremula not lower than 18 ° С, Pteris cretica to 10 ° С.
Air humidity: High.
Substrate: Flower soil mixture with leaf compost.
Watering: Maintain the moisture of the earthy coma. Use soft water at room temperature.
Top dressing: In the summer, every 2 week with half the concentration of complex mineral fertilizers.
Transfer: Annually in the spring.
Trimming: Old, unsightly fronds are regularly trimmed. Most often, young appear soon at the growth points of the rhizome.
Reproduction: Disputes or division of the root system.
Pests, diseases: Rarely, but can be: scythe, aphid, spider mite, nematode, root rot.
Important! All types of pteris are very sensitive to drafts. The plants form so much controversy that often young plants appear in the pots of the neighboring plants. Plant these small plants in very little pots!
How to care for Asplenium fern at home is briefly described below.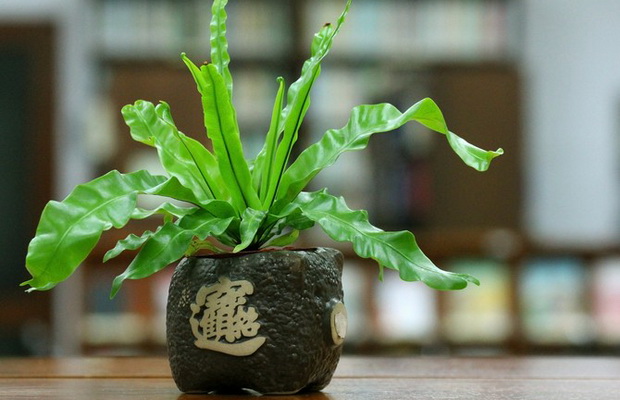 Kostenets - distributed throughout the globe, mainly in the tropics. Counts from 20 to 800 species.
Location: Bright place, without access to direct sunlight.
Temperature: 16-24 ° С, but in winter not lower than 18 ° С
Air humidity: Average.
Substrate: Flower soil mixture with leaf compost.
Watering: it is plentiful, but it is necessary to consider that everything depends on humidity of air and temperature in the apartment.
Top dressing: 1 once a week in 2 mineral and organic fertilizers in the spring and summer.
Transfer: Of necessity.
Trimming: remove dried leaflets and stalks as necessary.
Reproduction: Disputes, dividing the bush.
Pests, diseases: Spider mite, scythe.
Caring for a homemade fern Davallia at home is quite simple and does not take much time.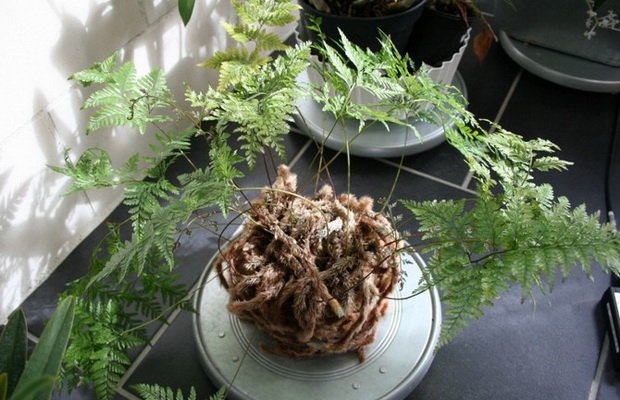 Davallia - an exotic species of fern. A genus of perennial, fast-growing plants.
Temperature: in summer 18-21 ° С, in winter not less than 16 ° С.
Air humidity: Low
Watering: Moderately moisturize in winter and abundant in hot periods of the year.
Top dressing: Liquid fertilizer 2 once a month during the active growing season.
Transfer: As needed in the spring.
Reproduction: By dividing the bush.
Pests, diseases: Shchitovka; The plant grows very poorly.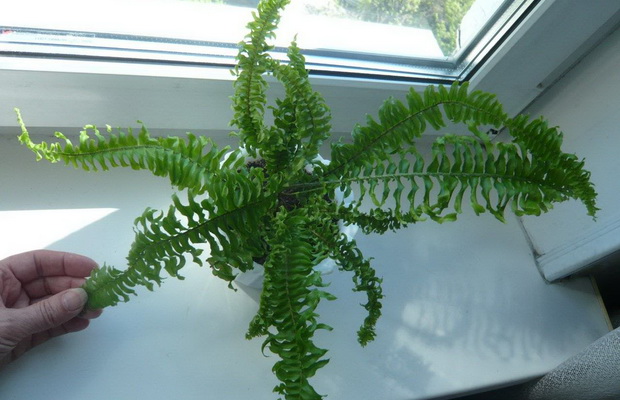 Home care for a polypodium room fern (centipede) consists of adhering to a number of indicators.
Location: Loves cool and shade.
Temperature: in summer to 23-25 ° С, and in winter not lower than 13 ° С.
Air humidity: High.
Watering: The autumn-winter period is moderate, the spring-summer period needs to be watered plentifully.
Top dressing: In the fall and winter without top dressing, and in spring and summer 1 once a week with mineral and organic fertilizers.
Transfer: In the spring.
Reproduction: By dividing the bush.
Pests, diseases: Aphid, whitefly, scythe, springtail, thrips, root rot.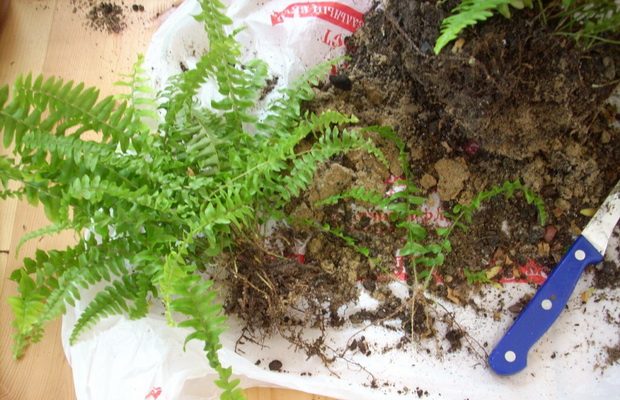 How to properly care for room fern nephrolepis is briefly described below.
Location: bright place with diffused light, without tolerance of direct sunlight.
Temperature: In the summer - 15-17 ° С, and in the winter not less than 14 ° С.
Air humidity: High.
Watering: In the hot season, abundant watering is recommended, and in winter - moderate.
Top dressing: In the summer of 1, once a week in 2, with the help of complex organic and mineral fertilizers.
Transfer: 1 once a year in spring.
Reproduction: Rhizome division and grafting.
Pests and Diseases: Shchitovka, root rot.
How to transplant indoor fern (with video)
Before transplanting indoor fern flower you should know that this plant is quite sensitive to the changing conditions of germination. Adaptation to a new nutrient substrate can last up to 2 months. It is best to renew the soil and change the pot method of transshipment - a way to transplant room flowers, which retains the old earthen layer on rhizomes.
As a rule, this procedure is done in spring. The fern is a home plant that prefers loose soil with impurities of needles, leaves and peat. The most favorable acidity of the soil is 5-6,5 pH. Such ingredients are necessary for self-preparation of soil mixture:
Peat.
Leafy earth.
Humus.
Bone flour.
All components of the list must be mixed in proportions 1: 1: 1: 1,5.
For the implementation of the transplant, it is necessary to pick up a pot on 2-3 cm more in diameter than the previous one. Put a drainage layer 2-2,5 thick on the bottom. See the plant carefully, without damaging the roots. After enough fill the remaining space with fresh soil and pour water at room temperature.
Watch the video about the correct transplant room fern, which shows in detail the whole process:
How to grow a houseplant fern from spores at home
The fern family is a subgroup of vegetation that is propagated by spores. This is a kind of "seeds", growing and ripening on the flower fissures.
The following is a step-by-step instruction on how to grow a fern flower at home from a spore.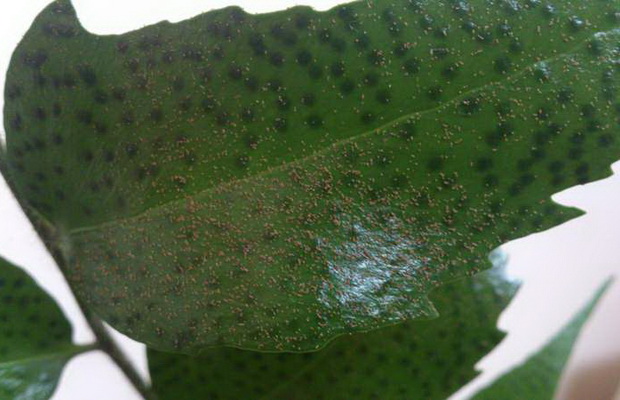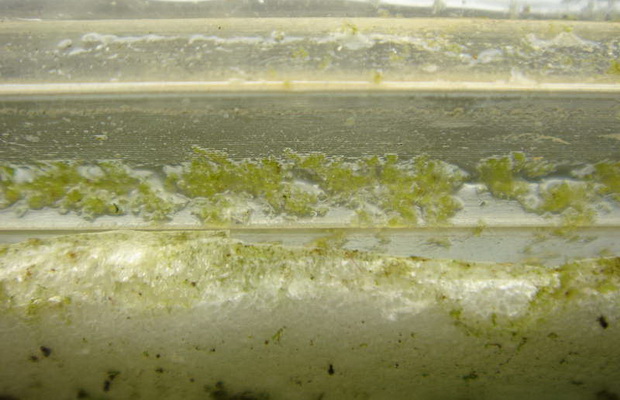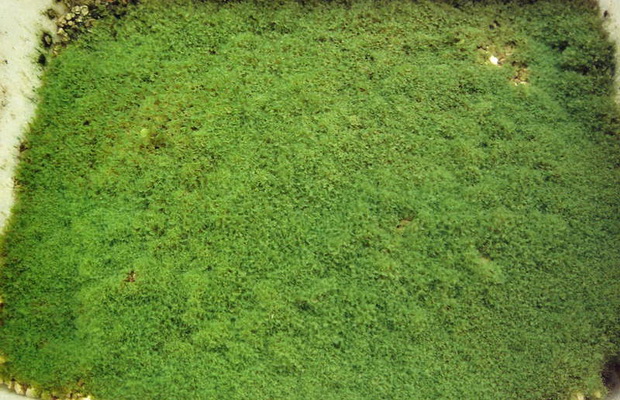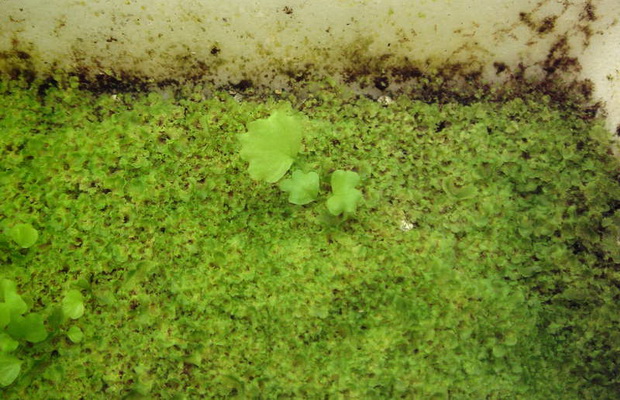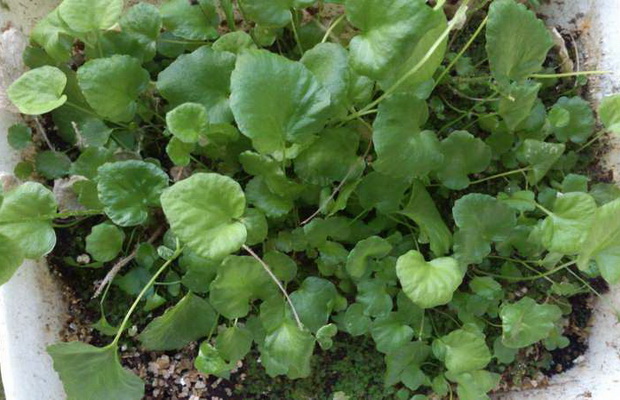 First you need to collect mature planting material. It is located in special formations - sporangia, which turn brown in color during their readiness for seedlings. In some species, spores can be dotted.
The second stage will be keeping the planting material in a paper bag until it is dried and fully matured. As soon as the mass becomes similar to brown powder, you can go to the last stage of planting. To do this, just pour a thin layer of spores into the moistened soil.
This method is very laborious and laborious. For greater efficiency, you can use the methods of creating a home greenhouse. For example, cover the container with spores of polyethylene, glass or plastic bottle with a cropped bottom.
Take a look at the spore-bearing species of domestic ferns and their names in the photo below: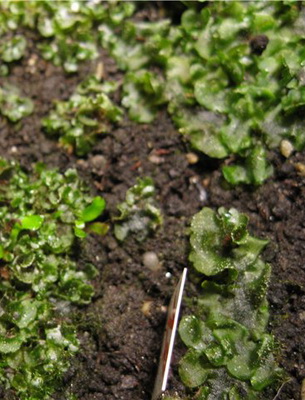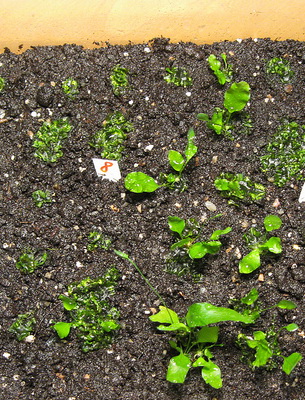 This is a very long and energy-intensive method of reproduction. The first seedlings can germinate during 2 months to 2 years (depending on the species). Therefore, the most commonly used method of vegetative propagation - the division of rhizomes.
How indoor fern breeds division
Further details about how indoor flower propagates fern by dividing.
The easiest way of planting young shoots is to plant young shoots during plant transplantation (in spring). To do this, carefully cut off the young parts of the plant with a part of the root system. After that, plant a seedling in a separate container, pour and cover with a greenhouse.
Take a look at the photo of the shoots of the fern houseplant and its name for your reference: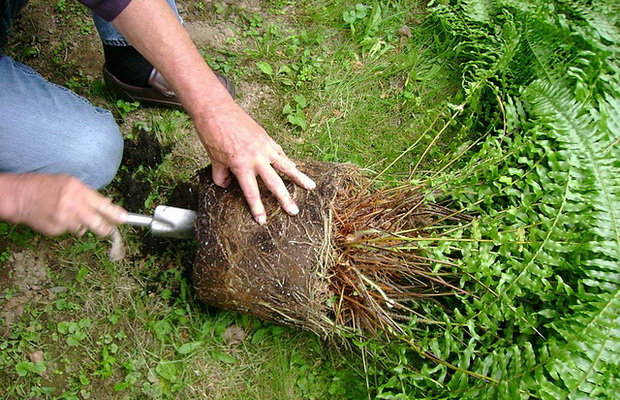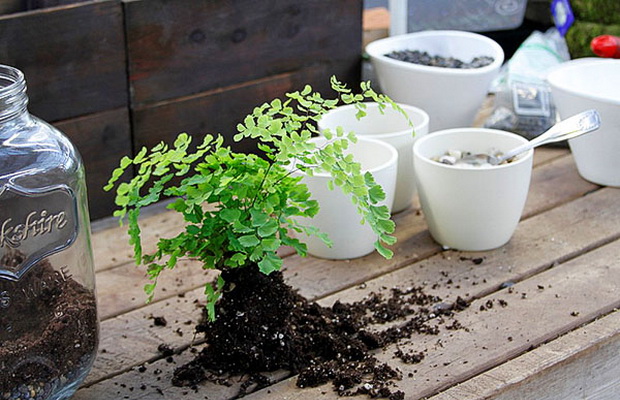 Looking at the images you can see how very young copies of various species look like.
Why leaves and leaves of room ferns turn yellow and dry at home: care errors
According to statistics, the most common problem in the cultivation of this vegetation at home is that the indoor fern gradually turns yellow.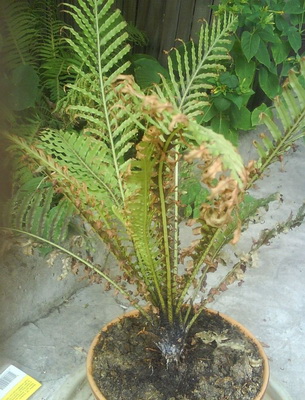 The most likely cause is dry air. Ferns adore moisture and dark places, water it more often, put it in a dark and cool place. Remember, they do not tolerate exposure to direct sunlight.
If the fern lacks moisture, put the pot with your "green pet" on a wet sand pan. This will increase the level of humidity.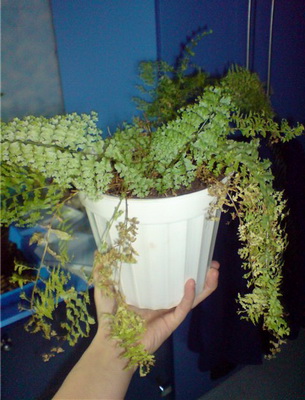 Cut off the yellowed and tainted branches - they will no longer be green, but will only take power from the plant.
Another reason why the room fern flower turns yellow is to water with cold or too hard water. This tropical plant does not tolerate such changes in temperature. Therefore, watch carefully for the water used for watering.
The last common reason why the leaves of a room fern flower dry out is too low a temperature of plant maintenance and drafts. Any type of vegetation reacts negatively to such environmental conditions.
Try to protect the flower pot from the winds by moving it away from the window or insulating the opening with specialized means.
Another sign of a violation of the health of the plant is the dryness of its leaves. The main reasons why a room fern flower dries are described below.
Due to plant care errors, his leaves may dry and curl. This problem is most often encountered in the autumn-spring period. The reason for this - too high temperature and dry air, it can harm the fern. First, the tips of the leaves wither and then the whole leaf.
The second reason why a room fern flower dries is an insufficient amount of moisture. In this case, you should make a watering schedule. It is very important to monitor the condition of the land in which the fern grows, it must be constantly wet, but not overflowed.
Pests can greatly harm your plant. Their livelihoods on the fern leads to the fact that its leaves simply die off and crumble. In this case, the cause of the dry leaves at home fern is the harmful effects of insects.
To solve this problem, it suffices to remove the affected parts of the plant and remove pests with the help of specialized or folk remedies (alcohol, laundry soap, etc.).
The most commonplace reason why the leaves dry in a room fern is a disturbed light mode. Long-term vegetation in direct scorching sunlight is detrimental to the flower. Remember that for healthy growth and development of ferns need a soft diffused lighting and moisture.