Growing indoor plants can be not only exciting, but also useful for health occupation. Many representatives of the flora have healing properties that help to cure certain diseases. Cuban cherry at home requires simple care, but the shrub has excellent aesthetic properties. It is worth knowing that the nightshade, and this is the botanical name of the culture belongs to the group of poisonous representatives of the flora. Therefore, precautions should be taken to prevent animals and small children from direct contact with it. At the time of ripening berries, the temptation to taste them is very great, but it is not worth doing.
Look at the photo Cuban cherry - pepper nightshade looks very impressive in all stages of its development: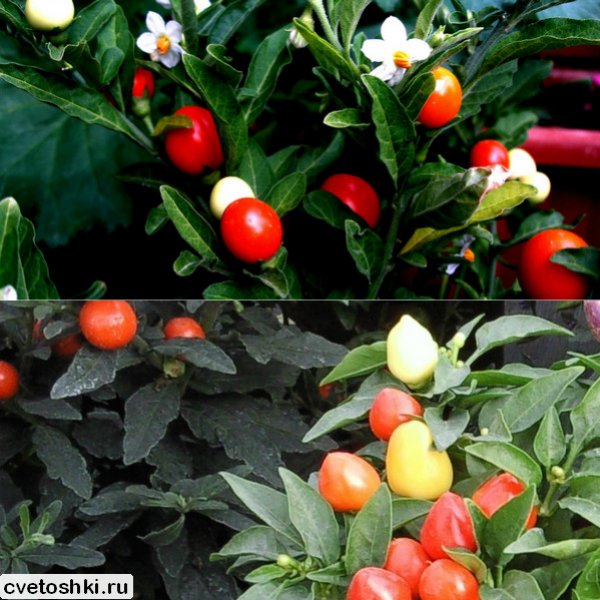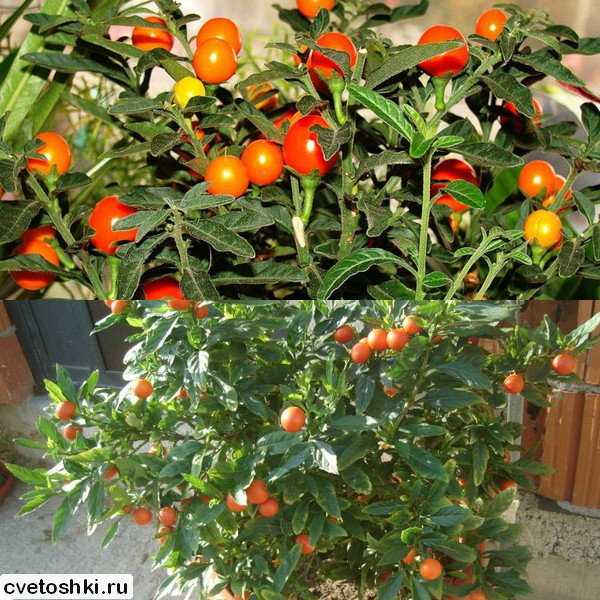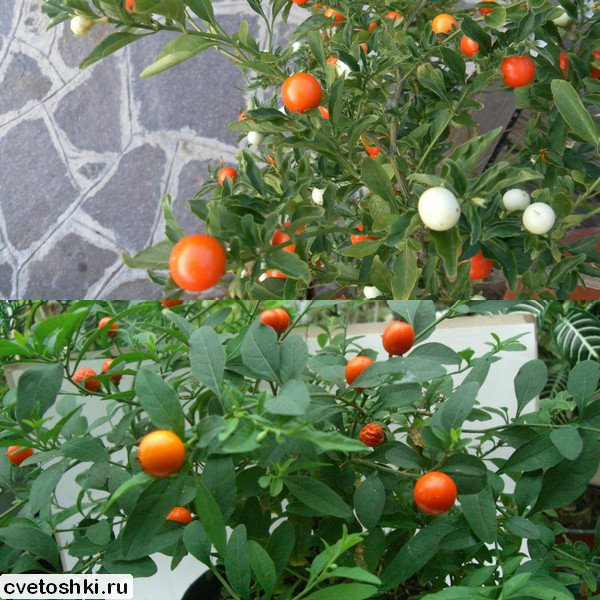 Brief description and photo
Culture belongs to the family of nightshade, many of which are grown in vegetable gardens and successfully used as food. The most famous "relatives" are tomatoes. A brief description should start with the fact that the shrub is similar in appearance to the felt cherry, in fact, this quality formed the basis of the popular name. Look at the photo foliage, berries and flowers of Cuban cherry - at the same time on the plant there can be ovaries, ripe fruits and buds: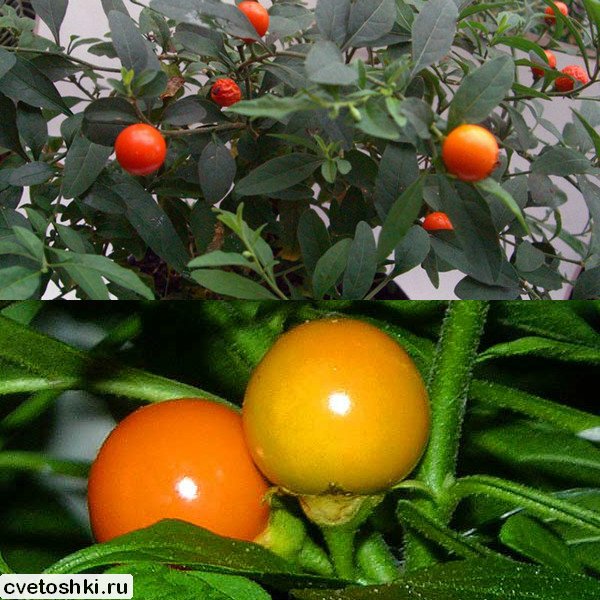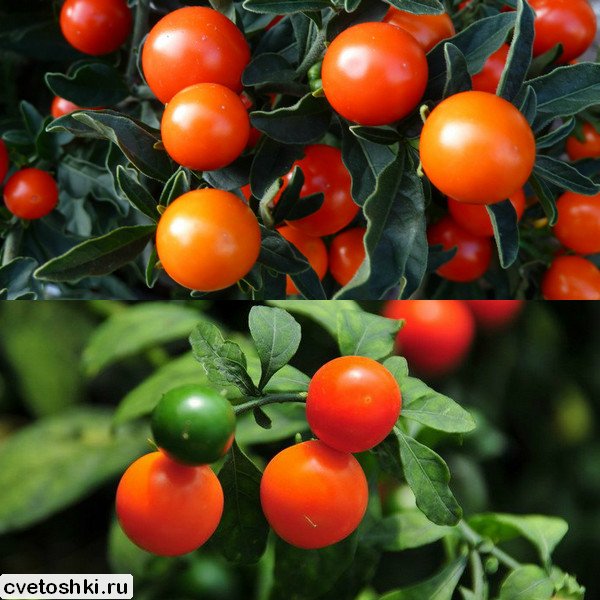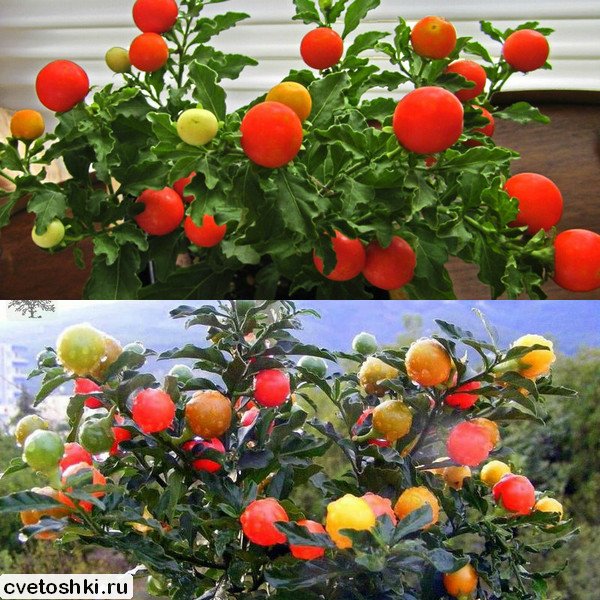 The nightshade is intended for decorative room gardening. In the conditions of open ground it can grow only in the southern regions since it is not resistant to freezing temperatures. This is a multi-year culture. As growth and development occurs, lignification of the cuttings occurs. In young plants, the stems have an olive or dark green color, then the bark turns to a rich brown color. The leaves are simple with cuttings, bright green. Compositae flowers, mostly white. The budding phase appears on the plant 1 a year after planting. Flowering lasts for more than 7 months. At the same time, new fruits are tied and berries ripen. At first they are green, then they get a yellow tint and at the moment of full maturity they become crimson.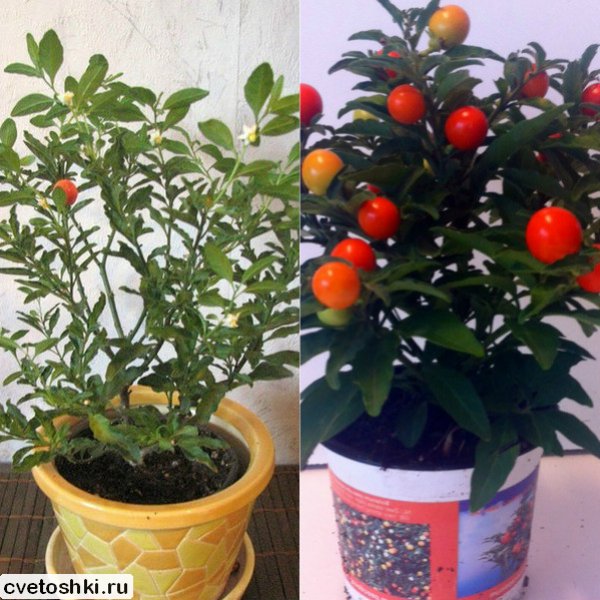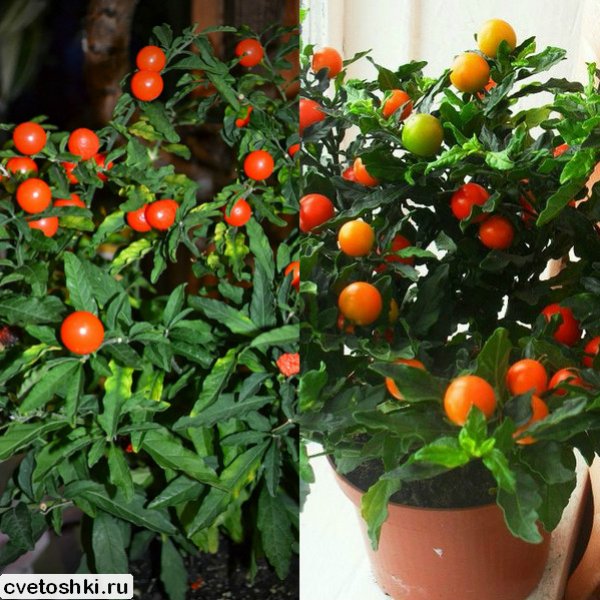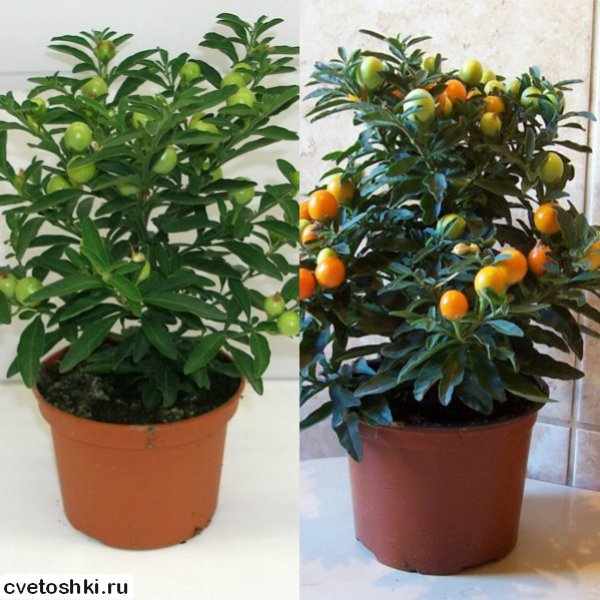 Reproduction and care at home
Propagation of Cuban cherry can be done in two ways: sowing seeds and grafting. The first option is suitable if there is a difficulty with getting a cutting. Stems rooted easily in ordinary water, even in woody state.
Sowing nightshade with seeds resembles the procedure for planting tomatoes or peppers on seedlings. Nutrient soil is being prepared, which is important to be thoroughly sterilized, since the culture may be affected by fusarium, nematode and late blight. Aftercare for Cuban cherries at home also includes measures to prevent such bacterial diseases. The finished soil with a predominance of organic matter is poured into a wide tank up to about half the depth to 10. Then the seeds are laid out and powdered with soil to a depth of 3, see. The container is covered with plastic wrap and put in a warm place. Shoots appear after 2 weeks. During this period, the film is removed. Watering seedlings is carried out every other day with warm filtered water. In the phase of the formation of the first pair of true leaves, transplanting into peat pots with a diameter of up to 10 is carried out. Planting is done in 2 months.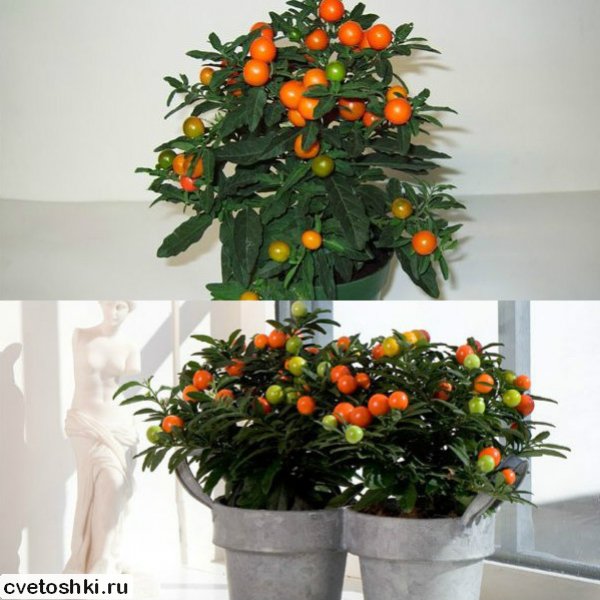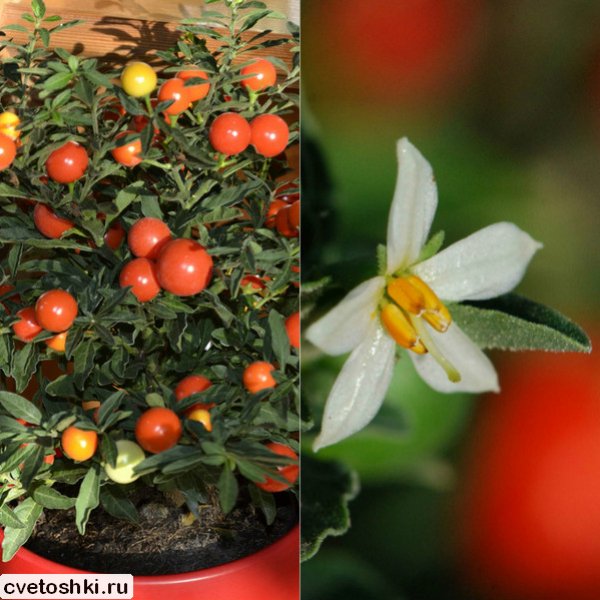 Aftercare is regular watering. It is necessary to ensure that the earth com does not dry out. Spraying the plants with warm water is carried out daily. The first flowers will appear in 8 months after the emergence of the shoot.
As the bush grows, pruning is necessary to form a crown. In the fall all shoots are cut at an equal height from the ground. Spring pinch off the branches, thickening the bush.
Subsequent transplants are performed 1 once a year, in the spring. The pot is taken on 5 cm wider and on 3 cm above the previous one. Once the plant has reached the age of 5 years, transplants can only be performed 1 once every 3 year. But at the same time, it is necessary to periodically change part of the soil, replacing it with a more nutritious substrate.
Top dressings are made from April to October 1 once a week in liquid form. Ready-made mineral complexes for home shrubs are used. Excellent growth gives a mixture of chicken manure and wood ash solution. On 1 a liter of ready-made mortar, a 1 teaspoon of chicken droppings and 2 tablespoons of wood ash are required.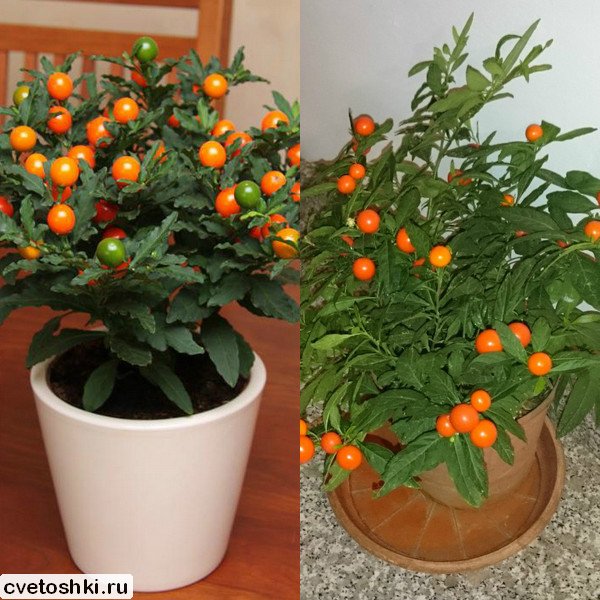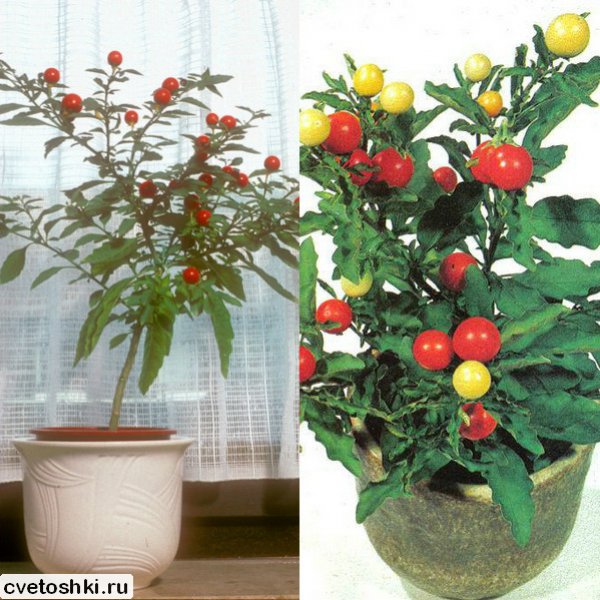 Useful properties of nightshade
Cuban cherry is very poisonous and, if mishandled, can cause severe poisoning. Its symptoms include burns to the mucous membranes, vomiting, loose stools, severe headaches, nausea, and red blistering of the skin.
The beneficial properties of peppered cane can be used for the treatment of certain pathologies. Berries are saturated with bactericidal substances. They help with tonsillitis, sore throat, acute respiratory viral diseases. To prepare the infusion for gargling, you can take only dried ripe berries. They are ground into fine powder. 1 teaspoon of powder is poured with boiling water in the amount of 200 ml. Then you need to insist 30 minutes. Gargle on 5 for 3 minutes once a day.
This solution helps to cope with caries, periodontal disease and bad breath. Other uses of any parts of the plant are excluded. Do not experiment with your health.
SIMILAR ARTICLES: